We are writing these lines from the Engelberg campsite where we take our first day break after already 7 days of walking on this Via Alpina. You can imagine that during this hike, we won't really have time to write you detailed articles with all the practical information as we usually do. But we thought that we would rather give you our impressions along the way of how we experience this adventure on the Swiss hiking trails.
A start full of questions
We won't hide it from you, at first we had a lot of questions… We were wondering how we were going to support the weight of the bag for so long (if you want to know the contents of our bags, it's this way). We were also wondering how our legs would hold up with so many climbs and descents on the program, if we would find enough water… As you can see, we tend to ask ourselves a lot of questions before embarking on an adventure that is still new to us. 🙂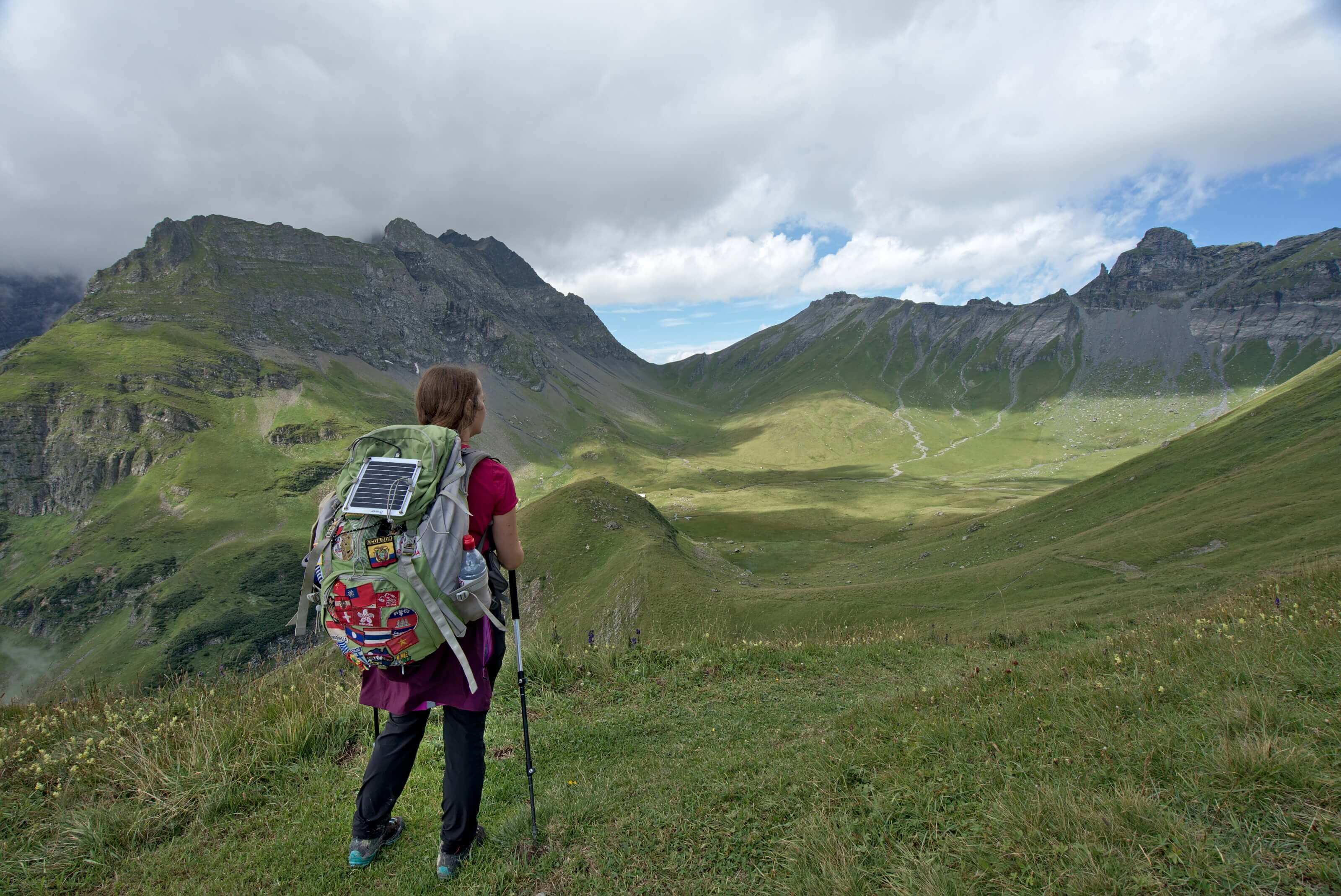 Well after a week and more than 100 km in the paws (with 5000m d+, 5500m d-), we must say that the balance is rather positive. We certainly have a little pain in our legs but the days go on surprisingly well. We've already gotten used to carrying our bags (even though the first 2 days were still quite hard) and the getting over the passes becomes easier and easier :). There is also no need to carry too much water or food in the bags. There are rivers absolutely everywhere (so we simply fill our lifestraw bottles when we are empty) and we go to villages at least every 2 days.
In short, we are quite happy with how this adventure is going and we hope that it will continue like this;)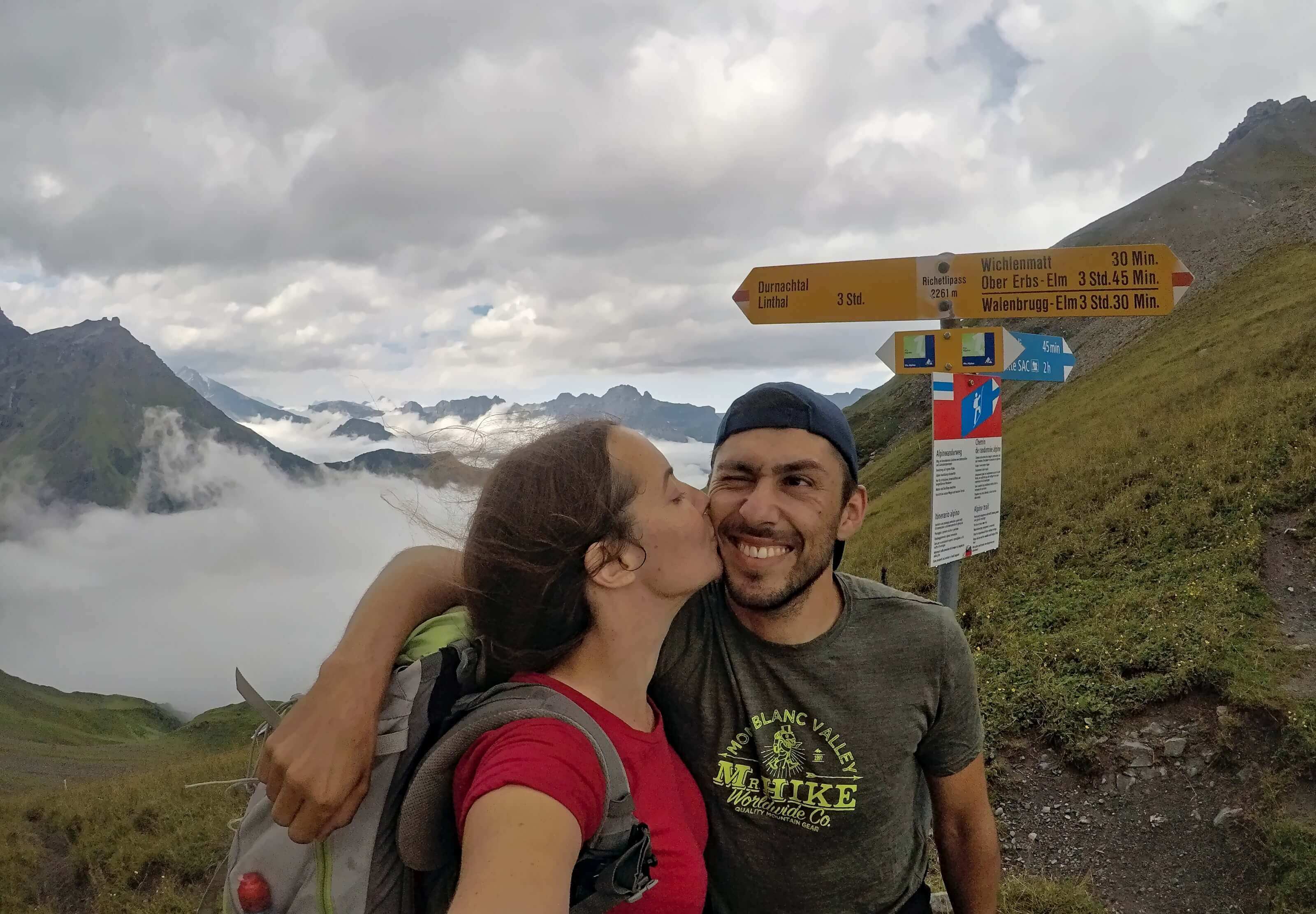 2 days of non-stop rain
If you follow us on Instagram or youtube, , you will have noticed that we had a rather "humid" beginning of adventure (and unfortunately by humid we do not mean with beer ;)). By the way, if you want to get an idea, take a look at our little video on days 3 and 4. (It's in french though, but you'll still be able to enjoy the "nice" waether condition live)
On the one hand, we think that it was perhaps not bad to have had so much bad weather at the beginning. We weren't too tired yet and our motivation was at its peak. So we went through those days with a smile on our faces, thinking that it would get better in the next few days (and it's actually getting better as I write these lines :D).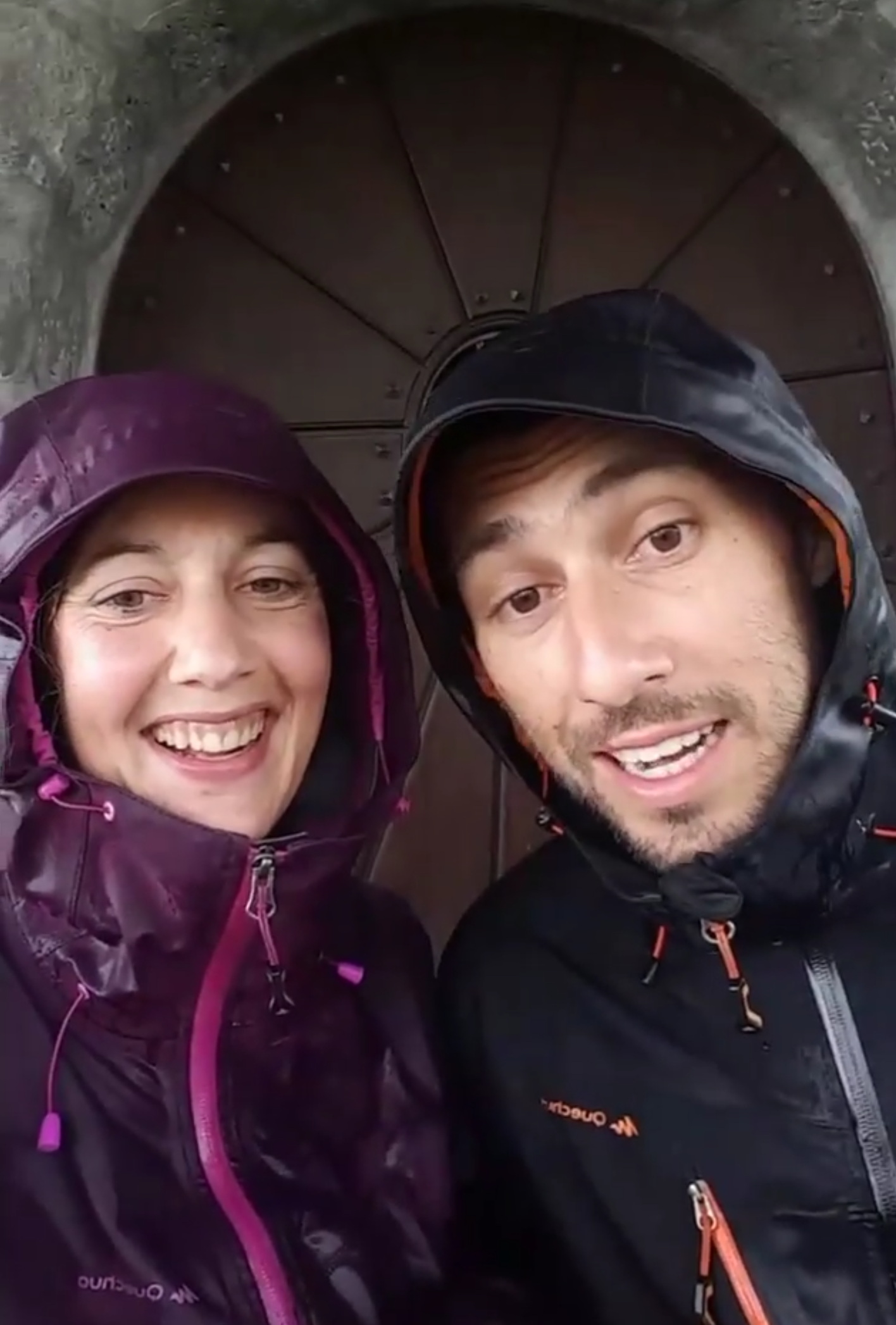 On the other hand, this capricious weather forced us to organize ourselves quite a bit to cross the passes because the snow almost went down to 2000m. For example, we decided to take a short bus ride one morning to make sure we get past the Richetli Pass before the storm and snow 🙂 . We also had less bivouacs than expected during this first week. It must be said that when you are already soaking wet after walking all day in the rain, the prospect of camping and not being able to dry your things is not particularly pleasing. We therefore preferred to sleep in a dormitory (a dry place) on bad nights rather than to struggle in a bivouac. This Via Alpina must still remain a pleasure;)
Our ebook!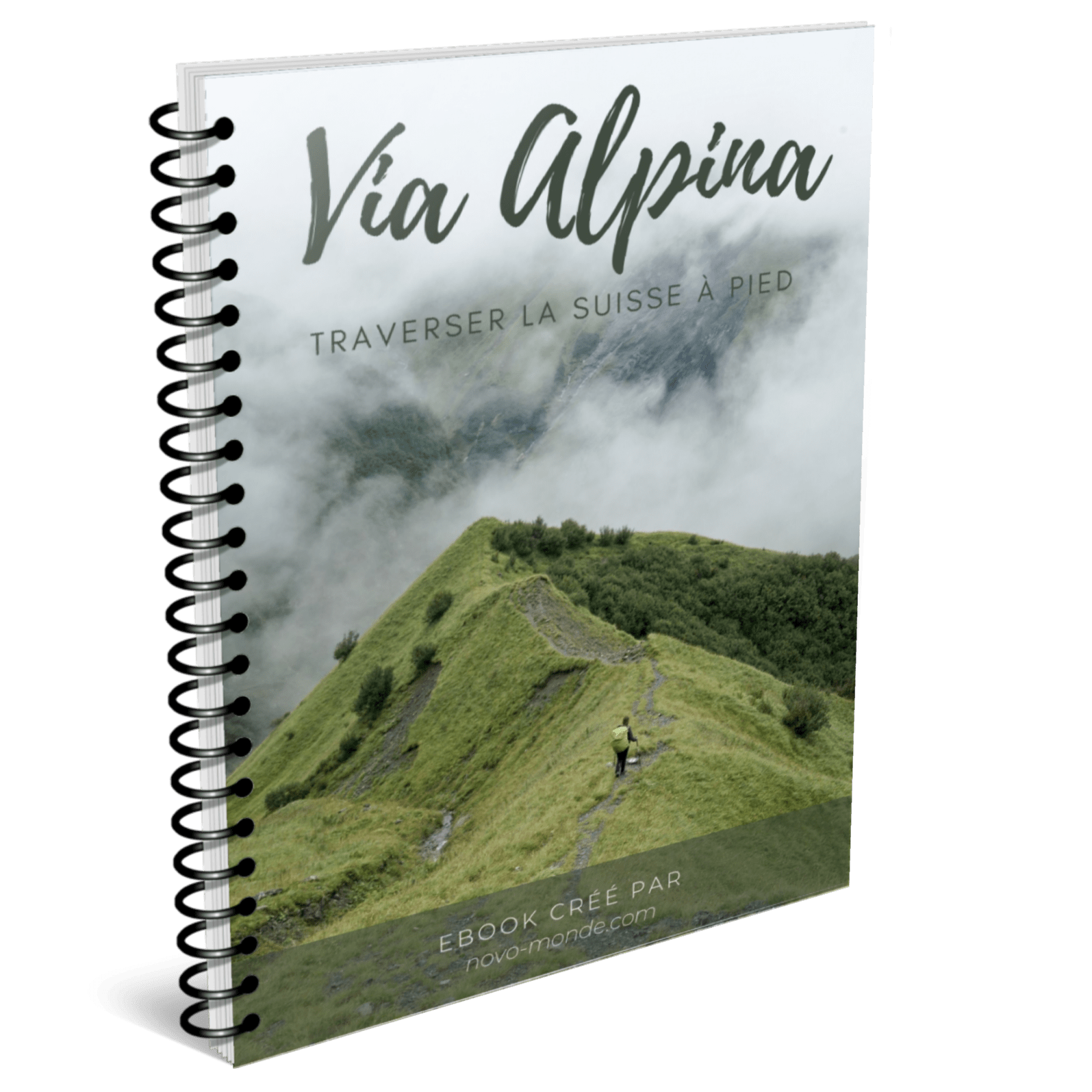 Are you preparing the Via Alpina for this summer? In the spring of 2020 we published an ebook that should please you. 🙂 More than 100 pages dedicated to this magnificent hike through the Alps. From the different stages of preparation, safety tips, the list of campsites to our detailed daily itinerary (with maps and GPX files to download): everything is there!
Find more information on the ebook here
If you prefer to have our ebook in epub format (for your e-readers), you can also buy it directly on Fnac/Kobo or Apple books (Then, if you want to get the GPX files of the Via Alpina, contact us by email at contact[at]novo-monde.com with your order confirmation).
Our favorites of this first week
Instead of telling you all about our days, we will rather share with you our favorites on this first week of Via Alpina.
The Richetli Pass above the clouds
After 2 days of walking, we arrive at the small village of Elm where we decide to sleep in a dormitory because the weather forecasts more than 100mm of rain during the night (which is crazy for Switzerland standards). In the morning, we wake up in the rain and in a thick mist. As the snow is announced at 2000m during the day, we decide to gain 700m of d+ by bus to succeed in crossing the Richetli pass before the next rainfall (see video above). So we start our day walking in the fog with very little hope of seeing anything during the whole the day. And yet, once at more than 2000m, we pass over the fog and we are treated to a fantastic show on both sides of the pass. The sun dances with the clouds and you just feel privileged to be able to admire such landscapes.
Our meeting with Michael
Michael is an American who, like us, walks through Switzerland on the Via Alpina. We had already told ourselves on the 2nd day that he had to go on a long hike when we saw him unpacking his tent on the 2nd day to dry it. Then we met him that same evening in the same dormitory as us, then the next day on the trails… and that's how we became friends:) . It must be said that sharing an experience like this brings us closer and we spent great moments with him telling each other about our misadventures. On the other hand, we were sad because we quickly had to "let him go"! 🙂 He is a great athlete and we simply do not have the same pace… and there is a good chance that we won't see him again after our break day:) . It is also for these good moments shared with others that we travel and we really hope to see him again soon (who knows, he may also need a day off:)).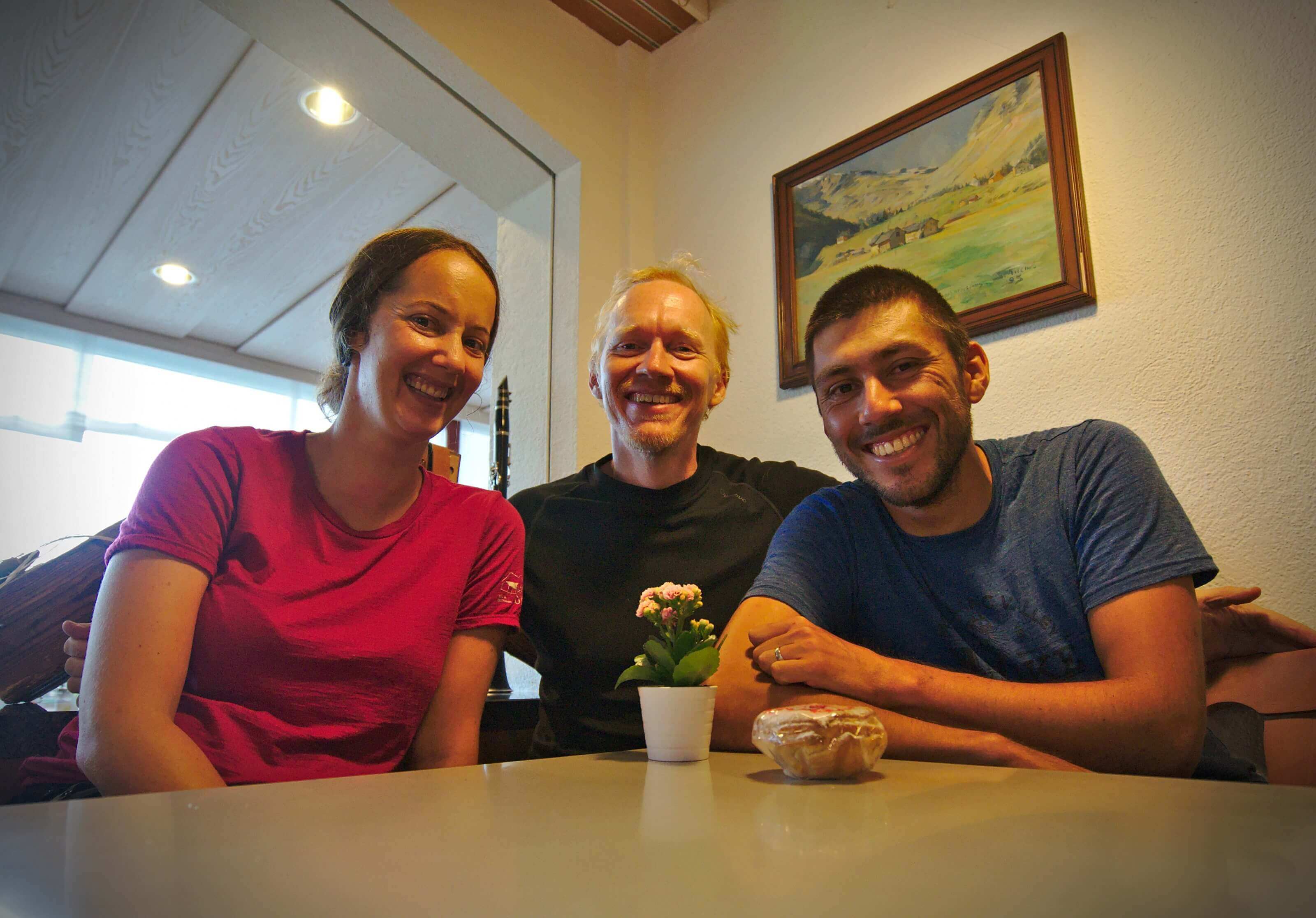 From Altdorf to Engelberg with family
After 2 big days of continuous rain, we were really happy to be able to share a little bit of the way with Benoit's dad and sister. In addition, the planned stage was magnificent and they brought us back the sun that we had missed so much in recent days.
During these two days, we had a lot of good times but we will remember the crossing of the Surenenen pass, a memorable evening at the Blacken mountain pasture as well as the arrival above Engelberg with a magnificent view on the Titlis.
Our first week on the Via Alpina in video
To finish this 1st little article of this Via Alpina, we have prepared a video compiling some beautiful pictures of this 1st week.
We hope you liked these first images and that they will also make you want to embark on such an adventure. And for the rest of this Via Alpina, it is on the social networks that it happens where we always try to share with you little bits of our daily life on the Swiss trails.
The Video we made when we got back: