After having stayed there for two weeks in 5 times, it is finally time for us to share with you all the information about the capital of Thailand. This unavoidable city of Southeast Asia deserves a stop of a few days! So, ready for a visit to Bangkok? Follow the guide!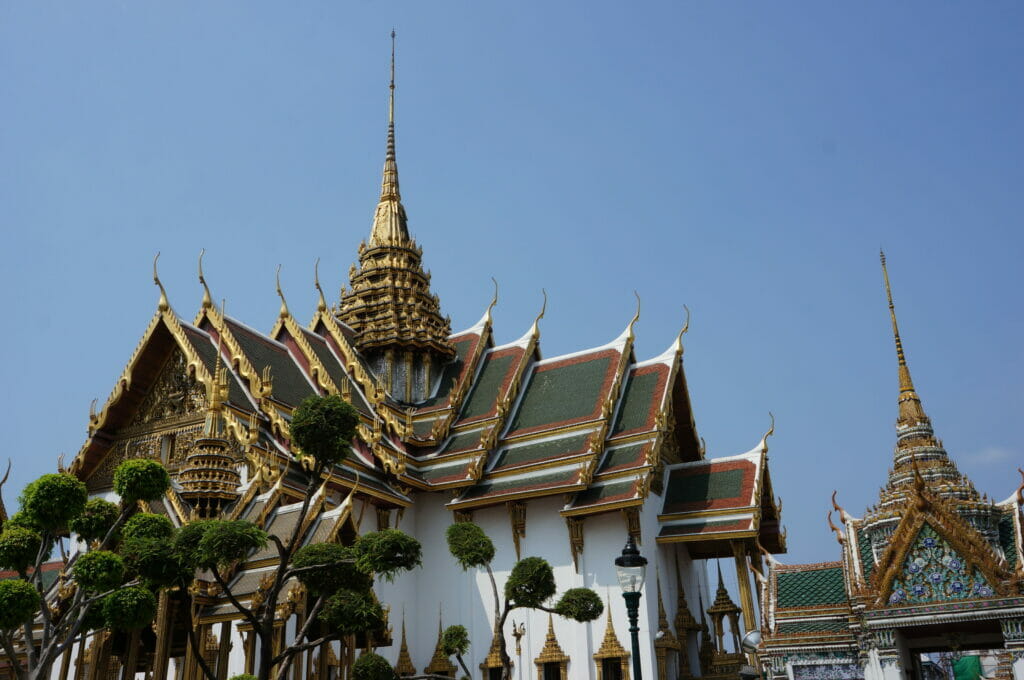 Update 2022
We took this trip between 2014 and 2017, but the article was completely revised and updated in July 2022. If you see any price changes or have additional information that might be relevant, please feel free to leave us a comment!
Bangkok, the world capital of tourism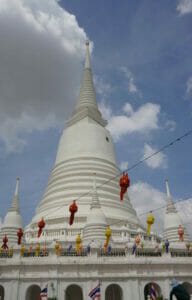 Bangkok is a multifaceted city, which has 15 million inhabitants and welcomes up to 39 million tourists every year! These crazy numbers make the capital of Thailand the most visited city in the world!
You can do everything in Bangkok: the historical center is rich in temples and monuments, the food is a treat, the new ultramodern city center is a shopping paradise, the nightlife is very lively… And even if the city has the reputation of attracting a lot of bad tourists (a well-founded reputation in our opinion), it would be a pity to miss all that Bangkok has to offer because of a minority of stupid travelers, right?
Arriving in Thailand and reaching Bangkok
Bangkok is an almost obligatory stop on any trip to Asia. In addition to being a beautiful city, it is usually where the majority of travelers arrive! Why is this? Simply because Bangkok is generally the cheapest Asian destination for flights. If you plan (and with a bit of luck) you can find flights from 360 euros. The average price of a return flight from Paris to Bangkok is around 550 euros.
This article contains affiliate links to partner sites. When you use our links to book accommodation, a car, or an activity, you don't pay anything extra, but we get a small commission. This helps us to offer you free, independent, and ad-free content. Thank you for your support!
The airports of Bangkok
You have to be careful because there are 2 airports in Bangkok! If you arrive from far away, there is a very good chance that you will arrive at Suvarnabhumi Airport (BKK). On the other hand, if you take a domestic flight or an international flight with a low-cost company, there are chances that you will arrive at Don Mueang Airport (DMK).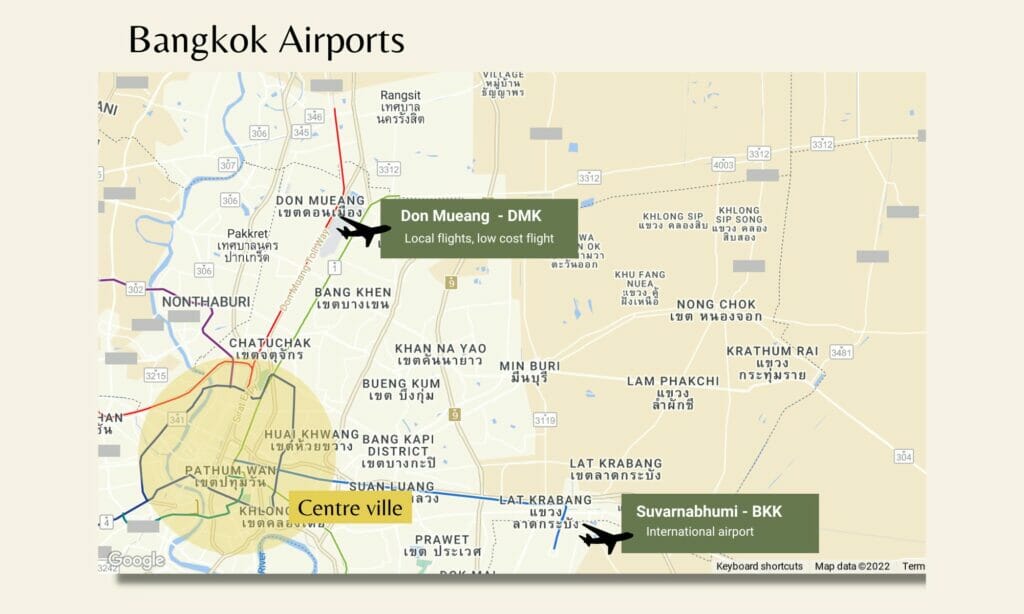 If I tell you to be careful, it is especially if you have a connection in Bangkok. It is not uncommon for travelers to not realize that their second flight (to the islands for example) does not leave from the same airport they arrived from. So, to be sure to go to the right airport, rely on the airport code indicated on your ticket: BKK for Suvarnabhumi and DMK for Don Mueang.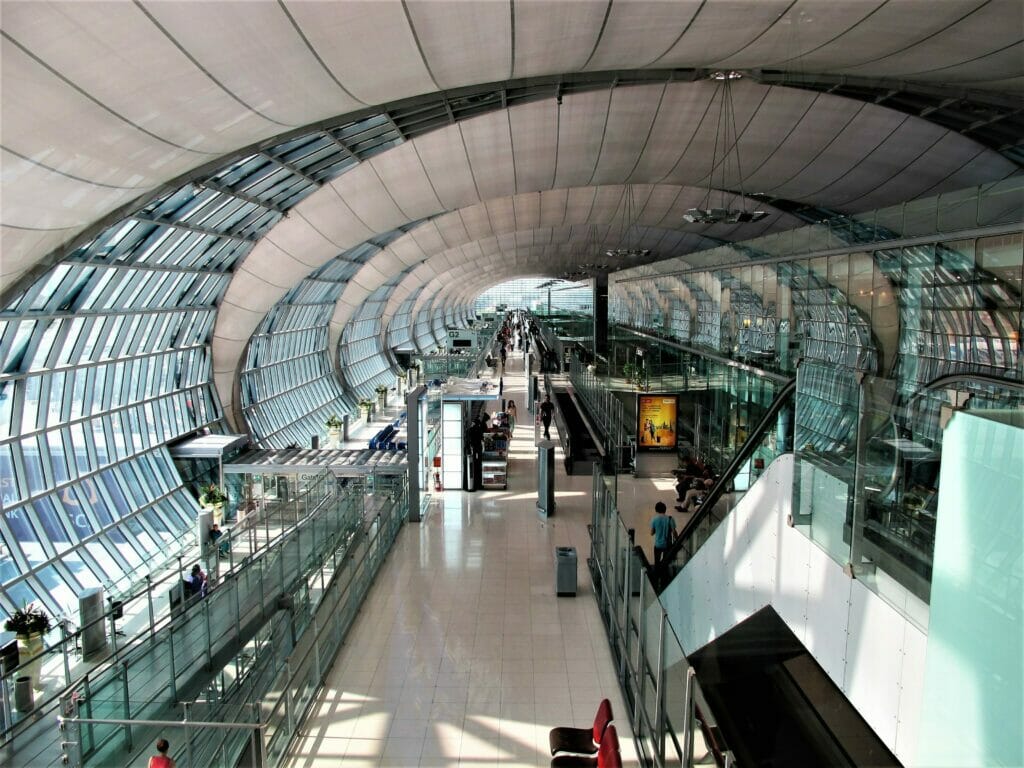 If this is not a big problem in itself, you still need to make sure that you have enough time between your 2 flights to change airports, because they are not next door! There is a free shuttle between the 2 airports and the travel time is officially 50 to 60 minutes. But I say officially! In practice, there is often a bit of a wait to take the shuttle and it is not uncommon for it to get stuck in traffic. We, therefore, advise you to plan at least 4 hours of stopover to have time to change airports.
Bangkok by land
If you are already in Asia, you can also arrive in Bangkok by train or bus.
By train
The main train station is called Hua Lamphong. But this mythical station of Bangkok will soon close its doors after more than a century of good services! All the lines are progressively redirected to the gleaming Bang Sue station, located 8 km north, close to the Chatuchak market. Both stations are on the MRT Blue Line (the underground subway), so it is easy to reach the city center. For example, you can reach the Royal Palace in just a few stops.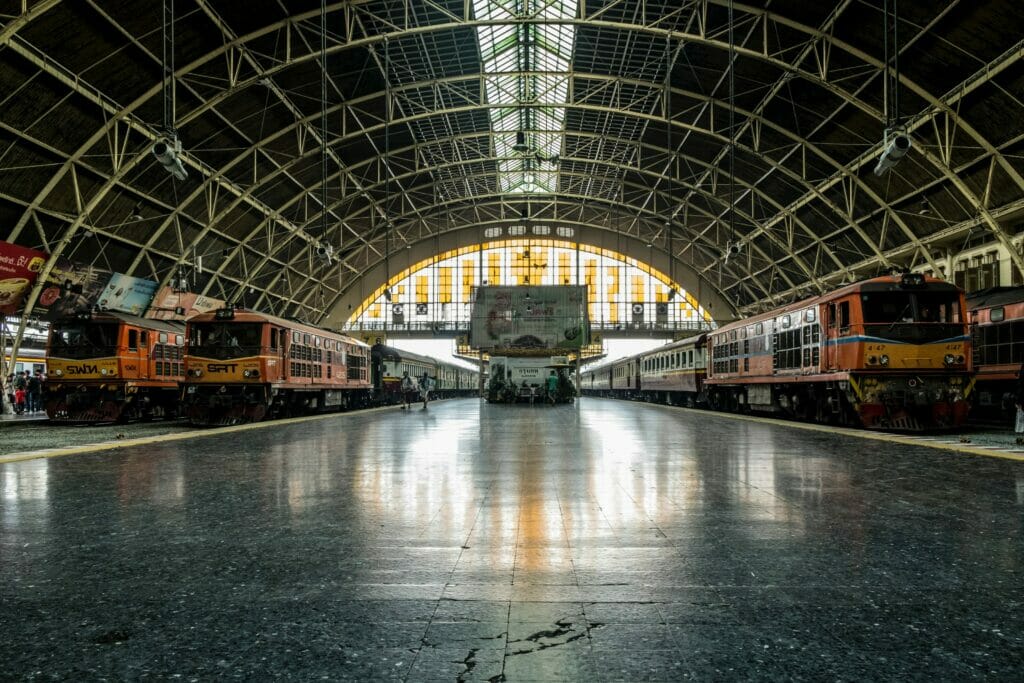 By bus
If you arrive by bus, there are roughly 3 options depending on where you are coming from and where you want to go.
The main bus stations in Bangkok are:
Mo Chit: located in the north of the city, it is probably the biggest station. There are many minibusses and all the lines that go up to the north of the country (Chiang Mai, Chiang Rai). To get to this station by public transport, the best is to combine the MRT and the bus.
Ekkamai: this is the station in the east of the city that serves the majority of buses to the east and northeast of the country. From there, a Skyline BTS (the overhead subway) station takes you anywhere in Bangkok.
Sai Tai Thalin Chang: this bus station is located in the west of the city, but it serves all destinations in the country's south.
Beware: the distances between the stations are quite large, so make sure you know which station your bus will leave from. To find out what is the best bus/subway combination according to your departure location, use the Google Maps route function, which works very well in Bangkok.
To book bus tickets
To book bus tickets in Thailand, we advise you to do it directly from the bus stations or online.
Getting around the city
The tuk-tuk is the iconic means of transportation in Thailand. They are convenient and fairly cheap for short distances, but not worth it for longer trips. Moreover, as a tourist, you will have to negotiate hard to get an acceptable price. In short, it's worth taking once for fun, but it's not economical in the long run.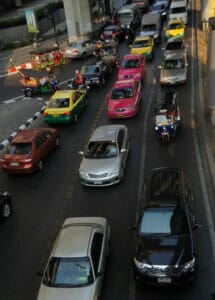 Cabs are the fastest and cheapest way to get around in Bangkok according to our experience. Of course, this is only valid if you ride with the meter. If the driver refuses to put it on, just get out of the cab and take the next one. To give you an idea, we took a 45 minutes cab ride to Chatuchak market, for a price of 120 bahts for 4 people. On the other hand, the cab is to be avoided during rush hours! The traffic in Bangkok is a real hell and you can stay stuck in your cab for 2 hours!
In this case, simply take the subway (MRT) or the overground subway (BTS), but be aware that it costs about the same as the cab and that there are few stations. Depending on the number of stations or areas you pass through, it costs between 15 and 40 bahts. You can buy tickets at the vending machines in the stations.
The bus network in Bangkok is huge (over 190 routes!), which allows you to go anywhere in the city and makes it so complex! Make sure you know exactly which buses you need to take to get from point A to point B. To do this, look on Google Maps or ask your hotel directly. Tickets are sold directly on the bus and prices range from 7 to 25 bahts depending on the line (part of the red line is even free).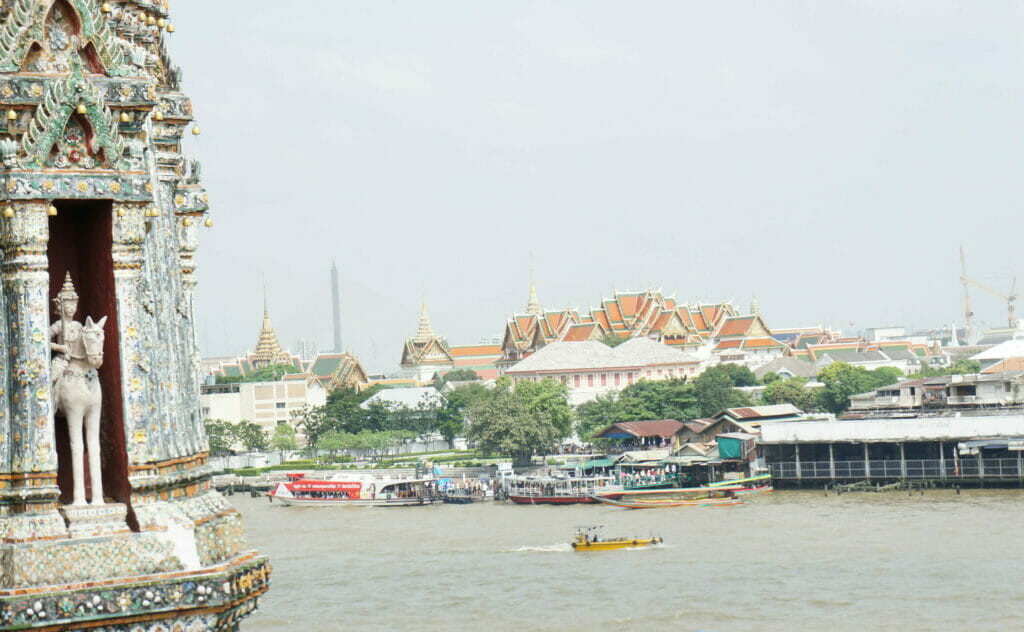 The Chao Praya Express cab boat is another inexpensive way to get around Bangkok. Getting around on it is easy, as the Chao Phraya River crosses the entire city from north to south! It costs between 14 and 33 bahts depending on the line. It's a good option if you want to mingle with Thais for an authentic local experience.
Things to do in Bangkok
Find below all our suggestions for activities and visits to do in the Thai capital.
Temples to visit
There are more temples than you can imagine in Bangkok. Of course, unless you are planning to move to Thailand, you will have to make choices among the 400. Here is our small selection of temples to visit in Bangkok!
Wat Arun
This is our favorite temple in Bangkok! Different from the other temples of Thailand, it sits majestically on the Chao Phraya river. The view from the top of the main part is magnificent (especially on the Grand Palace). On the other hand, the stairs to get there are very steep, but it is worth climbing them! The entrance costs only 50 bahts.
For the sunset, we advise you to go to the other side of the river, to the Amorosa bar. Located on the top floor of a small building, this bar has a breathtaking view of Wat Arun. Nothing like it to end the day in beauty! But, don't leave immediately after sunset, because the temple lights up in the darkness. With the multicolored boats crossing in the night, it is a spectacle not to be missed!
The Grand Palace and its temples
It is the former residence of the royal family and probably the most sacred place in the country. And as we do not joke with the royal family in Thailand, you will have to be dressed properly to visit the place, that is to say in pants and a T-shirt with sleeves. Forget the tops, the shorts, and the flip-flops, which will make you refuse entry. Even if the entrance fee has increased a lot in the last few years (500 bahts now), it's worth breaking your piggy bank and sweating for a day!
As soon as you enter the palace, you will be dazzled by the talent of the Thai artists who built this marvel. Frankly, the pictures speak for themselves! Among all that there is to see at the Grand Palace, you can, among other things, admire the famous Emerald Buddha. Despite its size (only 60 cm high), it is the most sacred statue in Thailand! We also really liked the treasure museum (air-conditioned 😉) and the museum about the textiles of Queen Sirikit. In short, it's a must-do!
Wat Pho
It is the temple of the famous reclining Buddha covered with gold leaves, which is 15 m high and 46 m long! Just for that, it is worth the detour, isn't it? But don't forget to walk around the rest of the temple which is also very interesting. Count 200 bahts for the entrance. Oh yes, it's also home to one of the best massage schools in Thailand. So why not relax a bit after your visit?
Other temples
As I said above, there are many other temples or pagodas to visit in Bangkok. For example, you can visit Wat Saket (50 bahts per person), which is on the Golden Mount and which offers an amazing view of Bangkok. Or visit Wat Ratchanatdaram (20 bahts per person) for its beauty and Wat Traimit (40 bahts per person) which houses a golden Buddha statue of 5.5 tons!
Khao San Road
Khao San (or Khaosan) Road is the street of all vices in Bangkok, but it is also where you will find the best value-for-money accommodations. We stayed there once, and the least we can say is that we are not fans of the atmosphere there.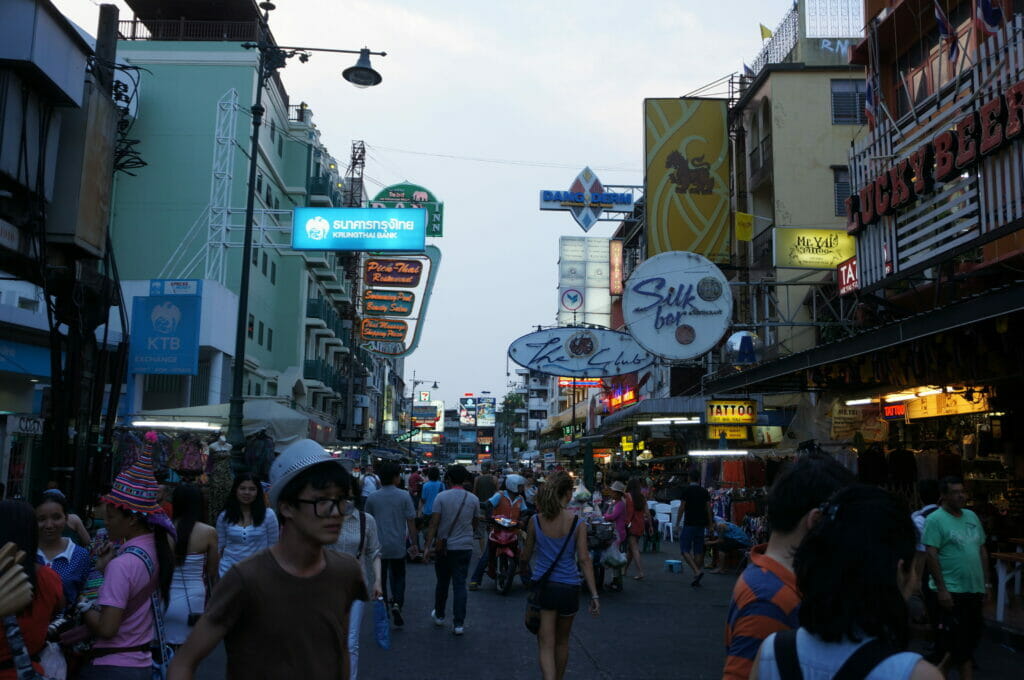 However, this is the place to be for budget travelers, because even the food and drinks are very cheap. This is also the place where we meet the most unhealthy tourists… We once crossed Khao San Road between 4 and 5 in the morning and the sight we saw was pathetic. It looked like the worst tourists in the world had gathered there 😱.
If you want to have a quieter and more authentic Bangkok experience, we'd advise you to go elsewhere instead. But hey, it's still a mythical street in Bangkok that's good to cross at least once!
Going to the flower market and floating market in Bangkok
The Pak Khlong Talat is the biggest flower market not to be missed in Bangkok! Since all the flower stalls were on the street during Loy Krathong, we did not go. But this market open 24/7 is a place not to be missed, just for the olfactory and visual explosion! Little advice: come at night, after midnight, for complete immersion.
Although it's a must-do in Bangkok, we didn't have the opportunity to go to a floating market, but here's our selection if you want to do one:
Bang Nam Phueng, located in the south of the city and open on weekends only, take the opportunity to discover the green lung of Bangkok, Bang Krachao;
Khlong Lat Mayom, a less-known floating market located in the west of Bangkok, opened the weekend; you can make a boat tour there to see the city differently and thus go to the close floating market, Taling Chan.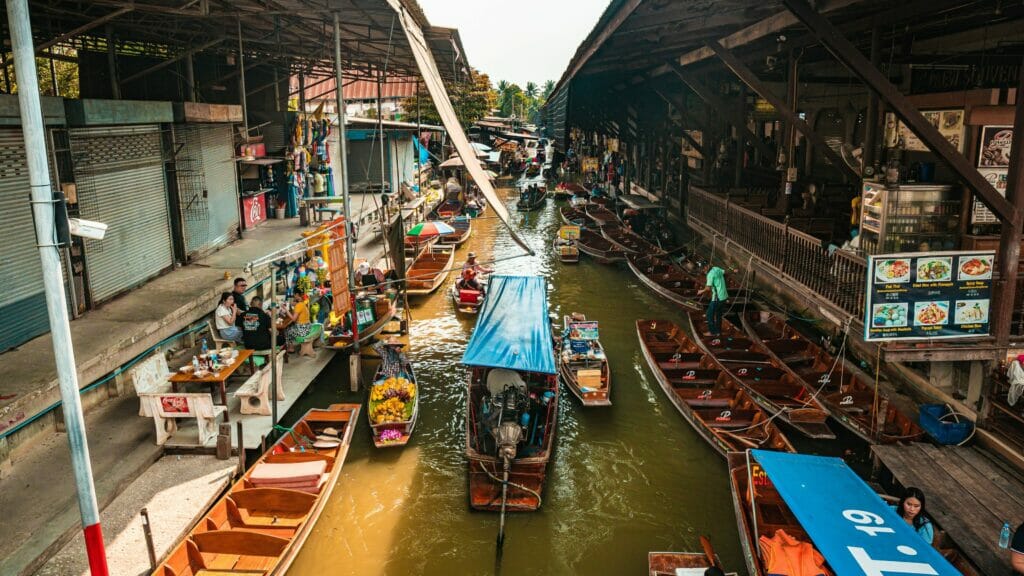 Experience a night market in Bangkok
A must-see in Thailand is the Srinagarindra Train Night Market, a vintage version of the Chatuchak market and much less touristy, or the Wang Lang and Huamum Night Markets, for a 100% Thai experience.
Shopping
Chatuchak market
I think that all the people who have already traveled to Southeast Asia will have the impression of seeing always the same souvenirs sold everywhere. So don't bother to go around Asia, just go to Chatuchak one weekend. You will find all the souvenirs, clothes, shoes, animals, plants, that you want and much more! It's simple, we've never seen a market this big!
Chatuchak market is 8000 stalls for 200 000 visitors per day. Crazy, right? On the other hand, you must be prepared to negotiate hard! Don't hesitate to refuse a price that doesn't suit you, you'll probably find the same merchandise 10 meters away. Oh yeah, and if you're feeling peckish, let yourself be tempted by a little mango sticky rice or a delicious coconut ice cream 😋.
Downtown shopping malls
The most popular mall in Bangkok is by far the MBK! What is the MBK? It's 8 floors and 2000 stores of everything you want! We went there to buy a new mobile for Fabienne (one floor is entirely dedicated to electronics), but there are also clothes, handbags, shoes, jewelry, etc.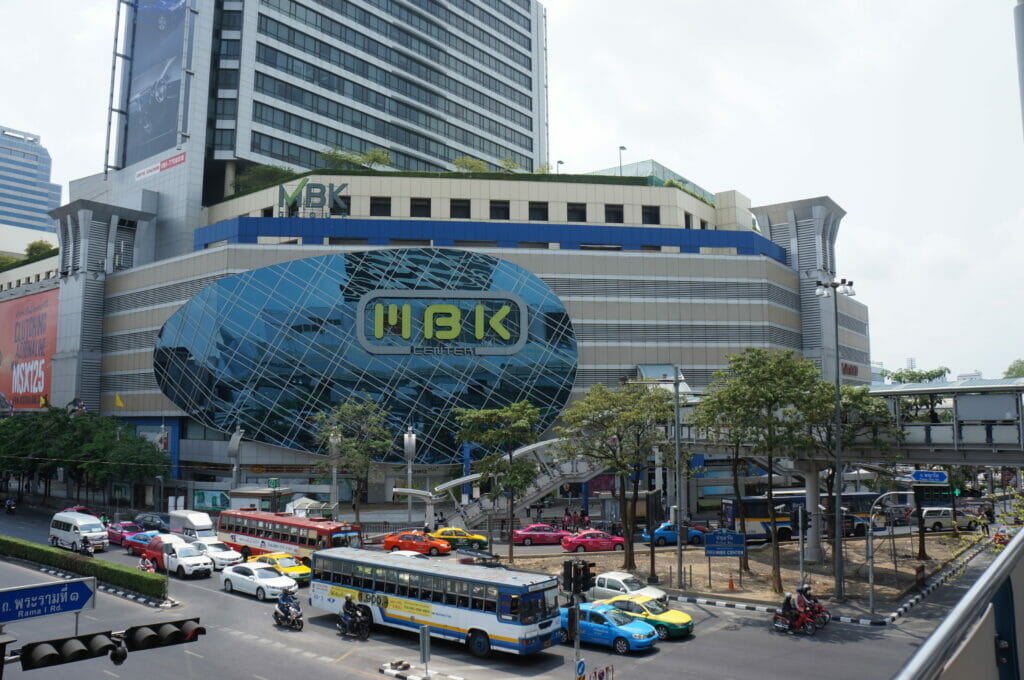 The funny thing is that there are brands, but also many copies. Depending on the store, you will have to negotiate! For example in electronics, you'll find copies of all the major phone brands for a few dollars… After that, it's up to you to recognize a bad copy from a good one 😉.
And if you're tired of bargaining (after 7 months in Asia, I couldn't take it anymore…) and you have a bigger budget, go to Siam in front of MBK for a change of category! You will find all the luxury brands that we know back home, as well as displayed prices.
So, for shopping, these two places can satisfy everyone.
Other activities
If you want to take a free guided tour, check out Civitatis. You'll find several dozen activities in Bangkok 🙂.
Events not to be missed in Bangkok
During our first stay in Bangkok in November, we had the chance to attend the festival of lights or Loy Krathong. On this occasion, Thais gather at the banks of rivers and lakes to pray to the goddess of water by launching thousands of krathongs (small boats decorated with flowers and candles) and releasing lanterns into the sky from bridges.
This moment is simply magical: all the waterways are illuminated with thousands of small floating candles and the sky is filled with lanterns. We also enjoyed the days before the festival very much, because all the markets were full of flowers of all kinds. It is a once-in-a-lifetime experience! For more information on the celebrations, find the calendar of the important events in Bangkok.
Food in Bangkok
Honestly, until now, we have never eaten as well as we do in Thailand! So, you can imagine that in Bangkok, there is plenty to indulge in. And you don't even need to go to a restaurant, the street food is just amazing! If you want to take a guided tour of the best addresses in the capital or take a Thai cooking class, have a look at Getyourguide. To give you an idea of the must-try in Bangkok (and make you salivate), we refer you to this article 😋.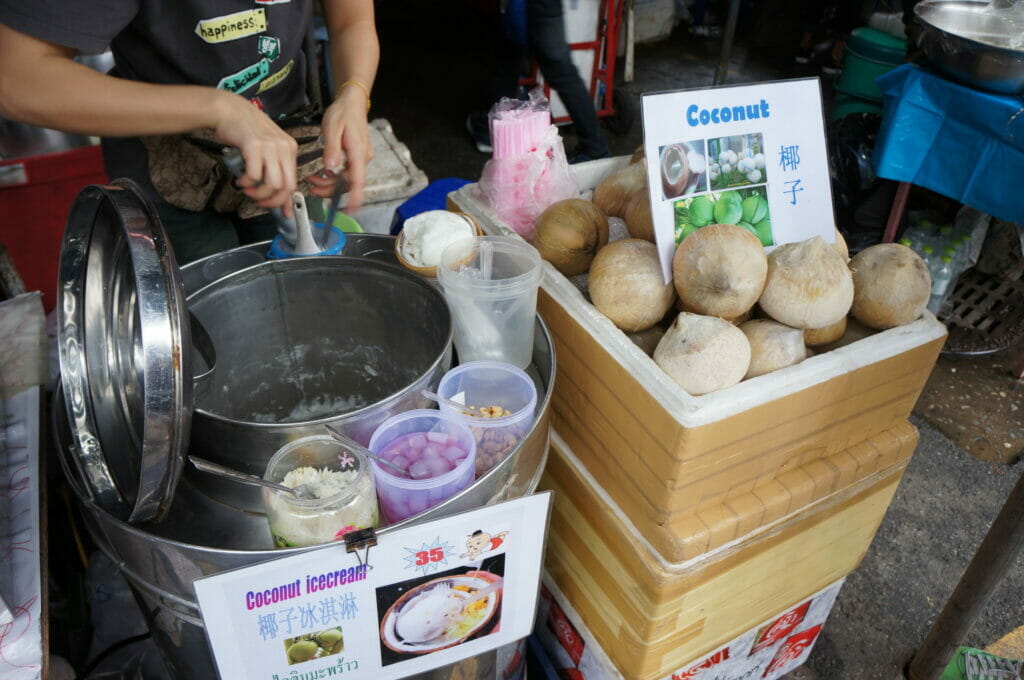 Where to sleep in Bangkok?
The Thai capital is huge: you can imagine that there is an incredible number of accommodation possibilities.
We stayed in Bangkok 2 times in backpacker mode during our world trip, we went back there in transit during our vacations, slept near the airport for another transit, and came there to attend a conference. In all, we made 5 passages in 3 years in 4 different situations, which makes 4 different budgets and locations.
Bangkok in backpacker mode
District of Khao San Road
It is THE district of the backpackers! We stayed there once and the majority of the guesthouses. It is clearly in this lively area of the city that the cheap guesthouses are. If you want a tip, choose accommodation located in a parallel street. Khao San Road is very noisy, and the insulation in Thailand is all relative.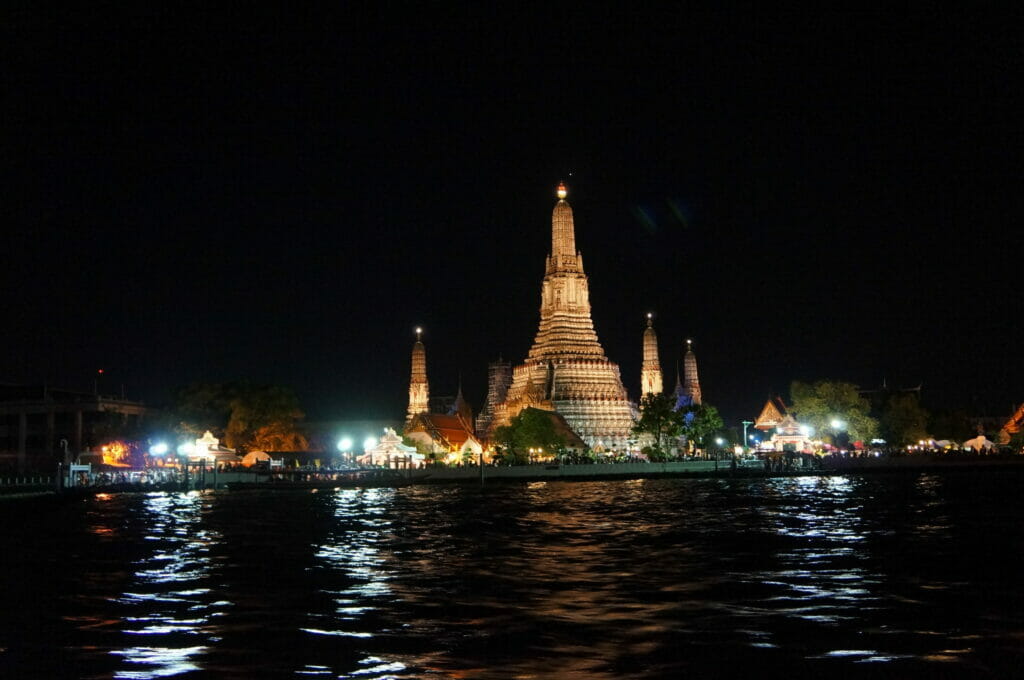 Alternative to Khao San
We often read that the Siam, Silom, or Sukumvith districts are good too. I don't necessarily recommend one district more than another. The important thing for me is to be close to a means of transport.
For example, during our first visit to Bangkok, we stayed in the Thonburi area. There was not much to see, but our guesthouse was located next to a BTS station. Finally, it's worth it to move away a little to pay less, while being close to the center of Bangkok thanks to public transport!
Sleeping at the airport in Bangkok
On our way back from Chiang Mai, we passed through Bangkok and had our flight to Switzerland in the morning. Not wanting absolutely to sleep in the city center and to have to make the way to the airport early in the morning, we decided to opt directly for a hotel near the airport.
The hotels of airports are often rather expensive and not necessarily glamorous. Know that for backpackers, there are good alternatives in Bangkok! We stayed at the Oyo 512 Plai and Herbs. It is not a "charming" hotel, but its location right next to the airport is great. We paid 12 euros for 2 people in a double room with a private bathroom. The price also includes the transfer to the airport by minibus. Honestly, we have nothing to complain about for the price!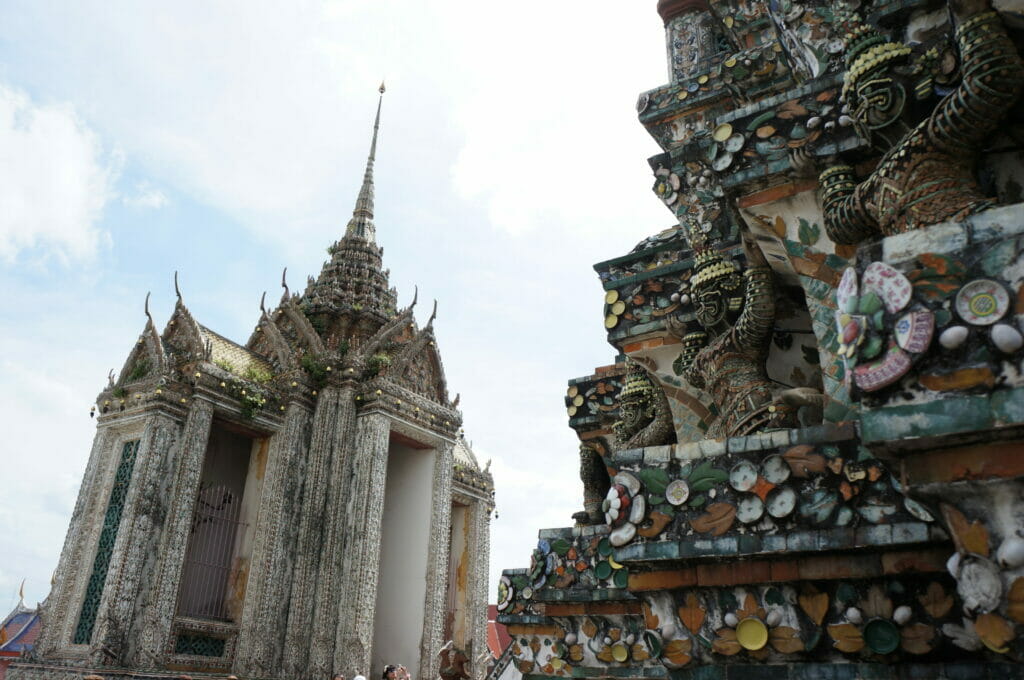 Bangkok Map
You'll find below a map of Bangkok in which you will find the different attractions/neighborhoods we talk about in this article. The colored lines are the subway lines of Bangkok, this might help you for example to choose a district where you stay.
Is Bangkok worth the visit? Our opinion
These are the tips we can give after our two weeks in Bangkok. Keep in mind that we only did a part of the capital and that the city has a lot more to offer!
Some people love it when others hate it. Honestly, I don't know where we stand. Bangkok is too big and crowded for our taste, but on the other hand, it is a very interesting visit. Even if we wouldn't like to live there, we highly recommend you to come at least for a few days! It will not leave you indifferent!
From there, you can easily explore Thailand. So, which will be your next destination: the beaches of Koh Chang or rather the jungle of Khao Yai National Park 😉 ?