Today we'll be talking a bit more about one of the craziest city in Asia: Bangkok.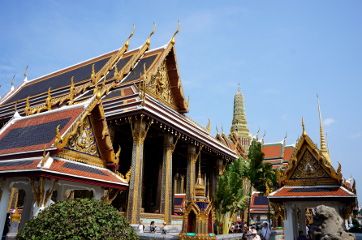 In all, we stayed there for about fifteen days (3 visits over the last 5 years) which gave us plenty of time to get lost all over the city! Some people love it, while others litterally hate it… To be fair, I do not quite know where we stand on that question. This city is definitively too big and way to busy for our taste, but on the other hand it is also a very interesting experience to visit it. Even if we would never like to live there, we highly recommend to anyone to at least come see it for a couple days!
So, you want to visit Bangkok???? follow the guide:
Things to do in Bangkok: table of contents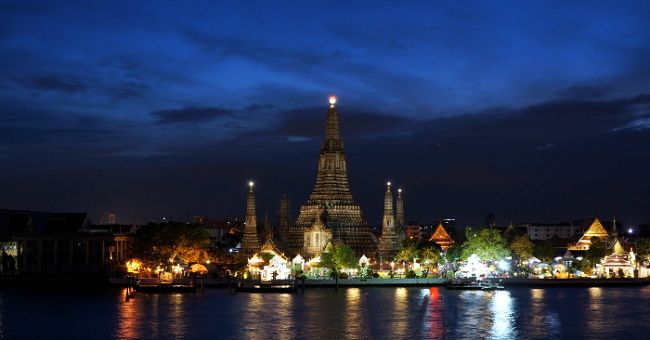 Bangkok, world capital of tourism
Bangkok is a multifaceted city with 14 million inhabitants and welcomes up to 16 million tourists every year…. Crazy figures that propel the Thai capital to the rank of the most visited city in the world!
You can do everything in Bangkok… there is a historic centre rich in temples and monuments, food is a delight, the new ultra modern city centre is a shopping paradise, the nightlife is very lively… And even if the city has a reputation for attracting a lot of malicious tourists (a reputation we believe is well founded), it would be stupid to miss everything Bangkok has to offer because of a minority of stupid travellers, wouldn't it?
Arriving in Thailand and reaching Bangkok
Bangkok is an almost unavoidable city for any trip to Asia. Why? For several reasons, actually… the first is that it is a beautiful city, but the other is also that it is generally in Bangkok that the majority of travellers arrive! Why? Simply because Bangkok is generally the cheapest Asian destination for flights. If you book it in advance (and with a bit of luck) you can find flights from 300€ from Europe (round trip). The average price of a return flight from Paris to Bangkok is around 550€.
Find a cheap flight to Bangkok
The different airports in Bangkok
In Bangkok you sometimes have to be a little careful because there are 2 airports! If you arrive from far away there is a very good chance that you will arrive at Suvarnabhumi Airport (BKK), but if you take an internal flight or an international flight with a low-cost airline there is a chance that you will arrive in Don Mueang (DMK).
If I tell you to be careful, it's especially if you have a connection in Bangkok. It is not uncommon for travellers not to realize that their second flight (to the islands, for example) does not leave from the same airport as the one they arrived at.
If this is not a big problem in itself, you just have to make sure you have plenty of time between your 2 flights to change airports, because they are clearly not nearby! 🙂 There is a free shuttle bus between the 2 airports (frequent connections) and the travel time is officially 50 to 60 minutes. But I say officially… because in practice, there is often a bit of waiting to take the shuttle and then it is not uncommon for the shuttle to get into traffic jams. We therefore advise you to plan at least 4 hours of stopover to have time to change airports.
To be sure which airport you have for your flight rely on the airport code. BKK for Suvarnabhumi and DMK for Don Mueang which is indicated on your ticket.
Arriving in Bangkok by land
If you are already in Asia you can also arrive in Bangkok either by train or bus.
By train: The main station is called Hua Lamphong. From the latter it is extremely easy to reach the city centre. The station is located on the MRT Blue Line and you can reach the Royal Palace in just a few stops.
By bus: If you arrive by bus there are roughly 3 options depending on where you come from (or where you want to go).
Bangkok's main bus stations
Mo Chit:north of the city, this is probably the largest station. There are many minibuses and especially all the lines that go up towards the north of the country (Chiang Mai, Chiang Rai, etc.). To get to this station by public transport, it is best to combine the MRT and the bus. To find out which bus/metro combination is the best for your departure point, you can use the Google Maps route planning function, which works very well in Bangkok.
Ekkamai: The station in the east end of the city. It is from this station that most of the buses that go to the east of the country or to the north east leave. A BTS station is located in the bus station.
Sai Tai Thalin Chang: the bus station is located rather to the west of the city, but it serves all destinations in the south of the country.
Be careful: the distances between the bus stations are quite long, so make sure you know from which station your bus will start! 🙂
To book bus tickets in Thailand we advise you to either book from the bus stations directly or online via 12goasia.com
New rules for visas in Thailand
For visas, there is a new regulation that it is good to know before going to Thailand. You can always apply in advance in a Thai embassy for a tourist visa valid for 60 days (with the possibility of a 30-day extension). It is also always possible to obtain a free 30-day visa by arriving by plane without prior arrangement. However, the new regulation applies to travellers crossing a Thai land border.
If you arrive in Thailand for the first time as a tourist, you will have no problem and you will get a 15 or 30 day leave depending on your country of origin. However, if you have already been through Thailand recently and want to return, you may have problems.
In order to put an end to the famous "visa runs" (crossing the border in one day to obtain an additional 15/30 days of visas), border officers now have the authority to deny unconvincing persons (i.e. those who cannot convince officers that they are really tourists) entry to Thailand and to ask them to make a tourist visa or a work visa at an embassy. The aim is to reduce the number of people living and working in Thailand as language teachers, guides or other and who do not have an official work visa. What we unfortunately cannot tell you is how fussy border officers are…
What to do in Bangkok? All our suggestions
Find below all our suggestions for activities and visits to do in the Thai capital.
Temples to visit in Bangkok
There are more temples than you can imagine in Bangkok… in fact, there are more than 400! Obviously, unless you intend to settle in Thailand, you will have to make choices…)
The temples to see in Bangkok according to us:
Wat Arun
The royal palace
Wat Pho
Wat Saket
Wat Traimit
Wat Ratchanatdaram
Wat Arun :
It is the temple we preferred in Bangkok and the entrance costs only 50 Bahts. Located on the banks of the Chao Phraya River, it sits majestically on the waterfront. It doesn't really look like other temples in Thailand and the view from the top of the main part is magnificent (among other things, there is a beautiful view of the royal palace). On the other hand, the stairs to get there are very steep but it is worth climbing them…)
We also advise you to go to the Amorosa bar on the other side of the river for sunset. Located on the top floor of a small building, this bar has a breathtaking view of Wat Arun (especially at sunset). It doesn't get any better to end the day! But do not leave immediately after sunset because the temple lights up when it is dark…. With the multicoloured boats spending the night, it's a show not to be missed!)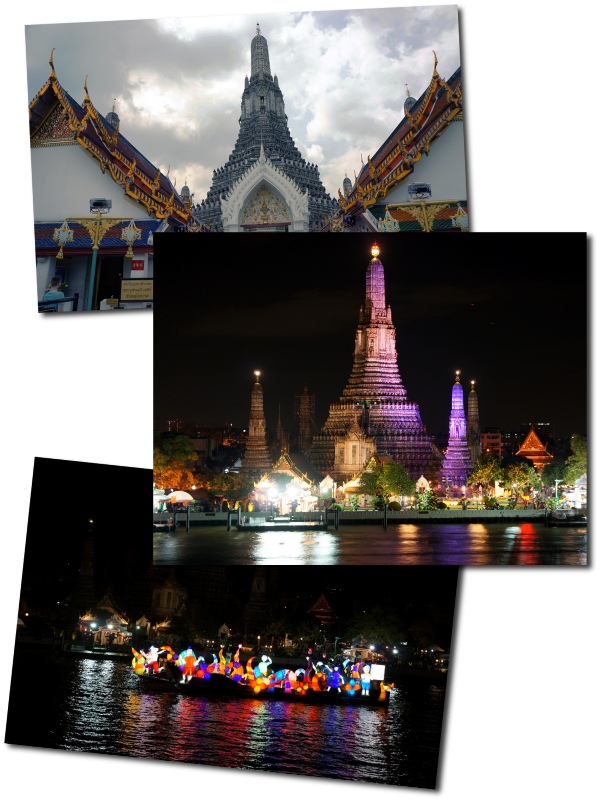 The royal palace and its temples:
It is the former home of the royal family and probably the most sacred place in Thailand. And as in Thailand we do not laugh with the royal family, you will have to be properly dressed to visit the places i.e. in pants and t-shirt with sleeves (no top, shorts, flip flops etc….). And even if the entrance fee has increased significantly in recent years (it is currently 500 Bahts), it is worth breaking your piggy bank and sweating for a day.
As soon as you enter the palace, you will be dazzled by the talent of the Thai artists who built this marvel. Frankly, the pictures speak for themselves! Among all that there is to see at the royal palace, you can admire the famous emerald Buddha. Despite its size (only 60cm high… I don't know I imagined it taller), it is the most sacred statue in Thailand! We also liked the treasure museum (it is air-conditioned) and the museum about Queen Sirikit's textiles. A must do!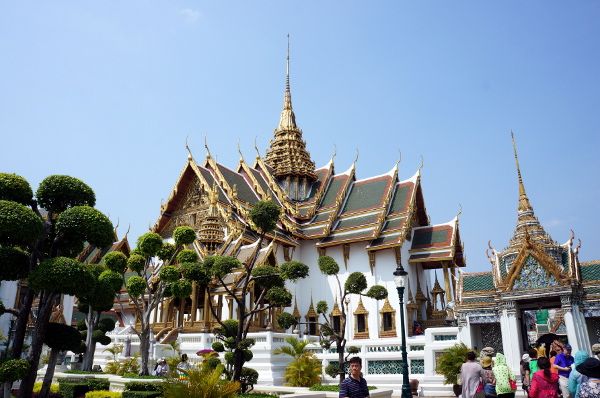 Wat Pho :
It is the temple of the famous Buddha lying covered with gold leaf which is 15m high and 46m long! Just for that reason alone, it's worth a detour, isn't it? But don't forget to walk around the rest of the temple which is also very interesting… Ahh yes, it is also the headquarters of one of the best massage schools in Thailand so why not relax a little after your visit 😉
Other temples :
As I said earlier, there are still many other temples/pagodas to see in Bangkok. For example, you can visit Wat Saket, which is located on the golden mountain and will offer you a breathtaking view of Bangkok, or Wat Traimit, which houses a 5.5-ton golden Buddha statue!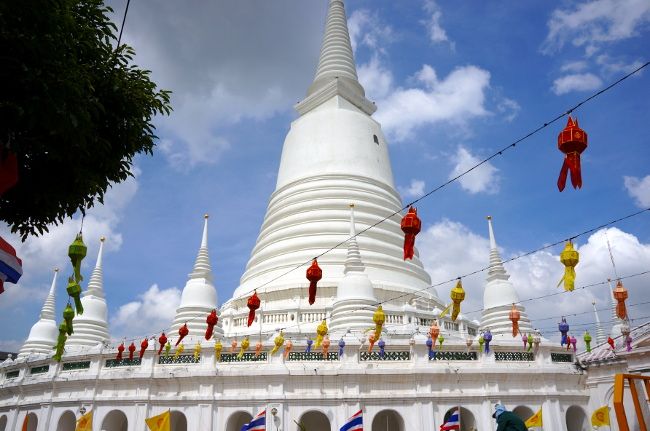 Khao San road
It is a bit like the street of all vices in Bangkok but it is also the street where you will find accommodation with the best quality/price ratio. We stayed there once, and the least we can say is that we are not a fan of the atmosphere there.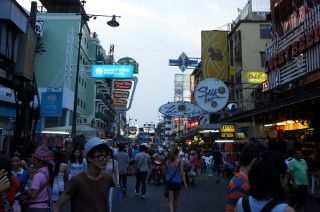 However, for low budget travellers, it is "the place to be" because even food (and especially drinks) is very cheap. But as you were told in this article, it is also here that we meet the most unethical tourists… We crossed the khao san road once between 4 and 5 in the morning and the sight was pathetic. It seemed like all the worst tourists in the world had gathered there…
In our opinion, if you want to have a calmer and more authentic Bangkok experience, we would advise you to go elsewhere. But well, it remains a mythical street in Bangkok that it is good to cross at least once!
Would you like to take a guided tour or attend a show or dinner on a boat? We recommend that you check out the offers Getyourguide.
Shopping in Bangkok
The weekend market in Chatuchak :
I think that all the people who have already travelled to Southeast Asia will have already had the impression that they will always see the same souvenirs for sale everywhere. So, no need to bother to go around South East Asia, just go to Chatuchak for a weekend. You will find all the souvenirs, clothes, shoes, animals, plants you want… and much more. With Fabienne, we had never seen such a large market!
8000 stalls for 200'000 visitors per day…. Crazy, right? On the other hand, you will have to be prepared to negotiate! Feel free to refuse a price that does not suit you… you will probably find the same merchandise 10 meters further on ;-)… Ahh yes, and if you are hungry, let yourself be tempted by a small mango sticky rice or a delicious coconut ice cream…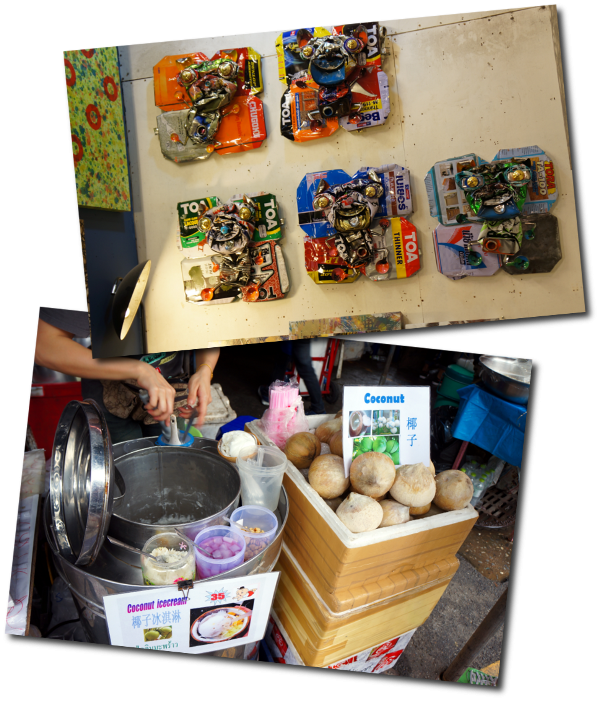 The "Malls" located downtown :
Bangkok's most popular shopping centre is by far the MBK! What's the MBK???? It's 8 floors and 2000 stores of everything you want! We went there to buy a new mobile phone for Fabienne (there is a floor entirely dedicated to electronics) but there are clothes, handbags, shoes, jewellery etc….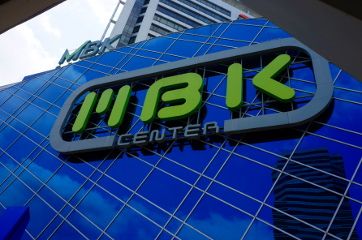 The funny thing is that there are brands but also many copies. Depending on the store, you will therefore have to negotiate.) For example, in electronics, you will find copies of all the major brands (apple, samsung, beat, sony…) for a few dollars… Then, it's up to you to recognize a bad copy of a good one.)
And if you are tired of negotiating (after 7 months in Asia, I couldn't take it anymore;-)) and you have a bigger budget, go to Siam which is located opposite the MBK.
So now we change category…. You will find all the luxury brands that you can find in Europe as well as pricetags on all items. So, for shopping, there's nothing like these two places because it should satisfy everyone.
Thai dishes you should absolutely try
Frankly, so far, we have never eaten as well as in Thailand! So you can imagine that in Bangkok, there is plenty to enjoy. And no need to go to a restaurant… the streetfood is just great! So here is our little selection of the "must try" in Bangkok:
mango sticky rice :
Why start with dessert? Because while we were in Thailand, we ate it almost every day. 🙂 We even learned how to cook it in Cambodia. Mango sticky rice is just incredibly good!
Nothing complicated: a mango, a little sticky rice with a coconut cane sugar sauce and that's it… All those who have already tasted this marvel will understand us 😉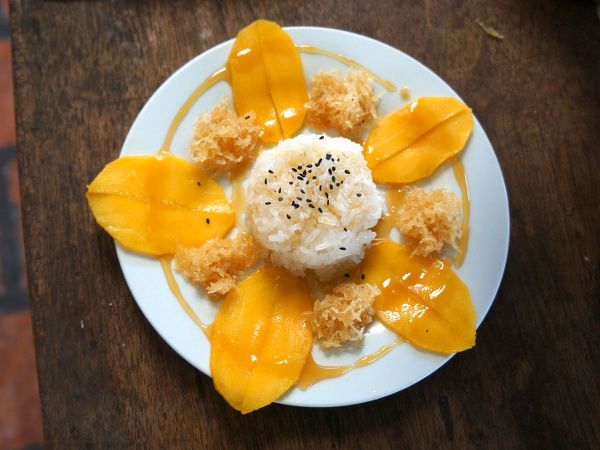 pad Thai :
It's the national dish! Sautéed soy noodles, onions, chicken, eggs… with a thousand and one variations.
fruits :
Forget the flavours of fruit imported into Europe. The real fruit comes from Thailand ;-). All the fruits are juicy and sweet… we have literally learnt to love fruit again in Thailand! For example, on Koh Chang Island, we practically ate only fruit for a week ;-). So forget your a-priori and taste everything you see! ;-)… it'll probably be delicious
Tom Yum Soup:
Fabienne hated that soup and I… I loved it! A highly spicy and lemony soup (Fabienne has trouble with lemongrass) usually served with shrimps and Thai vegetables…. For me, it's a little bit like all the flavours of Thailand in one dish 😉
Morning glory :
The morning glory is a kind of green shoot that is eaten throughout Southeast Asia. It can be eaten at any time of the day (especially at breakfast) and is simply cooked with a little garlic and soy sauce as an accompaniment to rice. A simple and very cheap dish that you couldn't get enough of.
Papaya Salad :
The fresh and delicious dish par excellence. For me, the perfect accompaniment to a pad thai for example. Be careful though, the Thai people eat it extremely spicy so be careful before the first bite 😉
Curries in coconut milk :
There are several kinds… green, red, yellow ;). They are always served in a bowl (separate from the rice) with multiple variations of vegetables, meat or fish. Try them all and find your favorites! I'm more of a fan of green curry (the most spicy) with eggplant and chicken. A delight!
Events not to be missed in Bangkok
The first time we stayed in Bangkok (in November 2013), we had the chance to attend the festival of lights or Loy Krathong. On this occasion, Thais gather at the banks of rivers and lakes to pray to the water goddess by launching thousands of Krathongs (small boats decorated with flowers and candles) and by releasing lanterns into the sky.
This moment is simply magical because all the rivers are illuminated with thousands of small floating candles and the sky is filled with lanterns…. We also enjoyed the days before the celebration because all the markets were full of flowers of all kinds. To see once in his life 😉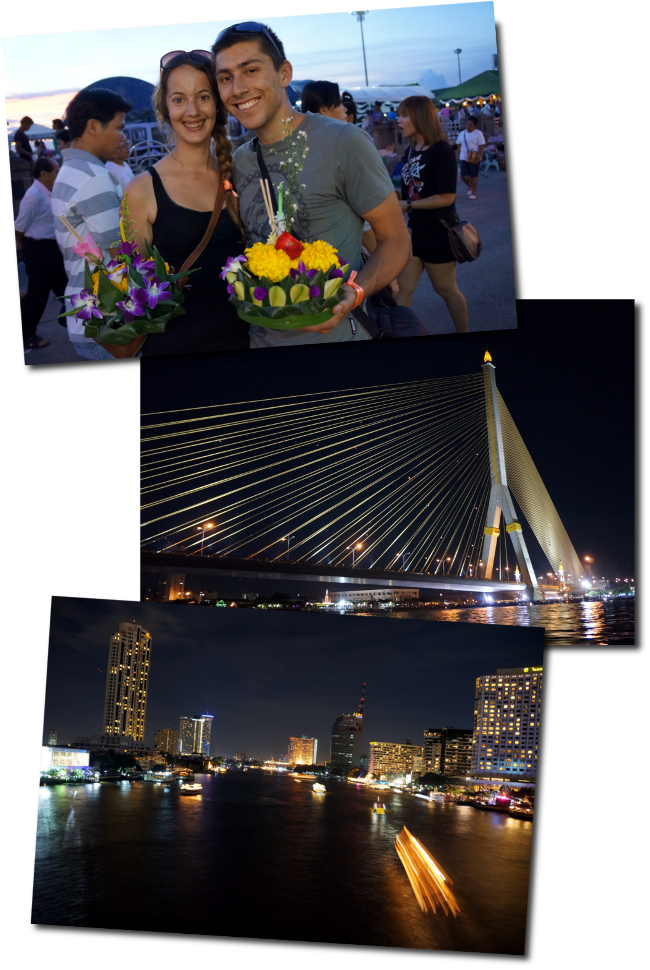 You can find a calendar of interesting events in Bangkok over here
Getting around Bangkok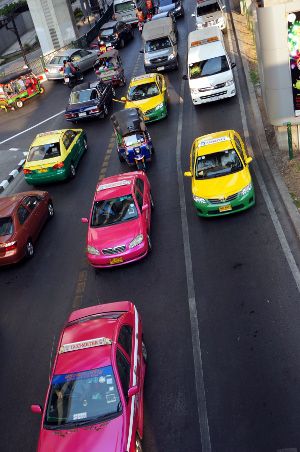 There are mainly 3 ways to get around Bangkok: Tuk-tuks, taxis and subways/sky-train. So in our experience, I would say that in almost all cases, the cheapest means of transport is a taxi. Of course, this is only valid if you drive with the taximeter. Besides, if the taxi driver refuses to put the meter on, just get out of the taxi and take the next one.
For example, to go to the market of Chatuchak, we made 45 minutes of taxis for 120 baht… divided by 4 people makes it even cheaper than public transpot.
There is still a case where it is better not to take a taxi, it is during peak hours! Traffic in Bangkok is a living hell and you may get stuck in your taxi for 2 hours!
In this case, simply take the subway. But be aware that the metro costs about the same as a taxi and there are relatively few stations, mainly in the historic centre where the metro does not even pass.
Finally, the tuk-tuk is a bit like Thailand's emblematic means of transport. They are practical and quite cheap for short distances but are not worth it on long distances. And in addition, as a tourist, you will have to negotiate hard to get an acceptable price. In short, to be taken once for fun but not really profitable….
Where to stay in Bangkok?
Bangkok is a huge city. And as you can imagine, there are almost as many housing options as there are neighbourhoods. We have been through Bangkok several times and have therefore tested several districts and hotels.
We stayed in Bangkok twice in Backpacker mode during our round the world trip, we went back there in transit during our holidays, we slept towards the airport for another transit and came there to attend a conference. 5 visits in 3 years, 4 different situations, and therefore 4 different budgets and locations.
Bangkok on a budget:
To find cheap Bangkok hostels or guesthouses the best way is to visit the website of Hostelworld. They specialize in accomodation for Backpackers and guarantee the lowest price online. (If you find the guesthouse cheaper elsewhere they will refund the difference).
KhaoSan Road area
This is THE Backpackers' district par excellence! We stayed there once on our world tour. It is very clearly in this lively area that most of the city's cheap guesthouses are located.
If you want advice, we still recommend that you choose a guesthouse located in a parallel street. KhaoSan is noisy, and the isolations in Thailand are all relative. To book the best being still to read the notices on Hostelworld.
Alternatives to Khao San
We often read that the districts of Siam, Silom or Sukumvith are also good. Personally, I am not necessarily in favour of recommending one neighbourhood over another. The important thing in my opinion is to be close to a means of transport.
For example, during our first visit to Bangkok we stayed in the Thonburi district. In this neighborhood there is not much to see, but our guesthouse (The U-Baan GH) was located a few meters from the BTS station. The BTS is one of Bangkok's metro lines.
Sleep at Bangkok airport
On our return from Chiang Mai we passed through Bangkok again and had our flight to Switzerland in the morning. Not wanting to sleep in the city centre and having to make the journey to the airport early in the morning, we decided to opt directly for a hotel at the airport.
Leaport hotels are often quite expensive (and not necessarily glamorous). So in Bangkok know that for Backpackers there are good alternatives! We stayed at the Plai Garden. It is clearly not a "charming" hotel, but its location right next to the airport is great. We had paid 12€ per night for 2 people in a double room with private bathroom. In the price was also included the transfer to the airport by minibus. Frankly, it was fine, nothing to say about the price.

SIf you are not in Backpacker mode and are looking for a hotel, we recommend that you visit the website of Hotelscombined. It is a search engine that allows you to compare several major booking sites such as Booking, Agoda, Expedia and many others. In short, the best price guarantee for hotels!
Last words on Bangkok
So here are the tips we can give you after our several days spent in Bangkok. But keep in mind that we have by far not done everything in Bangkok and that the city has much more to offer.
This city is really worth a visit! No matter if you like it or not, it will most certainly not leave you indifferent.
So, do you like Bangkok????
NB: this article contains links to partner sites. If you buy a product on one of their sites you will not pay more but we will receive a small commission. This will help us to keep this site alive. Thank you! 🙂