It's time to show you a little bit of the North on our blog or should I say the Ch'North? 🙂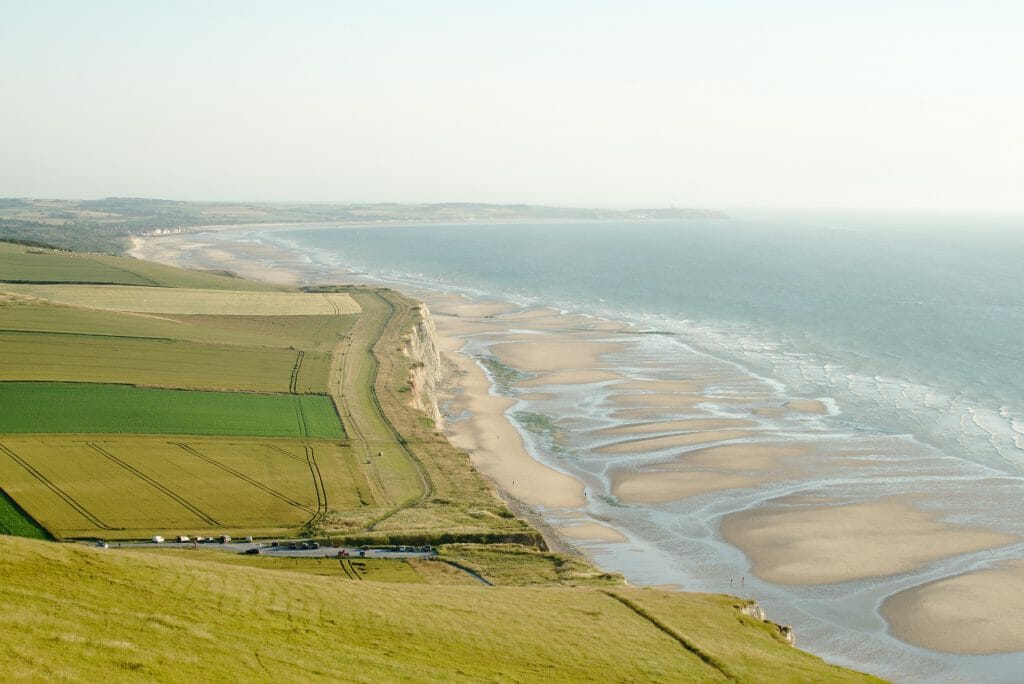 After our escapade in the Pays de Bitche (yes, there is really a place called like this in France), we made a little detour to the very nice city of Lille where we were welcomed by our friends Anais and Florent. And after Lille, we thought we wanted to push a little further north and that's how we ended up on the Opal coast.
Hiking between Wissant and Cap Blanc Nez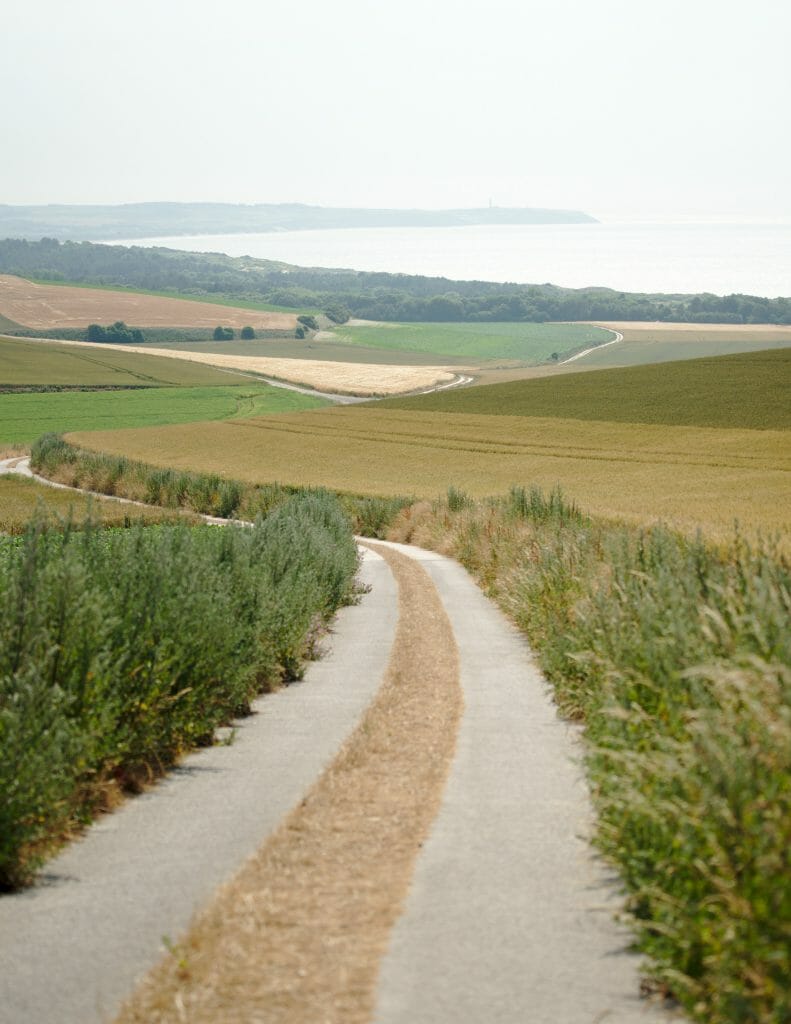 For this article, I propose that we start directly with the serious things: a magnificent hike on the Opal coast
For our first day on the coast, we parked our car on the side of Wissant (which is pronounced Uissant or Ouissant) and from there we left for a beautiful (and long) loop towards the Cap Blanc Nez.
The idea of this hike was to make a loop through the land first, then back to the coast (we give you the map of our hike and the GPX to download a little further).
The first part of the hike is in 100% countryside mode: wheat fields as far as the eye can see, beautiful flowers and a few isolated farms. The heat is sometimes quite overwhelming and the landscapes are like under a small veil because of the effect of the heat…
We were more than happy to arrive on the coast where, as is often the case, a small fresh current is blowing.
We arrived at the Cap Blanc Nez from Mount Hubert, which is just behind. After a quick tour of the cape we started the magnificent descent towards the beach and the path that runs along the top of the cliffs before diving on the beach discovered by the low tide.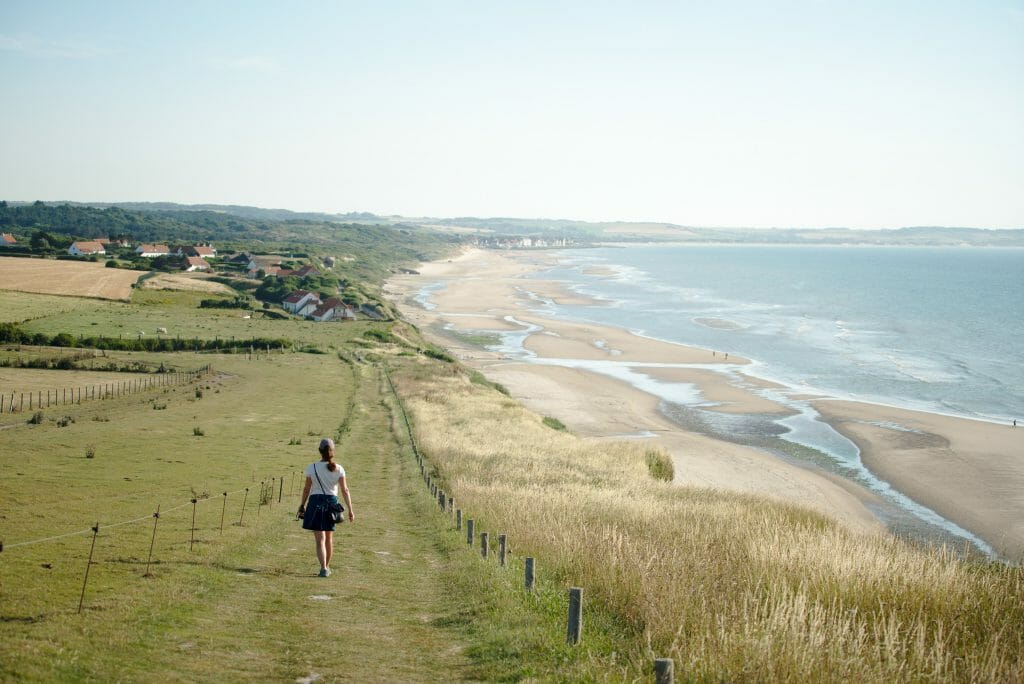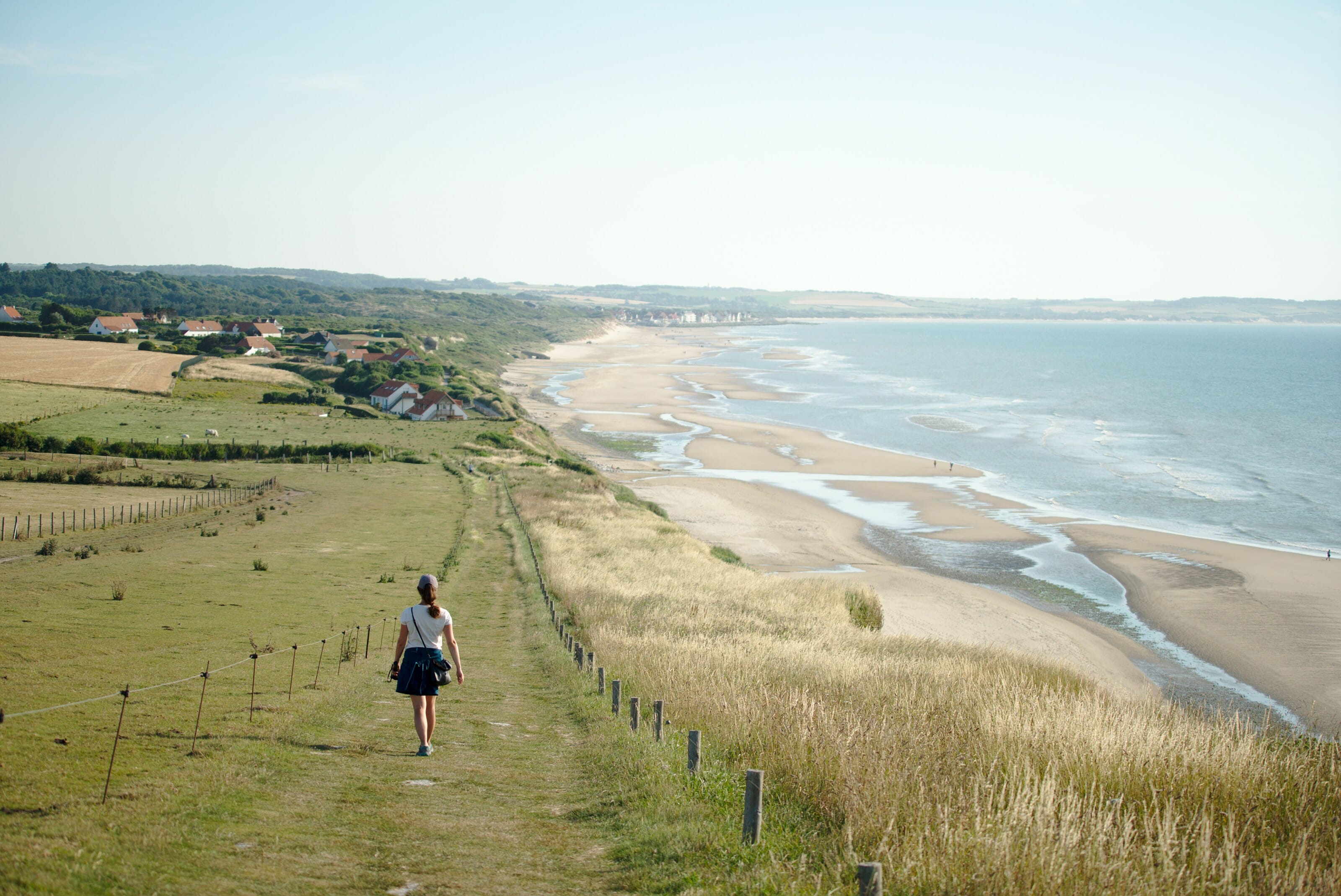 Frankly, if you want to be amazed (and sweat a little) this hike is not to be missed in the area!
Infos
Start and Finish: Wissant
Distance: 17,7km
Elevation change: 324m (positiv et negativ)
Duration: It took us about 5 hours
Important: Be sure to check the tide schedules before you start! The passage back to Wissant is on the beach and should therefore not be undertaken within 2 hours before or after high tide. To see the tide times, go here
Note that the hike can be done in the other direction if it suits you better in terms of tide times.
Some pictures of this beautiful hike between Wissant and the white cap Nez
Hiking Map: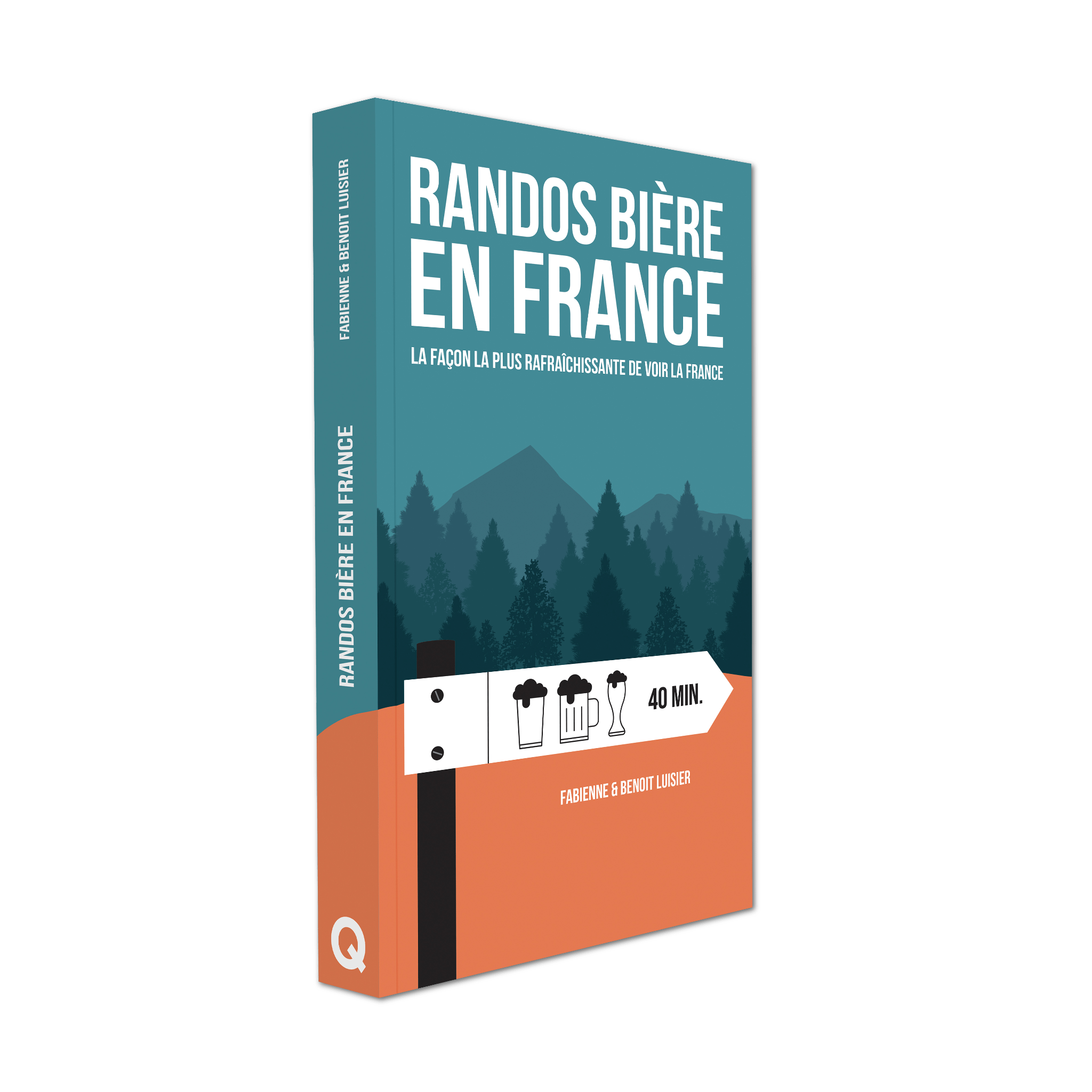 This hike is actually one of the itineraries in our latest book Randos-bière en France. The book includes 70 hiking routes throughout France, each ending with the discovery of a traditional and local beer. Moreover, if you are on the Opal Coast, don't miss visiting Christophe Noyon from the brewery of Les 2 Caps for a short tasting.
For more information about our book, you can take a look at the The official Beer hiking website or buy the book directly online:
From Wissant to Wimeureux: our favorites on the Opal Coast
During this trip we were travelling with our car (as we had been for 3 and a half months) and so we took advantage of this mode of travel, that we are not used to, to go seeing a lot of stuff and to move quite a bit along the coast. Rather than giving you a detailed account of our itinerary, we will give you a short list of our favourites…
A magnificent sunset at Cap Blanc-Nez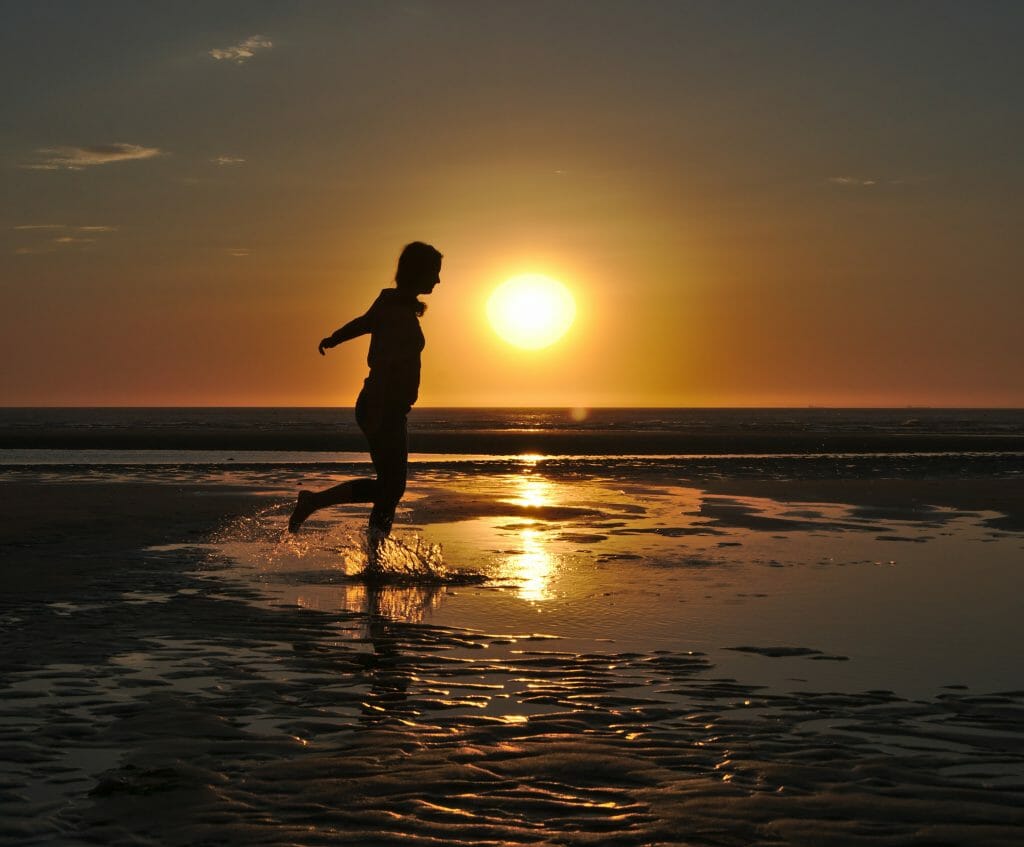 We have visited Cap Blanc Nez several times, but if we had to remember only one visit, it would probably be the time we came for sunset. After a walk around the cape itself we then went down to the beach on the Escalles side to see the sun go down on England. Pfiouuuuuu…… It had been a while since we had seen our last sunset on the sea and the least we can say is that it was pretty spectacular! 🙂 I'll let you judge!
A bike ride to Cap Gris-Nez
Southwest of Wissant, Cap Gris Nez is also a rather nice place to visit with some nice views. And to change from driving a car, it's nice to park at the "Maison des 2 caps" an rent an electric bike and discover the area more quietly (for just 15€ for half a day or 20€ for a day). There are plenty of bike paths in the area and it allows you to take a little more your time to explore the surroundings of the Cap Gris Nez (or even Audreselles and Ambleteuse).
The beautiful beach of Sangatte at low tide
We're not going to talk about swimming part in this post…. because personally when the water is at 15°C-17°C you will never have a chance to see me in it (at least not of my own free will).
In fact, to tell you the truth, the sea and I are a funny story… I get seasick, I'm afraid of swimming (ok in reality I'm afraid of the sea… in the pool it's fine), the sand it's clearly not my thing and my attraction for seafood is pretty limited…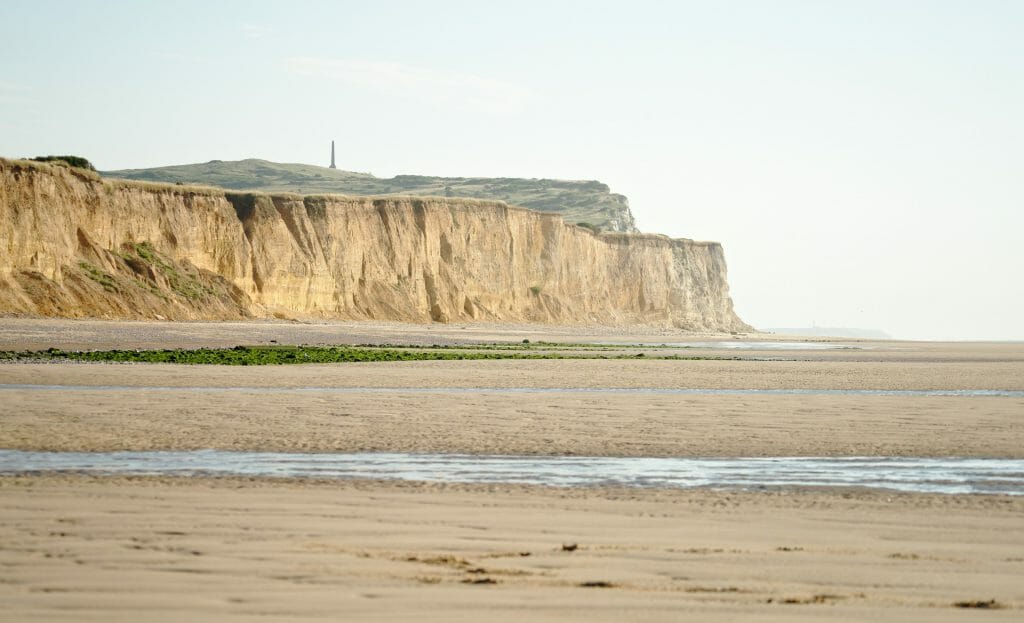 BUT despite that, I love going to the beach more than anything! Why? I just like To walk with the sound of the waves and especially to admire the scenery. I don't know, I think the sea has a very soothing side.
we passedSangatte beach when the tide was low and we opted for a mini walk on the sand. At first we were alone there, then riders arrived on their horses. I'm not an expert in horseback riding (very far from it actually) but it seemed like a pretty nice activity to do. 🙂
The beach cabins of Wimereux
When we arrived in Wimereux we were surprised to be greeted by something very regional apparently… The sea mist! Sea mist is a very strange weather phenomenon that causes us to drive under a bright sun and a cloudless sky when we are in the land, and as soon as we reach 2km from the coast, we are in a thick misty environment!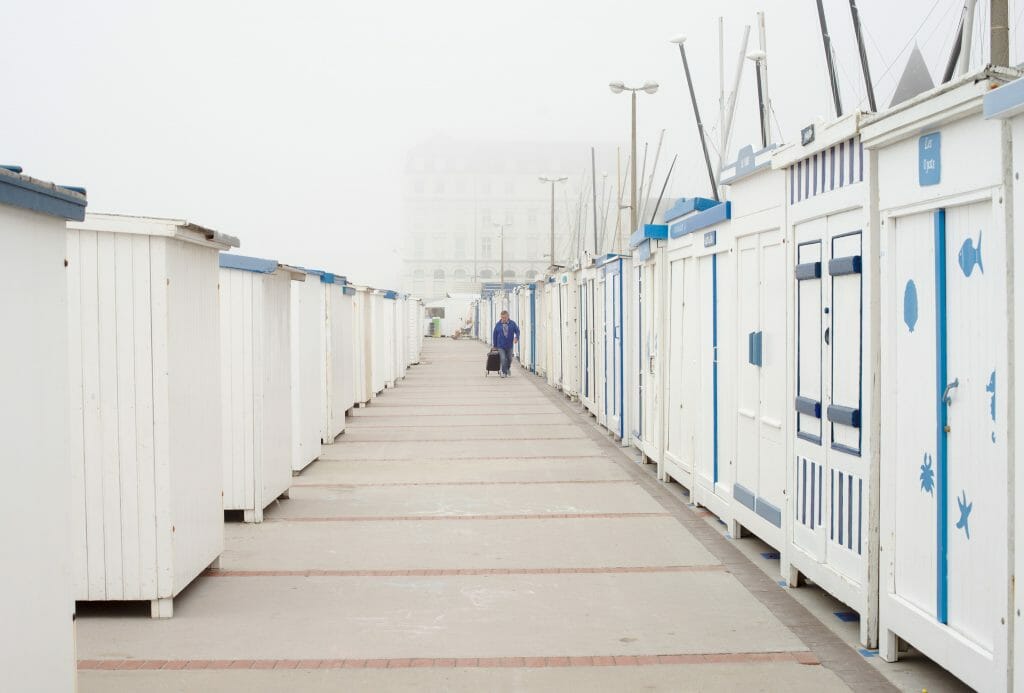 In short, Wimereux we will not have really seen it in its "most beautiful" day, even if we must admit that the mist added a nice mystical touch to the walk and the small beach cabins! And, I mean, it is also an ideal weather to spot the real warriors…. While most bathers had already left the beach some time ago, some people (often people of a certain age, I would say) would leave their small cabins to take a nice cool bath in the sea. The water was at 16°C, the air at 16°C too. Looking at them was fun (but we were pretty happy that we were wearing our sweater)
Ambleteuse Fort
Going up from Wimereux we followed the advice we received on instagram and stopped for a while in the village of l'Ambleteuse. During our visit, the weather was not really good (sea mist that was just beginning to dissipate slightly) and as a result the village was totally deserted! No on to be seen in the streets, most of the shops closed, and a rather "strange" atmosphere if you ask me.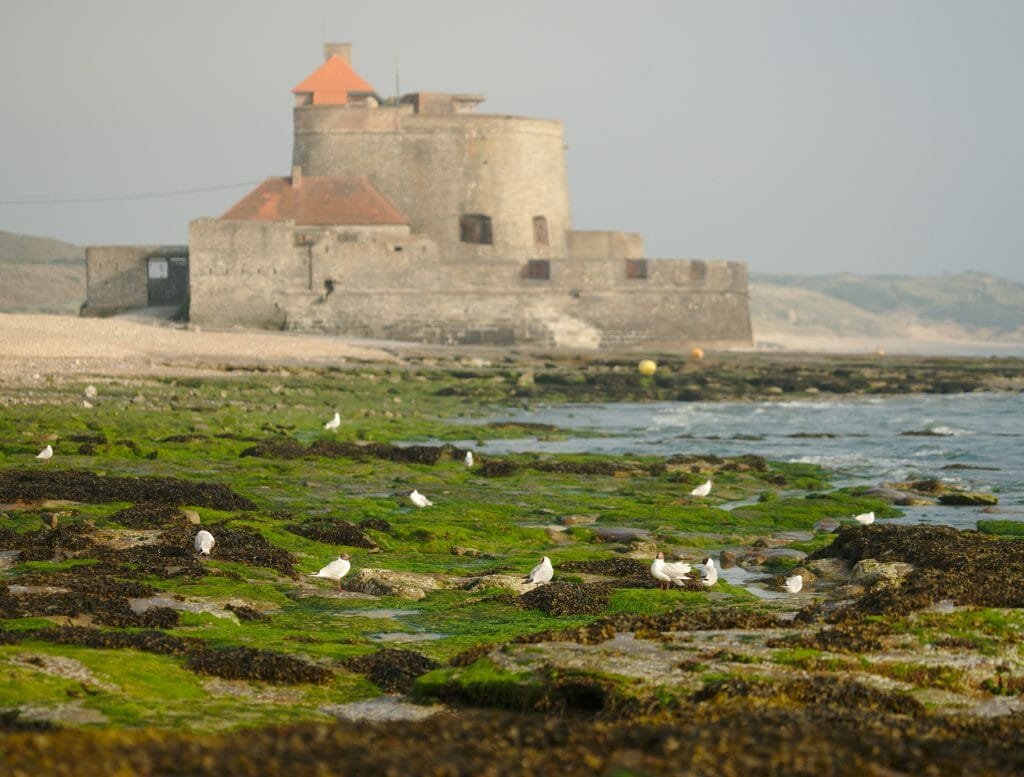 We parked in the centre of the village and then joined the fort of Ambleteuse which is located at the foot of the water (well it depends on the tide eh…;)
This fort, which is also sometimes called Fort Mahon or Fort Vauban, can be visited every Sunday between 3pm and 6pm in July and August. Unfortunately we came to the area outside these hours and so we simply enjoyed the view from the outside.
Gastronomy of the North, tried but not totally convinced
After Ambleteuse we made one last stop in the small village of Audresselles. The initial plan was just to make a quick stop for pictures and then head back to our apartment to cook dinner. Yes, but as it was getting late and because there were menus everywhere announcing the Welsh and the mussels, we kind of could not resist and decided to go have dinner there.
When we were in Lille we were strongly advised to go to the restaurant "Chez Mimi" but on the Opal coast we had several people "from the area" who strongly advised us against it. According to them it is "tourist, expensive for what it is". In short, we wanted to test something else and went to one of the ones in the square (Les Roches, not to mention it). Benoit chose the Mussels and he was thrilled! Well, I got a Welsh. I'd be mean if I told you it wasn't good in this restaurant because I've never tasted it anywhere else… but what's for sure is that it wasn't my thing!
The "Welsh", for those who don't know it, is a typical northern specialty. The recipe is a story of crumb bread covered with cheddar cheese that has been melted with beer and mustard and then baked in the oven. Hmmm…. It looks a lot like our little Swiss recipe for cheese crust. Except that instead of fresh bread we have toast, we replace white wine with beer and above all we replace good Swiss cheese with Cheddar. A sacrilege if you ask me! 🙂 But if you have a good address where I can reconcile myself with this specialty do not hesitate to leave a comment… I would like to give it a chance during our next visit in the north 😉
A short tour in the Bay of Authie to see the seals (or not…)
So there friends, this section is just to illustrate to you that even if we are used to travel, well sometimes we still manage to really mess up our planning
Let me explain…. As this escapade to the Ch'nord was not really super mega planned, we visited quite a lot as we like to do so much: spontaneoulsy! In my quick phone searches, I had seen that there were seals in Authie Bay. Great lover of animals I therefore absolutely wanted to see them!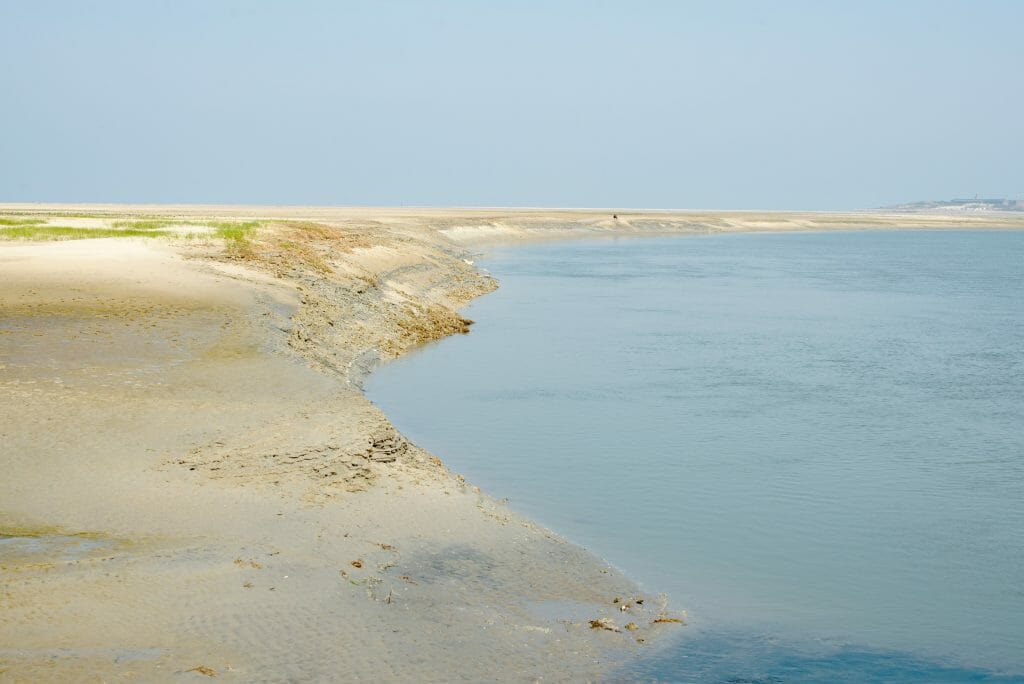 Without thinking to much, we entered "Baie d'Authie" on our GPS and as it was right on our way to go to the Somme bay it was perfect. In short, our GPS brought us (as we had asked it) to Authie Bay, and more precisely to the car park near the small village of Fort Mahon. I had seen that you had to come at low tide to see the seals and our timing was perfect.
From the car park we set off towards the sea… So who says low tide, also says that the sea is damn far away! 30 minutes later we start to see the water in the distance. We are in a beautiful field of flowers with the sea as a backdrop, but not a single seal to be seen. The only "curiosity" of the place was the dozens of crouched people who picked up things (we had some false joys at first by confusing a crouching gentleman with a seal).
So in order for you to be smarter than we were, here the conclusions:
1) the seals are in Authie Bay at low tide, but it is on the Berck side that you must go (park at the lighthouse and follow the markings). -> For us it would have involved a detour of almost an hour to retrace our steps and then go down to Somme Bay… thus, we skipped the seals here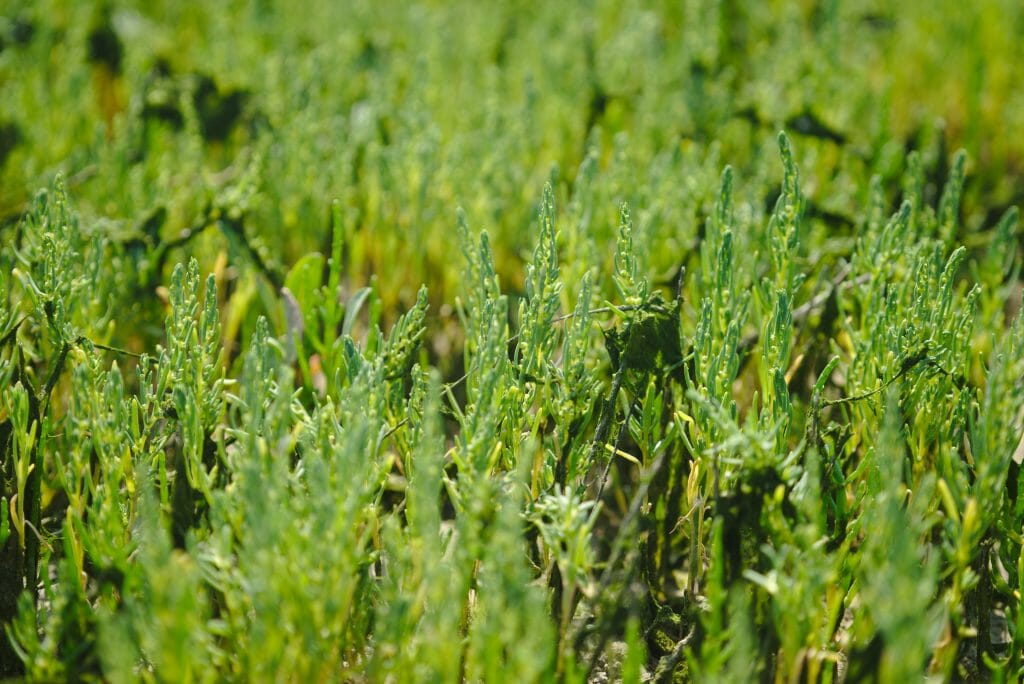 2) the crouched people who can look like seals if you are a little short-sighted and especially if you really think you can find seals over there, are actually people who pick up samphire (kinds of sea gherkins). We haven't had the opportunity to taste this local speciality… #Willhavetocomeback. Do You know it? Is it good?
3) Even if we didn't see any ben seals we found this bay of Authie damn nice! 🙂
The practical Opal Coast: Where to stay, how to get around?
The Opal Coast is a quite touristic area, so there is no shortage of accommodation! For our part, we opted for a small studio in the area of Saint-Tricat (below Calais in the countryside). As it was the beginning of the summer holidays, the prices of rentals on the coast had risen sharply… But then there are also lots of campsites and hotels in the area!
To see all available places to stay you can use the map below. Simply enter your dates and use the zoom to get to your desired area. Refine your search by using the filters (accomodation type, price and reviews).
Infos
To book the accommodation we went through a booking platform (by far the most convenient for last minute reservations).
Price: The studio cost us 38€ per night (including additional fees).
If you are travelling with several people you can also take a look at the direct site. The place where we rented our small studio offers several cottages for 2 to 8 people: la cense de la haute leulingue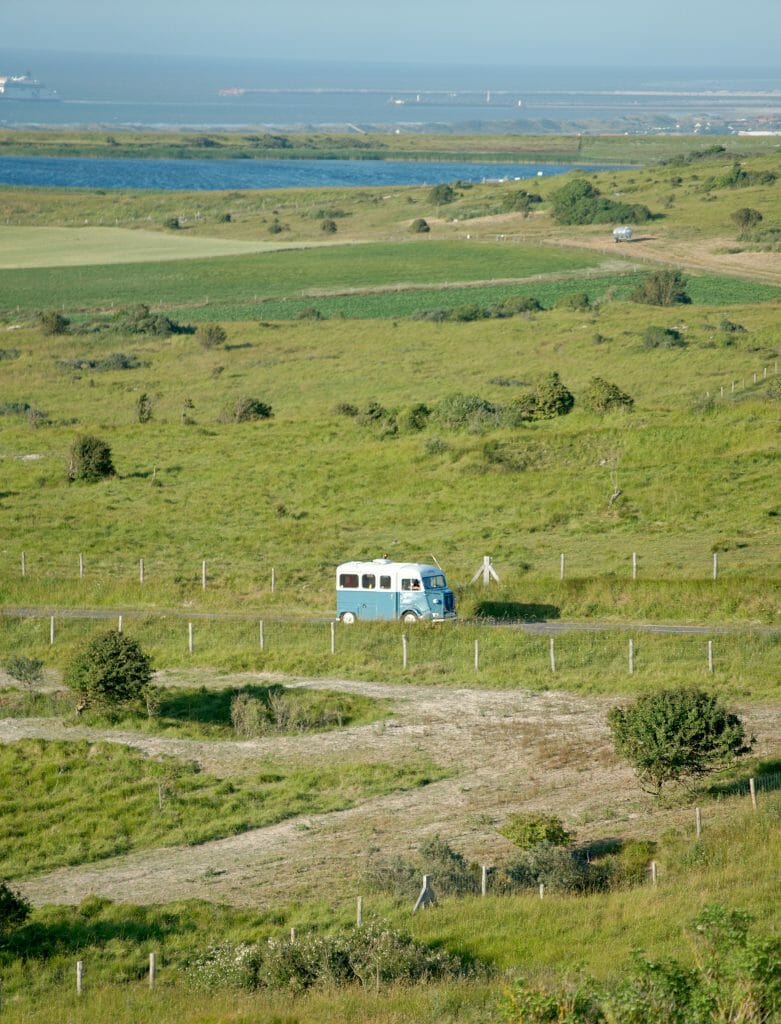 As far as transport in the Pas de Calais region between Calais and Boulogne-sur-Mer is concerned, I would like to tell you that it will unfortunately be quite fast… because there really aren't many of them! 🙁
There are indeed a few (public) bus lines that serve the main cities but quite frankly it is not very well developed.
The best thing is clearly to be motorized in the area (but also to enjoy walking, because in the end it is often by moving away from the roads that you find the most beautiful things).
Do you need a car? It's fairly easy and cheap to rent one in Calais. (about 40€ per day). Compares prices on Rentalcars here.
Note: There is only one major road along the coast so hitchhiking can potentially work well… We know several people who decided to hitchhike back and they all said this was pretty easy.
Going further? Why not a little trip to the bay of the Somme?
If, like us, you are in roadtrip mode and you are heading towards the "south" (everything is relative eh… we stay well in the north of France!), then it is really worth the effort to drive through the bay of the Somme! We made a short stop of 2 days and 2 nights and we were amazed!
Seals at the tip of the Hourdel
After the little "fail" of the seals in Authie Bay, we could not leave it there. So, that day we continued our descent and went to see the Pointe du Hourdel side. This spot is also known for the presence of seals, but it should be noted that they can only be seen from "far away". At low tide they are generally slumped on the sandbank facing the tip of the Hourdel.
We're not going to lie to each other, a seal that lounges in the sun is about as active as I am on a Sunday morning… meaning, not at all. Seen from afar, they are therefore a bit like failed and immobile dots.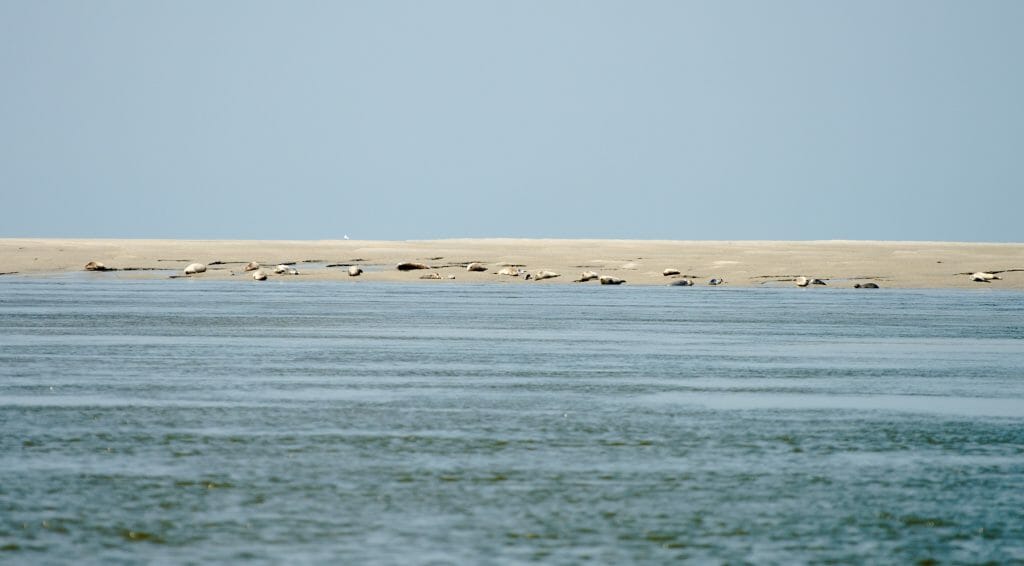 With our big camera lens we still managed to see them a little closer…. And for those who don't have high zoom lenses or binoculars with them, there is always a way to rent a pair of binoculars at 5€ per hour or 1€ per 10 minutes. #BusinessIsEverywhere
Then I'm a bad talker… not all seals are lazy and stranded. If you stay a little while by the water, you are likely to see a few of them passing through the water in front of you and sometimes the dots in the distance start moving with grace and elegance.
In other words, this little stop at Pointe du Hourdel was the cute little break of the day and an ideal spot to have a picnic while watching these big funny patapoufs in the distance.
The magnificent villages of the Bay of the Somme: Ault, Mers-les-Bains and the small town of Eu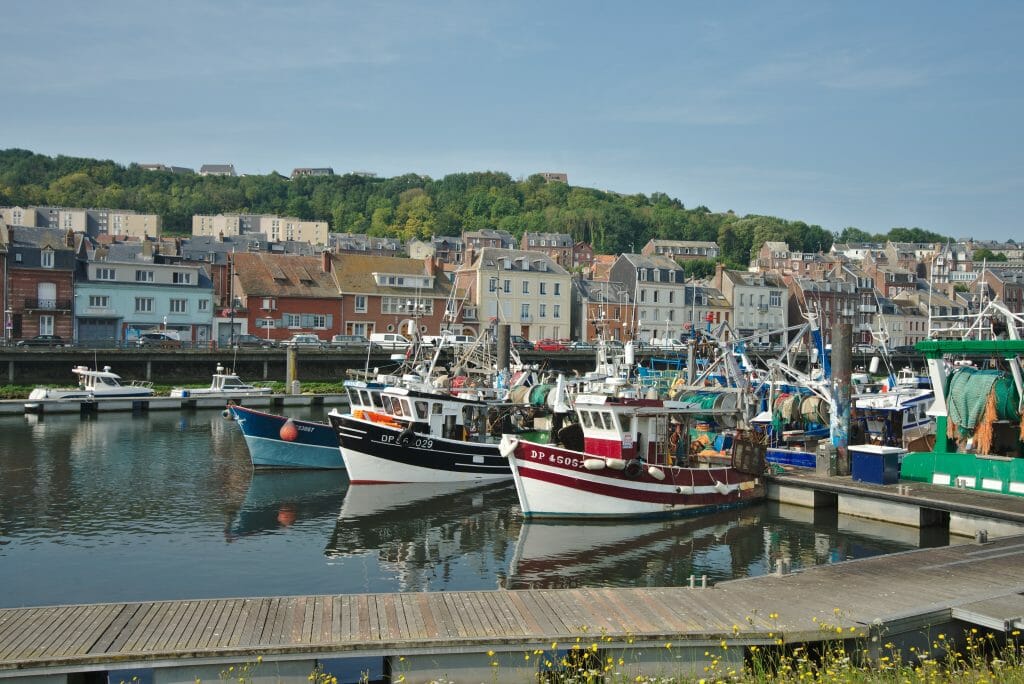 Somme Bay is not just about stranded seals!
Initially, if we have passed by this area, it was also and especially to come and see a few villages/spa resorts that we were strongly advised via Instagram.
(For those who don't follow us yet, it's not good… but you can catch up here: @novomonde) 😉
Ault: the small village perched at the entrance of the cliffs
Ault was our first stop in a small "village" in the bay of the Somme. The initial idea was to find a campsite around here… In the end, we will have only made a small short passage to take a few pictures. I don't know, we didn't particularly like the village, or better said, its vibe… On the other hand, its location and especially the view of the cliffs is simply spectacular and well worth a visit!
Mers-les-Bains: les maisons balnéaires classées
After Ault we continued the road to the coast and we arrived in Mers-les-Bains… and there how to explain to you that it was our favorite! Mers-les-Bains is a small town of barely 3000 inhabitants (except for the summer, where there are obviously way more people). It's really worth a visit, especially for the beach district!
The waterfront and parallel streets are in a truly unique style with "seaside" style houses with Flemish, English and Art Nouveau influences. So even though we're far from being cracks in architecture, we were totally in love with this area.
In short we didn't hesitate for long and we chose to pitch our tent in this small village (or rather just above but we'll tell you more about it below under the housing section) 😉
The city of Eu and its castle (and its town hall)
The small town of Eu is almost stuck to the Tréport and Mers-les-Bains, but it does not touch the sea directly. We came this way for two reasons:
See the castle of Eu!
In addition to the fact that Joan of Arc was imprisoned there by the English in 1430, the main interest of the place is quite simply the building and the splendid garden in front of it. Its particularity? The town hall of the city is now located there! Moreover, on the day of our visit, a wedding had just been celebrated here and the bride and groom and guests were taking pictures in the park.
Go up to the Saint Laurent chapel
A little outside the small town of Eu there is a chapel on top of a hill. The walk to get there from the city centre is very short but worth it!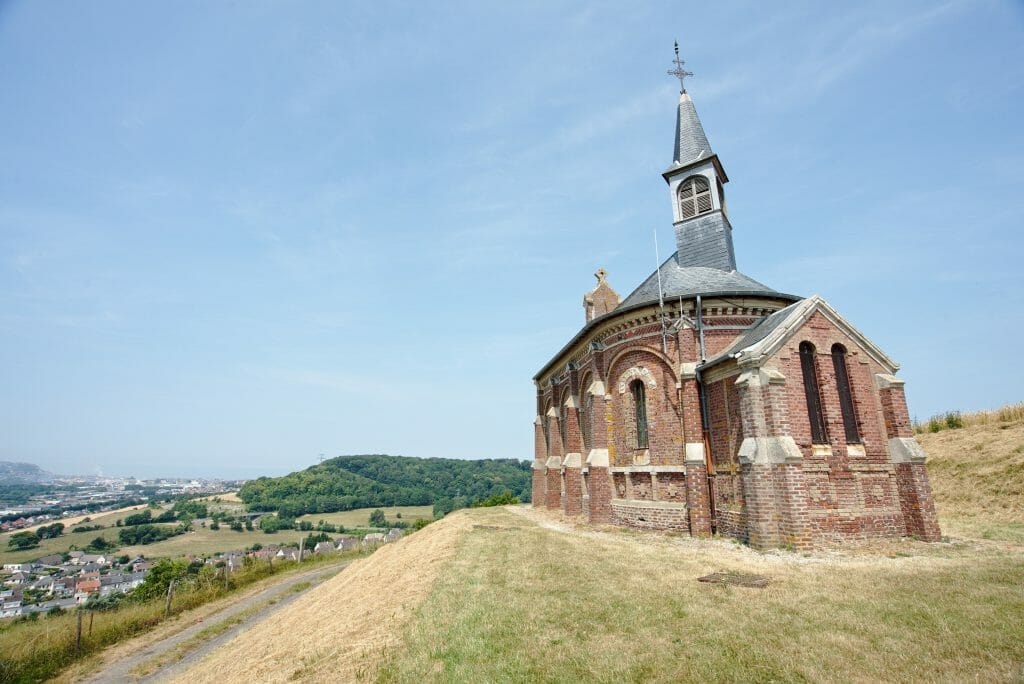 Take a look at the coastal path between Bois de Cise and Mers-les-Bains
If like us you find that visiting villages is nice but you also need to stretch your legs a little, then I strongly recommend you to go for a walk along the coastal path between Mers-les-Bains and Bois de Cise.
That day, we made a big loop from Mers-les-Bains which took us through Eu, the Sanit-Laurent chapel, Saint-Quentin-la-Motte-Croix-au-Bailly (yes this is indeed a local village name… :)) then back through the Bois de Cise and to finish the coastal path. A little over 20km in total but with a big reward at the end! The view of the cliffs on this section is simply spectacular!
In short, even if you are not up for a 20km hike, it is quite possible to just walk along the cliffs and enjoy the amazing view!
Advice: For lovers of beautiful lights and photography come at the end of the day! Up there we have a front row seat for sunset.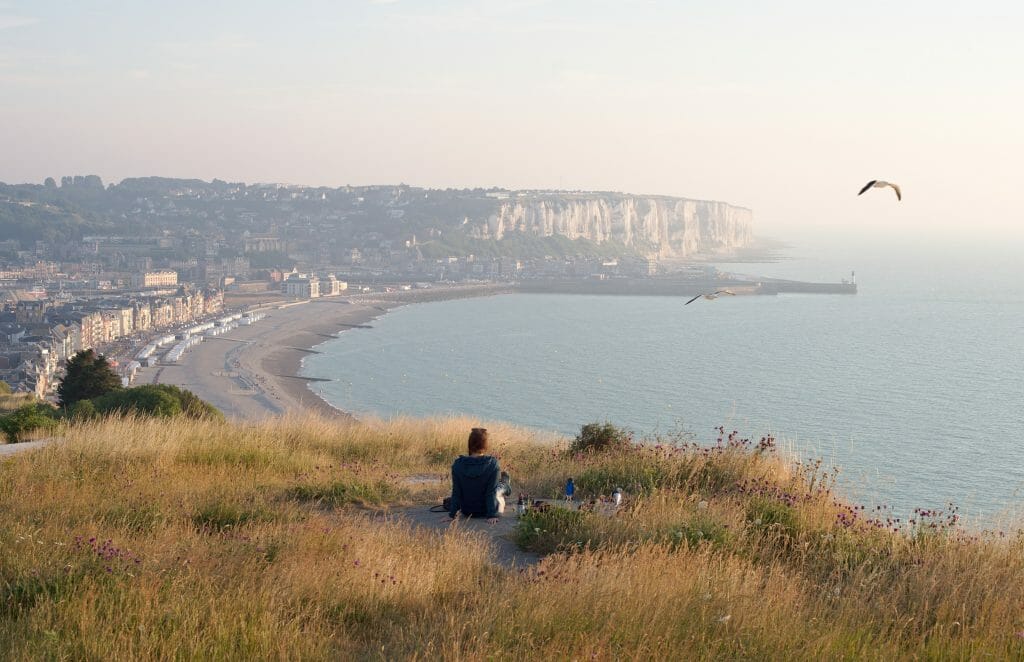 We loved this spot so much that we went up there 2 nights in a row for a little picnic at sunset (we will note that the 4G coverage works very well up there because Monsieur was even able to follow the world cup games from up there 😉 )
Accommodation in the Bay of the Somme: the Camping
The bay of the Somme is a relatively touristic place and as we arrived here at the beginning of the summer holiday period, I can tell you that the accommodations were a bit harder to find… Of course, there were still hotels and guest rooms available, but not really in our budget to tell you everything. In short, the weather being perfect, we spent 2 nights at the campsite "de la falaise" in Mers-les-Bains. The campsite overlooks the village and you really have a wonderful view. The infrastructures are not crazy, but for 2 nights it was just perfect.
Looking for something else than Camping? Then have a look on Hotelscombined to find the best deals in the area.
Infos
Campsite "La Falaise" in Mers-les-Bains, Somme Bay
Price per night in a tent for 2 people 18€.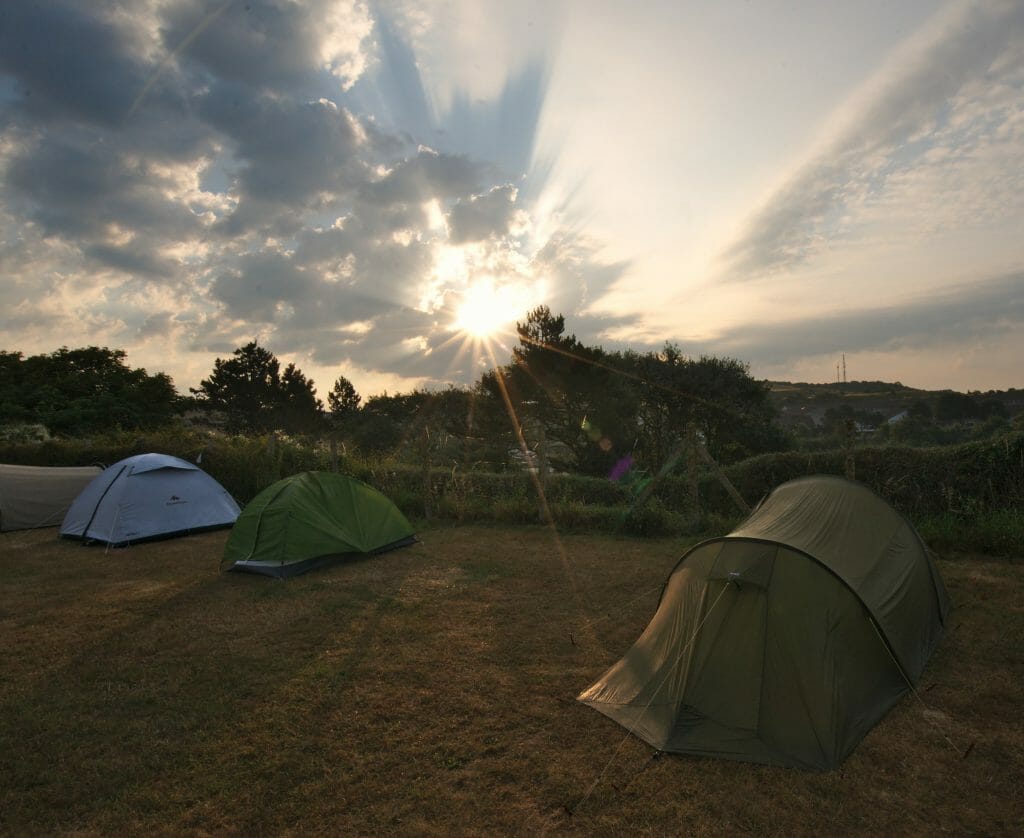 Infrastructure: Hot showers and clean toilets. No groceries but a gentleman sells snacks and drinks in front of the campsite from an old gendarmerie bus (yep…). But otherwise it takes less than 5 minutes on foot to pick up the croissants at the bakery below in the village.
We arrived without reservation (on weekends) and no space concerns to report. At worst, there are several other campsites in the region (in Ault and Mers-les-Bains in particular).
In fact, talking about budget, we received several messages on this subject. Are you interested in one (or more) article(s) on our travel budget in France? As usual we write down everything we spend daily, so there is clearly material to make an article about it… France is beautiful and promised, it is not that expensive! 🙂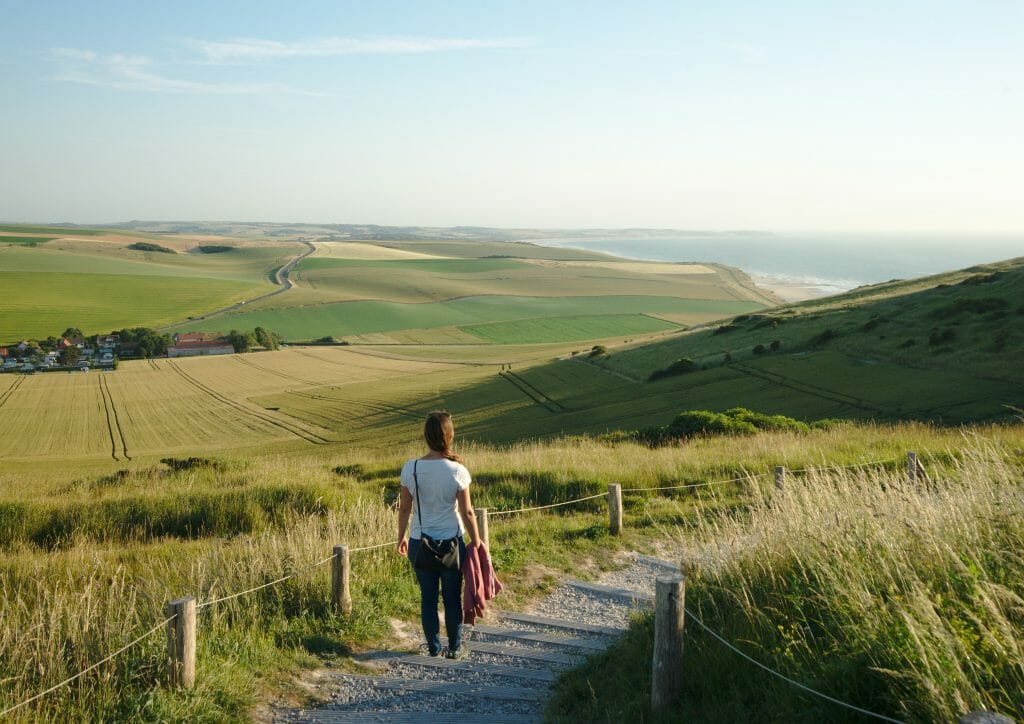 OK, this time it's all for "le Nord", we'll meet you soon for the rest of our roadtrip in France (we won't be back until the end of August so we might as well explain that we still have a long way to go) 😉
Note: This article contains affiliate links. By using these links you do not pay anything extra, but we'll get a small commission that will help us keep this site alive and continue providing content for free. Thanks for your support.