Welcome to Bordeaux! The city is world famous for its wine and we were just too eager to come and visit it during our little tour of France. Cities and us is not always a great love story, but for the moment we are totally charmed again! After visiting the city for a few days, we thought we'd prepare a small (ok quite big) article for you about this great city in which we obviously didn't have time to see everything but we really enjoyed it!
The great classics not to be missed in Bordeaux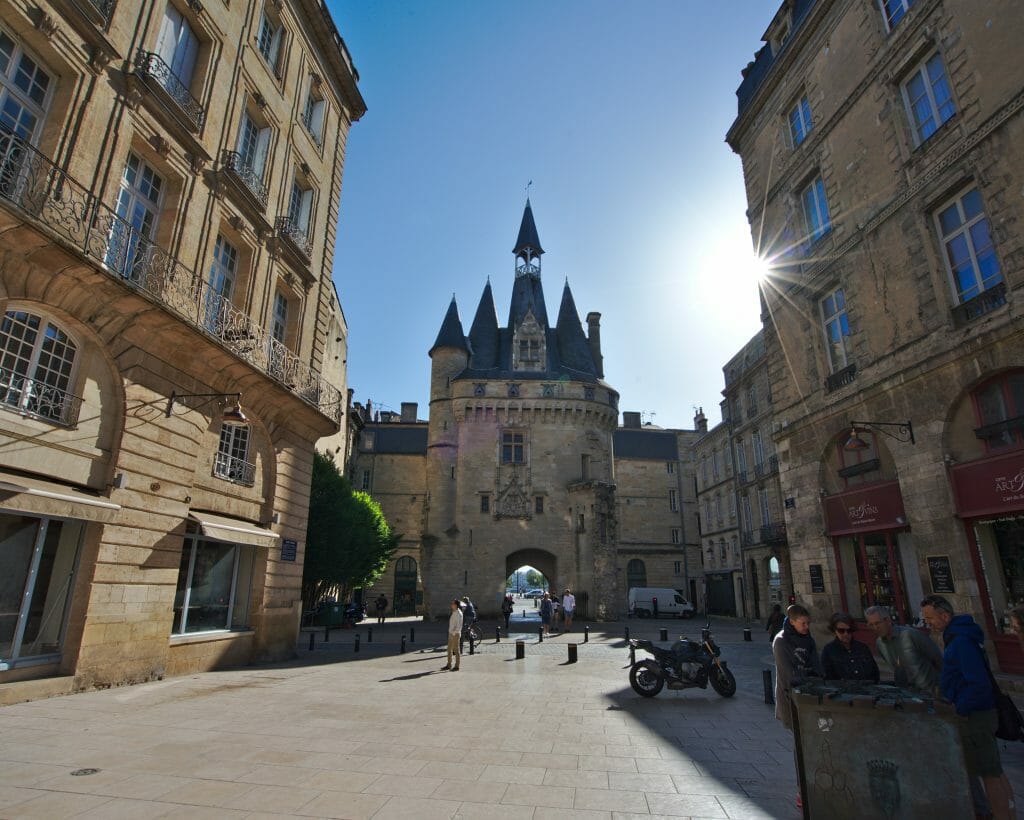 Bordeaux is a multifaceted city…. For this article we will start by looking at the so-called more "classical" part, or rather historical I should say before taking you to more recently developed districts that contrast completely with the classical blond stone architecture that is so characteristic of the old centre.
La Porte Cailhau – Caillhau Gate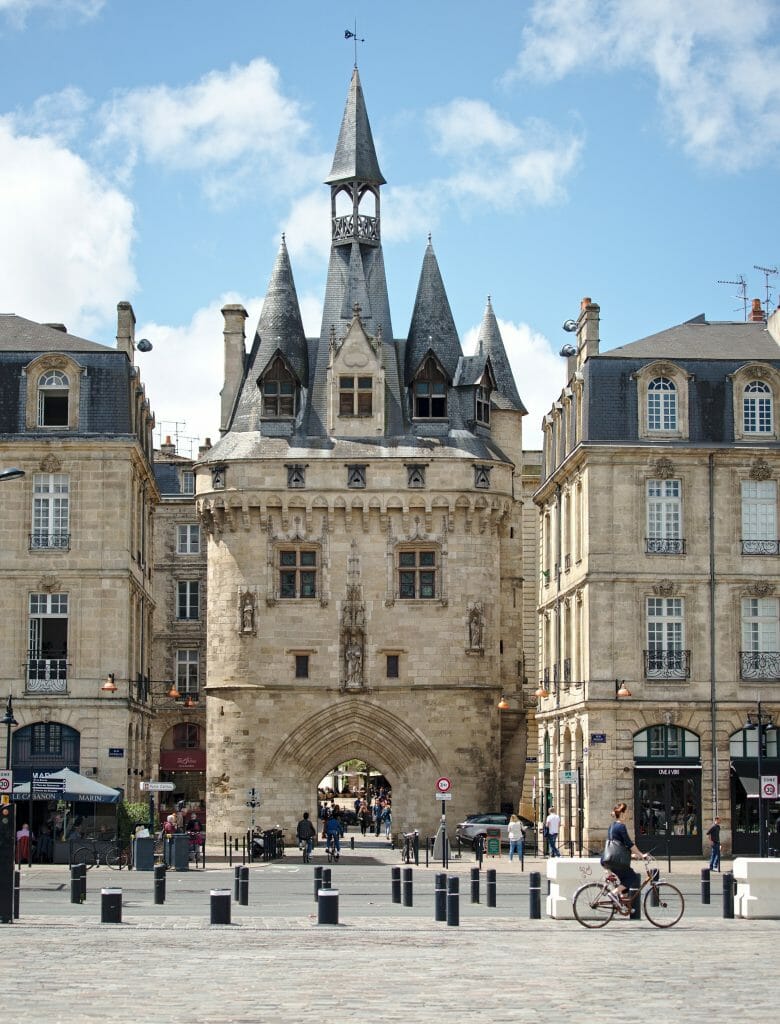 At the time this gate was one of the 2 entrances that allowed to enter the city walls, so it was quite naturally that we wanted to start the visit with this place! The Cailhau gate dates back to 1494 (!!!!). We are not experts in architecture or old stone, but we have really found a great charm to this construction in a style in transition from Gothic to Renaissance!
The big plus of the gate is that you can go up there and have a great view of the docks and the river! Well, then if your objective is to have a view of the whole city, we'll give you an appointment later in this article… Because, well, the gate is only 35m high and thus it is not the panoramic "spot" of the city, but it is still a nice visit!
Infos
Where:

The Cailhau gate is located next to the Palace Square

Opening times:

Every day except December 25 and January 1 from 10am to 1pm and from 2pm to 6pm

Price:

5€ for the visit
Le Miroir de Bordeaux – Bordeaux water mirror
The Bordeaux water mirror is probably the most photographed attraction in the city! 🙂 Located in front of a building that is more than 3 centuries old, this fountain, which is barely more than 10 years old, is stealing its spotlight. Well… not so much, because in the end the beauty of this mirror is to see the reflection of the Place de la Bourse, so in the end it's a nice way to highlight the place!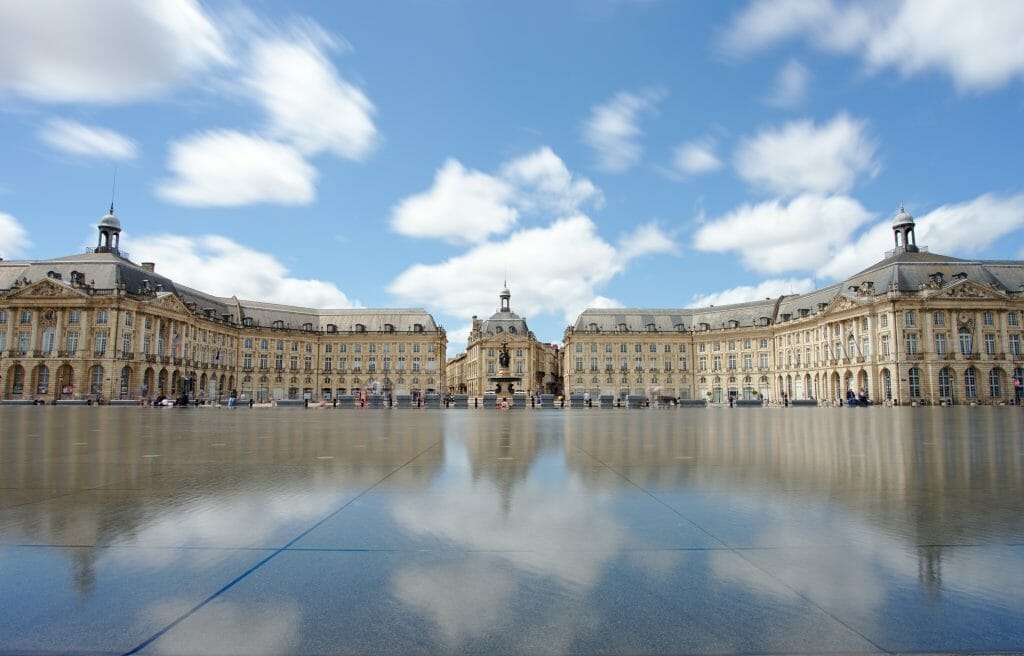 We were totally fans of this great esplanade anyway. One for the beautiful photos that can be taken there but also for the great atmosphere that reigns there. The fountain works with a rhythm of "cycles" i.e. for 15 minutes the mirror is filled with 2cm then it empties and remains "empty" 5 minutes before giving way to 5 minutes of mist.
If you do, we strongly recommend that you stay for a full "cycle". We went there several times and each time we stayed for long minutes watching the children play, taking pictures and even making some "crossings" by obviously taking care to remove the shoes and roll up the jeans a little bit. 😉
Infos
Location:

Place de la Bourse

Opening times:

every day from 10am to 10pm (be careful there is no water from November to April for maintenance reasons but also to prevent it from freezing… so it is an activity to be preferred in summer.
Getting to the top of the Flèche Saint Michel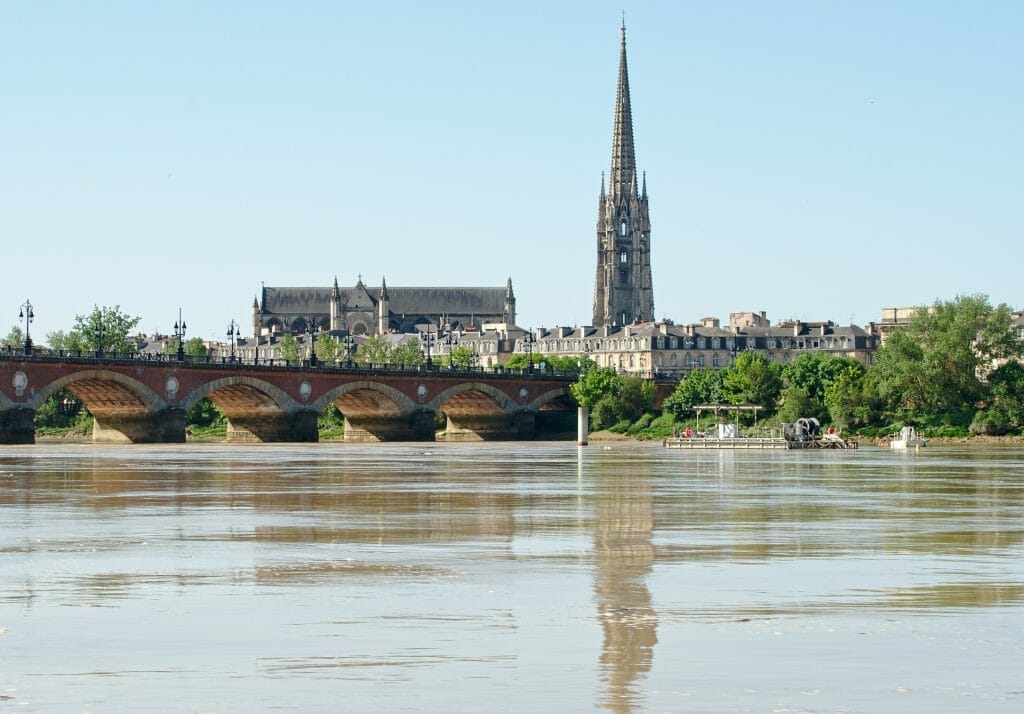 We wanted to take a little height to see the city from above and that's how we found ourselves climbing to the top of the flèche Saint Michel (translates to "the arrow"). In addition to dominating the city, la flèche is the second highest bell tower in France with its 114m!
On the other hand, we warn you: you have to be prepared to get a little dizzy! To get to the top, you climb a 230-step spiral staircase. 🙂 But I reassure you, the view from above is worth it and for those who would like to take a breath on the climb, there is a way to take a short break on the way to observe the carillon.
The entrance gives access to the top but also to the crypt. The latter is quite well known because it was for a long time the "residence" of 70 mummies exhumed from the cemetery next to the basilica in the 17th century. This crypt had become famous because personalities such as Victor Hugo or Gustave Flaubert had come to observe these mummies. Let be clear, since 1990 there is no longer any risk of running into a mummified body…. Instead we can watch a short film that tells us a little bit about the history of the place. Nothing very transcendent, but it's well done.
The view from the top: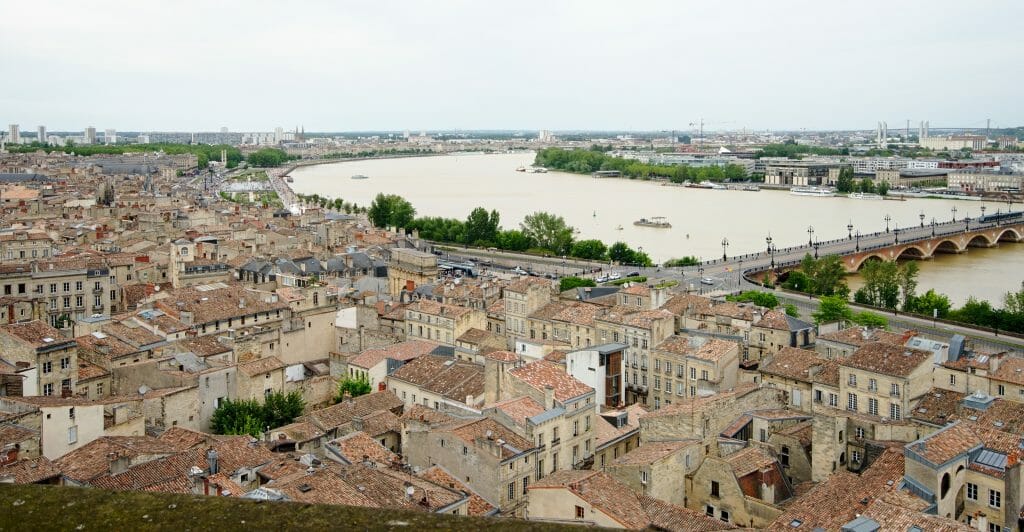 Infos
Where?

Place Canteloup 33000 BORDEAUX

Opening

every day from 10am to 12:30pm and from 2pm to 5:30pm

Price

5€ per person
The "cité du Vin"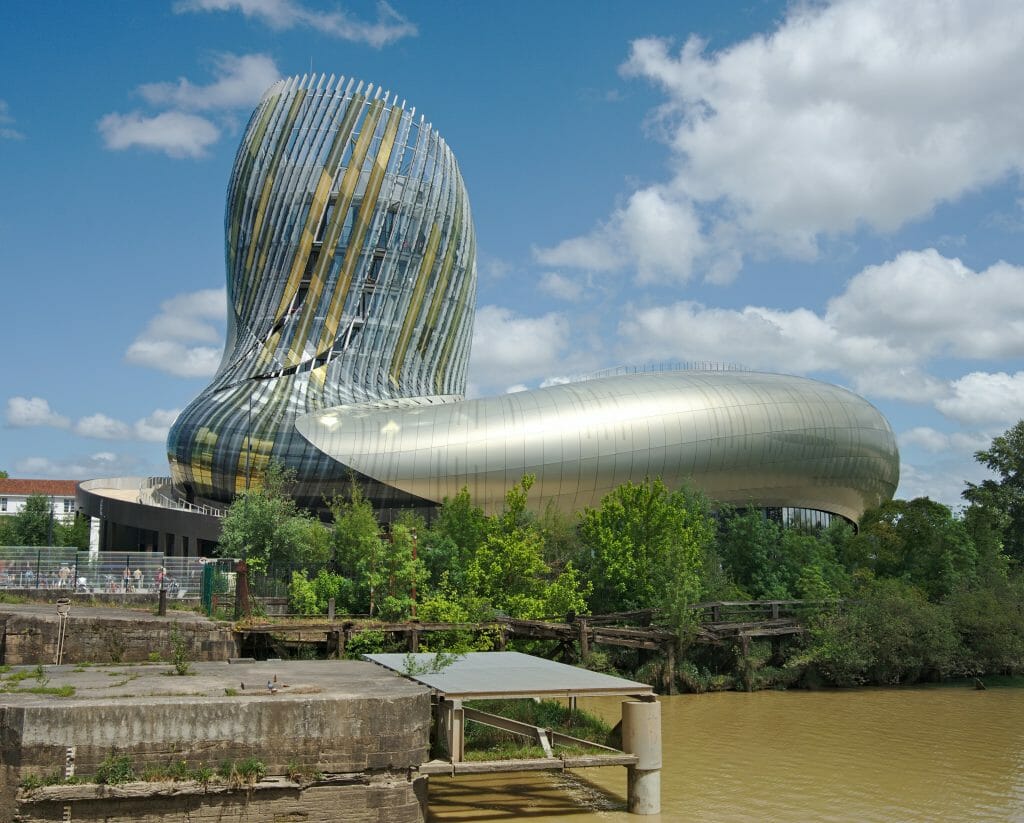 We didn't have time to visit it from the inside this time! Nevertheless, we simply couldn't write an article without mentioning it. Already its architecture is… how to say… explosive! In complete contrast to the other buildings on the left bank, this kind of "wave" in glass and aluminium looks strange. We like it or we don't, but what's for sure is that it doesn't leave anyone indifferent.
This museum does not talk at all about the wine making process but is more interested in the culture of wine in the world and its evolution over time.
It has been highly recommended by several people. And well, incidentally we admit that a visit that ends with a wine tasting can never be very bad, can it? In short, for us the "Cité du vin" is clearly on our list for our next visit to the city!
Infos
Address: 134 Quai de Bacalan, Bordeaux
Getting there: Tram stop of the "B" line is right next to it. Buses Nos. 7, 32 and 45 also stop here.
Opening times: Open every day from 10am to 7pm (closed at 6pm during the week in winter)
Visit: It is necessary to allow at least half a day for the visit (evenmore if you really like wine);)
Price: Admission is €20 and includes the permanent exhibition, tasting and access to the Belvedere. Possibility to buy fast-lane tickets online at the same price online .
City Pass
We didn't take it because we stayed for a week, but if you come to Bordeaux for a long weekend it might be interesting to look at the City Pass. Sold 39€ for 48H or 46€ for 72H it includes a lot of museums and monuments (for example the cité du vin, the Cailhau gate, the Pey-Berland tower, the Aquitaine museum, etc.) but also all the public transport of the city and a city tour..
The streetart in Bordeaux: an alternative visit of the city
We are not great street art experts and until our world tour I must admit that I have never really paid any attention to these "urban works of art". It was in Valparaiso, Chile, that we first fell in love with a colourful city… Since then we have enjoyed discovering cities like Vilnius or Dresden, which are real open-air museums.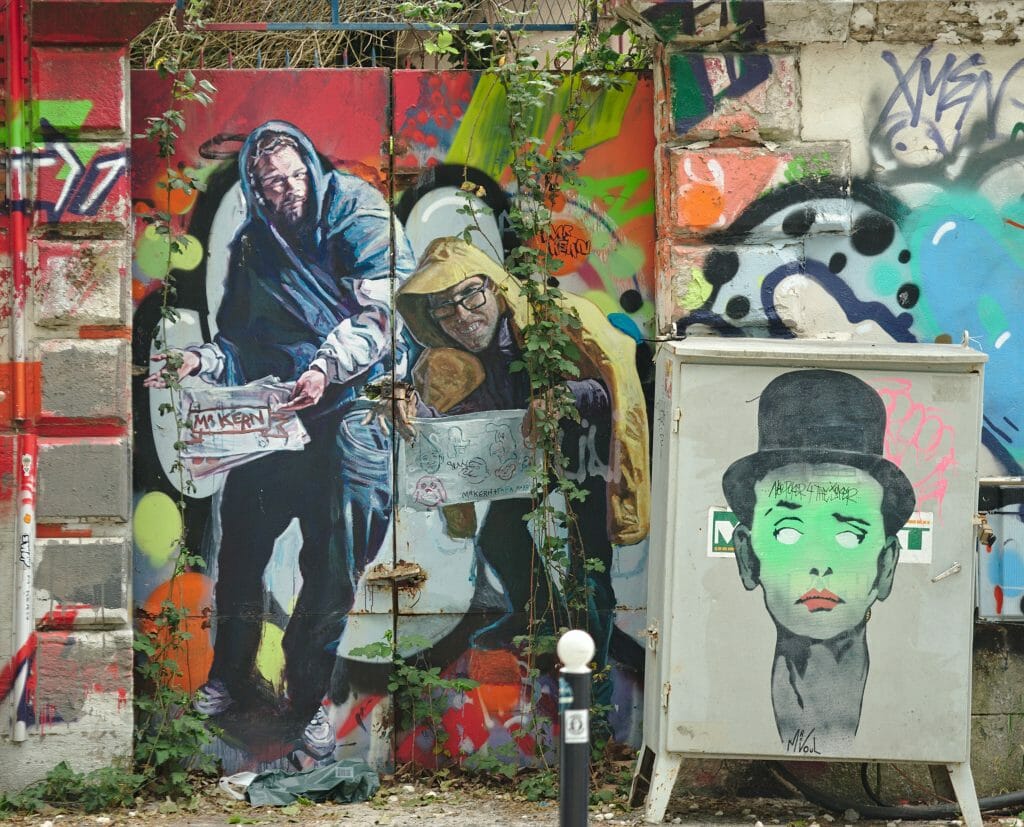 Bordeaux I wouldn't hide from you that we had no idea that this city had such a beautiful street art scene! It may well be the advantage of not preparing your trip too much in advance, you may say… You end up being surprised more easily! Bordeaux, we expected it to be a pretty clean city with beautiful buildings, but by no means such a colourful and arty city!
Well, it's all very pretty, but where do you find street art in Bordeaux then? Let's start with the "more classic" ones….
The Darwin space – an ecosystem that you wil for surelove
Darwin is not a secret address…. far from it! This former military barracks of 20,000m2 has become over time a bit of a hype place, some would say…. But still, we just really enjoyed the atmosphere!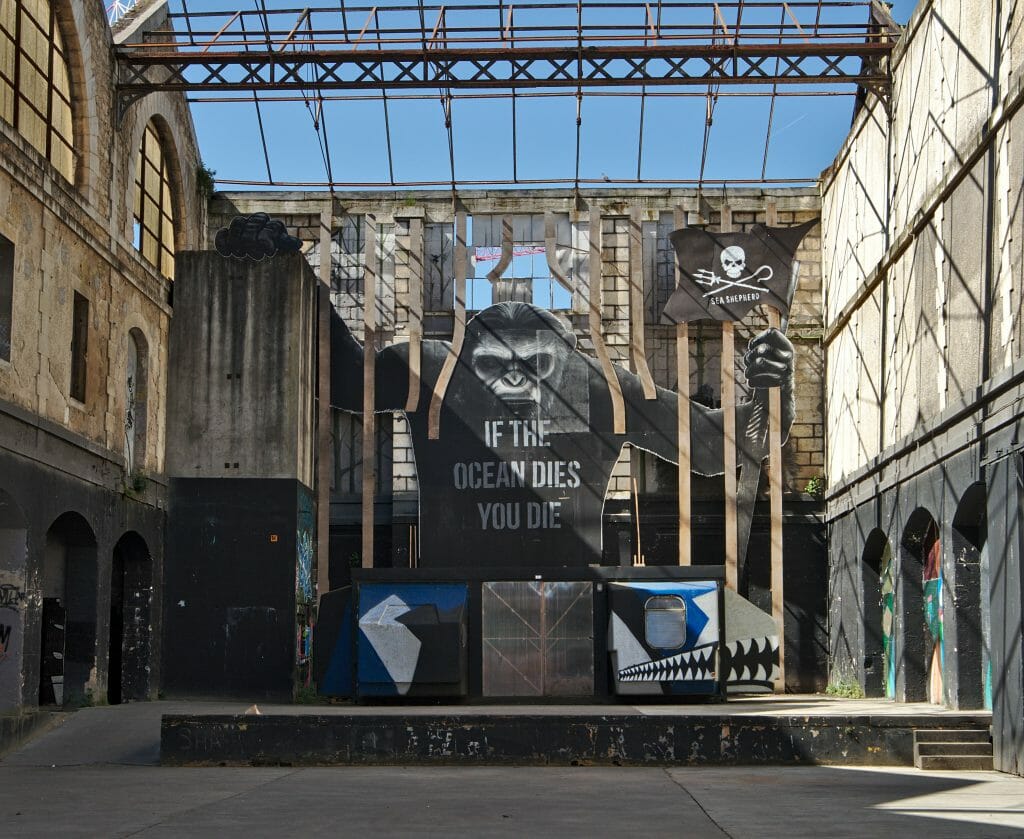 Located on the right bank, this space with its eco/green/alternative vibes has largely contributed to the rapid development of this area, which had a reputation for being a little "bad". It is a small urban oasis where many Bordeaux residents and visitors meet with friends and family to have a good time. Personally, I always find it very cool to see that neighbourhoods called "a little bit crappy" are transformed into trendy areas (or hipster area if you prefer). 🙂 Afterwards, we just have to hope that this place keeps its spirit and that the trendy side of the place doesn't transform it too quickly into a chic district… We fear it a little…. Currently the situation is quite tense between Darwin and the city's development services… The "Darwinians" want to preserve their small oasis while real estate developers are obviously more and more interested in this fashionable district…
We do not know Bordeaux well enough to judge, but we simply hope that this space will survive and above all that it keeps its soul!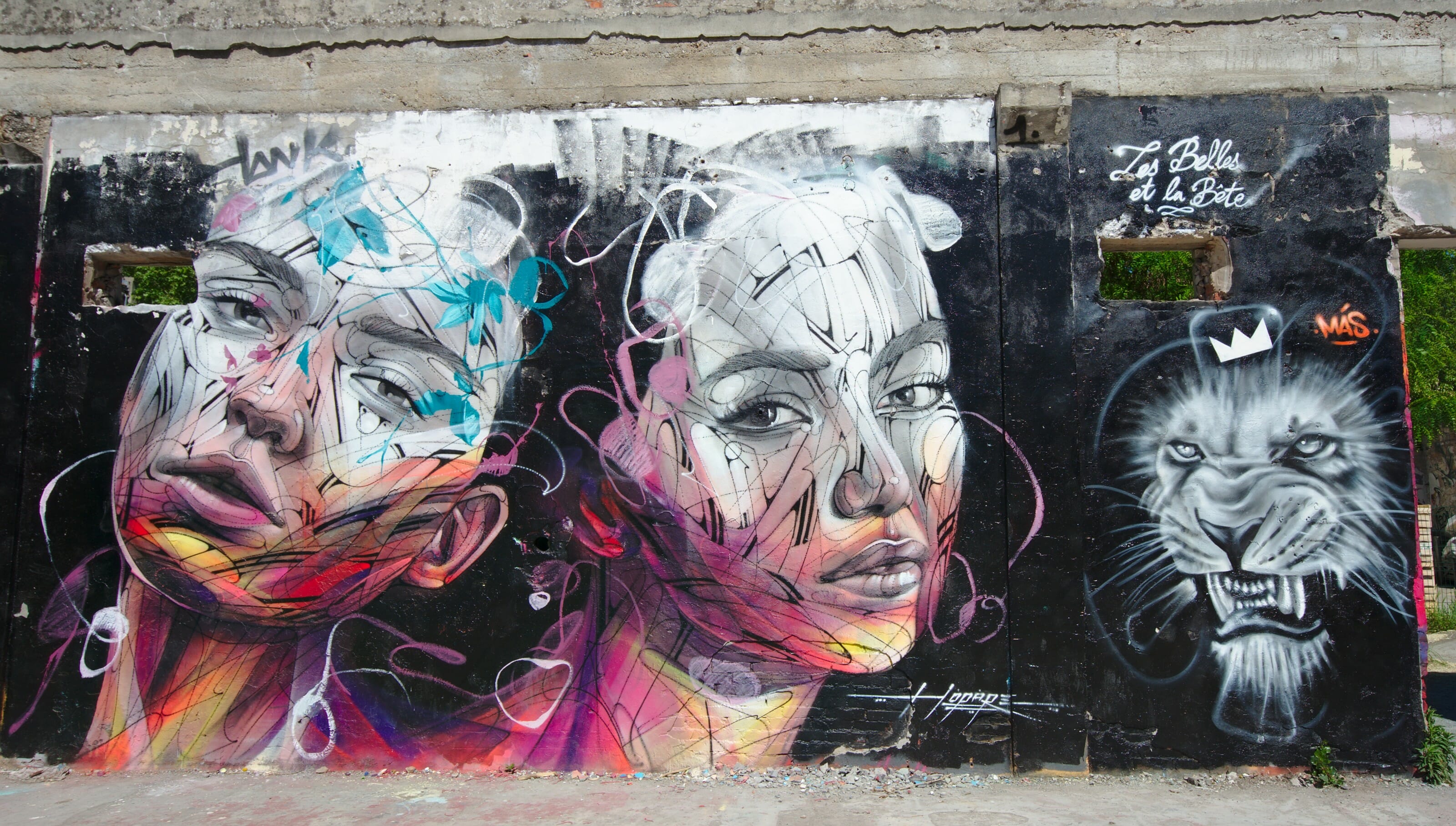 But Darwin reminded me a lot of Uzupis in Vilnius… Uzupis was a bit of a "dodgy" neighbourhood when the artists started to settle there and bring a positive vibe to the area. Then, gradually the neighbourhood became more trendy and therefore more expensive… and many of the artists who contributed to its development found themselves having to move because the area had become too expensive for them.
Around the bassins à flots in Bordeaux
Second place not to be missed for street art lovers are undoubtedly the banks of the Bassins à flots! The hangars at the second pool are a real paradise for walking around and taking pictures! A small preview in pictures: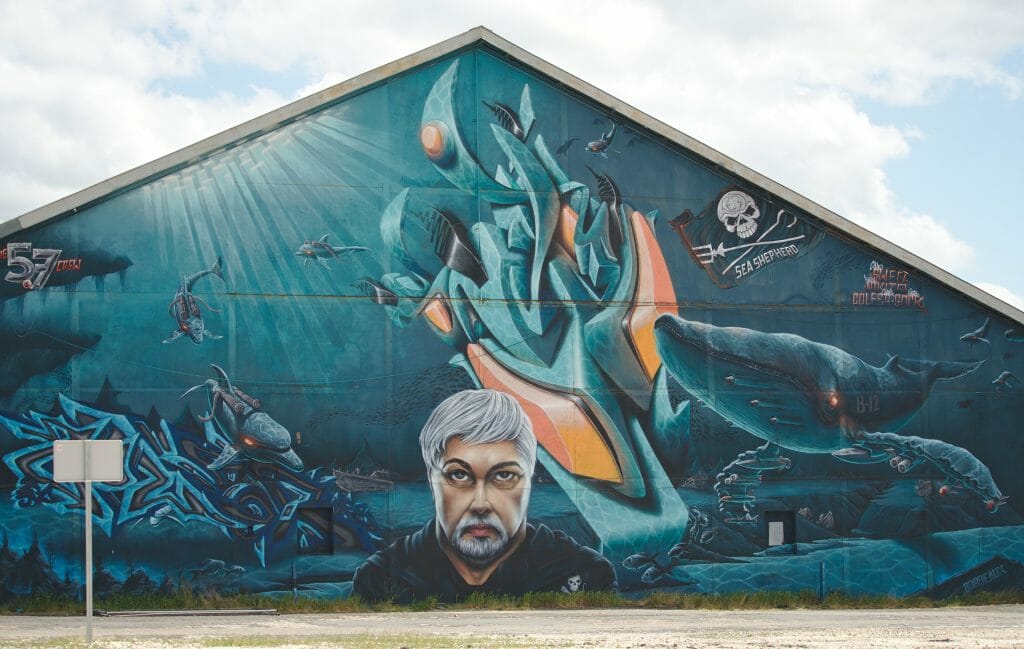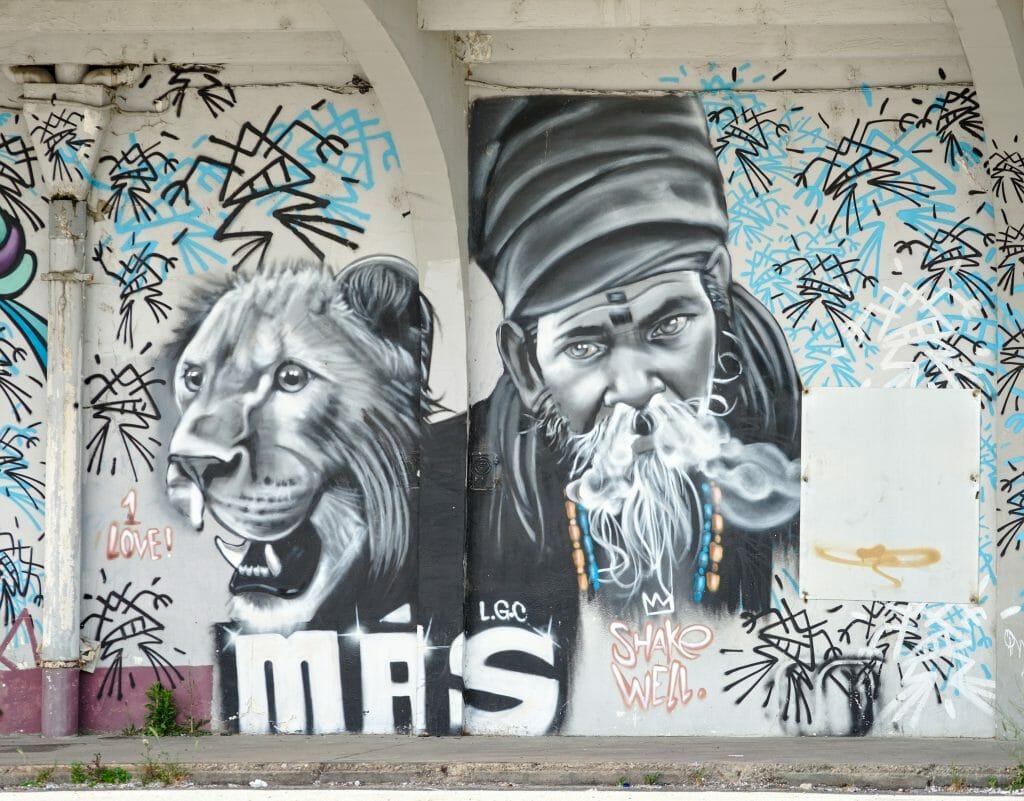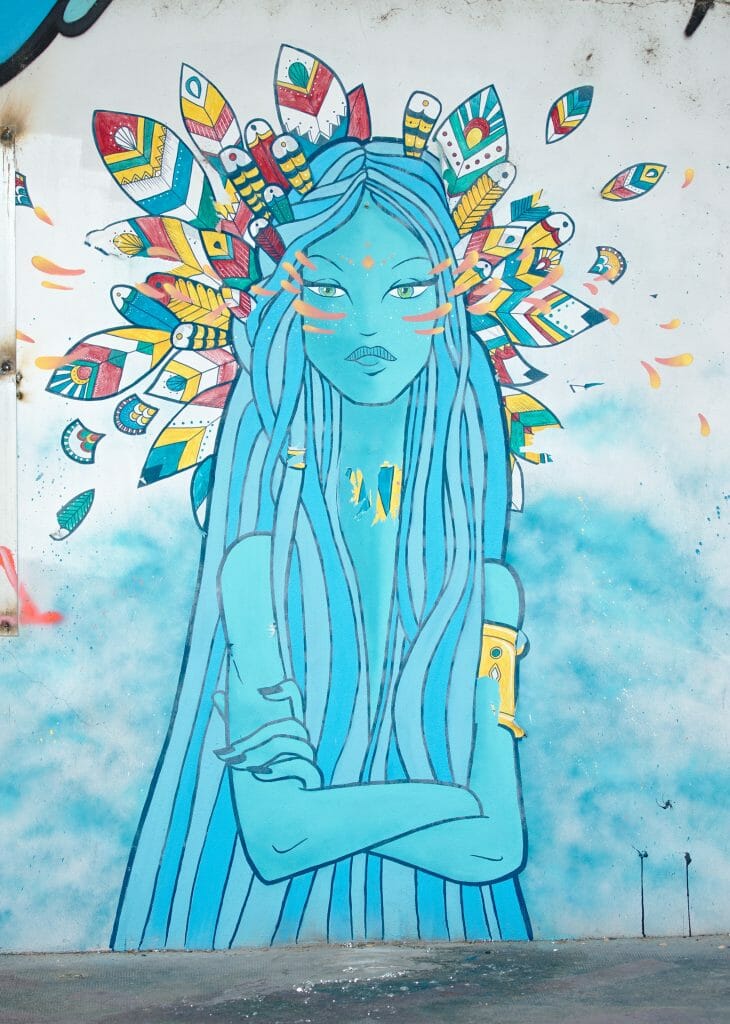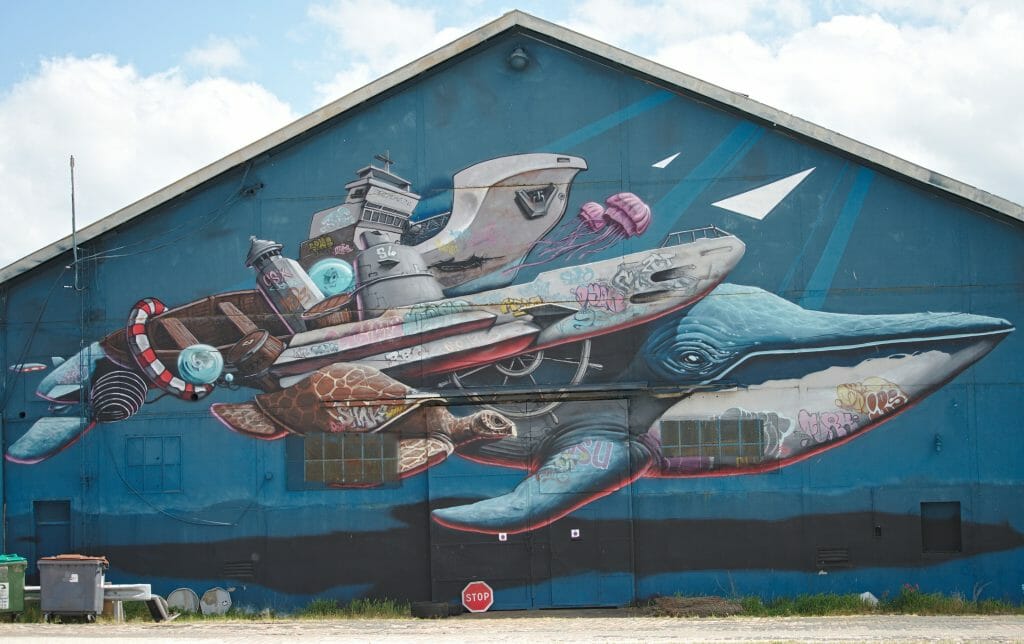 Other good street art addresses in Bordeaux
There are plenty of Places to see street art in Bordeaux ! Even in the old town there are some very nice murals when you walk around a little "at random". And besides, we strongly encourage you to simply walk around the city and keep your eyes open…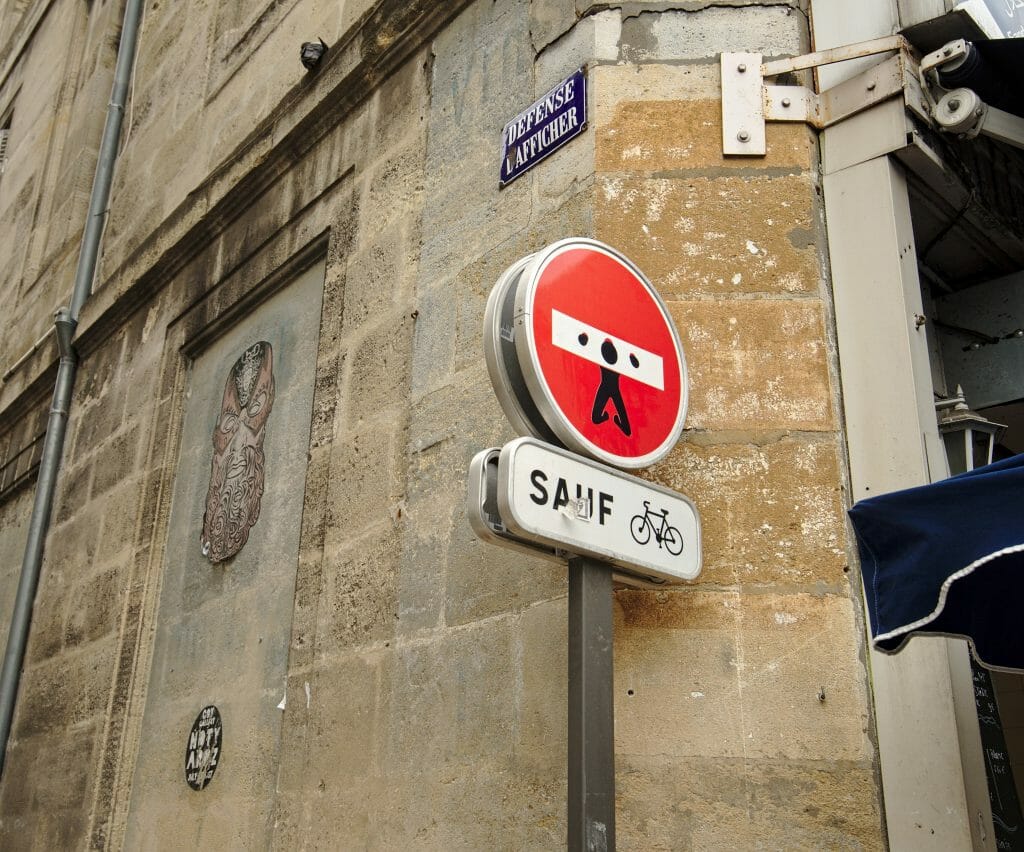 And a word of advice: don't look only at the walls… the artist CLET has also been in Bordeaux. This artist has fun diverting traffic signs and in Bordeaux he "enhanced" nearly fifty of them between Utopia and the underwater base 😉
But if you still want to have some addresses then come and have a look at the M.U.R of Bordeaux (Place Paul & Jean Paul Avisseau). A 35m2 wall that is constantly evolving and regularly gives way to new ephemeral works.
Another nice wall is the one at the intersection of rue Millière and rue Brian.
But Pssst… we won't say any more! The others are yours to find! And if you want to see a little bit of what's being done in Bordeaux at street art level you can take a look at the facebook page Streetart Bordeaux. The authors regularly publish pictures of the new graf and especially put lots of links on the artists' pages, and sometimes they also give clues on where to find the latest creations. 😉
Bordeaux can be visited, but it can also be Tasted
Le petit commerce
We don't go to the restaurant very often but there we had the pleasure of being invited by a very nice team of journalists who followed us during 2 days in Bordeaux (promised we will talk about it again 😉 ). But in short, we went to eat at the small restaurant. The place had been recommended to us by our friend Vincent who runs the blog evasions bordelaises. Thus, before we even went, we knew it was going to be great. 🙂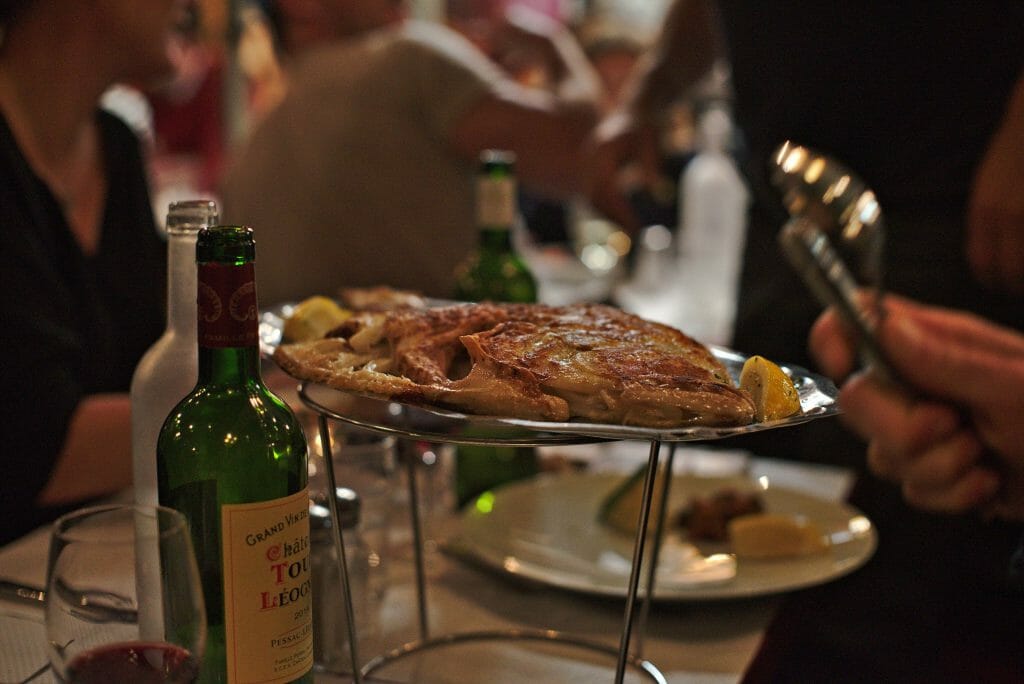 So one thing is certain, we were not disappointed! The restaurant is specialized in fish and seafood. And believe it or not, it was that night that Benoit and I tasted oysters for the first time in our lives! (What do you want, the little Swiss we are really don't have the sea legs even when it comes to gastronomy)
The evening was very, very nice and the place was really friendly. If you want to eat fish or shellfish in Bordeaux, the small restaurant is an excellent address. However, this address is not secret and is therefore quite popular. If you want to go, it's better to call to make a reservation before. (The number: +33 (0)5 56 79 76 58)
Le Magasin Général – bistro Refectoire / Darwin
Located in the heart of the Darwin area, the "bistro-refectoire" is a very good place to eat for lunch. The interior decoration is very nice and the setting (already mentioned above) is just at the top! In terms of cooking, we opted for a burger and a tartar. It was really very good and the quantities were generous. In short, we recommend it! 🙂
More info: their website
NB:the place is quite crowded…. Although it is sometimes possible to find a table that becomes available, we recommend that you make a quick call to reserve a table. No need to call 2 weeks before, we had booked less than 2 hours before the meal, but this just makes sure you have a spot when you get there.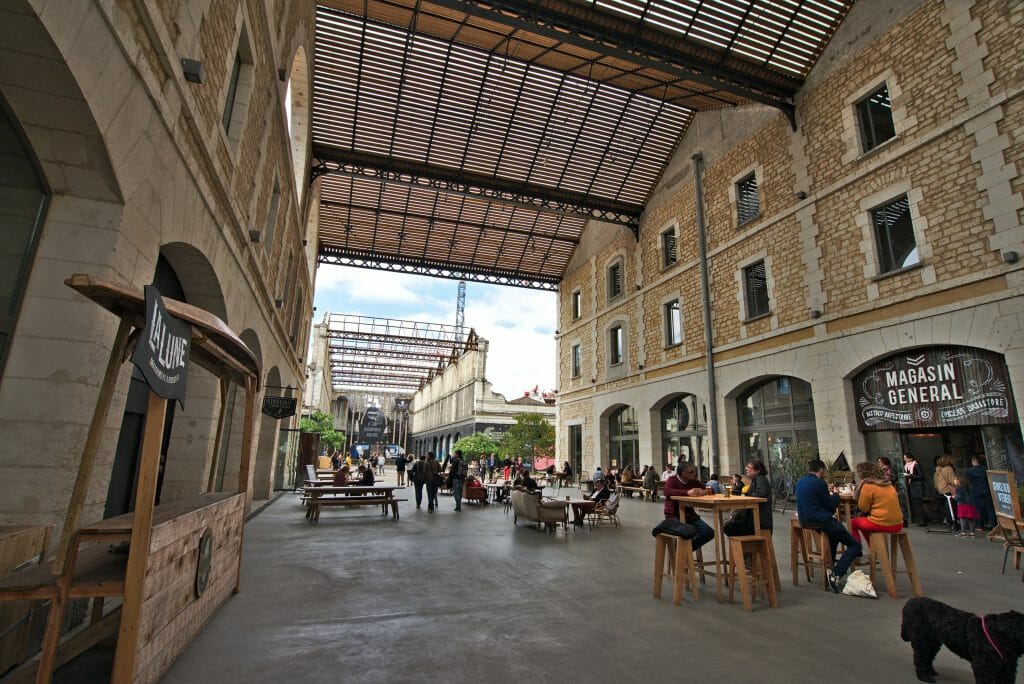 The "Halle des Bacalans"
We didn't eat there (we were leaving the table when we passed by) but when we headed towards the bassins à Flots to see the street art, we passed in front of this big hall. Intrigued by all the people who ate tapas and drank wine on the terrace, we went for a walk inside. It's not huge, but it really looks great to have a little something to eat with an aperitif. 😉
In short, an address that we save for our next visit, but that we really enjoyed for its vibe.
Leaving Bordeaux: The Pilat dune and the Bordeaux vineyards
If you follow us a little bit you will have probably already noticed that, cities we like them, but rarely for too long… 😉 In short, in this article it seemed inconceivable to us that we would not also give you 2-3 favourites outside the city!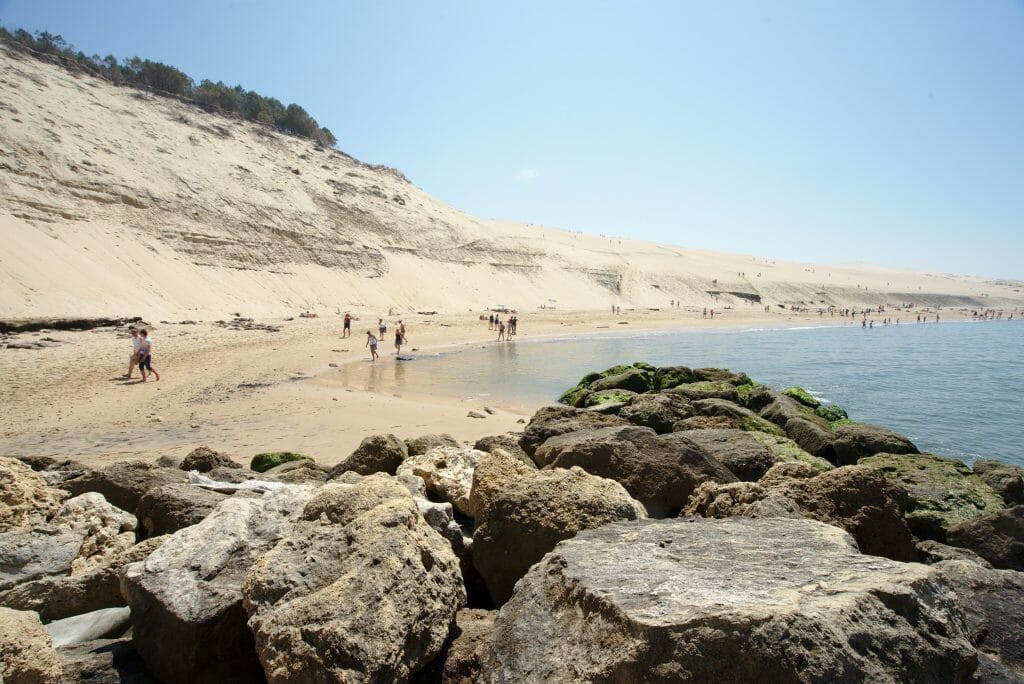 Pilat's dune – a must see if you are in Bordeaux!
Ok… technically speaking the Pilat dune is not located in Bordeaux itself… But as we visited it on arrival we simply couldn't not mention it in this article! 😉
We will try to make you an article soon to tell you more about our visit, our hike of more than 20km (And the fact that we got, as very often, lamentably lost on the way back…) 🙂
But in the meantime, we suggest that you already show yourself some impressions of the place in pictures: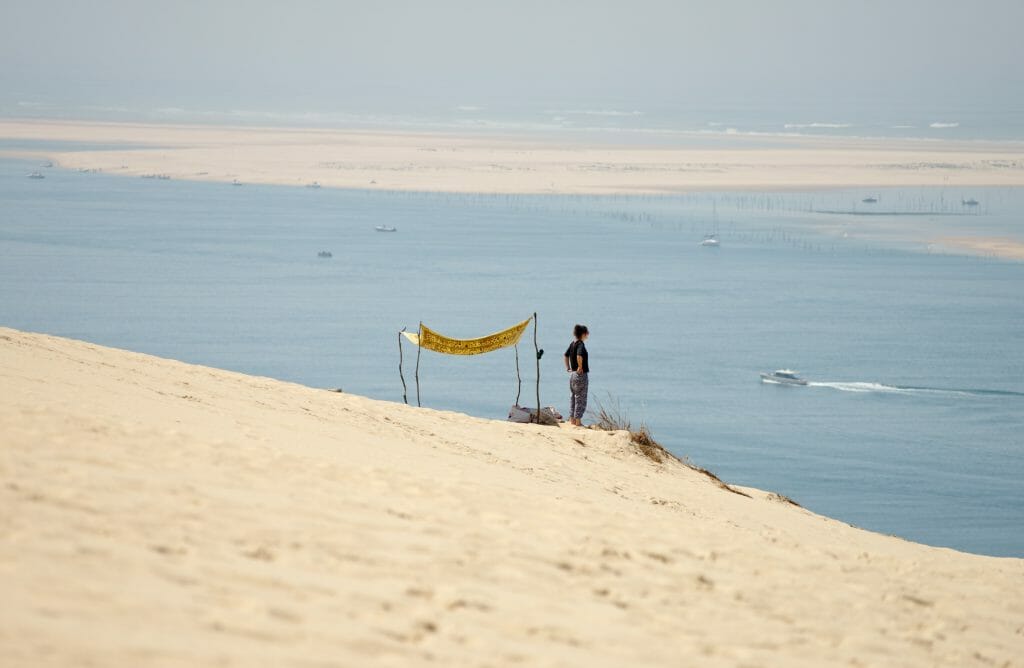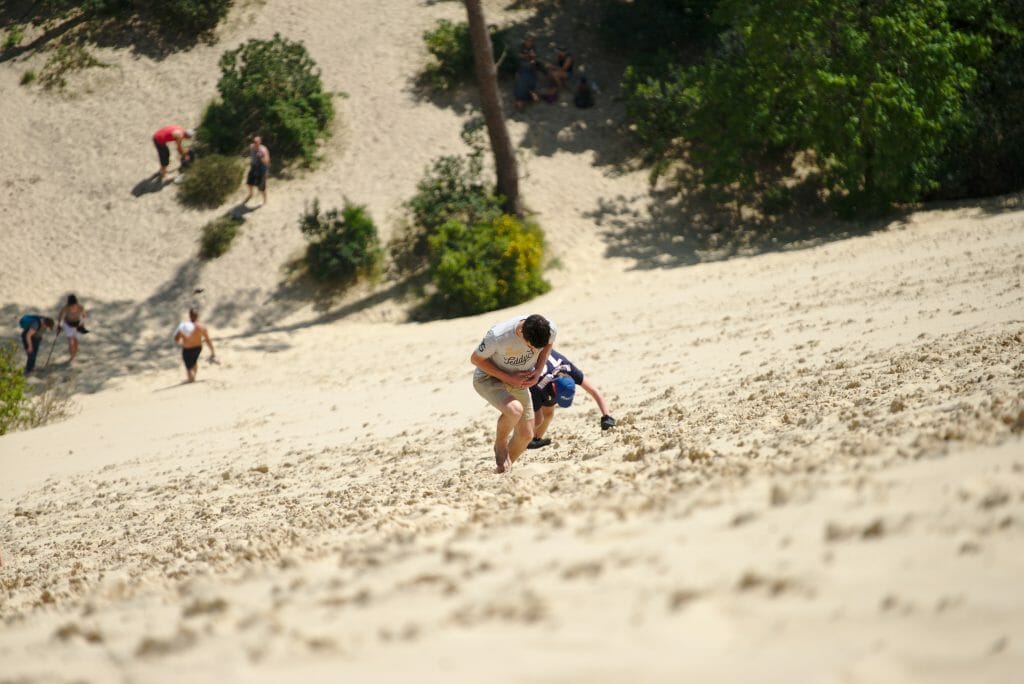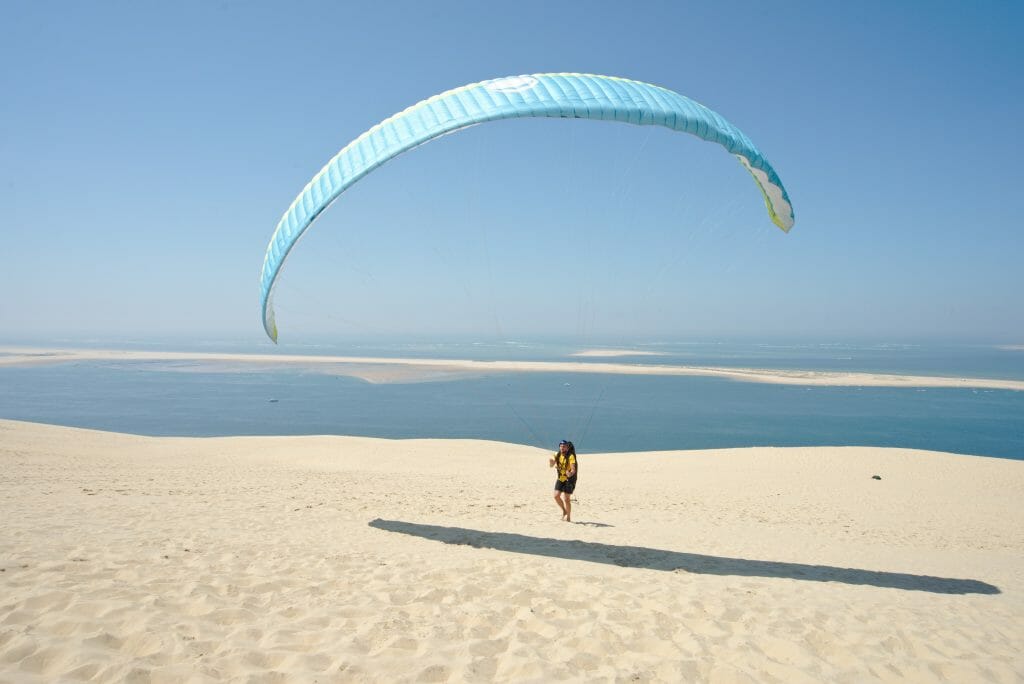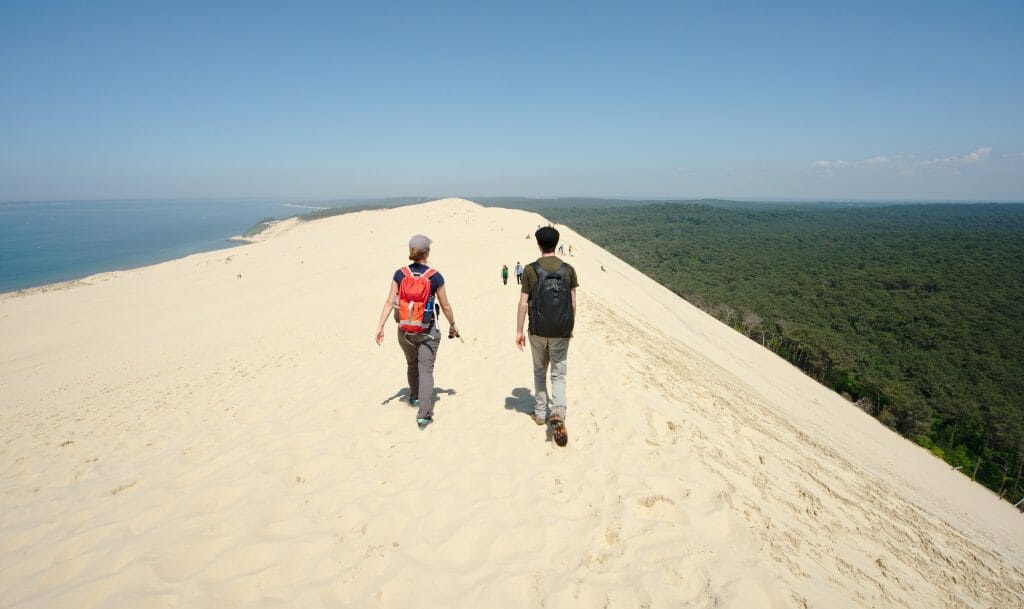 Infos
The easiest way to get to the Pilat dune is by car. Several car parks are located near the dune (the nearest ones are charged and the furthest ones are free). For our part, we parked in the village of La Teste-de-Buch and walked the route.
The visit of the dune is free of charge. We recommend that you take a complete tour of it and not just climb to the most popular spot! A word of advice: it is easier and above all less steep to climb the dune when arriving from the beach than from the car parks directly.
From Bordeaux: If you do not have a car you can either take a day or half-day tour like this one. Or it is possible by public transport by taking the TER from Bordeaux to Arcachon, then the bus of line 1. See the bus timetable (it doesn't run very often during the off-season, so it's better to check it out).
See the tour to the Dunes du Pilat
Note: it is of course also possible to rent a car and do it independently. Car rentals for the day cost about 40€-60€. Check rates on Rentalcars.
A short tour of the vineyard near Pessac Léognan
Well, it's nice to talk to you about Bordeaux, walks, restaurants… but it's high time to talk about a little wine too, isn't it? 🙂 No because let's be clear, by coming to Bordeaux we had high expectations in terms of drinking! #TeamApero
So first good news: wine level we were served! (And rather well I want to tell you…)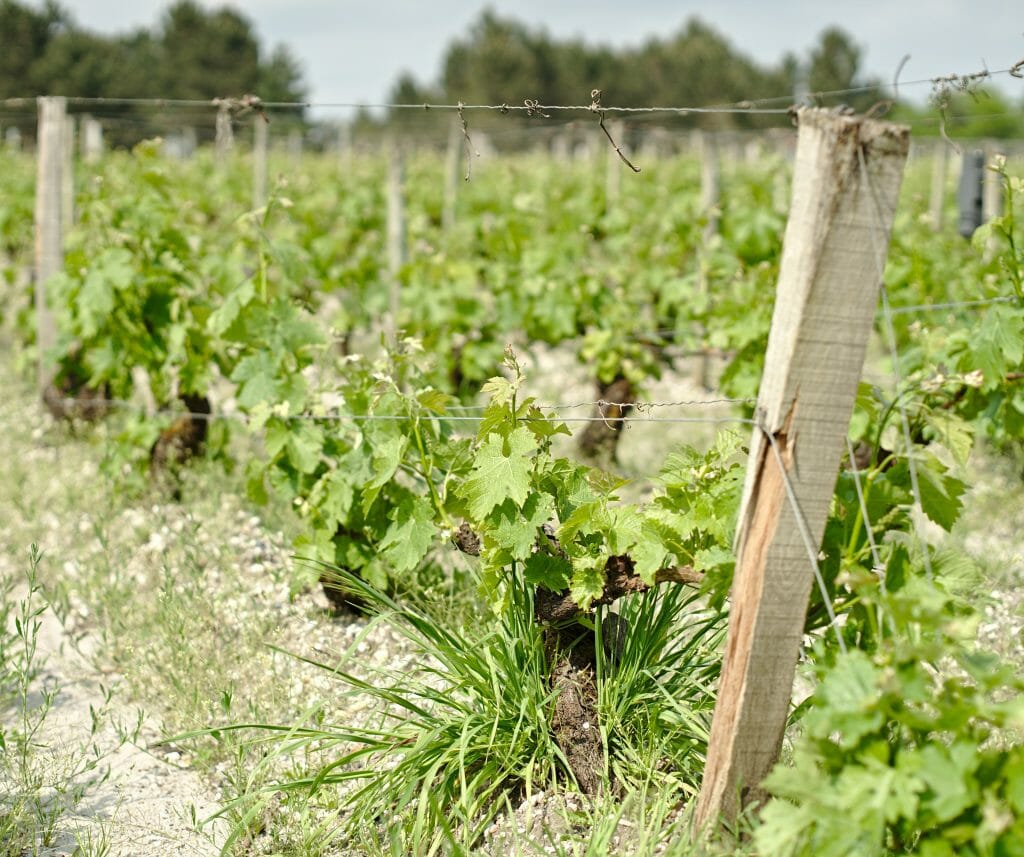 The first 2 days of our stay in Bordeaux we spent the nights at Vincent's place, a friend from Bordeaux who, in addition to being unbeatable about his region, studied… oenology. His girlfriend even works for one of the most prestigious wineries in Bordeaux. In short, you will have understood it, with them we were exactly in the right spot to learn a bit more about wines in Bordeaux. In other words, it was with a local expert that we roamed for a day to get a closer look at these world-famous and renowned vineyards.
For the moment, the Bordeaux region is divided into several regions or should I say several appellations. Some of them, such as the Médoc, the Pomerol or the Saint Emilion, are known all over the world… But let's face it, wine in Bordeaux is no joke! There are more than 7000 winegrowers, so it is useless to say that it is absolutely impossible to see everything.
Vincent therefore decided to show us a little bit about what could be done "in his homeland" in the "Graves" sector and more precisely in the area with the name of Pessac Léognan.
1st Stop: Château Léognan
We have already seen a lot of vines (well yes… we both come from a wine-growing region in Switzerland) but it is not every day that we are in Bordeaux! In short, when Vincent suggested that we go and visit an estate, we didn't hesitate for a second!
We chose Château Léognan: a superb estate of more than 500 hectares where the vines occupy "only" 6 hectares. The rest? Meadows with horses, forest, ponds, a castle (of course), guest rooms, a shop, a restaurant and even a small church.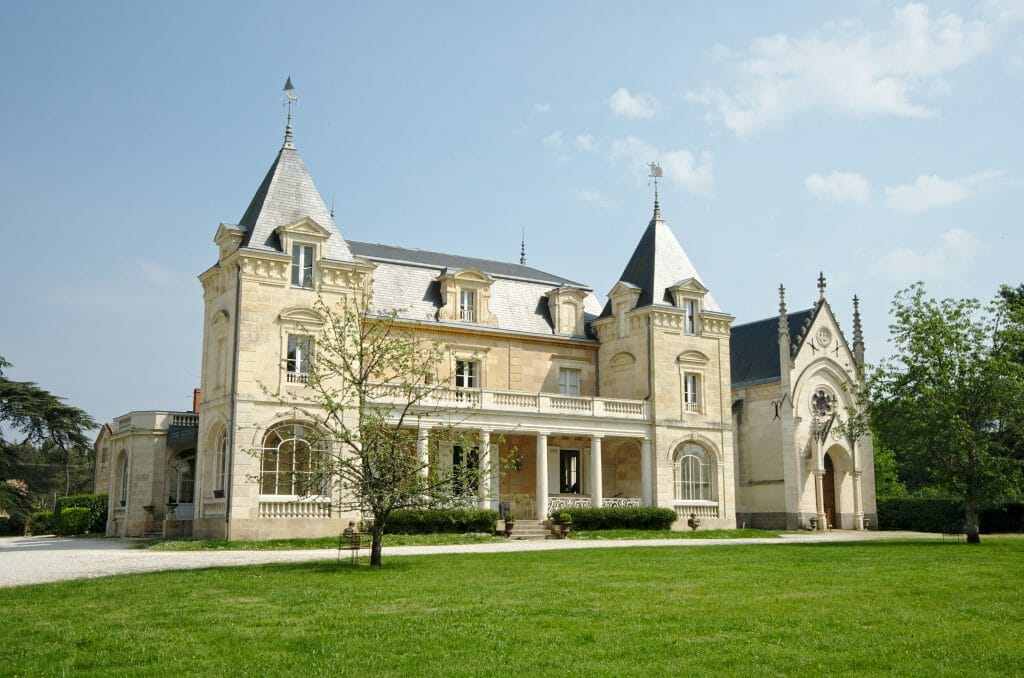 When we arrived we were the only customers and had the pleasure of having a small "private" visit. The tour lasted an hour and was very nice. The only regret? During this visit it is impossible to see the cellars (the place where the barrels are). Instead we went to the chapel of the estate and got an explanation of the production on the basis of photos…. But let us be reassured, even if we don't see the barrels, the tasting is obviously part of the tour! 🙂
The wines were excellent and we brought back a trio of bottles as a gift for my dad (he lends us his car for our trip… we could at least bring him some bottles… We secretly hope he will open them with us anyway haha)
Infos
Location:

Domaine du Château Léognan, 88 chemin du Barp in Léognan
Visits Possible from Monday to Saturday by appointment. The visit costs 5€ per person and includes one hour of visit/explanation and a tasting of 3 wines from the estate. more information
2nd Stop: Château Smith Haut Laffite
Our second stop of the day led us to a sublime estate, Smith Haut Laffite! Classified as a grand cru of the Graves, this estate is one of the most iconic… Let's be clear right away, we have neither tasted the wine nor visited the place itself! For the visit you have to book your slot in advance and it costs 18€ per person for a visit of the cellars and a tasting of 2 wines. But if you are interested you will find all the information here.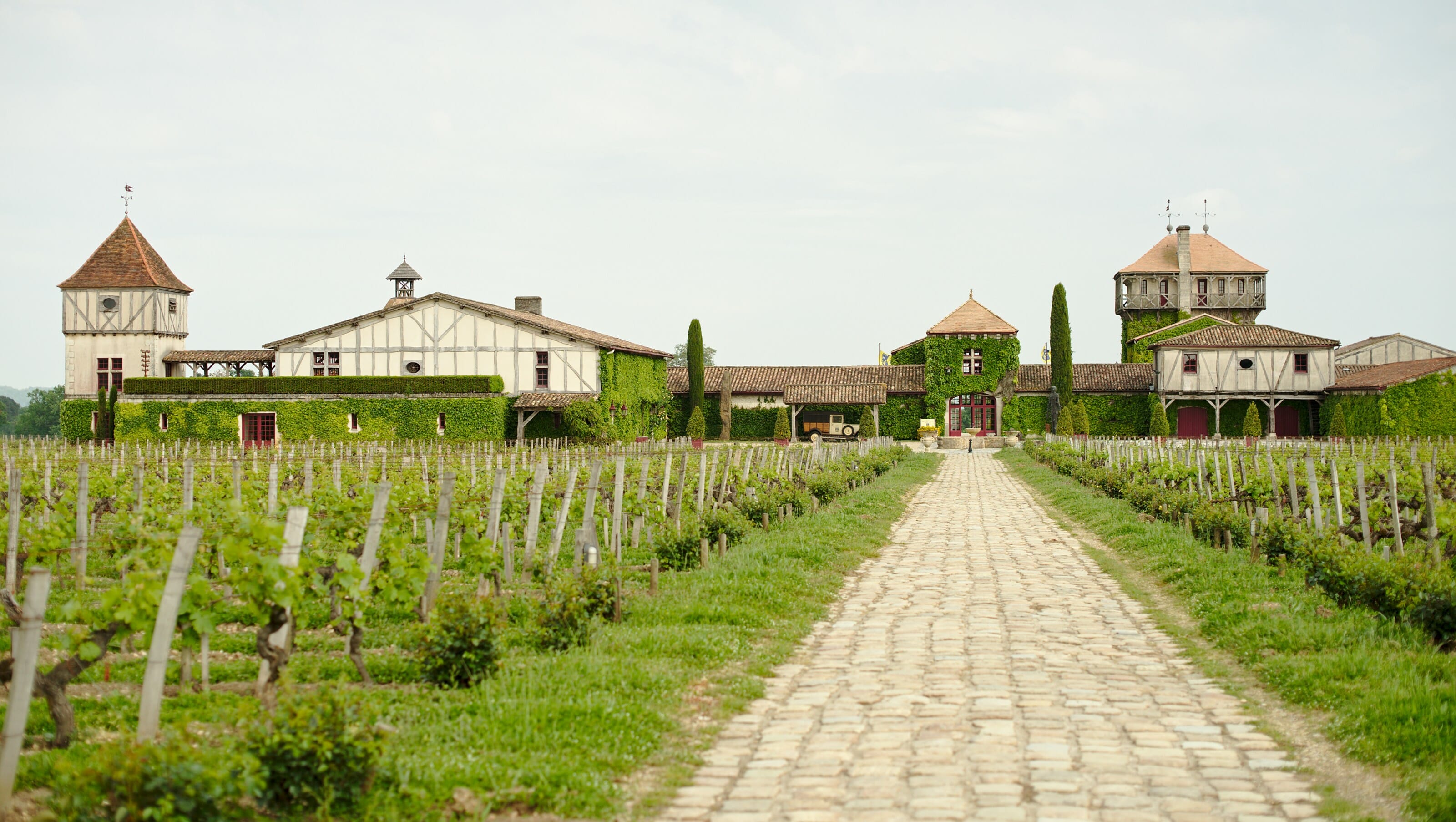 In short, for our part, we "just" came to see the estate (which also includes a hotel, restaurant and spa). So we haven't seen the 10,000 castles in the Bordeaux region, but when Vincent tells us that this one is one of the most beautiful, well, we have no trouble believing it….
Explore with Vincent!
Update 2022: our friend Vincent has started a professional guided tour! 🙂 We are so happy to read this great news and our humble opinion ane beeing completely objective (yes I swear): He is the best! And it's without the slightest reservation that we recommend you his tours if you want to be guided in the Bordeaux vineyards.
He works for the agency Olala Bordeaux and organizes several tours. The one he does the most regularly is this onei, a half-day in Saint-Emilion.
Visit the vineyards

If, unlike us, you don't have an oenologist friend to take you for a tour (we're lucky, we admit it), then you can still go on your own. The only problem is that the wineries are only accessible by car… Of course you can rent a car and go there independently but we would not recommend this option. Well yes, in the Bordeaux region you have to taste the wines and it's a shame if one of you has to drive! 🙂
If you are looking for a tour you can go and have a look at the Getyourguide page. They have a great selection of tours, for all prices and to just about every region.
All our practical information to visit Bordeaux
Getting around Bordeaux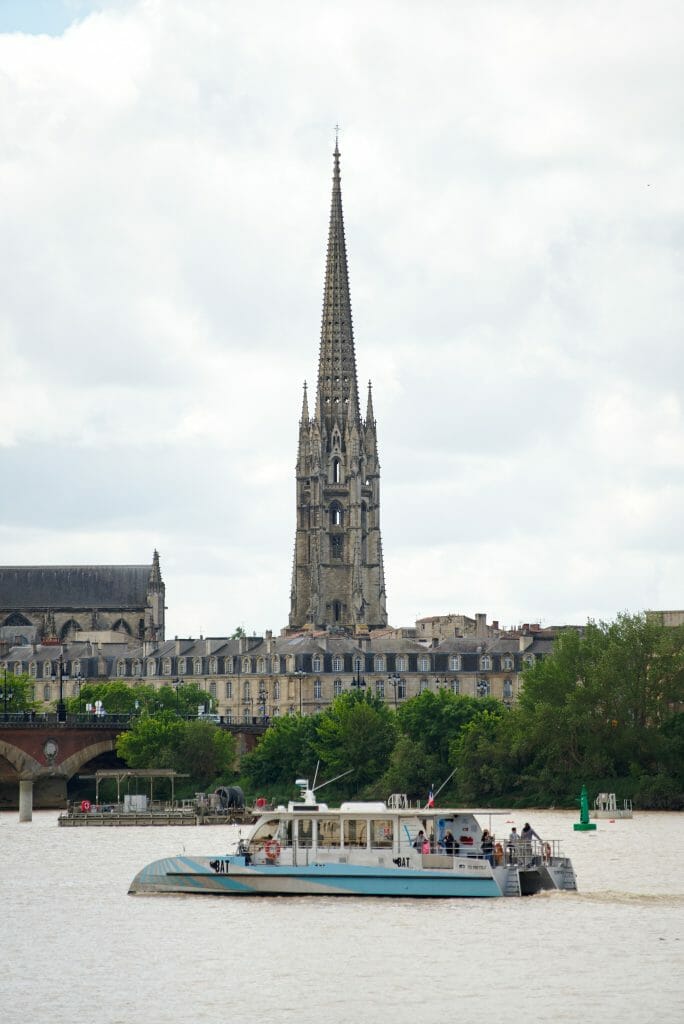 As usual we have chosen to walk a lot in Bordeaux…. But the city is still pretty big and so we still used public transport a few times. Overall France is not very famous for its public transport services (sorry… but it's true! 😉 ). But here in Bordeaux, I must say that, for once, it's a success! 3 tram lines criss-cross the city and during the week you never wait more than 5 minutes to catch a tram. 80 bus lines, self-service bicycles and even boats complete the offer. In short, it's perfect!
The individual ticket costs €1.6 and allows you to travel freely for 1 hour (including connections). From 3 rides on, it is advantageous to take a day pass at 4,6€.
We haven't tested the bike, but the boat is 200% validated! It's very cool to be able to take a boat to cross the Garonne and that it works with the same ticket as the tram. 🙂 If you want to know more about the network then it's on the TBM that this is happening.
Where to stay in Bordeaux
In terms of housing, there is no lack of choice in Bordeaux…. For our part we had the pleasure of being welcomed by our friend Vincent for 2 nights in the Pessac district and then we got a little closer to the center by renting an apartment on the border between Mérignac and Bordeaux.
For us, the apartment was the ideal compromise because we had to work a lot too. Budget level Bordeaux is a little more expensive than many other French cities (except Paris of course). To give you an idea, we paid 45€ for a nice 40m2 studio located on tram line A about 30 minutes from the centre.
Alternative to find an accommodation: we propose you to find all the hotels and apartments on one and the same map. Here you can enter your dates and adjust filters such as price or reviews and get an overview of the locations: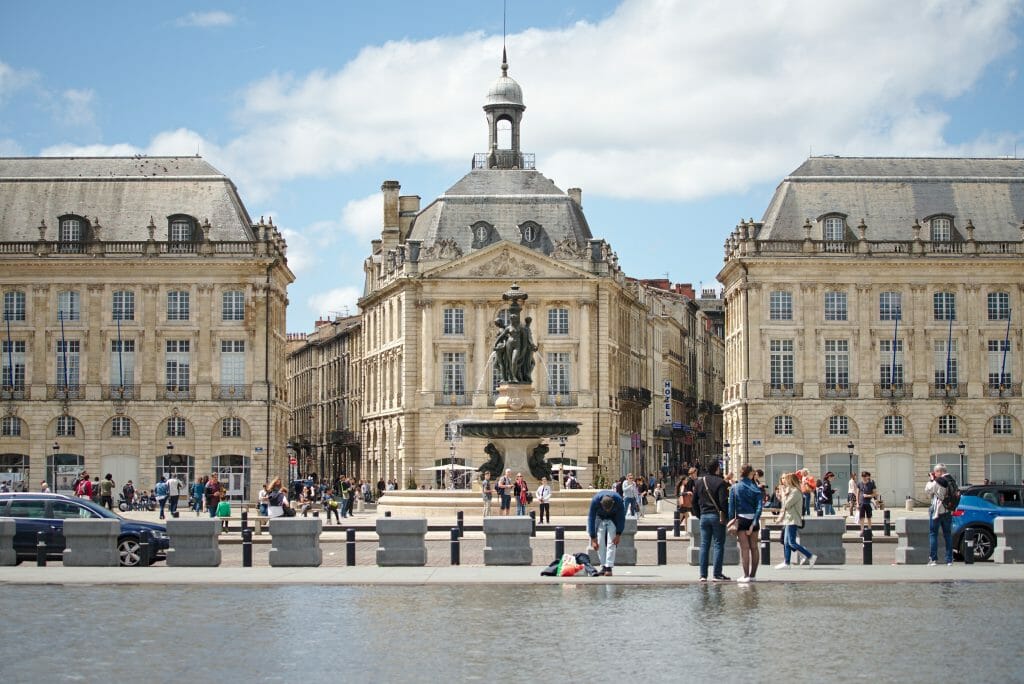 This time I think you have been told everything (or almost everything) about our visit to Bordeaux. For us, it's clear and unambiguous, Bordeaux we'll come back to it! We clearly haven't seen enough for our taste and besides if you know the city don't hesitate to leave us your good tips, advice and good addresses in the comments. On the one hand it will be useful to other readers but also and especially it will give us ideas for our next visit. 😉
See you soon!
Note: This article contains so-called affiliate links. This means that if you buy a product or book accommodation via our link you obviously pay nothing more but we will receive a small commission. Thank you!