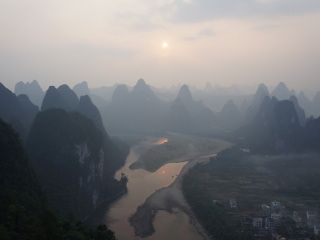 After passing the golden week in Kunming and discovering the rice terraces of Yuanyang, we made our longest train ride since the beginning of the trip to China! Yes yes, 22 hours by train to reach Guilin from Kunming! It's been a long way, but in the end it went without too much trouble that we reached the pretty village of Xingping.
We had taken hard sleepers. And as we explained in this article, hard sleepers are an economical but still very comfortable option!
it is after this long journey that we arrived in the famous city of Guilin to spend a few days there, but also to discover this kharstic region a little more.
Train from Kunming to Guilin

There is one train a day from Kunming to Guilin. The good news is that you won't need to ask yourself whether you are taking a "night" or daytime version given the length of the trip. According to our information, the train has become a little "faster" than the 22 hours we spent in it, but it remains something like 18 hours of travel.
See the tickets and schedules
Guilin: a peaceful city in the Guangxi province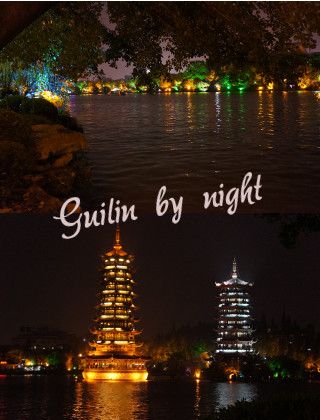 The city of Guilin is a large Chinese city, and from what we have heard from other travellers, many find it quite ugly and prefer to go directly to Yangshuo or Xingping.
I would like to tell you that, as is often the case, an opinion on a city is quickly fell, and it also depends greatly on the neighbourhood in which you live…
For example, we had not really been under the spell of Beijing, but we met many travellers who had left seduced by it…
In Guilin we stayed in a small inn, very close to the pagoda and the lake, so the large alleys along the small canal and the trees absolutely everywhere really charmed us!
Our Guesthouse was called "This Old Place".
Guilin, a pleasant surprise
Guilin was a pleasant surprise for us, as we expected to find a grey and unattractive city. In the end, we had a lot of fun walking around the pedestrian area near the pagoda, but also walking down the small streets in search of streetfood!
Oh and in Guilin we also came across our first "real" bakery with croissants to fall for. I must admit that this probably helped to give this city a very special flavour after almost two months of rice, yak, and oily vegetables… 😉
Xingping, the alternative to Yangshuo
If you've been following our adventures for a while, you must have noticed that big cities are not usually our thing. Or at least never for a very long time. So it was quite quickly that we decided to go further south to get out of the frenzy of the city.
We had heard a lot about Yangshuo as THE CITY to visit in the region….
But the fact is that Yangshuo, a small village that still had a few hundred inhabitants a few years ago, has grown at a lightning speed! And while looking for a hostel we mainly came across descriptions such as: "Close to bars and clubs" "Guaranteed atmosphere with the lounge bar on the terrace" "Close to the shopping street and bars", etc.
A little scared to find ourselves in the local Ibiza, we started looking for an alternative! It didn't take us long to find a hostel in Xingping. Backpacking in China is really easy actually… there are sooo many options!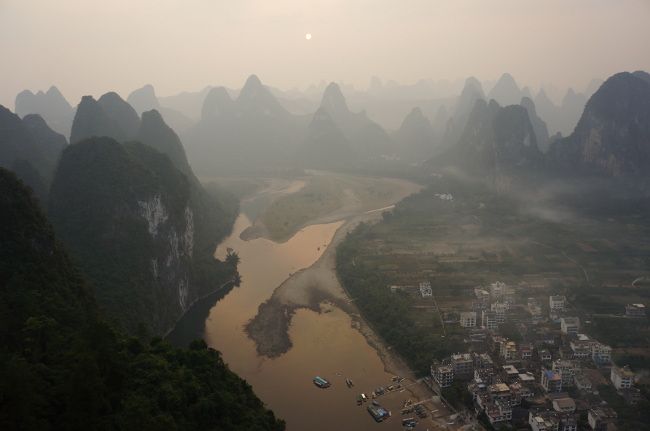 Our best guesthouse in China
Xingping promised all the charms that made Yangshuo famous a few years ago, but with fewer hotels and no nightclubs.
Banco! Just what we needed! Xingping is located between Guilin and Yangshuo, on the Li River. We didn't see Yangshuo 10 years ago, but it's easy to imagine that it would look like Xingping today! We really loved this small village, especially as we found one of the best hostels on our trip
Our Inn? This Old Place. Yes yes yes, it is the same name as the Guilin Inn 🙂 We never knew if they were together or not… Haha Anyway, here too you can book your room directly on Booking.
Our little stay in Xingping
We were a stone's throw from the river, but above all, at the foot of one of these famous kharstic mountains! In less than 40 minutes you could reach the summit, and enjoy a breathtaking view to admire the sunrise or sunset!
Well yes it is the advantage of these peaks, the view at the top is almost 360°! 🙂
Oh and how could I forget that Xingping was also Benoit's first hairdresser stop! After shampooing in "horizontal" mode, the hairdresser tried to make a cut that looked like the picture she had been shown…
Well in the end, Benoit ended up with a haircut close to Will Smith's when he was playing in the Prince of Bel-Air but that's just a detail… 🙂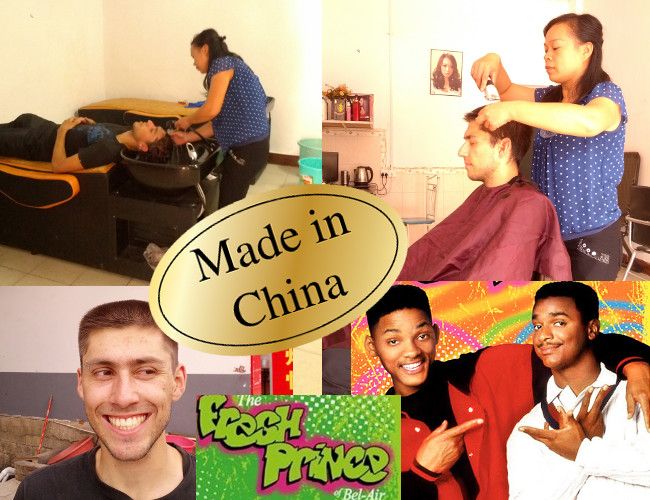 We had a good laugh! Especially when once back at the hotel I set about the heavy task of correcting the cut with…. Be careful… a Swiss Army knife! YEAH! In short, don't be surprised if in the future blog posts Benoit will often wear his cap on the pictures….
On the Li River – Xingping
A great classic of tourism in the region is to go for a ride on one of these famous "Bamboo boats", understand by there, some kinds of small bamboo rafts, powered by gasoline that go up and down the Li River quite slowly….
We couldn't possibly be in the area and miss a must-see like this…. So that's how we found ourselves one morning on one of these bamboo boats, and for 300 yuans (about 35€) we went for a 2-hour ride on the river.
Frankly, there's no need to say, it's really really nice! We opted for the "one way" option, so our boat took us from Xingping to Yangde, from where we walked back to our hotel.
A great ride of about 4 hours (really taking your time, even the time to do the andouilles with the jumps…)!
Tourist boats on the Li river
From the shore we were also able to observe the parade of large boats arriving directly from Guilin…. Between you and me, if you come around here, avoid these big boats as much as possible! More than 100 people gathered on a pontoon to try to take a picture in which we can't see the ship in front of us or the one following us, it's really not great! The bamboo boat is a bit more expensive, but it is clearly worth it!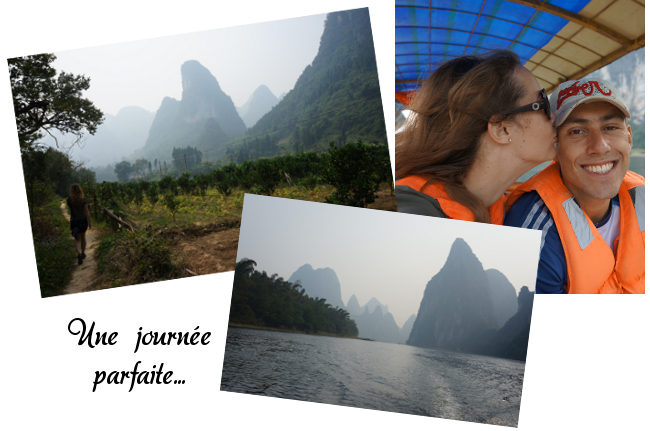 And if like me you're not really the morning type, I guarantee you that it's worth doing a small exception to the rule! We left with the bamboo boat at 9am and it was already almost too late… Indeed, from 10am the river fills up with all these small boats, we would sometimes almost see "traffic jams" forming! But before 10am you will (almost) feel like you are alone in the world, and it is worth it!
What you might call a shitty day…
Those who follow us on facebook may have already seen a picture, but because we are nice we will tell you the whole story…. For our third day in Xingping we decided to go for a short walk to a fishing village, then to go to a convent renowned for its beauty… Well in the end, the convent we will never have seen it, but on the other hand the fisherman's village yes… Well, almost……
A few meters from our first stage of the day (the fishing village), we saw a small orchard. Thinking that we had to cross it to reach the village, we set off on what would mark the end of the walk… Well yes, after a few dozen meters we said to ourselves that we had probably not taken the right path…. And so, I decided to take our little map out…. During our various treks in China, we often saw signs saying: "No walking while watching and no watching while walking"…
And now… comes the tragedy
Yeah well, I should have remembered that one better… With my nose in my map I kept moving forward trying to locate us (in vain)…. When all of a sudden I hear a crackling sound…. More precisely under my feet…. I didn't have time to say anything, the bamboo floor slipped away under my feet! Within half a second, I found myself in a kind of well up to my waist! In my fall my only reflex was to protect our camera that I had around my neck…. So it was "in all dignity" that I fell with a raised hand to spare our device…
The life-saving reflex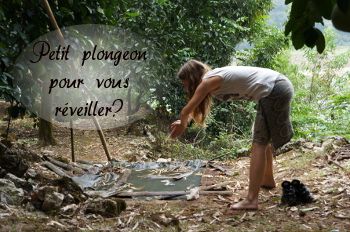 Fortunately, I had another reflex when I fell…. The one to hold on to the edge of the well with my free hand, because I was in this kind of water up to my waist, but I was clearly not yet touching the bottom… So it was with outrageously ridiculous screams that I alerted Benoit, who arrived running to the rescue of…. our camera! Once I got out of my small improvised pool, I "felt" that something was wrong…
There you go! It wasn't a water well I fell into….
But a manure pit that was used as fertilizer for the orchard….
Followed by a delicious little scent of liquid manure we hastened to reach this time the fishing village… From there, we found a nice fisherman who agreed to take us directly to Xingping for 100 yuan….
So it was barefoot, and with my pashmina as a skirt, that I went to the reception of our hotel to beg them to let me make a laundry with an extra dose of washing powder…
Shitty day… I warned you! So remember:
No watching while walking and no walking while watching
You'll thank me later…
The rice terraces of Longji
After a good half a dozen showers and a double laundry we had finally got rid of that smell that was chasing me, and we continued our journey towards the rice terraces called the Dragon's Back (because of their shape). The rice terraces are located about 2h30 by bus north of Guilin and are reputed to be ultra impressive!
To visit these terraces we opted for an inn located in the village of Dazai; this is probably not the most "classic" village because it is necessary to walk 40 minutes from the bus stop to reach the inn. But believe me, the tranquility and the situation in the middle of the rice fields is well worth the effort! Our hostel was the Dragon's Den.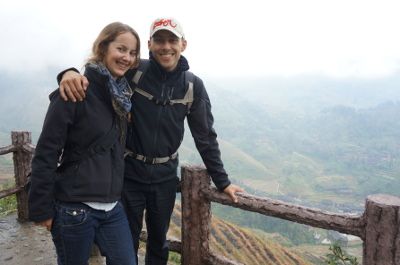 A traveller we met at the rice terraces in Yuanyang told us that the terraces in Guilin were much more impressive… It will be difficult to really judge, given that for the first time since the beginning of our trip, we really had a bad luck with weather…
No luck with the weather
We stayed 3 days in the village of Dazai, but unfortunately the rain and fog also… But, well, it had to happen to us once, and despite the more than capricious weather, we still went for some nice walks in the rice fields. We enjoyed this short stay, but we gladly imagine that in good weather the show could be even more memorable… 😉
Well on that we will leave you for today, we will soon find you for the end of our Chinese adventures as well as our conclusions about China, the first country of our round the world trip.
Oh and if you also have an anecdote of travel misadventures don't hesitate to post a comment! I will feel less alone…. 🙂

NB: Please note that this article contains affiliate links to partner sites. If you buy a product on one of their sites you will not pay more but we will receive a small commission. This will help us to keep this site alive. Thank you! 🙂