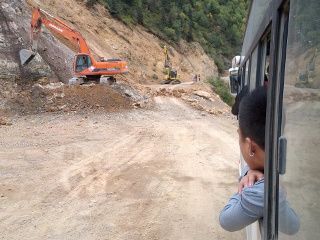 Travel China by bus and train… When you travel and especially when you embark on a long-distance adventure, you also make a lot of trips by using public transport.
And of course China is no exception to the rule. With a surface area of 9'597'000km2 I guarantee you that there are ways to make damn long journeys…
The information on China is extensive. In short, this article offers you a brief overview of the main means of transport, as well as some useful information to survive in the jungle of tickets, categories and options available to you…
The airplane – National flights in China
You can imagine that in China it is very easy to travel by plane! The country alone has more than 200 airports, thus it's not hard to imagine that there is an airport almost everywhere! Even in Kangding in western Sichuan you will find an airport at 4200m altitude!
As far as airlines are concerned, most of the major airlines known in Europe also serve the main cities such as Beijing, Xi'an, Shanghai, Chengdu, Kunming and others.
On the other hand, for domestic flights you will have better time to turn to local airlines such as Air China or Southern China for example. To find a flight we recommend Skyscanner.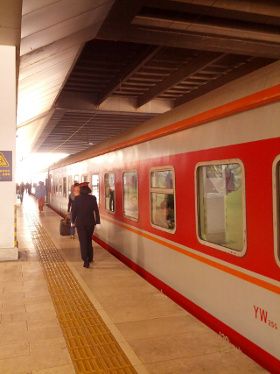 Good, enough said about the plane, because in the end it is a means of transport that we consciously decided not to use inside China, we preferred to travel by land…
Travel china by bus
An option that certainly takes more time, but also allows you to see the evolution of the landscapes along the way! For example, during our bus trip between Chengdu and Kangding we went from a tropical area with palm trees and monkeys to a dry area with rock and cacti. All this to finally reach green plains with fir trees!
And all this in less than 12 hours by bus!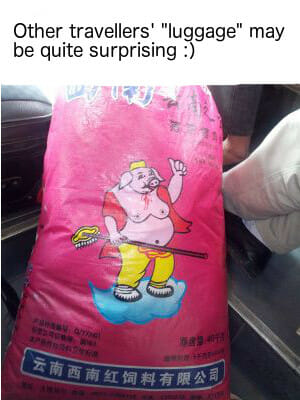 You want to go somewhere but there is no train station in this city? No problem, there must be a bus that can take you there! The bus network in China is highly developed, and there are long-distance buses that travel up to 900km!
In general, Chinese buses are basic, but modern enough to be at an acceptable level of safety.
The seats are generally relatively comfortable, but well it's still buses! 15H with legs stuck behind a seat it's never great!
The dangers of the road
Road traffic is the biggest cause of death in China every day, but don't worry in France it's the same! Compared to other countries in the world, taking a bus in China still seems to us to be a good option. The buses are in good condition, the main roads are good, the drivers are sober (well, we started from this principle) and the drivers take regular breaks (about every 2h-2h30)
Then there are of course regions where things are getting a little worse…. For example, when we went to western Sichuan. On this road called the South Tibetan Highway, we took a 15-hour bus ride on a dirt track with stones the size of footballs scattered along the way. Then the fog got involved… we preferred to close our eyes to be honest! We had aches and pains everywhere the next day because we were shaken the entire time!
But that's the game: do you want to see beautiful landscapes in off-track mode? Yeah well, you take the off-road trails and forget about the fact that your butt hurts!
Sleeper buses in China
An alternative to the classic buses that works very well and that we appreciate is the sleeper buses!
These buses are actually real little hotels on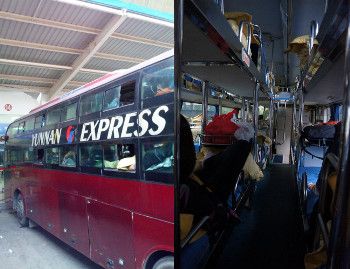 wheels! There are all sorts of all categories, some with flat screens and toilets, and others… well…… windows and 4 wheels is already not bad, isn't it? In these buses, it is not reclining seats that are found, but beds. There are generally about thirty or forty beds per bus: 3 rows of 6 or 7 beds, all on 2 levels.
Very practical, they allow you to travel at night, and to arrive in general (almost fresh) around 7am at your destination.
A word of advice: NEVER take the seats at the back! When sitting, it's obviously where it shakes the most, but in a bunk it's worse! Instead of having 3 beds on the width, the bottom makes use of the space normally reserved for the 2 corridors to put 5 beds there! So unless you want to create VERY close bonds with your unfortunate neighbours, we advise you to take another place if available! Oh yes, and if you're over 5'6 feet tall, the bunks can get a little short. But it will always be better than the seated buses, where even we, with our poor 1.73m heightalready had our legs stuck!
The minibuses in China
In China you will never (or almost never) be short in a transport means. Buses already serve a very large part of the territory, but for smaller trips or trips on less frequented roads there will always be minibuses waiting for you! But be careful, often these minibuses are not official, they are often local people who have invested in a vehicle and commute between different villages. I'm not going to explain how to find them, because I promise they will find you at the bus stations before you even have time to look for them!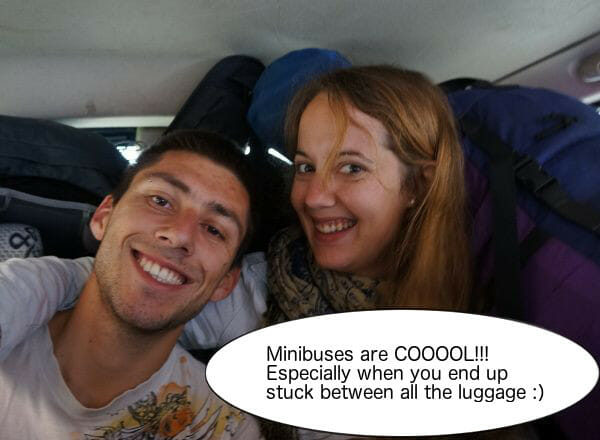 On the other hand, a word of advice: don't be in a hurry! It's always a good plan to wait a little while and let the competition play a little!
And ALWAYS bargain the price before you get on the bus!
Sometimes you will be offered a "private tranfer" mode. Be aware that drivers generally have a fixed price for a certain destination, and given the competition it is often quite even between drivers. However, the price will be the same if you are alone or if the bus is full, so it is better to wait a little while and share the costs with other travellers! And if you see locals taking the bus it's a good sign, it means the price is right! Just make sure you take a look at how much a local pays, then just give the same amount to the driver without arguing! This is a significant advantage of China: tourists are not getting (too) scammed!
Travel China by train
Taking the train is definitely an excellent option in China. The trains are modern and reliable and serve all major stations in the country on a very regular basis.
There are several types of trains, some of which can be extremely fast and others VERY slow!
For example, a Beijing-Shanghai can last 20h10 or only 4h48 depending on the type of train!!!!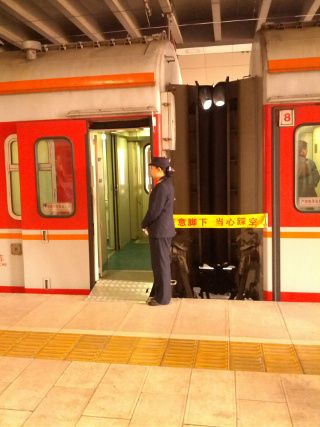 Contrary to what one might think, trains (except express trains, which are much more expensive than others) are not faster than buses, they are sometimes even slower!
But on the other hand, this mode of transport seems to us to be safer and above all more comfortable. We're better sitted and it still shakes a lot less! 😉 Moreover on a long journey it is pleasant to be able to walk in the corridors when you want, go to the toilet, wash a little, or simply meet people!
Indeed the train has a much more friendly side, it will not be rare for a Chinese to invite you to share his meal or offer you a tea to engage the discussion!
Taking the train in China, information to know
To catch the train there is some information to know: the first is that in China trains are ON TIME! So don't expect delays when you go to the station, otherwise you may well miss it! We're not in France here! 😉
Taking the train in China is almost like taking a plane: you have to anticipate your arrival at the station! To be wide, count on arriving at the station 1 hour before the convoy's departure!
When you arrive at the station you will first have to show your ticket and passport. Then your luggage will be sent to the X-ray machine.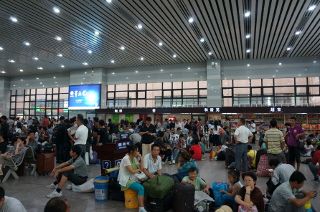 And you will pass through a security gate.
Everyone beeps at the gate and no one looks at the X-ray monitors but you still have to go through them!
So after this joke security check you will have to find your waiting room.
Are you used to waiting for your train on a platform?
In China it will not be so! You will always be in a waiting room, and once the train is at the station you will be allowed to go to the platform and they will check your ticket one last time. Just like the airport! In short, count enough time, because in large stations it is not uncommon for you to be boarded 40 minutes before the scheduled departure time!
Once on the train, the car conductor will pick up your ticket, and exchange it for a plastic card. Surprising at first, but it's very practical, because it tells him exactly where you're getting off. He will come to warn you about 30 minutes before you are at your destination! If you don't go to the terminus station it can help you sleep well!
Finding a way through the different categories of train tickets….
When you want to buy a train ticket you will most probably be asked in which category you want to travel…
So in China the terms 1st and 2nd class exit. No no, here we call a spade a spade! There are "hard seats", "soft seats", "hard sleepers" and "soft sleepers".
The categories available vary according to the trains. It will not be uncommon for berths to be the only option available even for a day trip! During our trip we only used sleepers. So it is difficult to tell you about the seats, which we have certainly seen but not tested. At the same time, given the distances we travel and the hours we spend on the train (for example, 10 hours as I type these lines), being able to lie down is a little luxury that it would be a shame to deprive yourself of.
The Hards Sleepers:
In our opinion the best alternative! Much cheaper than softwares, this category offers an excellent value for money. The beds are not as soft as you'd like, but I can guarantee you that we've had much worse in some hostels! 😉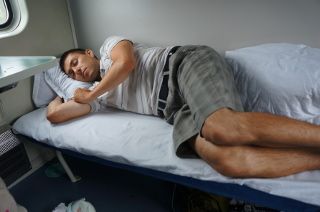 In this category the wagons are divided into compartments with 6 beds; 3 levels on each side. The compartments open directly onto the central corridor and there is no way to isolate yourself from the rest of the carriage. Clean pillow and blanket are provided!
The seats at the very bottom allow you to sit comfortably. But they are also a little more expensive than the top ones. For those in the middle and top you will be forced to lie down in view of the space above your head…
But let's reassure ourselves, the tradition is that as long as people are awake, those below share their bunk with other travellers who want to sit down….
Having tested a little bit all the levels, we recommend you to take the ones in the middle, they are not the most comfortable, but at least you will not have anyone who will come to squat your space and your belongings will be a little more hidden from view….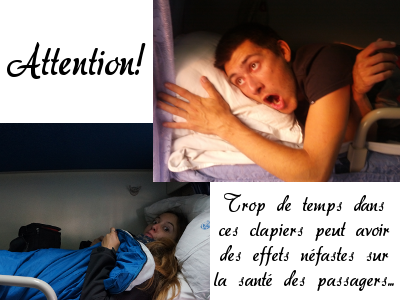 The Soft sleepers:
Now that's a lot better than in many hostels! The cabins have only 4 beds and can be closed. This means that we can cut ourselves off from the noise of the corridor if we wish! The beds are super comfortable and each bed has its own personal light.
And since there are only 4 beds, the high ceiling allows you to sit up or lie down without any problem. In addition, the temperature can be adjusted for each cabin as well as the volume of the ambient music!
And believe me, Chinese pop music is nice, but for listing to it for 22 hours is enough to make go nut.
But of course this category is much more expensive than hard sleepers, and in our opinion the increase in comfort does not compensate for the price difference. But sometimes you won't have a choice, because hard sleepers are often the first tickets sold out!
How to buy chinese train tickets
To buy tickets in China, whether for trains or buses, there is clearly a language barrier…
Do you speak Chinese? So Easy peasy, it shouldn't be more of a problem than in your country!
Where it gets complicated is when don't speak Chinese. And believe, buying a ticket is not just about being able to say the name of your destination!
Oh, no, no, no, no! You still have to know how to pronounce it correctly…. For example, the city of Xi'an. I'm pretty sure that when you read that you read it with an xi like in "xylophone"… yeah well WRONG! It's pronounced "She Anne"! And then you still have to put the right intonation! Good luck I would say!
So let's get back to our business…. To buy a ticket there are three schools!
The easy way

Buy your tickets directly from your hostel or hotel or go to a ticket agency with English-speaking staff! Being able to order your ticket in English is the "safe" option you will be sure to get the right ticket!
However, it should be noted that in most cases there will be a commission to pay! Sometimes it is ridiculous (5 to 10 yuan) but sometimes it can climb to 50 yuan…. So for a 60 yuan ticket it's getting expensive.
The other easy way is to use 12goasia for your tickets. From what we've seen, the commission they take is not very important (lower than most hotels).
But unfortunately this option is not always possible. Either your hotel does not offer this service or you are too much "last minute" to do so. In this case, you have to go to plan B….
Go to the station and play kamikaze….
To do this, you have to go to the ticket office with the name of your destination in Chinese and a good dose of hope. Well yes, just hope that the person in front of you knows 3 words of English… Generally these hopes will be in vain…. In the best case you will not understand anything, but will leave with a ticket in an unknown class for the right destination with the next train or bus.
In the worst case, you are told something like "Meyo Meyo Meyo" which is more or less equivalent to "it's not possible"… There you will leave with a somewhat confused and puzzled look…. Don't worry, we've experienced this more than once before, this famous "Counter fail"
But over time we have found the right technique…. Come on, we'll unveil it to you….
Anticipate and socialize!
Yes yes nothing simpler, take a paper and a pen and find yourself a person who looks nice (and preferably patient) and who of course speaks Chinese AND English… Then ask them to write IN CHINESE on a piece of paper: Your destination, the desired departure time as well as the date and category of the train. You will usually find this nice person in your hostel (at the reception) or around schools/universities (students tend to be very friendly and speak decent english)
Sometimes trains are full for certain days or classes so that's where you have to anticipate. The best thing is to get a message like that:
"I would like a Hard Sleepers seat (lower berth if available) for Kunming on dd.mm.yyyyy at 1pm, or if this is not possible the next train that has Hard Sleepers seat for Kunming"
Once you have this little note in your hand, you can go serenely to the ticket office and hand over your piece of paper with a stupid smile on your face. I promise it will work every time!
Buying your ticket: our tip
Important: whatever option you choose, you will always need your passport to buy a train ticket. For buses it is not necessary, so plan ahead!
To know which train to take, the schedules as well as the number of places available the majority of passengers use the web! In China there are many sites giving this information, but it's too bad it's in Chinese… As a result, it's really getting a little crazy!
But there is a really great site that also gives this information in English 12goAsia.
Understanding your chinese train ticket….
The first time you receive a Chinese transport ticket it is a bit of a general mystery. Here are some explanations that should help neophytes: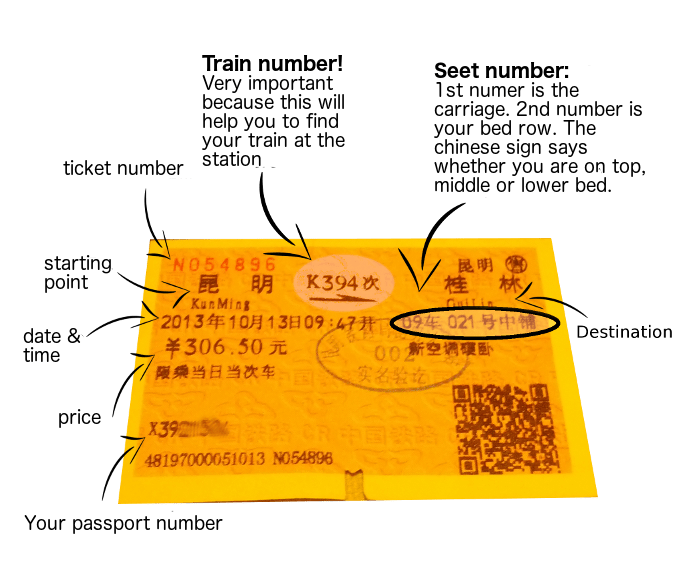 You will have understood it, the main thing is the departure time, but above all the train number! You will probably not be able to read destinations on billboards in Chinese stations, but you can always rely on the departure time and/or train number!
For bus tickets it is a similar logic, except that the ticket will not mention your passport number.
On bus tickets you will usually also find a 2 letter code followed by 4 numbers. If this information is present, it is the liecence plate number of your bus! Nothing better to find your bus when you walk around with a doubtful look on your face on the parking lot of the bus station! (This is also a real experience!);)
Budget: how much does it cost to travel China
Compared to Europe and the time spent in transport, China is definitely not an expensive country! However, these are not amounts that can be omitted in a travel budget!
Moreover, compared to the rest of Asia (except Japan), China is one of the most expensive countries in this sector.
For example, for us, transport expenses (all trains, long-distance buses and local buses) have amounted to nearly 350€ per person since the beginning of the trip (in 2 months).
But it should be noted that in China prices vary greatly depending on the category chosen, so a Kunming-Guilin trip can cost you 480 yuan in soft sleepers, 316 yuan in hard sleepers and even 176 yuan if you prefer to be seated (but for 22 hours of train it becomes hardcore)!
But the price also depends on the type of train, the more you opt for a fast train, the more expensive it will be!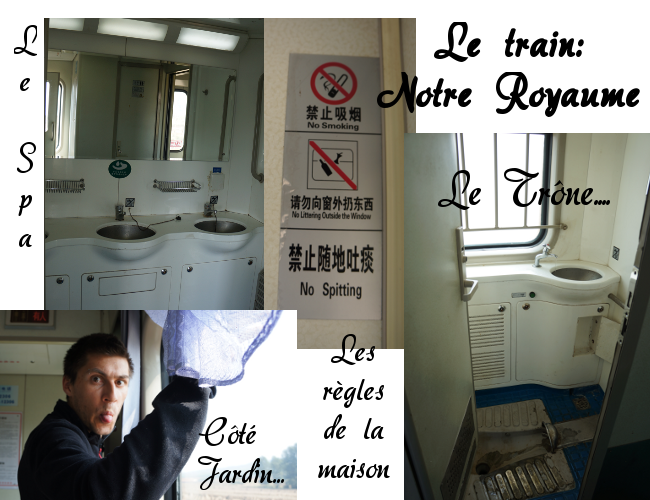 Bus fares in China
These differences only exist in trains, in buses it's the same price for everyone! There are only in the sleeper buses, where the upper sleepers are slightly cheaper than the lower ones, but very often it is played for a few cents…
To help you find your way, 350€ is what we spent by taking mainly buses or trains in the hard sleepers categories. We've never travelled using hard seat. However, we were forced to take soft sleepers for the Beijing-Xian journey (there were no more hard sleepers available).
For the bus, prices are based on distance, travel time and bus comfort. To give you an idea: a journey of about 6-7 hours costs between 120 and 160 yuan (between 15 and 20 euros).
Generally for the same trip the sleeper buses are not more expensive, but they will save you a night in a hotel!
Find Tickets for your China Journey
That's it, I think you know everything! If you have any questions do not hesitate to ask in the comments!
Note: This article contains affiliate links. By using our links you do not pay anything extra, but we'll get a small commission. Thanks for your support!