Like many travellers, we dreamed of being able to admire with our own eyes a sunrise in Bagan, the fishermen of Lake Inle, see the mountains around Hpa An or even appreciate the now famous "Burmese welcome". But during our round the world trip, the timing was simply not right.
But having been living in Chiang Mai for a few months now, the opportunity to visit Myanmar (or Burma) was just too beautiful. So one morning, we decided to jump on a bus to Mae Sot / Myawaddy (the nearest open land border to Chiang Mai and Bangkok… but we will tell you about it in another article) and discover this country of which we had heard so much good!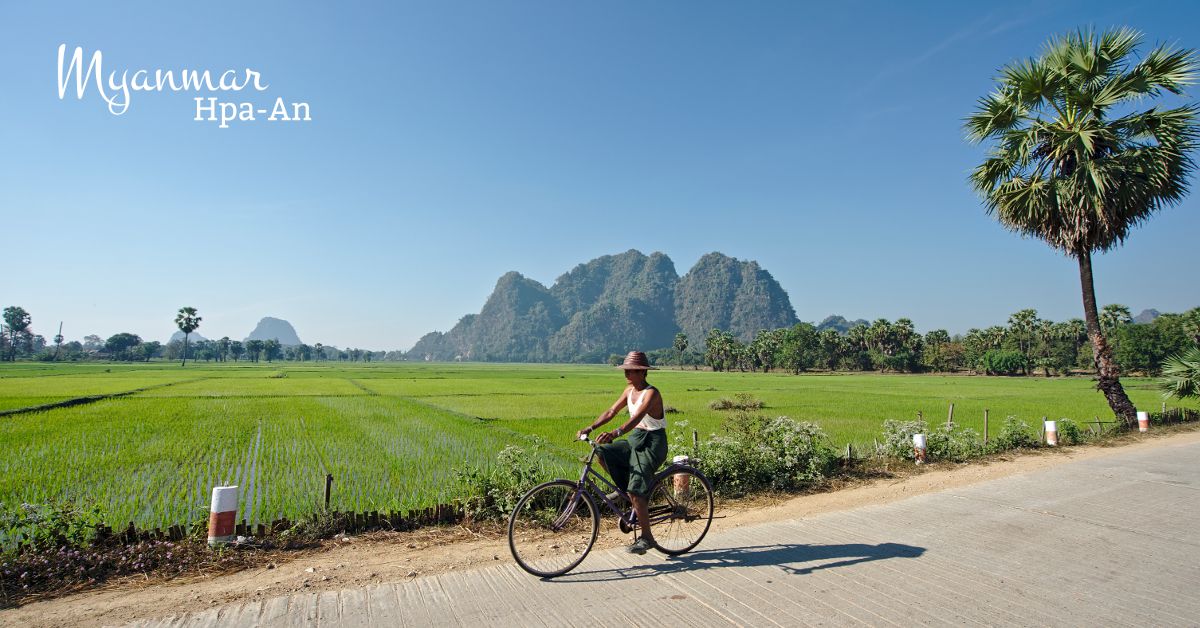 Hpa-An: a small town halfway between Yangon and Mae Sot
After about 8 hours by bus from Chiang Mai, we arrive at the Mae Sot border around 3pm. As the prospect of spending the night there did not sound very appealing, we decided then to continue with 3 more hours by taxi to the nearest small town on the Burmese side, I name Hpa-An.
We had read on other travel blogs that the surroundings of the city were rather pretty and especially that there was the possibility to sleep at the top of Mount Zwegabin… But we were far from imagining what we would discover around this small village in southeastern Myanmar.
What to do / what to see in Hpa-An:
The city of Hpa-An in the early morning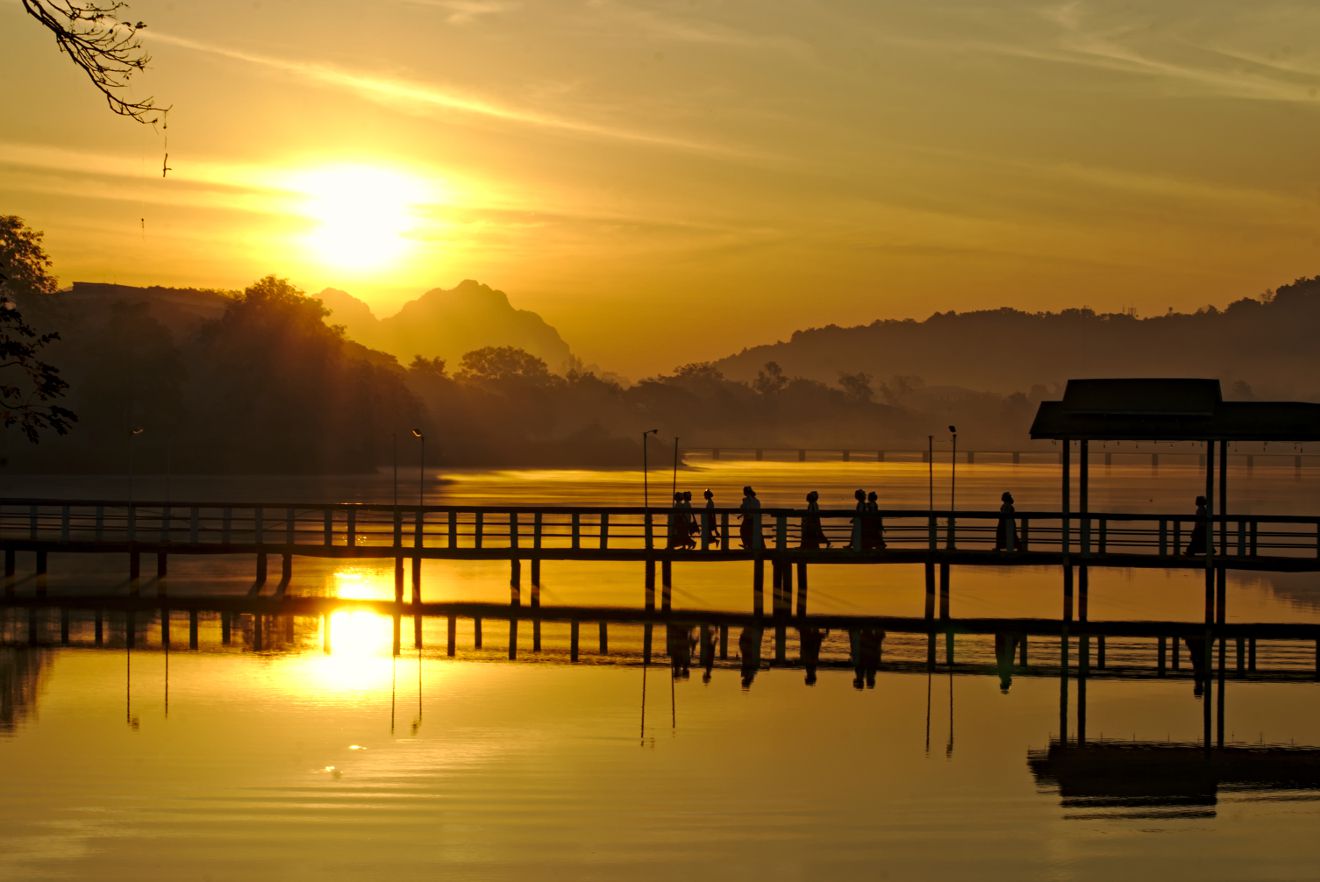 The first thing I was advised to do in Myanmar was to get up at dawn to observe the early morning life of the locals (which starts pretty early 🙂 ). So, two days in a row I set the alarm clock at 5:30 am to go for a walk in the narrow streets of Hpa-An. It's amazing how much is happening at 6am in Myanmar :)… There are plenty of women walking the streets with baskets on their heads filled with herbs, vegetables or small dishes to eat for breakfast. We can also see the novice monks who pass in front of the houses to collect food. It's really very lively!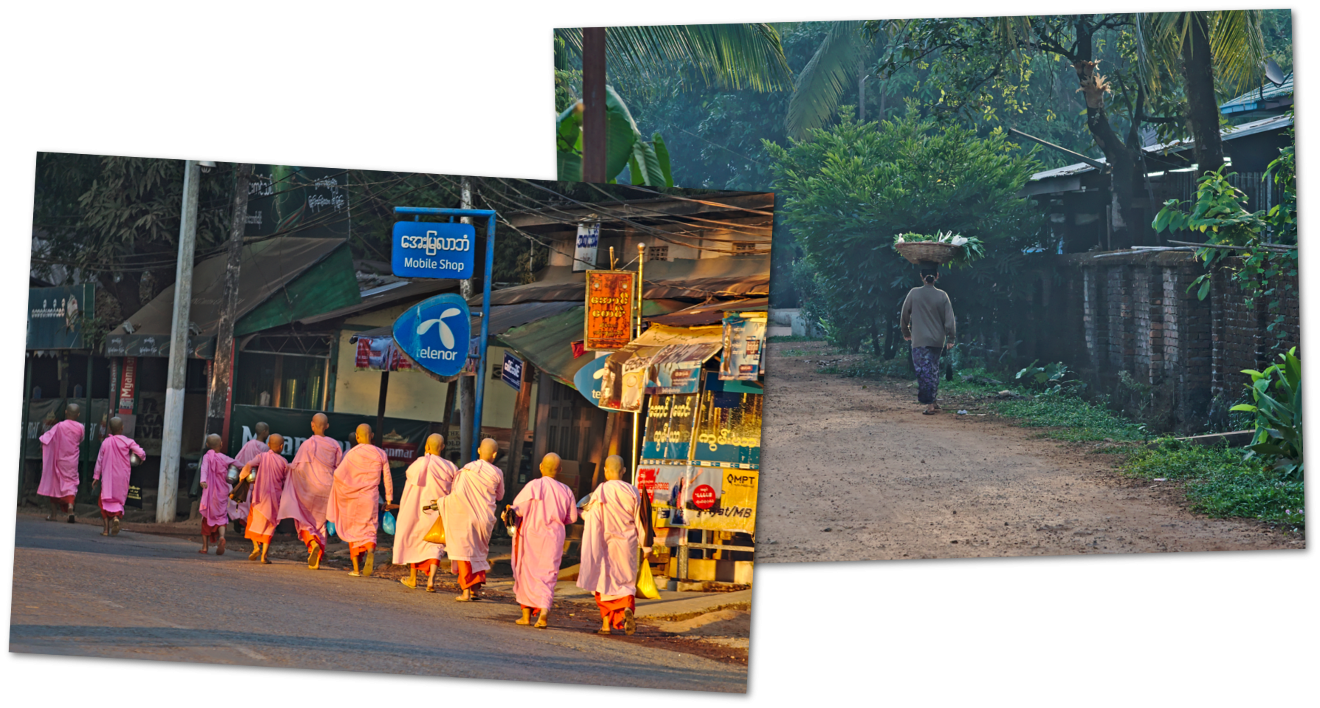 But if there is one place where I advise you to go to Hpa-An in the early morning, it is the small lake in the city centre. You can admire a magnificent sunrise with Mount Zwekabin reflected in the water, people doing sports on the small bridge…. Frankly one of my favorite moments at Hpa-An!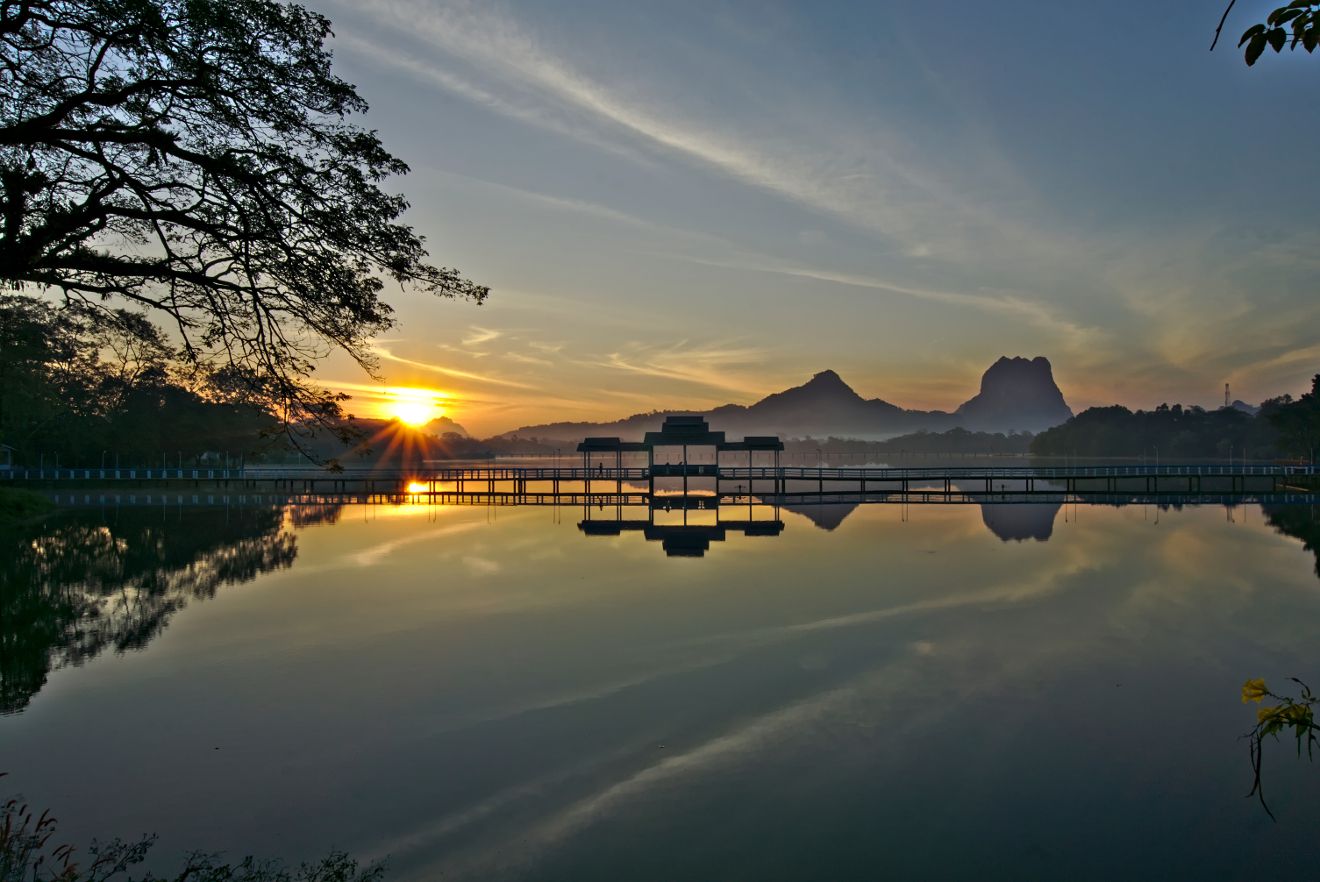 Sleep in a monastery on the top of Mount Zwekabin
If you want to sweat a little and have a really special experience, we strongly recommend that you climb to the top of Mount Zwekabin to spend the night at the monastery on the top. So certainly you shouldn't be afraid to take quite some stairs (there is still more than 700m elevation difference between the mountain base and the top. All stairs!) but you will be rewarded with an amazing 360° view over the whole region! It is undoubtedly the best spot for sunset and sunrise in the area. And then being woken up at 4am by the monks who meditate is also something to live once in a lifetime 🙂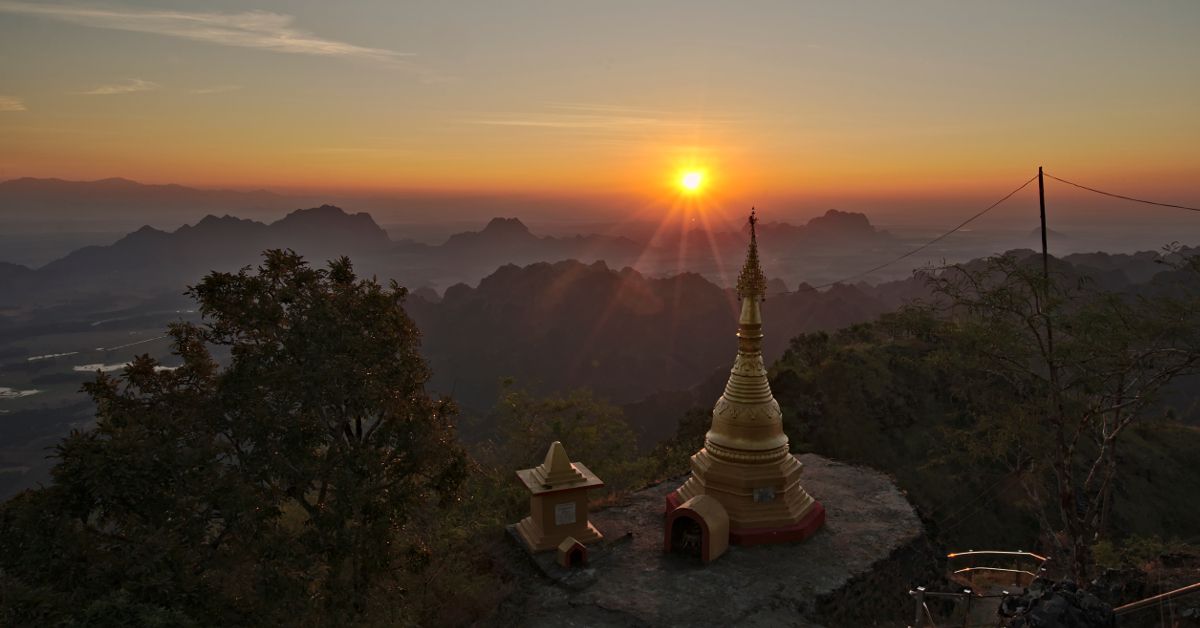 If you are interested in this adventure, we have written a very complete article with all the information you need to sleep on top of Mount Zwegabin...
the Lumbini garden
If you decide to climb the slopes of Mount Zwegabin, you will inevitably pass through the Lumbini Garden, which is actually just before the beginning of the endless stairs. But even if you don't want to go up to the monastery, you are advised to come and have a look at this place. There are actually no less than 1100 Buddhas statues lined up in this garden and with Mount Zwekabin in the background, the spot is rather photogenic. Take a look: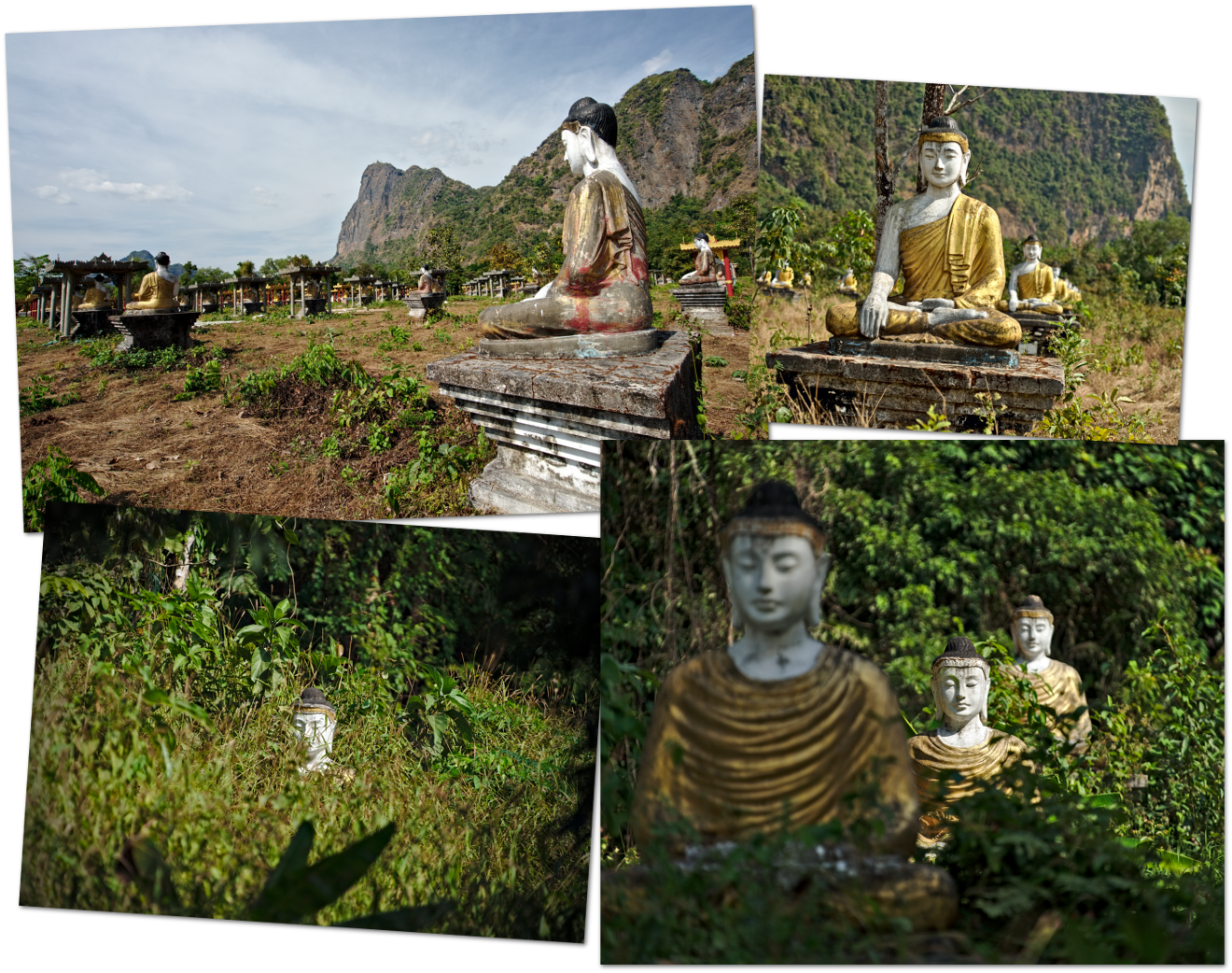 Kyauk Kalap Monastery
If you have already been through Myanmar, you know that there is no shortage of pagodas in this country! And yet, even after a few weeks of travel in this country, you will probably still be surprised by this rather original monastery. The main pagoda is actually located on a very special rock with a base thinner than its top. So, when you see the monastery for the first time, you wonder how the pagoda keeps in balance or when it will fall down :).
All around the monastery has been built an artificial lake that gives pretty reflections for the photos :)….. all the more so with Mount Zwegabin standing just behind.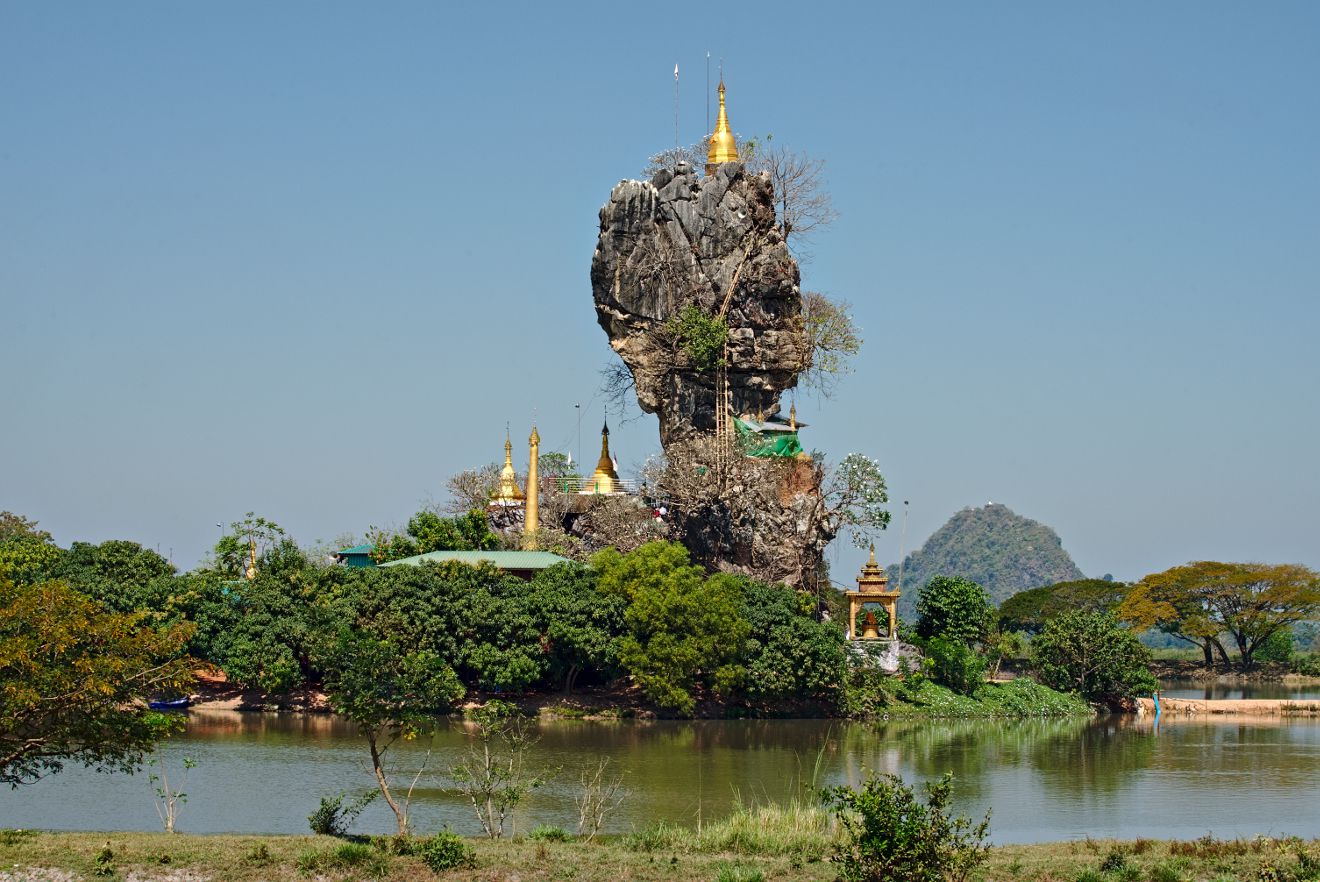 The Saddan Cave near Hpa An
As in all kharstic regions (such as Halong Bay on land for example), there are many caves around Hpa-An… In fact, I think that during our 3 days spent in the area, I had to visit 6 or 7 of them! But the one that undoubtedly holds the palm of the most beautiful cave is the Saddan Cave and if you have time to visit only one, it should undeniably be this one. Located about 30 km southeast of Hpa-An, it is accessible by scooter or tuk-tuk (although the last 5-10 km are a dirt track which is in rather poor condition).
After having paid the 1000 khiats of mandatory donation for tourists ;), I removed my shoes to enter the cave. Inside, as often in Myanmar, it is filled with pagodas and other Buddha statues. This cave is really gigantic and is also home to thousands of bats. So, as we walk barefoot through the cave, we walk on a mat of bat dropppings for about twenty minutes:). It's supposed to bring luck… #WhatTheySay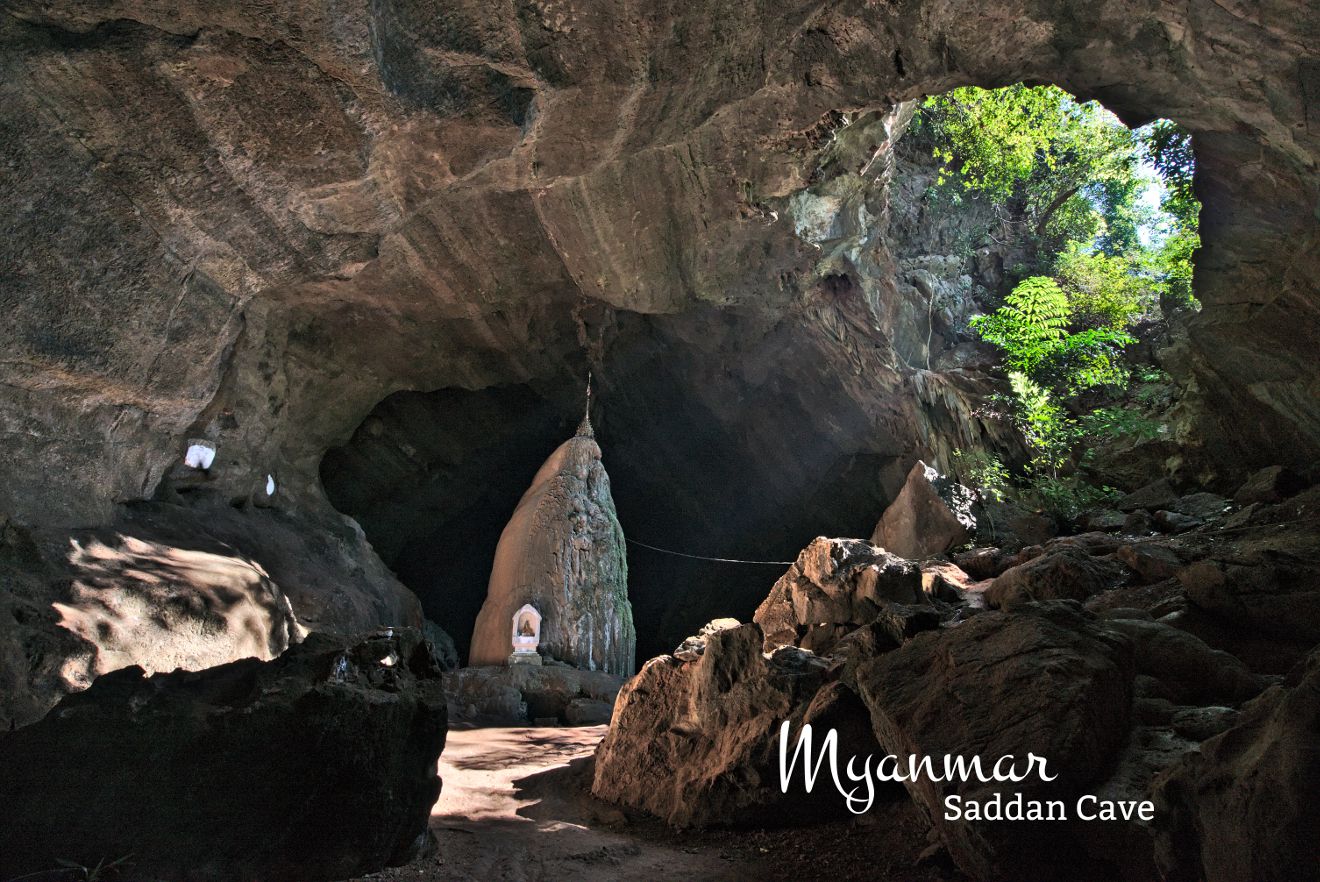 Cave exit in the rice fields – Saddan Cave
As we approach the exit of the cave, several openings illuminate the inside of the cave with a very pretty light. Then we end up on a magnificent lake in the middle of the rice fields… the place is a real postcard setting! From there, you can take a boat (9000 kyaths per boat that can take up to 6 people) that first crosses the lake, then goes through another cave and finally enters a small canal in the middle of the rice fields. This boat ride is just great! We're here on this boat in the middle of the rice fields and there's not a single sound around us… just the absolute silence! Without a doubt one of my best memories of Myanmar and something to do absolutely if you are in the area of Hpa-An!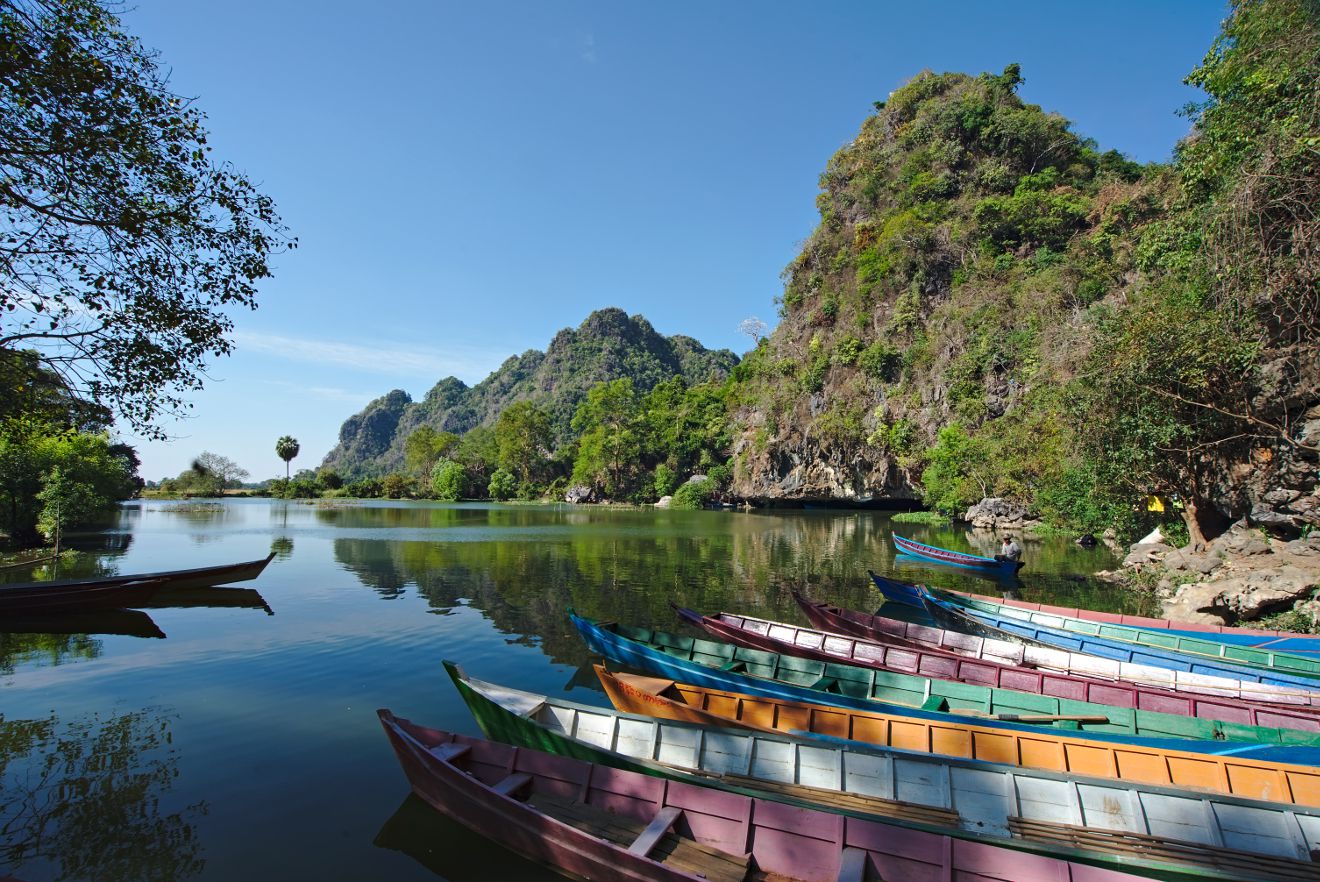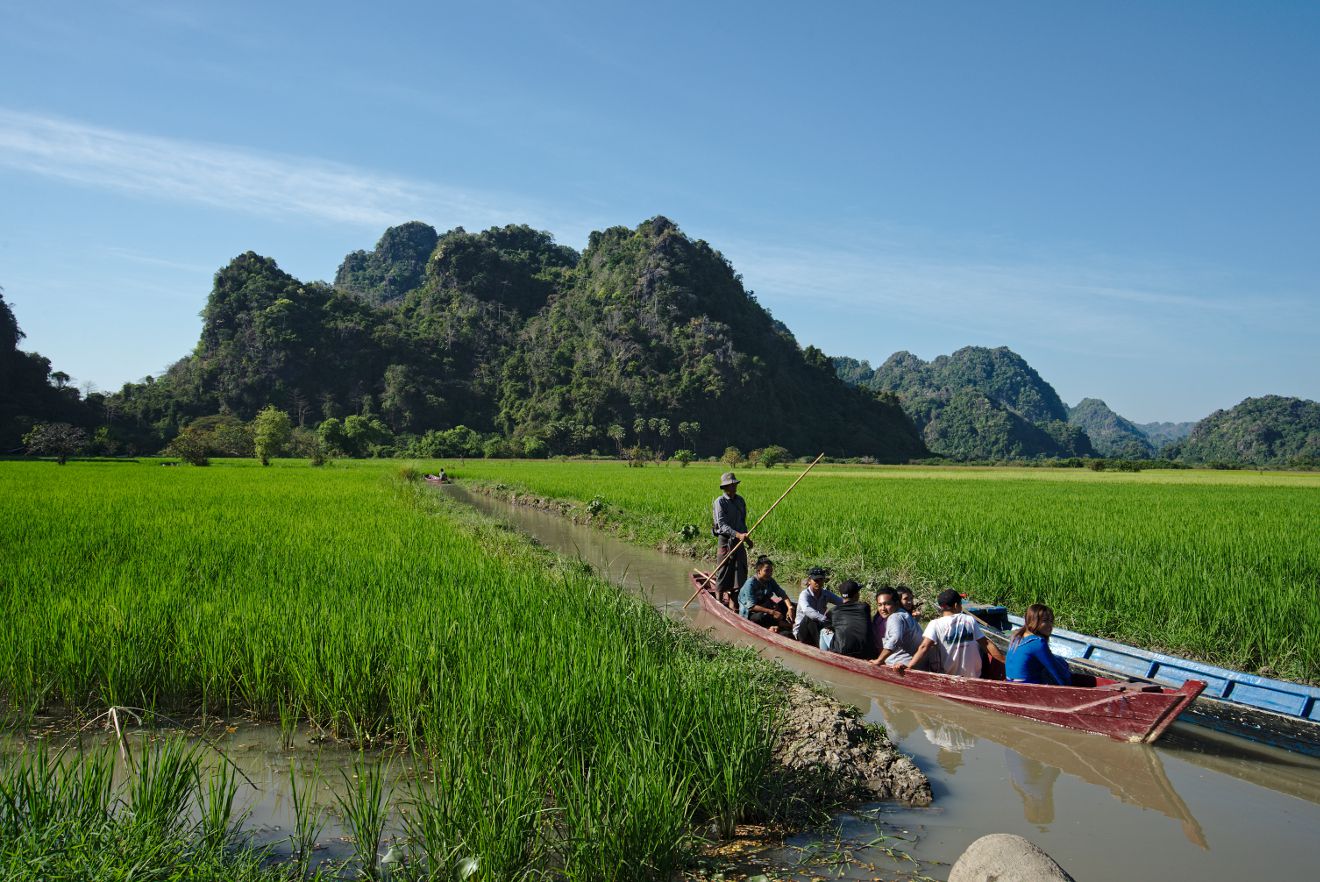 Kawgun and Yathaypyan Cave
These two caves are located quite close to each other and are also worth a look. The first one contains, among other things, thousands of small terracotta buddahs dating from the 7th century. I admit I hesitated 2 minutes to pay the 3000 khiats of donation for the tourists, but in the end I did not regret my small investment….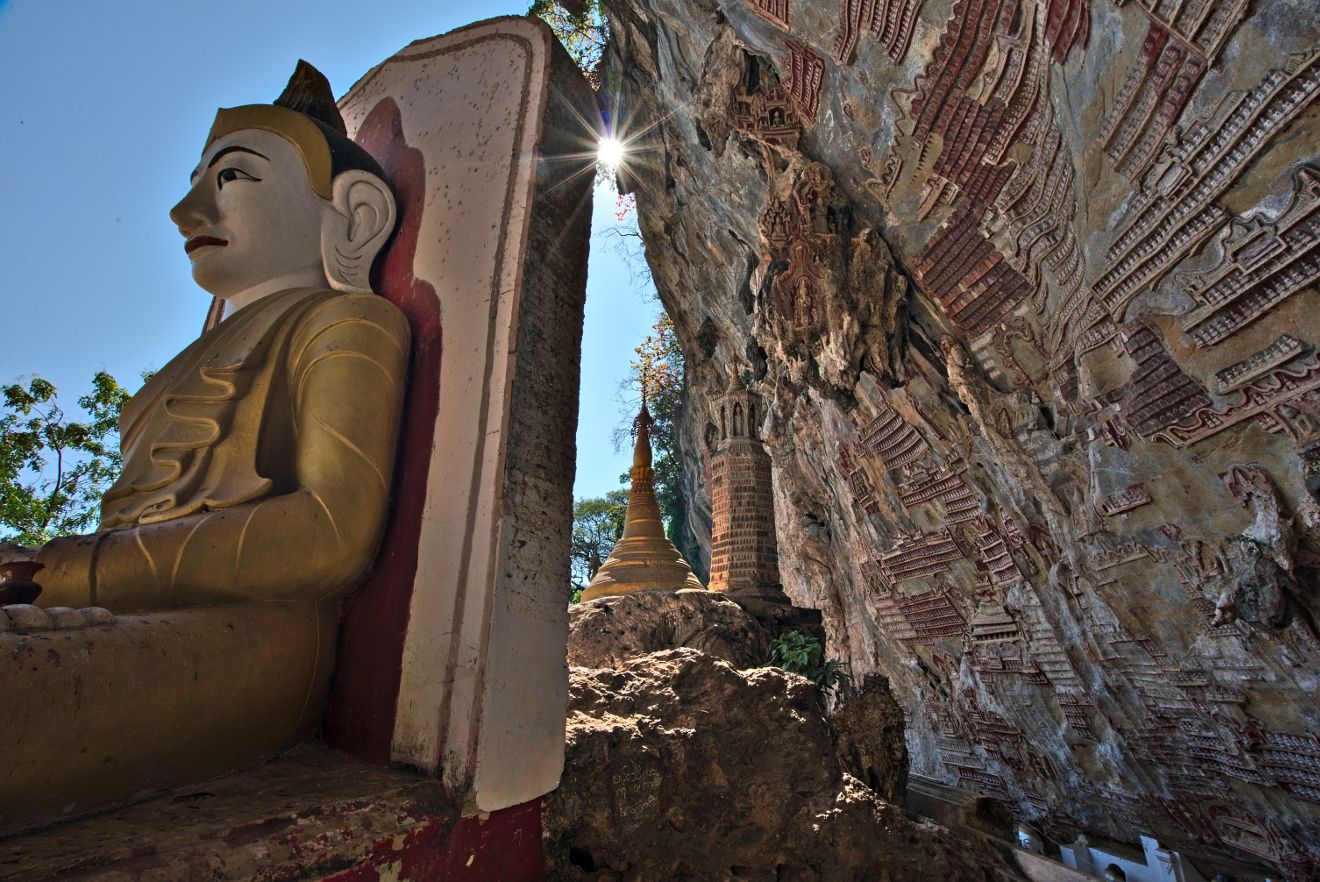 For the cave of Yathaypyan, no entrance fee to pay… and still as many pagodas and buddhas inside. If you are there: I hadn't noticed at first, but it is possible to cross the cave behind the main cavity (maybe 500m) to reach a nice view of the surrounding rice fields.
Bat caves in Hpa An
Bat cave is THE cave where you want to be in the late afternoon (around 17:30) to attend a rather special show: the almost simultaneous exit of thousands (what do I say, rather hundreds of thousands) of bats that fly away at night to hunt. We had already seen a similar show in the khao yai park in eastern Thailand but it was still as impressive as the first time! We have the impression of seeing a bat snake that travels through the air for about twenty minutes. A stunning show! And as a little bonus: the view from the cave is really not bad with the lights at the end of the day.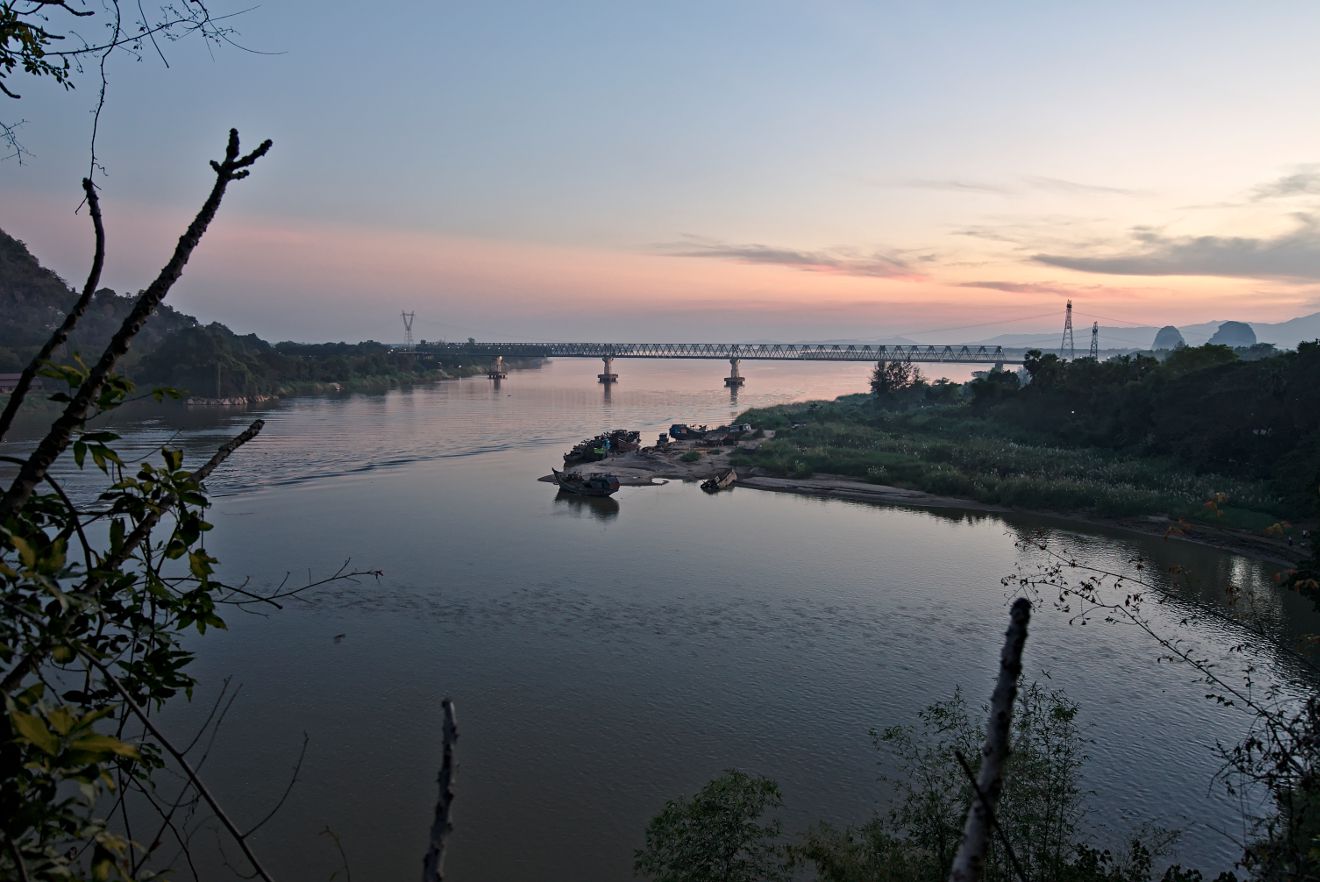 Getting lost in the countryside around Hpa-An
Simply, if you have an extra day, don't hesitate to rent a scooter to discover the countryside around Hpa-An independently (unlike other places in Myanmar where it is forbidden to rent a scooter for foreigners, it's not a problem for Hpa-An)… You will certainly discover many more things that we have not mentioned above and it is certainly the best way to learn a little more about the daily lives of Burmese people in the region.
Infos
Cave tour by the Soe Brother's guesthouse : This is probably the cheapest way to visit most of the points mentioned above (except the first 2). Soe Brothers organizes tuk tuks that can take up to 6 people and cost 30,000 kyaths. As the tour is quite popular, you will often be at least 6 and it will come back to only 5000 kyaths per person to see all the caves plus the monastery and the Lumbini garden. Difficult to beat on a price level. The tour starts at around 8:30 am and comes back around 5:30 pm.
scooter rental: As I said, in Hpa-An, it is possible to rent a scooter to discover the region on your own. You will find some at Soe Brothers for about 8000 khiats per day.
Accomodation : We had not booked anything in advance and landed at Soe Brothers guesthouse 2 (yes yes it seems that these Soe Brothers are the kings of local tourism) for 26,000 khiats for a double room with a private bathroom and a decent internet connection. From our experience, it is better not to book a guesthouse in advance on the internet in Myanmar because prices are always higher. And even without booking, we always found accommodation very quickly!
Map:

Looking for a place to stay in Hpa-An? Take a look at the map below and use the different filters to refine your search:
Our Conclusions about Hpa An
To conclude, I would say that Hpa-An has already set the bar very, very high from the beginning of our trip in Myanmar. We discovered a magnificent region with its rice fields, caves and karst mountains and we really advise you to spend at least 2-3 days there. The only thing that was not so good was the food that was fatal to Fabienne when we returned from Mount Zwekabin and it kept her in bed for 36 hours…. But well, from a lot of feedback we've had, it seems that it's quite common in Myanmar to get sick at least once :).
Note: This article contains an affiliate link to the guesthouse were we stayed. By booking thourgh our link you do not pay anything extra, but we'll earn a small commission.