Myanmar will have been a big favorite for us; in this article we look back at our wonderful stay and give you all the information you need to help you prepare your trip to Burma and plan your budget.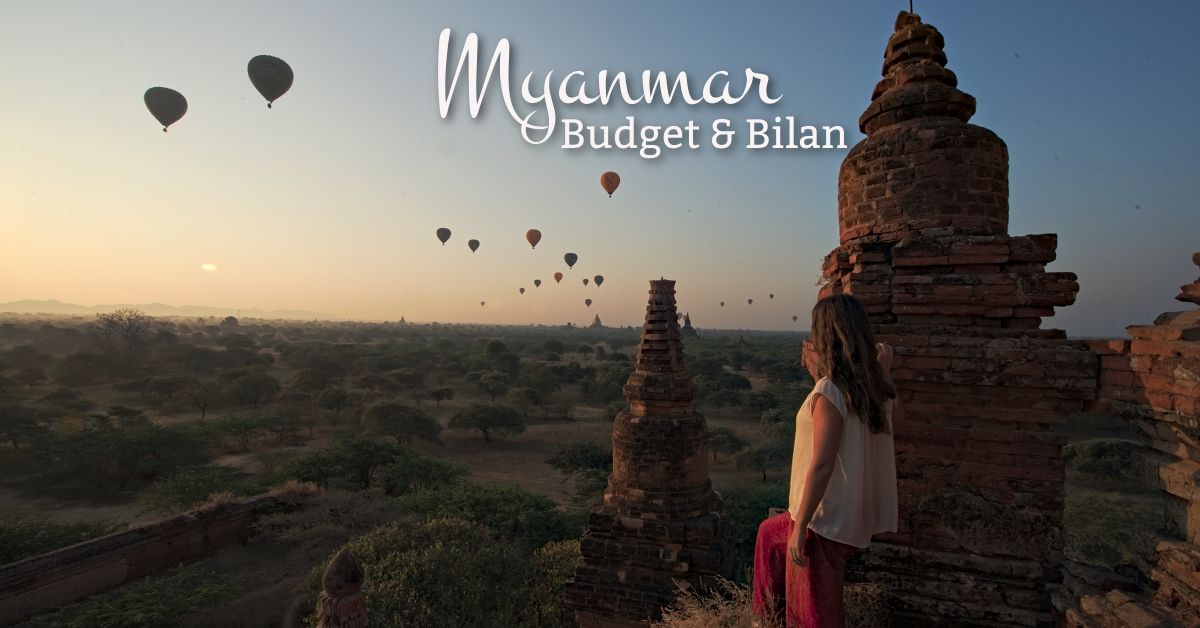 Trip to Myanmar: our itinerary for 2 weeks
This was our first trip to Myanmar and even if we didn't have a fixed travel duration, we had planned roughly 2 weeks to visit the country… We would have stayed longer, but we still have to work a little bit, eh 😉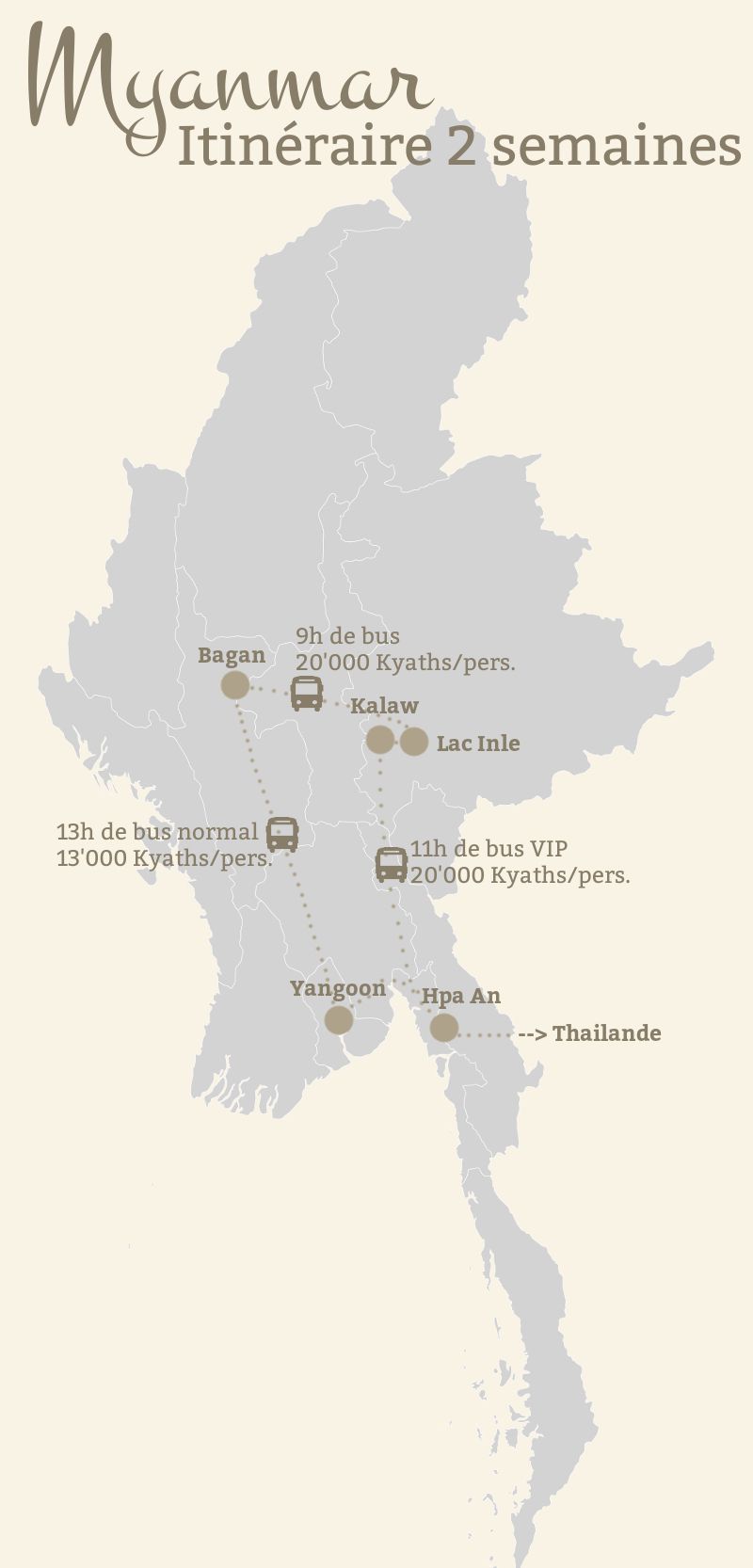 But let's reassure ourselves in 2 weeks we already have time to do and see a lot of things in Myanmar! For us this first trip was the opportunity to discover all the so-called essential spots of Burma, a form of appetizer, let's say! For our next stay we will probably try to discover some less popular places, but this time we really wanted to see the "highlights"!
Our itinerary and program for our 2 weeks in Burma:
Day 1 : Trip from Chiang Mai to Hpa An by bus, Night in Hpa An
Day 2 : Ascent of Mount Zwekabin, Night at the top in the monastery
Day 3: Descent of the monastery and visit of the Bat Cave in Hpa An at the end of the day, Night in Hpa An
Day 4 : Visit of the caves and the surroundings of Hpa An, Night in the bus taking us to Kalaw
Day 5: Arrival in Kalaw and rest (we were sick).
Day 6 & Day 7 : Trek from Kalaw to Inle, nights with the locals
Day 8 : End of the trek and arrival at Inle Lake, Night in Nyaung Shwe
Day 9 : Discover Inle Lake and surroundings by bike, overnight in Nyaung Shwe
Day 10 : Stroll in Nyaung Shwer and Rest before taking a night bus to Nyaung-U (Bagan)
Day 11 : Arrival in Bagan, rest and sunset on the temples, Night in Nyaung-U
Day 12 & Day 13 : visit Bagan, then nights in Nyaung-U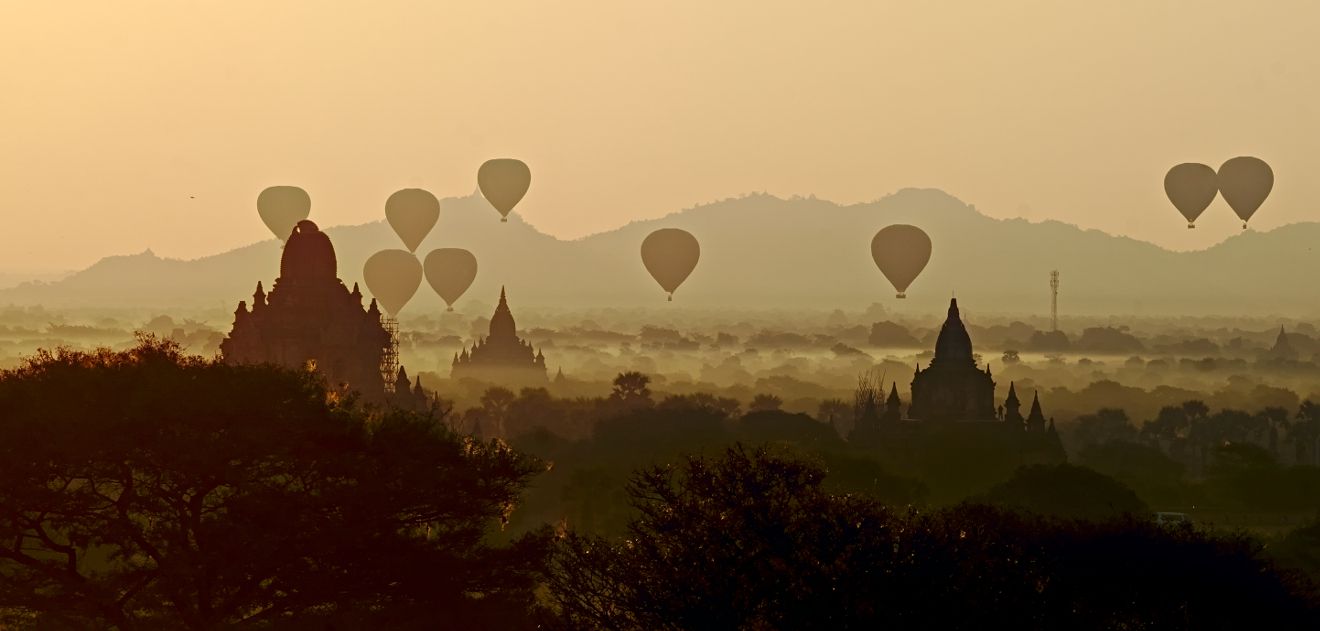 Day 14 : Last day in Bagan then night bus to Yangon
Day 15 : Visit of Schwedagon Pagoda and night in Yangon
Day 16 : Visit of Yangon then night bus to Thailand.
You will have noticed that we have made all our trips by night bus! There's no doubt about it, it's the best way to make the most of your days, save on hotel nights and get a cold of the century in buses air-conditioned at 16°C. 😉
Bus trips in Myanmar
As we have just mentioned, we made all our trips by night bus in Myanmar. At the time, to buy tickets, we went to an agency (generally next to the bus stop or at the reception of the hotels) the day before to buy our bus tickets. But it has changed a lot since then and there are now online platforms like
Bookaway
and
12GO Asia
that allow you to easily buy your tickets online. You will easily find all the routes we did (Hpa An – Kalaw, Inle Lake – Bagan, Bagan – Yangon) directly on these platforms if you prefer to do everything online.
See buses in Myanmar on Bookaway
See buses in Myanmar on 12GO
Myanmar travel budget: we open our accounts for you
As usual, we'll take a look at our expenses. In all and for all our trip to Burma will have cost us 704€ for 2 people for 16 days, an average of 22€ per day and per person.
Here is the detailed breakdown of our budget:
Note: it's in french, but you should get the idea thanks to the icons.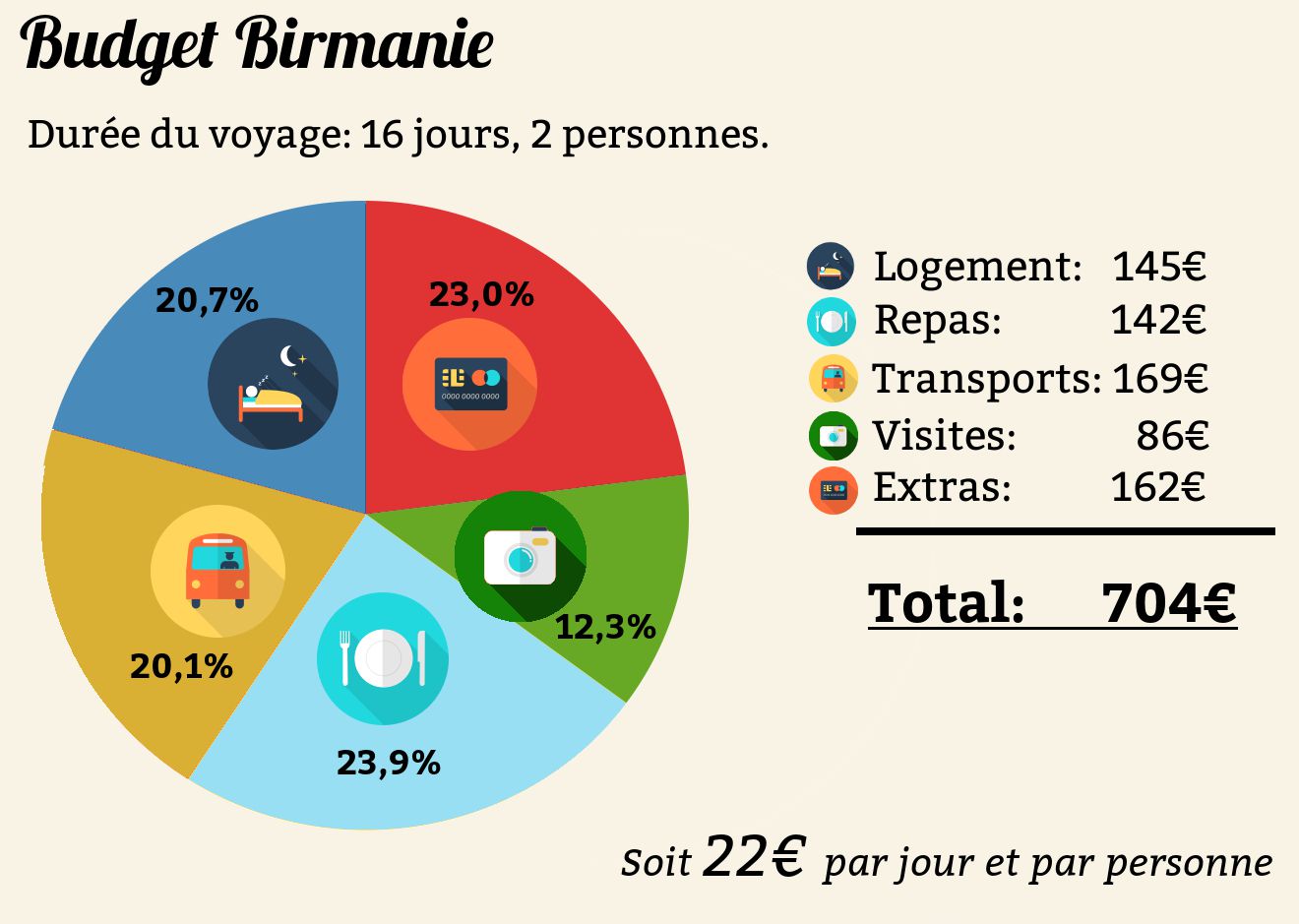 Some remarks:
All figures above are for 2 people
Travel in January-February 2017
What we mean by visit are the various entries to tourist sites such as Bagan, Inle Lake or paid pagodas.
The Extras are "non normal" expenses or let us say that they are for our own pleasure and not essential things. It includes a SIM card with 8GB of data, a splurge at Inle Lake where we took a bottle of wine and the trek between Kalaw and Inle.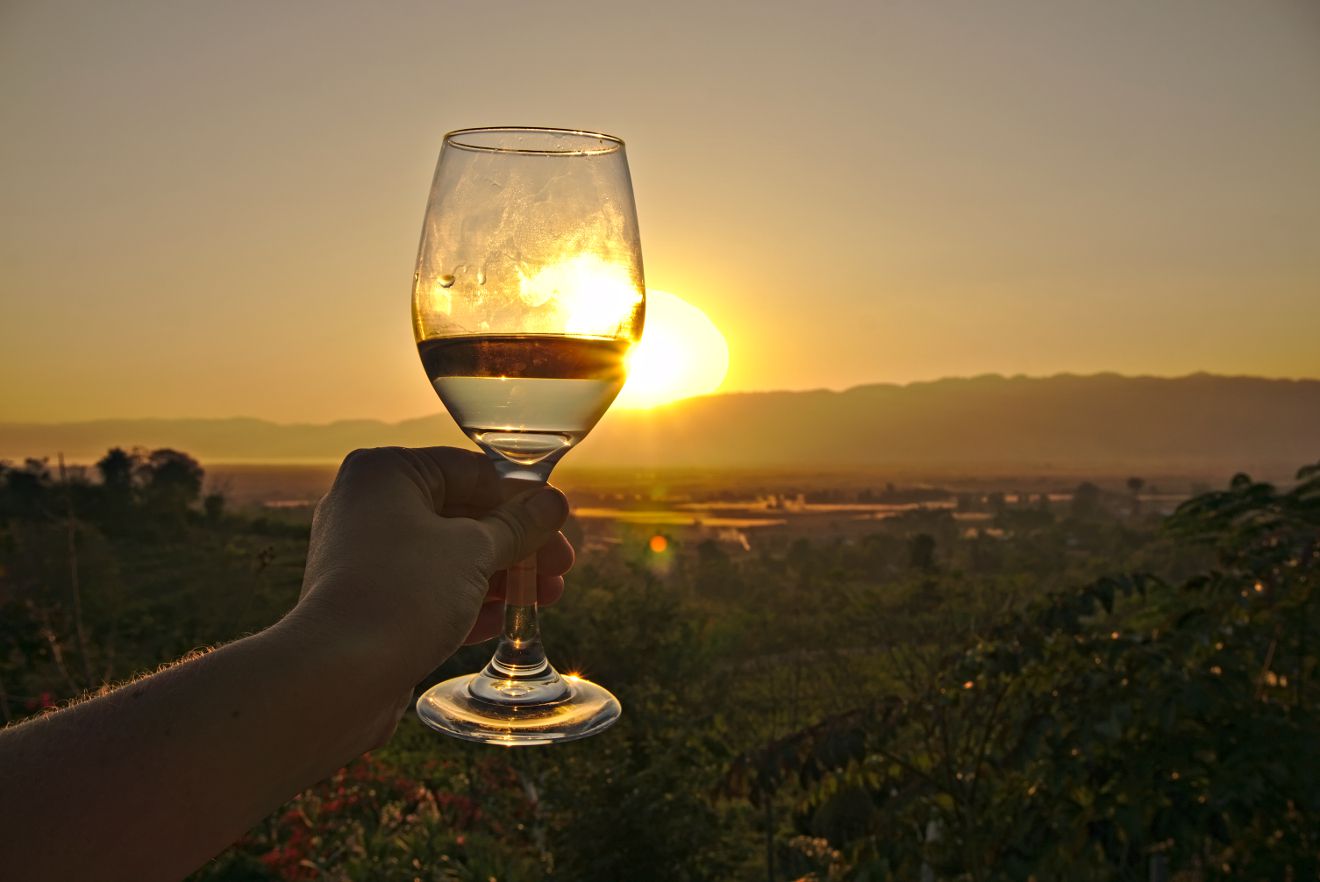 Transport includes the various buses between cities as well as bicycle, scooter and motorcycle taxi rentals.
We have paid attention to our budget without depriving ourselves… For example, for the Kalaw to Inle trek we opted for a private trek at 100,000 kyaths per person. Having left "only" 2 weeks this small luxury choice has had a significant impact on the budget! For example, if we had opted for group trekking at 45,000 kyaths (standard price) then our daily average for the stay would have dropped to 19.5€.
The price of the visa ($50 per person) and the bus in Thailand are not included in this budget. The above figures are only those spent in the country.Our budget does not include the price to come to Burma. We came by bus from Thailand. If you plan to fly there, it is recommended that you visit Skyscanner and compare the prices of the different companies. Tip: Direct flights to Myanmar are often more expensive… It can be interesting to stop in Bangkok, or even to simply book a flight to Bangkok and then do the rest of the bus trip (it will depend on the time you have in front of you)
View flights to Myanmar on Skyscanner
Find all our budget articles here
Accommodation in Burma: Should I book my hotel in advance?
Before coming to Myanmar, we read everywhere that it is essential to book all your accommodation in advance, that the offer is limited and that existing accommodation is expensive….
Hmmm…. The thing is that we rarely book, especially when we travel in Asia.
In short, we decided to be stubborn and went to Burma without booking any accommodation in advance, even though we are travelling in the high tourist season (January-February 2017). Okay, we admit, we also took it a little bit like a challenge, we wanted to try to prove that Myanmar is a country in which we can perfectly travel spontaneously!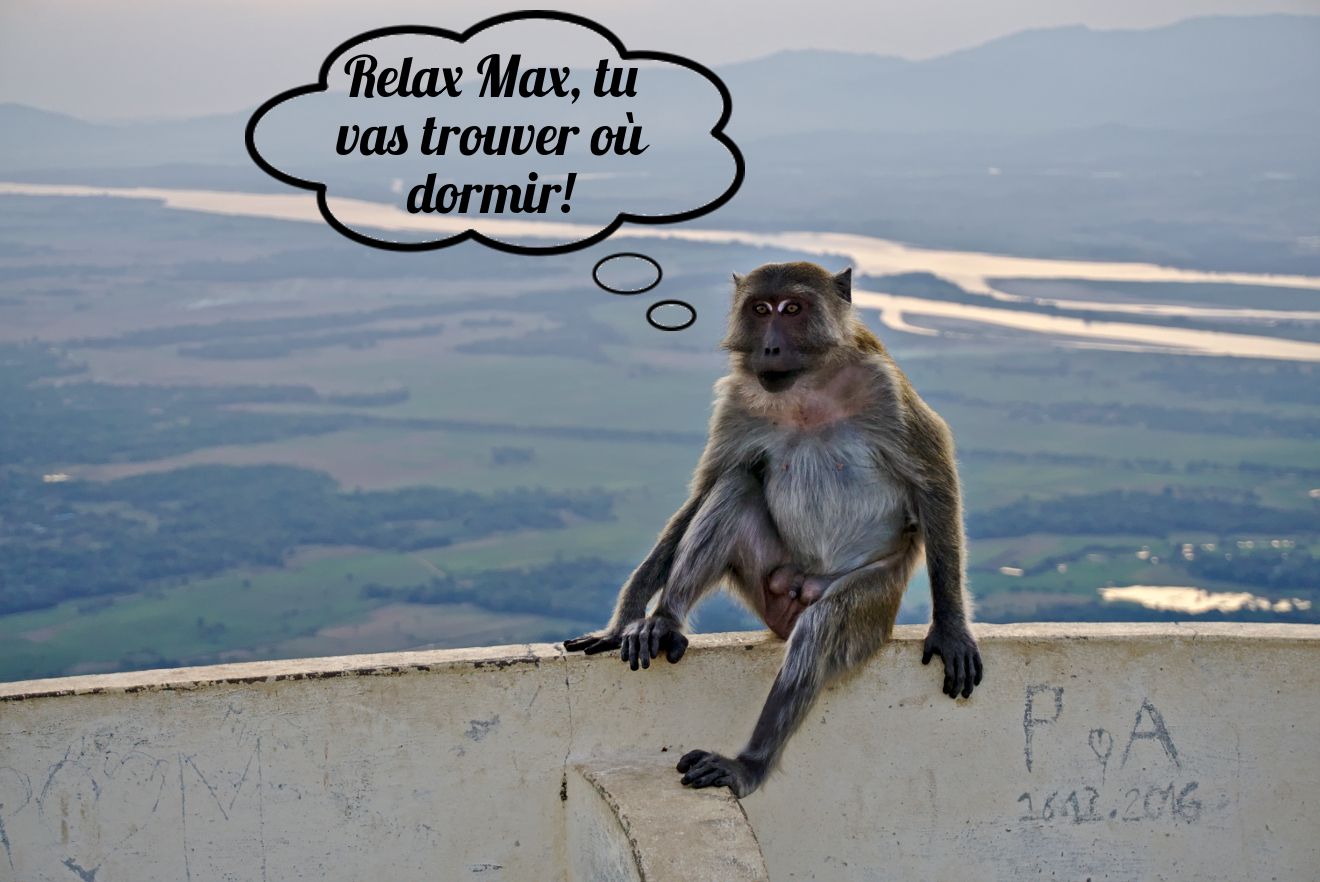 In the end we will only have booked in advance our guesthouse in Yangon, because on one hand we were not really in shape and therefore not especially motivated to look for accommodation and on the other hand we knew that we were only going to stay there for one night so we have organised our passage a little more to optimize the time at our disposal.
Well then? Myanmar without reserving hotels, what does it look like?
First point, we've never slept outside hahahaha
More seriously, we systematically managed to find a cheap hotel in less than an hour. When we arrived on the spot we would walk around, and simply ask for the price and availability.
Our most expensive night was less than 18€ for both of us.
The cheapest night was the one in the monastery where we paid less than 7€ for both.
Apart from the monastery we systematically had double rooms with private bathrooms and breakfast included.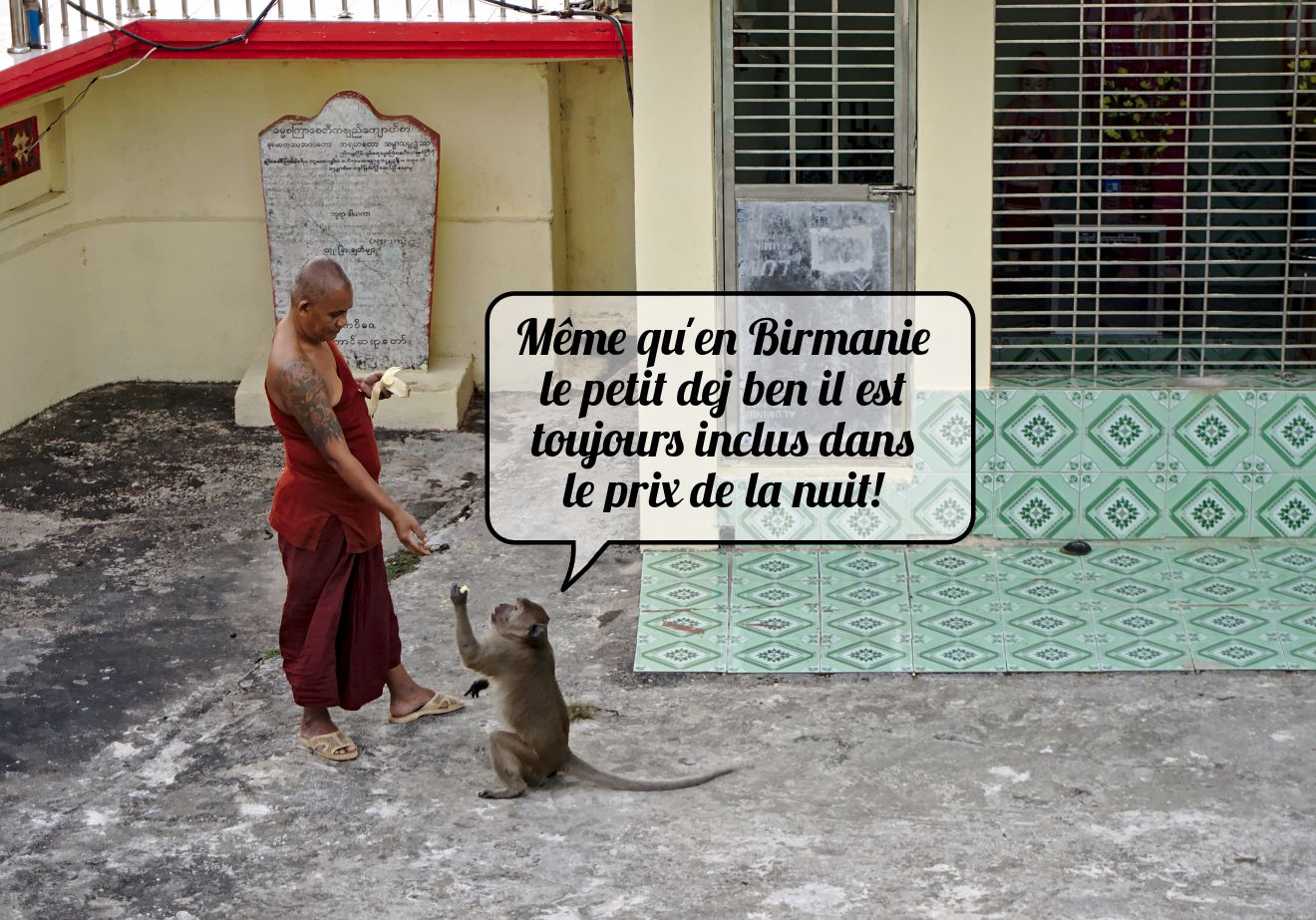 When we arrived in Bagan at 3am we waited until sunrise to find a guesthouse. So technically we were on the street… but we didn't sleep, so point 1) remains valid!
Most of the guesthouses where we slept are not even on the internet….
The guesthouses on the Internet offer much higher online rates than those we paid for on site. For example Soe Brother 2 in Hpa An. The room we received for 18€ with breakfast is between 20€ and 35€ when booked online (depending on the sites)!!!!
You will have understood it, we do not regret at all that we did not book! Then we understand quite well that looking for a place to stay with your bag on your back or waiting 2 hours in the night until the guesthouses open in the early morning is not everyone's cup of tea. We are not saying that you should not book, but simply that those who might ask themselves the question should be reassured, it is really possible (and this even in high season).
Our Accommodations in Burma:
Hpa An : Soe Brother 2, Price 26'000 kyaths (18€) for a double room. It can be booked online, but be careful it will most likely be more expensive! See on Hotelscombined
Mont Zwekabin : Night at the Monastery against a donation of 5'000 kyaths per person (3,5€). Here it's easy: you can't book, you have to climb! Note: it seems that since 2018 it is no longer possible to sleep on top… Please check with locals before planning your trip.
Kalaw :Richard's Inn, Price 25'000 kyaths (17€) per double room. Also online but without surprise it is more expensive too…. See on Hotelscombined
NyaungShwe : Pyi2, Price 20'000 kyaths (14€) per double room. Not available online.
Nyaung U : Jasmin Villa, Price 22'000 kyaths (15,3€) per double room. Not available online.
Yangon : Agga Youth Hostel, Price 10'000 kyaths (7€) per person in dormitory. We had booked the day before via Hostelworld.
You can take a look on the map below to see all available hotels / apartments for your trip. Simply zoom on the city of your choice and use the filters to refine your search:
Money in Myanmar: Should we bring dollars ?
We had heard a lot about this before our trip: If you go to Burma don't forget to take dollars, be careful to take new and not crumpled dollars".
Hmmmm the problem is that we are in Thailand and it's not as if we had a chance to find dollars straight out of Uncle Sam's press, so like for the hotels we went "like that" without any cash but with our credit cards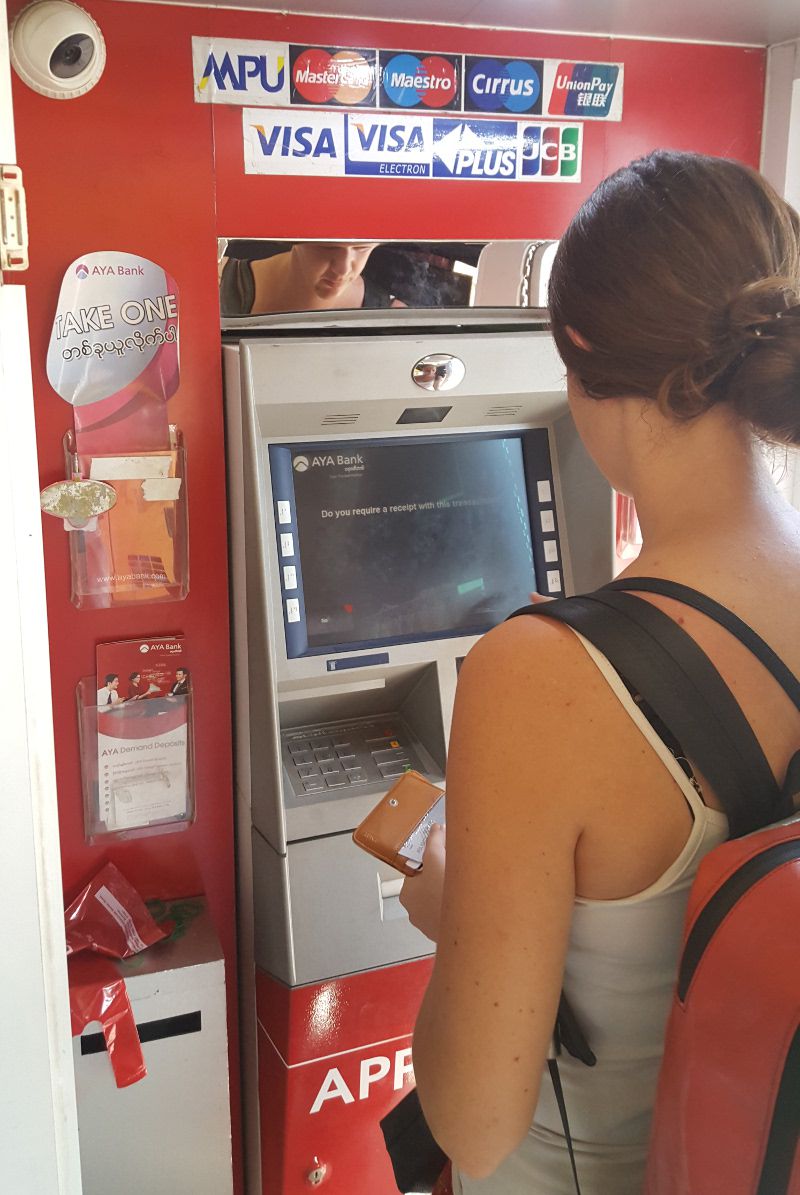 So I'll give you the right one, we've absolutely never had any trouble making withdrawals! ATMs are absolutely everywhere!!!!! And indeed many hotels express their prices in $ when you ask how much the night costs, but this is more because many travellers have heard this story of dollars and as a result hoteliers are used to dealing with tourists with dollars
In Kyath it's cheaper than in $
Moreover, every time we were told a price in dollars and asked to pay in kyaths (the Burmese currency), the exchange rate used was in our favour and it was cheaper for us to pay in Kyaths than in dollars
In short, all this to say that this story of having dollars was probably justified a few years ago when ATMs were not yet widespread in the country, but now it is no longer mandatory at all to travel with dollars
Info: ATMs in Burma accept international cards very well. However, there is a charge of 5000 kyaths (about €3.5) per withdrawal.
The maximum amount that can be withdrawn at once in Myanmar is 300,000 kyaths, which corresponds to just over 200€. In short, our advice is to get the most out of it every time. One this will limit the costs and two you will feel rich like Croesus considering the majority of the time the ATM will give you the 300'000 in 5'000 bills (that makes a hell of a bundle believe me) 🙂
If like us you come by land border from Mae Sot know that there are many Burmese ATMs a few hundred meters after the border
Burma Visa: make your visa online
Since 2014 it is possible to make your visa for Myanmar 100% online, which is really convenient for people who are on the move! In short, we tested all this and it's really very simple! You go to the official website, enter your data, pay $50 online and a few hours later you receive your visa to print by eMail.
Be careful to go to the official site because there are several online agencies that offer e-visas but since they are intermediaries they take a commission on the way (which can go up to 100$). The price of the visa is $50, not a penny more!
Information for those who will be in Thailand before: If you are in Thailand and plan to travel through Bangkok it is definitely worthwhile to visit the Myanmar Embassy. The visa at the embassy costs $34 if you want it the same day or $24 if you are ok to wait 3 days…. The price difference does not necessarily justify the detour via Bangkok, but if you are there anyway it is good to know.
Land border crossing between Thailand and Burma: Mae Sot
We went to Myanmar directly from Chiang Mai and decided to opt for a land border crossing. So frankly: the border between Thailand and Myanmar is by far the easiest and simplest border we have ever crossed in Southeast Asia!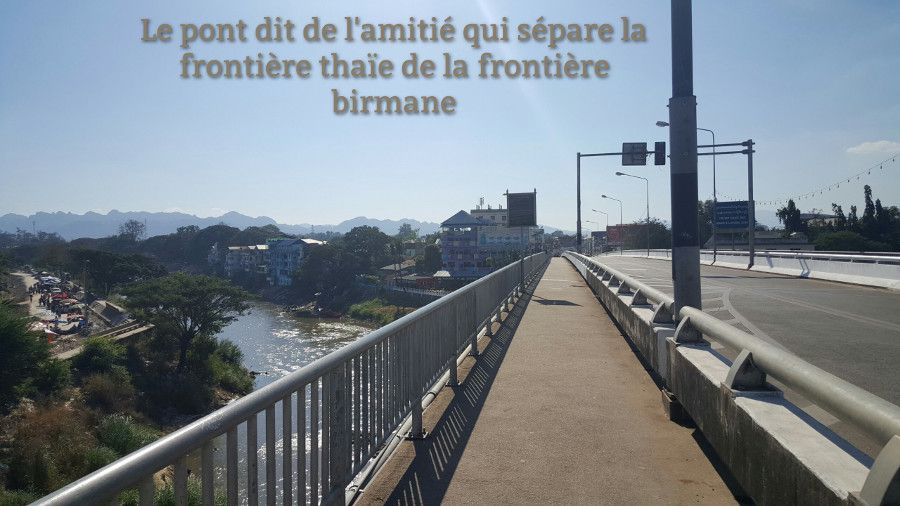 The easiest land border crossing is the one between Mae Sot in Thailand and Myawaddy in Myanmar.
There are other border crossings, especially in northern Thailand, but the problem is that once you cross the border you have to take a flight to continue your journey because one of the areas to cross is not open to tourists.
From Chiang Mai we took a Green Bus (name of the company) from Chiang Mai to Mae Sot (runs twice a day). Price of the trip: 290 Baths, duration: about 6 hours.
Tip: It is possible to book your bus ticket online, which avoids having to travel to the station…. For our part, their website did not work (impossible to make the payment) but by downloading the mobile application everything worked well.
Mae Sot: From the bus station to the border
Once in Mae Sot you have to reach the border itself. Be aware that it is 4km away and that the collective taxi ride should cost you a maximum of 20 or 30 Baths per person. If you can't find a collective taxi in the bus station, get out on the road and stop any red van (or a guy with a motorcycle and a cart at the front also works), they'll take you for 20 Baths without blinking.
The border crossing itself is super simple and easy. Everyone is smiling, there are special lines for non-Thai and non-Burmese so you might as well explain that you will probably be the only ones! During our visit at 2pm we were officially the 7th and 8th tourists of the day to cross the border according to the small register of the customs officer… See how busy this border is 😉
Once in Myawaddy there are several buses a day to Yangon and Hpa An. The problem is that they all leave early in the morning… So if you do not plan to sleep at the border, know that it is possible to reach Hpa An by taking a collective taxi. The price is relatively fixed at 10,000 kyaths per person for 3 hours of driving. For our part, the journey will have been made with an adorable couple, a young Burmese man and roughly 48 boxes of Thai energy drinks imported into Burma packed in the trunk and on the roof of the car! ! 😉
Review of our trip to Burma: Tops and flops
Our Tops in Burma:
Sunrise in Bagan

No words to describe this truly magical moment….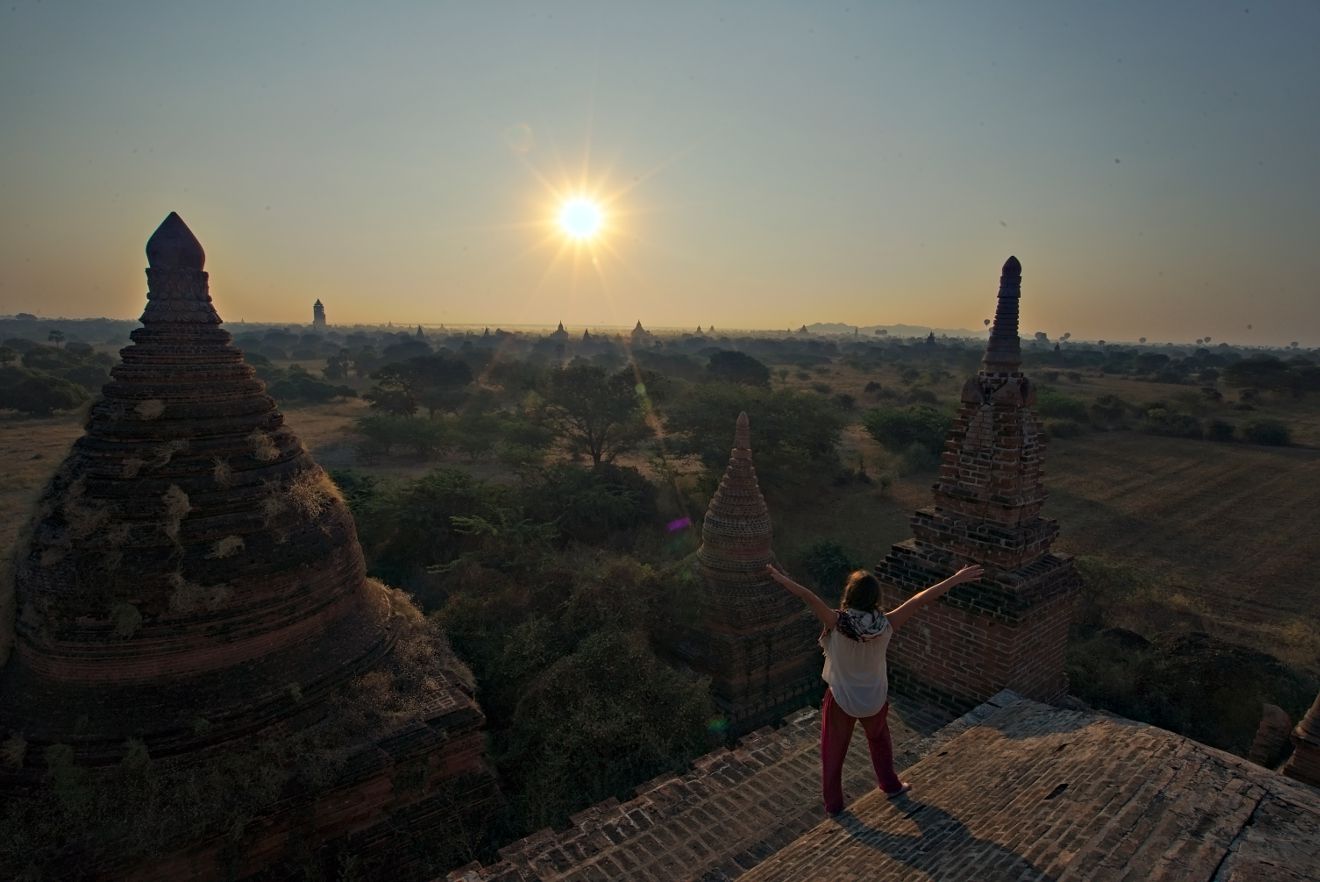 Overnight at Mount Zwekabin:
A breathtaking view and the feeling of being in another world for an evening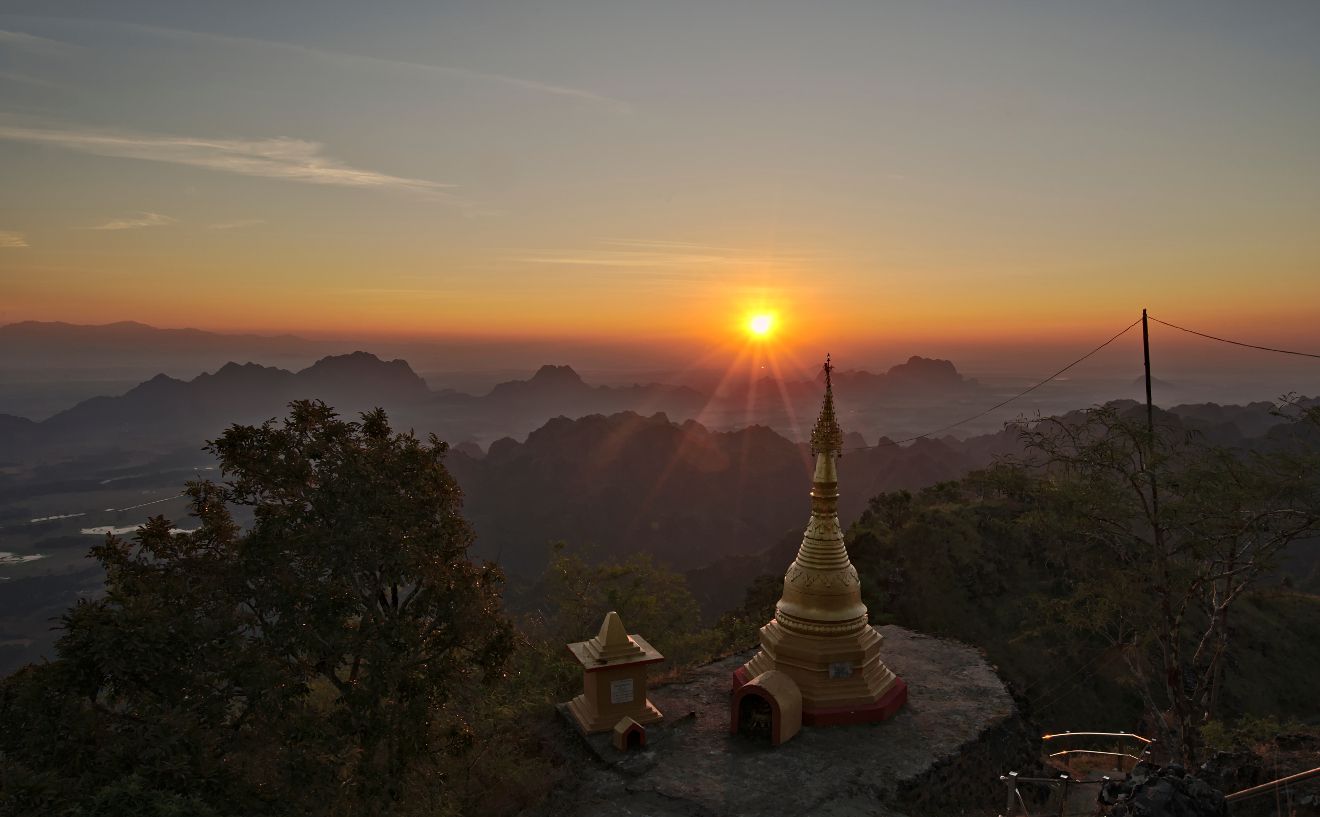 Schwedagon Pagoda in Yangon:
A sumptuous pagoda but above all an absolutely unbelievable human anthill. It's just exciting to sit in a corner and watch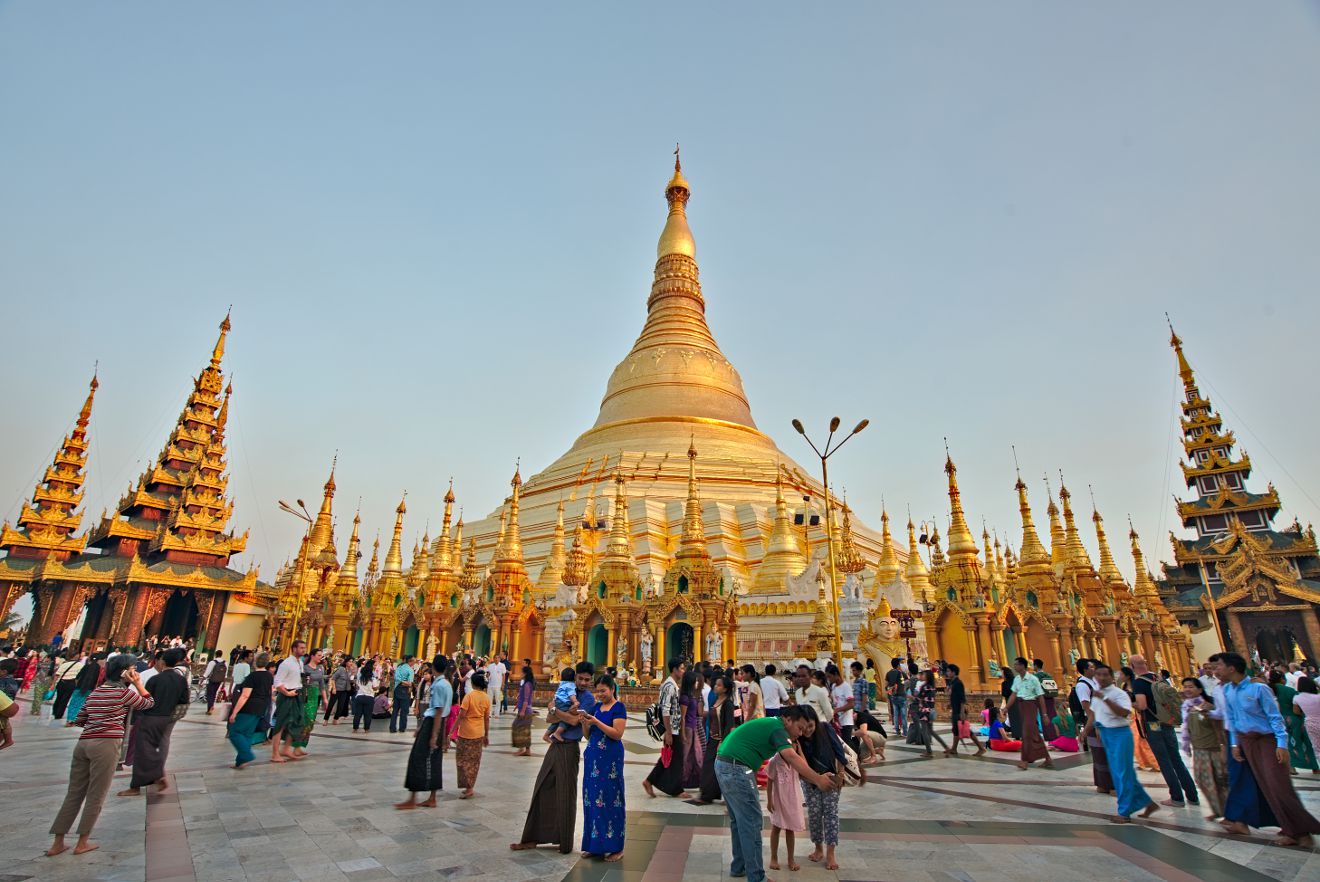 The Flops :
The food.. Not that it's bad in itself, but let's just say for the first time since we've been wandering around the globe eating everything and everywhere our stomachs have really been put to the test. To tell you the truth, we have each been sick twice, 3 days each time…. But strangely enough, often out of sync. In short, if you are good at math, you will understand that during our whole stay there should only be 2 or 3 days in total when we were both in good shape! This could definitively have been better
Night bus schedules :Hard to find a second negative point to this trip. 😉 Come on, if we dig hard, we'll regret weird schedules of the night buses that make you arrive at your destination at 3:00am. But why don't they leave two hours later?
Now you know everything! We hope you enjoyed our articles about Myanmar.
We still have a little month left in Thailand, so we promised to do a lot of articles about Chiang Mai, the cost of living here and our little getaways to come on the blog! See all our Thailand Blog Posts

Note: This article contains affiliate links. By using our links you do not pay anything extra, but we'll earn a (small) commission. Thanks for your support.