We told you about it in our last article; to reach Inle Lake in Myanmar, we decided to do a 3-day trek from the small village of Kalaw. A wonderful experience that allowed us to see how Burmese people work and live in the countryside and to see breathtaking landscapes!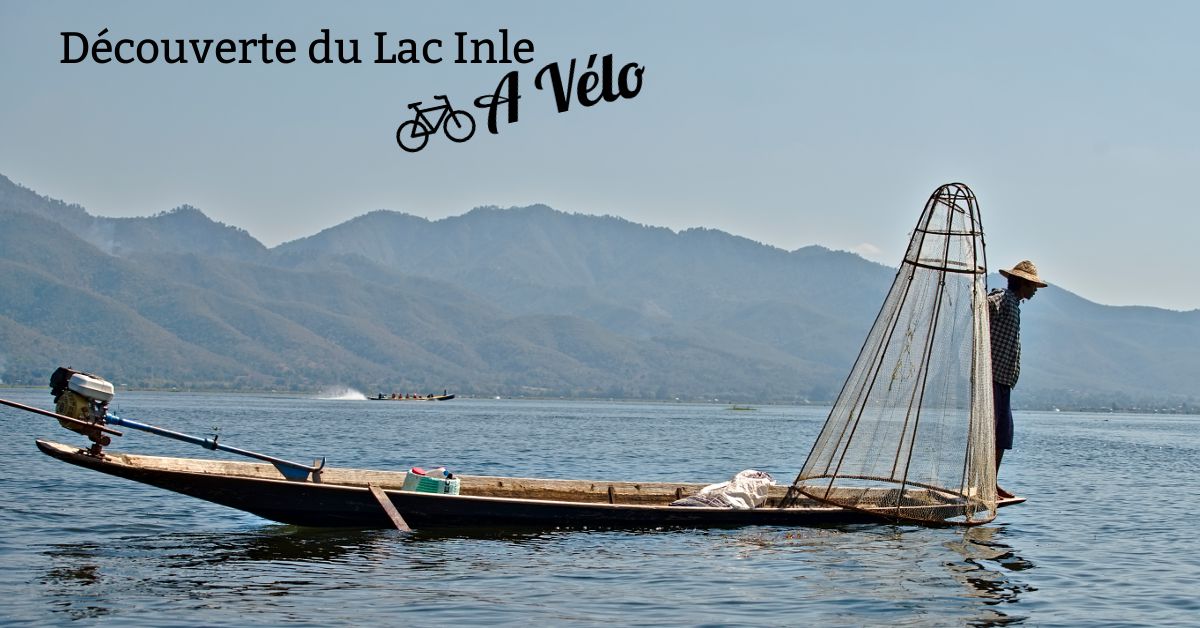 At the end of our trek we reached the small village of Nyaung Shwe by boat crossing for the first time the Inle Lake! As a first contact we couldn't have dreamed better I think! 🙂
Well, it's nice, but what can one do at Inle Lake? For our part, we have decided to skip the traditional boat tour that takes visitors from shop to shop and stops for photo breaks with fake fishermen and giraffes women …
Instead, we decided to go for a day of sport: A bike tour to discover the area around Inle Lake!
Renting a bike at Inle Lake: Routes
There are several cycling routes in the region! Besides, if we had to give any advice, it would probably be to take a bike and get lost on the dirt roads that leave the main road and pass through villages that are a little outside the traditional circuit….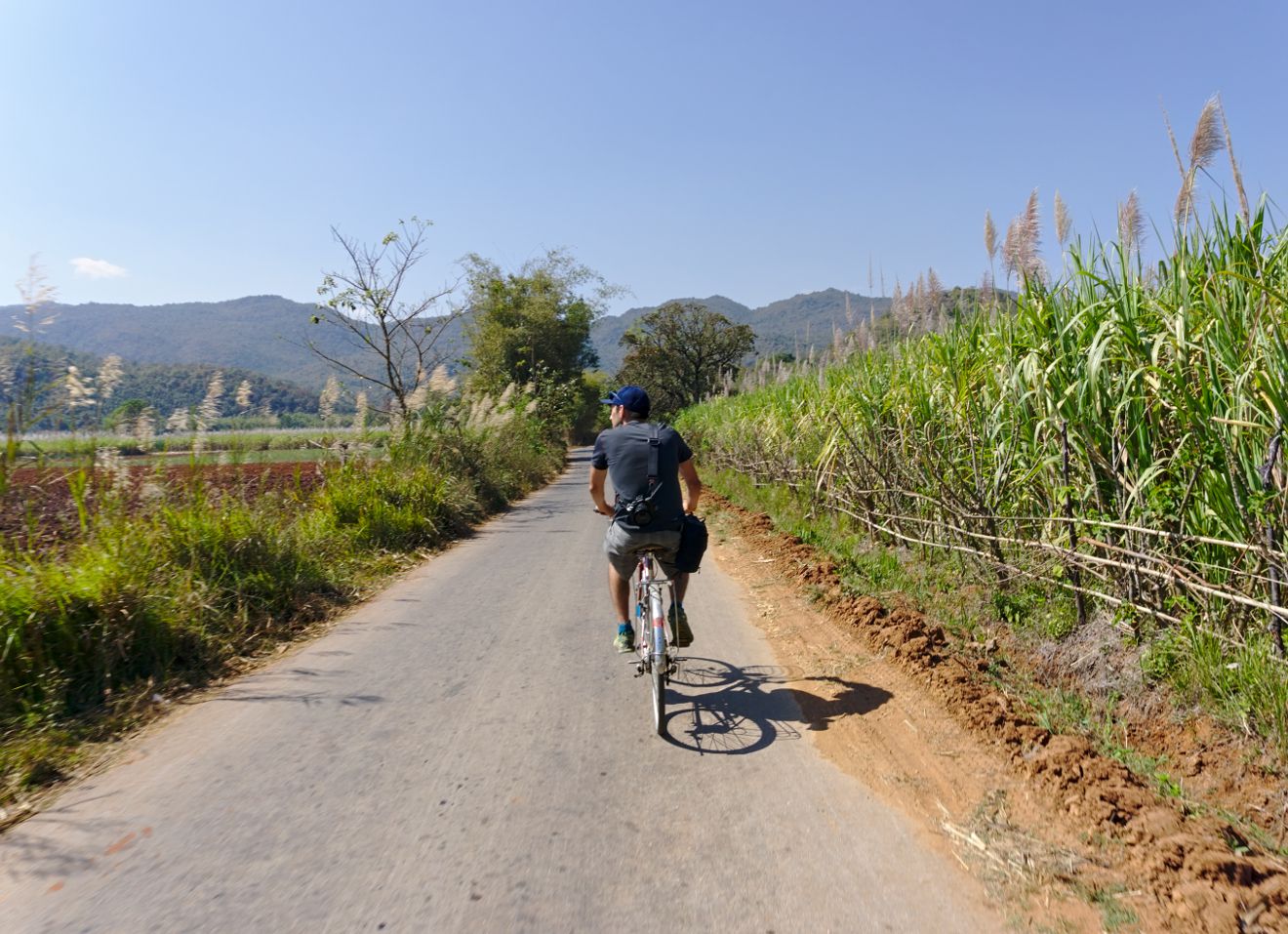 Basically we didn't know exactly what tour we wanted to do, our only imperatives were that we wanted to see beautiful landscapes, cross the lake by boat and finish the day at sunset with a glass of wine in hand! Just that! 🙂 hahaha
Map of Lake Inlé for your bike ride
To help you find your way around, we have prepared a small map with our itinerary on it:
To rent a bike you will see: it is not very complicated! In Nyaung Shwe there are bicycle rentals at every corner! Some are high end mountain bikes, others are old bikes that squeak whenever in movement…
As always, we decided to opt for a not too expensive option and we therefore found ourselves ridind one of these old rusty city bikes!
But it's worth mentioning that our bikes, even if totally rusty, still had 3 gears! We must admit that this "feature" came in pretty handy for climbing the few hills we crossed on our way!
It brought back good memories of when we visited the Angkor temples by bike in Cambodia.
Infos
Distance : 32km from Nyaung Shwe to Indein, then 14km from Maing Thauk to Nyaung Shwe counting the small detour to the vineyard. Total: 46km
Bike rental price : Count 2000 kyats per bike for the day
Inle Lake Crossing : We negociated it for 18'000 kyath for the entire boat (Boat can accomodate 5 people + bikes)
Lake crossing time: about 60 to 90 minutes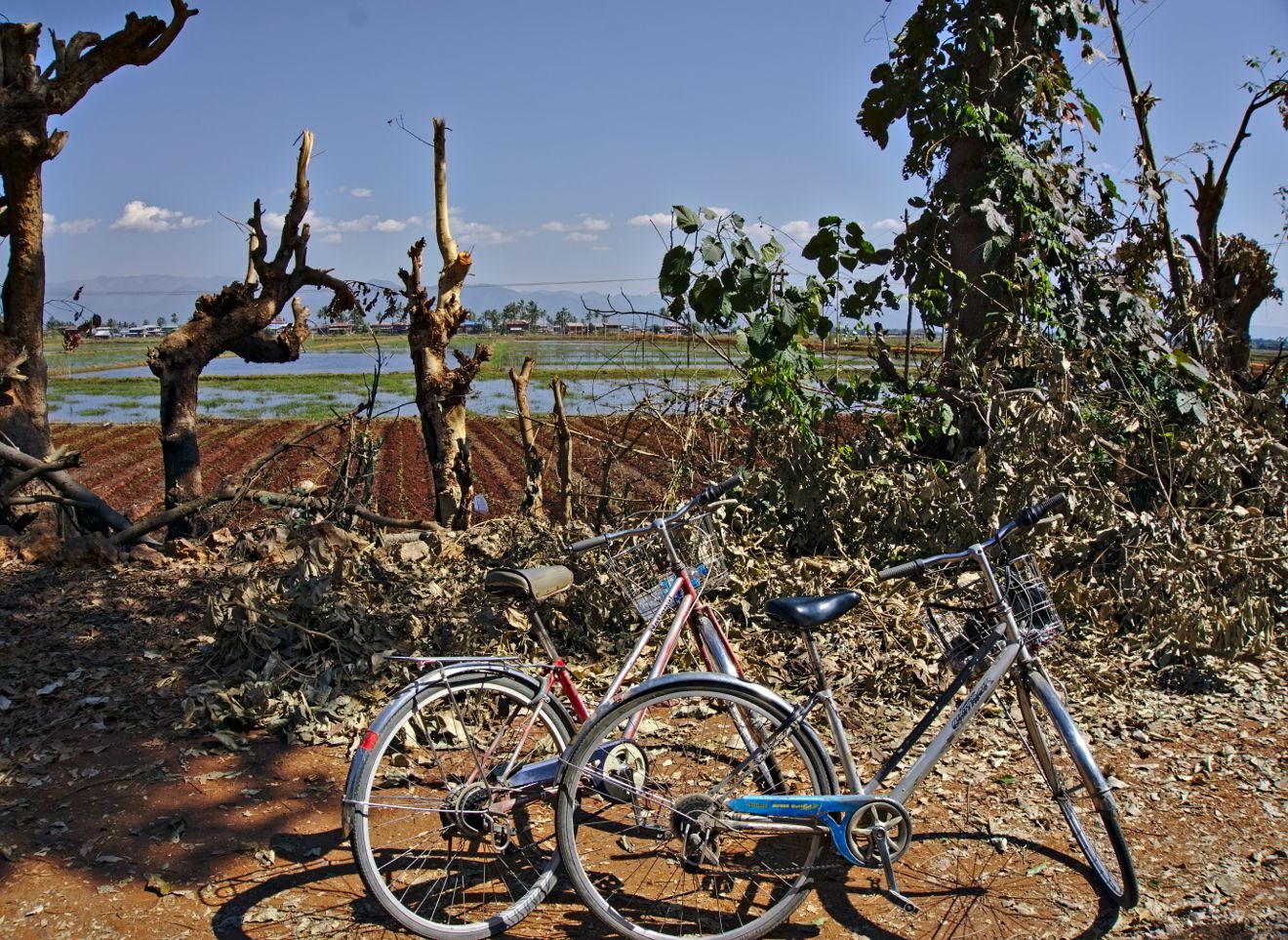 From Nyaung Shwe to Indein by bike
We're not going to lie to you, we didn't originally plan to go that far at all…. In fact, once we left Nyaung Shwe we started riding on the only road that runs more or less along the lake on the west side and had plans to cross Inle Lake after about 15 kilometres.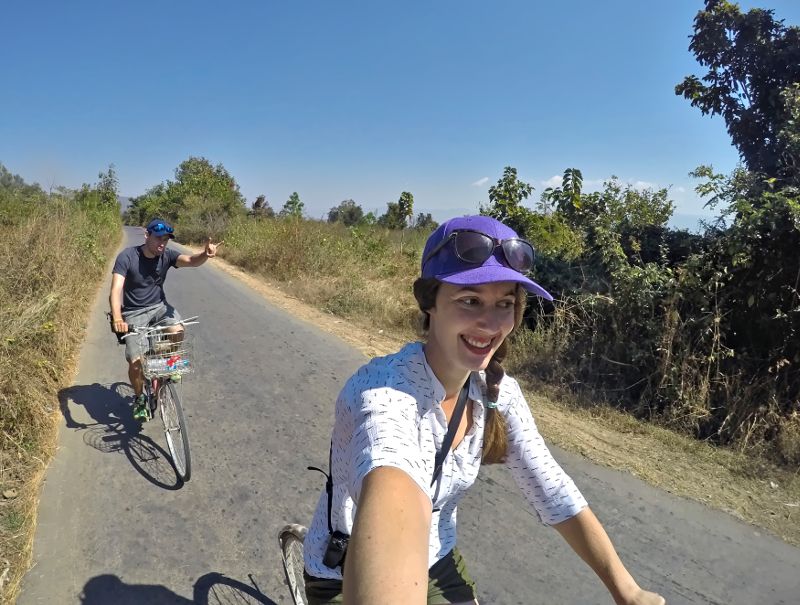 The problem is that the most famous port to cross is only a few kilometers from the beginning. We had clearly not yet made enough exercise and above all we wanted to make a slightly "longer" crossing…
The first section to Kaung Daing was nice but nothing more… Once in Kaung Daing we stopped by the local morning market and briefly hesitated to come back towards Nyaung Shwe.
The further we go, the more beautiful it is
In the end we opted to continue and the least we can say is that we are glad we did! As we progressed, the landscape became more and more beautiful, the locals were smiling and welcoming us more and more (inevitably, we moved away from the "classic" route where the locals see hundreds of tourists a day…).
We knew that from Tone Le it was possible to take a boat, because it is from here that we had taken it the day before when we came back from our trek!
But then we weren't especially excited about doing exactly the same crossing again, even though we had loved it the day before…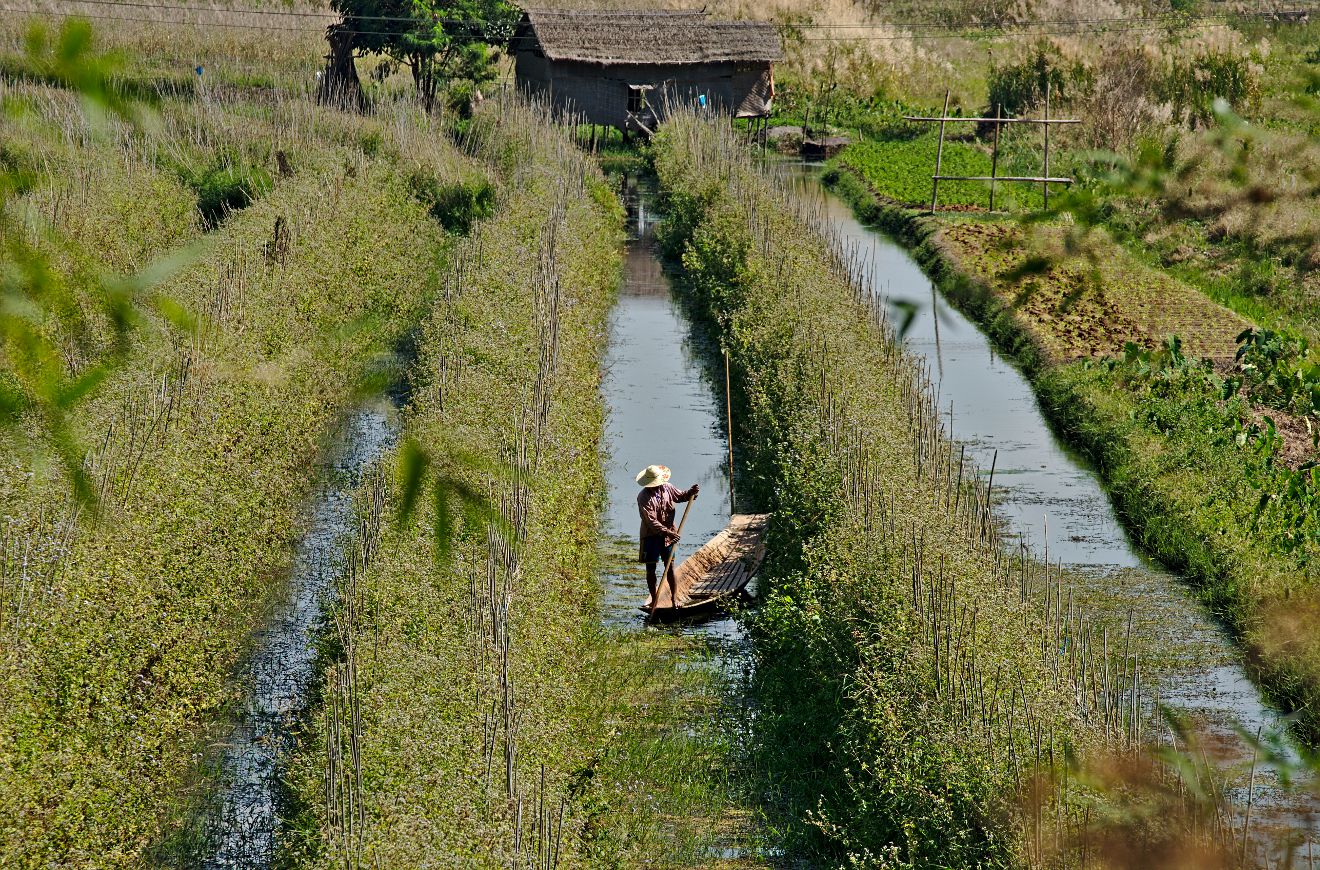 Heading for the village of Indein
After considering our options and looking at our map, we decided to continue a little further until the village of Indein. We had no idea if we would be able to find a boat there, but we figured that in the worst case we would always come back the way we arrived.
We had never heard of Indein before (we will admit that we didn't do much reseach either), but when we saw the massive number of tourist buses, boats and groups, we quickly suspected that this village was more than a small fishing village on Lake Inlé.
Looking at Maps.me we realized that we had just done 32km of road on our old rusty bikes , not bad! 😉
The stupas of Indein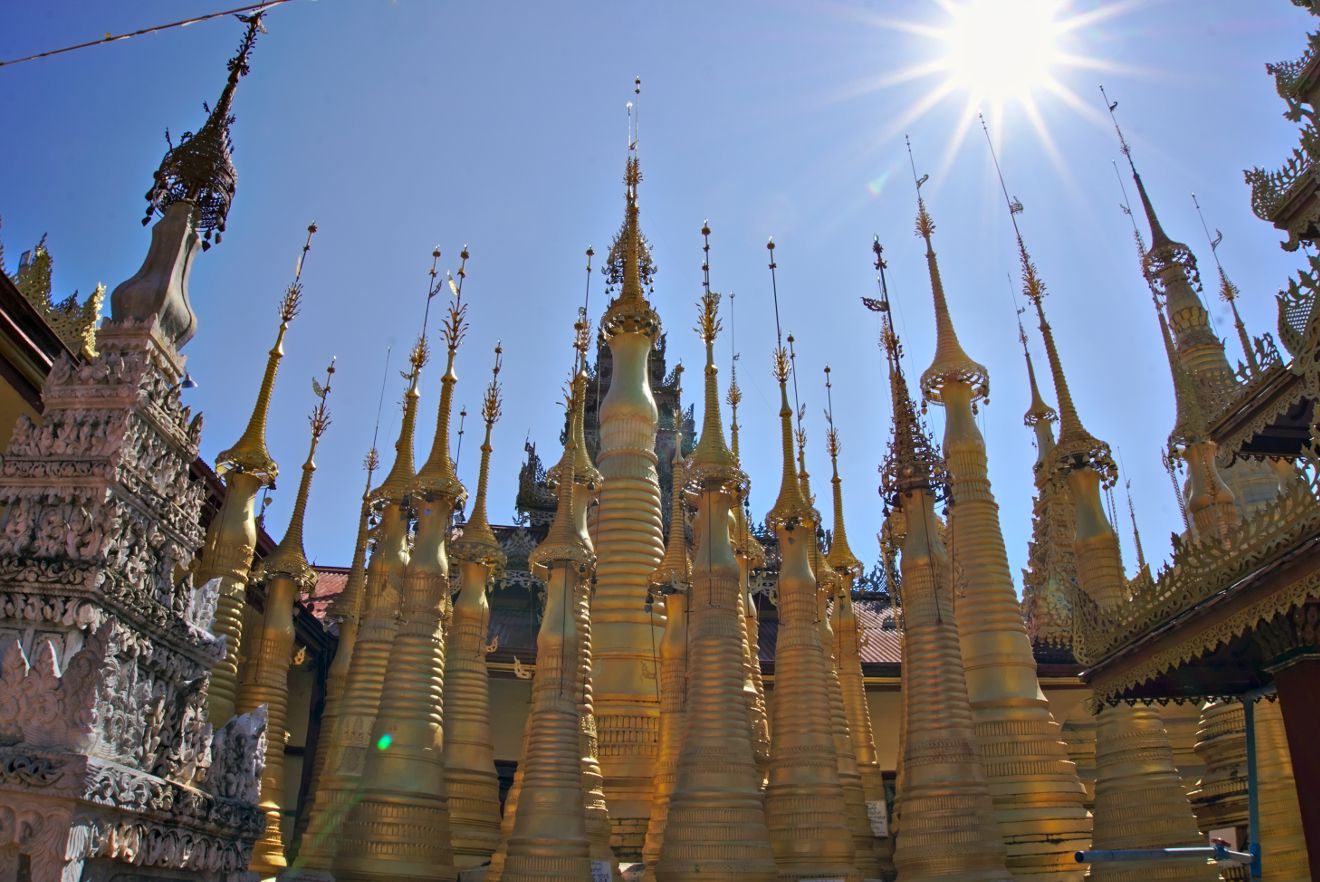 When we arrived in Indein we were literally caught in a flood of tourists! We didn't really understand what was going on here to be honest… Once our bikes were locked, we started to follow the general movement and we found ourselves in front of the entrance of what seemed to be a pagoda!
We told ourselves : « Well, fine! As we are here, we can as well have a look at it »
Haha, we would never have expected to come across such a complex! So it turns out that the Indein Shwe Pagoda is one of the top attractions in the are and frankly it is easy to understand why!!!!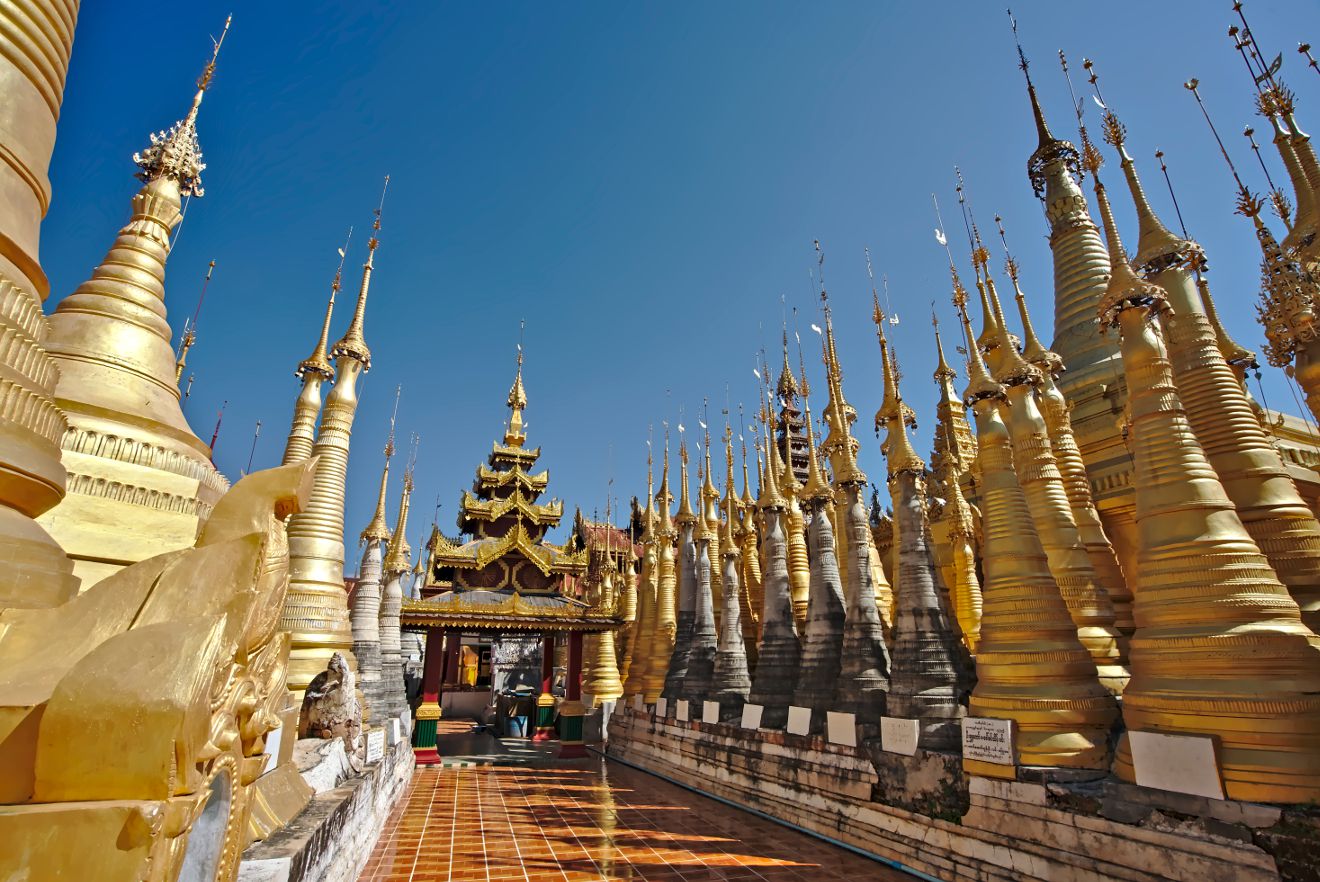 The Shwe Indein Pagoda
The Shwe Indein pagoda is located at the end of a huge corridor full of souvenir sellers that seems endless… But believe me, it's worth passing all these shops to see it!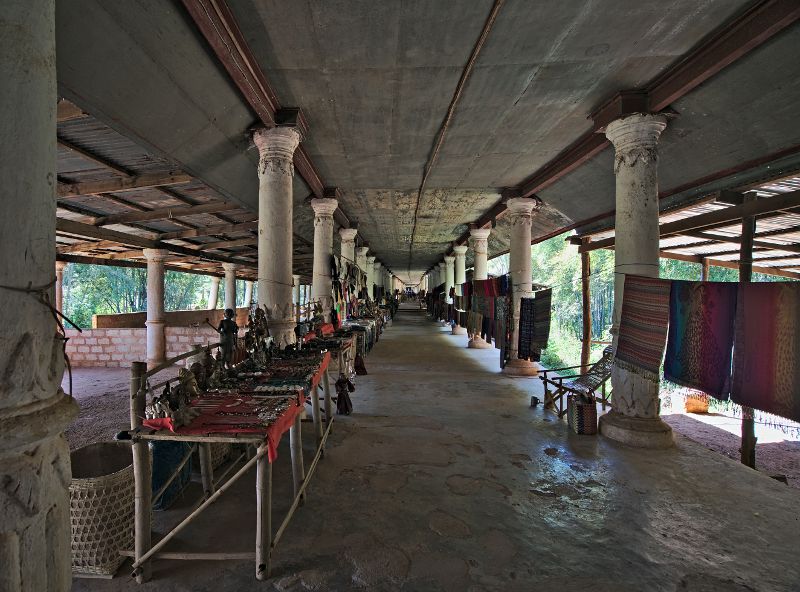 Tip: When you arrive in this endless souvenir shop alley, turn left as soon as you can! You will find yourself in what I personally will define as a "field" of unrestored stupas! An absolutely fantastic setting and almost no one comes to venture here… Everyone follows the shop alley and goes straight to the main pagoda which is all beautiful and restored! So certainly the restored version is worth it, but the hundreds of partially ruined stupas really have a crazy charm too!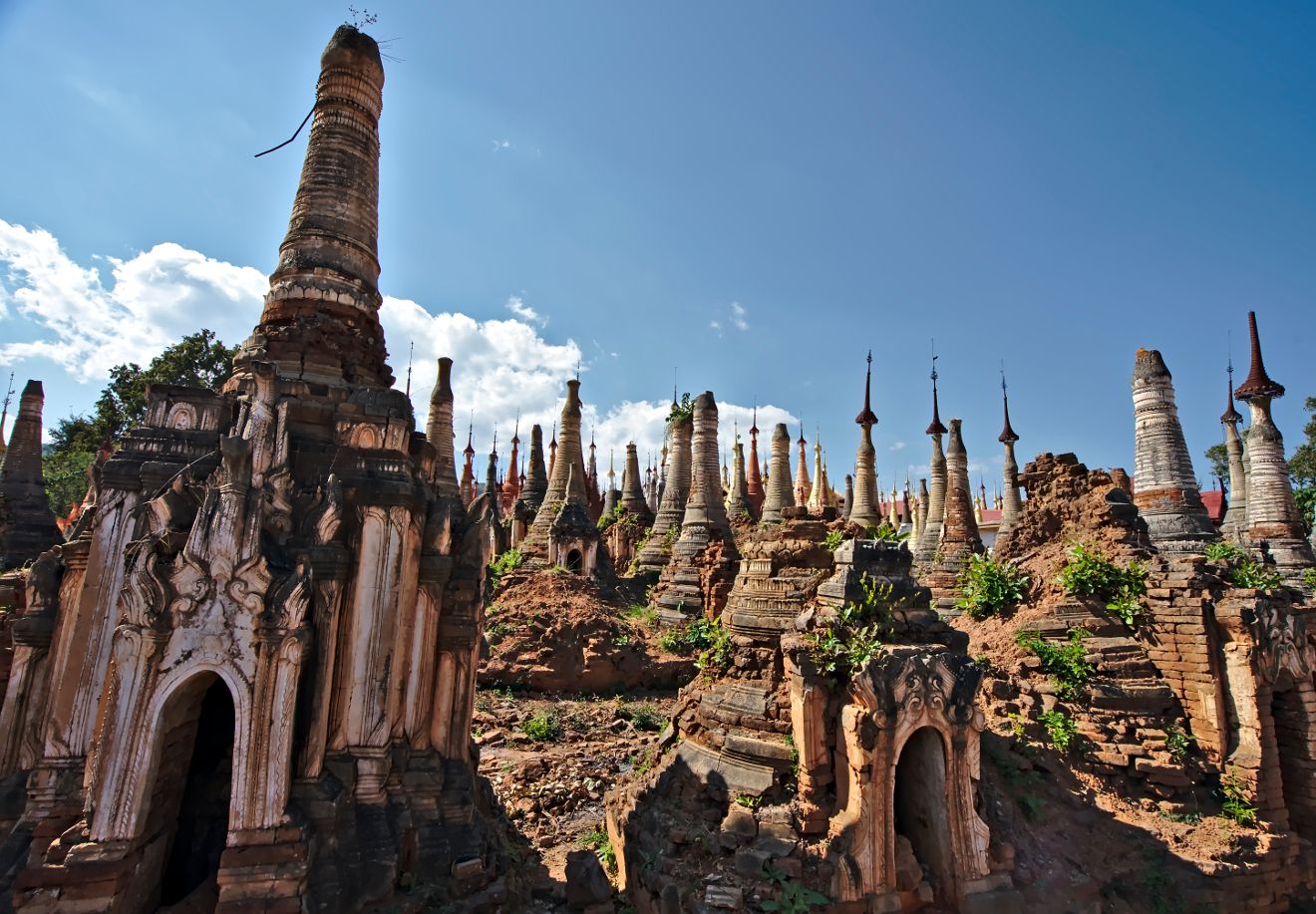 Infos
Shwe Indein Pagoda : the entrance is officially free, but a guy at the entrance will come at you to collect a "photo tax" of 500 Kyats…. Impossible for us to avoid!
To get to the Shwe Indein Pagoda :

By bike like we did: 32km from Nyaung Shwe
By minibus with an organized tour
By boat: many tours from Nyaung Shwe offer this stopover
Crossing Inle Lake by boat
At the end of our visit we stopped in a small shop by the riverside to eat and were secretly hoping to get some information about the price of the crossing…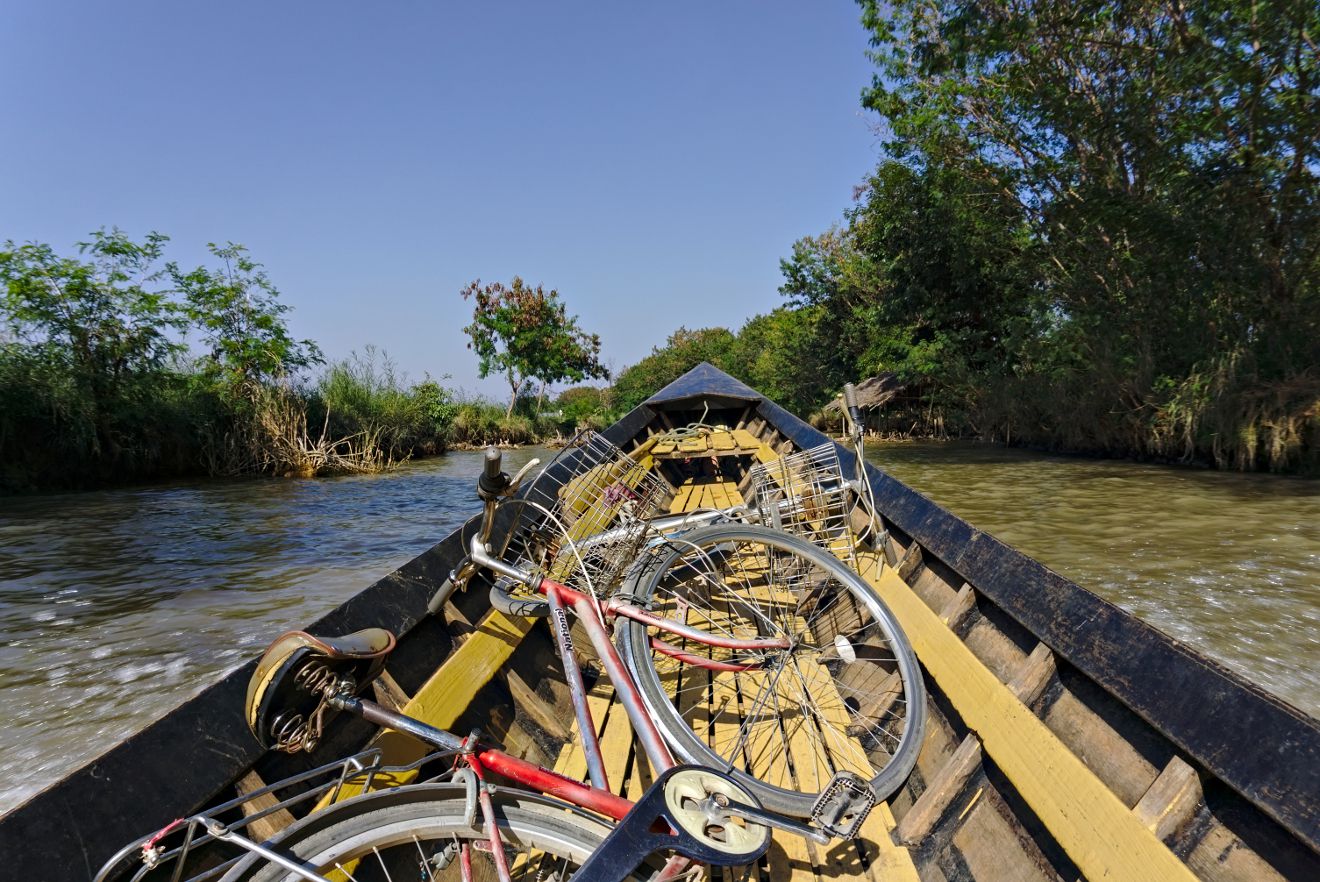 By the time we arrived, "captains" had literally fallen on us to offer us the crossing. The price ? 20'000 Kyats per boat non-negotiable up to Maing Thauk…. It seemed like a lot to us….
Anyway, after eating noodle soup, we asked the girl who worked there… She seemed surprised by our question because apparently everyone who comes here has arrived by boat and thus is not looking for a ride… 😉 Caught by surprise, she announces that the price 2,000 kyaths…. Whoa….. 10x less than the price announced earlier! It was at that very moment that a gentleman who was also eating a noodle soup next to us got up from his chair in a flash and shouted, "NO, NO, it's 20,000!!!! »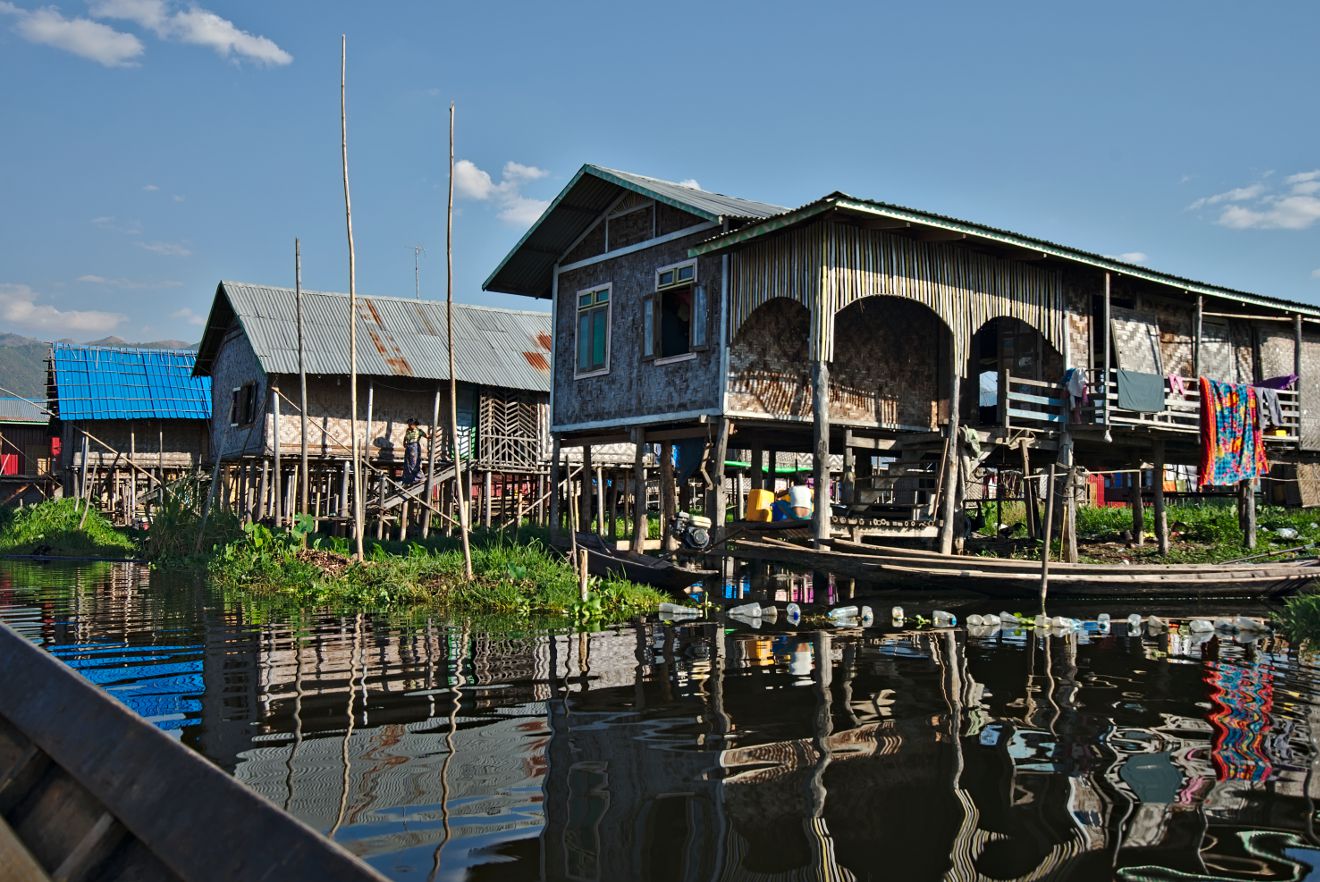 He then took the poor lady aside…. Apparently she should not have given us this rate, which must be the one paid by the locals….
Anyway, at that time it was a bit of a dilemma! Either we played by the rules of tourist pricing or we took our bikes to go back the same way we came from…. So we don't particularly like the feeling of being scammed, but apparently that's really the price for all tourists. We found a gentleman who looked really adorable and who finally agreed to take us for 18,000 kyath.
Inle Lake crossing by boat
Good to know: Prices are always given "by boat" and you can be up to 5 cyclists per boat… Of course we were the only ones around who had decided to cycle 30km without knowing how to get back. 🙂 Thus, after a brief moment looking for someone else we ended up taking only the 2 of us.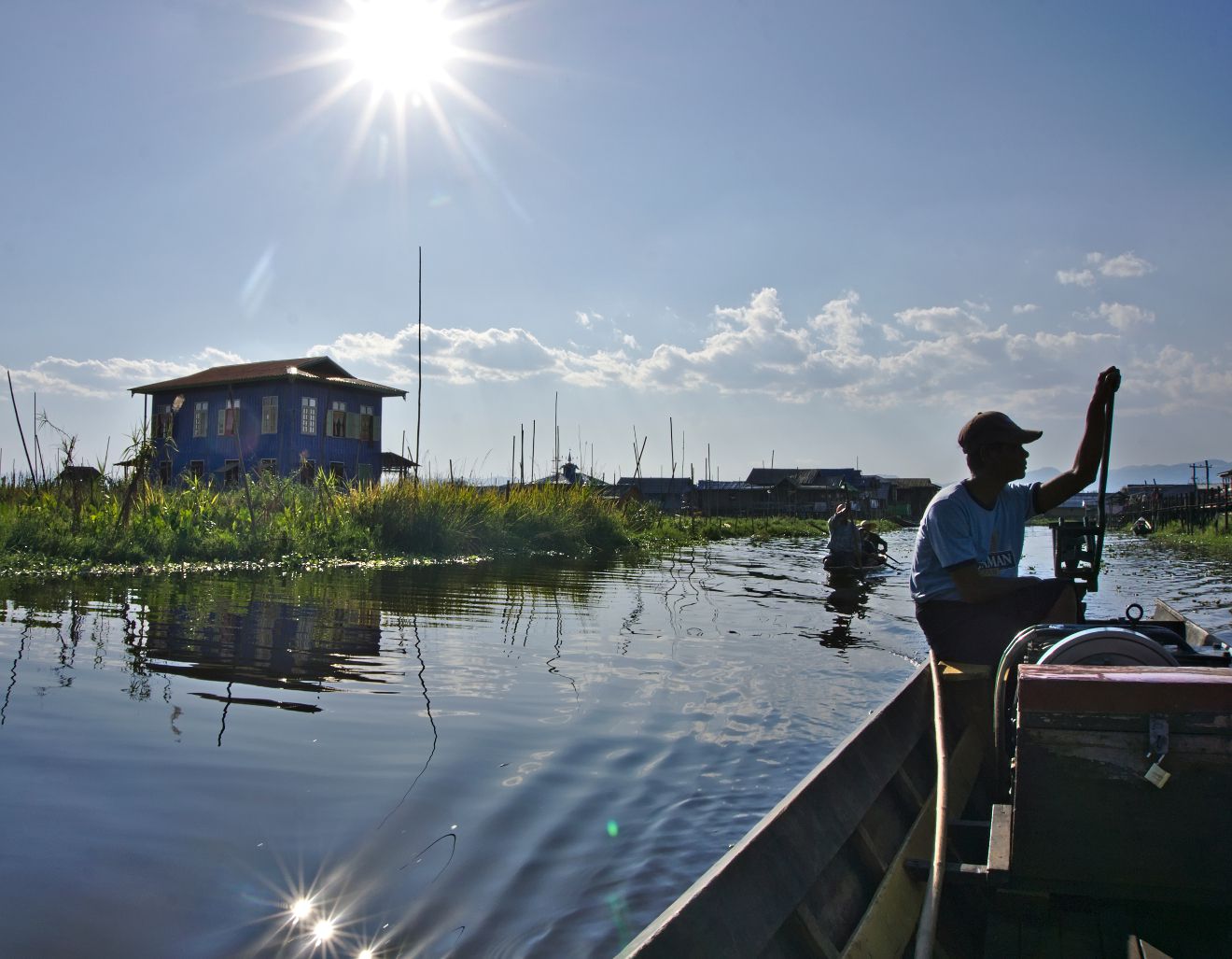 We really enjoyed this crossing! And our feeling about the owner of the boat was good! The gentleman was adorable and made us go to all the most beautiful spots by carefully avoiding the souvenir villages, the giraffe women and the fake fishermen who wave their legs for tips.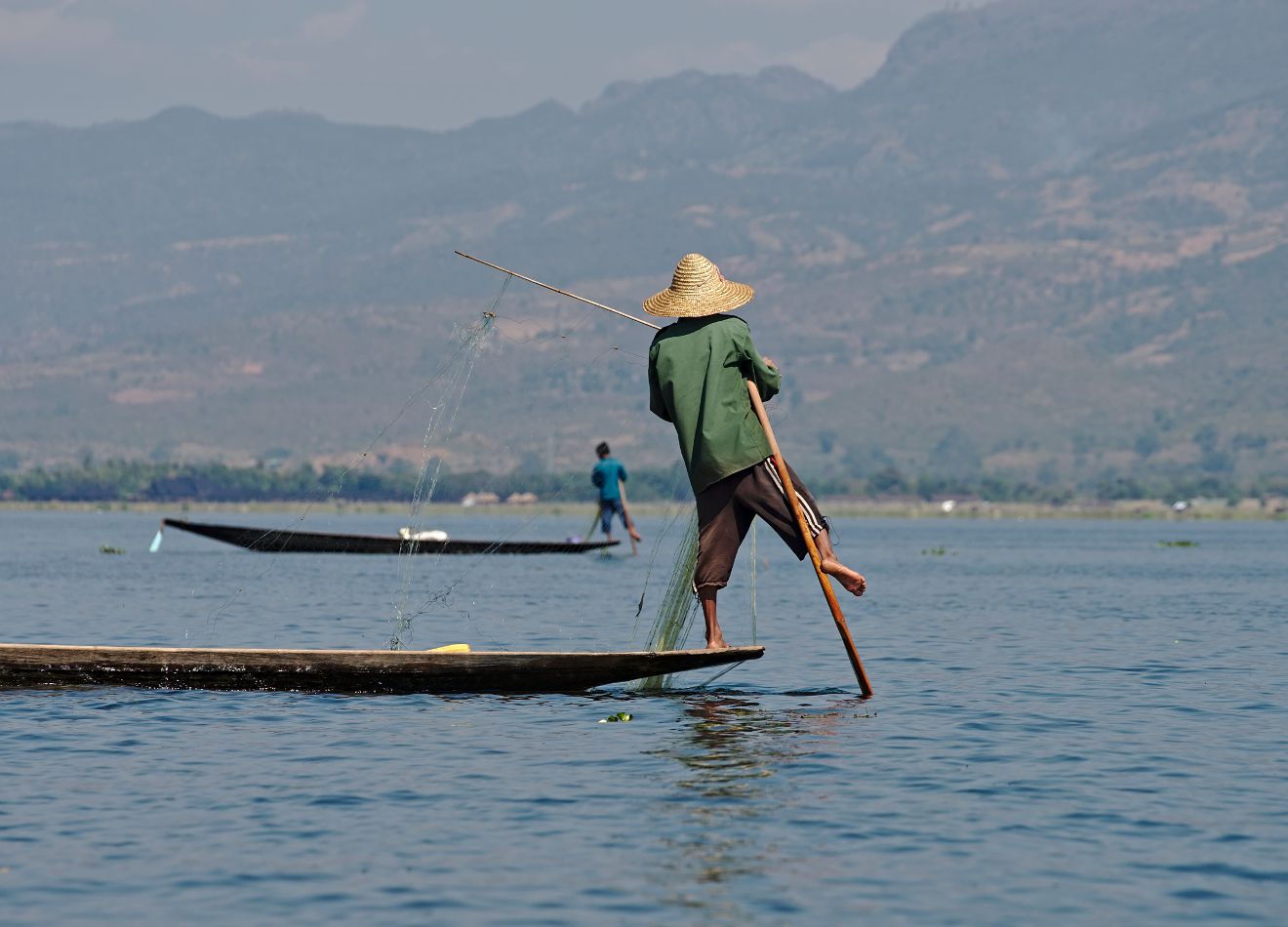 We passed in the middle of the lake where fishermen were actually fishing! A real pleasure to be able to watch them practice their fishing techniques!
Wine tasting with a view on Inle Lake
About an hour later we arrived at Maing Thauk by first passing the many floating gardens in the area.
Once we got out of the boat we headed towards our final goal for the day: Red Mountain Winery!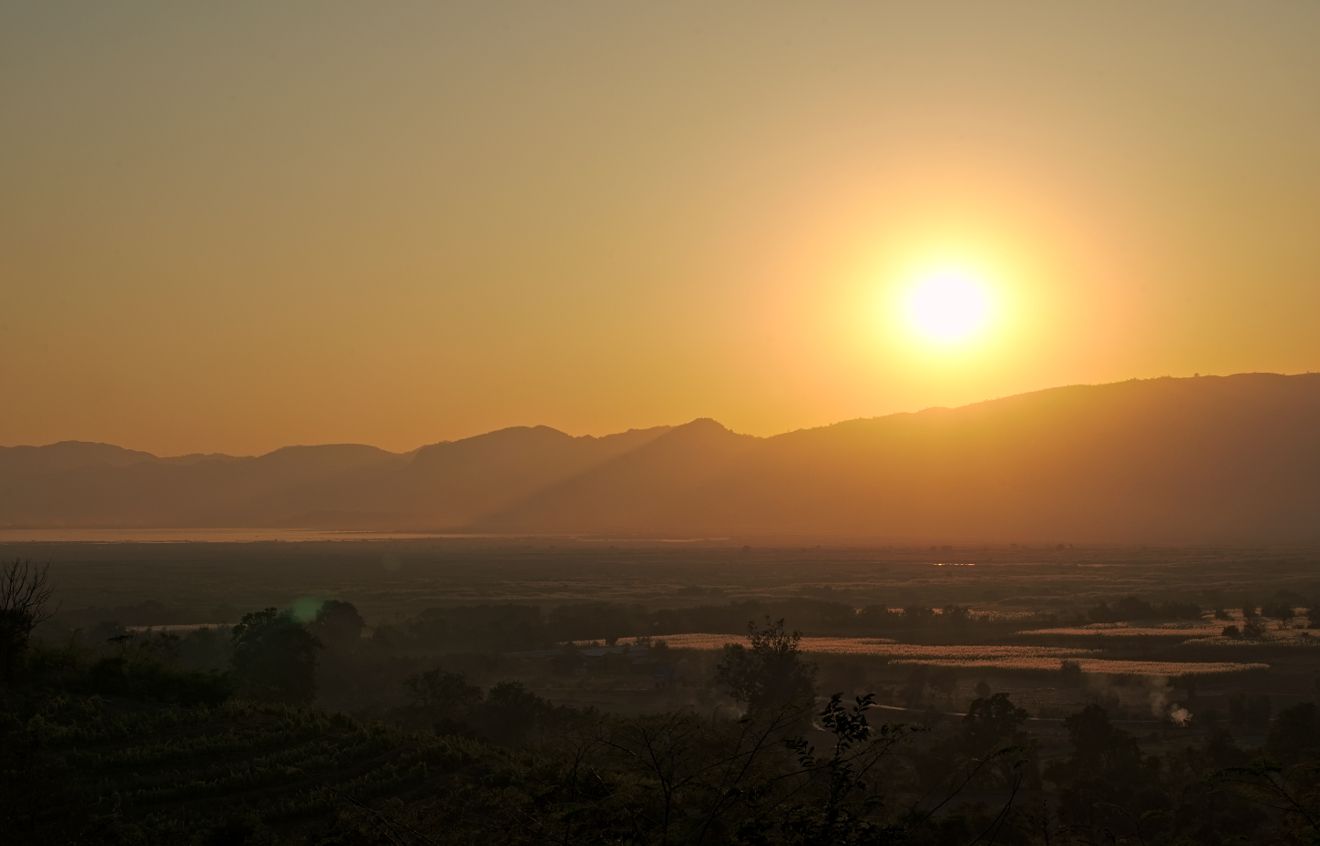 Established on the heights of the lake, this Burmese vineyard definitely has a privileged place for sunset! The premises were opened with the collaboration of a French winegrower and it is therefore with European know-how, vines from France, Spain or Israel and the magnificent site of Lake Inle that the wine production began.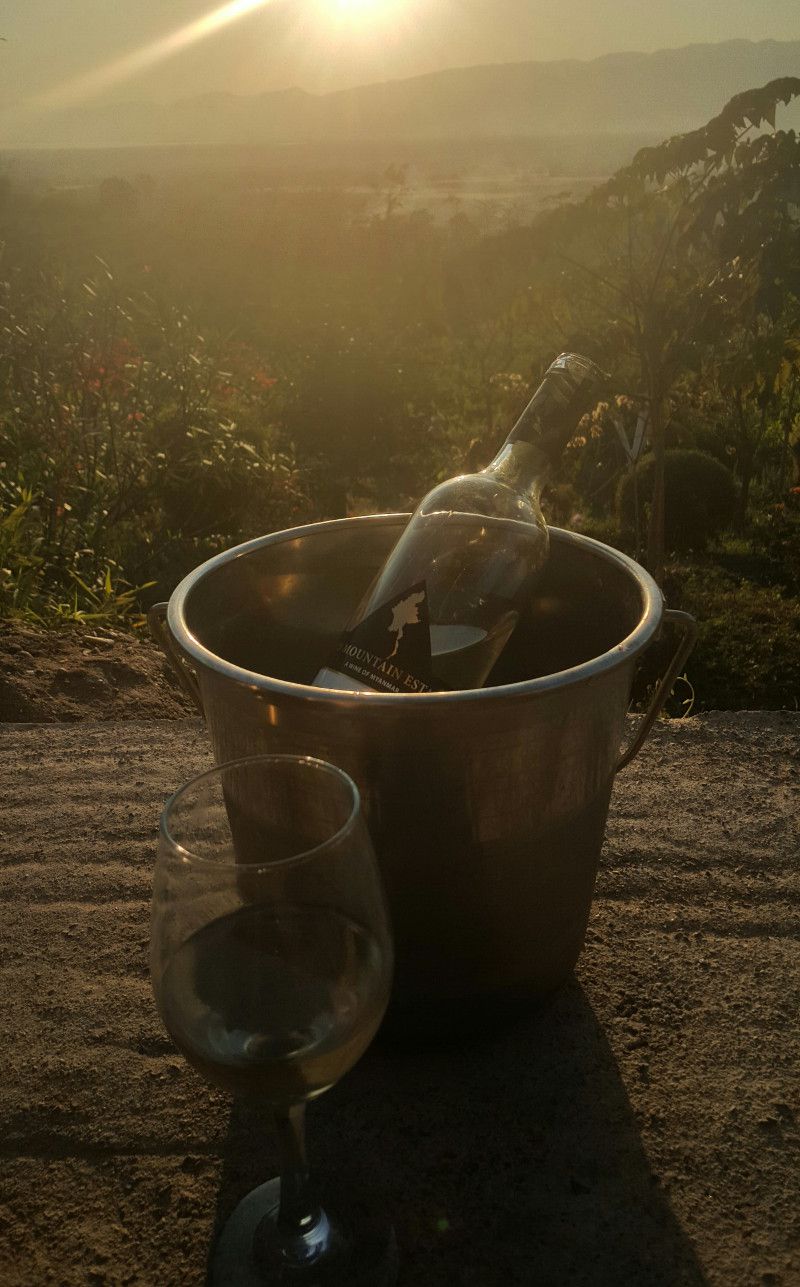 We will admit that our timing was not optimal because we really thought we would get here in the late afternoon and have time to do the free visit and then a little tasting… Well turns out that we were not fast enough on our rusty bikes…. We arrived just before the sun started to go down and there were exactly 2 spots left on a small bench with the best view! We didn't want to risk losing this prime position and we settled down haha
A small glass with a view in Myanmar
As we still had to wait a while before sunset, we skipped the tasting and directly attacked the bottle of Sauvignon Blanc with tofu chips.
We had heard from other travellers that Burmese white wines were way better than the red ones. Thus we trusted them.
Well, let's face it, it's not the best bottle of wine we've ever drunk in our lives, but I think it must be one of the best in Asia (which doesn't mean much, I admit, but still).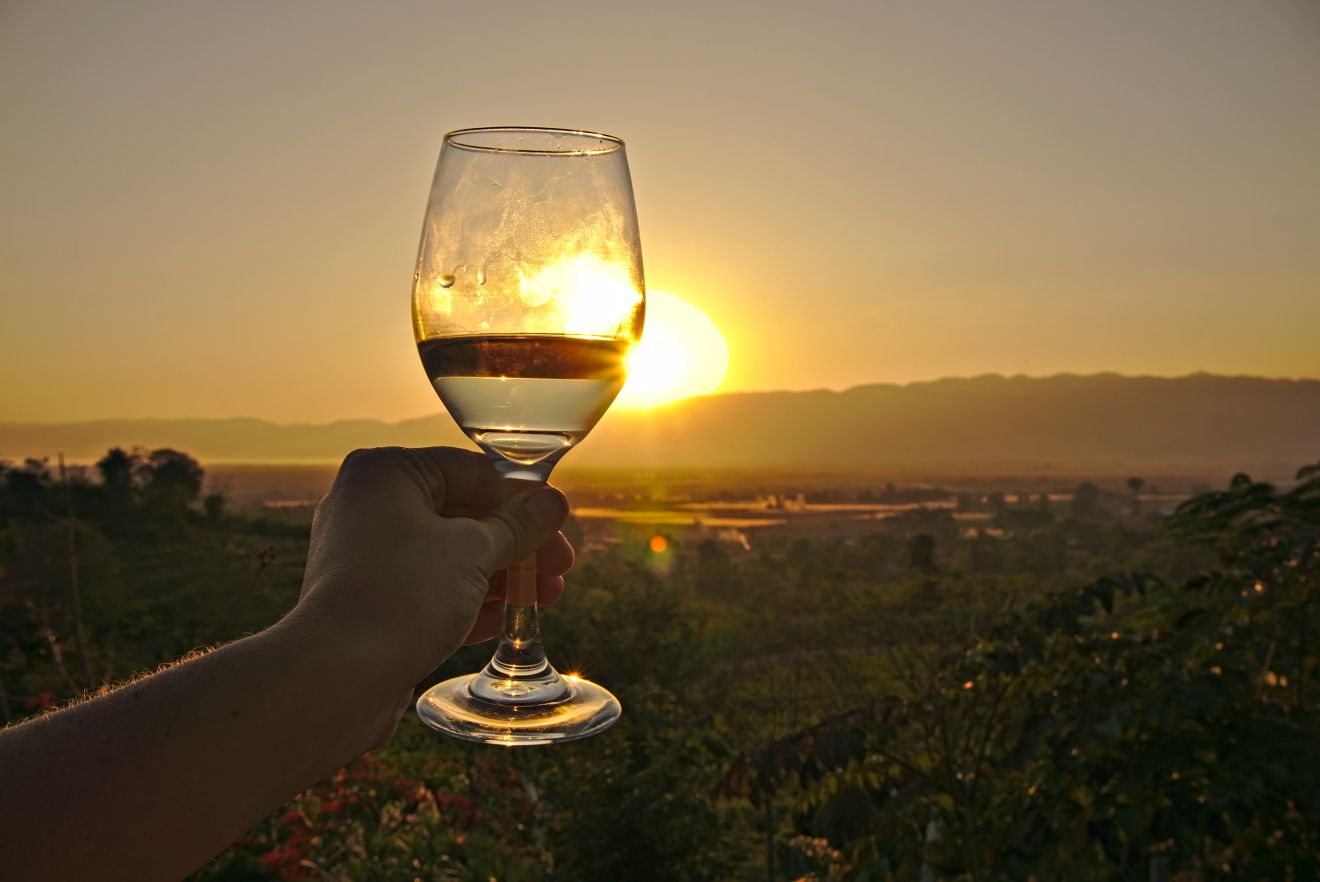 a great start to the evening enjoying the last sunrays with other travellers. After this, we had a quite epic bike ride back in town… I mean, we were quite drunk haha, and it was pitch black. We wont say anymore…
Where to stay at Inle Lake? Where to eat? And where to find the best wifi in Nyaung Shwe?
When we finished our trek our boat dropped us off at the village of Nyaung Shwe. So it is important to know that this is where most of the cheap guesthouses and restaurants around Inle Lake are located. There are certainly some resorts directly on the lake, but these are clearly not within our budget!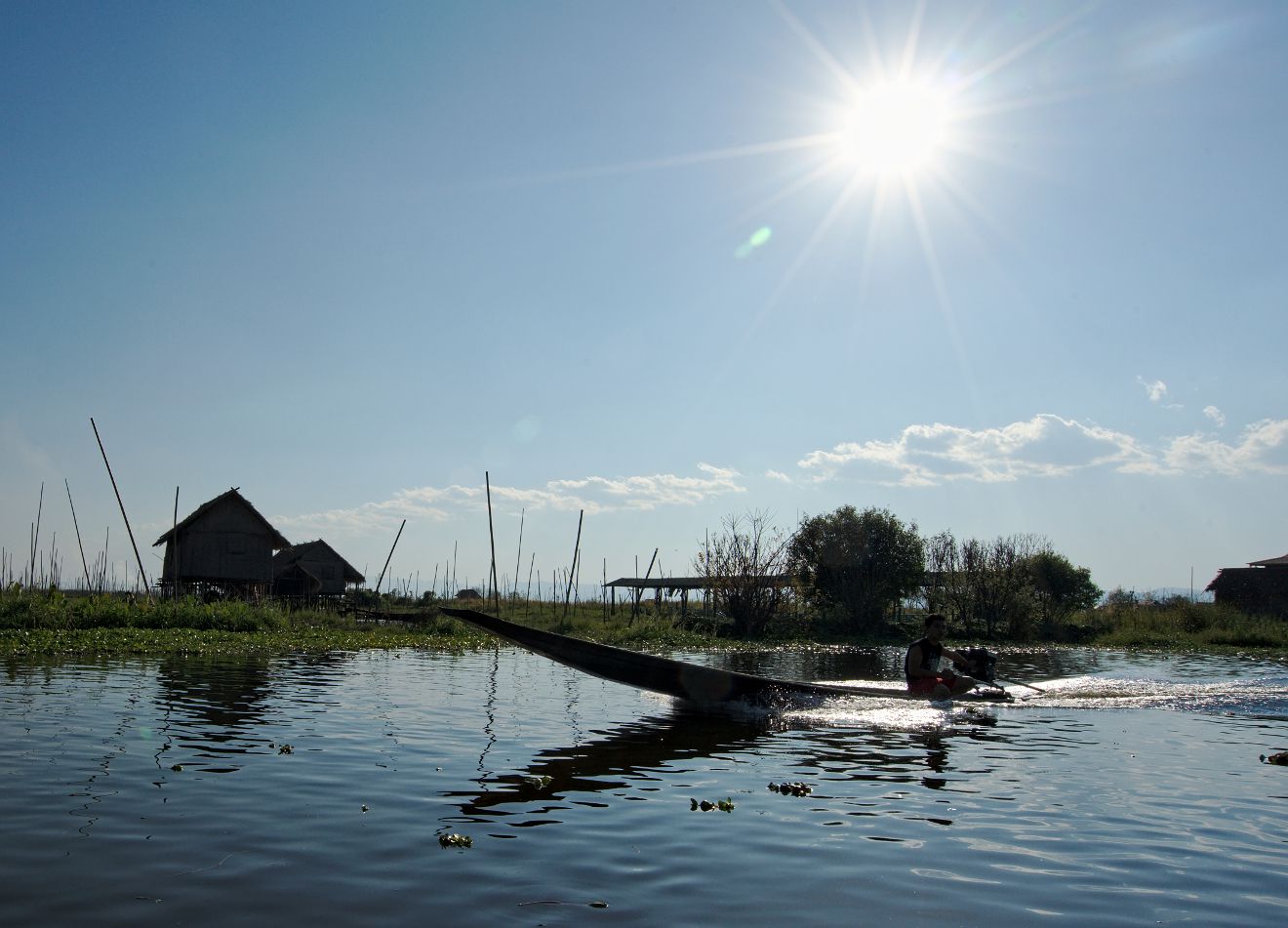 In Nyaung Shwe, it is the first time of our trip in myanmar where we had to search a little longer to find a hotel with availability. We walked for about hour in the streets to find a decent room! Often the guesthouses were full, had only 1 night availability or were too expensive for us! But we didn't get discouraged. We ended up finding a room at Jo's guesthouse.
Jo, it's the absolutely adorable manager who holds the Pyi 2 guesthouse (not Pyi 1, this one was way too expensive…)
Pyi 2 is nothing glamorous or romantic. The room is basic but comfortable. The sheets are clean and the water is hot! But what makes this place one of our favorite places in the area is Jo! Jo is simply an amazing man!!!! He recently had the chance to see a grandson enter his life, and the least we can say is that he is totally in love with him. Thanks to his perfect English we had some great talks with him!
Infos
Pyi 2 guesthouse : Don't look, it's nowhere to be found online…. Jo has only 5 rooms and prefers to rent them to those who arrive directly at his home
Price : 20'000 kyaths the double room with breakfast and private bathroom
Advice: Jo will give you the choice for breakfast: Western or Burmese! Frankly, take the Burmese, the Shan Noodles are just amazing!!!!
Where to eat in NyaungShwe?
To eat we followed the advice we had received on Facebook and went to Paw Paw. This restaurant is not a 100% like the others because it is in fact a restaurant created for an associative purpose by a woman who is full of energy. Her project? To help the young girls of the surrounding villages by teaching them how to serve in a restaurant and cook…. The first evening the terrace was relatively empty and despite some clumsiness of the waitress at the service we ate well and left conquered!
So much so that on the second evening we came back here with a couple of French people we had met at the wine tasting… That evening the terrace was super crowded… We were lucky to get the last table available. But, we waited more than an hour for the first dish to arrive, the next ones arrived every 10-15 minutes… 2 of our dishes never arrived. After waiting for more than 2h30 we decided to pay fo what we received and left
But frankly it's no hard feelings, because the manager explained to us that one of her girls did not show up that night and that her girls were not used to work under the pressure… And to be fair, all the dishes that actually made it to our table were excellent!
In short an excellent address (to be preferred when it is not crowded ot if you are not in a hurry… at all!) 😉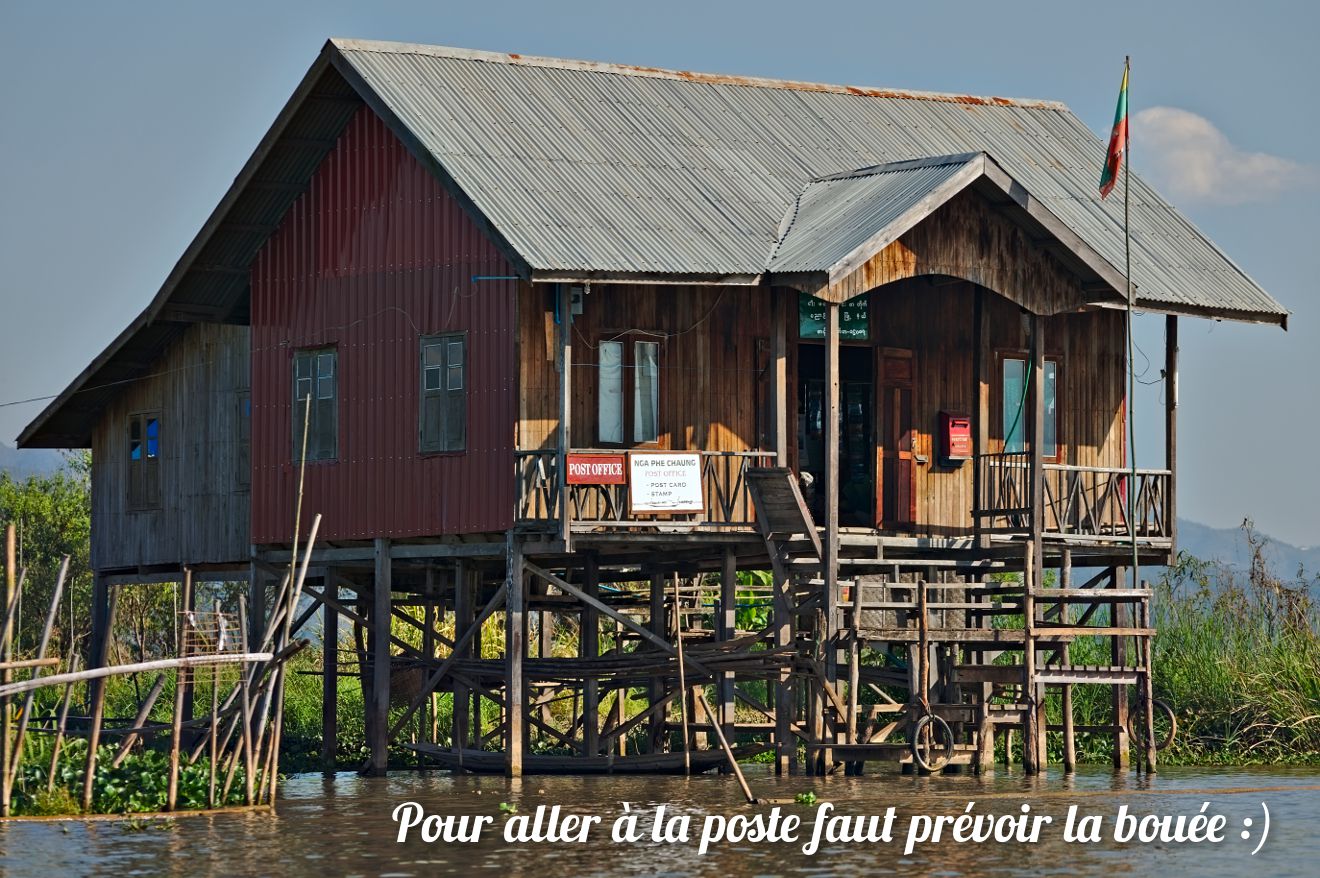 Where to find good wifi in Myanmar?
And one last address for the geeks among you…. In Myanmar wifi is often a little tricky! For the moment we spent a lot of our afternoons on the terrace of the Chillax. A nice bar with a wifi that is by far better than anything else we've seen so far in Myanmar! This coffee is a little more expensive than in other local places, but their dishes are excellent and the coffee is very good!
For the addresses, you will find them all on the map at the beginning of the article. Just zoom in a little on Nyaung Shwe to see them!
we'll see you in Bagan for our next article!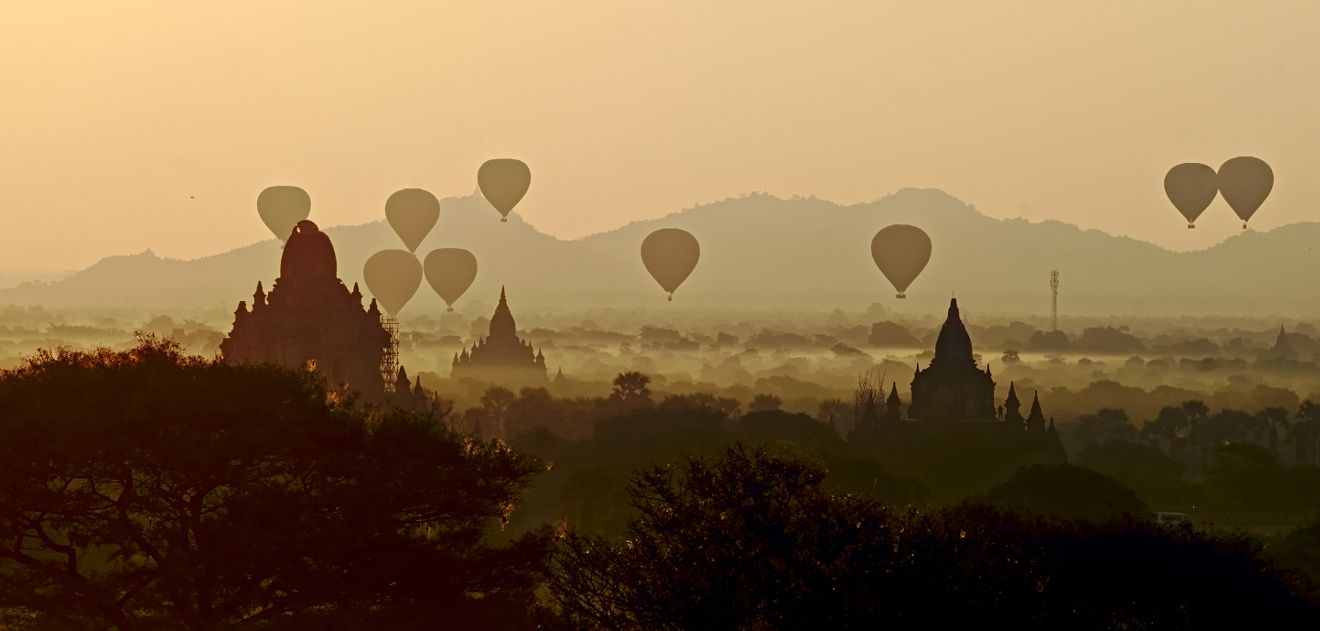 Until then, take care!
And if you have any questions about the Inle Lake area, feel free to comment below!