Myanmar is a country that we had decided, certainly reluctantly, to remove from our round-the-world itinerary…. Due to lack of time, but also of budget, we thought we would postpone this trip until later!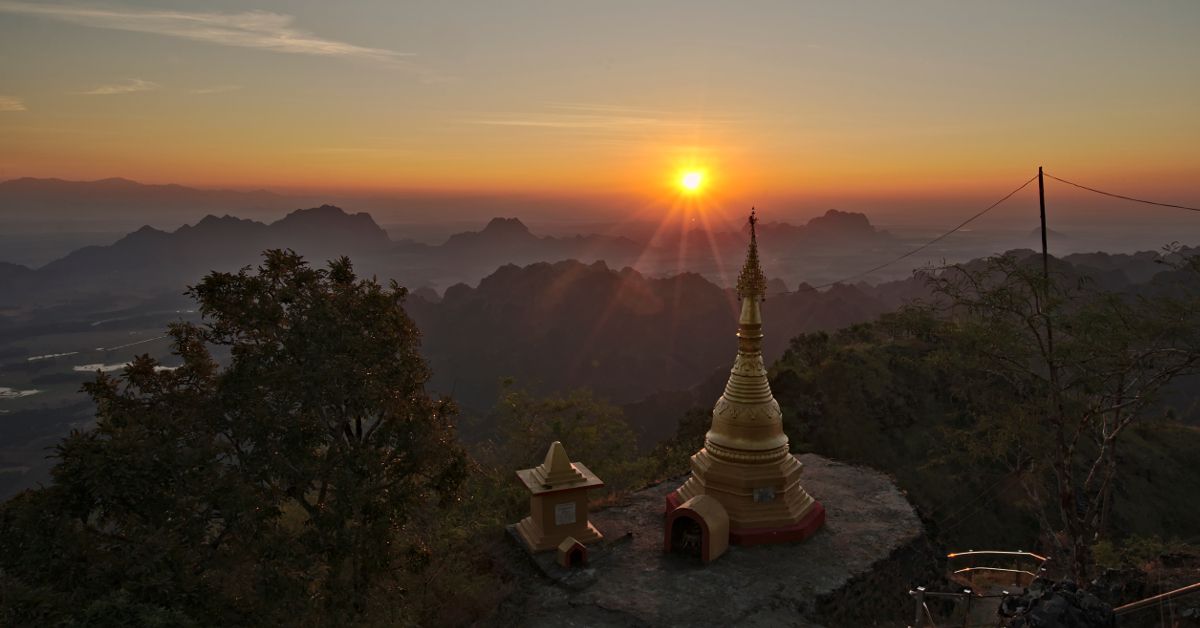 Now that we are back in Chiang Mai for a few months, the opportunity, to finally come and discover this country which arouses so much admiration from the travellers we met, was simply too beautiful!
It was a little on a whim that on January 22nd we boarded a bus in Chiang Mai heading for Burma. We will tell you more about the land border crossing between Thailand and Burma in a future article, but be aware that this border will undoubtedly have been our easiest crossing in Asia!
Infos

Unfortunately, it is no longer possible for foreign tourists to sleep at the top of Mount Zwegabin following a dramatic accident involving a tourist that happened last year. The view from the top is still breathtaking!
Getting to Hpa An
We arrived in Hpa An at around 7pm without having booked any accommodation. We were expecting a little trouble, but in the end it took us less than 10 minutes to find a room within our budget!
Once settled in, we quickly set off in search of a small meal. Walking a few hundred meters we arrived at the small night market that is held every evening next to the small lake! We ate mushroom noodles and sushi for 3000 Kyaths (roughly €2) and enjoyed mini pancakes for less than €0.10 per piece… This is what you can call a perfect start
Infos
Accomodation: Soe Brothers II Guesthouse, 20$ the double room with private bathroom, cold water only. The room is clean, the bed is comfortable and if we ignore the obvious lack of smiles of the 2 ladies at the reception it is a good accommodation option.
Booking: This guesthouse is available on booking sites but prices are higher than when you arrive directly…. (see it here) This being our first guesthouse in Myanmar we will wait a little before drawing conclusions, but promised at the end of our stay we will tell you if it is better to book in advance or not your accommodation in Myanmar!
See more places to stay in Hpa-An on the map below:
Go to Mount Zwegabin (or Zwekabin)
1st real day in Myanmar and first small fail for us…. I mean… let's just say that this first day will have taught me that Maps.me is much more my friend for itineraries and distances than my dear and loving little husband.
Because yes, that morning we left on foot to go to Mount Zwegabin. Personally, when I saw the mountain from the terrace of our hotel I quickly thought for myself that this seemed waaaay too far away to go there on foot.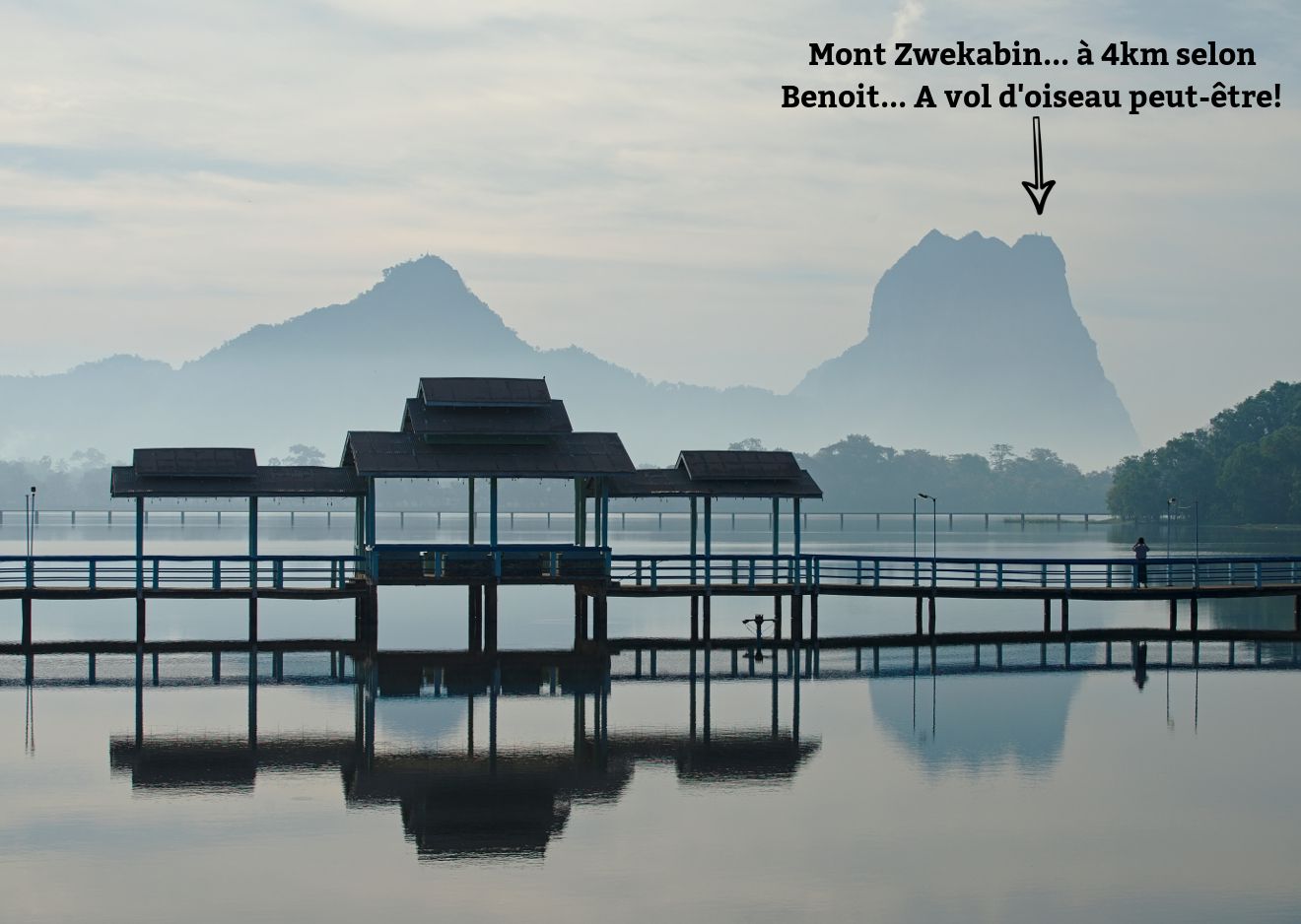 Call it blind trust, crazy love or beginner naivety but when Benoit told me "No, don't worry, it's easy to walk, there must be 4 or 5km maximum" I didn't think it was useful to open Maps.me to verify these statements… Hmmm….
So how can I tell you that these 4 or 5km have turned into a 12km walk under the blazing sun! In short, it was already quite sweaty and totally exhausted that we arrived at the Lumbini Garden. Lumbini Garden? That's actually the official starting point for this hike; a 720m ascent to the summit of Mount Zwekabin!
Lumbini Garden – trail start to Mount Zwegabin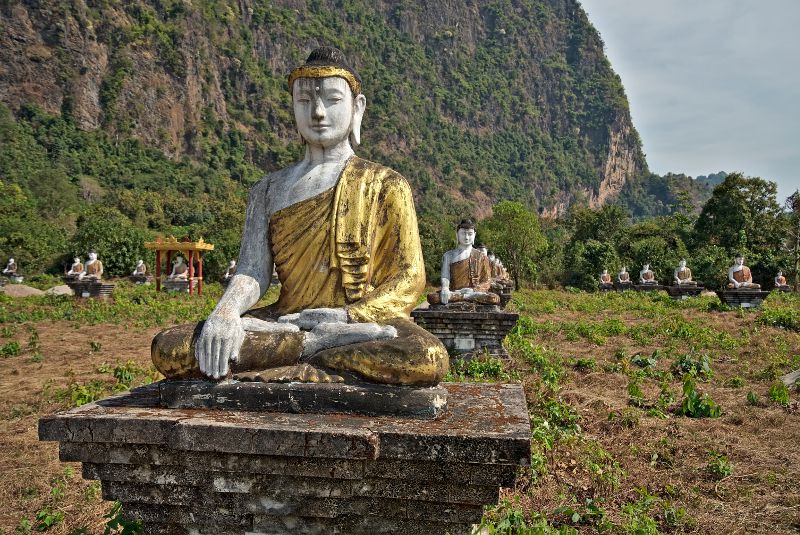 The Lumbini garden is not really a garden in the strict sense of the word. I think it is rather what one could call a huge field in which there are… attention…. 1100 statues of Buddhas!
The Buddhas taken one by one do not have the greatest interest in my opinion. For a good part of them a little restoration would not do any harm. But what makes this place really special is the impressive number of them!
I mean… it's not every day you literally find yourself in a field surrounded by 1100 Buddhas!
So, even if we enjoyed this walk in these gardens, the real reason we came here is that the entrance to the path that leads to the top of Mount Zwegabin is at the end of this garden. Accessing Lumbini Garden is free of charge by the way 😉
Climbing on top of Mount Zwegabin under the sun
With all these 4km stories that turned into 12km, a lunch break and a photo stop in Lumbini's garden, it was at 3pm that we started our climb towards Mount Zwekabin… Hmmm… 3pm being about the hottest time of the day!
And even if the climb is not super easy and it climbs relatively steep in places, it is very clearly the heat that gave us the most trouble! Being used to a much more temperate climate in Chiang Mai we were literally liquefied after already a few minutes of climbing…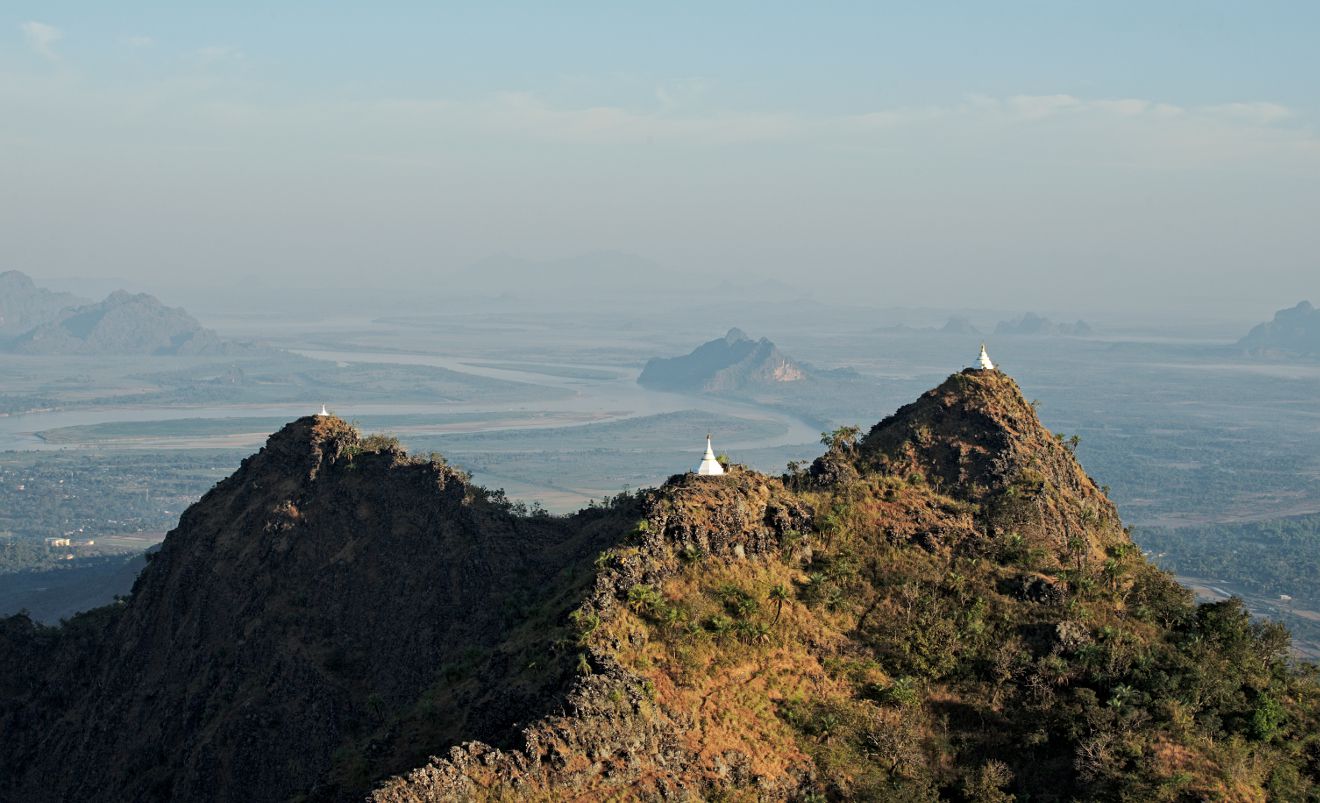 So it was in sweat (and with a few swearing on my end I concede it) that we reached the top in about 2 hours. It's not very long, but I swear to you, at the time it seemed endless to me! Hahahaha
Spending the night at the monastery
When we arrived at the monastery we were welcomed by a monk who explained us how the place works…. But first of all we had to pay 5000 kyaths per person to sleep here. In exchange we receive a small yellow bracelet, which according to the monk is a Buddhist lucky charm if tied 4 times.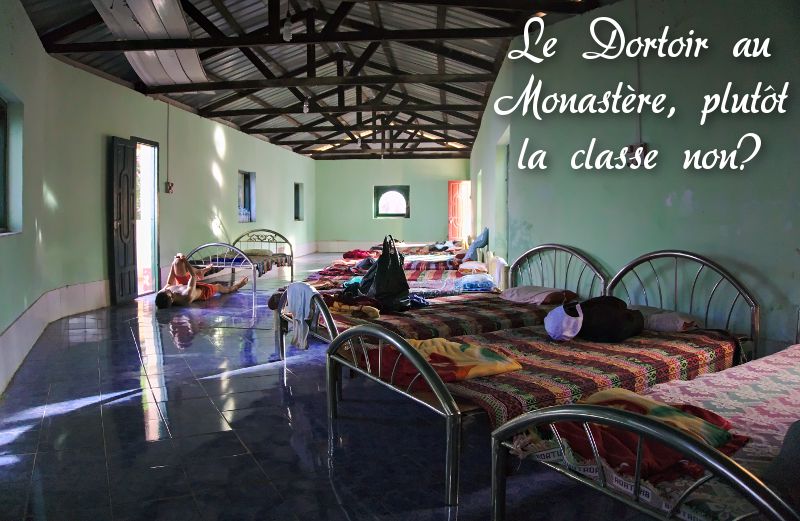 So of course I don't doubt the tradition of the bracelet, but let's be honest, it's also a way for them of knowing who has made his donation 😉
First surprise: the monk announces that there is a shower! Hooray! Considering the state we're in, we were not going to refuse this great offer! Benoit left first and came back to me with a huge smile on his face: "Ahhhhh it was so good! A real shower with good water pressure. Oh and a monk even gave me a towel! »
Showering on Mount Zwegabin
Whoa! Whoa! A 5-star service it seems! It's all very cheerful that I set off…. Hmmm how can I explain…. When I asked a young man for directions to the showers, he pointed me towards a concrete block with bars instead of a door…. Inside? A brown stagnant water tank, a small basin and a small soap placed there.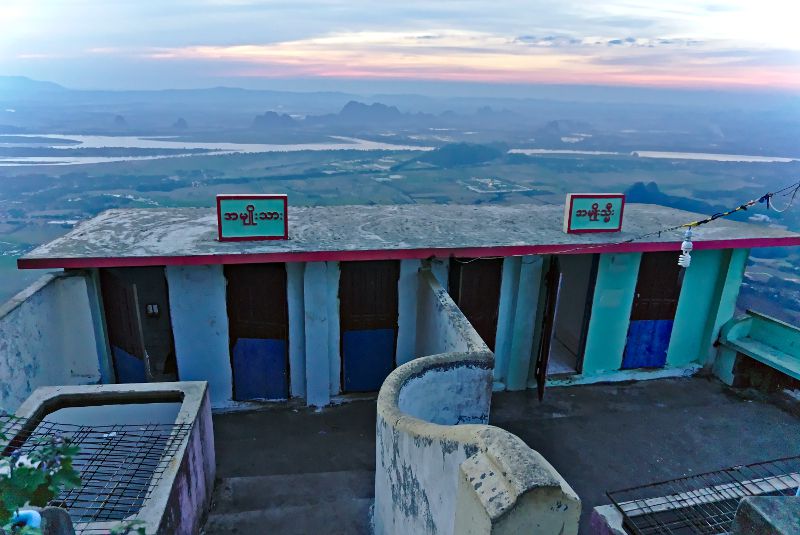 While I was wondering if Benoit had just made a joke or if we finally didn't have the same idea of a nice shower, I noticed that 2 Spanish girls were naked in one of these cages washing themselves. In itself nothing dramatic…. If I hadn't seen the young boys standing a few meters away watching the scene! 🙂
No need to say I never took a real shower there… I just used a little of this brownish water to wash off the dust while keeping my pants on…
For the record: Benoit hadn't lied to me. I finally found the "real shower" afterwards…. And there are even real toilets! I think the little kids are having fun bringing the ladies to the "cage showers" to watch their reaction. If you come to the area, know that the real showers and toilets are behind the blue doors on the right, just before the stairs that go down towards the Turkish toilets and the cage showers.
Sunset at Mount Zwekabin
After this shower episode we enjoyed the end of the day with the other travellers who came here at night to admire the sunset while dodging the rather deceitful attacks of the little monkeys who took up residence around the monastery…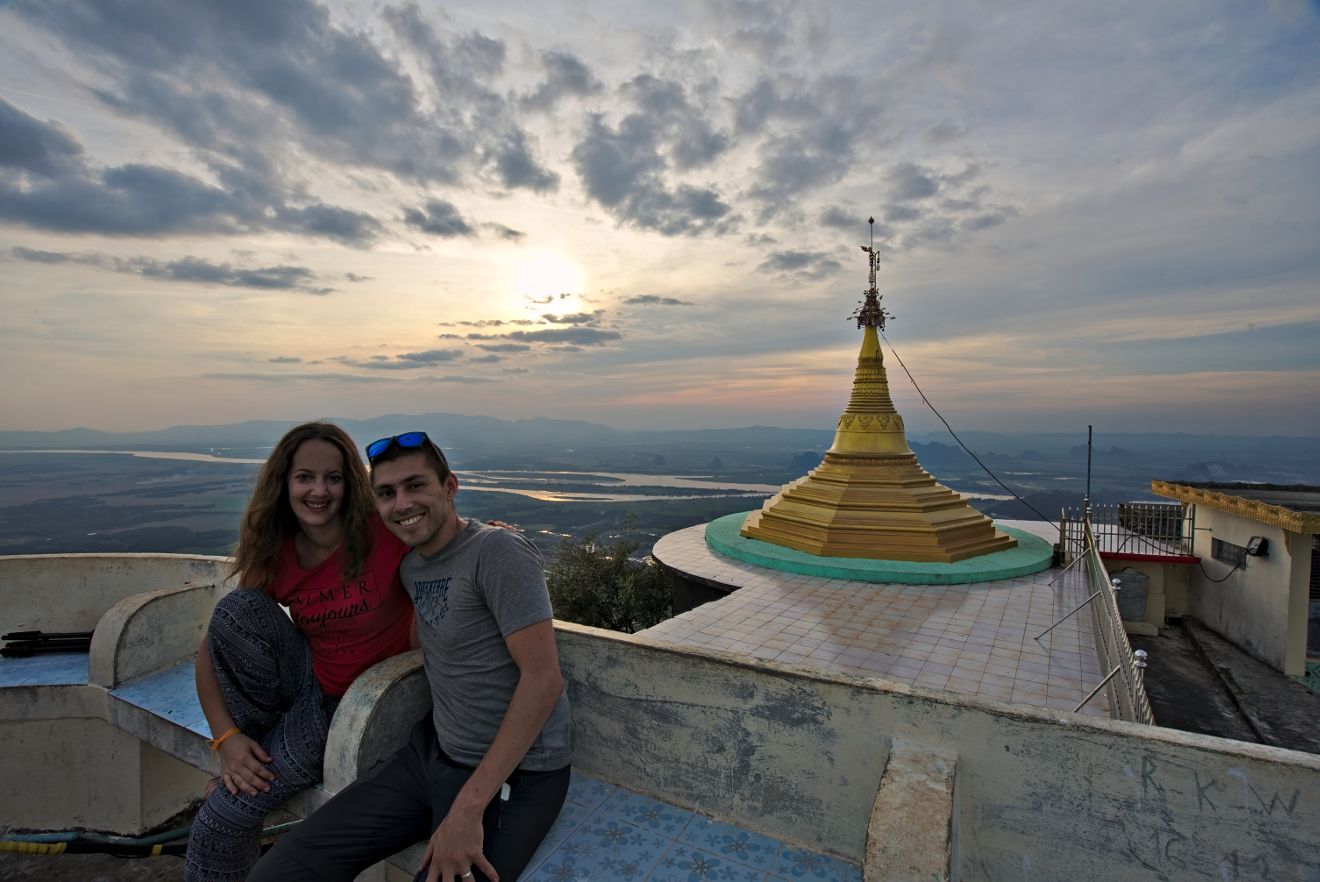 We had read online that these monkeys could be relatively aggressive. Especially during the ascent to the temple… In the end, we will not have met a single one during our climb, but once at the monastery it was the invasion! There must have been easily about forty of them and they had only one thing on their minds: come and steal the travellers' belongings and analyse the contents of the bags in the hope of finding food. 😉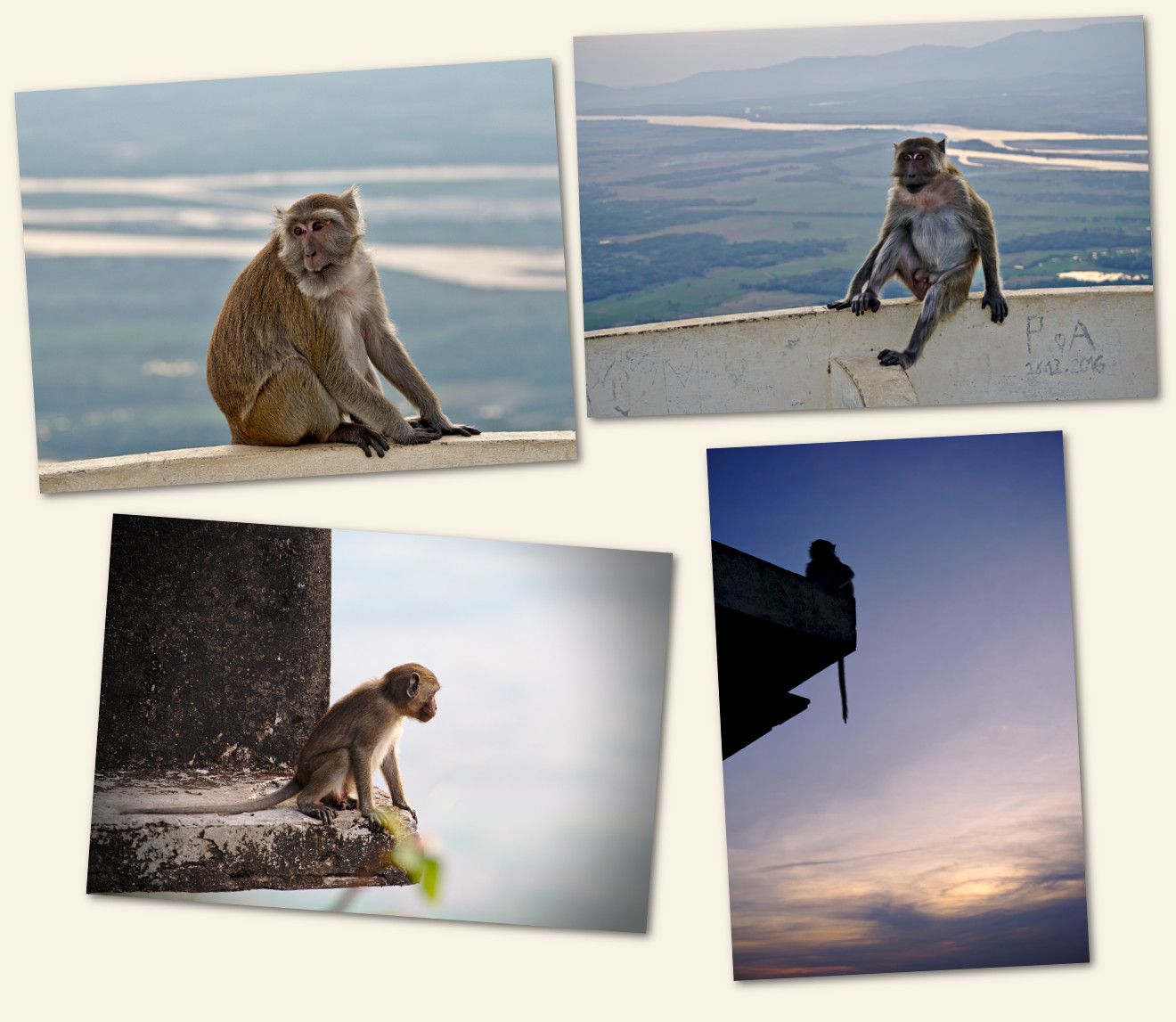 The monks feed these monkeys every morning at 11am, and as a result these little animals have become accustomed to humans. Fear? They don't know what it is! Besides, the dominant male who is one-eyed, he's a hell of a big shot. It's really better not to bother that one!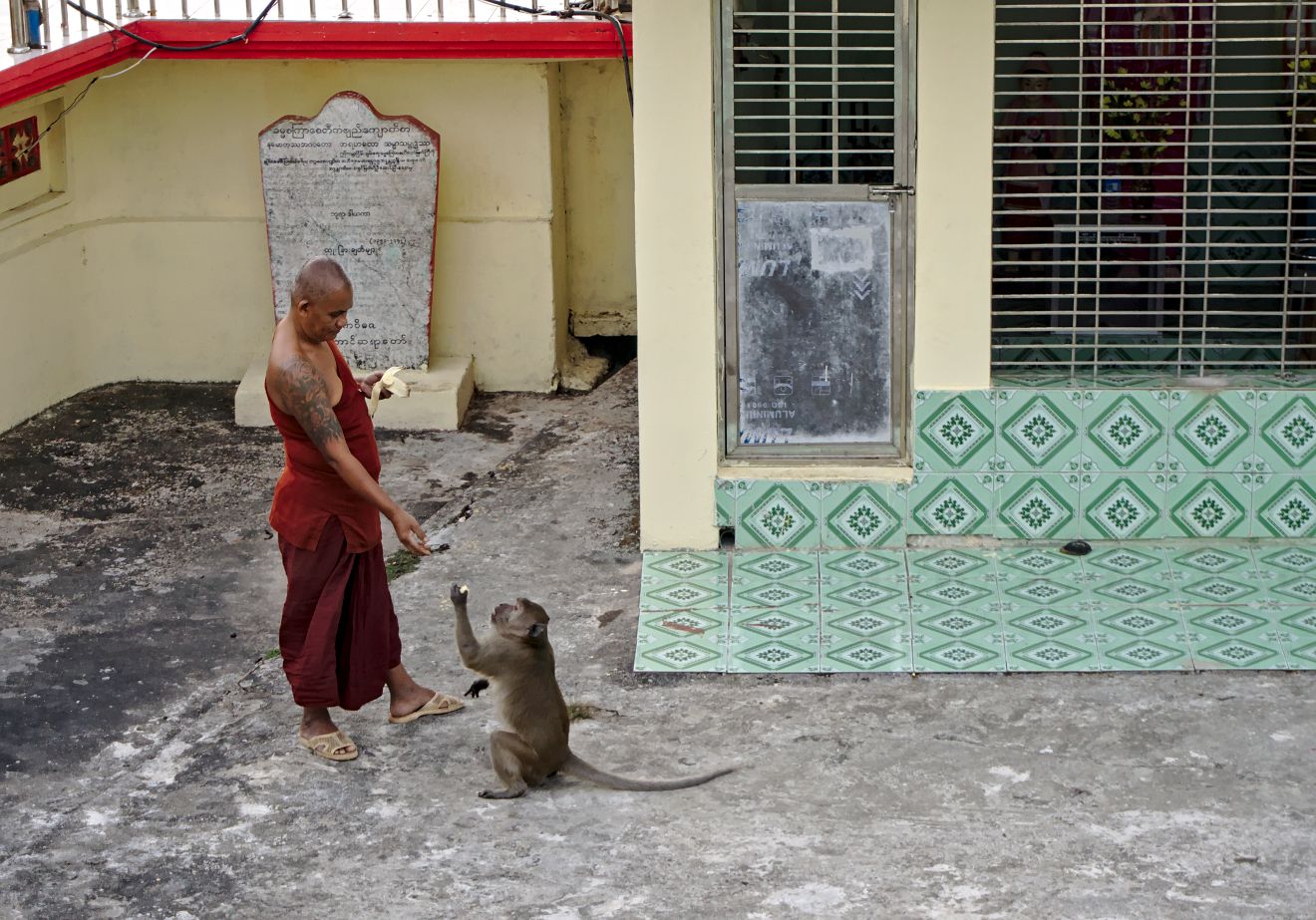 After sunset we enjoyed a good vegetarian meal in the monastery restaurant before ending the evening chatting with other travellers. We sat the stupa and enjoyed the crazy panorama for a little longer before goinf to sleep.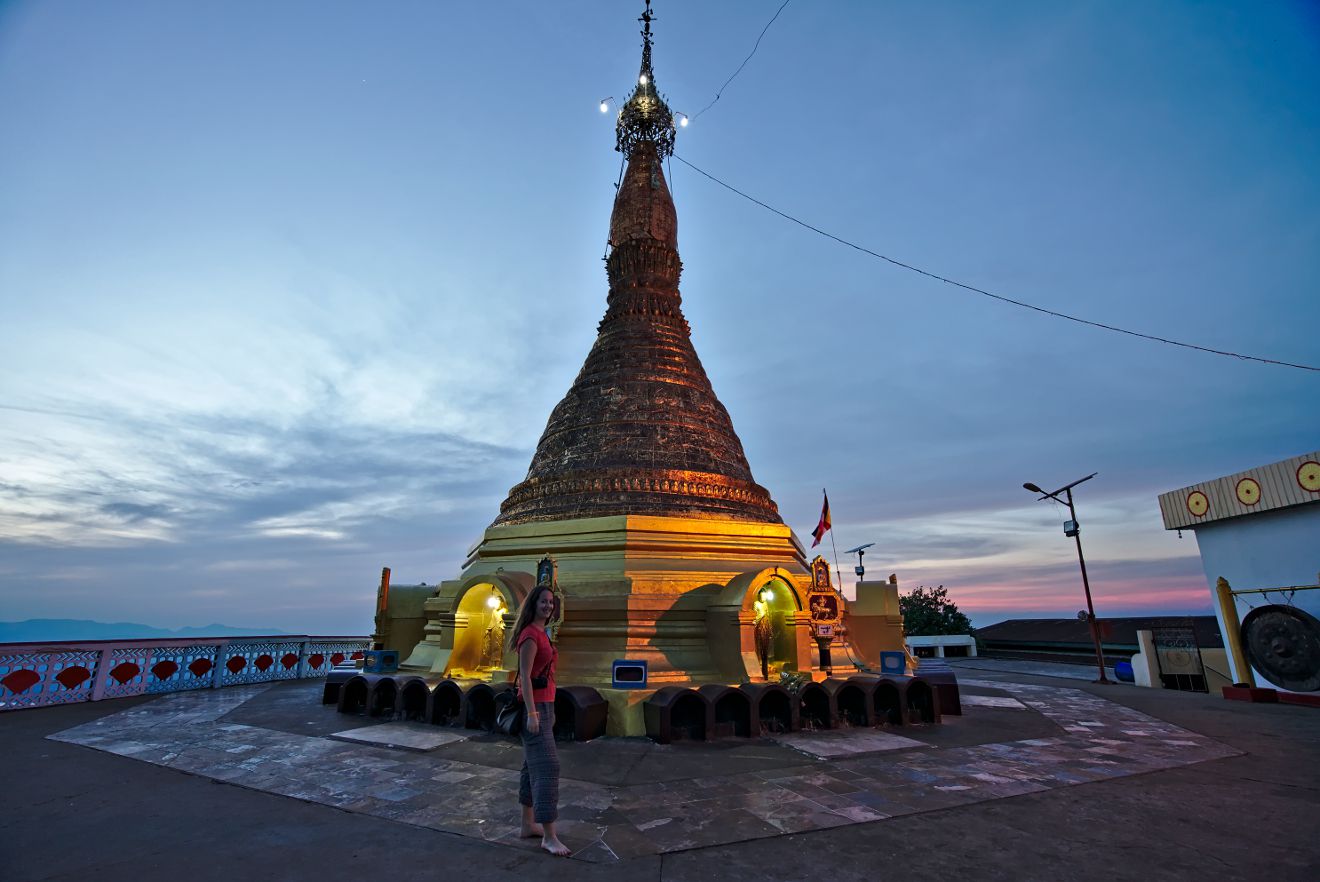 Infos

From Hpa An to Lumbini: Distance 12km…. Can be done on foot but we would recommend taking a motorcycle taxi instead. Count 2000-3000 kyaths for the trip from Hpa An
Ascent :

Distance: 2km
Elevation gain : 720m
Duration : count between 2h and 3h of walking depending on your physical condition

Night at the monastery on Mount Zwegabin: Night in a dormitory against a donation of 5000 Kyaths per person
Water: Drinking water is available free of charge at the monastery
Dinner: The evening meal is a vegetarian menu that can be purchased for 3000 Kyaths / person.
Sunrise and return to Hpa An in pain 😉
After a good night's sleep, it is with a start that all our dormitory is woken up at 4am by the monks who rang the bell and sang in a microphone for the call to mediation…. So I admit that even though the idea of going to meditate crossed my mind for a fraction of a second, I quickly changed my mind and went back into a deep sleep again before the next awakening at 5:30! This time it was with the sunrise that we had an appointment! While Benoit was more reckless than me and went down at night to the 3 little stupas below the monastery, I admit I just enjoyed the show from the terrace of our dormitory!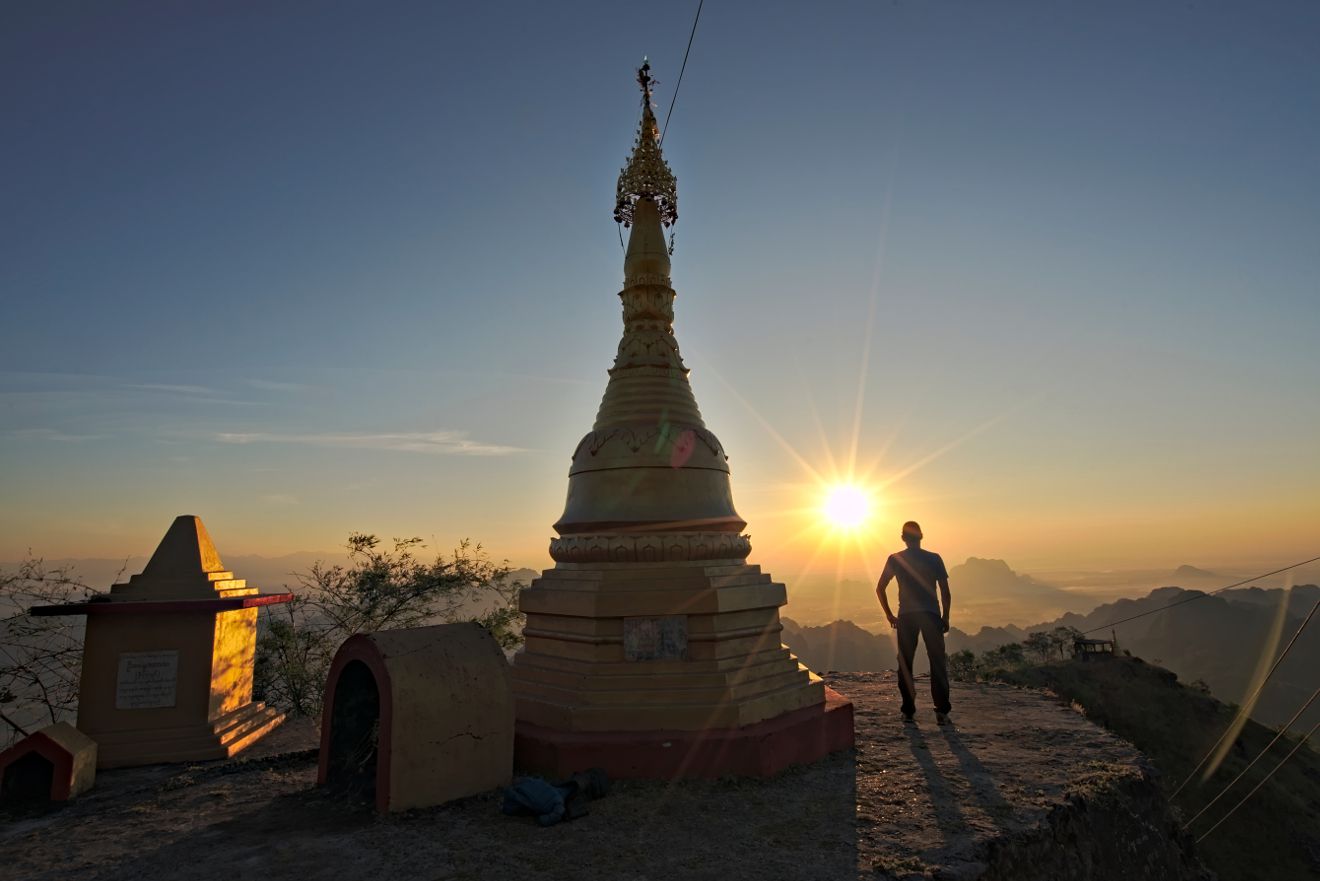 Because yes, a wake-up call at 5:30 a.m. hurts a lot, but if you only have to do 3 meters from your bed to admire such a show, it would be a real shame to do it!
I let you judge in pictures: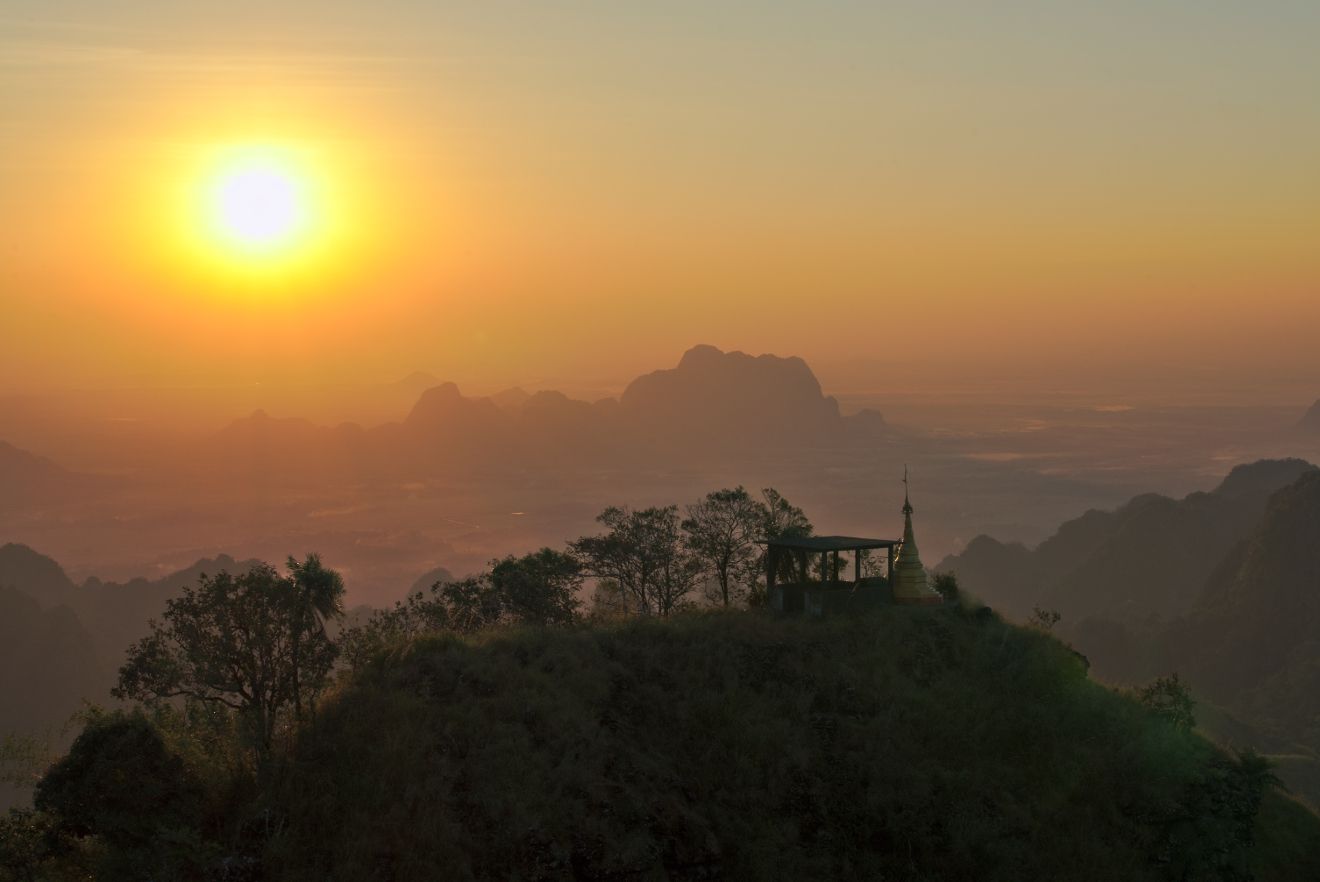 After a short photo session with the beautiful morning light we started the descent. To vary the pleasures we took another path than the one we took on the climb! Because yes, there are 2 ways to come to Mount Zwegabin, the one that starts from the gardens of Lumbini that we had taken the day before and the second that reaches the other side of the mountain at the height of the main road.
Since we didn't want to take the risk of walking back to Hpa An we opted for this second option because motorcycle taxi drivers often wait at the foot of the mountain on this side…
Down the stairs from Mount Zwegabin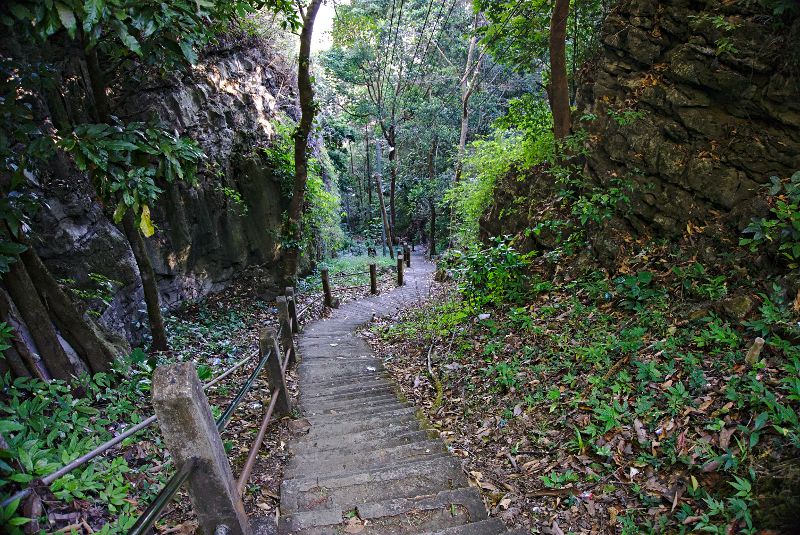 this other path is shorter…. But shorter also means steeper!
We are going down these almost vertical steps and to be honest, it's not a pleasure for me!
My legs are shaking and I already feel that the aches and pains will be tough! 🙂
When we got at the foot of the mountain we meet a traveller with whom we had spent the evening of the previous day and who kindly puts us in contact with his driver with whom he had arranged an appointment. After 2-3 discussions we both found ourselves on the back of his motorcycle towards Hpa An.
Infos
Descent from the monastery: count 1h30 for the descent
Back to Hpa An: motorcycle taxi drivers often wait at the foot of the mountain. They will generally ask for 3000 kyaths per person to take you to Hpa An.
If there is no driver, don't hesitate to ask the small restaurants at the foot of the mountain, they can probably call you someone!
PS: 3 people on a scooter is obviously not a problem in Myanmar 😉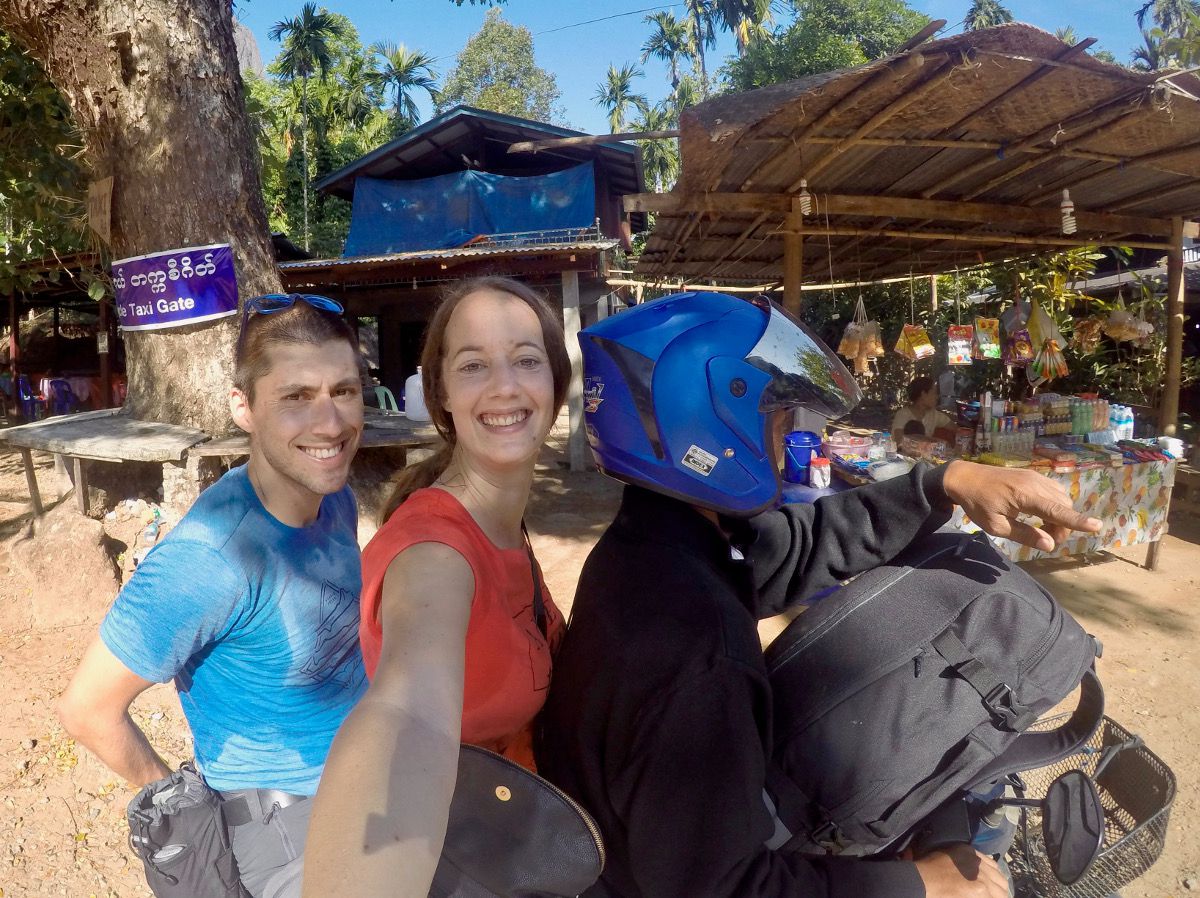 When things got complicated for me…
Back in Hpa an we were hungry and the first thing we had in mind was to eat something! We walked 50m out of our guesthouse and ate in a small Thai restaurant….
So I will never know if it was the thai from lunch, the monastery meal the day before or a sunstroke after our climb, but I then spent 36 absolutely horrible hours… I'll save you the details, but let's just say I was almost inert in my bed with very frequent trips to the bathroom…
In a nutshell, Hpa an I wouldn't have seen much of it in the end, but Benoit will soon talk to you about his cave visits and the things to see around Hpa An in a next article!
Note: This article contains affiliate links. By using our links to book your accomodation you won't pay anything extra, but we'll earn a small commission. Thanks for your support.