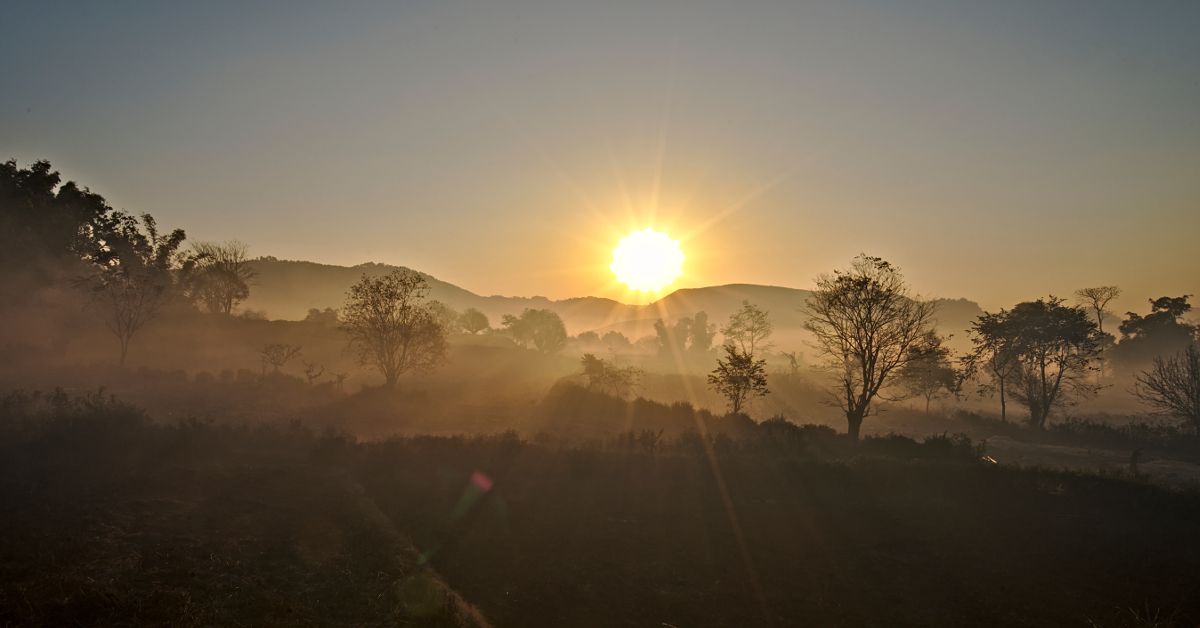 Second stop on our trip in Myanmar, this time we have an appointment with the sublime Inle Lake! We had heard a lot of good from other travellers about the 3-day trek to Inle Lake from Kalaw village. As we like hiking and since after climbing Mount Zwegabin we still wanted to stretch our legs a little bit more, we decided to go to Kalaw to do this small trek!
Getting to Kalaw: Bus from Hpa An to Kalaw
From Hpa An it is very easy to reach Kalaw! Recently, there has been a direct night bus that connects the 2 cities in just under 12 hours drive. Don't be surprised if you don't find any traces of this bus online, I promise it exists!)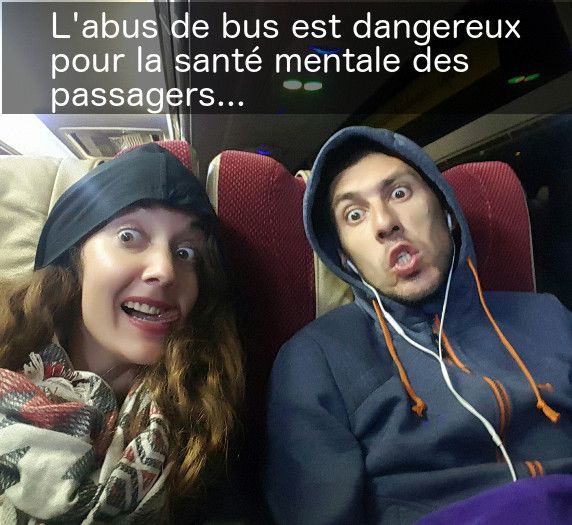 At the beginning we planned to go on a trek directly after getting off the bus…. I mean we got pretty used to sleeping on buses and we usually sleep like babies! But as we told you at the end of our last article, our stay in Myanmar was a bit disturbed by intestinal problems…
When we arrived in Kalaw I hadn't eaten anything for more than 48 hours and my energy level must have been at the same level as that of a narcoleptic turtle and as a bonus it was Benoit's turn to feel bad! We thus decided to play the safety card and postponed our trek by 24 hours and took a room in the first guesthouse we saw when getting off the bus. We then spent the day doing nothing but going back and forth to the bathroom… pfiou….The beginning of this trip in Myanmar is not glamorous glamorous I can tell you! 🙂
Infos
Bus from Hpa An to Kalaw: departure every day at 7pm from Hpa An, arrival around 6am-6.30am
Price: we paid 23'000 Kyaths per person for the trip
Hotel in Kalaw: The Richard's Inn. A good address with clean rooms and a good breakfast. Price of the double room with private bathroom: 25'000 Kyaths / night.
A little something extra: They left us the room at 6am, so we were able to take a nap when we arrived without having to pay for an extra night.
Good to know: The Inn's often rent rooms by the hour too… So if your bus arrives in the middle of the night it can be interesting to rent a room for a few hours to take a nap and shower before going on a trek.
Information about the trek and how to contact our guide: See at the end of the article
Day 1: Kalaw to La Mine
8:30 am our guide is waiting for us at of our guesthouse! When we meet, both Ben and I look like crap… I haven't been able to swallow anything for nearly 72 hours and Benoit spent the day before eliminating what little food he had left in his body….
It is thus quite quietly that we begin this trek, the steps are difficult and the first small slopes when leaving the village already make us wonder if we have done well to embark on this adventure in our condition.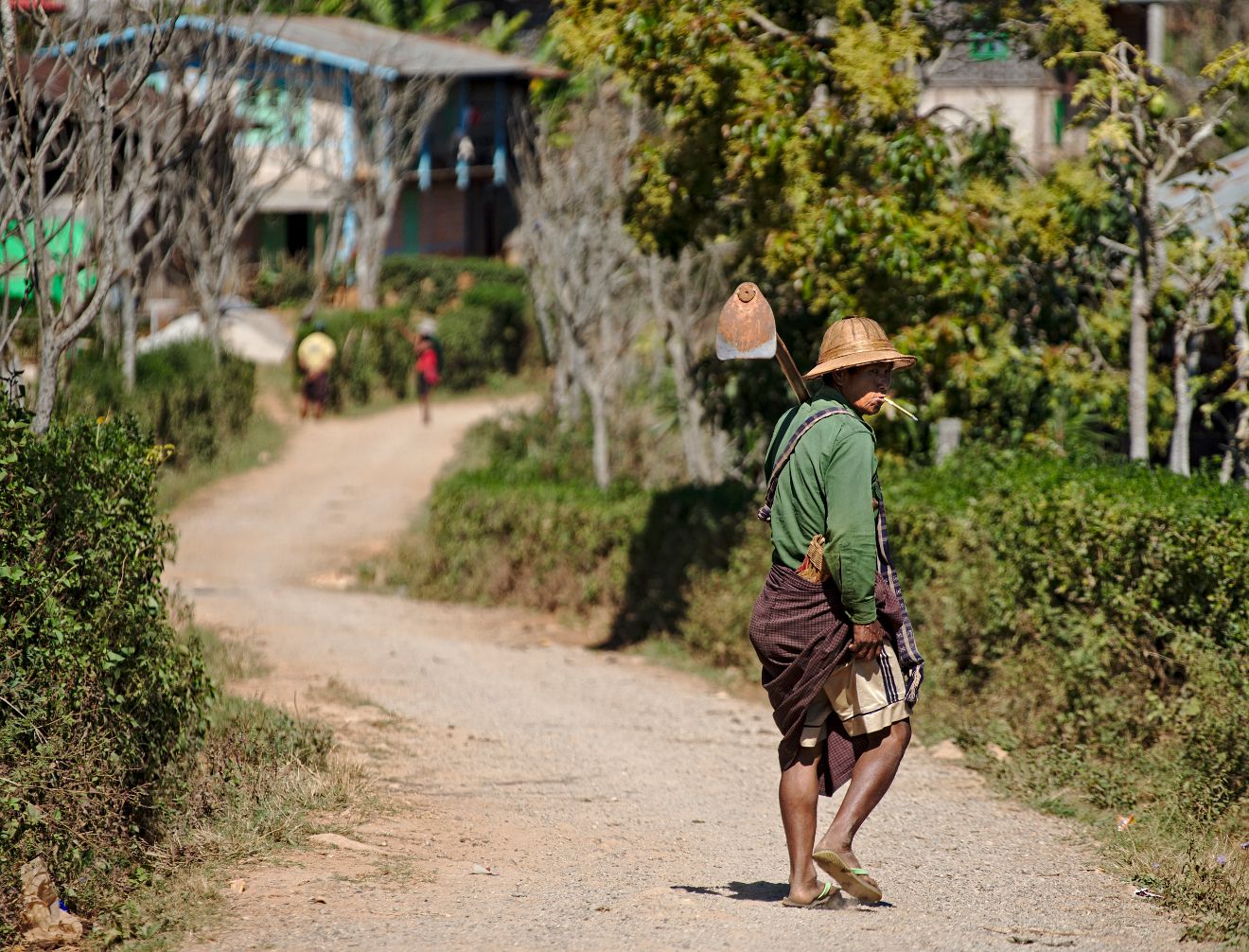 Fortunately for us, our stomach plays the game relatively well and the beautiful landscapes make us forget our condition a little.
After crossing the train tracks we pass through a first village called Lu Pyin. This village is home of the Dahu ethnic group. At lunch, we took a break in another village called Shar Pin and which is home to the Pao ethnic group.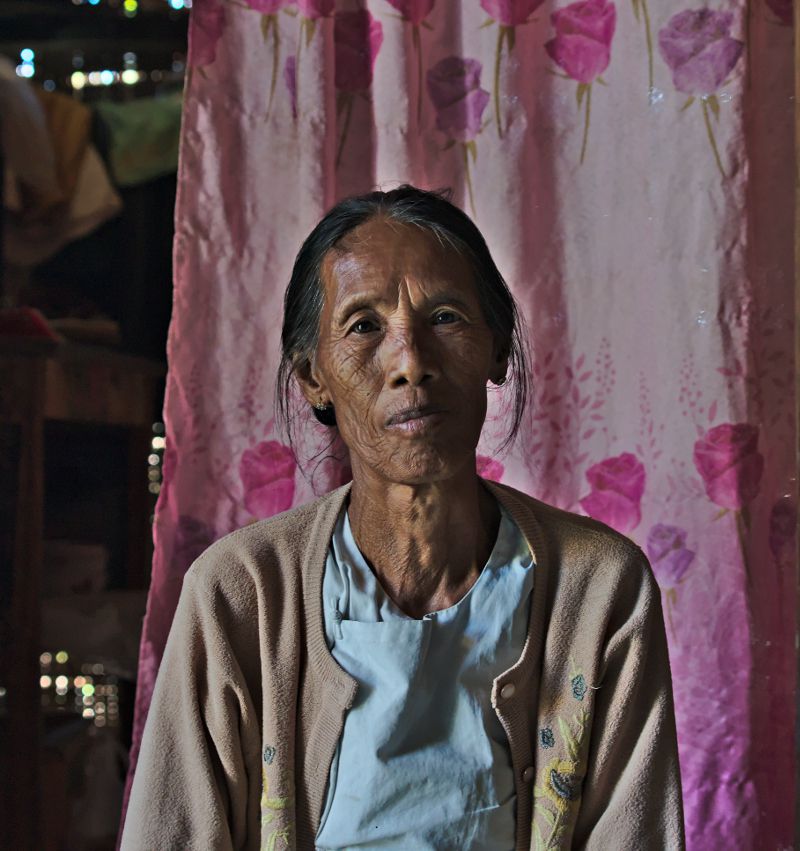 For this first meal we were welcomed by a family and as soon as we arrived in the village we saw an old man walking bent in two and following us.
A surprise guest at the meal
Barely settled in our host family's little bamboo house for lunch, this old gentleman comes through the door and sits down with us and starts the conversation in English.
Then our guide will explain that this gentleman, who must be slowly but surely approaching 80 years old, originally comes from a whole different region of Myanmar. No one really knows how or why he ended up in this village about 40 years ago, but in any case he stayed there, married a woman from the village and never returned home.
No one really knows where he got his English from either… When we asked him he just smiled and said "school", but that's probably not the whole story 😉
But apparently this charming gentleman likes to practice Shakespeare's language and almost systematically joins hikers to talk a little bit about Europe but also to tell about his travels in Myanmar in his early years! Because certainly this gentleman has not left this small village very often in the last few decades, but according to his stories, he seems to have travelled well in the past….
Afternoon in the chilli fields – Kalaw Trekking
Around 2pm we set off again through the fields of chilli, ginger and avocado. During this afternoon we did not meet any other group of hikers, our only meetings were the villagers who were busy in the fields harvesting chilis but also working the land with buffaloes.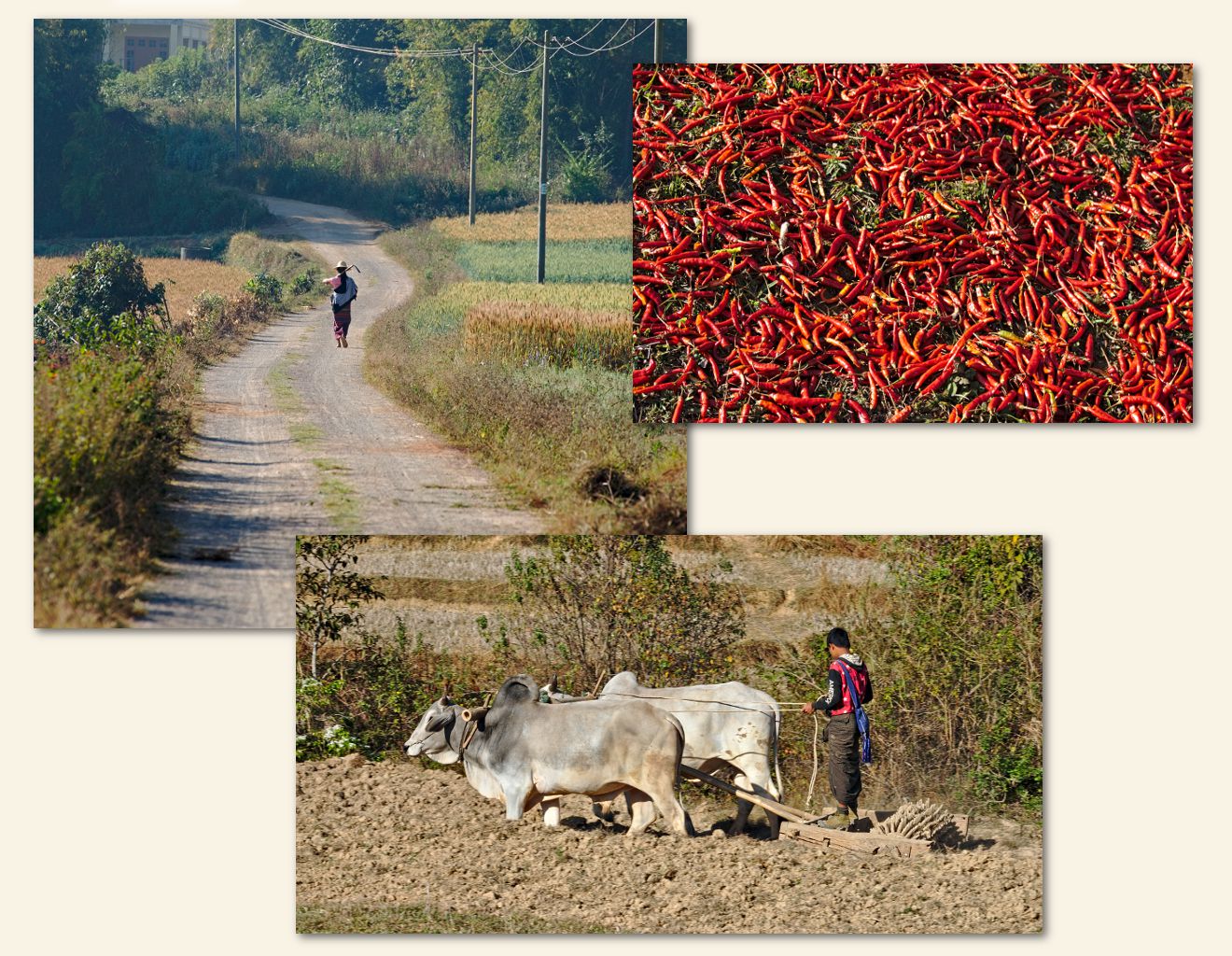 With our relatively slow pace, it was exactly at sunset that we finally reached our village, La Mine, for the night.
Here we are welcomed in a beautiful solid house with of course a small toilet located in the garden and a concrete basin outside that acts as a water tank for the shower, a sink for washing dishes but also as a drinking place for the oxen 😉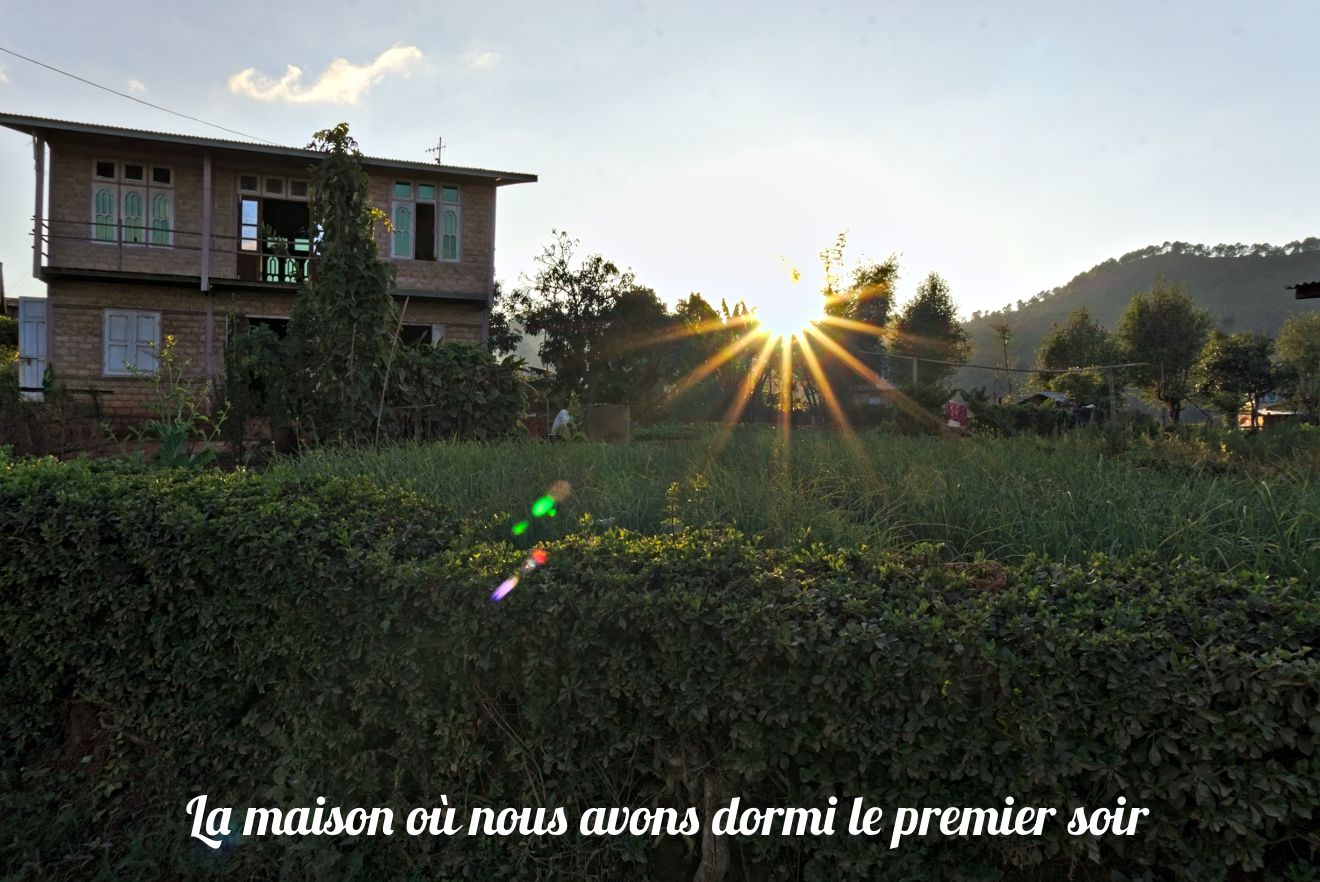 After a delicious meal we didn't last long… It must have been barely 8:30 p.m. when we literally collapsed on our little foam mattresses placed on the floor… The moment of the long-awaited rest was finally here!
Day 2: From The Mine to Pak Tue Puak
There's nothing like 11 hours of sleep to get you back on your feet! That morning we are in much better shape! Our appetite is still not there despite the absolutely incredible dishes served by our chef Jo. But let's just say that we are starting to regain some kind of energy!
This second morning will probably have been my favorite part of this trek! We are making good progress in this beautiful hilly landscape by alternating between the chili fields that have not yet been harvested and the areas where the harvest has already been made and where the chilis are placed on the ground to be dried in the sun!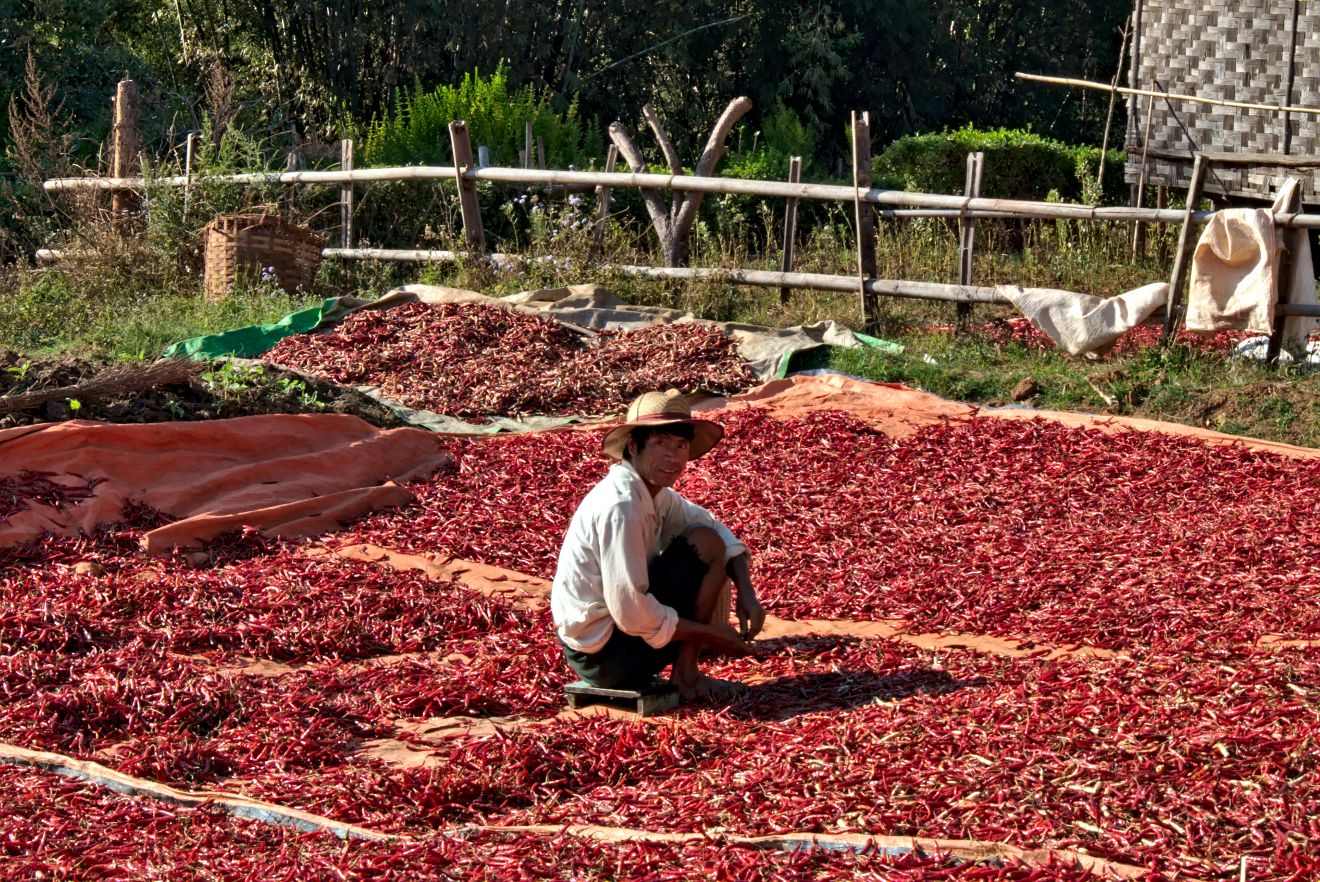 That morning we had been gone for 24 hours and we were already thinking that this trek was not so touristy in the end! Well yes, except for 3 other hikers we met in the village where we spent the first night we hadn't crossed paths with other tourists yet!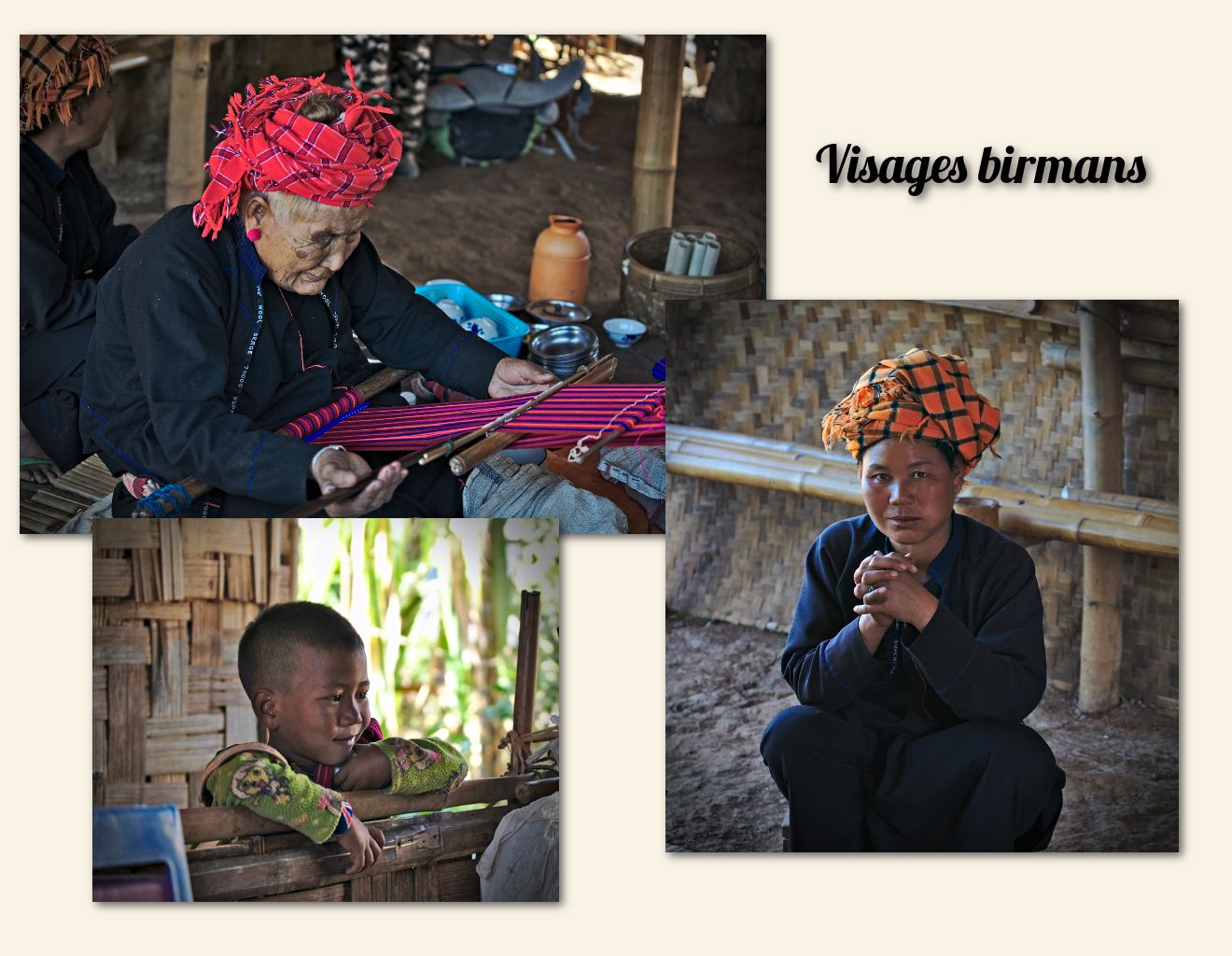 So the explanation simply lies in the fact that the further away from Inle Lake you are, the more possibilities there are for variations in the routes… And our guide had planned a route that was cleary out of the "classic path".
Back on the so-called classic trekking trail
however, from the lunch break on we were back on the path used by the majority of hikers, and indeed this changes the game!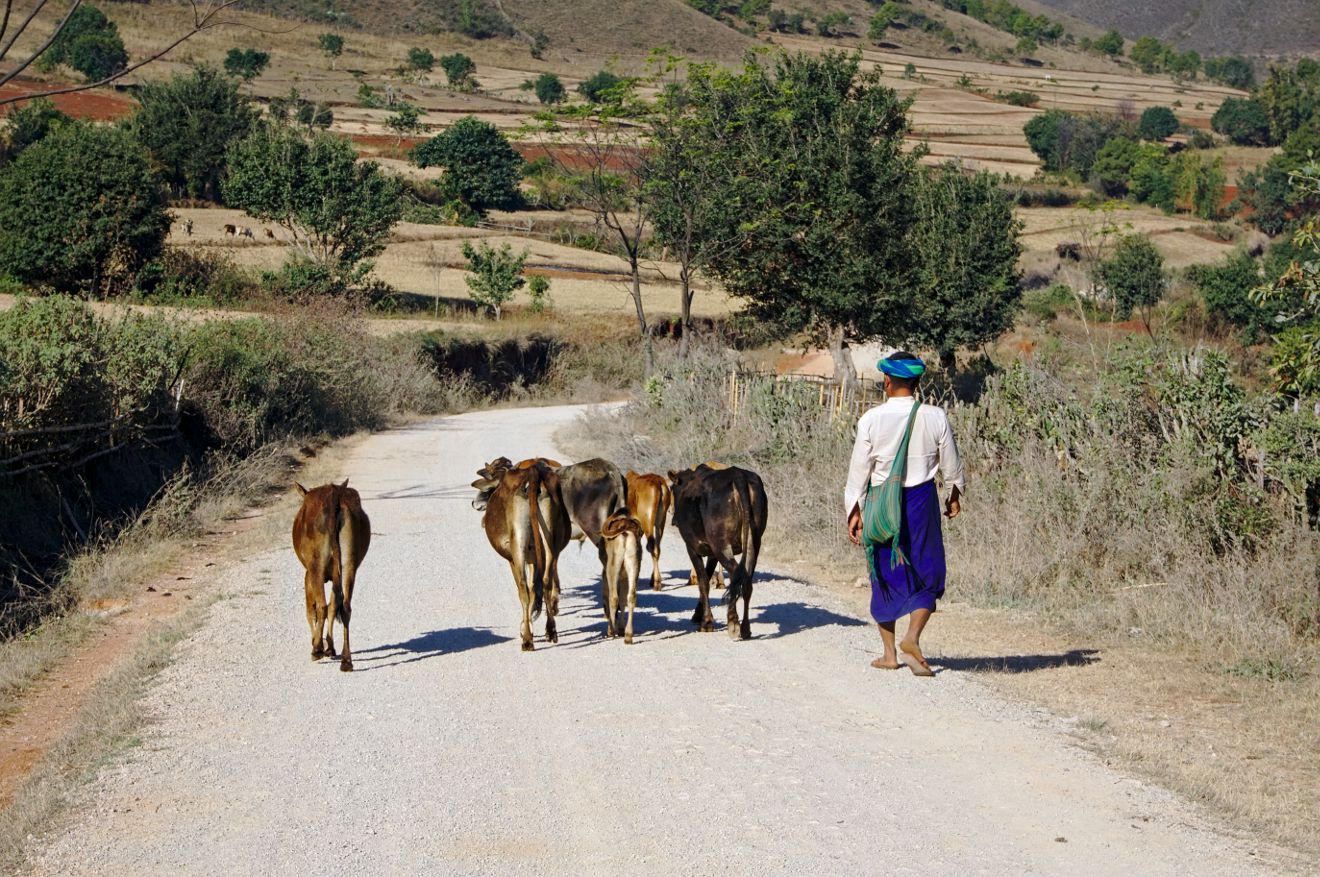 Gone are the days of feeling alone in the Burmese countryside, we are now in the company of 5-6 other groups with whom we continue to overtake each other.
Our guide is adorable and tries to take breaks when he sees that groups are at a standstill further away or to accelerate the pace when he feels that those behind us are catching up, but well it's not quite the same anymore…
But fortunately the landscapes are still as sublime as ever and we enjoy taking pictures in this postcard-like setting!
In the late afternoon we reach the village where most hikers spend their last night before the lake. There are easily a hundred of us in the village, I would say!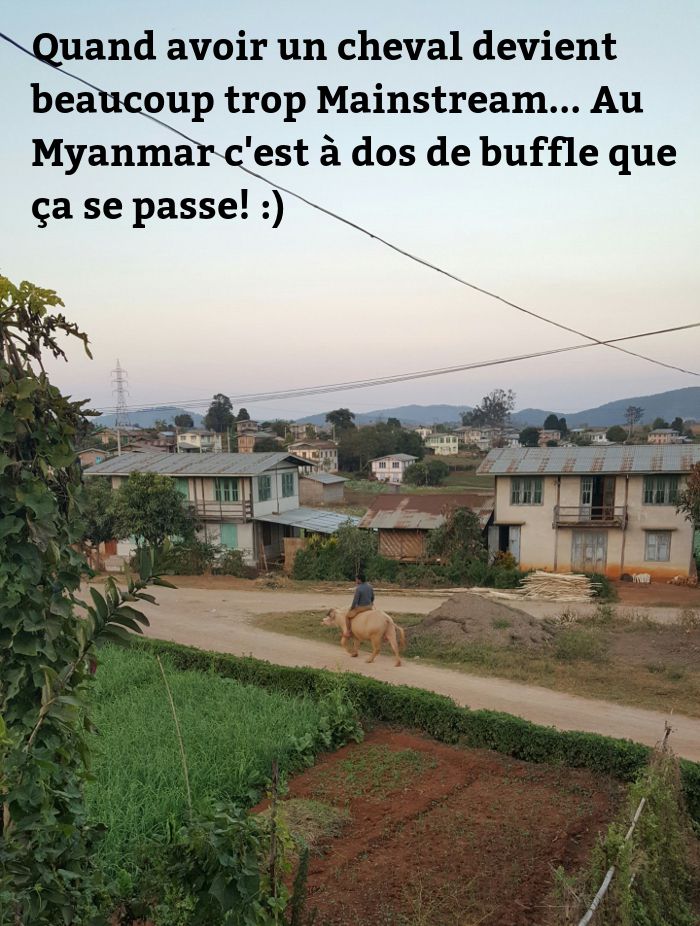 A tourist village certainly, but really authentic
However, what we have really appreciated is that for the moment this enthusiasm of foreigners for the area does not yet seem to have disrupted the daily lives of the villagers. Despite the fairly large number of travellers, there is no souvenir shop in this village, only a bar that serves cold beer and much too expensive coke, but that's all! No scarves and magnets vendors, the villagers continue to work their land and take care of their animals as if we were not there! And that's good to see! We still remember our trek in the Sapa region of Vietnam, where tourism has totally transformed the habits of the locals and we sometimes had the impression of being at Disneyland.
Before the meal Mr Aung, our guide, invites us to take us to a small sunset spot located about fifteen minutes walk from our house… With Benoit we look at each other and hesitate briefly. We're both totally exhausted! But we didn't hesitate too long because after all, we won't be around again any time soon!
In short, after a 15-minute climb, we reach the top of the small hill that dominates the village and enjoy the last rays of the sun on the rice fields.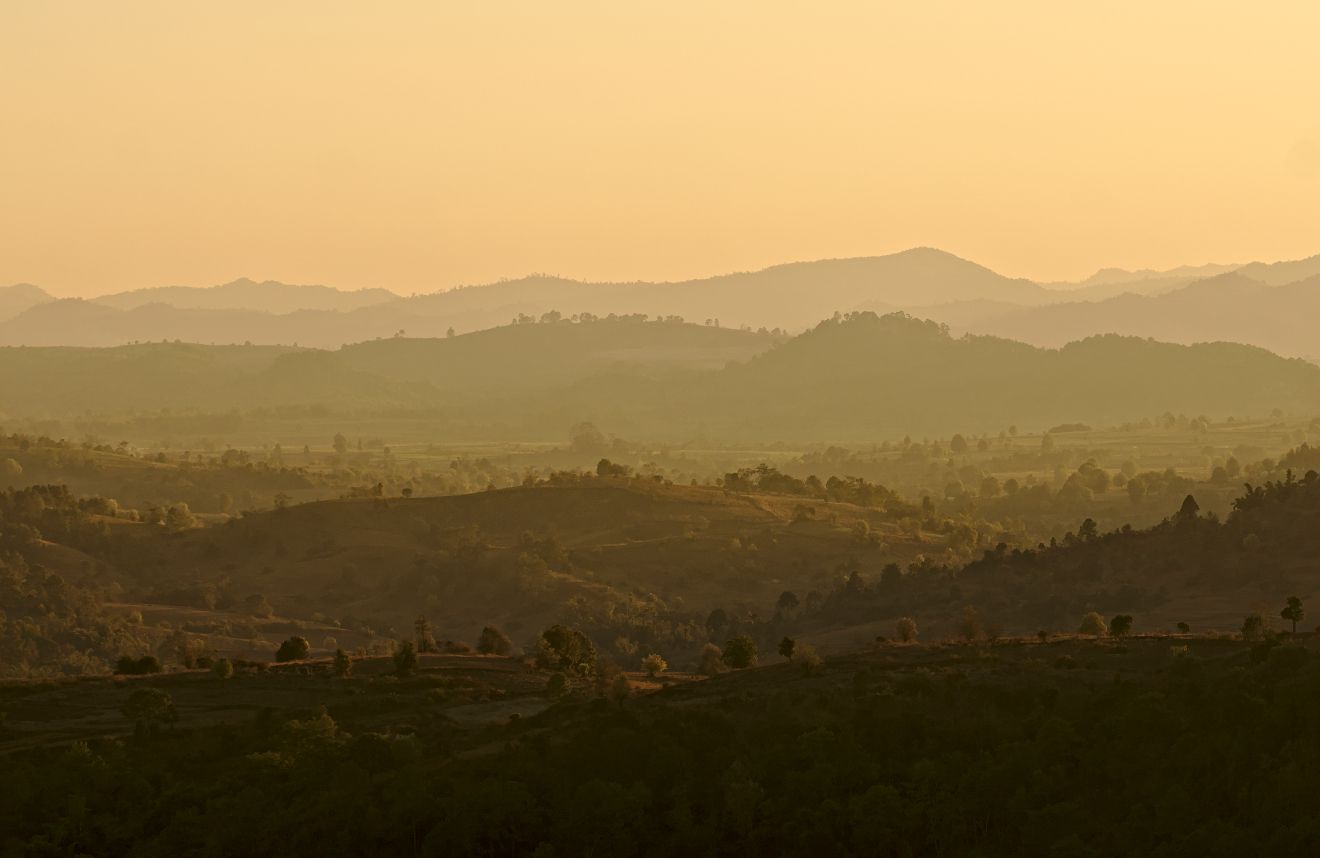 Day 3: Heading for Inle Lake!
In order to avoid walking with all the other travellers who spent the night in the same village as us, our guide suggested that we set the alarm clock early (understand 6am) in order to set off for 7am sharp! I think this proposal was the best idea of the century!
Already the day started well when we were spoiled with pancakes for breakfast (yes yes, It doesn't take a lot to make me happy). Then, I started to understant better why some people enjoy waking up super early every morning (this is by far not my case usually)… The sun was rising while we were walking in the fields.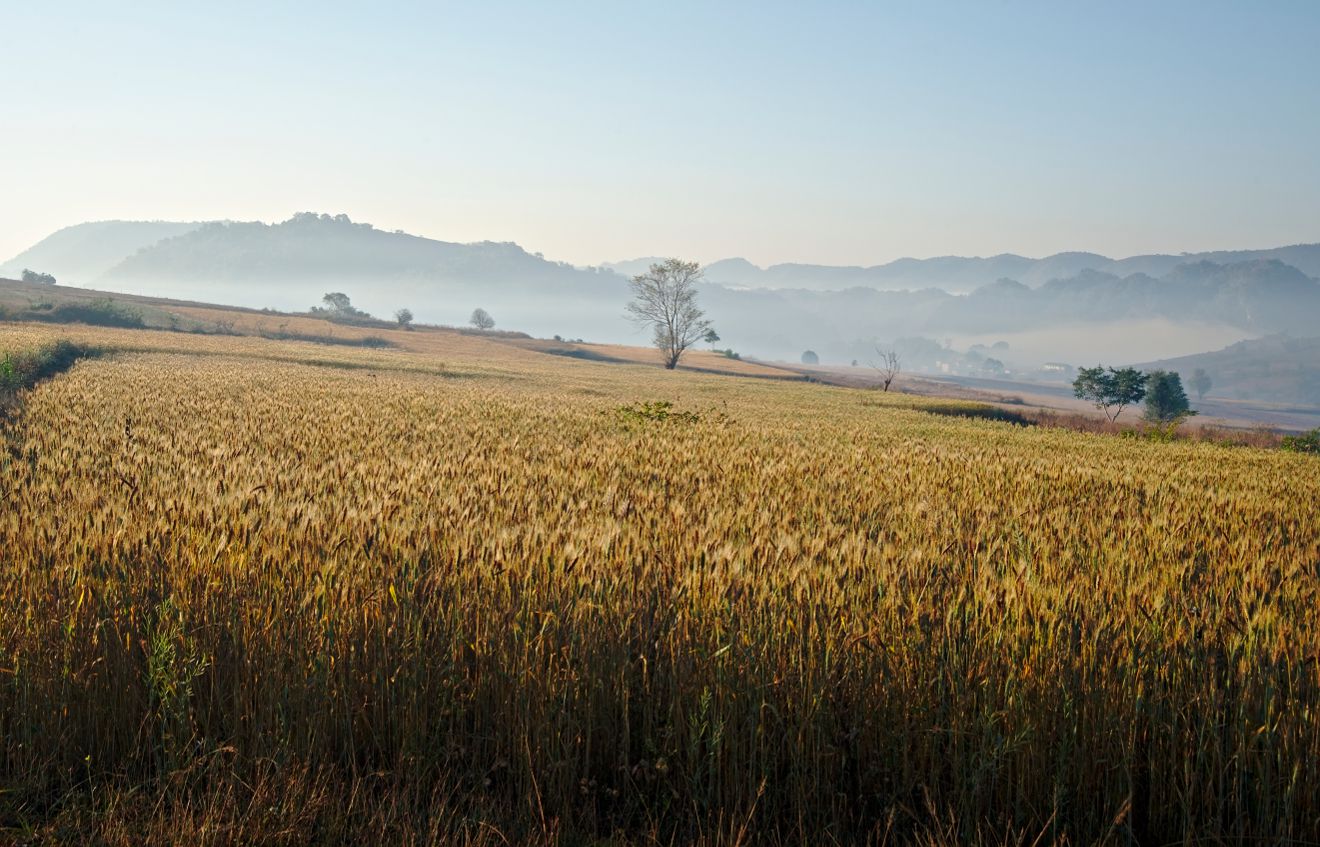 As we moved forward in the fields, the mist gradually dissipated…. Honestly, it was just a sublime atmosphere! Needless to say, at this time of day we were the only ones on the trails… In a good hour of gentle climbing we finally reached the checkpoint where we were asked to pay an entrance fee of 13,500 Kyaths per person to the Inlé Lake area!
Yes yes, the lake area is indeed subject to a fee taken by the Burmese government… well, $10 is not that much, although I must admit that I would have preferred to know that this money goes to the locals instead of the government…
Descent towards Inle Lake
The rest of the morning I found it damn less exciting. We started by following a dirt road for a few kilometers before starting our descent towards the lake. Here the landscapes were clearly suffering from drought! The ground was all cracked and vegetation was becoming increasingly rare except for a few cacti. Gone are the beautiful plantations and orchards as far as the eye can see, here the crops give way to absolute drought!
After 2h30 of descent we finally reached the small village of Ton Le from where we took a boat to Nyaung Shwe.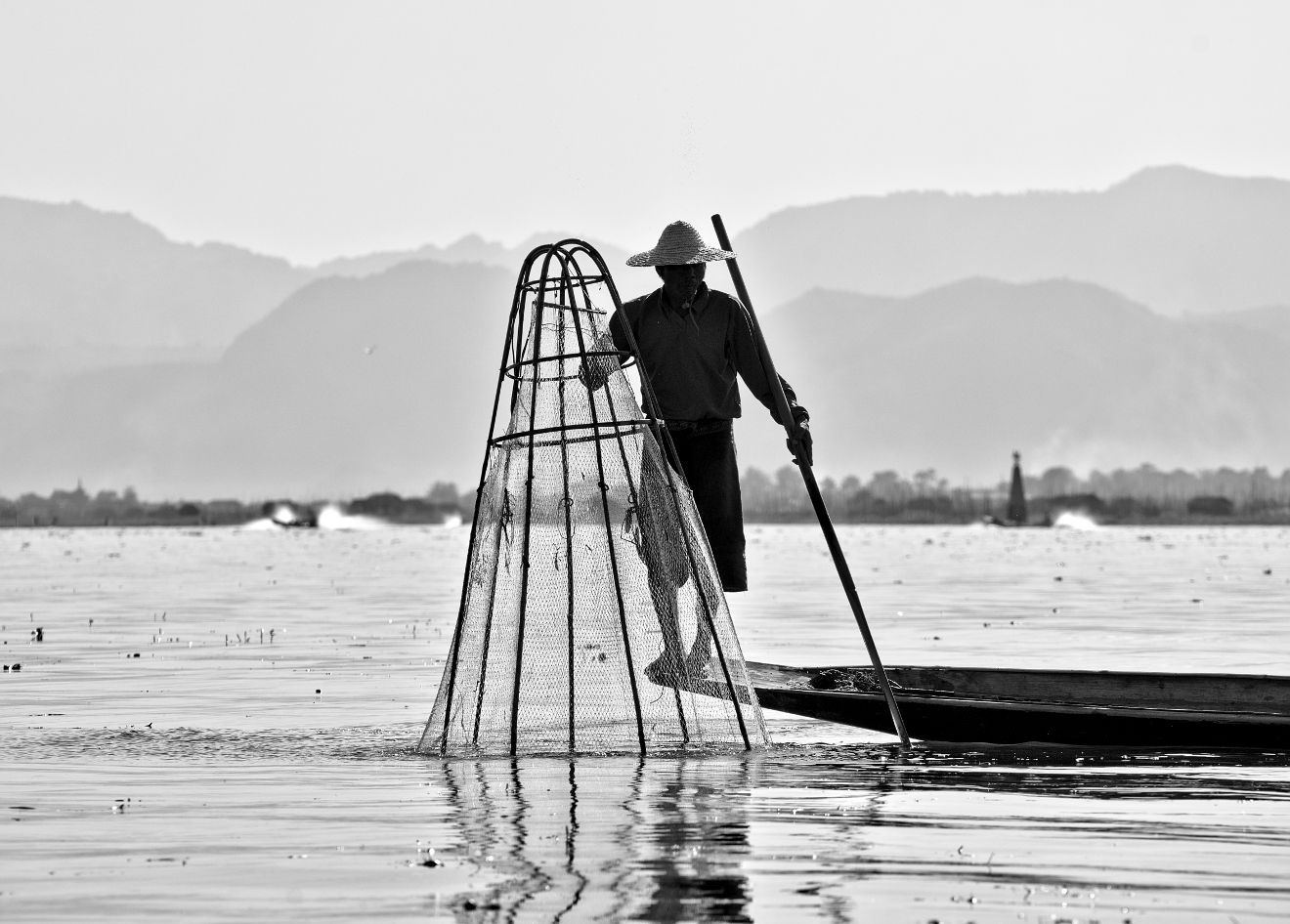 A first contact with Lake Inle all in splendour! Our "captain" of the day was awesome! Our guide had told him that we were not particularly interested inseeing giraffe women or fake fishermen from Inle Lake who pretend to fish in front of the crowds for a few dollars.
Inle Lake Fishermen
As a result, he took us to the middle of the lake, a place where "real" fishermen are still at work. So certainly their outfit is not as photogenic as those of the fishermen who pose. They mostly don't have this huge basket that is often seen as typical of Inle Lake, but on the other hand they didn't give a damn whether we were there or not. They were doing their job and at the same time giving us a chance to take a closer look at their really impressive fishing techniques (we will come back to this in a future article).

A short hour by boat later we arrived at Nyaung Shwe! Covered in dust, out of strength and in search of a guesthouse….
Infos
Duration of the Kalaw Inle Trek: Typically this trek is done in 3 days and 2 nights (there is however a shortened version of the itinerary which is done in 2 days / 1 night)
Price : Depends on the size of the group, more details on this subject below in the article
Distance : In all the trek is about 65km long.
Difficulty : In itself nothing very difficult, you just need to be able to walk 6-7 hours a day. The elevation changes are small so no problem at this level. We walked roughly 24km on days 1 and 2, then 18km on the last day.
Assessment of the Kalaw-Inle trek, so we recommend it?
For us the results of the trekking are really positive, we really appreciated the landscapes and the encounters made on the way as well as the great contact we had with our guide! Moreover, if you want to organize your trek with him, all the information is at the end of the article!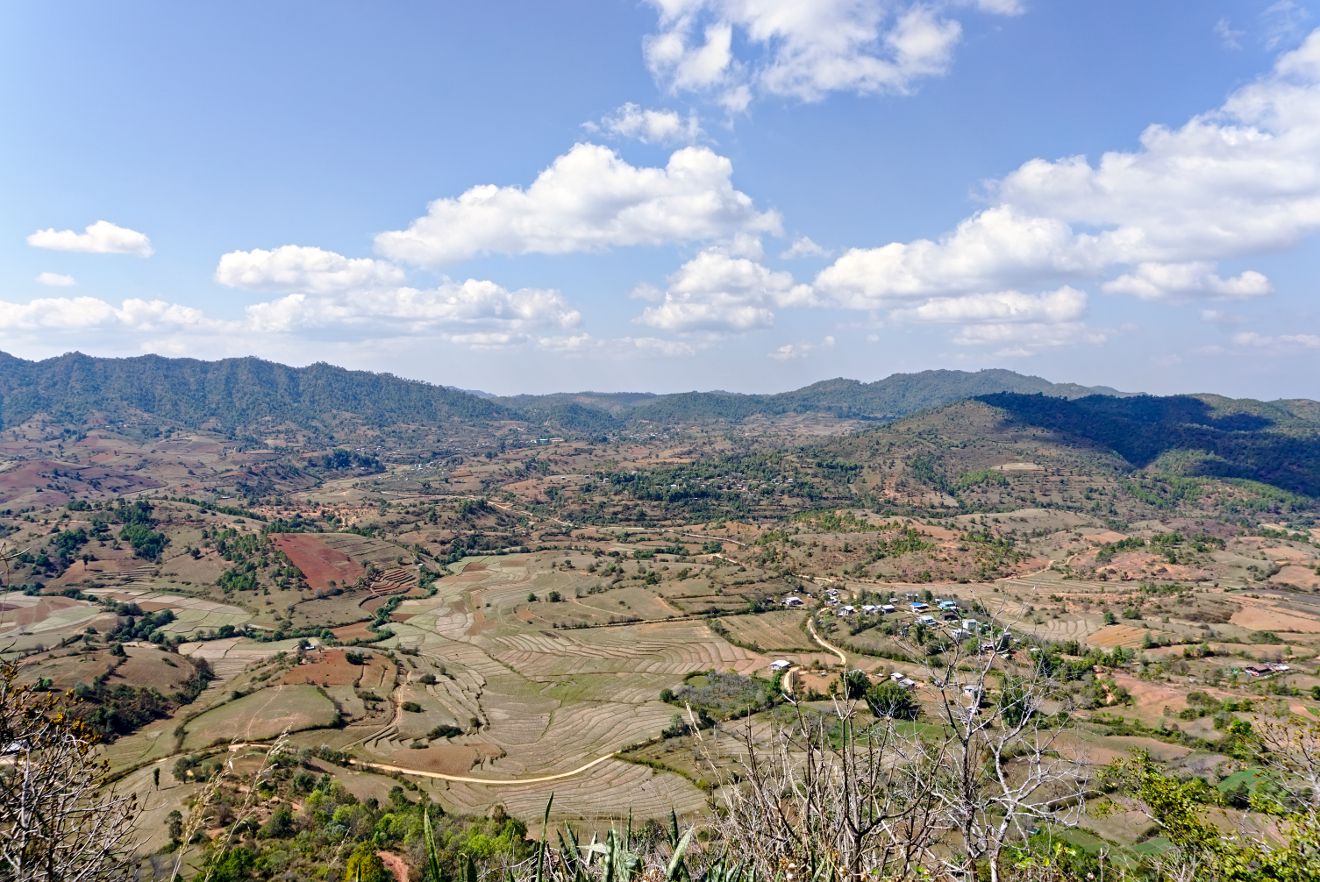 Then we don't hide from you that this trek is very touristic and that it is better to be aware of a few things before leaving. Here is our little assessment:
The positive points of the trek:
The first day and a half we felt like we were alone in the world with our guide!
We cross absolutely sublime landscapes and we have the chance to see how people work in the fields and live in the villages.
It's certainly touristic, but we really appreciated not meeting dozens of souvenir sellers on the way! Even in the last village where we slept there was not a single souvenir stand, we are far from the feeling of being seen as ATM machines as it was the case during the Sapa trek.
The meals during the trek were absolutely delicious! Our completely messed-up stomachs did not allow us to properly honor the dishes prepared by our cook, but during the whole trek we were really spoiled with what we got on our table!
We were lucky to have a great guide who knew Myanmar, its ethnic groups and cultures like the back of his hand! Thanks to Mr. Aung, we have learned a lot!
Ending the trek with a boat trip across the lake is a great way to get to this incredible place! We really enjoyed this boat ride!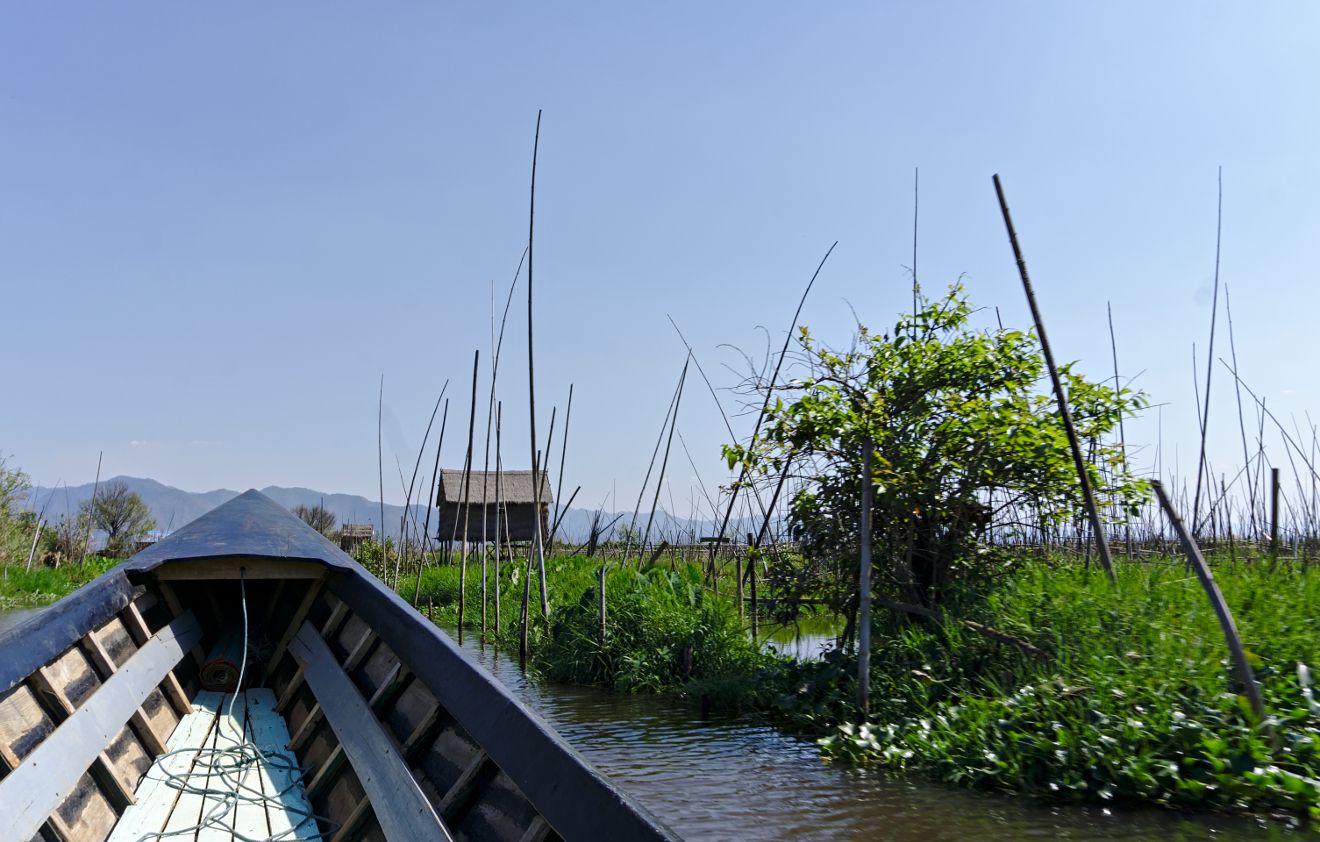 The points that we see as rather negative:
The trek is very touristic…. Tell yourself that in high season there are between 150 and 200 people leaving every day! So even if agencies promise to take an "alternative" route, make sure you know that you will inevitably meet other groups of trekkers!
Nights in the homestays are not "really" at people's home…. In fact, the families who host the trekkers dedicate a space in their house to travellers, so we eat and sleep in a private space. We found it a little sad not to share meals with the families or our guides as it had been the case during our trek in the Babe Lake area in Vietnam.
The locals see a lot of people marching past their doors every day. Even if we had some nice encounters we also often had the impression that people were a little fed up that trekkers passing through took pictures of their daily lives (which is quite understandable!)
Organize your trek between Kalaw and Inle: Budget and practical information
Budget: How much does the Kalaw trek cost at Inle Lake?
I guess you can imagine, there are almost as many prices as trekking agencies, but roughly speaking, there are still some reference figures we can rely on:
40'000-45'000 Kyaths per person or roughly 32€, this is the minimum price for the 3-day and 2-night trek from Kalaw to Inle. This price is the one offered by many of the agencies in Kalaw and you will have no trouble booking this trek at this price at the last minute when you arrive.
This price includes: the guide, all meals, accommodation with a local family for 2 nights as well as the boat to cross the lake at the end of the trek.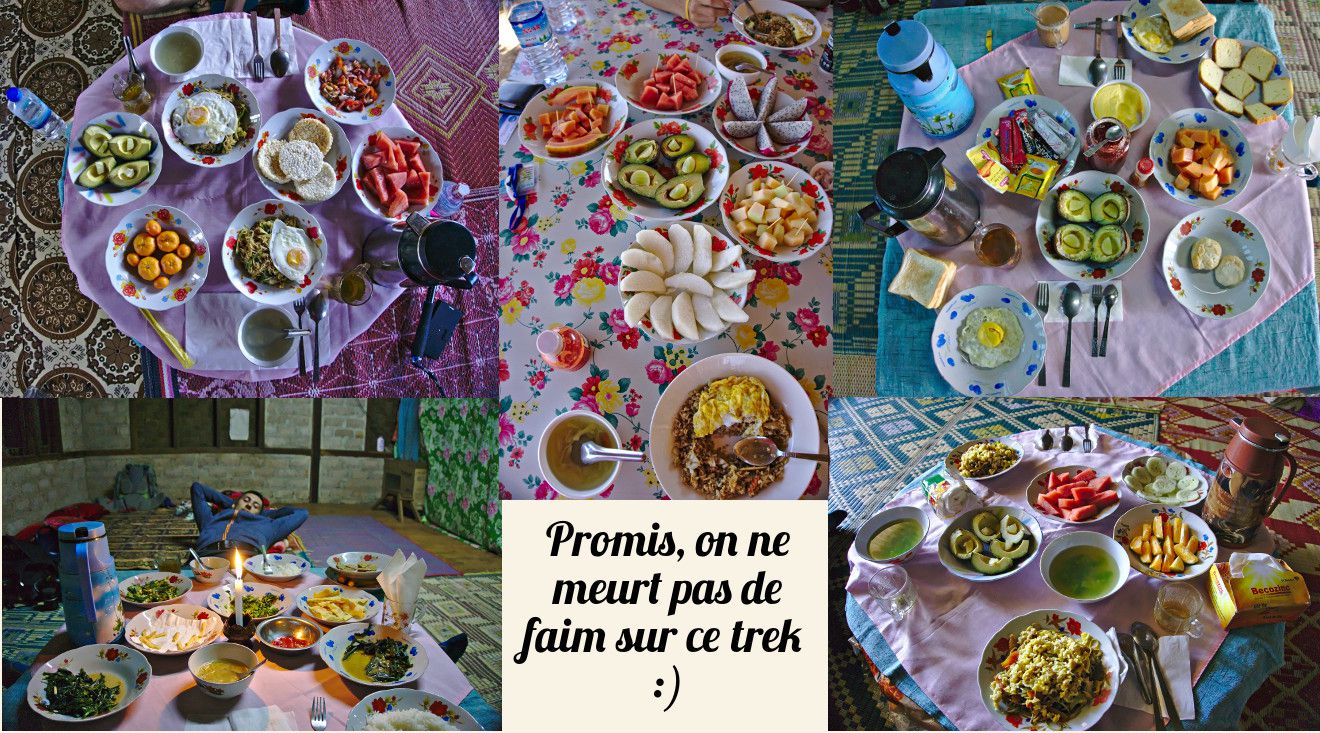 The price does not include: water (count less than one euro per day when buying your bottles in the villages) as well as the entrance to the territory of Lake Inle. This entry costs US$10 (or 13,500 Kyaths at the current exchange rate) and is a tax levied by the government.
Attention: At this price you will do the trek in a group. The size of the groups varies but it is generally between 6 and 8 people.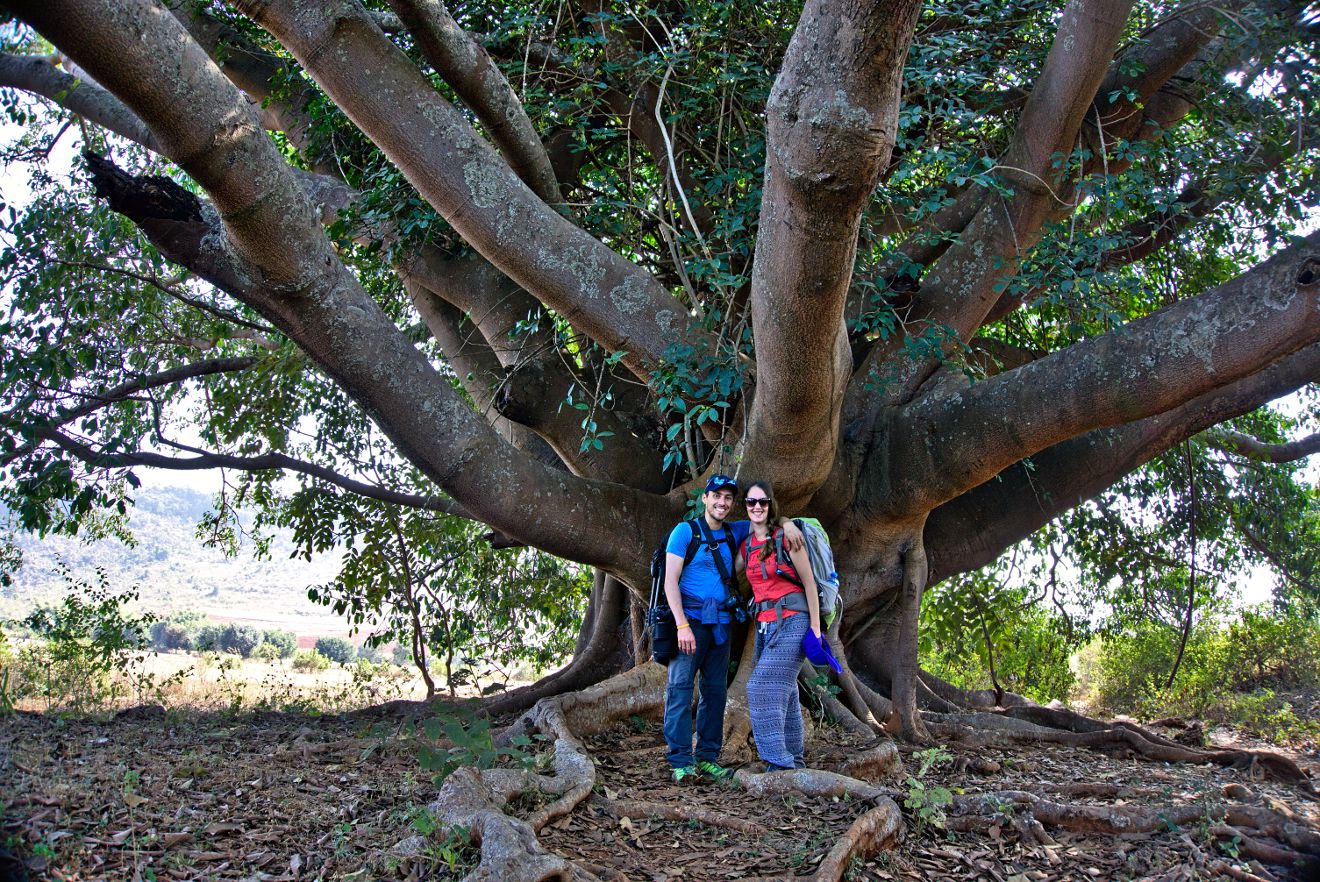 Private trek between Kalaw and Inle, why?
For our part, we have chosen to pay 100,000 Kyaths per person for the above-mentioned services. Not that it is our practice to pay more than twice as much, but we thought about it and chose this option for several reasons:
We have already done some group treks. Sometimes the groups were great as during our trek in Sapa, but sometimes… well it's 72 hours in the company of grumblers, bad walkers or simply people with whom you don't get along very well..
During this trip to Myanmar we try to spend our money as much as possible in a "responsible" way, understand that we try as much as possible to avoid big agencies, tour operators and try to favour local businesses where we have the impression that the money goes directly to the locals and not to the government…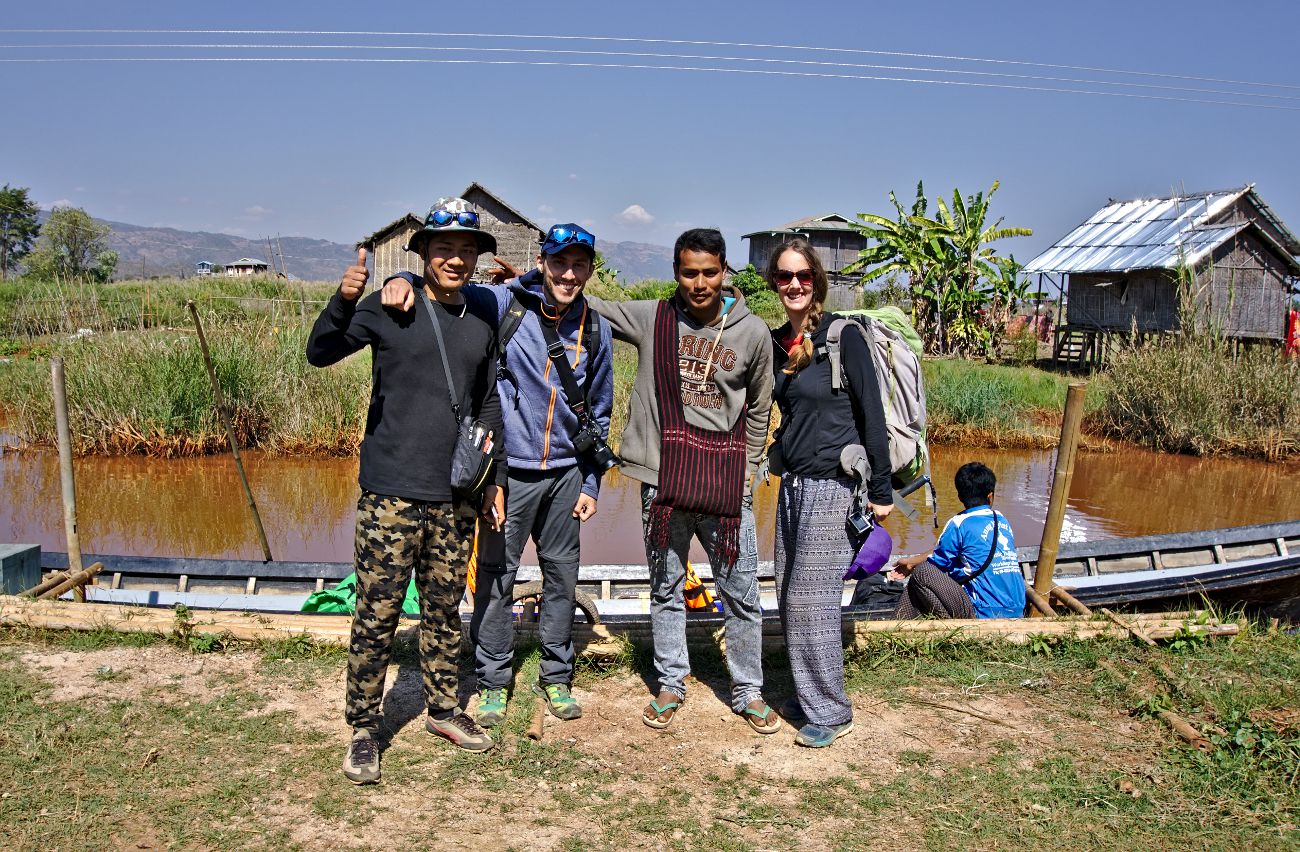 Because 100'000 Kyaths is more than double the "regular price" but it remains less than 70€ for 2 breakfasts, 3 lunches, 2 dinners, 2 nights, a boat trip of more than an hour, and 3 days with a private guide…
What to bring on the trek?
As little as possible 😉 haha
This trek is really well organized and you won't need much… Here is a short list of what we still recommend you bring with you:
A down jacket or a jacket: in the evening and early morning it gets cold!!!!! So plan to have something to put on your back once you get to the villages!
A headlamp: The toilets are always located in the garden and if you have a strong urge in the middle of the night you will be happy to have some light 😉
1 T-shirt, socks and spare underwear
Possibly a towel if you want to clean up a little when you arrive…. No shower as such, but in all families you will have a water tank at your disposal outside to refresh yourself a little! (And with a little luck, not a husband spying on you from the room on the first floor hahaha!)
1 litre of water per person at the start. Water is easily available in the villages we pass through, so there is no need to take more than that in the beginning!
A cap or hat and sunscreen are essential! The sun is really strong on this trek! Don't worry if you don't have any… we bought our beautiful hats at the Kalaw market for just 1€, it did the job very well;)
Good shoes! No need to bring mountain boots, but comfortable sneakers seem to us to be a minimum… We saw people in flip-flops, but personally I wouldn't have found it fun to do 65km wearing these!
Infos
Our guide, Mr. Aung, had been recommended to us by a couple of travellers we had met in Chiang Mai (Thank you Salome and Loïc if you read us!;)).
Official guide with a license, Mr. Aung does not work for an agency but offers his services directly and he is in charge of organizing the transport of luggage and hires a cook.
Contact him: To organize a trek with him the easiest way is to contact him directly by email: bonebone24@gmail.com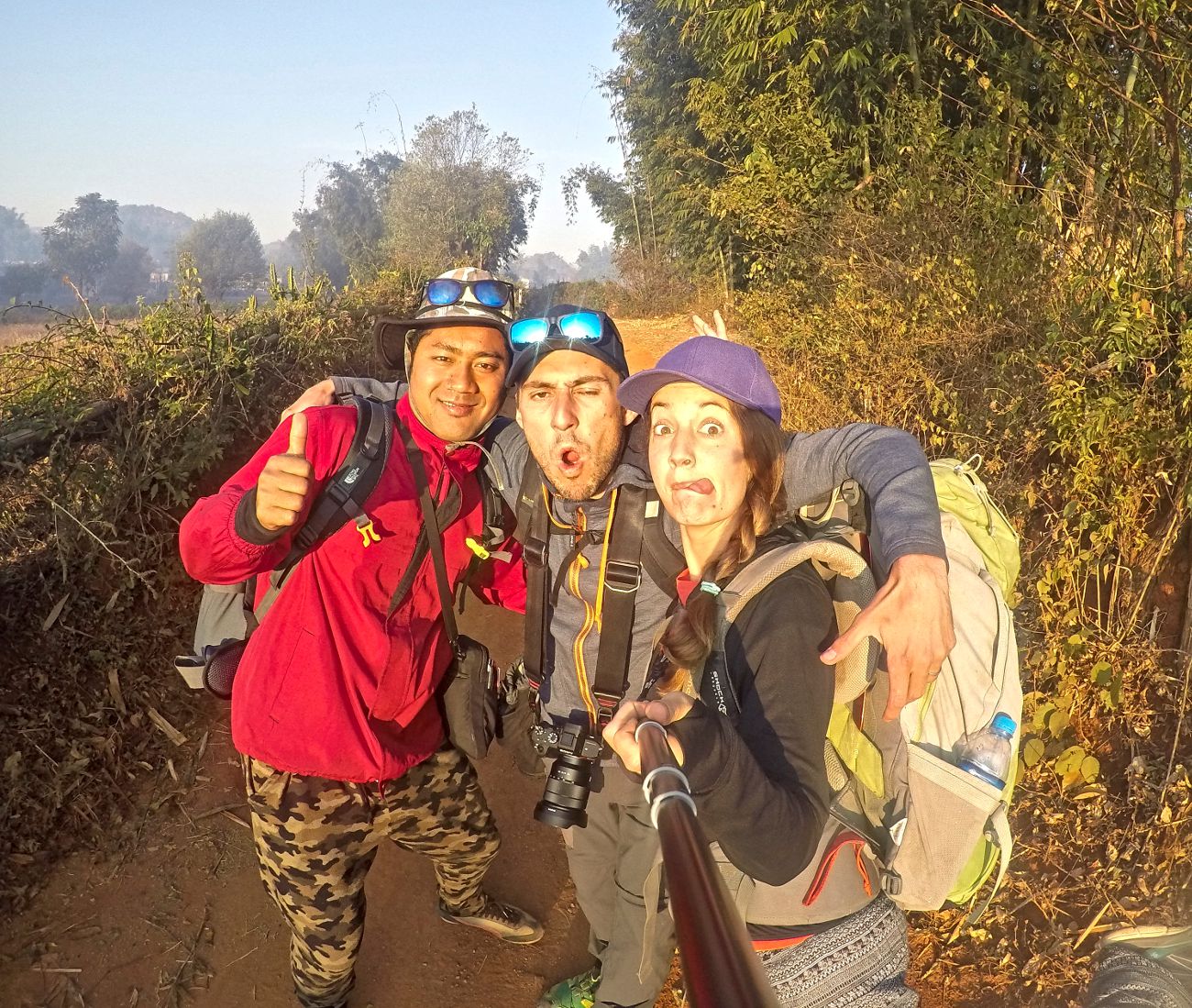 Now, this time you know everything about this magnificent trek! In the next article we will meet you at Inle Lake for an incredible bike ride along the lake and be careful… a tasting of Burmese wine! hahahaha