After a rather smooth start of our trip in Turkey with the visit of very beautiful (but quite busy) sites like Ephesus or Pamukkale, we thought it was time to put those legs to work and enjoy the weather in May (which is quite pleasant in Turkey 😉 ).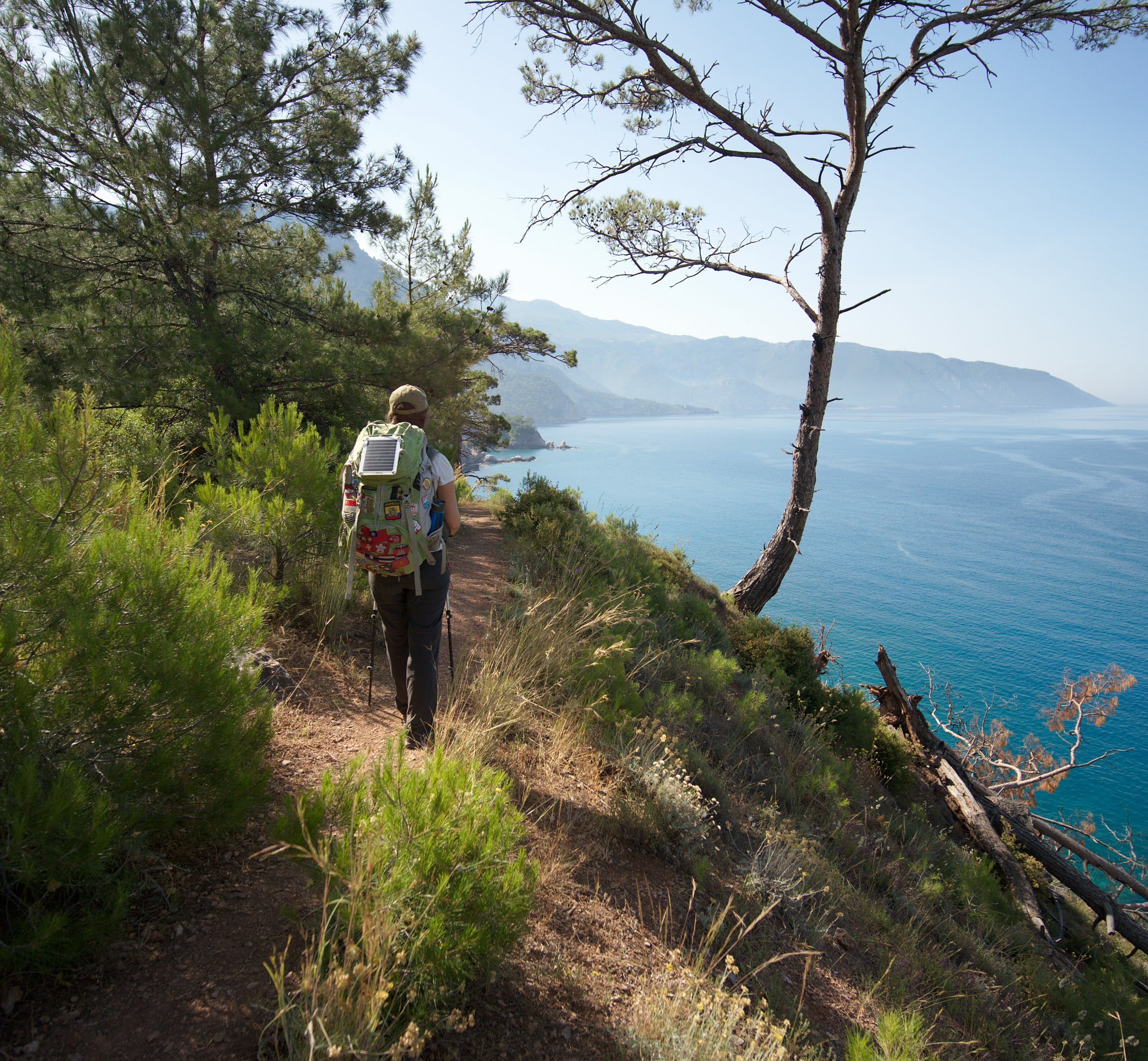 You may have noticed that if we often choose to walk for several days with our camping gear in our backpacks, it is because the slower pace of hiking allows us to take the time to enjoy the landscapes, meet people and get away from the crowds (and also to have a little break from our computers, which is not bad now and then). So it was with this desire to get lost in Turkey that we set out in search of a beautiful Turkish hike that we could do for about a week… and that's how we came across the Lycian way.
It is by doing some research on the net that we came across this website which lists about 20 long distance hikes in Turkey. As we were in the southwest of the country, the Lycian way immediately caught our attention (especially since it is often mentioned as one of the most beautiful long-distance treks in the world…. just that!)
What's the lycian way?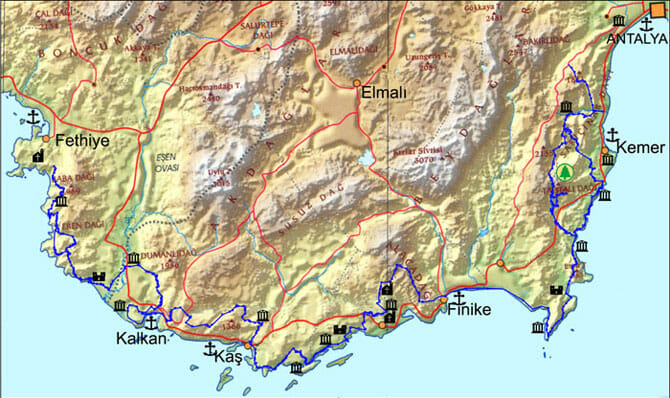 It is a hiking itinerary that covers more than 400 km between Fethiye and Antalya in southwest Turkey. This trek is a rather unique combination of Mediterranean landscapes along the turquoise coast, fairly mountainous passages, paradisiac beaches and above all ancient Lycian ruins that date back more than 2000 years. This route (the 1st of its kind in Turkey) is the work of Kate Clow, an English woman living in Antalya, passionate about hiking and history who was convinced that Turkey should have long-distance treks (whereas the Turks were not really known as great hikers).
Beaches, mountains, turquoise waters, ancient ruins… all this far from the crowds. That was all it took to convince us to hike a part of the Lycian way. So we decided to leave from the small seaside town of Fethiye and hike for about a week (there are still other places we would like to see in Turkey… so if we hike a months… ).
As you will see below, the Lycian Way did not disappoint us, far from it!
By the way, if you already want a little preview in pictures before the practical infos, Fabienne has made you a little video of our 6 days on the Lycian way (sorry about the french 😉 … if you insist we might add some subtitles) :
Get ready for the lycian way: useful infos
Obviously, before starting a hike of several days in a country you don't know and whose language you don't speak, you have to prepare yourself a minimum. But don't worry, this trek doesn't really require any special preparation and there are very complete resources on the web to help you.
Itinerary and map of the lycian way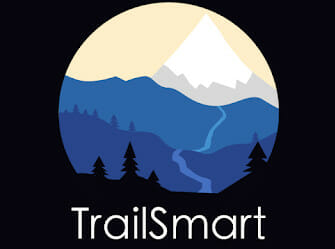 It's simple, to avoid getting lost on the Lycian way you only need one app on your smartphone called TrailSmart (see on google play and itunes store). I didn't know this app yet but even if it's a bit hard to start with, it was a great help on the lycian way! (and it is free)
Here is how it works:
Dashboard: when you open the app, you get to the dashboard tab. It is in this tab that you will be able to choose several important things:

Current Dataset: In our case, we obviously use the Lycian Way dataset but there are also other treks available (including one in Cappadocia that we will certainly test).
Active Route: Each dataset has several routes. For example, we didn't want to do the entire lycian route so we chose the road from Fethiye to Kas as our base.
Offline Map: You have the possibility to buy the trek databsets to have an offline access (in the map tab especially). We bought the Dataset of the Lycian way but honestly we could have done without it because we had almost always 4G (obviously it will depend on your phone subscription).

Trail: Tab that gives you written information about the active stage. This tab is updated according to your gps position as you progress. You will find information about the route but also a lot of interesting information about the places you visit, accommodation, bivouac spots, water points etc…
Map: Certainly the tab you will use the most since it displays the gps trace of the trek on the map. You will also find lots of pins with information on accommodation, villages, supermarkets, water points, bivouac spots and much more.
The dataset of the lycian way is very detailed and regularly updated. Frankly, with that in your pocket, you can't get lost.
In addition to TrailSmart we also used our beloved Maps.me because we sometimes find information on bivouac spots or viewpoints that are not on TrailSmart (see our bivouac spot on the 1st evening)

As a "simpler" alternative, we recommend you the excellent application AllTrails (the one we use daily for our hikes since 2019). You can also import our tracks and/or create your own super easily. To download our routes (more than 30 formats to choose from), you just need to create an account (free). To access them offline you can either upgrade to an AllTrails+ account (20€ per year via this link instead of 29,9€), or stay in free and export the tracks in KML format and import them into Maps.Me.
Infrastructures on the lycian way (accomodation, food, water)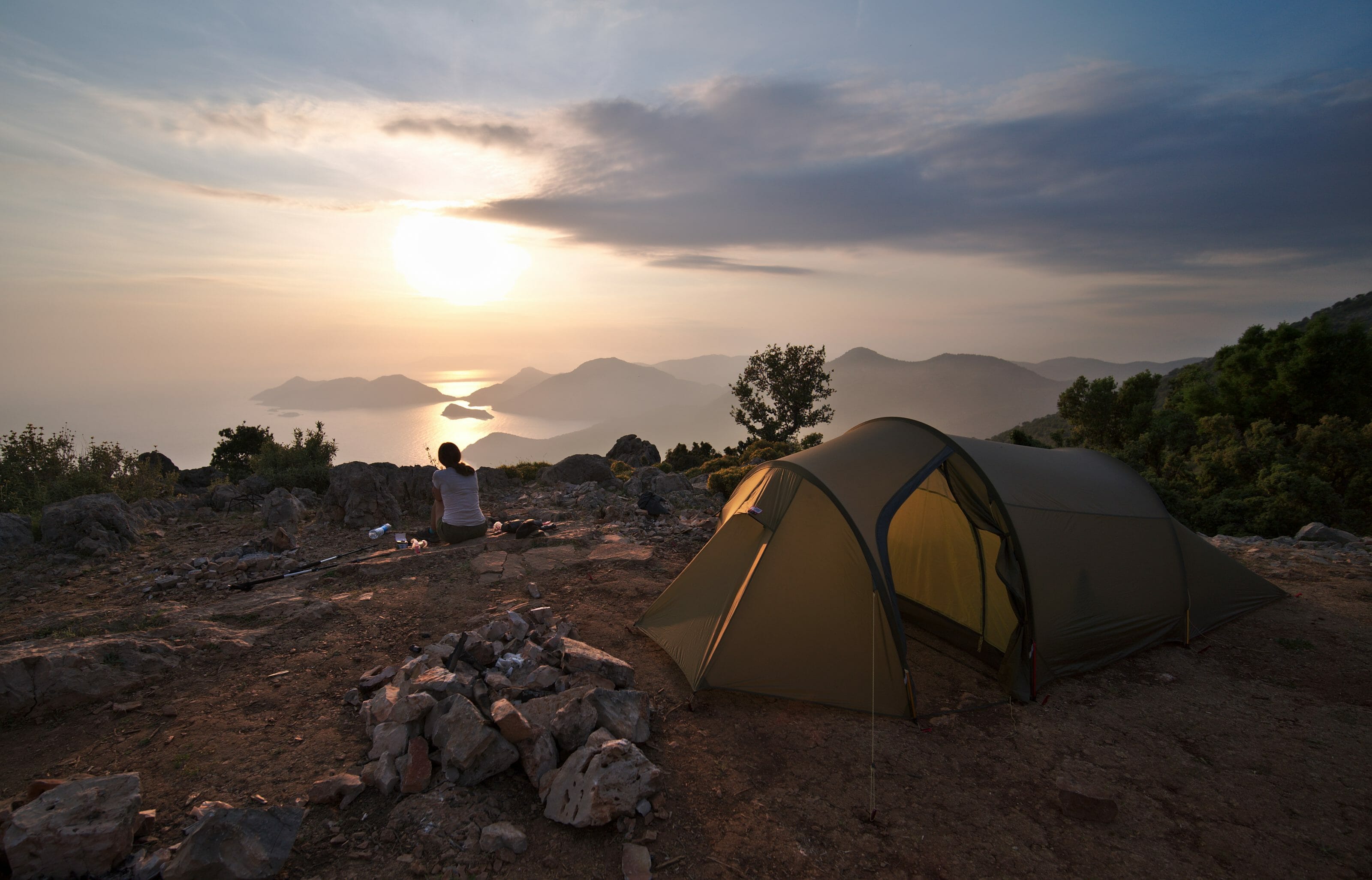 The lycian way can be done entirely without tents and by staying in village pensions on the way (TrailSmart information is very up-to-date for accommodations). On our side, we still prefer to have our camping gear with us. Honestly, the bivouac spots we saw on our way were quite nice (it would be a shame to miss this) and that it is also a way to be more independent and spend less money.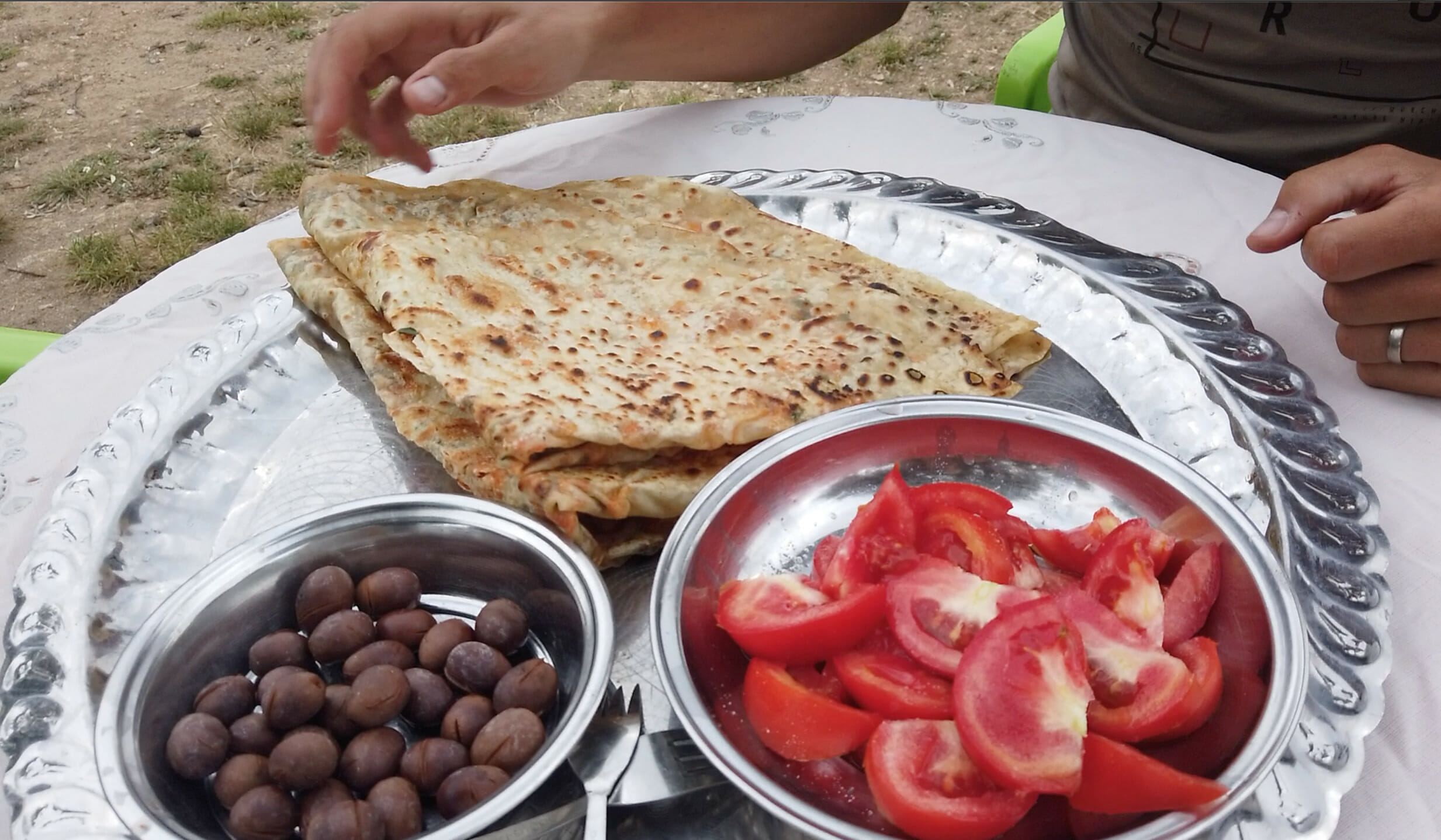 As for food, there is a lot of minimarket in the villages or even small restaurants. We had planned 4 meals with us and a lot of snacks (which also work as breakfast) and frankly we could have had less. My advice would be to always have at least 1 meal in the bag just in case but in general, you won't have any problem finding something to eat on the way. So it is not necessary to load yourself with too much food, especially since a meal does not cost much in Turkey (especially in the small villages of the Lycian way).
For water, always make sure you have a little more water than you think you need. It can be very hot on the Lycian way (in May for us it went up to almost 30 degrees) and there are practically no rivers. You can refuel in the villages at the shops or fountains indicated on TrailSmart. But if we knew that we wouldn't necessarily have a lot of water over a day (or that we were planning to bivouac), we were always careful and we carried up to 3 to 4 liters of water per person.
When is the best period for the lycian way?
The best months are probably spring (April-May) and autumn (September-October). In summer it is too hot to hike on the lycian way trails (already in May we suffered a lot from the heat) and in winter there can be snow on several sections of the trek (there are passages at more than 1500m altitude – not the section we did, but further away).
As for the weather, the sun is strong and it rains very little in the region. You will enjoy the shade of pines or olive trees believe me.
Gear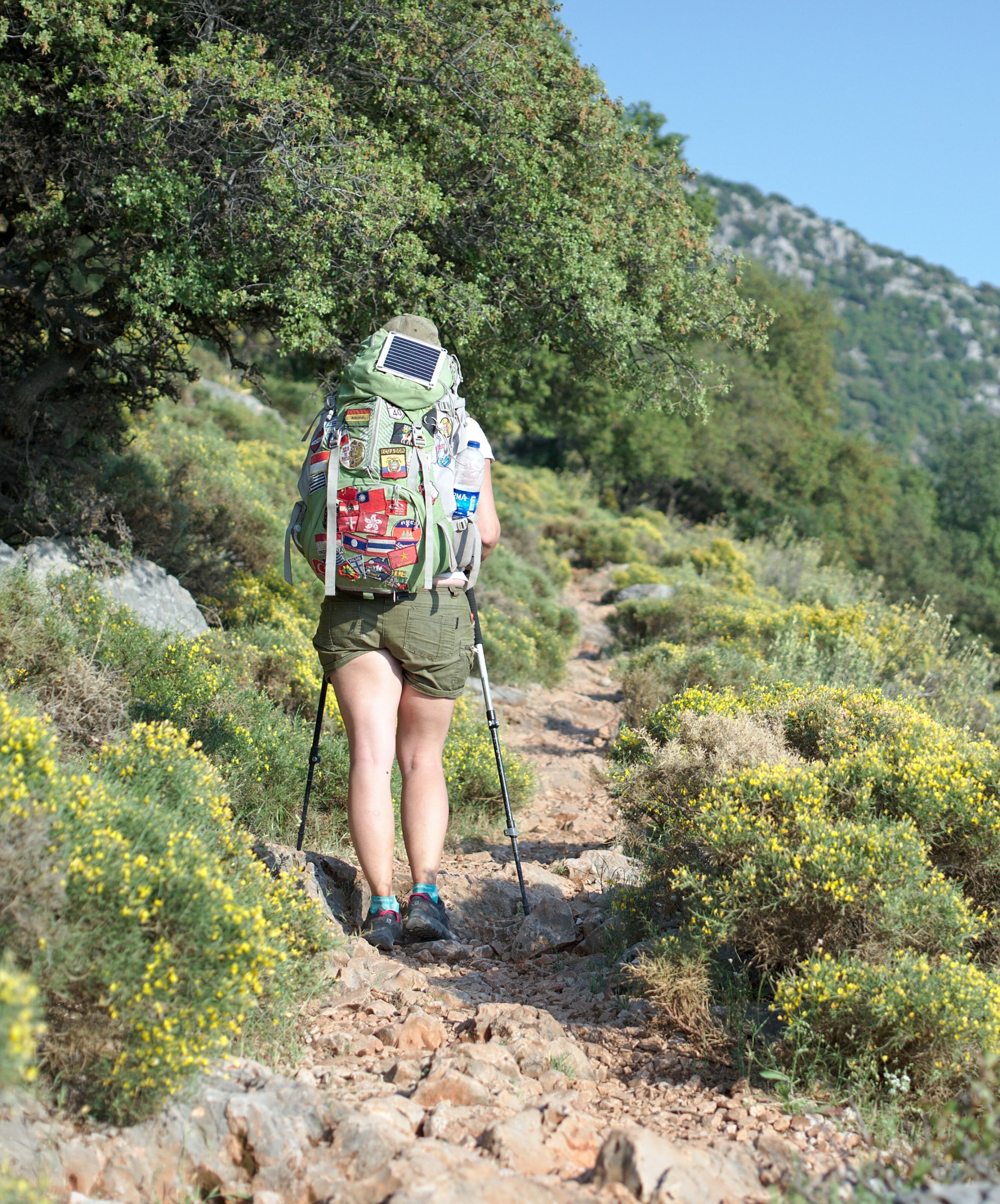 For the equipment I'm not going to make you a complete listing because there's not much special to mention and we had almost the same equipment as the one we had on the Via Alpina (which you can find here).
A few details, however:
We didn't take our stove and the cooking set with us. As we did this trek in the middle of a trip of several months, we preferred to save this weight by thinking that when we would do treks, we could get by with cold food. And on the Lycian way it is no problem since you can have warm food in the villages along the way (and dishes are much better than what you could cook on a stove 😉 )
We did the trek with trail running shoes and it went very well. Again it was mainly because we did the hike in the middle of a long trip and these type of shoes are more versatile for other aspects of the trip. But if you come to Turkey mainly for this trek, I think that hiking boots are more suitable for this type of very rocky trail.
Budget
On the budget side, we spent the tiny sum of 185€ all inclusive (for the 2) for 6 days on the Lycian way. At the time of our trip, 1 euro was exchanged for 6.8 Turkish lira (TL). This budget includes:
The groceries before the start on the trek (280 TL spent on snacks, wraps, etc.)
1 night in a pension in Alinca (250 TL for both with dinner and breakfast)
2 nights of camping (once 30 TL and the second time 70 TL)
various meals, chaï teas and groceries along the way
a few beers to reward ourself after the effort (alcohol is quite expensive compared to the rest in Turkey – count between 15 TL and 25 TL per beer)
entry fees at some historical sites
the return bus ride from Patara Beach to Fethiye
Note: Be careful to have enough cash with you to pay. There are few places where you can withdraw money during the trek and payment by card is only very rarely an option.
Day 1: Fethiye – Kayaköy – Ölüdeniz – bivouac
After a few quiet days spent in Fethiye working and enjoying sunsets by the sea (we rented an apartment at the Artim apart hotel for 150 TL per night with a nice wifi), we start our adventure on the Lycian way early to enjoy the morning temperatures. As every time we go on a hike over several days, the backpacks seem to weigh a ton… it's especially because we took with us a lot of food and 3.5 litres of water per person (which was not necessary with hindsight…).
We start directly with a good climb out of Fethiye to warm up. A sign indicates that we are at the beginning of the lycian way 😉 (even if the official start is actually in Ovacik). While looking back we can see the huge lycian tombs dug in the cliffs above Fethiye… we are immediately in the mood!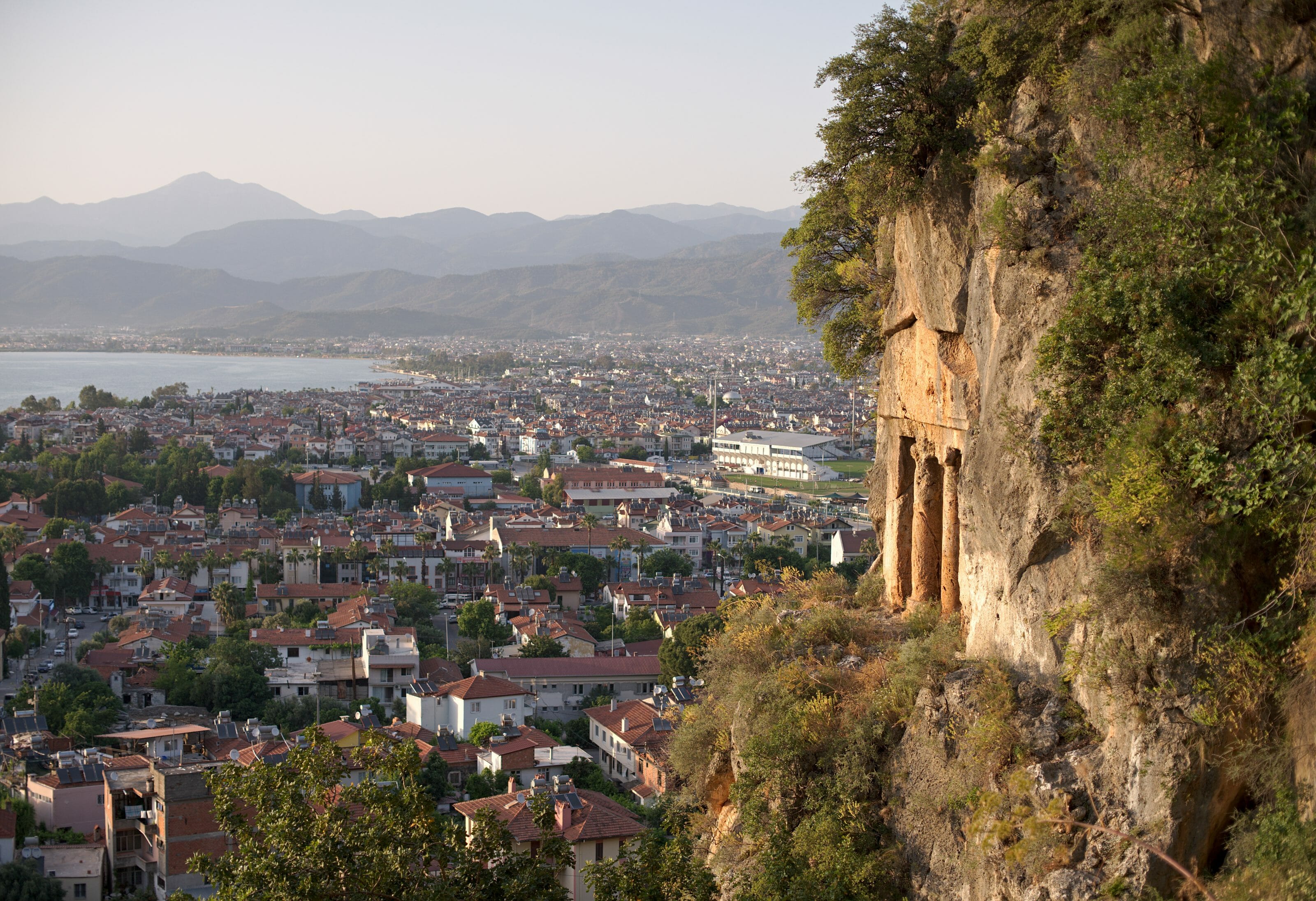 We walk between path and road to go down again towards Kayaköy and its ghost town. Frankly this part until Kayaköy was not the best and if you want to shorten this 1st stage a bit, you could take a Dolmus (the local Turkish buses) to the ghost town. But anyway, we still saw our first 2 turtles of the hike on the way and the view of the abandoned town isn't so bad from the pass.
After paying 6 TL/pers, we enter the site of the ghost town or village of Kayaköy. The site is very impressive and it is the ruins of several hundred houses that are there on the hillside. The history of Kayaköy, which was a village populated by Greeks before the First World War, is in fact very similar to the one of the village of Sirince. In 1923 as well, the Greek Orthodox living in this village were forced to leave Turkey. On the other hand, no one then settled in the village, which was also hit by a major earthquake in 1957. The remaining ruins of this village are now preserved as an open-air museum (even if it seems that the local authorities want to transform part of the site into a hotel 🙁 )
After having enjoyed this place, we decide to take the alternative path towards the seaside resort of Ölüdeniz. The trail climbs behind the ghost town through the pines and then descends to Ölüdeniz with some magnificent views of the bay and beaches on the way. Honestly, we highly recommend this section. On the other hand, the least we can say is that we were not charmed by Ölüdeniz, which represents everything we don't like about this kind of seaside resort.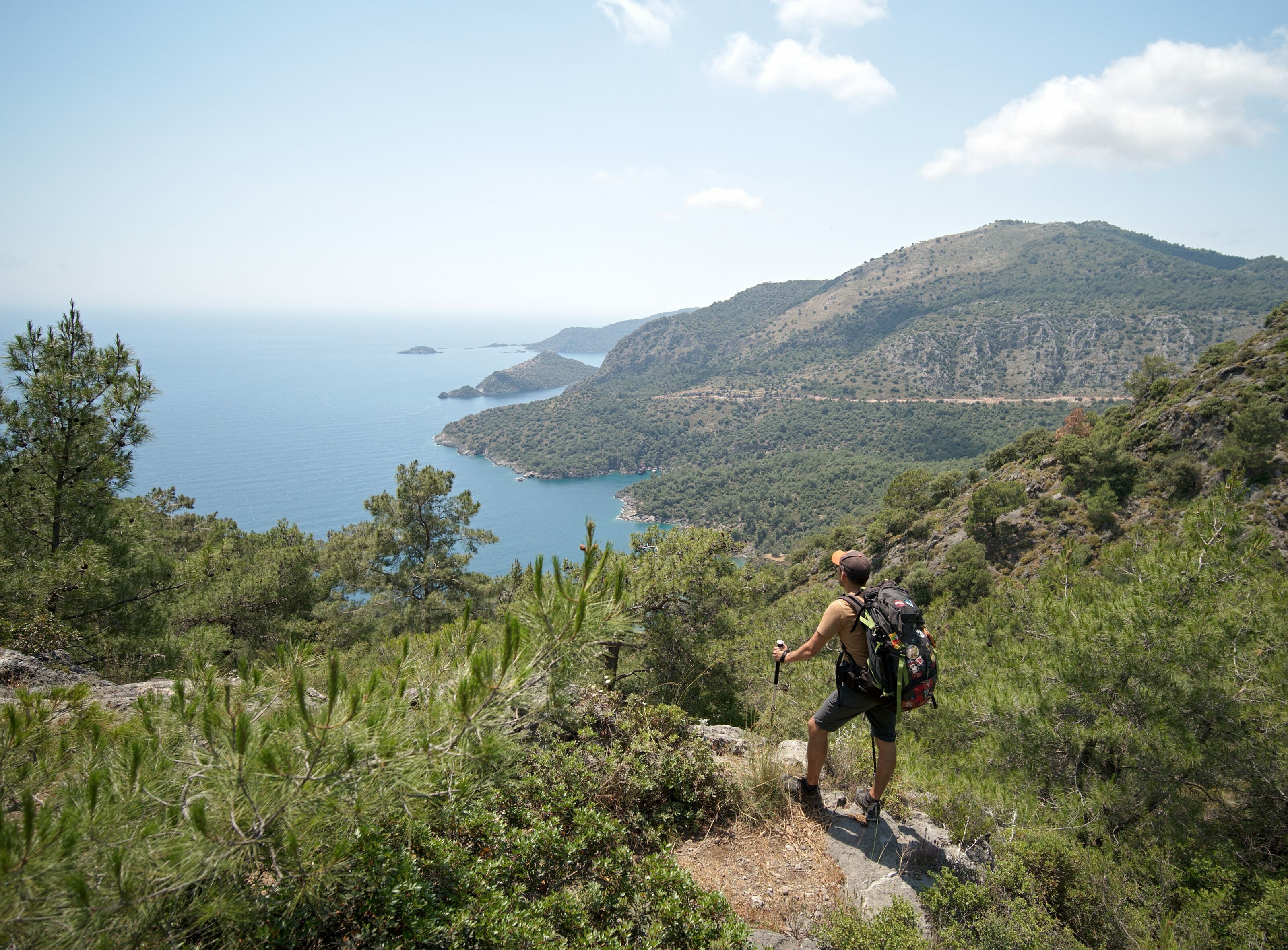 Instead of going up to Ovacik for the night as TrailSmart advises us, we decide to follow a path indicated on maps.me which climbs very steeply at the other end of the beach and which rejoins the official route of the Lycian Way more directly (and thus avoids an unnecessary detour through Ovacik). We had also spotted a bivouac spot on maps.me 600m higher. We start hiking this path following the "green dot" markings (there are some every 10m so if you don't see them anymore it's because you lost the path)… it's already 4:30 pm.
The sun is still strong and we suffer with our big backpacks, especially since the climb is difficult (you will be warned 😉 ). We also come face to face with our 1st snake of the Lycian way, a beautiful black and white beast of 1m in length (perhaps an Ottoman viper according to our research) which was in no hurry to leave the hiking trail… we pray not to meet many others of these creatures during the trek!
We really hope that the bivouac location indicated on maps.me will be good because we don't feel the strength to go much further… At 7pm we arrive at the point indicated on our map and there we can say that we have been rewarded for our efforts. This is undoubtedly the most beautiful spot where we have bivouacked so far. We have a completely unobstructed view of the whole bay of Ölüdeniz and the sun sets right in front of us. We quickly pitch the tent, eat and admire this show until nightfall. We go to bed very tired but happy to be there.
Infos day 1
Distance

17,4 kms

Deniv.

+1160m -560m

Difficulty

quite hard

Duration

6-7h
Download the route
Day 2: Kirme – Faralya – camping
So we didn't have a really good night because after going to bed we started to hear the sounds of someone around our tent. Bold as we are, neither of us dared to leave the tent to check even if it kept us awake for a while 😉 (certainly a shepherd who was passing by). So we start the end of the climb towards Kirme this morning a little tired. The climb still passes much better with the morning freshness.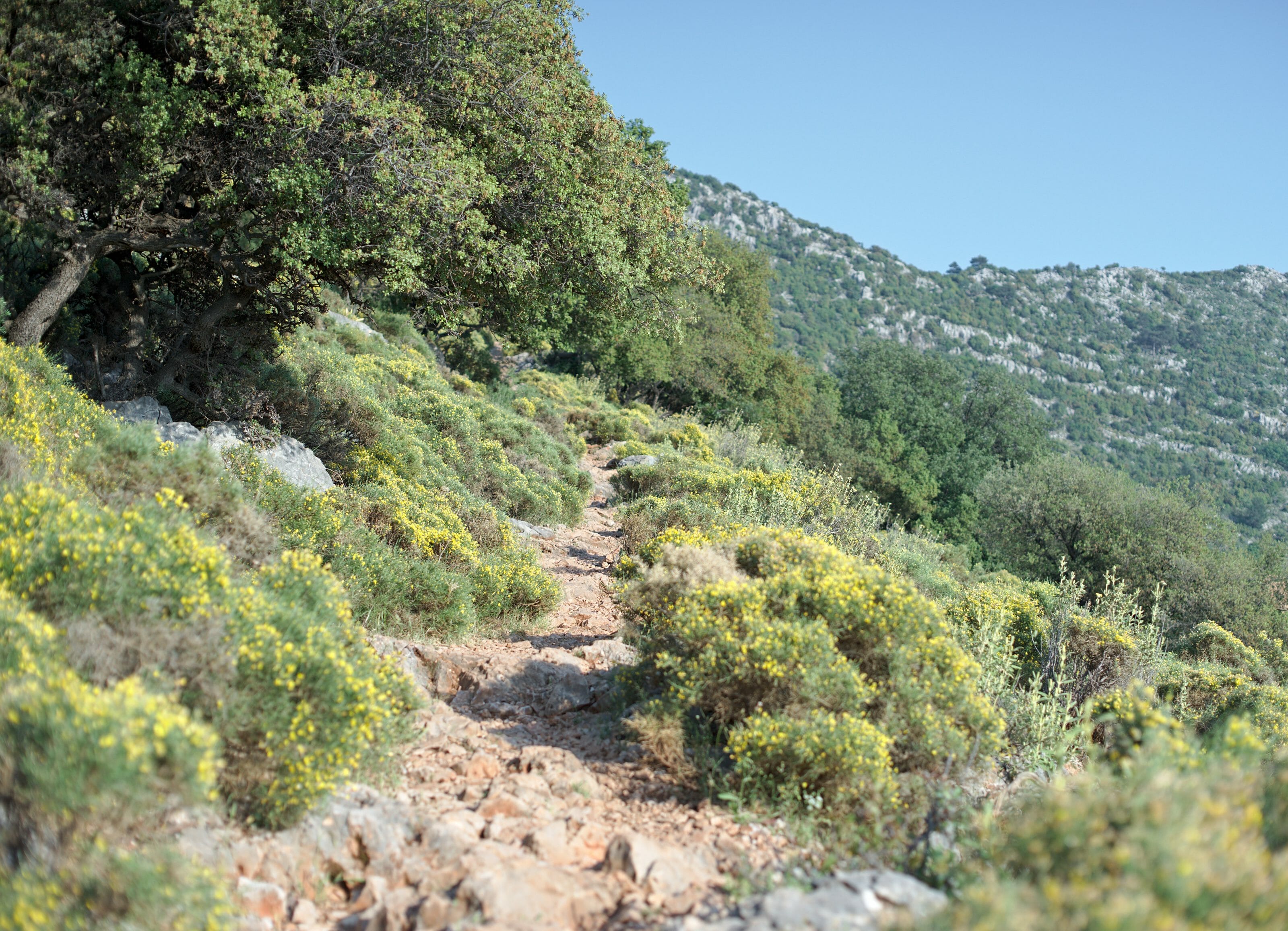 After a short break chaï and gözleme at a small restaurant in the village, we start the descent towards Faralya which we reach at lunchtime. The village actually overlooks the butterfly valley which is accessible either on foot from Faralya (you have to go down a very steep path with ropes) or by boat from Fethiye or Ölüdeniz. We decide not to go down into the valley (especially with the big bags) but to take an alternative path to the Lycian way that runs along the coast to Kabak.
We walk a bit on this trail which offers spectacular views of the beach and the butterfly valley below. We take advantage of a nice spot with a view to take our lunch break.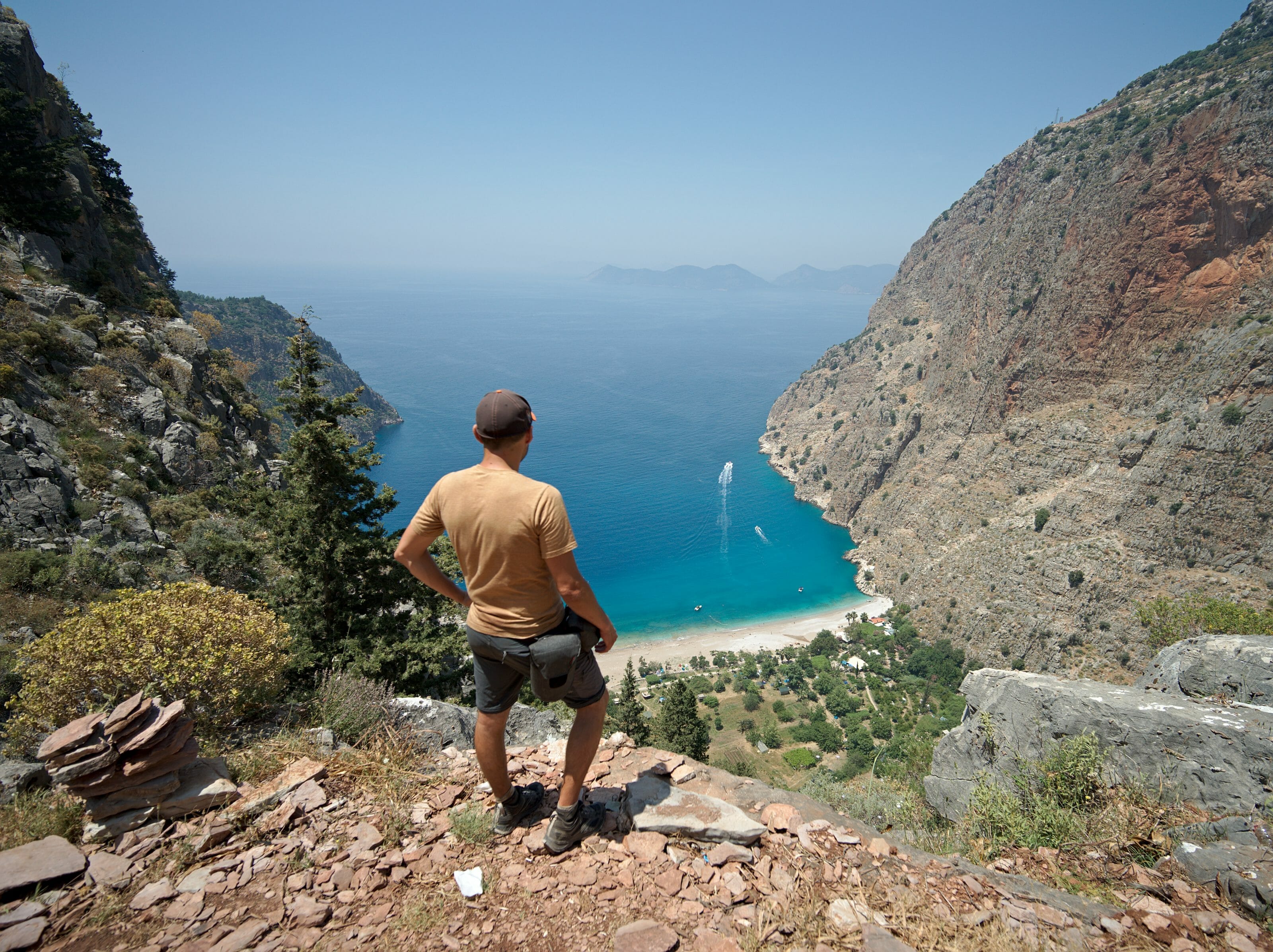 We continue on this variation of the lycian way during the afternoon. Some passages of this trail are a little more difficult but the path is rather well marked and does not present any great difficulty. We also meet our 2nd creeping and whistling creature, green this time but which does not hang around on the path unlike the other one 😉 . Fortunately, the beautiful landscapes quickly make us forget this encounter.
In the late afternoon, we stop at the first campsite we see on our way (Aktas beach camping) and pitch our tent for 35 tl/pers (we would have paid for that only for the shower 😉 ). Just above our tent we can also comfortably sit on platforms full of cushions with sea views. Perfect for sipping a small beer at sunset in peace 😉 (the food in the small restaurant is also delicious).
Infos day 2
Distance

14 kms

Deniv

+346m -925m

Difficulty

average

Duration

5h
Download the route
Day 3: Kabak – Alinca
This morning we're back on track! It felt good to arrive a little earlier the day before, to have showered and had time to rest. We continue on the path along the coast to the village of Kabak which overlooks a pretty beach 200m further down. There are mainly hotels on the heights of Kabak and one wonders how they managed to put so many bungalows in such a steep place…
We go down to the beach (which is quite nice though by the way). Here the atmosphere is a little "bobo-hippy" (not too much our thing I must say)… I'll spare you the details but we also lost 2 hours at the beach because I thought I had lost (or had my smartphone stolen) which had actually slipped behind my backpack ;)… In short, after changing all my passwords and almost blocking my sim card, my phone magically fell into my back while we were walking…. a big relief anyway!
At the beginning, in Kabak we thought we would take a Dolmus to skip part of the Lycian way and go to Kalkan to do 3-4 more days of walking until Kas (it is the "best of the west" route in TrailSmart). But we realized that this option would make us spend the day in the bus, go back to Fethiye and then only to Kalkan (we didn't realize that there was no direct route). As we thought it was a bit silly, we changed our plans again at the last minute and decided to continue on the Lycian way towards Alinca.
From Kabak, we start a nice little climb of almost 800m which starts from the beach and goes up to the village of Alinca. Honestly this climb has been one of our favorite parts of these few days on the Lycian way (with our bivouac spot of the 1st day and the view above the butterfly valley). We climb quietly in the shade of the pines with often spectacular views of Kabak Bay below. Even if it is hot, the climb is going well and we are clearly better than the 1st day after Ölüdeniz. We arrive at the village of Alinca after about 3h30 of climbing.
The atmosphere in Alinca has nothing to do with Kabak's. The 2 villages are not connected by a road and if you want to reach Alinca by car, you will have to make a detour of several hours. Here there are thus no tourists except the few hikers passing by (we met less than a dozen hikers in 6 days 😉 ). We are welcomed in the village by a young boy who surprises us with his very good English and who immediately offers us to stay in his mother's pension for 250 TL (for both) with dinner and breakfast. Since we have nothing against sleeping in a bed tonight, we accept his proposal. After a good shower, we settle down on the small terrace of the house for a well-deserved beer before being served a delicious meal (with starter, main course and dessert). Such a feast with a view, a shower and a good bed for 40$…. we don't regret our choice 😉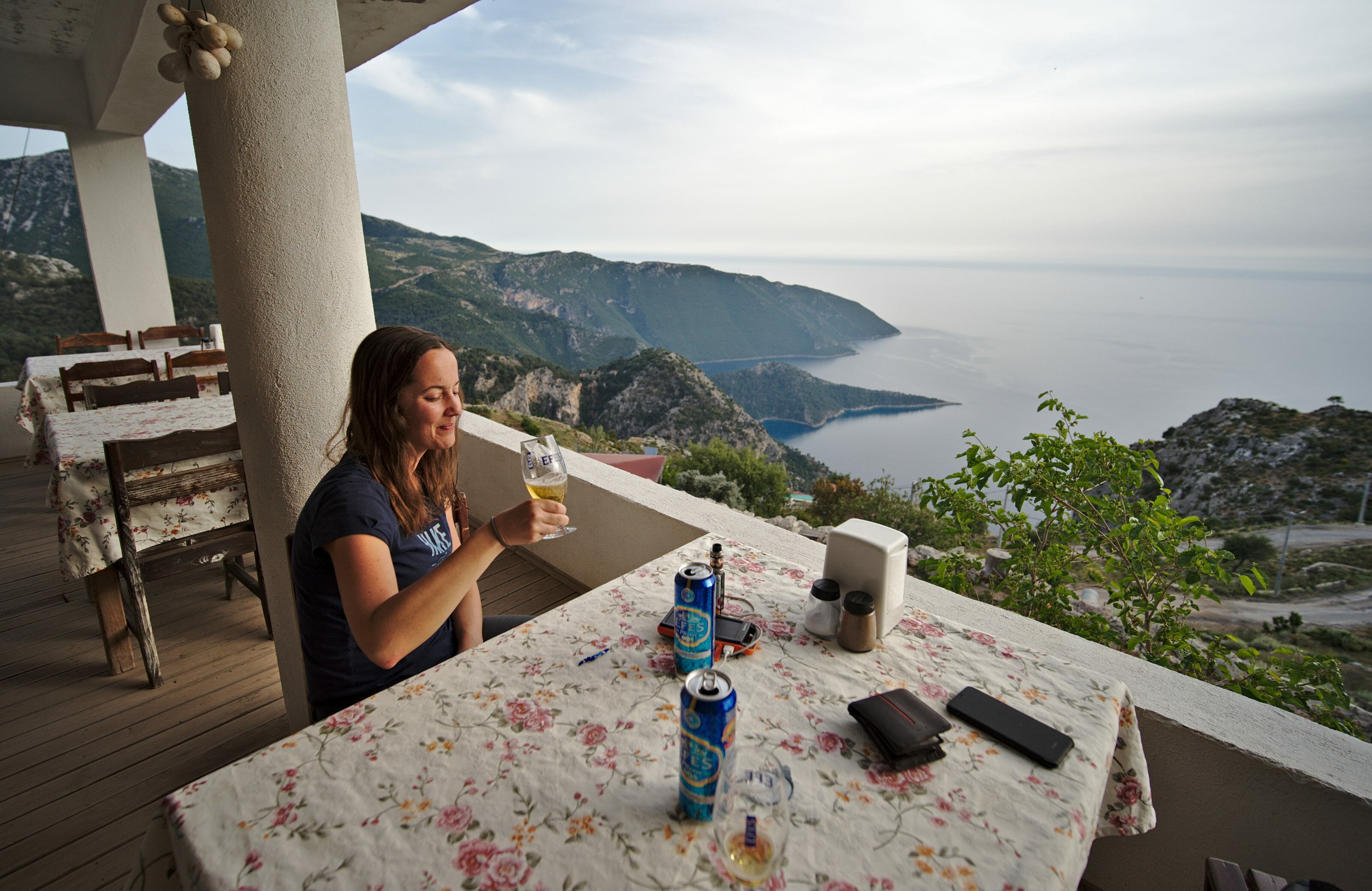 Infos day 3

Distance

10,4 kms

Deniv.

+978m -272m

Difficulty

average

Duration

5-6h
Download the route
We hope that this article has made you want to try to hike on the lycian way and we see you soonon the blog for the continuation of our adventures between Alinca and Patara beach.
Update: The end of the hike is life and can be read here