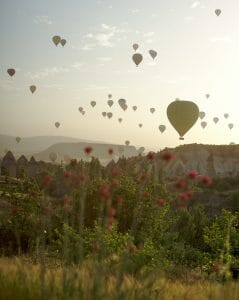 If there is one thing that attracts the crowds in Cappadocia (even more than its landscapes), it is the hot air balloons!Imagine, in 2018 there were more than 500,000 people who flew over Cappadocia in a hot air balloon… Yes yes you read well, half a million people! It's just crazy! At the same time, photos of the Cappadocian sky filled with hot-air balloons at sunrise went around the world…. and I have to admit, it's pretty damn impressive.
So we're going to end the suspense right now, we didn't fly over Cappadocia in a balloon! As far as we are concerned, we find that the price of a one-hour flight is too high (between 130€ and 250€ per person) and we prefer to keep this money to travel longer.
Note: As such, the price is not excessive for a hot air balloon flight in Cappadocia, it is a price that is quite "standard" for this type of activity. It's just that for our budget of backpackers it was too much 😉
If you wish to make a flight we let you look at the options here. On GetyourGuide you will find more than 15 different offers with prices ranging from 149€ to more than 300€. The price difference is often explained by the services but mostly by the number of people who fit in a balloon. The more you will be numerous, the less expensive it will be (but the less chance you will have a place in the basket).
And let's face it, the show from the ground is not too bad either if you're in the right place (we'll talk about out favorite spots below 😉 )… we'll let you judge the pictures yourself 😉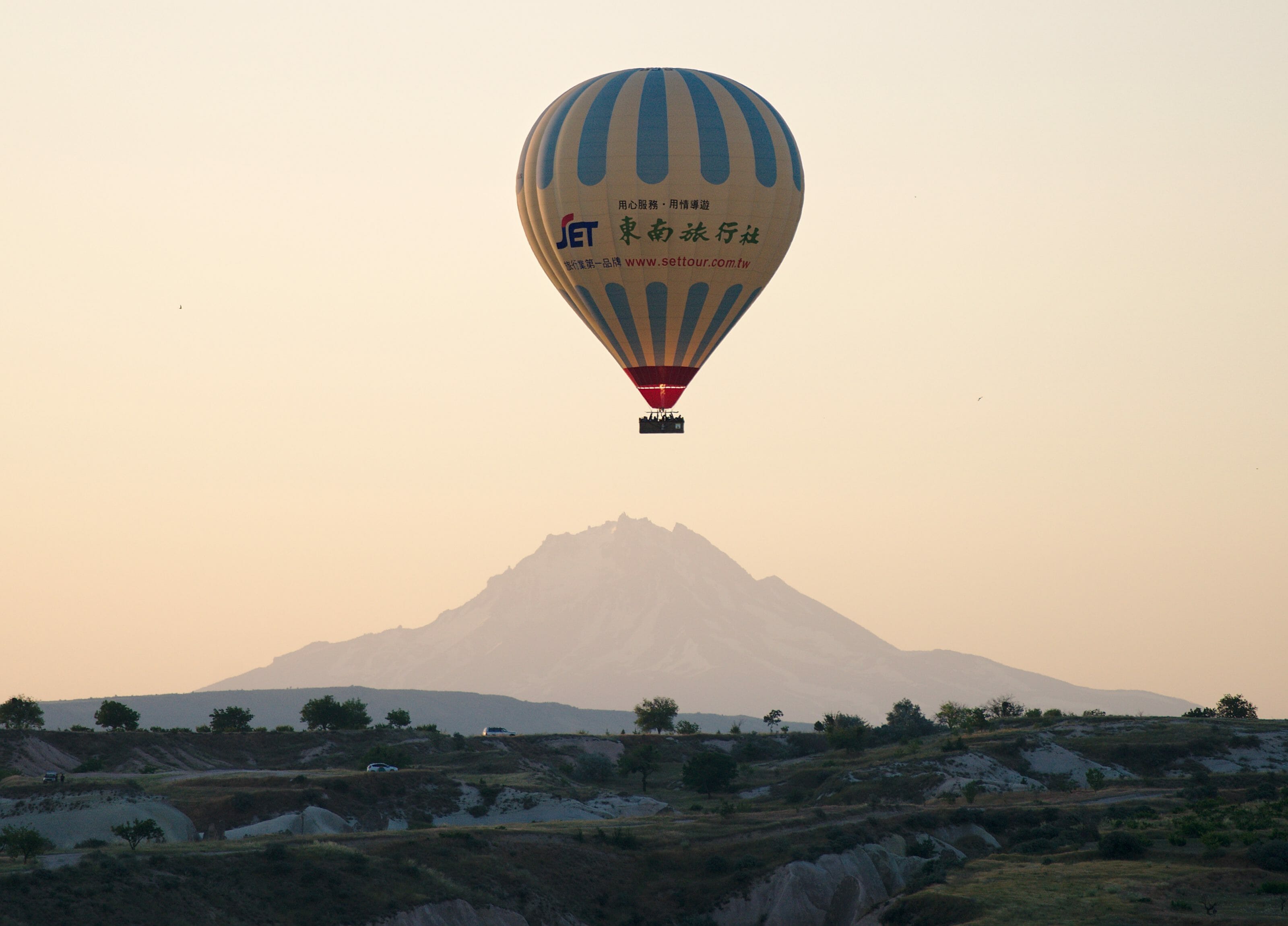 Well… we stayed in the region for a week, we had time to observe how the juicy balloon business in Cappadocia works and the different types of flights. We also got up 4 times at 4am to test different spots to admire the hot air balloons at sunrise away from the crowd (well yeah… with 500 other people it gets a lot less fun) and we will share all this with you in the rest of the article. Nice, isn't it?
Some tips if you want to fly over Cappadocia in a hot air balloon
Even if we haven't done a hot air balloon flight, that doesn't mean you don't want to try it! And since we were thinking of you, we looked for some information that should help you choose the best possible balloon flight:
Hot air balloons do not take off every day: We will talk about it below, but for obvious safety reasons, if there is too much wind the hot air balloons do not take off! (Fabienne knows something about it since she got up twice at 4am to see them and the 2 times they didn't take off). So if you absolutely want to do a hot air balloon flight, plan at least 2 mornings to make sure it happens.
The price: To give you an idea, we saw prices varying between 130€ and 250€ per person (it was the end of May and therefore the beginning of the high season). So of course if you can pay as little as possible it's better, but base yourself on the next criteria to choose your flight.
Before or after sunrise? There are actually 2 departures most mornings: one before sunrise to be already up in the air when the sun comes up and one during sunrise. It may be counter-intuitive, but I recommend the second option instead. I frankly find that the landscapes are more impressive when the sun has already risen and the valleys are lit by the beautiful morning lights. So by taking the version before sunrise, you will already have done half of your flight by night, which I think is a shame. Moreover, by leaving with the 2nd flight, you will be able to observe the takeoff of the 1st hundred hot air balloons and you will arrive in the sky in the middle of all the balloons.
Flying in the valleys: Having observed the hot air balloons several times and having talked to several people who have flown, I can tell you that not all flights are equal! Some hot-air balloons simply climb very high and then descend, while others fly inside the valleys, approaching very close to fairy chimneys (such as the "Valley of Love" or the "Rose Valley"). I guess it depends on the pilot experience, but when you choose an agency, ask them if you can fly inside the valleys.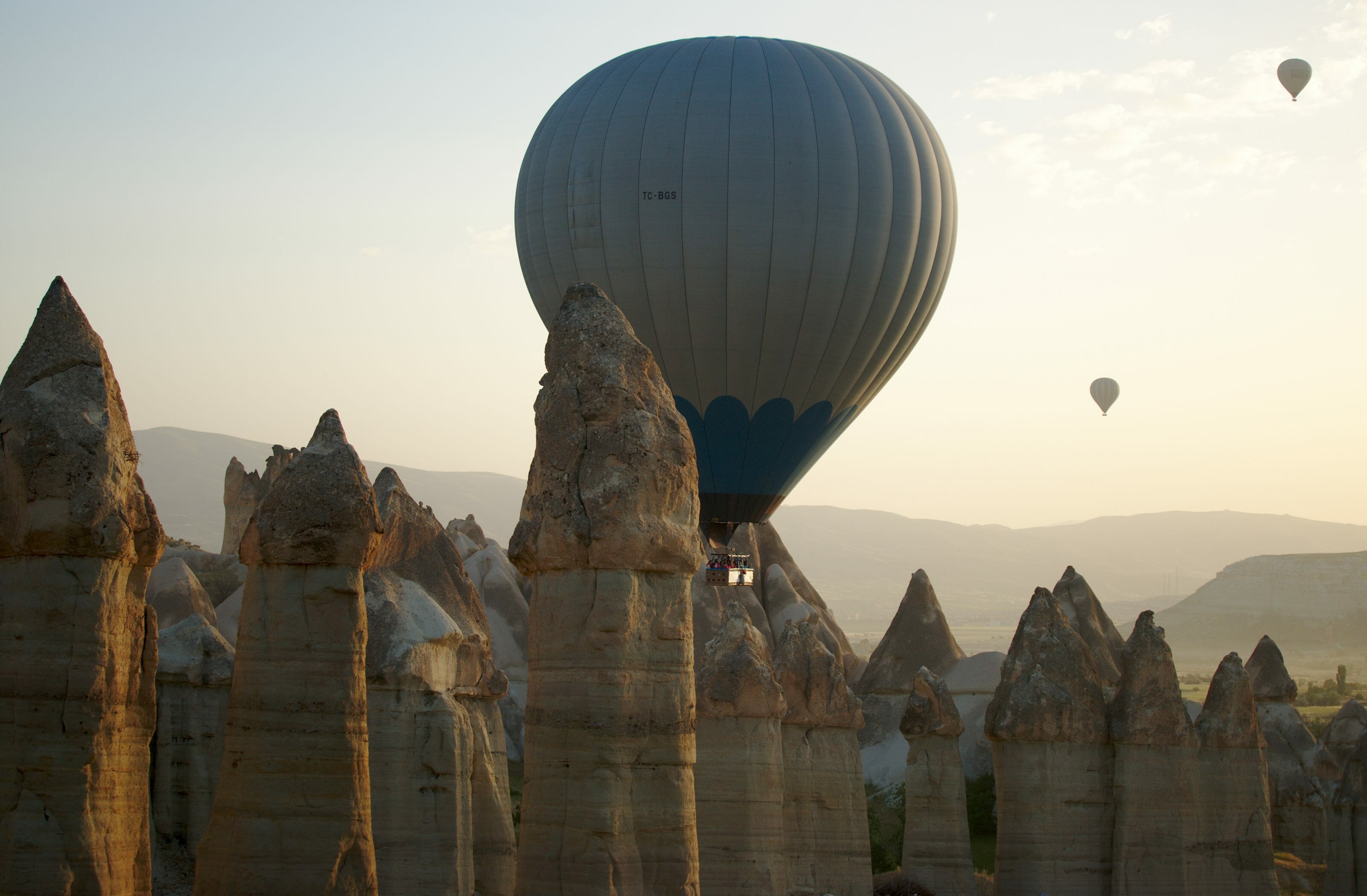 Take warm clothes: It will obviously depend on the season of your visit to Cappadocia (June, July and August it is less important) but take a hat, small gloves and a good jacket because it can be quite cool in the area (especially at 1000m in the air)
Book your Hot air balloon Tour
Best places to see hot air balloons in Cappadocia (far from the crowd)
The fact that there are so many hot air balloons in the sky of Cappadocia almost every morning has created another phenomenon: people now come to Cappadocia to see the balloons dancing in the sky at sunrise. And honestly we understand why… it is quite unique spectacle to see 100-200 balloons flying over the magnificent landscapes of this region of Turkey.
But a pretty show also means a crazy amount of people… and frankly I think you'll be surprised to see how many people there are at 4:30 in the morning in the streets of Göreme 😉 . There are places easily accessible by foot or car from Göreme that are just crowded at sunrise. So since I don't especially like crowds and I wanted to enjoy this show quietly, I went out of my way to find some very quiet spots (and with a nice view) that I will now share with you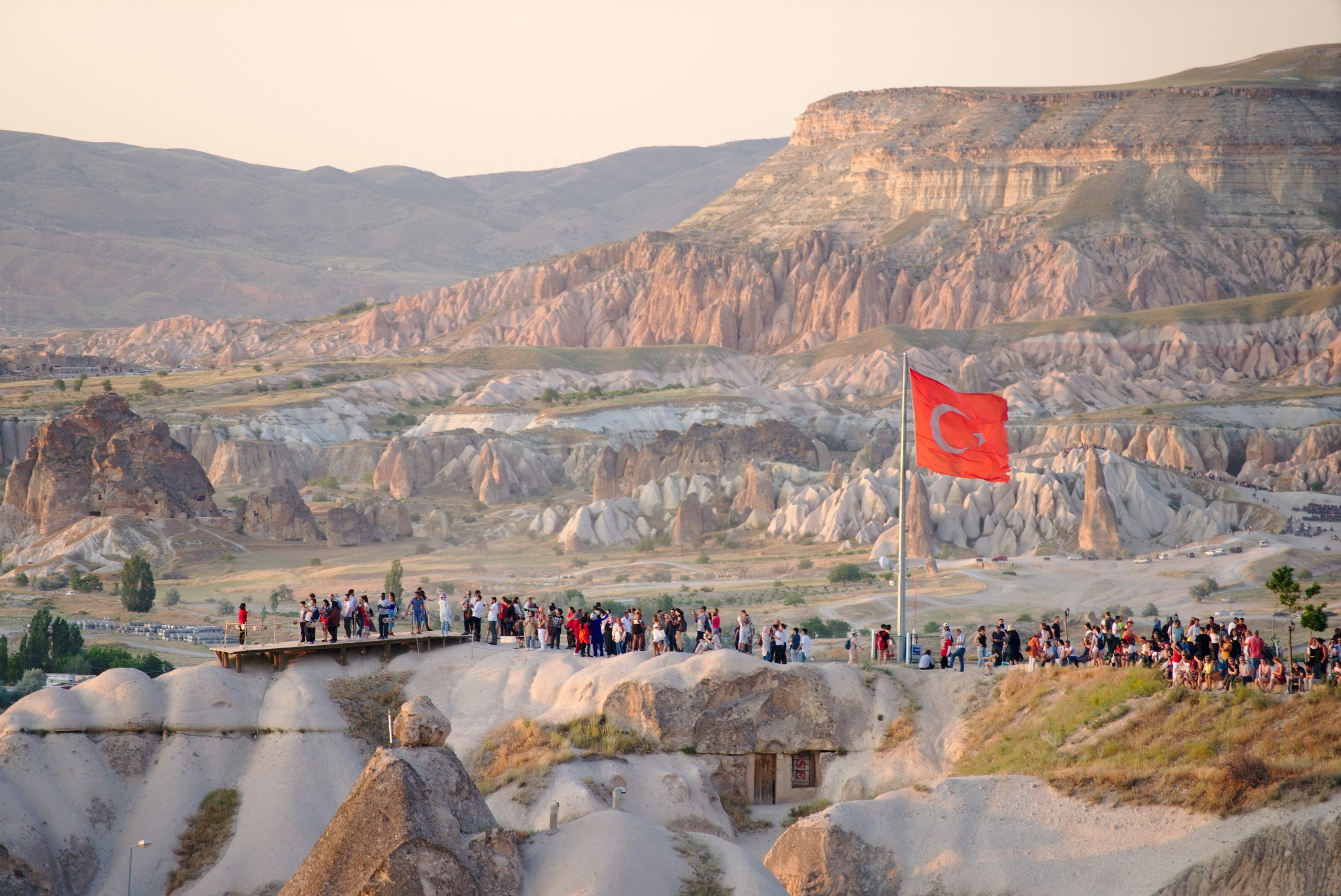 Useful tips
There is an official website which allows to see if hot air balloons have the permission or not to fly (no one wants to get up at 4am for nothing). The only problem is that permission is often given at the last minute and if you want to walk to a nice spot, you will usually have to leave before you know if the balloons are allowed to fly or not. Sorry 😉
First I'll start by putting a small map with my favorite spots to admire the sunrise with hot air balloons in Cappadocia (I also put some sunset spots). The route indicated between the points is only there because I couldn't create several from Göreme with the app we use for maps (so look at the pins instead and don't pay too much attention to the route).
sunrise spot in the love valley
This spot is located in the heart of the Love Valley (and not on the viewpoints outside the valley accessible by car and which are crowded in the morning) and I lived one of the most beautiful sunrises of my life. It is actually 3-4 km from the centre of Göreme (30-45 min by foot) on this hiking route that I described to you some time ago. Leave at least 45 minutes before sunrise to get there in time.
The place is located inside the Love Valley, at the foot of the fairy chimneys (which is really cool for taking beautiful pictures) and I was absolutely alone. Hot air balloons take off from all over the area and for more than an hour you will have a spectacular show. Especially since some balloons fly very low in the valley!
Spot close to Göreme
If you are too lazy to walk too far from Göreme, this is probably the spot you will choose. It is set back from the viewpoint with the flag of Turkey where everyone goes in the morning (and in the evening too 🙂 ). You will have a nice view of the fairy chimneys of the place called Görkündere and the morning we chose to go there, we were alone with Fabienne. On the other hand, we had no luck and the hot air balloons didn't take off that day 🙁 #WeCantWinEveryDays
Sunris spot in the sword valley
So I spotted this place while doing this hike and I didn't regret going back there at sunrise. It is located above the valley of the swords and has a beautiful panoramic view of the surroundings. However, there are a little more than 4 km from Göreme so it takes 45 minutes to get there (have a flashlight to be visible when walking in the morning because you walk on tracks that are sometimes used by vehicles carrying hot air balloons).
The view is very different from the spot in the valley of love and this time we can observe the takeoff of hot air balloons from above. There is also a beautiful view of the village of Göreme and Uchisar in the background.
Note: this is also a cool spot for sunset

Rose valley and Akdag summit
So I put these two spots together because they are close to each other…. However, as they are located quite far from Göreme, it is better to come to the car park of the rose valley if you leave in the morning or camp the evening before at the top of Akdag which is a magnificent bivouac spot!Frankly, while doing this hike one morning, I passed by the viewpoint of the rose valley (which must be crazy at sunset) and especially by 2 tents at the top of the Akdag (which is very flat at the top and therefore perfect for camping). I must say that I was a little jealous of the people who camped at the top because they were at the perfect spot for sunset and then in the morning for hot air balloons.
Anyway, if you test the bivouac at Akdag, let us know how it was to inspire us!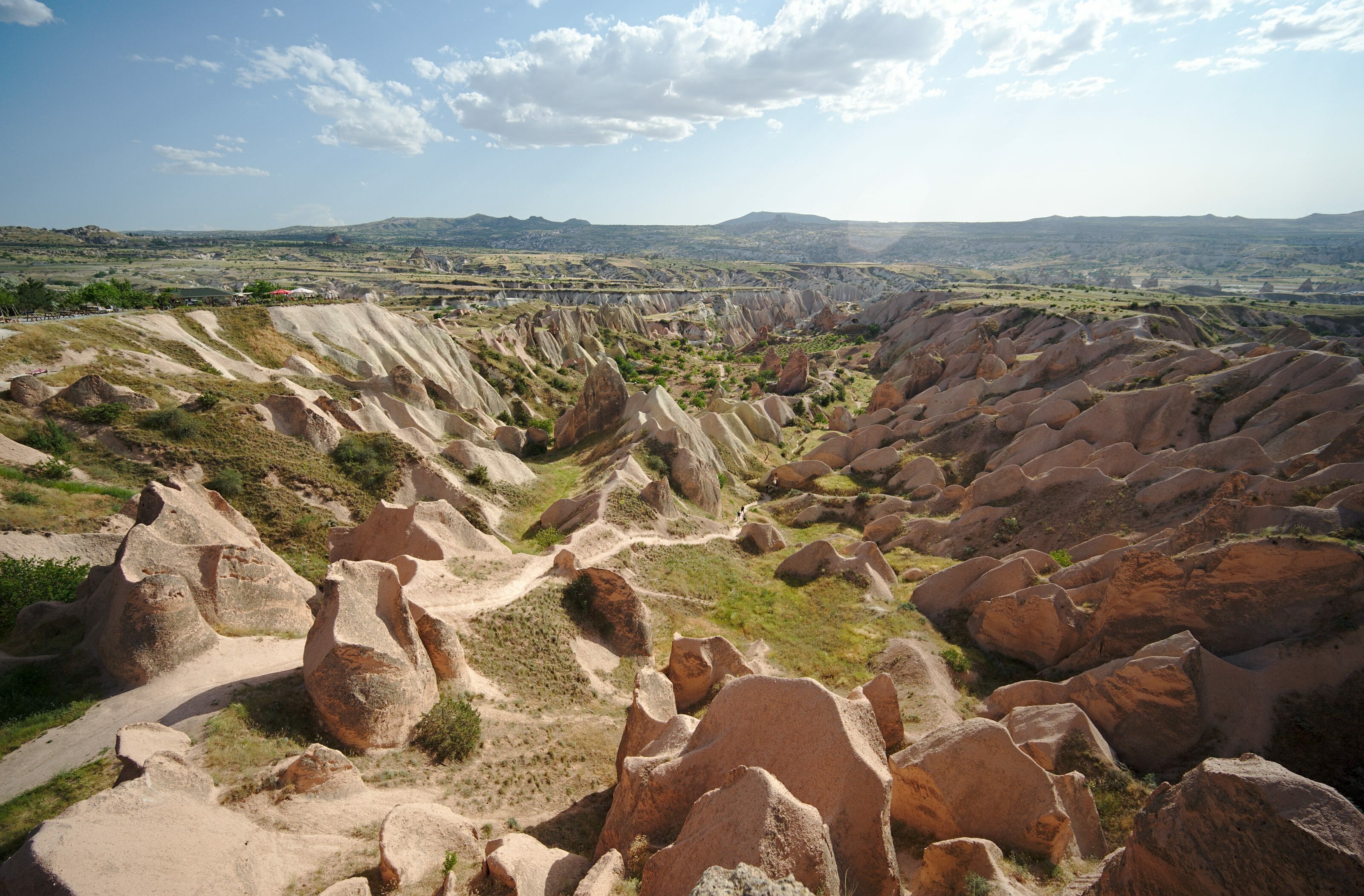 Useful Tips
If you are looking for more general information about Cappadocia (things to do, good addresses, accommodation…) I suggest you read this article
If you are looking for hiking ideas in Cappadocia, you will find everything you need here
I think you know everything about the spots to enjoy the hot air balloons at sunrise in Cappadocia far from the crowd. Obviously there are certainly other nice spots (usually if the place is not accessible by car and you have to walk more than 15 minutes it's a good spot 😉 ) and if you have tested others, don't hesitate to share them with us in the comments
Pin It
Note: This article contains affiliate links to GetyourGuide. By using our links to make a reservation you do not pay anything extra but we will receive a small commission. These commissions allow us to continue to offer you free, banner-free and above all independent content. This trip, like the vast majority of our trips, has been organized and paid for 100% by us. Thank you for your support