As you have certainly noticed in our last articles, if we decided to base ourselves for a while in the small town of Fethiye on the turquoise coast, it was first of all to prepare our 6 days hike on the Lycian way.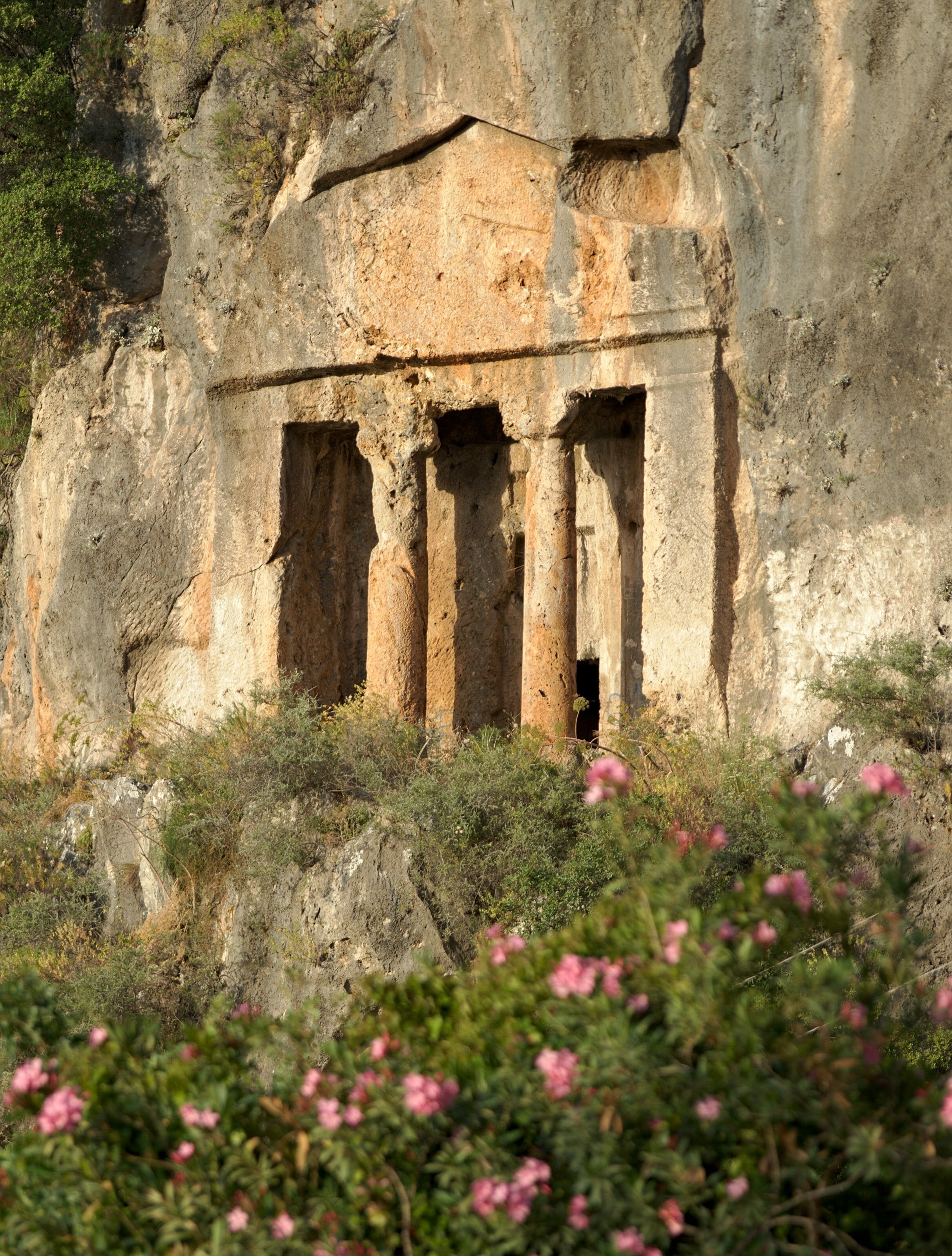 But even if you don't plan to walk in the footsteps of the lycians, we really recommend you to come and visit Fethiye or Kas (or even better, a few days in both places).
We have to say that the turquoise coast between Fethiye and Kas offers breathtaking landscapes and beaches but also a glance at a very distant past, that of the ancient Lycia whose remains are many in the region. And frankly, it would be a shame to miss some of the spots in the area! So are you ready? We take you with us to the places we have preferred in this region (with all the practical information so that you can easily organize your trip later).
Fethiye: a small coastal town whith a good vibe
So Fethiye is a bit like our ideal city size…. There must be between 50,000 and 100,000 inhabitants (obviously more in summer than in winter), the atmosphere is rather relaxed, by the sea, there is plenty to do in and around the city and the infrastructures are top notch (this is important for the nomads that we are 😉 ).
The location also has everything we need! A pretty bay with beaches and all around the mountains of the western part of the Taurus range…. In short, between before and after our trek, we stayed about ten days in Fethiye and we had plenty of time to discover its surroundings.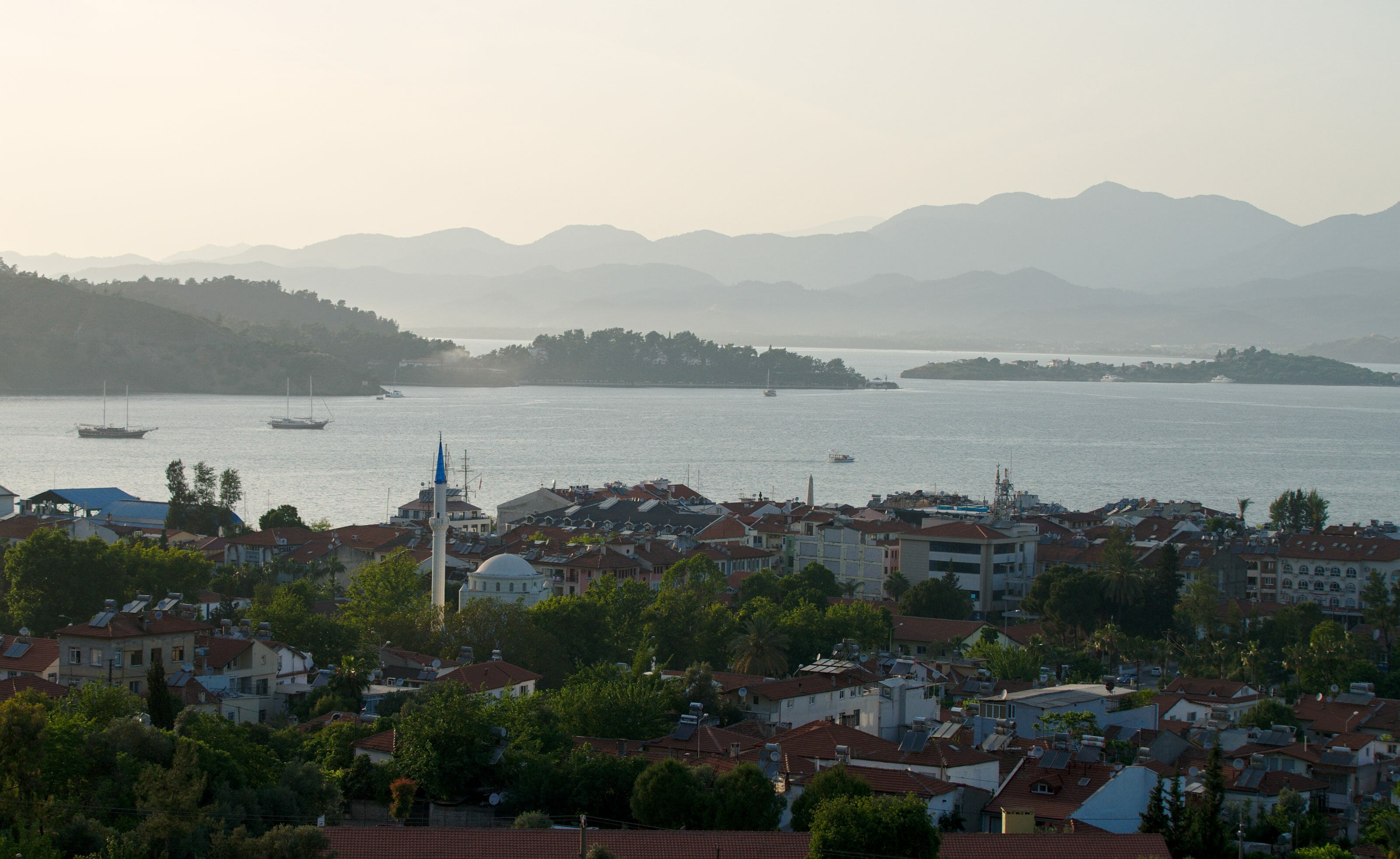 Things to see and to do in Fethiye
Have a drink in the old town
This is something we did a lot (especially when we came back from the hike because we wanted to take a break for a few days). The old town of Fethiye (also known as Paspatur) is actually at the end of the bay under the cliff with the Lycian tombs (you will see them from far away no problem).
Surprisingly, it's a part of the city that's not that touristy (there's no beach) and really nice for eating and drinking. There is also a market for local crafts products that we found quite nice.
And if you find accommodation in this area, it is in our opinion the best place to settle in Fethiye. That's where we planned to stay, but unfortunately we couldn't find an apartment with a good wifi connection to work in this area. So we finally chose the Artim apart hotel which is not very far away and which offers apartments for rent quite cheap (we paid 150TL per night) with a great Wifi.
To search for an accommodation you can use the map below. Feel free to use the zoom and filters to refine the results:
Have a walk along the Kordon in Fethiye
Le Kordon is in fact the promenade that runs along the sea from the old town almost to Calis beach. It is really nice to stroll around or have a drink in the late afternoon when the sun sets. And to be honest, we found that the bars/restaurants along the Kordon are much nicer than at Calis Beach.
the lycian tombs of Amyntas
This is clearly the place not to be missed in Fethiye! In the cliff overlooking the old town are actually several lycian tombs carved into the rocks (you can't miss them, they look like huge gates that enter the mountain). The most impressive and largest of them is Amyntas' tomb, which dates from the 4th century BC 😉 .
What is also nice is that the lycians apparently liked to bury their important members with a beautiful view (the real reason is that they believed that their dead were carried away by winged creatures in the afterlife… hence the tombs in high places)… From Amyntas' tomb, you will have a splendid view of the whole bay and the city of Fethiye. And if you want a little advice, come a little before sunset to enjoy the show from the top of the tomb's stairs.
Useful Infos

A small entrance (20 TL/pers) is required to access the stairs leading to Amyntas' tomb. But believe us, it's well worth it! To find them nothing easier, Amytas' tomb can be seen very well from the old town… but be prepared to sweat a little to go up there.
The ghost town of Kayaköy
Just next to Fethiye is a quite impressive place that is also clearly worth a visit: the ghost town of Kayaköy. This village was actually inhabited by Greeks before the First World War. But after the subsequent war between Greeks and Turks, the Greek inhabitants of Kayaköy were forced to leave Turkey. But unlike the village of Sirince, here, no Turks came to settle in the village which was left abandoned (especially since the region was hit by a terrible earthquake in 1957). There are only the ruins of several hundred houses left, which are left there as an open-air museum.
On our side, we visited this site during our first day of walking on the Lycian way and we have a strong memory of it. It's quite impressive to walk through the ruins of all these houses as nature is reclaiming its rights (or at least as long as the locals don't decide to turn half the site into a Hotel 🙁 ). Kayaköy is a relic of an important moment in Turkey's history and we strongly recommend that you visit it.
useful Infos

Entrance price: 20 TL (price August 2022)

Even if it is possible to walk from Fethiye to Kayaköy (which we did), it is not the most beautiful path and we recommend that you take a dolmus for the trip. There are normally some every hour that leave from behind the great white mosque (of the Ölüdeniz company) with the inscription Kaya village.
And if you really want to walk, you can do the great hike between Kayaköy and Ölüdeniz and then return to Fethiye from there.
Calis beach (or not…)
This is the big beach which is located 4-5 kms north of Fethiye and is famous for having one of the most beautiful sunsets in Turkey due to its western orientation. So yes the beach is pretty nice and it was almost deserted when we went to see the sunset. On the other hand, we do not recommend the restaurants and bars along the beach. The prices are really exaggerated compared to what you can find in the old town and as far as we are concerned, it didn't tempted us at all. But after that, nothing stops you from buying a small picnic at the supermarket and sipping a cold beer while admiring the sunset on the beach 😉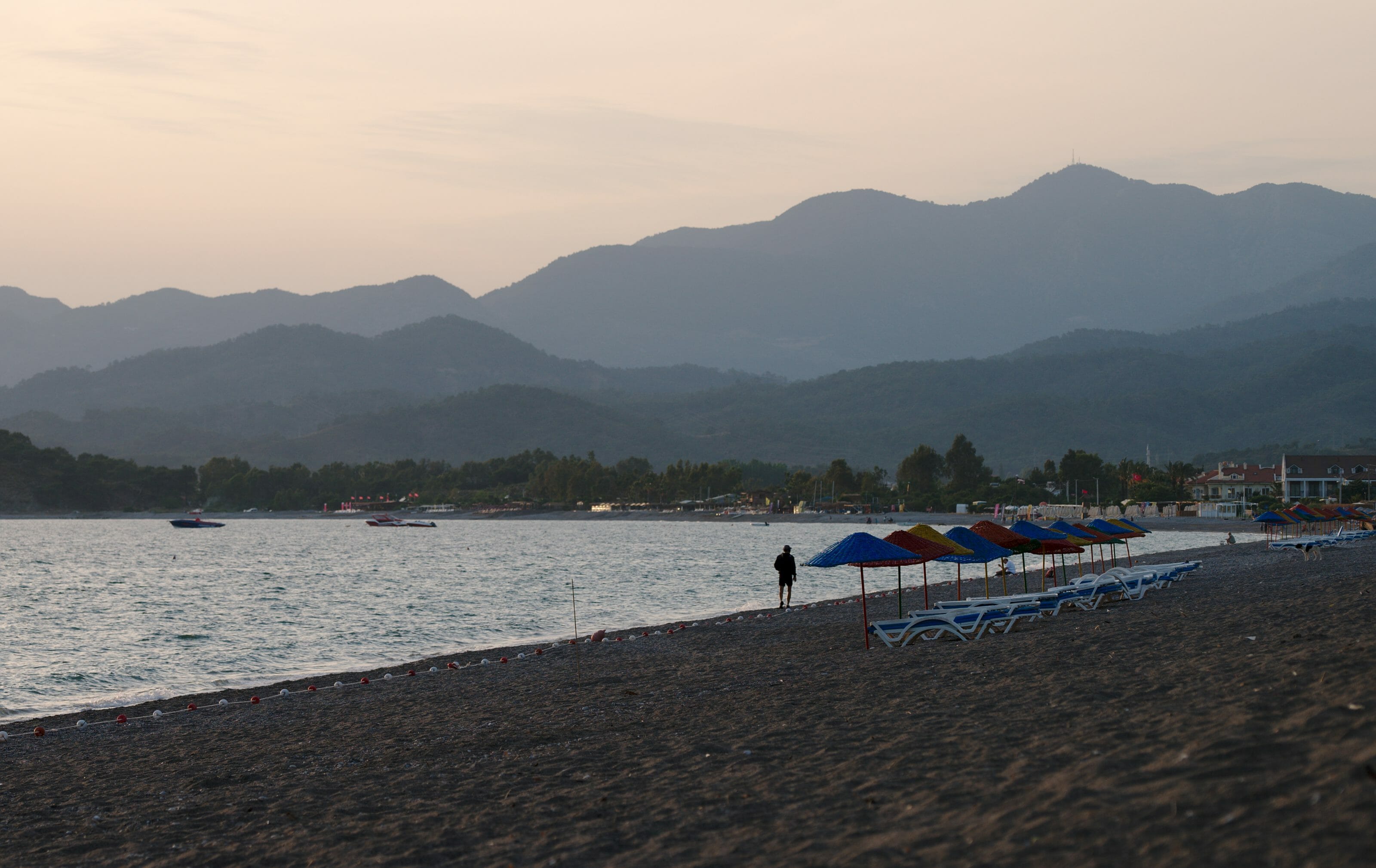 The view above Ölüdeniz bay (or Gemiler bay)
This is the view we had from our most beautiful bivouac spot of this lycian way and the good news is that you don't necessarily need to bivouac there to enjoy it 😉 . From the village of Ölüdeniz, you can follow the road and then the track of the Lycian way to the end (on foot, by scooter or by car) and simply enjoy the view (see location on the map). Of course, we advise you to come there for the sunset which is spectacular from this place. Judge for yourself!
Hike between Kayaköy and Ölüdeniz
C'est un bout de rando qu'on a beaucoup aimé et qui relie le village de Kayaköy à la plage d'Öludeniz. Le chemin monte depuis derrière le village fantôme dans la forêt de pin. Vous aurez ensuite de très beaux points de vue sur la mer avant de redescendre vers la plage d'Ölüdeniz. Franchement si vous allez visiter Kayaköy, on vous recommande de combiner avec cette rando pour revenir à Fethiye depuis Ölüdeniz.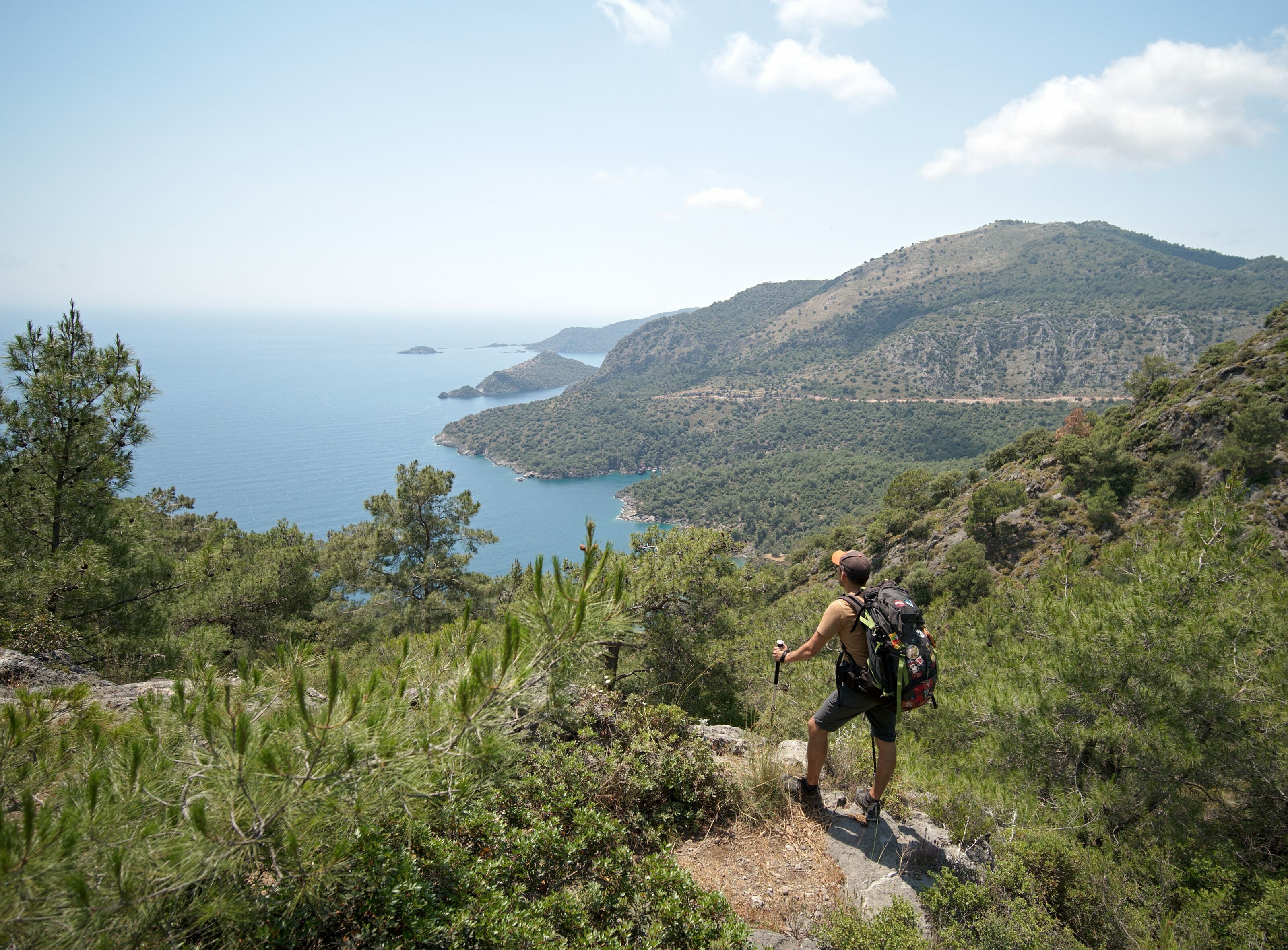 Usefull Infos

Distance

5.6kms

Denivelation

+150m -250m

Time

2-3h (with photo breaks)

Difficulty

average
The lycian ruins of Xanthos and Letoon
2 UNESCO World Heritage Sites that we visited on our last day on the Lycian Way. In our opinion, if you are not passionate about history, the ruins of Letoon are not necessarily worth it (the site is not super large and there are few explanations). But since Letoon is right next to the ruins of Xanthos, you can easily kill two birds with one stone.
The site of Xanthos, which was in fact the former capital of Lycia, is in our opinion more interesting (and much larger). You will find a very well preserved amphitheatre, tombs, a large stone plaque with Lycian inscriptions (which still dates from the 5th century BC), the remains of a church… A little advice anyway, there is also very little information on this site so get informed beforehand or come with a guide to fully understand the role of this city in ancient Lycia.
Useful Infos

Xanthos entrance price: 12TL
Letoon entrance price: 10TL
To visit the sites of Xanthos and Letoon by yourself from Fethiye, you can take the dolmus noted "Kumluova-Karadere" by telling the driver that you want to go to Letoon or Xanthos. If you only want to visit the Xanthos site, you can also take any bus that stops at Kinik (most buses to Kas and Antalya stop there). The entrance to the Xanthos site is perhaps 1km from the bus stop.
Other things we didn't do
Saklikent Gorge: The largest gorge in Turkey which is about 40 minutes by car from Fethiye. We hesitated to go but we didn't have the courage after the hike. If you don't have a car, simply book a trip to the gorges at one of Fethiye's many travel agencies
paragliding from Babadag: We saw them flying over our heads all afternoon on our first day of hiking and we must admit it looked quite cool (especially at sunset). We saw a lot of agencies that offered these paragliding flights in Fethiye or Ölüdeniz
Boat tours: If you don't want to walk from beach to beach like us, you can simply take a boat tour that will take you through all these beautiful coves (like the famous butterfly valley or Kabak). Just avoid large sailing boats that play music and are more like party boats than anything else.
To find more ideas for activities to do in the region you can go to the GetyourGuide page. They offer a lot of activities on the turquoise coast.
See more activities to do in Fethiye
the town of Kas: or how to do nothing for 3 days
Kas is a very nice small seaside town that is located a little over 2 hours by bus south of Fethiye. When we arrived in Kas, we immediately enjoyed the chilled atmosphere and thought it might be the perfect place to do something we don't often do: DO NOT DO ANYTHING (or almost). The list of things we could have done but didn't do will be a little longer 😉
As with Fethiye, it was easy to find a cheap room in Kas using HotelsCombined. We opted for the Mina Apart Hotel for sth like 140 TL/night.
Things to see and to do in Kas
Enjoy the sunset over the port from a terrace
The pretty terraces are not what Kas lacks, but for sunset we recommend you to take a little height on Hükümet street and choose a terrace that has a nice view of the port. Personally, it was our program two of the three evenings we were in Kas.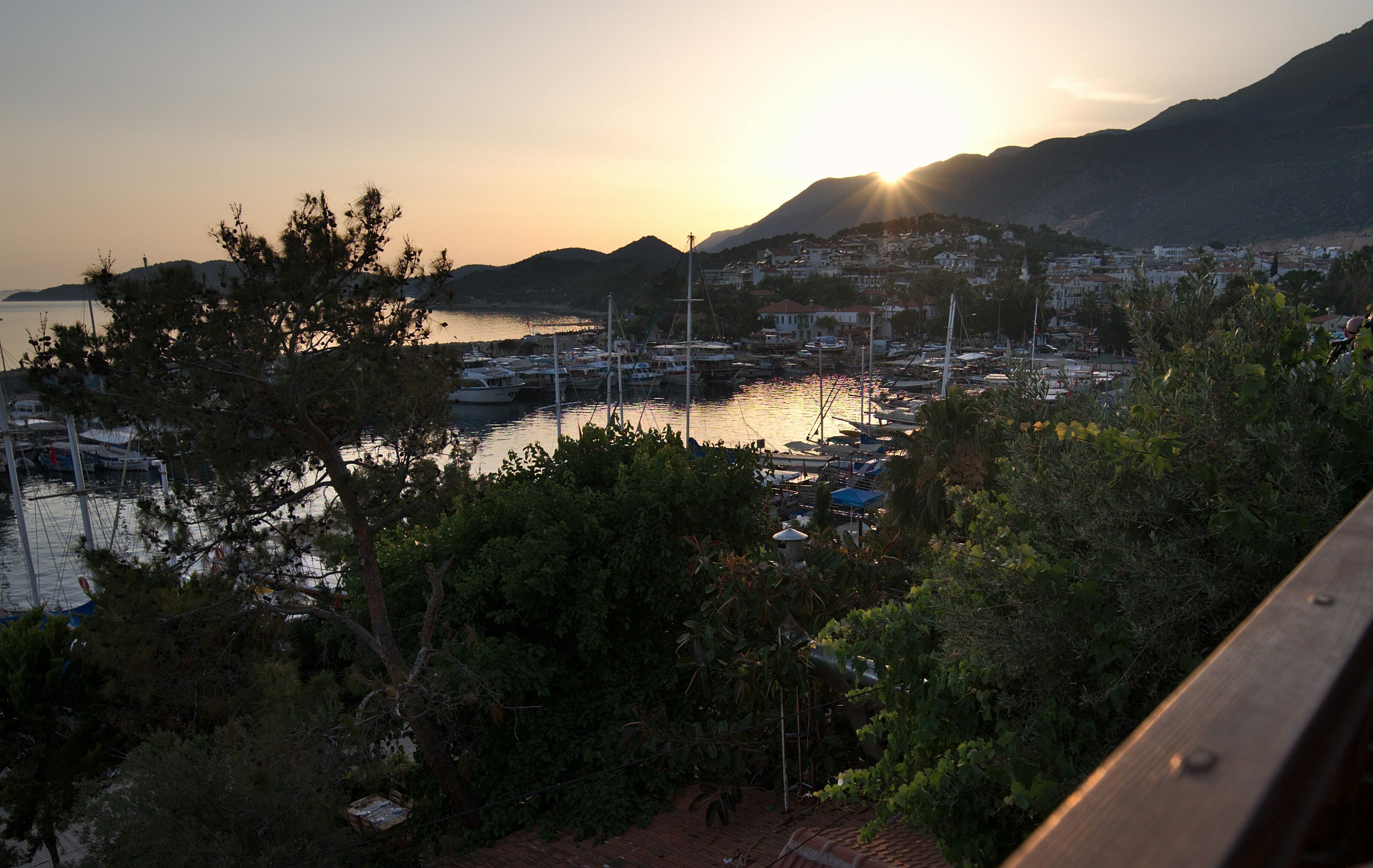 Hike a bit along the lycian way
At the base we had planned to come to Kas by walking on the Lycian way (by zapting the part between Kabak and Patara… which would have been a shame) before changing our plans. The Lycian way thus arrives over Kas to continue along the sea towards Demre. If you want you can go back up the path to have a nice view on Kas or continue the path to reach the small beaches which are located 5-6kms after Kas. Personally I tried the second option and it was pretty cool.
Enjoy some of the many beaches
There are plenty of beaches around Kas and if you want to even out your tan a little, you should find what you are looking for. We were in kas in May and we found that there were very few people on the beaches. We don't know what it looks like in high season but I think we can say that Kas is much quieter than places like Kemer or Demre.
The most famous beach is Kaputas (10-15kms before Kas) accessible by car, taxi or dolmus but otherwise there are also plenty of smaller nice beaches accessible by foot or boat from Kas.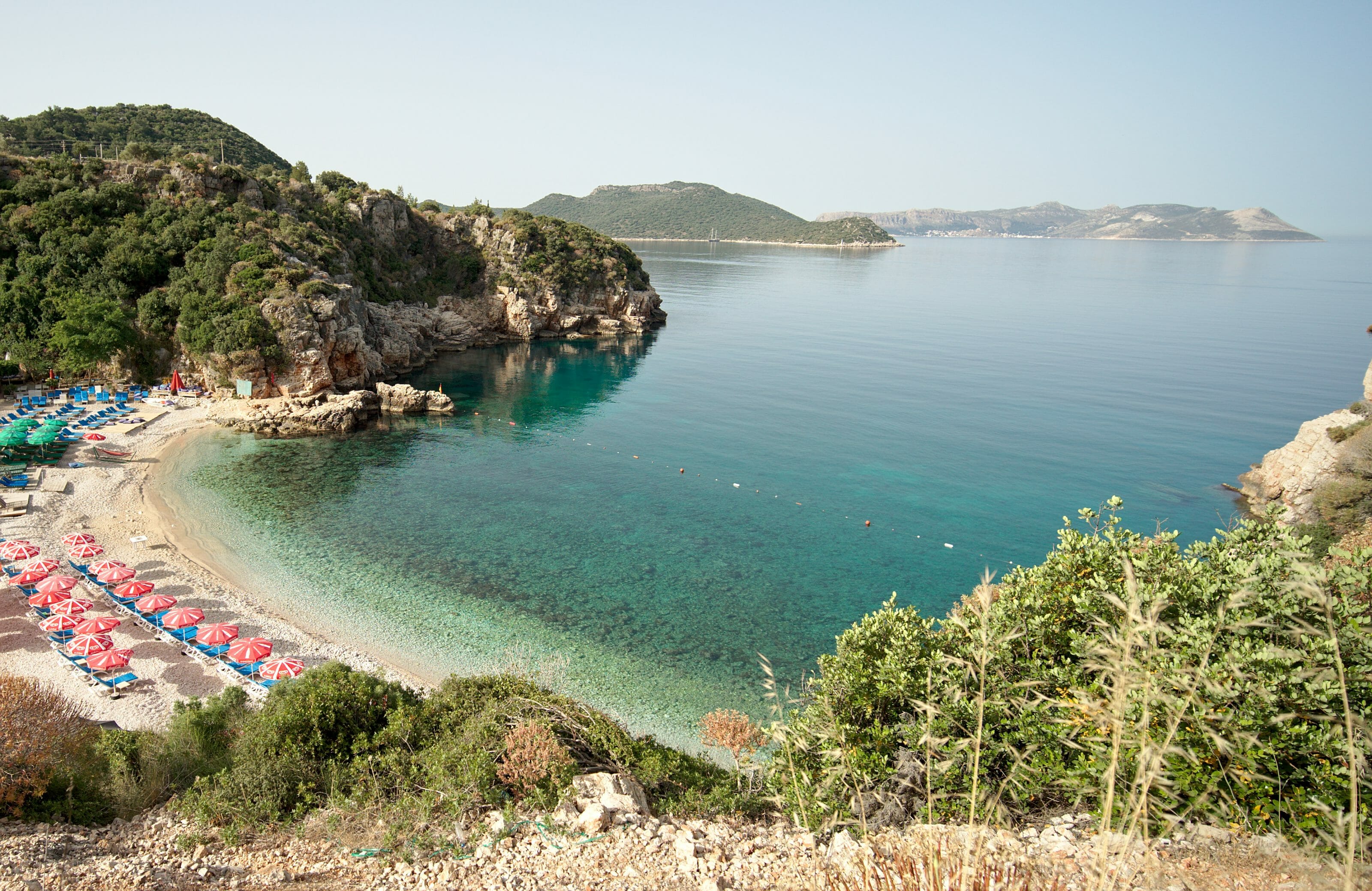 other things we didn't do
Boat trip to the Greek island of Meis: Meis Island is actually a Greek island just in front of Kas (just 30 minutes by boat). There are not a million things to do in Meis but it seems that the village is cute and that there is a very nice blue cave to visit. On the other hand, the crossing (round trip) costs about 25€ per person. For 20 minutes by boat we thought it was too expensive.
The sunken city of Kekova: These are in fact the ruins of an ancient Lycian city that was almost completely swallowed up by the sea following an earthquake. You can easily book a tour for Kekova from one of the many agencies in Kas.
Paragliding at sunset: As with Ölüdeniz, one of the popular activities is to do a paragliding descent at sunset from the mountain behind Kas. This activity can also be booked easily from one of the travel agencies. See on GetyourGuide
Map of the things to do between Fethiye and Kas
We hope that you liked this article on the turquoise coast between Fethiye and Kas and that it will give you ideas if you come to discover one day this very beautiful region of Turkey which has much more to offer than the seaside resorts. We look forward to seeing you soon for the continuation of our adventures in the surprising city of Konya and Cappadocia.
Note: This article contains affiliate links. By using our links you do not pay anything extra, but we'll earn a small commission. Thanks for your support.