A new step in our journey in Turkey! After our beginnings in the beautiful city of Izmir and a small detour through the ruins of Ephesus we then went to visit one of the most touristic sites in Turkey, by which I mean Pamukkale, which is also known as the "cotton castle".
In this article we will start with a small overview of the sites of Pamukkale and Hierapolis, then followed with all our best tips to visit these 2 sites (to see the most beautiful views, but also avoid the crowds).
At the end of the article we will give you our impressions about this place. As you will see, we have quite mixed feelings about it… A magnificient site, but which seems to pay the high price of tourism….
Pamukkale: What is is?
The name Pamukkale literally means "cotton castle" in Turkish and it is true that it looks quite like one. 🙂 This strange "white waterfall" is basically a 100% natural phenomenon. As early as the Roman period, these large basins were used for bathing… Hierapolis, the ancient city, was built next to this natural site which already existed at the time (we are talking about more than 2000 years ago).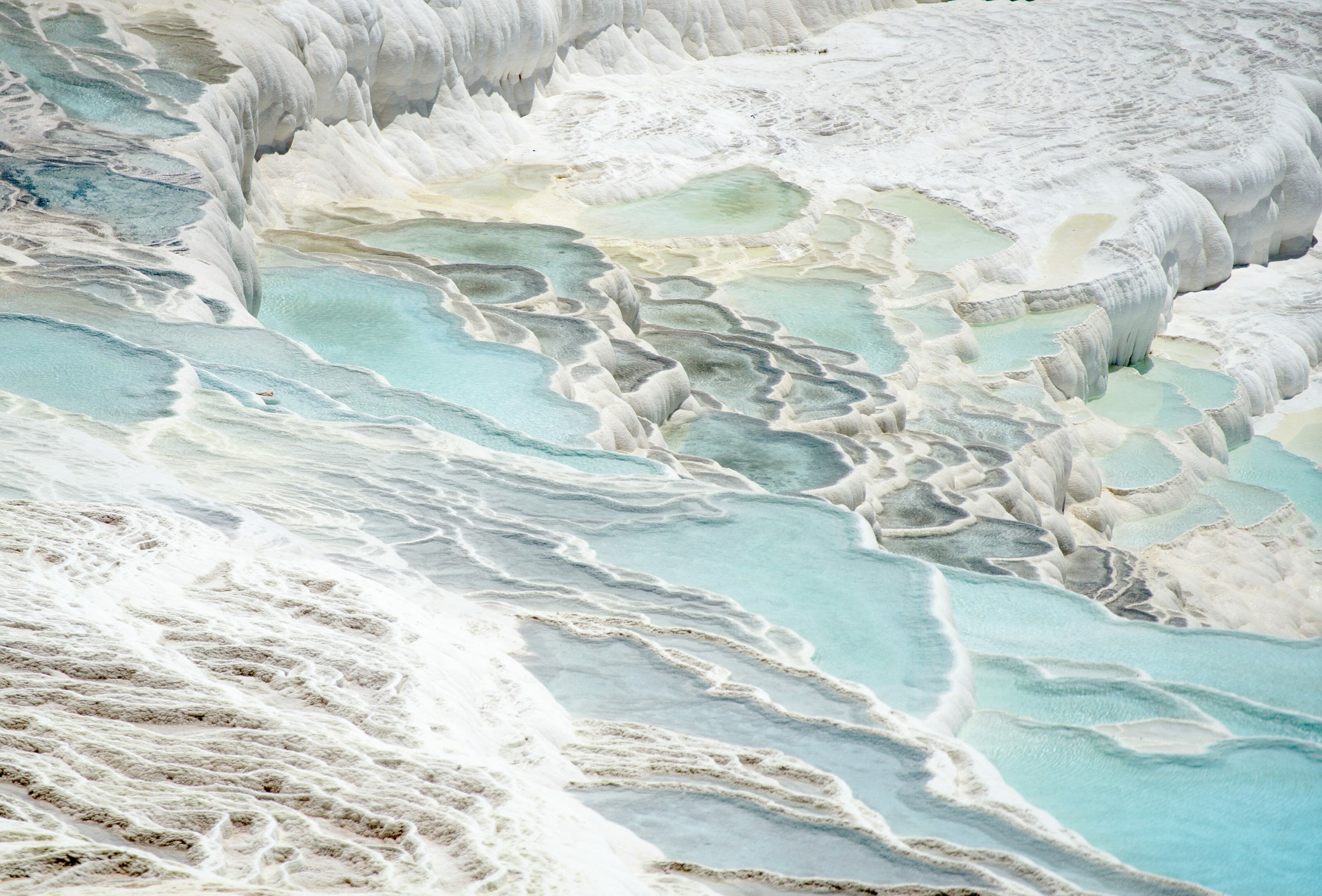 But how exactly did all this happen?
In fact, the origin of these pools is the thermal waters which have their source just a little higher up. It is the flow of this highly caclite-laden water that evaporates on the cliffs that has led to the formation of these travertines, which look a little like a succession of small cotton clouds.
For many years this site has been one of the most important tourist attractions in Turkey. At one time there were hotels that were built on the top of the terraces. Fortunately, they were destroyed when the site was classified as a UNESCO World Heritage Site in 1988.
Hierapolis: the superb neighbouring gem that is often a little " neglected ".
Strangely enough, we hear less about it, yet Hierapolis is on the same site as Pamukkale! This ancient spa town was founded in the 2nd century BC by Attalides of Pergamum. The city was completely destroyed by an earthquake in the year 60 and was later rebuilt in a 100% Roman style this time around the year 100.
This site is a real treasure if you want our opinion! When we walked around there was simply nobody around! Considering that nearly 2 million tourists visit Pamukkale every year, it seems totally crazy… The only site in Hierapolis where we met maybe thirty people was in the amphitheatre.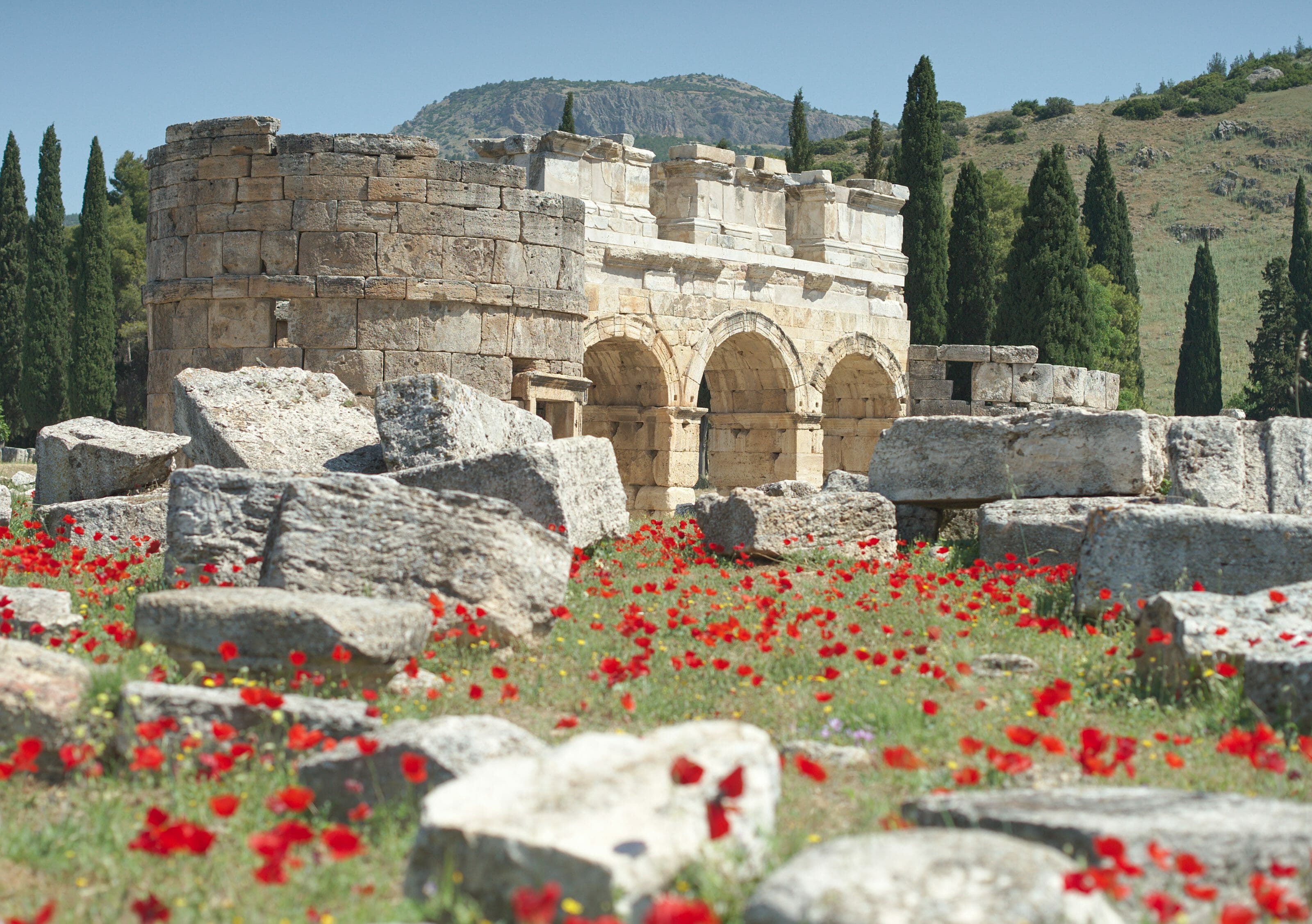 Map of Pamukkale and suggestion for a visit
When we were preparing our visit we did some online research to find a map of the site and strangely enough we had a hard time finding something usable. Well, you'll tell me that it's good because that way we had a little surprise by getting to this huge site. 😉 But as we would have liked to have a map before visiting Pamukkale, we thought we'd just create one to help you find your way around: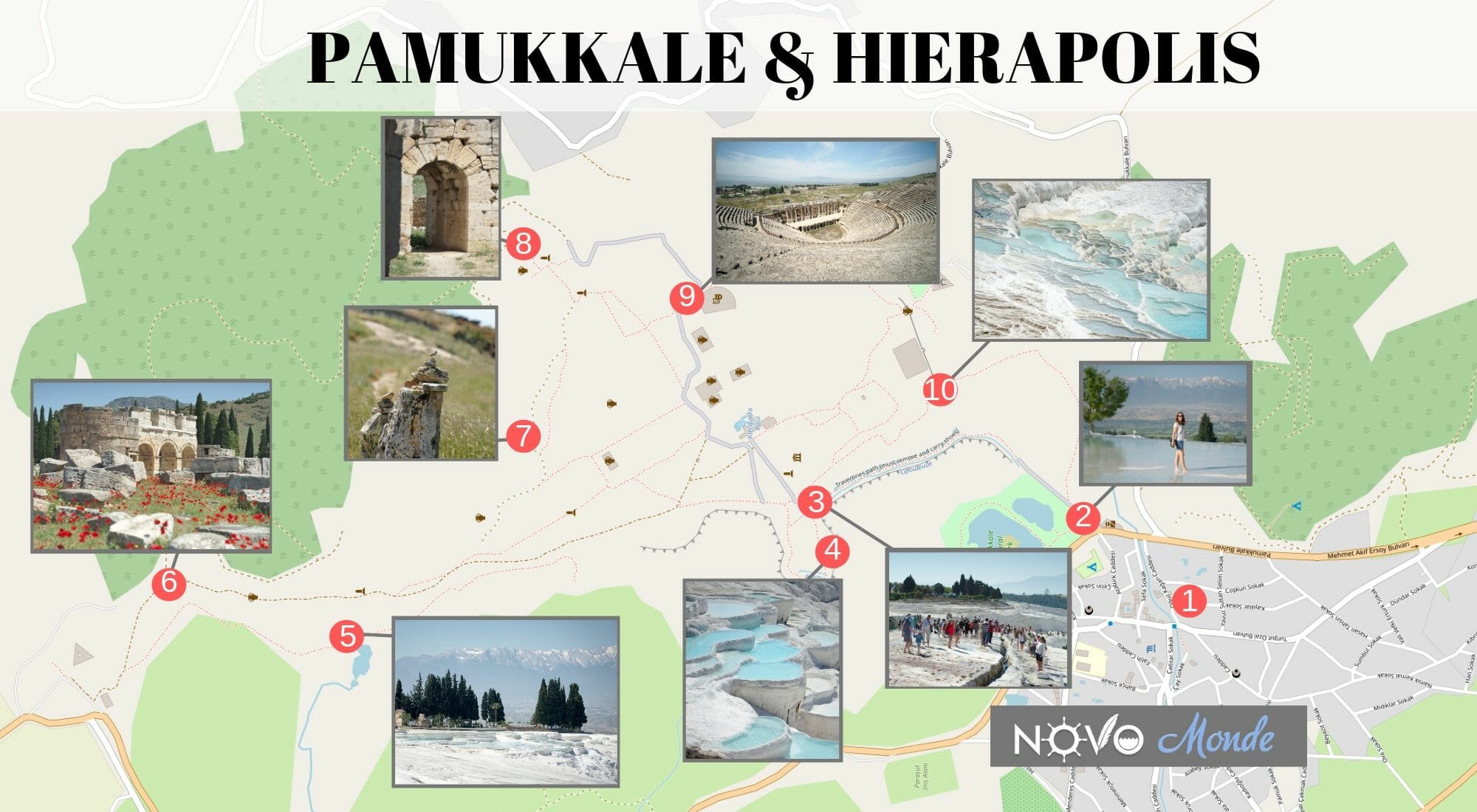 The numbers on the map are used as a reference in the text.
Pamukkale (1) is not really a "real" village; it is more like a base for visiting the site with lots of hotels, restaurants, travel agencies and small shops. Whether you decide to stay here or to arrive from Denizli or elsewhere, you will inevitably go through it…
To access the site, go to the entrance at the top of the village (2). From this point you have to remove your shoes and walk up the large alleyway built in the middle of some artificial pools to reach the top of the site.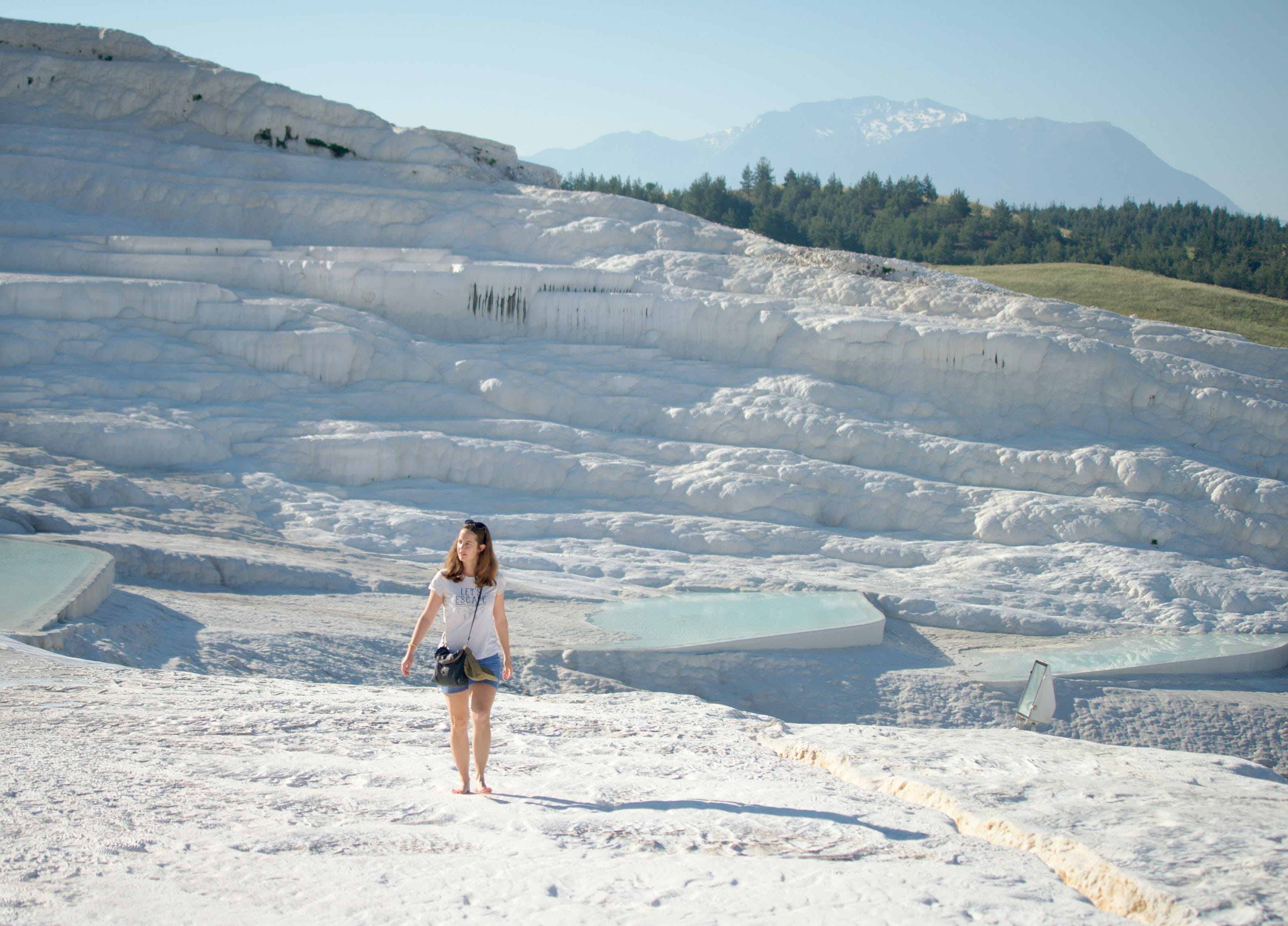 Point N°3 on the map is THE spot where everyone gathers. The terraced pools shown in all photos are not accessible and can only be photographed from above.
we recommend that you go to the right when you are facing the town (4). From this side, you'll have a nice lateral view of the natural pools and there are already a lot less people!
To continue the visit, we advise you to continue on the wooden footbridge that runs along the entire site. The further we go, the more alone we are! After a few hundred meters we reach other basins which are very nice. Go to the point where the footbridge stops (5) and then go up to the central aisle.
From there, you can reach the ruins of Hierapolis (6) and follow the wide alley between the columns. Then you can continue on the left (7) using small paths which are not very well maintained but still very pretty to reach the church which is at the top of the site (8).
Note: the trails are well indicated on Maps.me…. Remember to download the application (free) and load the site map before your visit to get it offline.
From the church you can reach the amphitheatre (9) and then descend to the basins.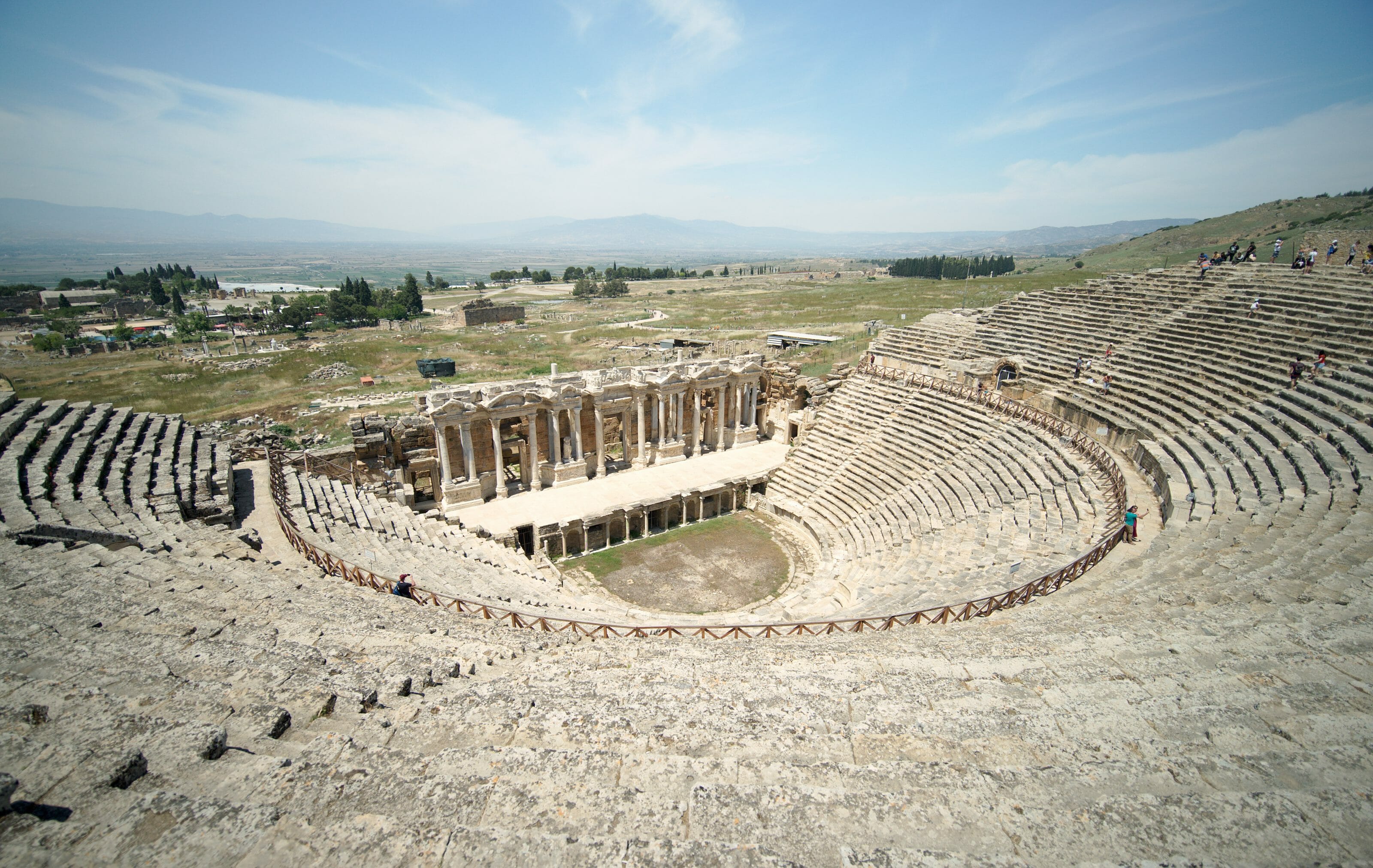 There, we recommend a last detour to go to the end of the footbridges to the left of the main ones (10). Here too there are other pools to see and the area was absolutely deserted during our visit…. Overall our walk was about 10-12km (about 7 miles) and it took us 4 hours to go around doing a lot of pictures.
Information to know before your visit Pamukkale
When we were preparing our visit, we had a hard time finding information online… Or rather, we found everything and its opposite, especially in terms of prices and schedules. Apparently this changes drastically every year…. So here is the latest and freshest news from July 2022: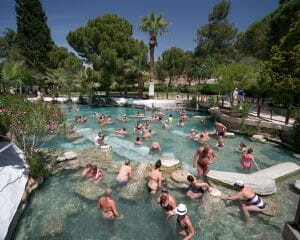 The site is open every day from 8am to 7pm. (To avoid crowds, we clearly recommend that you come to the opening)
The entrance fee is 50 TL 200TL (price August 2022). The entrance fee includes access to Pamukkale, Hierapolis but this does not include the thermal baths at the top of the site (50 TL more for bathing in these hot springs… we do not think is especially worth it)
The exit of the site is final. If like us you come at the opening, you will not be able to go out in the middle of the day and then come back for sunset. You'll have to pay again an entrance fee.
Duration of the visit: If you only want to see the pools then this would probably take about 1 hour…. But it would REALLY be a shame not to go see Hierapolis. We spent 5 hours on the site and had plenty of time to enjoy it.
2 entrances are located at the top of the site (where buses arrive). If you are travelling independently, the easiest way is to enter through the entrance located in the village (point 2 on the map).
We really recommend that you come on your own! Many agencies organize tours from the coast but these tours are really fast… Many hours of driving and very little time on site. Most of the groups did not stay more than 2 hours, which is not enough to visit Hierapolis. If you don't have the time to come by yourself you can check the organized tours here.
Be careful: The water in the basins is regulated by taps…. Apparently some days all the valves are open, but others… well it's closed! The main terraces are therefore not systematically filled with water! This is done in order to preserve the site and allow the terraces to keep their white colour.
For the visit of the baths it is mandatory to be barefoot. Remember to bring a backpack to put your shoes in.Speaking of shoes, we recommend sneakers… because the site is very big!
Don't forget to bring a cap, sunglasses and sunscreen. The sun is strong!!!!
To save money, bring enough water and snacks / a picnic. It is possible to buy things at the hot spring shop, but it is crazy expensive! A bottle of water is sold 8 times more expensive than in the village!!!
It is possible to swim in some pools. It didn't seem crazy to us to lie down next to all these people, but if you dream of getting wet, put a bathing suit under your clothes.
Note: if you visit the site and find that any of the above information is no longer up to date, please feel free to leave us a comment or send us a message. This will allow us to keep this information up to date!
Getting to Pamukkale and where to stay
Getting to Pamukkale: The easiest way to get to Pamukkale on your own is to arrive from Denizli bus station. If you arrive from elsewhere in Turkey by road you will most probably arrive at the terminal at the top of the bus station.
Izmir-Pamukkale: There is a direct train from Izmir Basmane to Denizli which runs several times a day. The journey takes about 4,5 hours.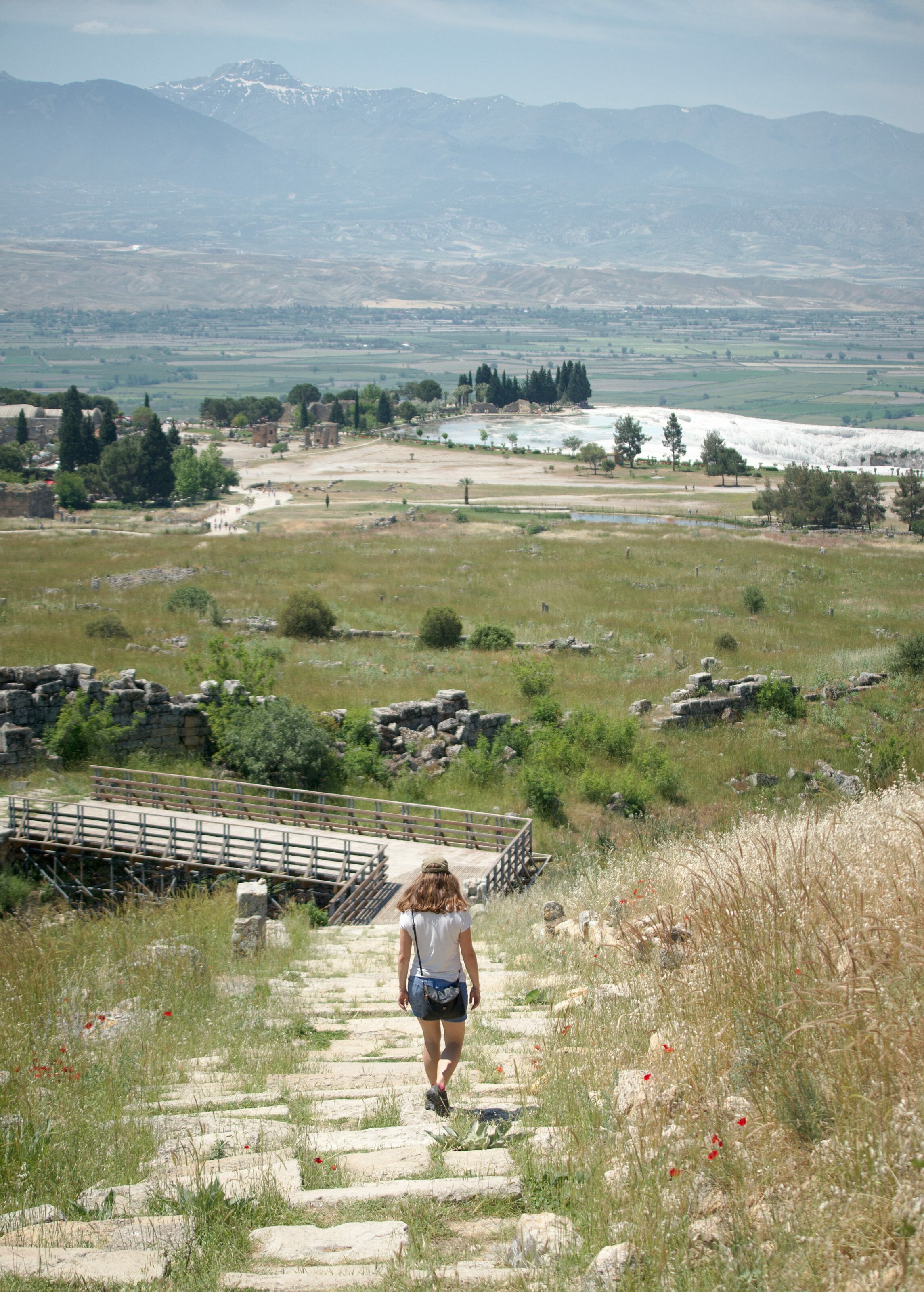 For our part, we arrived by train from Selçuk (this train is also the one coming from Izmir, 17.5 TL per trip, several trains per day). From Denizli station you have to reach the bus station, which is located in a large building just opposite the railway station.
The shuttles that go to Pamukkale from Denizli leave very regularly (about every 20 to 30 minutes). To take the minibus (Dolmus in Turkish) you have to get to the lower floor of the bus station and go to platform 76. The journey takes about 20 minutes and costs 4.5 TL 5 TL (price march 2020) per person (about 0.7€).
There is no shortage of options for accommodation in Pamukkale. We arrived without a reservation and ended up at the Beyaz Kale Hotel. Nothing super glamourous, but a very good value for money and it is run by a nice family. For 150 TL (22€) we had a double room with bathroom, a small swimming pool and a great breakfast with lots of fresh fruit included in the price.. Book this Hotel online
To see all availabl hotels and apartments in Pamukkale for your stay you can also check the map below. Simply use the zoom and adjust the filters to refine your search.
Restaurants in Pamukkale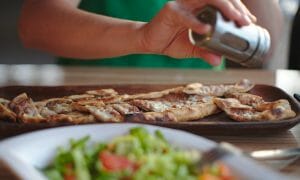 Frankly, the offer is not crazy…. The restaurants in the village are relatively expensive for quite poor quality. We ate one evening at the Kayas (very good, small portions) and the other evening at the Tikir Grill House (excellent pides (Turkish pizzas), cheap and very friendly). At lunch we had a picnic on the site.
Pamukkale: The other side of this very touristic place
Pamukkale is a well-known site and we often see pictures of this "cotton castle" to illustrate travel brochures from Turkey. So it's undeniable, the place has something quite unique; these all white terraces and this absolutely crystal clear water in which the blue sky is reflected is just super photogenic. Benoit enjoyed taking pictures….
Nevertheless, it seemed equally important to us to show you some less "perfect" photos and especially that will put you a little more in the mood if you plan to visit Pamukkale. Let's face it, we're not trying to discourage you from coming, but we'd just like to avoid you being disappointed when you see the whole "circus" that is going on around these pools once you're there…
Images speak more than words…
The fact that there are people is normal… we are there ourselves and it would be very selfish to say that this place would be better with fewer people. Then I must admit that what particularly shocked us here was the incredible number of people who seem to be there only to capture THE picture for their Instagram account. We have seen a lot of touristic sites, but never have we been so marked by such a circus involving a selfie stick and ultra exagerated outfits just for the photos. Oh and one last thing! Have you seen the Ara???? These poor parrots who spend their days being carried from one selfie to another… it's just crazy that things like that are still allowed in 2019, and even more on a UNESCO "protected" site…
Afterwards, it's possible to stay positive! The fact that many seem to come only for this same photo, it leaves a lot of space to discover the other parts of the site! The contrast between the crowds of the "main spot" and the pools on the side and especially Hierapolis is just incredible. Let's take advantage of it!
Last thoughts
To sum up, I would say that we are very happy to have come to this site, if only for the sublime ruins of Hierapolis. Afterwards, I don't hide from you that we had initially planned to stay for the sunset on the pools (which must be magnificent if you ask me), but when as we arrived at 8.00 am we simply didn't have the courage to stay until 7pm….
If you decide to come, you are strongly encouraged not to be discouraged by the crowd at the main pools. Come wearing sneakers and explore the rest of the site, you will see you will not be disappointed! And please don't do selfies with the ara parrot….
See you in a while! Because yes, tomorrow we leave for 7-9 days of trekking along the Lycian way! To follow us live, come and join us on Instagram where we will try to do daily stories if the network allows it. And promised, no bikini selfie in sight;)
Pin it
Note: This article contains affiliate links to partner sites. By using our links you do not pay anything additional but we'll receive a small commission. This helps us to maintain our website ad-free and create free and independant content. Thanks for your support.