It's been almost a month since we arrived in Galicia (north west part of Spain) and we are based in Anceu coliving for an indefinite period of time. We are in the middle of the countryside, literally at the end of the road that leads to the small village of Anceu which is about 30 minutes drive from the town of Pontevedra.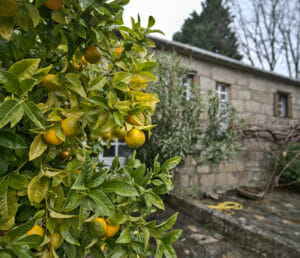 Here we are like in our little bubble, a bit disconnected from the current context. We share an enormous house with 4 other people for the moment and our days are "rythmed" by work, hikes in nature and evenings by the fire talking with the other "colivers".
By the way, you may wonder why we came in Galicia in the middle of the Covid pandemic 😉 … here is a little flashback!
We tried to make plans… and we failed!
In January (so before the Covid arrived in Europe), we spent a few weeks at the Cloudcitadel coliving in Briançon in the heart of the French Alps. We met Agustin, a Spanish developer who was visiting some colivings because he had the project to open his own coliving in the heart of his homeland Galicia. We got on well with him and we promised to come and visit him when his coliving would be open.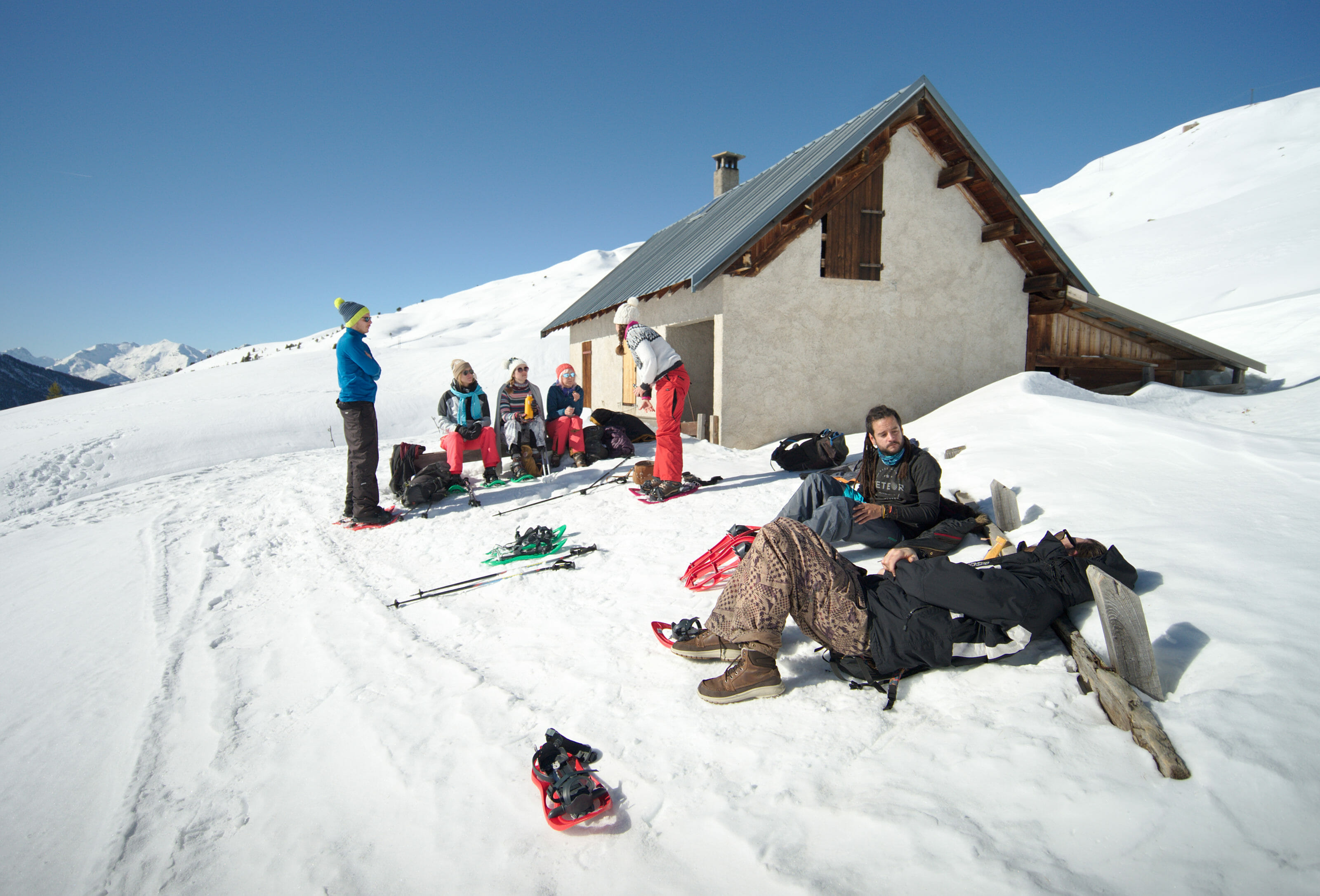 In September, the first wave was long gone and the restrictions in Europe had been lightened… at that time we thought it would be a good idea to rent our apartment for the winter and travel a little bit south with our van Dahu (which we saw the first time on September 12th and which we immediately bought). We thought that we would certainly not know any more lockdown like in March… and we thus rented our apartment with peace of mind from the end of November to April (we were a little bit naive lol).
But here we are, at the end of October the situation got complicated again a little bit everywhere in Europe… and at the end of November, we left our apartment without really being able to leave Switzerland (lockdown in France and similar situation in Austria and Italy). By the way we thank Fabienne's dad who welcomed us for 2 weeks at this time.
We then took advantage of the restrictions release on December 15 in France to travel across the hexagone to the Basque Country and cross the border to continue to Galicia and arrive at the Anceu coliving (some pictures of the trip to Galicia below). With the Christmas holidays, we felt that the break would only be short and we thought that we would be better in a coliving rather than trying to travel without being able to make any plans with the Covid restrictions.
Anceu, a rural coliving in the Galician countryside
As we explained in our 2020 review, one of the things that has been the most difficult with Covid is the lack of social interaction. So we thought that this time, even if we had to be lock down somewhere because of the Covid restrictions, we might as well be with other people 😉 . And since we had met Agustin at the beginning of the year and we didn't know Galicia yet, here we are at Anceu coliving!
The coliving is really in the middle of the Galician countryside (hence the name rural coliving), 30 minutes drive from the coast and the town of Pontevedra. Honestly when we arrived the first time following this road that was getting narrower and narrower, we wondered if we took the wrong way. But no, at the very end of the road we came across this big house all renovated in the middle of nature.
The place really has everything we love! A beautiful typical Galician house with its hòrreos in the middle of the forest, close to a lake, a swimming pool (that we won't use in winter lol), a huge kitchen, a fireplace for the evenings by the fire… a great internet connection 😉 . In short the ideal base to go hiking in the surroundings and discover Galicia.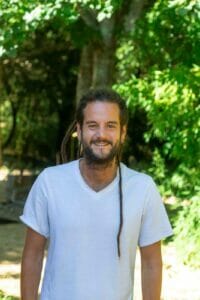 Agustin is originally from Galicia but has lived abroad for a long time, notably in Asia and China. Although he is a developer and can work from anywhere in the world, he decided to come back to Galicia to open a coliving in the countryside. Personally, I find this kind of story very inspiring! Rural areas like Galicia (and many others around the world) are losing their young people… and initiatives like Anceu coliving might be able to give our countrysides a second life in the future!
What do we do in Anceu?
Ohhh a lot of things! We chat, we work, we cook, we share moments with the other colivers, we go for a walk, we do sports, we have some drinks (the coffee liquor in Galicia 😉 ), we watch TV shows, we play guitar… Frankly it is super cool and we are very happy to find the coliving atmosphere which we missed so much during the lockdown.
We were around 8-9 people during the holidays, we're 6 now… but no matter the number, the atmosphere is really relaxed and it feels great. We almost completely forget the news and it can pass several days without talking about Covid 😉
If you want to see a little more, here is a small video that reflects the atmosphere of the coliving in winter (with English subtitles):
the Galician countryside: a small hiking paradise
So at the time of writing these lines, we haven't yet gone far from the coliving to discover other parts of Galicia… the fault of 2 weeks of very bad weather at Christmas, Covid restrictions and a little someone that invited itself in our life and of which I'm going to tell you about right away 😉 .
But even around the coliving (we haven't done more than 30 minutes by car yet), we have already done some beautiful hikes. Galicia is a particularly green region because of its cooler and more humid weather compared to the rest of Spain. The rivers are literally overflowing with water (it is better to have good shoes for hiking in winter in Galicia) and the forests are as if enchanted… it is a land of nature and traditions and we are looking forward to discovering more.
Of course we will prepare an full blog post about our favorite hikes in Galicia, but in the meantime here are some pictures of our first adventures:
Note: You can now read our blog post about our favorite hikes in Galicia around the coliving
Anceu, a coliving for animal lovers
In Anceu, we also met Agustin's girlfriend Africa, as well as Lucky (Africa's dog) and Pandora (Agustin's dog). Africa is also one of those inspiring people! After studying law and some first unconvincing professional experiences, she decided to change everything to open her own coworking space in Pontevedra, the Arroelo space. It was while visiting the coliving in search of synergies that she met Agustin a few months ago 😉
Animals lover, she is also a volunteer at a dog shelter in Pontevedra (os palleiros) where she adopted Lucky. You may have guessed it, she is also the one who is at the origin of the arrival of Pandora in Anceu 😉 . If it continues, the coliving will look like a small zoo in a few years lol (they already have chickens and maybe soon a donkey)… In any case, pets are welcome at Anceu coliving!
As soon as we arrived, she immediately understood that Fabienne was a dog lover… so, I think she started trying to convince me (even if it was already in project since Fabienne and I had said to each other that the day we would have a van, we would also have a dog) and by the many suggestions and comments, we found ourselves one day going to visit the shelter in Pontevedra. 🙂
Meet Winchy!
Once a week, a dog trainer comes by to help Africa and Agustin educate Pandora and Lucky. She is the one who told us about Winchy, a very loving dog who unfortunately has been at the shelter for 2 years without finding anyone to adopt him. She explained us that Winchy could also follow us for weeks on a hike and that he is not too big (for the van it is still easier).
Well, once at the shelter, we ask to be able to go for a walk with Winchy… we discover a magnificent dog (a kind of mix between a beauceron and a greyhound) but extremely fearful. At the same time, after having spent 2 years in a dog shelter, we can understand why.
It takes a little more to scare Fabienne and we decide to come back to take Winchy at the shelter to make a second, longer walk by the sea towards Pontevedra (photos below). This time we are in a calmer place and the walk goes marvelously. We can already glimpse that Winchy just needs a lot of love and walks to regain his self-confidence… It is thus decided, we pass to the next stage and we take Winchy to the coliving as a foster family with option of adoption 🙂 .
As I write these lines, it's been a little over a week since we have Winchy with us at the coliving. So he is still very fearful and he is not yet super comfortable in the van (understand that he is vomiting of anxiety because he is so scared in the van) but there is already such a difference compared to the first day. We continue to go for a lot of walks with him, to make short trips in the van to try to get him used to it (by the way, if you have any advice on this matter, we'll take it)… we even slept in the van in front of the coliving so that he understands that it's a bit his new home 😉
In short, we are already almost certain that we are going to adopt him and we already see ourselves going on long thru hikes with him in the future 🙂
There you have it, you know everything about our first steps in Galicia and at the Anceu coliving. We don't plan to move from here with the Covid madness in the coming weeks… but as we can more or less move freely all over Galicia, we have a lot to do here for a while 😉 . So as soon as Winchy will be a little more comfortable in the van, we will certainly go on adventures atthe 4 corners of Galicia and we are already looking forward to share all this with you!
We give you a big hugs and hope you're doing well wherever you are!
Pin it on Pinterest