We spent the entire winter of 2020/2021 in Galicia, in the north west corner of Spain, and during this trip we were based at Anceu coliving for over 4 months (that's how much we loved this place). We were located in the heart of the Galician countryside, literally at the end of the road that leads to the small village of Anceu, which is about a 30 minute drive from the city of Pontevedra.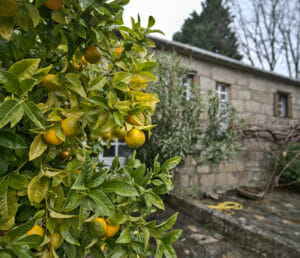 Here we were like in our little bubble, a bit disconnected from the current context (it was Covid time). We shared an enormous house with 4 to 10 other people (which was not bad considering that we were in the middle of a pandemic) and our days were "rythmed" by work, hikes in nature and evenings by the fire talking with the other "colivers".
By the way, you may wonder why we came in Galicia in the middle of the Covid pandemic 😉 … here is a little flashback!
How did we end up in Anceu Coliving, in the north of Spain?
In January (so before the Covid arrived in Europe), we spent a few weeks at the Cloudcitadel coliving in Briançon in the heart of the French Alps. We met Agustin, a Spanish developer who was visiting some colivings because he had the project to open his own coliving in the heart of his homeland Galicia. We got on well with him and we promised to come and visit him when his coliving would be open.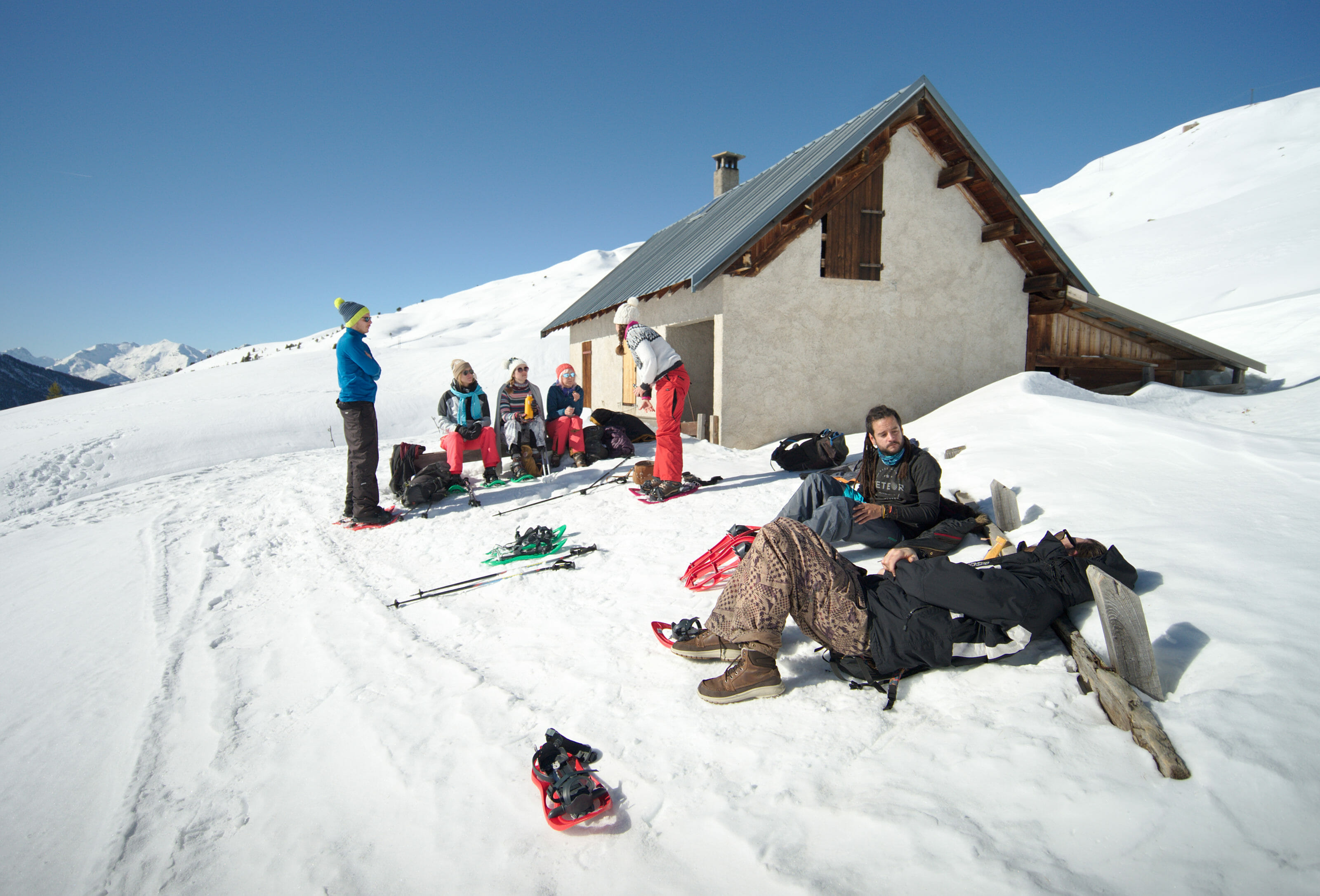 In September, the first wave was long gone and the restrictions in Europe had been lightened… at that time we thought it would be a good idea to rent our apartment for the winter and travel a little bit south with our van Dahu (which we saw the first time on September 12th and which we immediately bought). We thought that we would certainly not know any more lockdown like in March… and we thus rented our apartment with peace of mind from the end of November to April (we were a little bit naive lol).
But here we are, at the end of October the situation got complicated again a little bit everywhere in Europe… and at the end of November, we left our apartment without really being able to leave Switzerland (lockdown in France and similar situation in Austria and Italy). By the way we thank Fabienne's dad who welcomed us for 2 weeks at this time.
We then took advantage of the restrictions release on December 15 in France to travel across the hexagone to the Basque Country and cross the border to continue to Galicia and arrive at the Anceu coliving (some pictures of the trip to Galicia below). With the Christmas holidays, we felt that the break would only be short and we thought that we would be better in a coliving rather than trying to travel without being able to make any plans with the Covid restrictions.
Anceu, a rural coliving in the Galician countryside
As we explained in our 2020 review, one of the things that has been the most difficult with Covid is the lack of social interaction. So we thought that this time, even if we had to be lock down somewhere because of the Covid restrictions, we might as well be with other people 😉 . And since we had met Agustin at the beginning of the year and we didn't know Galicia yet, here we are at Anceu coliving!
Do you want to know more about "what is a coliving space" and why we love them so much?
The coliving is really in the middle of the Galician countryside (hence the name rural coliving), 30 minutes drive from the coast and the town of Pontevedra. Honestly when we arrived the first time following this road that was getting narrower and narrower, we wondered if we took the wrong way. But no, at the very end of the road we came across this big house all renovated in the middle of nature.
The place really has everything we love! A beautiful typical Galician house with its hòrreos in the middle of the forest, close to a lake, a swimming pool (that we won't use in winter lol), a huge kitchen, a fireplace for the evenings by the fire… a great internet connection 😉 . In short the ideal base to go hiking in the surroundings and discover Galicia.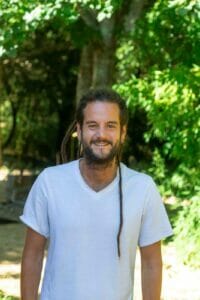 Agustin is originally from Galicia but has lived abroad for a long time, notably in Asia and China. Although he is a developer and can work from anywhere in the world, he decided to come back to Galicia to open a coliving in the countryside. Personally, I find this kind of story very inspiring! Rural areas like Galicia (and many others around the world) are losing their young people… and initiatives like Anceu coliving might be able to give our countrysides a second life in the future!
What do we do in Anceu coliving?
Ohhh a lot of things! We chat, we work, we cook, we share moments with the other colivers, we go for a walk, we do sports, we have some drinks (the coffee liquor in Galicia 😉 ), we watch TV shows, we play guitar… Frankly it is super cool and we are very happy to find the coliving atmosphere which we missed so much during the lockdown.
We were around 8-9 people during the holidays, we're 6 now… but no matter the number, the atmosphere is really relaxed and it feels great. We almost completely forget the news and it can pass several days without talking about Covid 😉
If you want to see a little more, here is a small video that reflects the atmosphere of the coliving in winter (with English subtitles):
Coliving video
If you want to learn more about the philosophy of a coliving and the different "local impact" actions that can be found there, we have prepared a small video of our recent stay in Anceu (a rural coliving in Galicia:). You will see of course a lot of images of the coliving too 😉
Note: the video is in French, but you can activate the subtitles in English
Our opinion about Anceu coliving after spending 4 months there
As we stayed more than 4 months at the coliving, we had to update this post (which we had written the 1st time 2-3 weeks after our arrival). As Anceu coliving is still very new, a lot of things changed during our stay and we wanted to show you what Anceu looked like when we left. We also wanted to share with you what we thought about this place after more than 4 months in the Galician countryside.
The Coliving infrastructures
When we arrived, everything was obviously already working well. But we have to admit that the changes made in a few months have been incredible. Here is a little more detail about what the coliving looks like from the inside
The rooms
For the rooms, Africa, Agustin and Maria (an interior designer who was also staying at Anceu) had a great idea to give Anceu a real soul. They invited different artists to stay at the coliving and offered them to decorate one room each, giving them total freedom. The goal was that the artists express what they think about Anceu in their own way and that Anceu will eventually become a kind of art and culture center.
The results in just a few months were impressive and rooms that were previously quite ordinary were transformed into real works of art. Judge for yourself:
the coworking spaces
In Anceu, you can work more or less wherever you want. The wifi works everywhere inside and outside the house which is really cool for working outside when the weather is nice. But whether you're looking for silence to be productive, you're in a more social mood or you have video conferences, there's a place for everyone at Anceu.
There are two large work spaces (one dog friendly and one not) where silence is expected, a call room, the lounge area where there are more "social" work places next to the coffee machine. Outside there are also several places that are well suited to work with tables and plugs to connect your computers. In short, there is something for everyone!
The kitchen
Of course, when you live in a coliving, the kitchen is an important place that must be big enough (otherwise it becomes a mess if 4-5 people want to cook at the same time) and well equipped. Especially since a concept we really liked at Anceu is that we always try to eat together in the evening. On Monday, we define who cooks which day of the week, and we take turns to cook for everyone. So we end up cooking a lot less often, but when we cook, we do it for everyone and we try to give to do our best. Thanks to this idea, we discovered a lot of new dishes cooked by people from all over the world and we had great dinners!
In short, at Anceu the kitchen is super well equipped. There is even a thermomix robot which was a revelation for us since we bought a second hand one as soon as we came back home 😉 .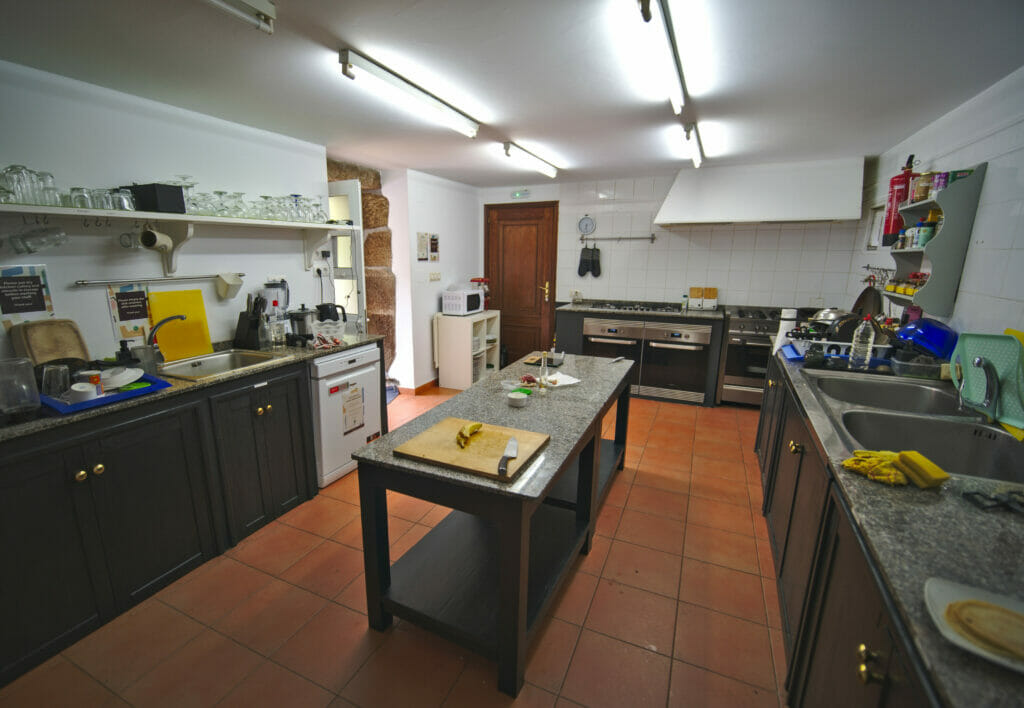 The common spaces
Whether it is inside or outside, there are also a lot of common spaces that also changed a lot in 4 months. There is a big swimming pool (that we did not test too much because we were there in winter), a huge garden with different places to rest, a patio, a gym, a big living room with a fireplace (that we used a lot this winter 😉 ). In short, there is no lack of spaces to share good moments between colivers.
The community and atmosphere at Anceu Coliving
You can imagine that if we stayed more than 4 months, it's because we really appreciated the atmosphere and the community we found in Anceu. Agustin and Africa are really great people who go out of their way to make sure that everyone feels good in the coliving. On the one hand Afri is a super creative person who always has unique ideas to animate the weeks (between the crazy menu topics, the creative workshops, the ideas for evenings, the sports sessions + smoothies…). On the other hand, Agustin is a very organized guy who makes sure that everything runs smoothly in the coliving. But he is also always ready for a drink, a hike or a little live music session with his guitar. The two of them are a very complementary couple and are really the soul of Anceu. They are very involved in the life of the coliving and really facilitate the interactions between colivers.
Another thing we really appreciated is that they make a point of using English as the main language in Anceu! You can imagine that with Covid, there were mainly Spanish-speaking people in Anceu (since it was difficult to come to Spain from abroad). Yet, every time Fabienne or I (or another non-Spanish speaker) walked into a room, everyone naturally switched to English. It's a silly thing to do, but it can create some sort of "clans" if everyone doesn't play along… But if everyone speaks the same language, it's much easier to create a good group dynamic.
A typical week at Anceu coliving
You might be wondering what a typical week at Anceu Coliving looks like. Here's what it was like in general (although it may have changed a bit since then):
On Monday evening, we all ate an upcycling dinner (meaning that a volunteer cooks with the leftovers of the week). Then we had a little meeting to organize who would cook which night of the week. Everyone would write down the ingredients they needed to cook and Agustin would place the order for delivery the next day. We also shared our respective programs to organize common activities for the week to come.
From Monday to Friday, the atmosphere is still quite work-oriented since some of the people work remotely for companies with rather traditional schedules. But we communicate a lot on the coliving slack channel and if someone goes for a walk, does some sport or goes shopping, he usually invites the others to join him on the channel. On our side, we often left during the week with our van Dahu to make small excursions to discover the surroundings.
On weekends, the atmosphere is super relaxed. We often had a good brunch together before going hiking or going to the beach. In the evening, we often had a meal with drinks until the end of the night. Sometimes Agustin would even have a friend of his cook paella or something for everyone… This allowed everyone to be super relaxed, without even having to think about cooking 🙂
In short, all this to tell you that we loved Anceu coliving and that we found there everything we are looking for when we come in this kind of place. If you want to work in the middle of nature, discover Galicia and meet nice people from all over the world, Anceu is made for you. So if we convinced you and you decide to spend some time in Anceu, do not forget to say hello to Agustin and Afri for us 😉
the Galician countryside: a small hiking paradise
So at the time of wrote these lines the first time, we didn't go really far from the coliving to discover other parts of Galicia… the fault of 2 weeks of very bad weather at Christmas, Covid restrictions and a little someone that invited itself in our life and of which I'm going to tell you about right away 😉 .
But even around the coliving (we haven't done more than 30 minutes by car yet), we have already done some beautiful hikes. Galicia is a particularly green region because of its cooler and more humid weather compared to the rest of Spain. The rivers are literally overflowing with water (it is better to have good shoes for hiking in winter in Galicia) and the forests are as if enchanted… it is a land of nature and traditions and we are looking forward to discovering more.
Of course we will prepare an full blog post about our favorite hikes in Galicia, but in the meantime here are some pictures of our first adventures:
Note: You can now read our blog post about our favorite hikes in Galicia around the coliving
Anceu coliving, the perfect base to discover Galicia
Well, as I told you above, because of Covid, we couldn't go far from the coliving at the beginning of our stay. But fortunately, the restrictions were reduced with the weeks and we could finally go discover a little more Galicia with our van.
Anceu is an excellent base to discover all the facets of Galicia. From the coliving, you are at less than 2 hours of the major things to see in Galicia. We actually took advantage of it because we visited:
To give you a taste, here are some pictures of our visits made during our stay in Anceu Coliving
Rent a car during your stay at Anceu coliving
Frankly, if you want to take advantage of your stay in Anceu coliving to visit Galicia a little bit, we really recommend you to rent a car if you don't have one. Even if you don't necessarily need one to live in coliving, a vehicle is essential to visit Galicia. Unfortunately, public transports are not very developed and we could not have done all these trips in Galicia without our van. Obviously you don't necessarily need a van, but we recommend you to rent at least a small car for your stay. Honestly, except July-August, you can find very good offers on rentalcars… and as the price of the coliving is very cheap, it's really worth it.
Anceu, a dogfriendly coliving for animal lovers
In Anceu, we also met Agustin's girlfriend Africa, as well as Lucky (Africa's dog) and Pandora (Agustin's dog). Africa is also one of those inspiring people! After studying law and some first unconvincing professional experiences, she decided to change everything to open her own coworking space in Pontevedra, the Arroelo space. It was while visiting the coliving in search of synergies that she met Agustin a few months ago 😉
Animals lover, she is also a volunteer at a dog shelter in Pontevedra (os palleiros) where she adopted Lucky. You may have guessed it, she is also the one who is at the origin of the arrival of Pandora in Anceu 😉 . If it continues, the coliving will look like a small zoo in a few years lol (they already have chickens and maybe soon a donkey)… In any case, pets are welcome at Anceu coliving!
As soon as we arrived, she immediately understood that Fabienne was a dog lover… so, I think she started trying to convince me (even if it was already in project since Fabienne and I had said to each other that the day we would have a van, we would also have a dog) and by the many suggestions and comments, we found ourselves one day going to visit the shelter in Pontevedra. 🙂
Meet Winchy, the dog we adopted thanks to Anceu coliving!
Once a week, a dog trainer comes by to help Africa and Agustin educate Pandora and Lucky. She is the one who told us about Winchy, a very loving dog who unfortunately has been at the shelter for 2 years without finding anyone to adopt him. She explained us that Winchy could also follow us for weeks on a hike and that he is not too big (for the van it is still easier).
Well, once at the shelter, we ask to be able to go for a walk with Winchy… we discover a magnificent dog (a kind of mix between a beauceron and a greyhound) but extremely fearful. At the same time, after having spent 2 years in a dog shelter, we can understand why.
It takes a little more to scare Fabienne and we decide to come back to take Winchy at the shelter to make a second, longer walk by the sea towards Pontevedra (photos below). This time we are in a calmer place and the walk goes marvelously. We can already glimpse that Winchy just needs a lot of love and walks to regain his self-confidence… It is thus decided, we pass to the next stage and we take Winchy to the coliving as a foster family with option of adoption 🙂 .
As I write these lines, it's been a little over a week since we have Winchy with us at the coliving. So he is still very fearful and he is not yet super comfortable in the van (understand that he is vomiting of anxiety because he is so scared in the van) but there is already such a difference compared to the first day. We continue to go for a lot of walks with him, to make short trips in the van to try to get him used to it (by the way, if you have any advice on this matter, we'll take it)… we even slept in the van in front of the coliving so that he understands that it's a bit his new home 😉
In short, we are already almost certain that we are going to adopt him (ti's done! Winchy is part of the family now) and we already see ourselves going on long thru hikes with him in the future 🙂
That' s it, you know everything about our stay at the Anceu coliving. We simply loved this place in the middle of the Galician countryside. We are super grateful for all the beautiful people we met in Anceu and all the good times we shared with them! So if you are looking for an inspiring place to live and work, close to nature and want to visit the north of Spain… we can't recommend Anceu coliving enough.
We give you a big hugs and hope you're doing well wherever you are!
Pin it on Pinterest