After enjoying the beach of Mui Ne, we headed to the beautiful city of Hoi An! It's a highlight for any trip to Vietnam, whether to visit the old town or the surroundings, but also to tailor-made clothes, from the simplest to the most elaborate! Are you ready to be charmed by Hoi An? Let's go!
Update 2022
We took this trip in 2014, but the article was completely revised and updated in October 2022. If you see any price changes or have additional information that might be relevant, please feel free to leave us a comment!
Hoi an, ancient merchant city
After digesting a few big meals at the end of the year and also after having eliminated the residues of the drunken evening of the New Year, we set off again in the direction of Hoi An with Stef and Romain, our little Swiss vacationers who came to visit us…
Hoi An is a small city located in the province of Quang Nam on the Vietnamese coast. About halfway between Ho Chi Minh and Hanoi, Hoi An has become a must-see tourist destination!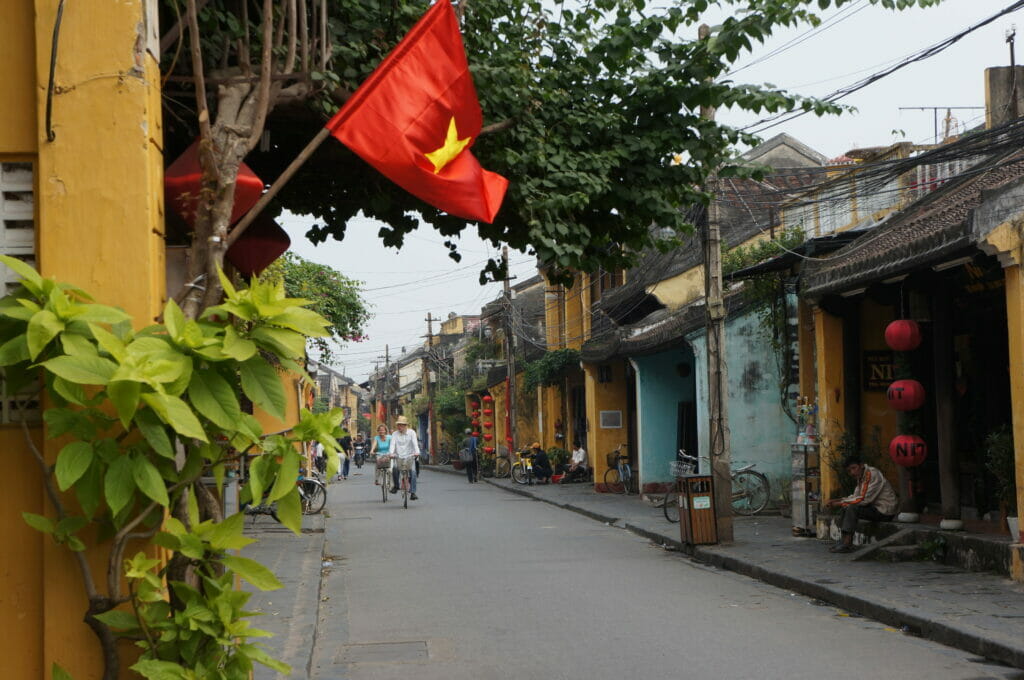 Visit the old town of Hoi An
The city is mostly known for its tailors, but also its incredible charm and its small Chinese-style streets. That's right! Hoi An has long been the home of the Chinese but also of the Japanese! It was in a way the meeting point of Chinese and Japanese merchants in the 18th-century for trade.
Currently a UNESCO World Heritage Site, Hoi An has preserved over the years the charm of yesteryear with its small colorful houses lining the grand canal. It is definitely a nice little town to walk around! However, don't expect to meet many Vietnamese people. As far as "authentic cultural experience" is concerned, you'll have to come back later: Hoi An is a touristic city and the best thing is to be aware of it when you arrive!
In the pedestrian center of the old town, there is not a single house that is not either a café, a restaurant, a tailor, a small supermarket, or a souvenir seller…
Oh no, actually I might exaggerate a bit! There are also some temples and museums that you can access with a ticket! A ticket costs 120 000 dongs and gives you access to 5 museums, exhibitions, or temples. You can visit, for example, the Assembly Hall of the Fujian Chinese Congregation (Hoi Quan Phuoc Kien) or even cross the famous Japanese bridge (and visit the Cau temple at the same time). But nobody comes to Hoi An for the few temples in general, besides they are almost all deserted…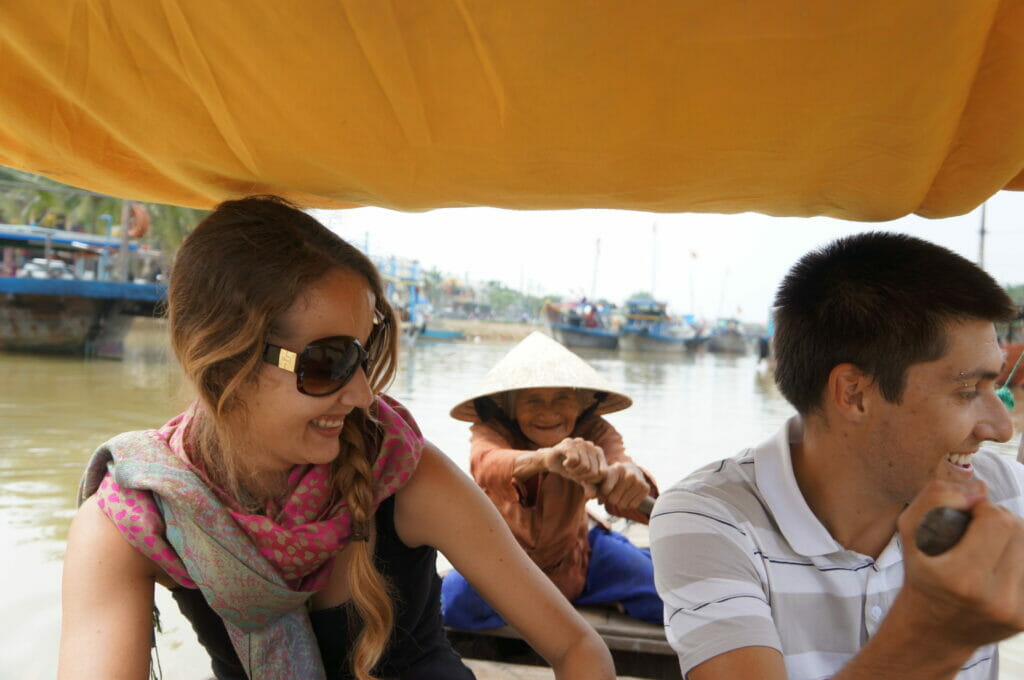 Another activity we did was a small boat tour for 50 000 dongs. A little granny took us on the river to see the city differently and the experience was really nice!
At night, walk in the streets of Hoi An: hundreds of colorful lanterns are lit everywhere in the city, which gives a very different atmosphere compared to the daytime!
Accommodation in Hoi An
There are an almost infinite number of guesthouses and hotels in Hoi An and you will have no trouble finding something, whatever your budget. For our part, we opted for a small guesthouse (whose name we unfortunately forgot) for about 13 euros a night.
This article contains affiliate links to partner sites. When you use our links to book accommodation, a car, or an activity, you don't pay anything extra, but we get a small commission. This helps us to offer you free, independent, and ad-free content. Thank you for your support!
Other activities to do in Hoi An
We didn't do the following activities, but it will give you some ideas if you stay at least 2 days in Hoi An:
The city has a pretty incredible culinary scene. In addition to its market where you will find excellent street food, Hoi An is full of food tours and cooking classes. We also recommend the Morning Glory Original restaurant, an old colonial house where you can taste the local specialties: the famous banh mi, the cao lau, the bun cha…
Visit the My Son sanctuary, a historical site dating back to the Cham period and classified as a UNESCO World Heritage Site. It's a 1-hour drive from Hoi An and admission is 150,000 dong. If you've never seen a temple in Asia, it may be worth it!
As the city is surrounded by rice fields and the beaches of An Bang and Cua Dei in the north are quite close to the old city (5 km), a good plan might be to go for a bike ride and explore the surroundings to escape the touristic whirlwind of Hoi An. There are a lot of nice little villages around the old town, like Tra Que market gardening village or Cam Kim.
Business is business…
In Hoi An market, prices can easily be multiplied by 10 for tourists! We observed a rice cake seller for a few minutes. A Vietnamese lady comes to the stall and hands over 3000 dongs in exchange for a pack of 10 rice cakes. A few moments later, an English tourist arrives at the same stand and is asked 50,000 dongs for the same pack of rice cakes!
Buying a can of Coke in the main street of Hoi An in a Minimart will cost you between 15,000 and 20,000 dongs. If you go out of the center, the price of the red can drops to 8,000 dongs 😉.
Along the canal in Hoi An, you will find many street food stalls… The food is excellent, but the prices are not frankly the usual street food prices, they are more like restaurant prices.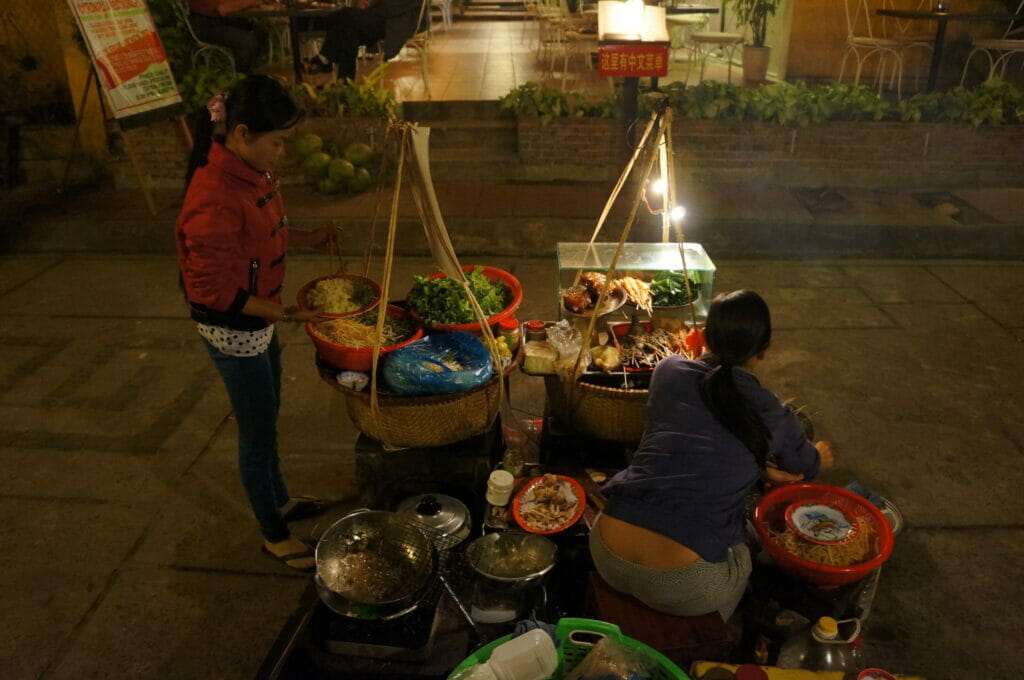 Why come to Hoi An on the way to Hanoi?
First of all for its old town which is really cute and the atmosphere is really special (in the good sense of the word).
Another reason is, you'll never guess, shopping! Hoi An has the reputation of being the city of customization. But this reputation is quite recent, and it has mainly developed thanks to tourism! Just think, there were only a dozen tailors in the city 15 years ago. Now, there are more than 400 such stores! So you can be sure that the competition is tough and that you have to hold on to find a good deal!
Travel to Hoi An
The possibilities are different depending on your city of departure:
We arrived in Hoi An from Mui Ne by bus at the time but it seems that this route does not exist anymore. You can take 2 buses: one night bus that goes from Phan Tiet (the big city next to Mui Ne) to Nha Trang and another from Nha Trang to Da Nang, the city next to Hoi An. Alternatively, a more straightforward solution is to take the train from Binh Thuan station in Phan Tiet to Da Nang for a 14-hour journey in a sleeper train (a ticket costs 855 000 dongs or 35 euros).
From Ho Chi Minh to Hoi An, it takes about 17 hours by train (from 600 000 dongs) and 20 hours by bus (the ticket for a semi-sleeper bus is 350 000 dongs). Otherwise, you can fly from Ho Chi Minh City to Da Nang, near Hoi An, but it is more expensive…
If you come from Hanoi, you have the option of the train or bus and the journey takes between 12 and 16 hours. The price varies between 16 euros for a sleeper bus and 40 euros for a VIP train.
The tailors in Hoi An
We had announced our next common project after the world tour in our review on China, and we had jumped on the opportunity to be in the capital of tailoring in Vietnam to make 2 suits for Benoit and a beautiful wedding dress for me. A few years after our visit to Hoi An, D-day has finally arrived! The dress and the suit? We were delighted!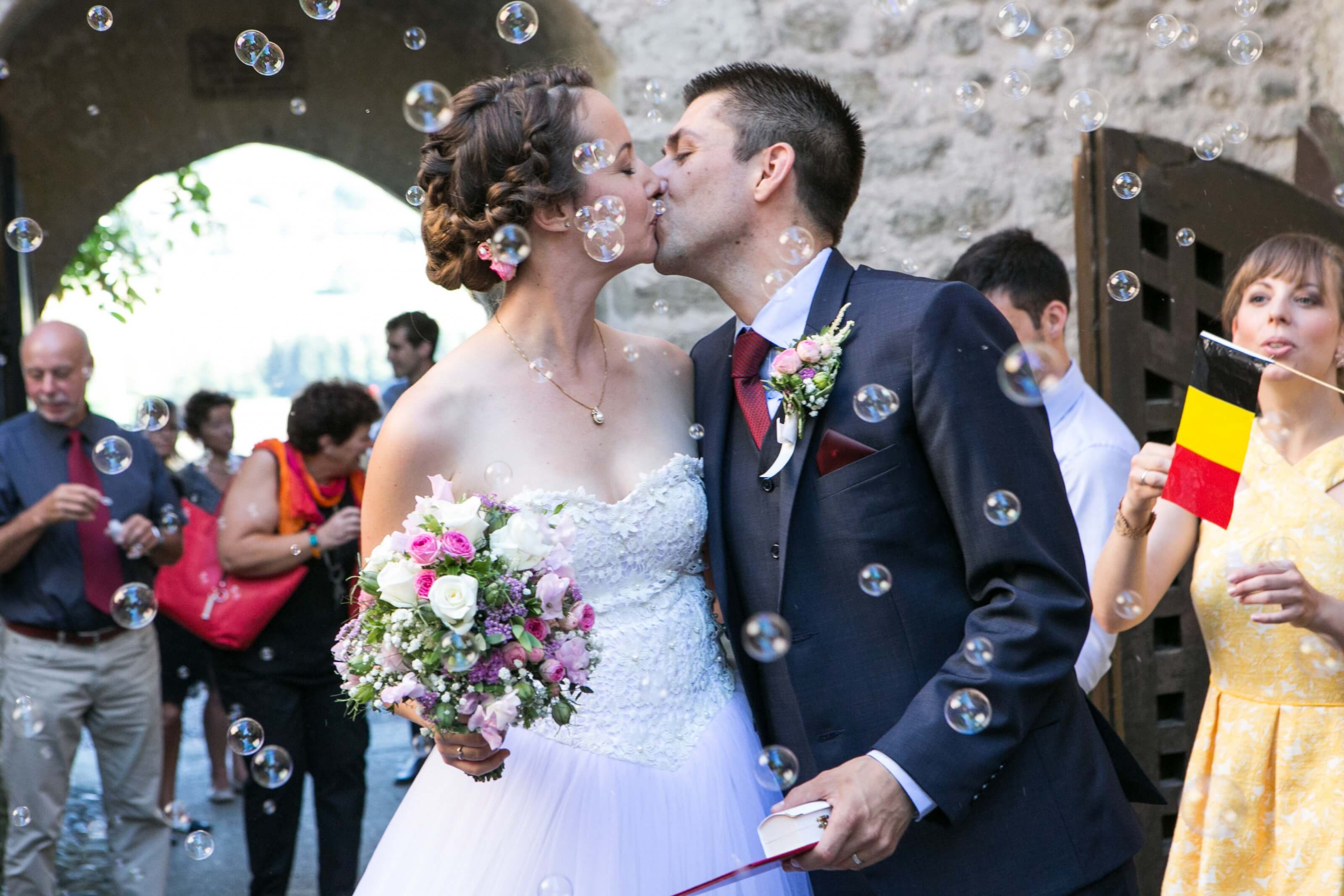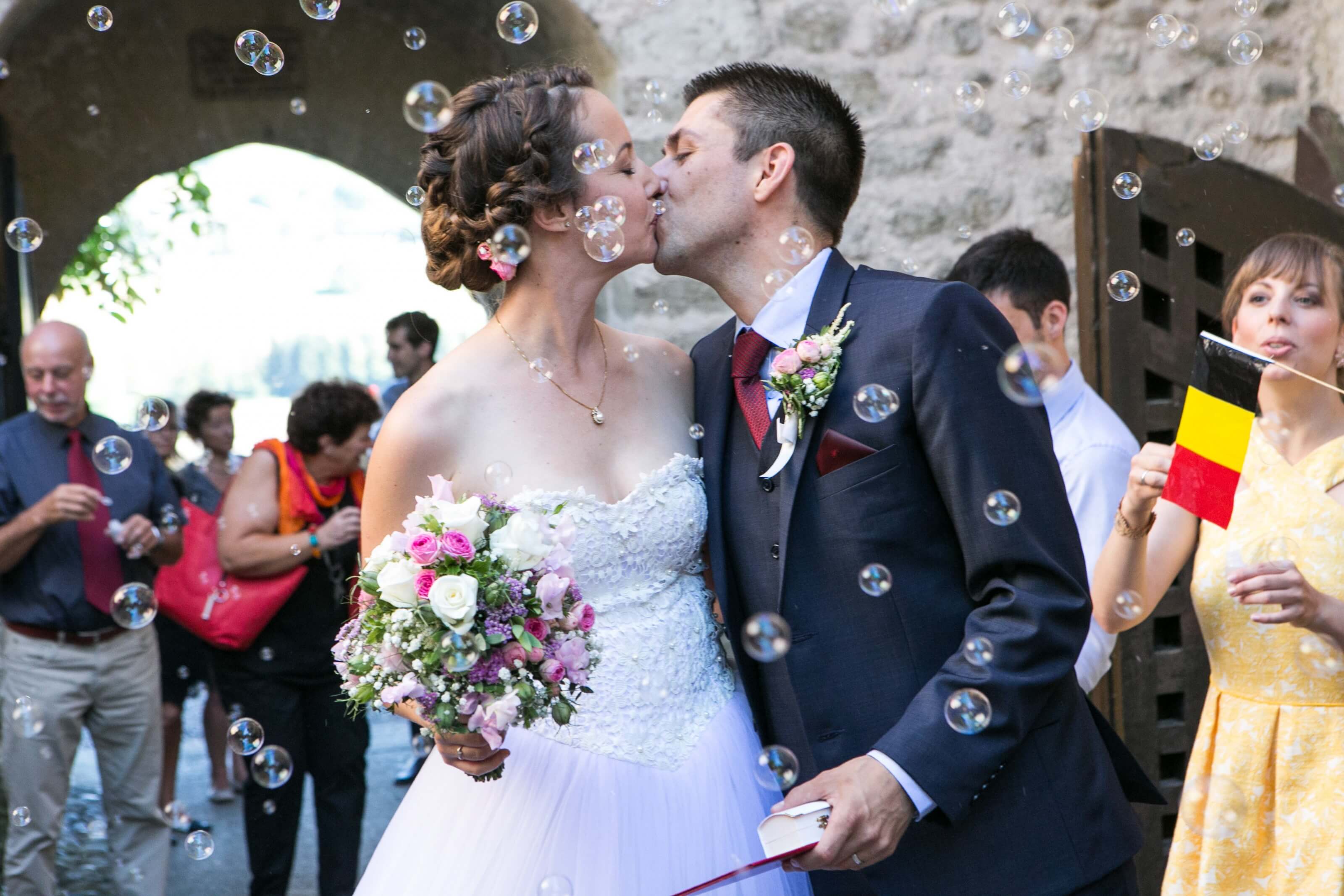 By staying 10 days on the spot (it takes time for a princess dress!), we had time to observe a little how this small village functions and how the business of the tailors of Hoi An operates a little.
You'll see that the hoteliers are all super nice and they'll probably give you their advice about the best tailor in Hoi An. Often, they will recommend one of the most expensive ones, explaining that they are the only ones who produce quality clothes. However, you should know that on average, a tailor pays a 30-35% commission on your purchases to this very dear hotelier.
All the clothes are indeed made-to-measure in Hoi An by local craftsmen (phew!) but beware: the fabrics used to come straight from… China! Nothing Vietnamese about it. China is cheaper my friend!
There are only 4 or 5 tailors who have their own seamstresses… For the 300 others, they have their clothes produced in the same workshops!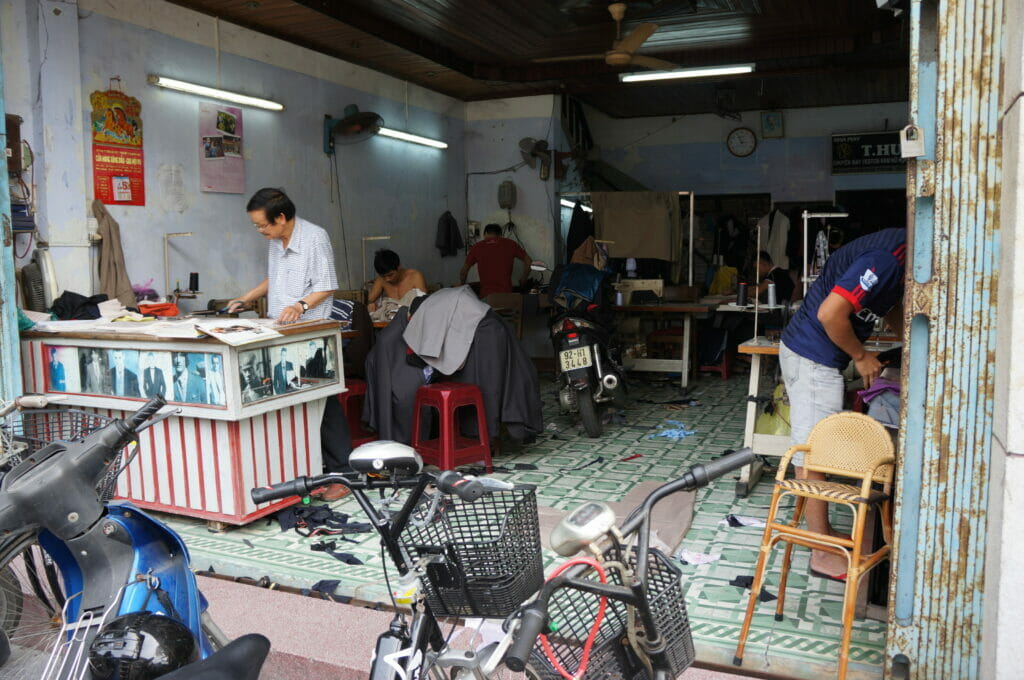 So, where to get your clothes made in Hoi An?
Well, that's nice, we tell you our little episodes but with all that, we still haven't told you where to shop in Hoi An if you're in the area. Yes, making a wedding dress or a custom-made suit in Vietnam can be worth it, because the prices are really competitive!
As we said above, there are roughly two types of tailors in Hoi An: small shops and some big brands whose prices are much higher than the first ones and which are highly recommended by the hoteliers…
So, why do the hoteliers recommend Kimmy or Yally? It's easy to see, their commission is the most interesting, but also because the service is irreproachable, and believe me, it pays off!
We will only tell you about our experience, that is to say, the Kimmy tailor that we compared with a small shop. We also heard a lot of good things about another tailor in Hoi An, Ba Ri Tailor, but we didn't try it. Will you tell us if you ever decide to go there?
Kimmy tailor
At Kimmy's, we start by letting you walk through the door yourself. What? Yes, that's a big difference! Elsewhere, there will always be someone to invite you in:
Have a look my friend! Good price for you!
This is probably the phrase we heard the most from the small stores in Hoi An. We should explain to them that it is not by shouting at me that they will make me want to go back home! Anyway…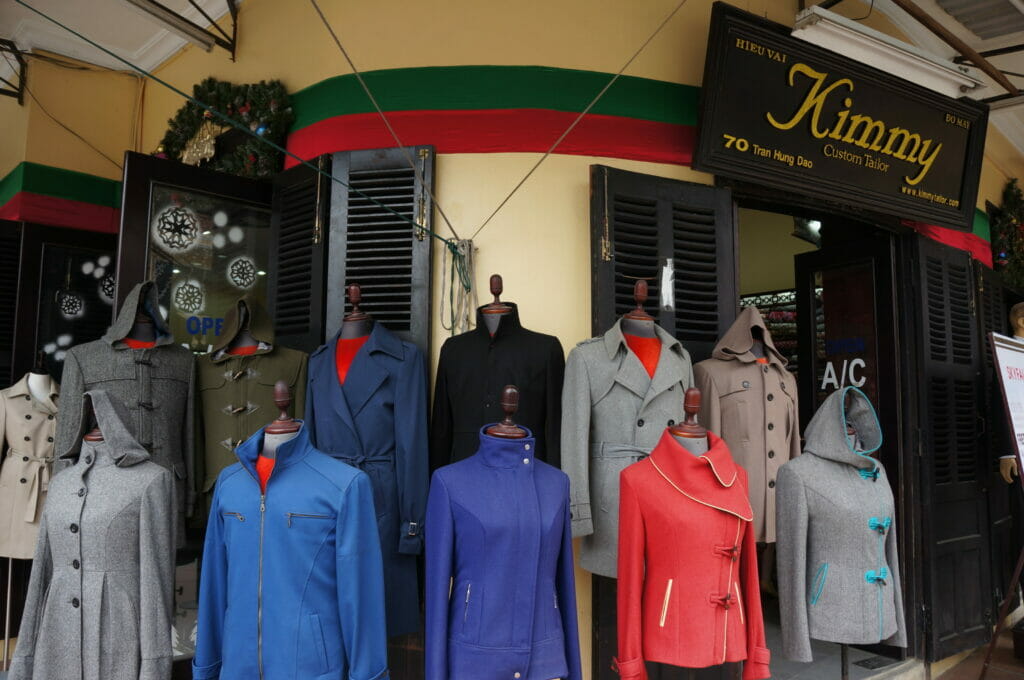 Once at Kimmy's, you are immediately served, in good form. We listen to you, we advise you, we offer you a drink, we show you pictures of finished creations on the net, in short, we make you feel comfortable.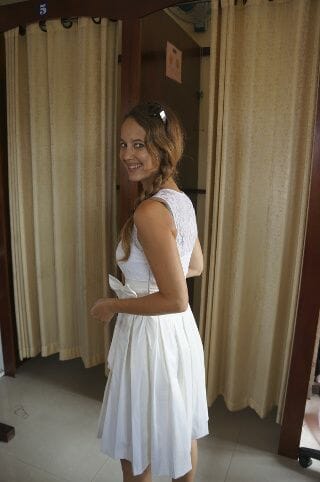 When you walk in, you might think you're just going to have a look around, but you'll see that the sales techniques are well-practiced and in less than 10 minutes you'll already be choosing your fabric 😉!
There is nothing to complain about in terms of service, they are top-notch! Alterations are done in a few hours, and the result is just perfect! My two dresses were almost perfect at the first fitting already, and often the saleswomen noticed the last alterations to be done before I even had time to say a word.
On the other hand, it's really not the same price range compared to the small shops next door… To give you an idea, I paid for the 2 dresses at Kimmy's for the equivalent of 600 dollars and Benoit paid for his suit around 250 dollars. Since we tested both types of tailors, let's compare!
Kimmy vs. a small shop Hoi An
Benoit had 2 suits made in Hoi An: one is a 3-piece suit at Kimmy's as well as a shirt and the other one in a small shop a bit far from the city center for a price 5 times lower than at Kimmy's…
In the end?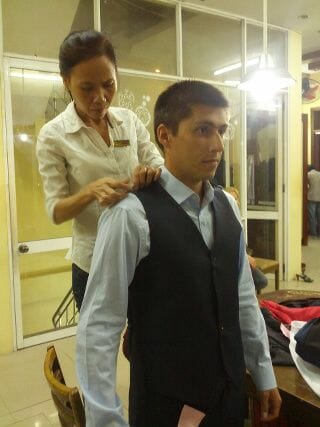 The suit from Kimmy's is absolutely PERFECT! The quality of the fabric is just magnificent, the finishing touches are perfect and the cut could not be better! As for the shirt is of good quality and fits very well.
The little shop suit is what I would call a nice suit… The fabric is nice, but not as soft as the first one. The cut is good, but it doesn't fit as perfectly as the first one. You know what I mean… Well, it was 5 times cheaper! As for the shirt, nothing to say: it's perfect!
We made some other clothes to renew our wardrobe. It's strange because we had hoodies made at the same tailor but the result was not the same. At first, they were perfect: dark grey and pink for me and black and green for Benoit. Except that after not even 3 days, Benoit's sweater was already starting to make little fluff: the grey fabric was apparently better than the black…
All this to say that it's also a bit of a lottery: when you want to pay cheap, sometimes you win and sometimes… well, you lose! That's the game!
Our advice to not get (too) cheated in tailors in Hoi An
Don't mention the name of your hotel
When you go to one of the big hotels (Kimmy, Yally), one of the first questions the saleswomen will ask you is how you ended up in their hotel. Don't tell them that it was your hotel that recommended you. Tell them that you arrived there by chance, or that a model in the window attracted you!
Indeed, the tailors in Hoi An are very honest with the commissions, and the price will automatically rise by 30% or even 40%! If you can, consider giving a fake name or hotel, as most hotels send a list of their clients' names to the tailors they recommend to make sure they get all their commissions!
Also, beware if your hotel provides you with a tailor's business card. Don't show it to the tailor, as hotels often have a little sign on the cards so the tailor knows where the business card came from!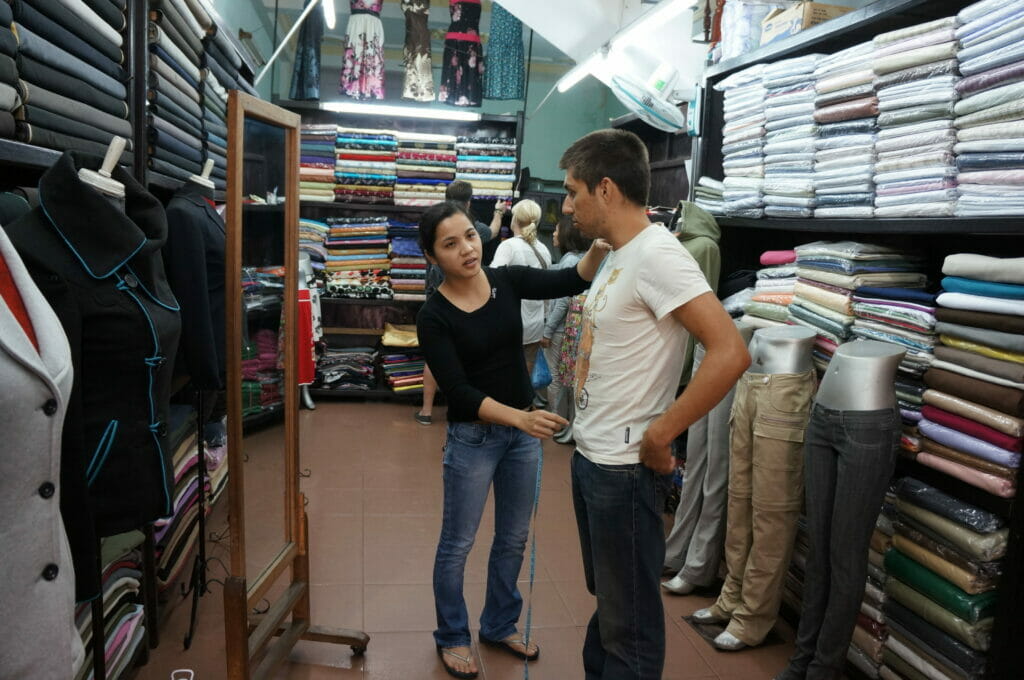 Prefer small tailors for simple clothes
As you can see, Benoit's suit from Kimmy's is perfect, and I'm over the moon with my princess dress! But Kimmy's is expensive, even a little too expensive! If you want to do something simple (a shirt, a little summer dress, a sweater or even a basic suit), we advise you to go to the smaller shops. The difference in quality is not worth the price difference! On the other hand, we recommend Kimmy for more complex things (like a wedding dress for example).
Compare
As mentioned above, few tailors actually make their own clothes! Most of them subcontract with two big tailor companies where hundreds of little hands are working day and night! In short, if you need a white shirt, you may well be offered it for $15 at place X and $25 at place Y. In the end, the shirt will be made in the same shop, with the same fabric. The only thing that changes is the store's margin, as well as the speed of delivery of the shirt!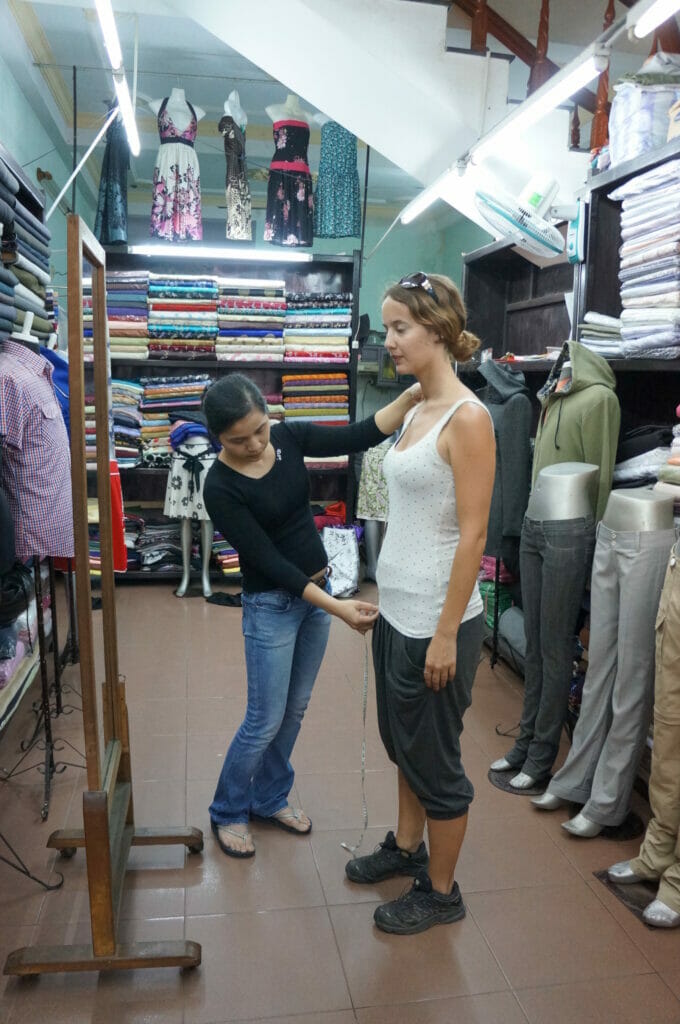 Ask to test the materials
If you listen to the salesmen in Hoi An, there would be only silk, satin, and cashmere… Beware because it is often synthetic! It's not a big deal in itself, but let's say that if you can avoid paying for satin to have polyester it's better! A seller sure of his fabrics should be happy to give you a fabric sample! A simple test to see if it is silk is to light the fabric. If it burns, the chances are good that it is indeed satin, but if the fabric melts, well then it is better to try to negotiate the price down!
Don't pay 100% of the price on the first day
We didn't have any problems with this point, but apparently, it's not uncommon for some tailors to be reluctant to make alterations after the first fitting. By paying only 50% of the price at the time of the order, you will have some leeway to negotiate the last alterations!
Allow time
One of the keys to tailor-made clothing is the fittings! So don't forget that you will have to come back, sometimes 2 or 3 times for some clothes before they are perfect! Count on staying at least 3 days if you want to have a suit made!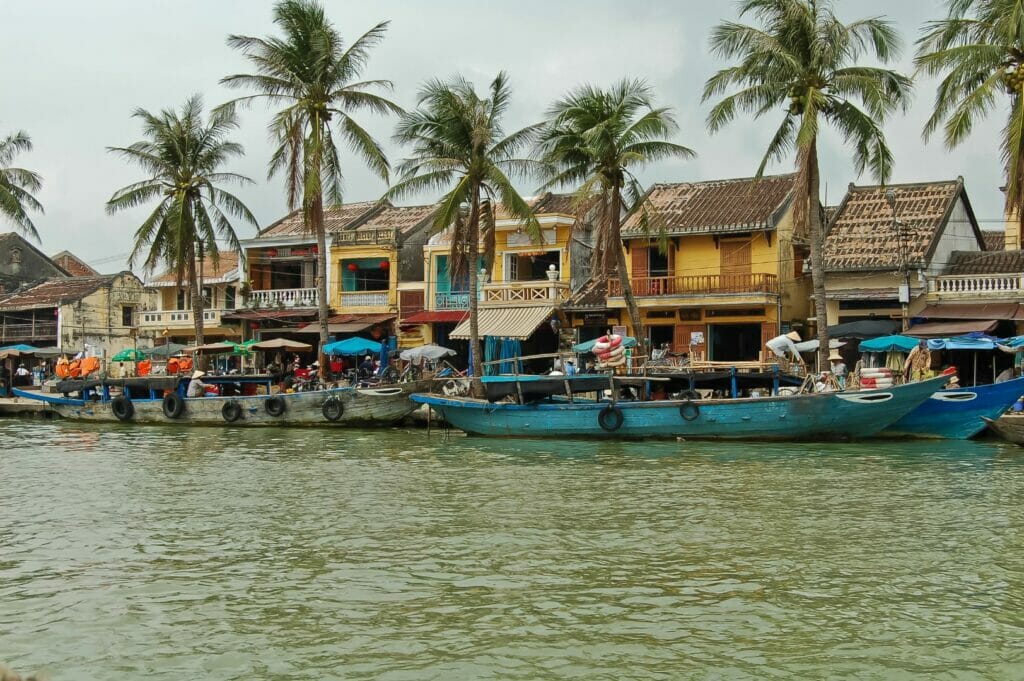 Know what you want
Hoi An is the paradise of tailor-made clothes… But do not forget that they are tailors and not fashion designers! So if you come with a picture (or even better an old outfit of yours), then it will be easier for them to copy it.
Stay zen
This is probably the most important point! Solicitations from vendors will almost certainly drive you crazy. You will most probably get ripped off a little bit, but keep it in perspective and enjoy!
Our review of Hoi An
As we stayed 10 days in Hoi An to wait for the dress of Fabienne to be finished, we had a 2 parts experience. We really found the old city center charming with its magnificent buildings, its bridge, the pretty atmosphere of night with the lanterns lit everywhere, the nice restaurants and cafés, the small tour by boat, etc.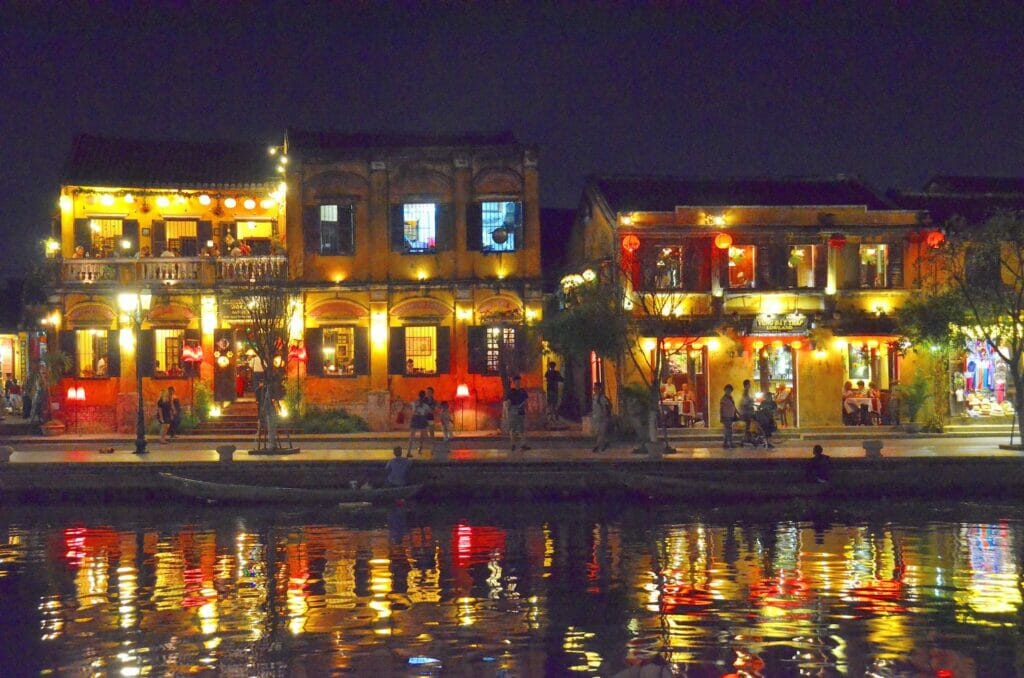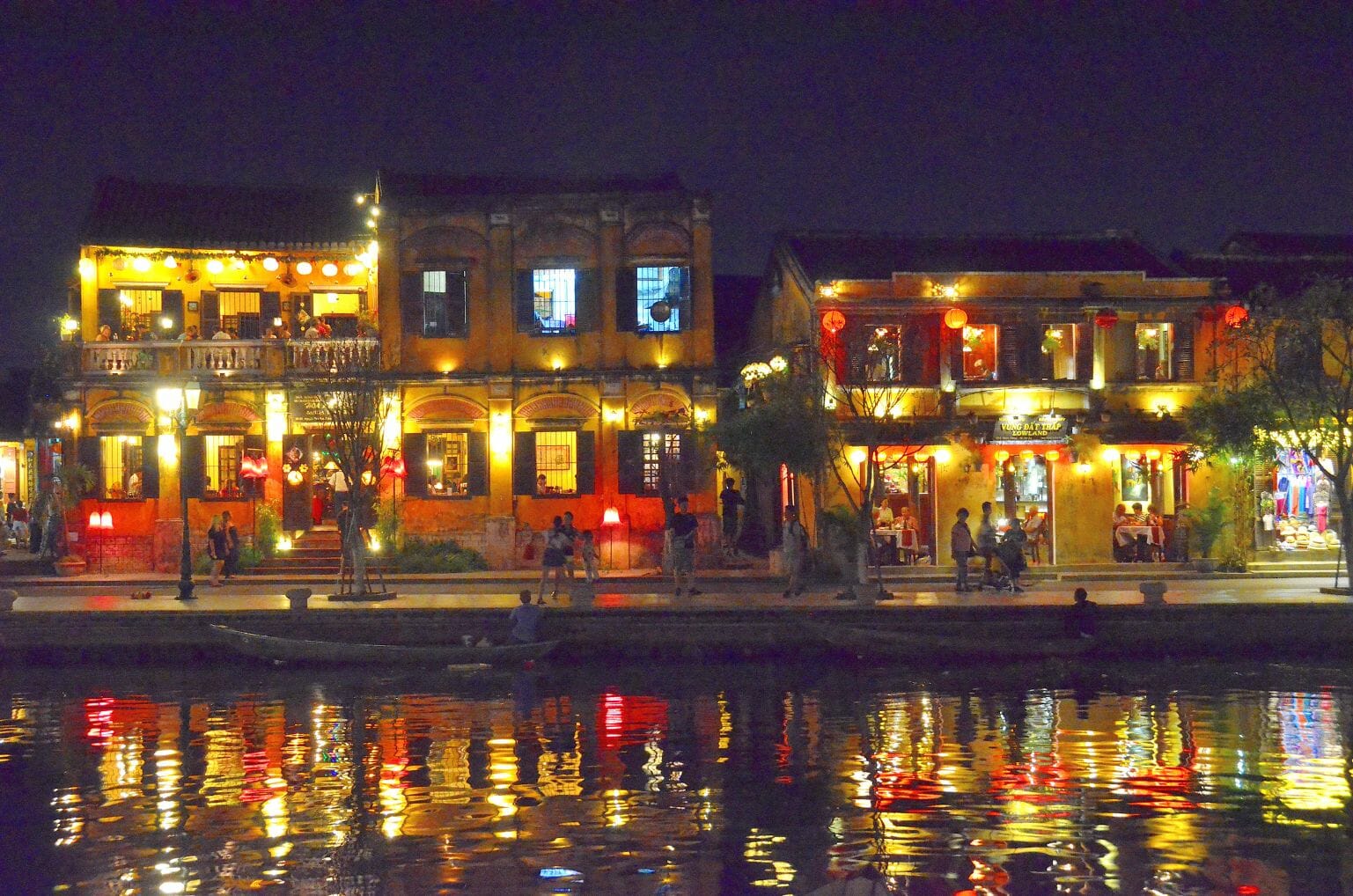 After a few days on the spot, we were tired of being approached every 5 seconds in the street to try to sell us something… Hoi An is still very (too?) touristic with all the drifts that go with it. As there are a lot of people, the locals have understood the business and are very insistent to sell us anything, and the prices are higher than elsewhere.
In short, from the historical side, Hoi An is clearly worth a visit for a 1 or 2-day stay. For authenticity and tranquility, it is better to avoid (or be psychologically prepared 😉).
Well on that note, I think you are ready to visit Hoi An and pay a visit to a tailor. So, Hoi An tempts you? The Vietnamese adventure continues, let's go to Phong Nha National Park!
Pin it