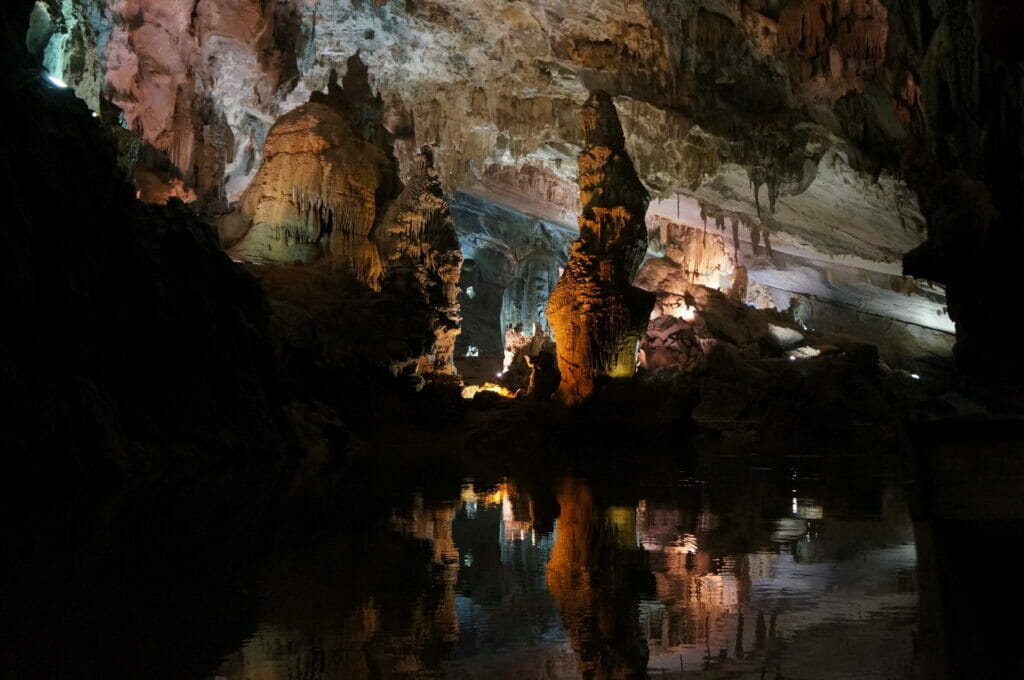 After having spent 10 days in Hoi An to make Fabienne's wedding dress, we were rather happy to leave behind us this nice little city but still very (too?) commercial. On the way to Phong Nha-Ke Bang National Park, located at a few hours only from the city of Hue, in the center of Vietnam.
This national park doesn't tell you anything? But maybe you've already seen the pictures of the Hang Son Doong cave that have been shown around the world. Discovered in 2009 in the park, this cave is the largest in the world! Imagine: you could put a Manhattan building inside!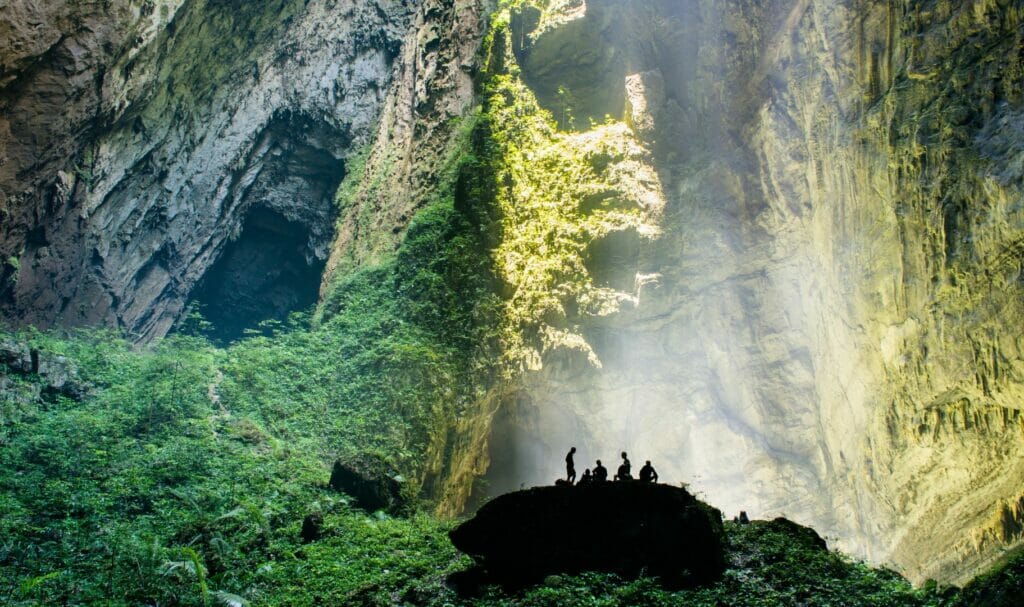 So you can understand why we were a bit excited! Well, forget about exploring this particular cave: it takes 4 days of trekking to get there and pay 2800 euros… To limit the impact of mass tourism, only the Oxalis agency is authorized to organize tours for less than 1000 visitors per year. You might as well say that everything is already sold out! If you want to explore it while being comfortable, National Geographic offers you a free virtual tour for a visual and sound experience!
After that, Phong Nha-Ke Bang National Park has other caves that are open to the public and as you will see, they are already pretty impressive! Ready to go underground with us? Let's go!
Update 2022
We took this trip in 2014, but the article was completely revised and updated in October 2022. If you see any price changes or have additional information that might be relevant, please feel free to leave us a comment!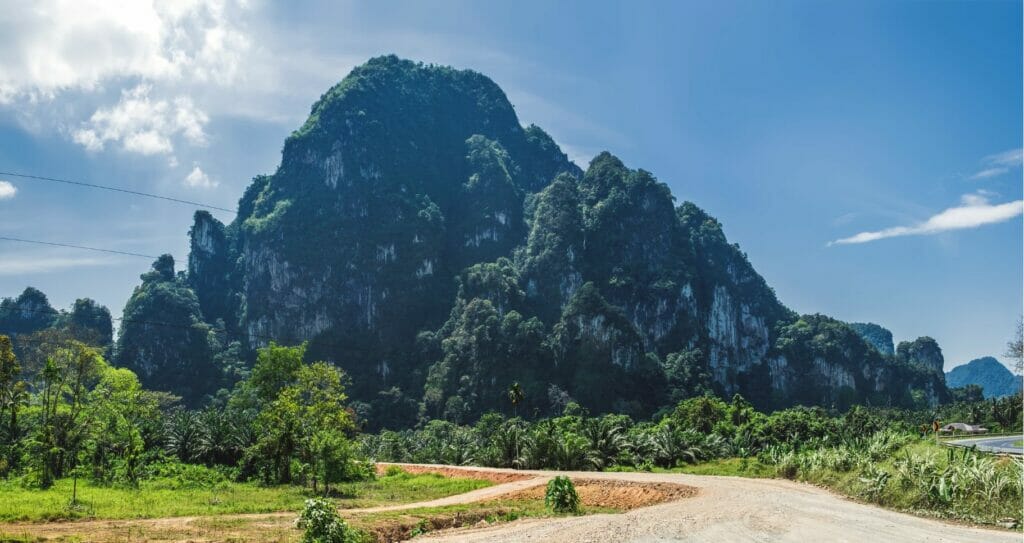 Getting and staying in Phong Nha
First of all, you have to reach Phong Nha-Ke Bang National Park. And it was not necessarily obvious at the time or at least it was not obvious to do it for cheap!
Since then, things have changed with the increase in tourism. Whether you come from the north (Hanoi) or the south (Hoi An, Hue), there are now bus lines that arrive directly to Phong Nha, and drop you off on the main street, just in front of the Central Backpackers hostel. For example, it costs 253 000 dongs (about 10 euros) from Hue or 402 500 dongs from Hanoi.
If you ever arrive or stay in the small town of Dong Hoi, 40 km from Phong Nha, you can take the local green and yellow bus that leaves every hour for 50 000 dongs (you can't miss it, it says "Dong Hoi-Phong Nha" in big letters 😉).
Phong Nha village is quite small, but it has developed well with the fame brought by the discovery of Son Doong. There are now about 100 establishments ranging from homestays to high-end hotel rooms to youth hostels. In short, there is something for all tastes and budgets!
During our trip, we stayed on the main street (where the Central Backpackers is) and could enjoy the village on foot. However, we recommend you the Phong Nha Farmstay, quite famous for the quality of its services (advice, tours…). As it is a bit out of the center, a scooter will be useful to reach the heart of the village! Find here all the hotels in Phong Nha at the best price.
This article contains affiliate links to partner sites. When you use our links to book accommodation, a car, or an activity, you don't pay anything extra, but we get a small commission. This helps us to offer you free, independent, and ad-free content. Thank you for your support!
What to do in Phong Nha?
As you will soon see, you can already visit a lot of caves by yourself. On the other hand, if you want to see more, to make treks over several days in the jungle while passing by various caves more difficult to access, you will have to pass by an agency. See you at the end to know more!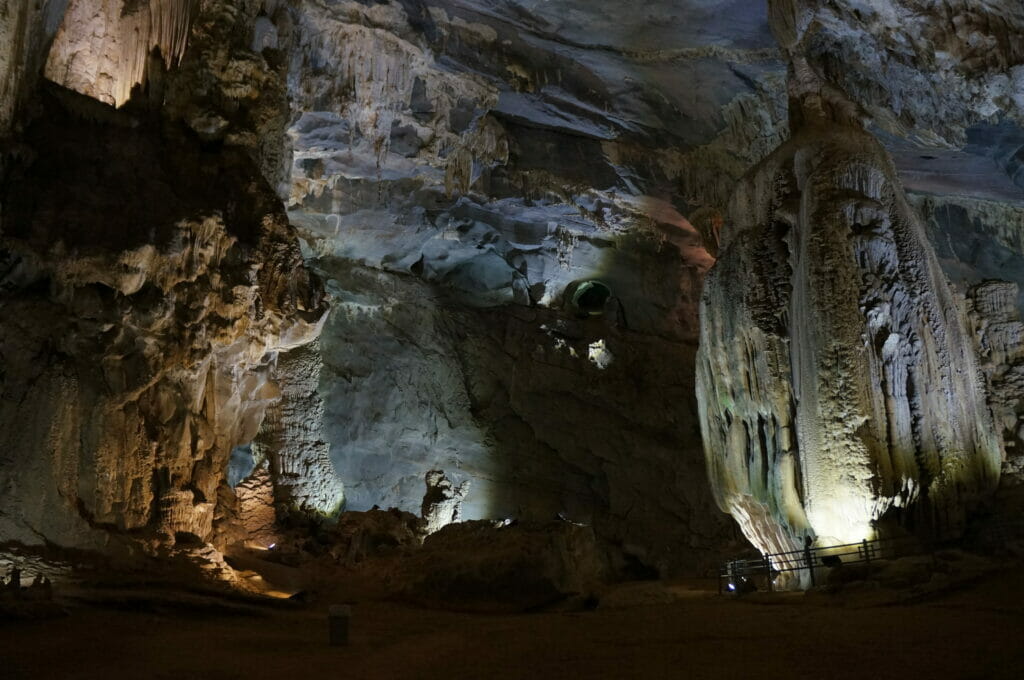 As few agencies have permission to organize this kind of expedition, the prices are rather high. It starts at 73 euros for a day in the Hang Tien or Tu Lan caves and it quickly climbs to 400 euros for 2-3 days treks. In short, we couldn't afford it, but the people who came back from this kind of experience were all delighted. If you are on vacation and have a flexible budget, treat yourself: you won't regret it!
Otherwise, there are other caves accessible by your own means and this is the option we chose! Here is a small map to help you find your way around Phong Nha.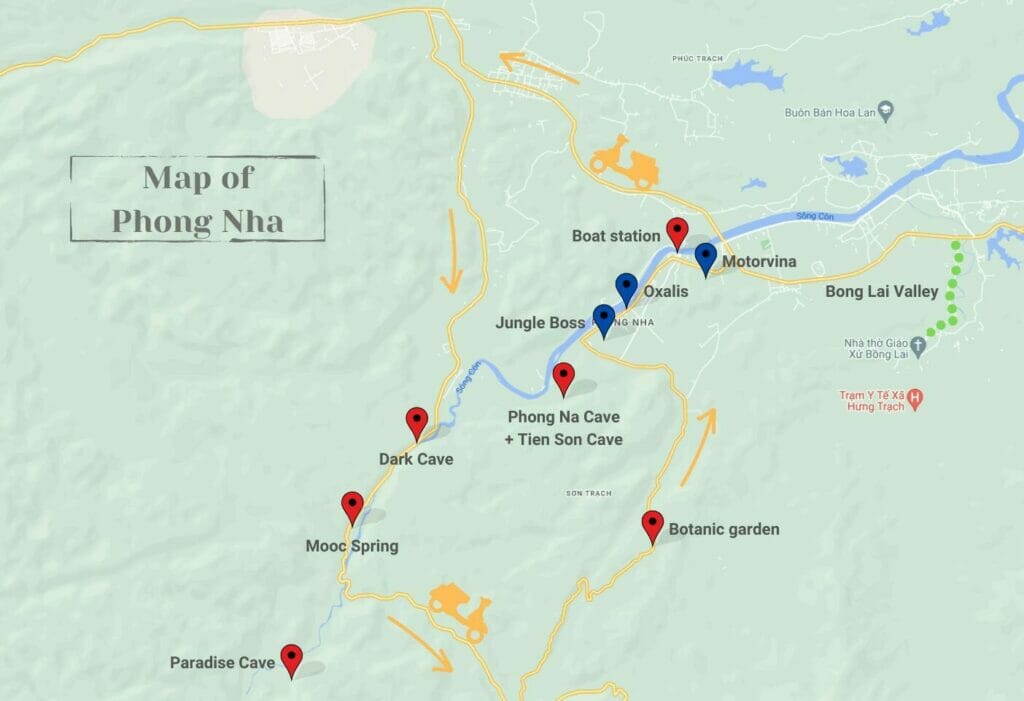 Visit Phong Nha and Tien Son caves
As these two caves are located very close to each other, it is best to combine them as you will need a boat to reach them. You can rent a boat and buy tickets at the visitors' center, right next to the pier. The price of the crossing is fixed at 550 000 dongs per boat, to be divided between the 12 passengers if it is full. The entrance to the Phong Nha cave is 150 000 dongs per person and 80 000 for Tien Son.
After going up the river for 30 minutes, we finally arrive in front of the Phong Nha cave. Impossible to visit it on foot, because an underground river crosses it from one side to the other. Thus on board our boat, we explored this monster's first km (the cave in itself makes 7 km).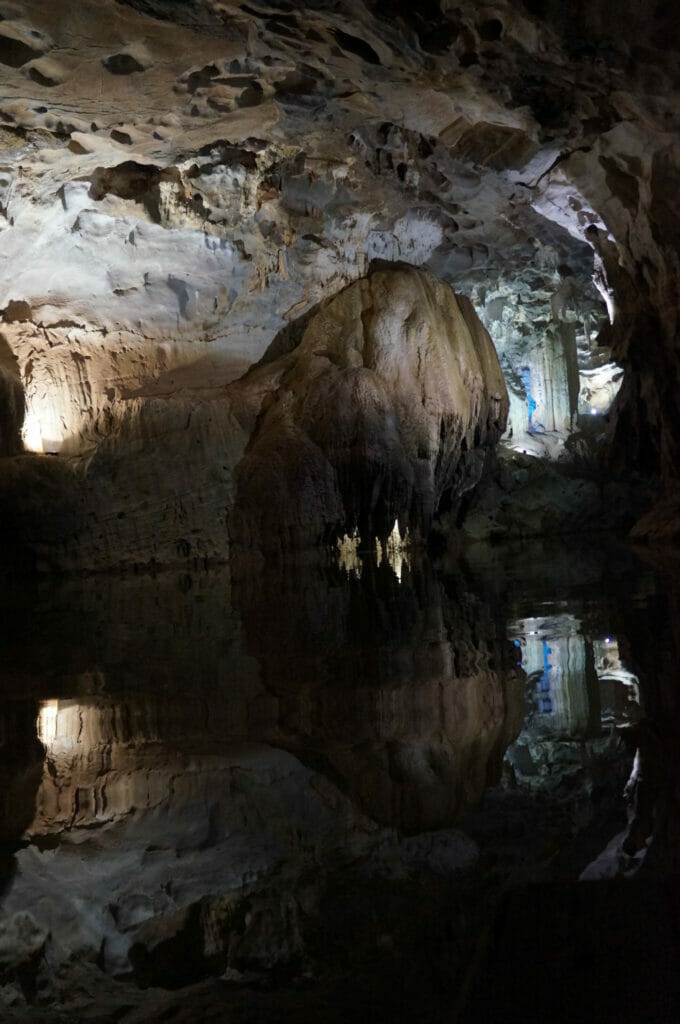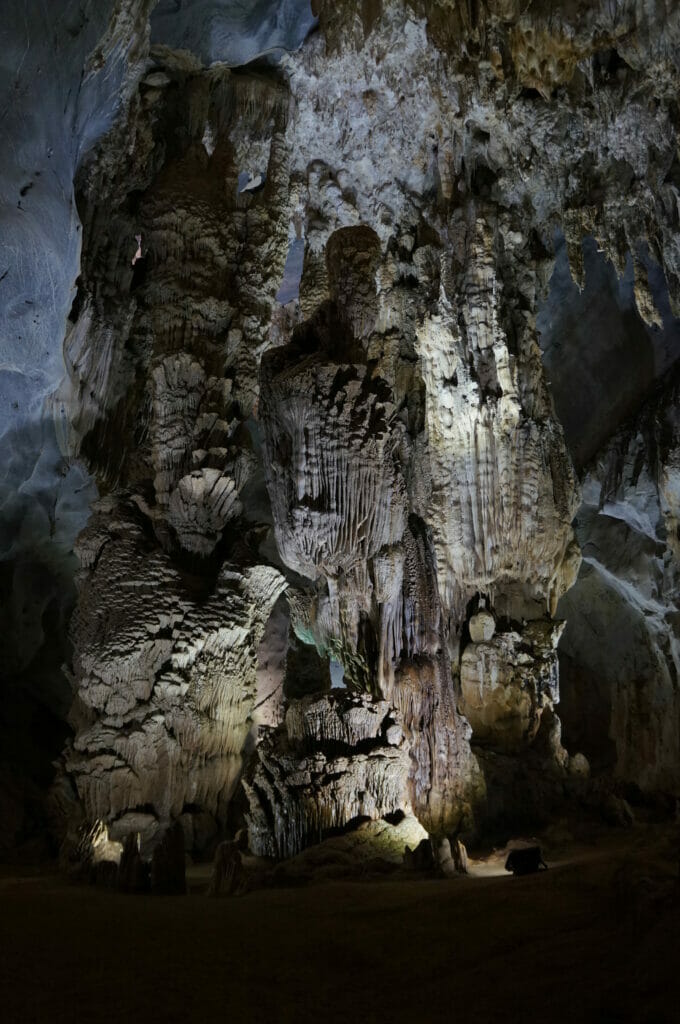 From the first meters, it's already the wow effect! The different chambers can be up to 40 meters high and rock formations are all more impressive than the others following one another. I let you judge by yourself the beauty of the place!
When you come out of the cave, you should see a staircase going up on your left. At the top of the latter (330 steps anyway!) is the entrance of Tien Son, the second cave on the program! As you go up, you have a superb view of the rice fields and the Son and Chay rivers. Once inside, it is also quite impressive… We thought we had seen some impressive caves in Slovenia, but these ones are still on another level!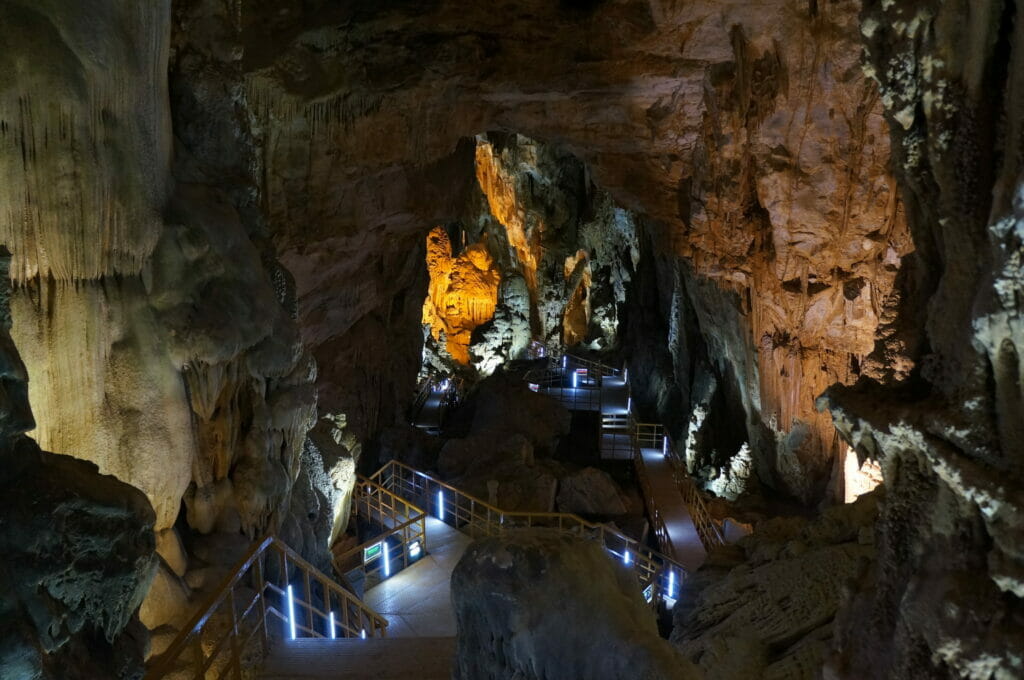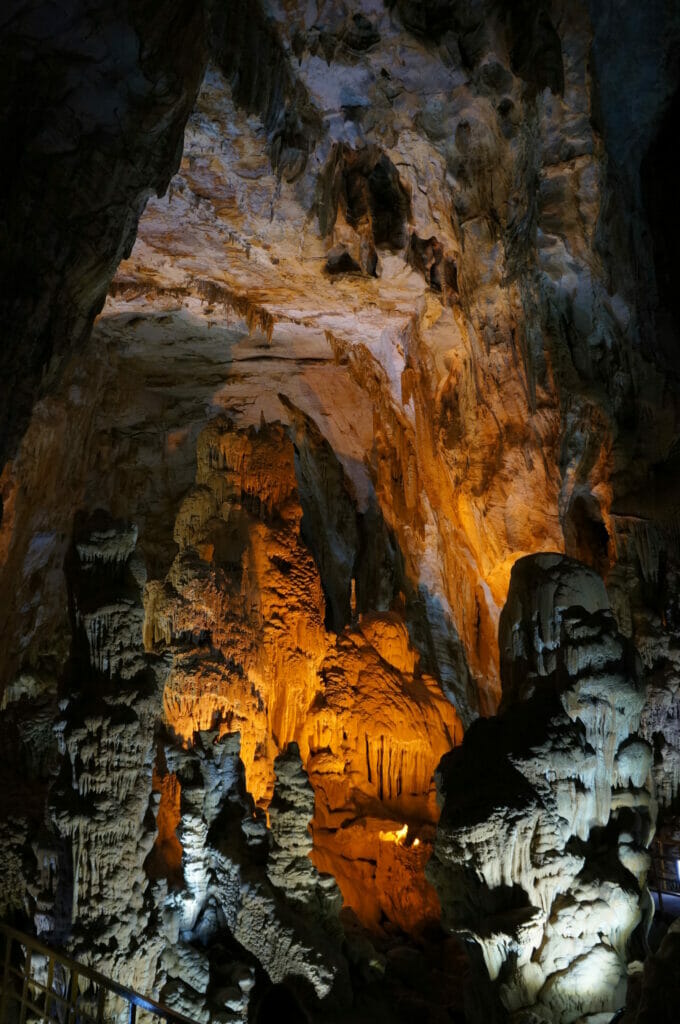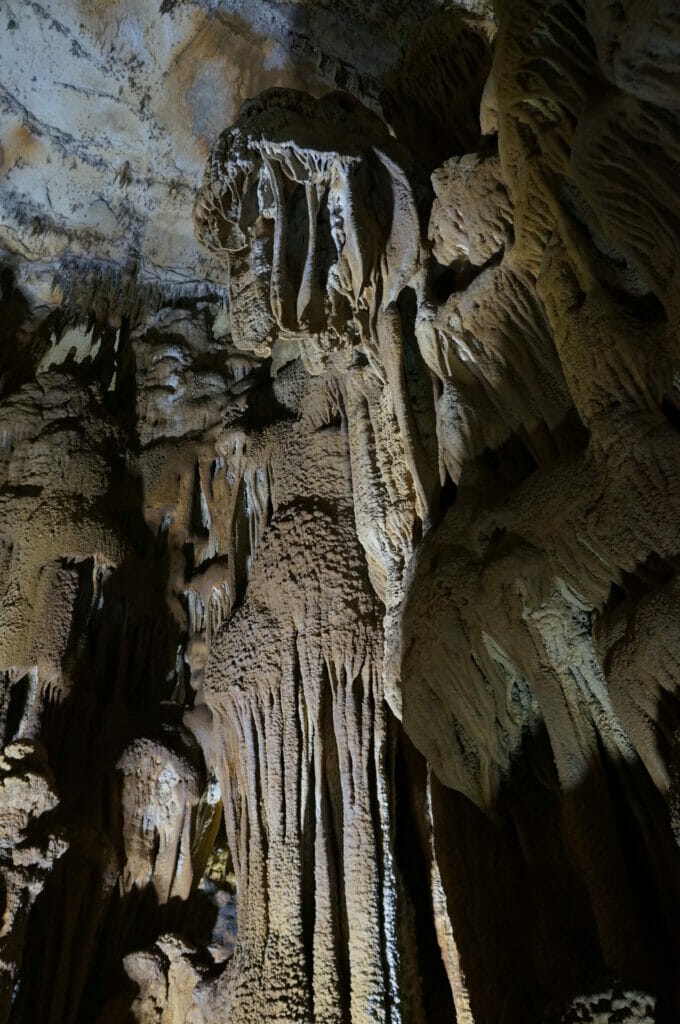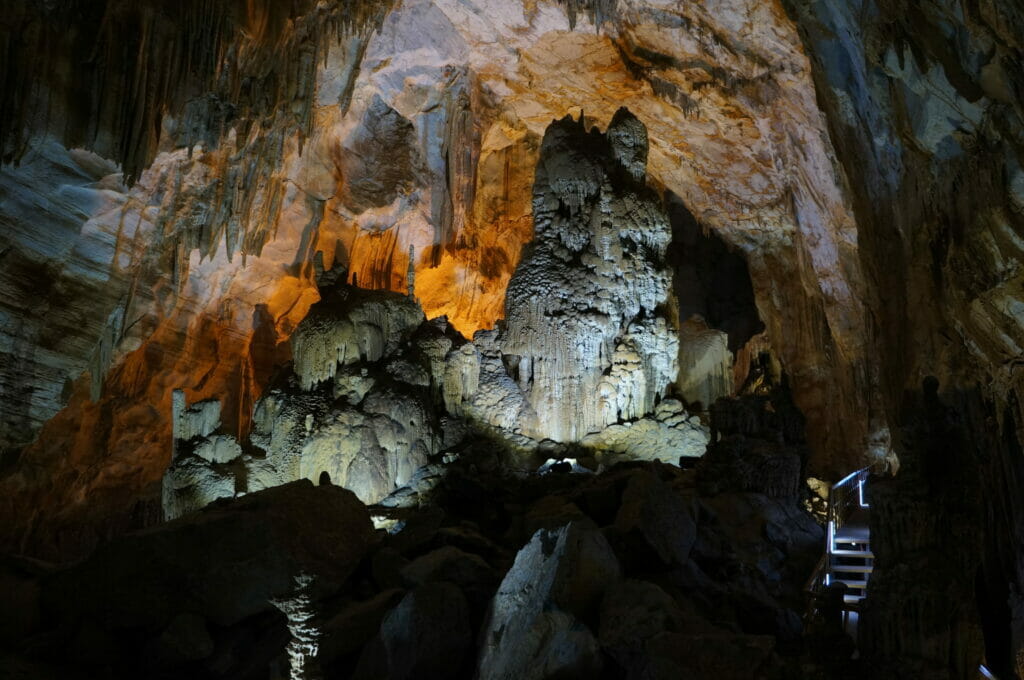 Motorbike tour
Well, as you may have guessed, there are not only caves in Phong Nha. A dense forest covers a part of the park and these magnificent small karst reliefs come out everywhere from the ground. Karst reliefs? You know, like in Guilin or Halong Bay. In fact, they are shapes developed as a result of the erosion of sedimentary rocks (mostly limestone).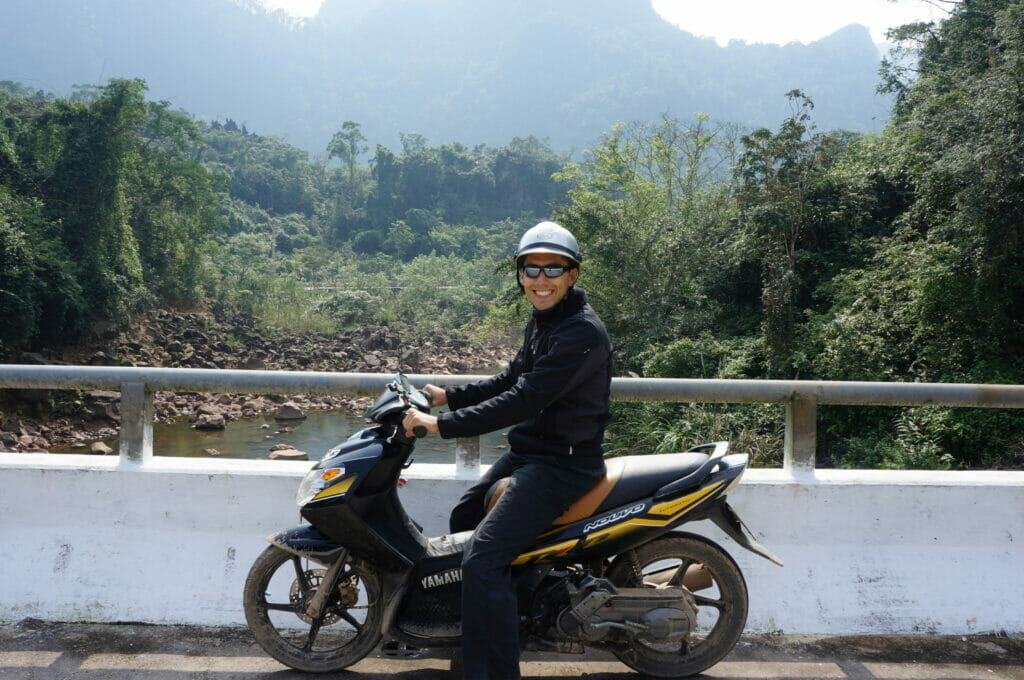 The best way to visit the park and its karst landforms is to rent a scooter for the day and ride a 60 km loop from Phong Nha (see the itinerary on the map). To rent the beast, go to Motorvina Homestay, a hotel that rents scooters for 85 000 dongs a day. They are among the cheapest in the city, prices are around 200 000 dongs otherwise… If the scooter is not your thing, there is the possibility to find a cab or rent bicycles (some hotels lend them) for a more… sportive visit!
The Dark Cave
Once arrived at the ranger station Troo Mong (20 km from Phong Nha), you can take a guide to visit the Dark Cave. On the program: kayak or zip line (if you weigh between 40 and 90 kg) over the Song Con River to reach the entrance of the cave, visit the cave by headlamp (because there is no light at all 😉), and finally, return by kayak to the entrance where you can enjoy among other things a mud bath and other water activities. It is necessary to count 450 000 dongs per person. For the moment, we preferred to pass our turn because we still had a lot of things in the program, but it seems that it is a great experience!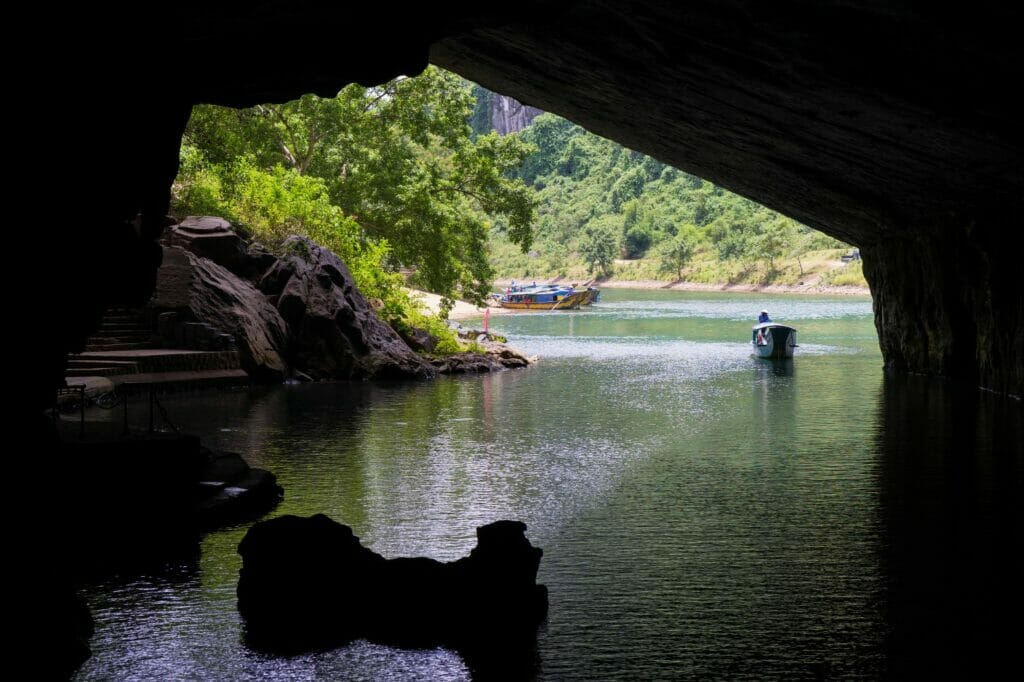 The Mooc Spring Eco Trail
We stopped a few kilometers further to cross the Mooc Spring Eco Trail, which is a bamboo trail through the forest and rivers. We really enjoyed walking in this beautiful corner of nature. It was quite cool but with a few degrees more, we would have been tempted by a little swim in the river!
The tour takes 30 minutes and the entrance fee is 80 000 dongs for the visit only and 180 000 dongs with the water activities in addition.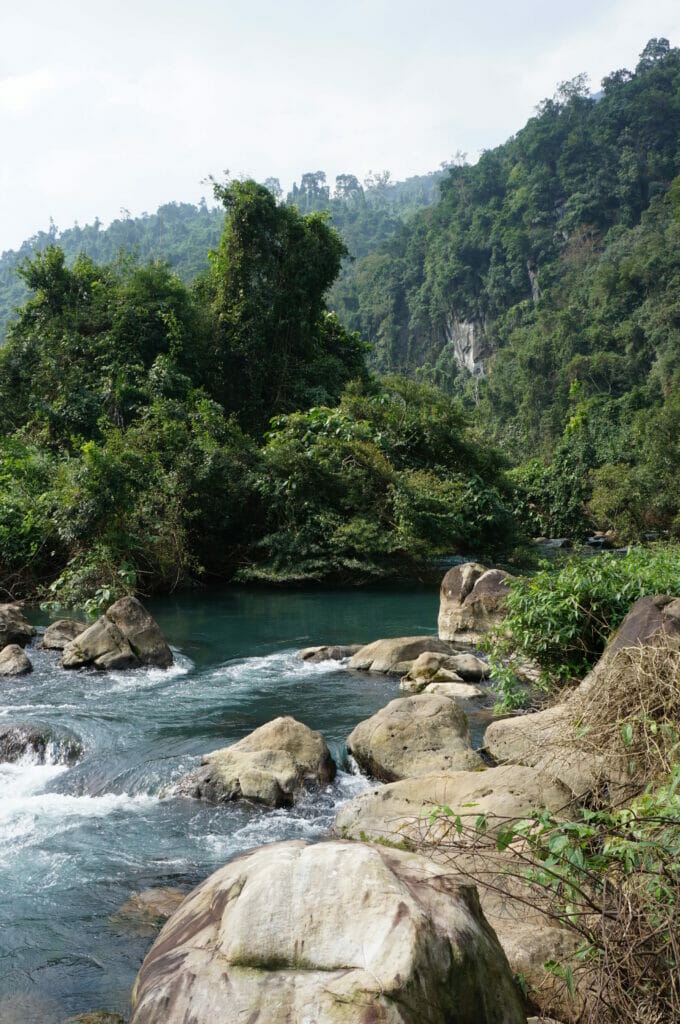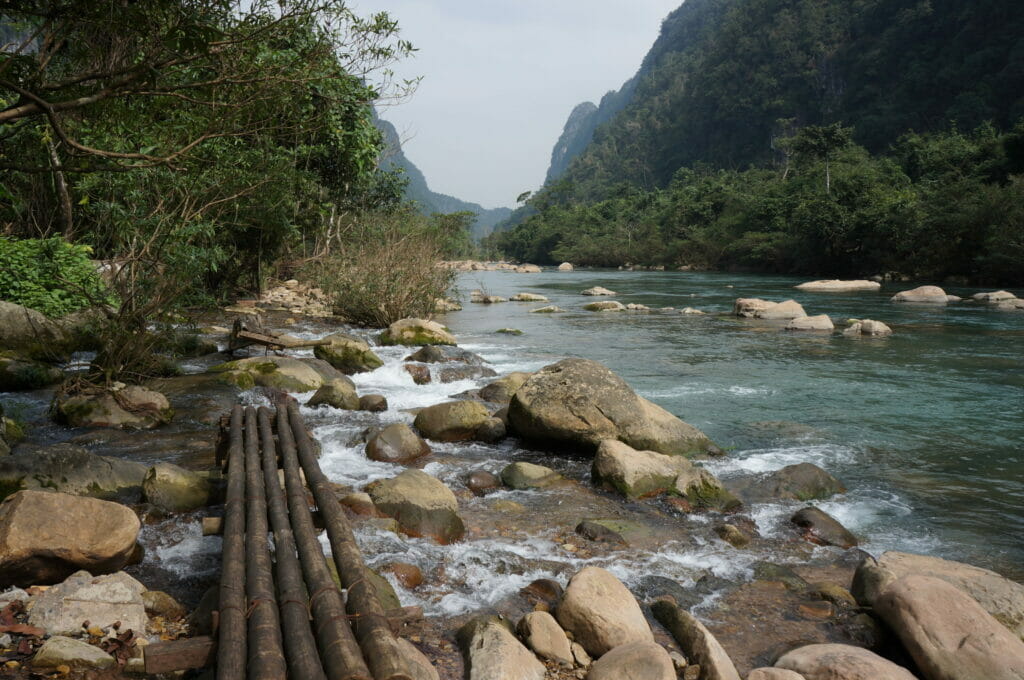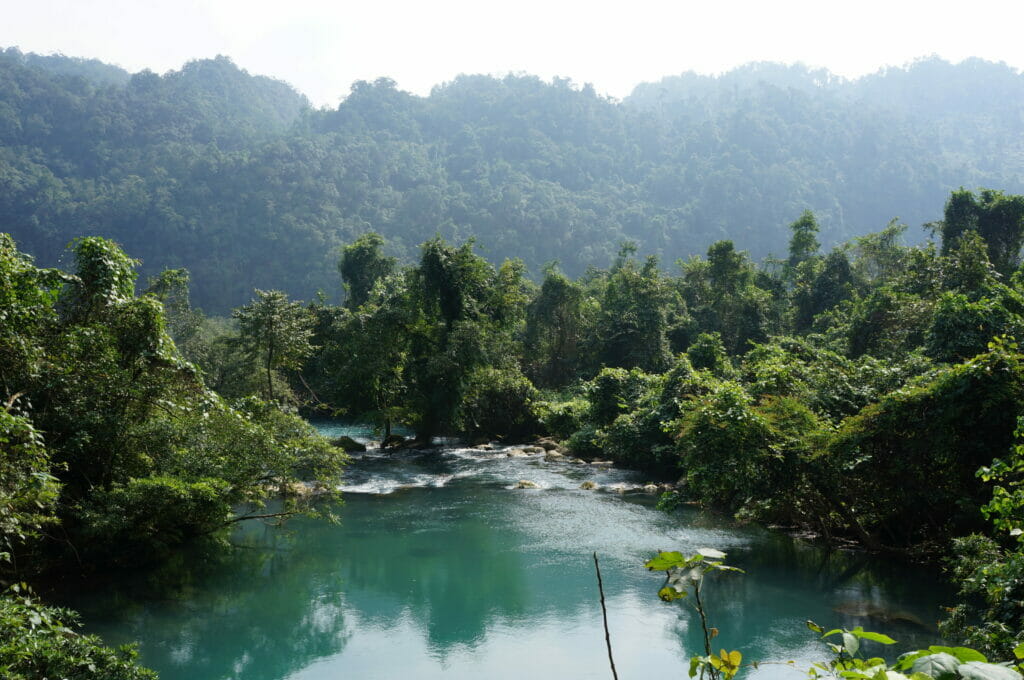 Visit the Paradise Cave
The highlight of the day was our next stop, the Paradise Cave (or Thien Duong). It is located 30 km from Phong Nha, at the other end of the road which makes a 60 km loop in the park (see map above). This "dry" cave is 31 km long but you can only visit the 1st km by yourself.
To put it simply, this cave is simply superb! The deeper you go, the more you discover incredible rock formations. This visit was clearly my favorite of Phong Nha-Ke Bang National Park. If you are in a hurry and have to do only one cave, we definitely recommend Paradise Cave!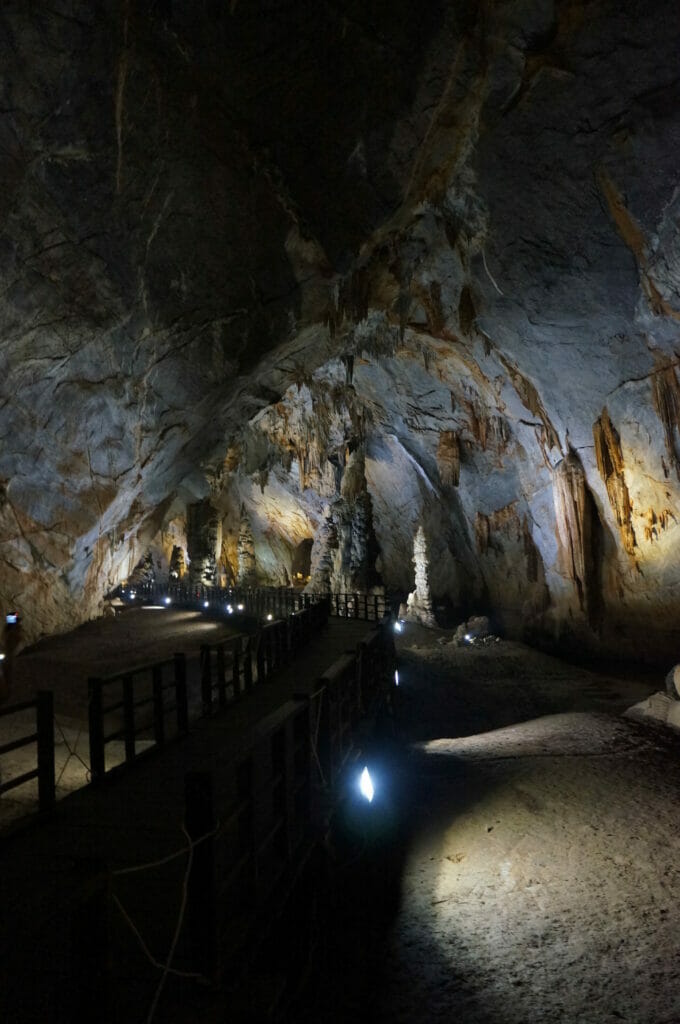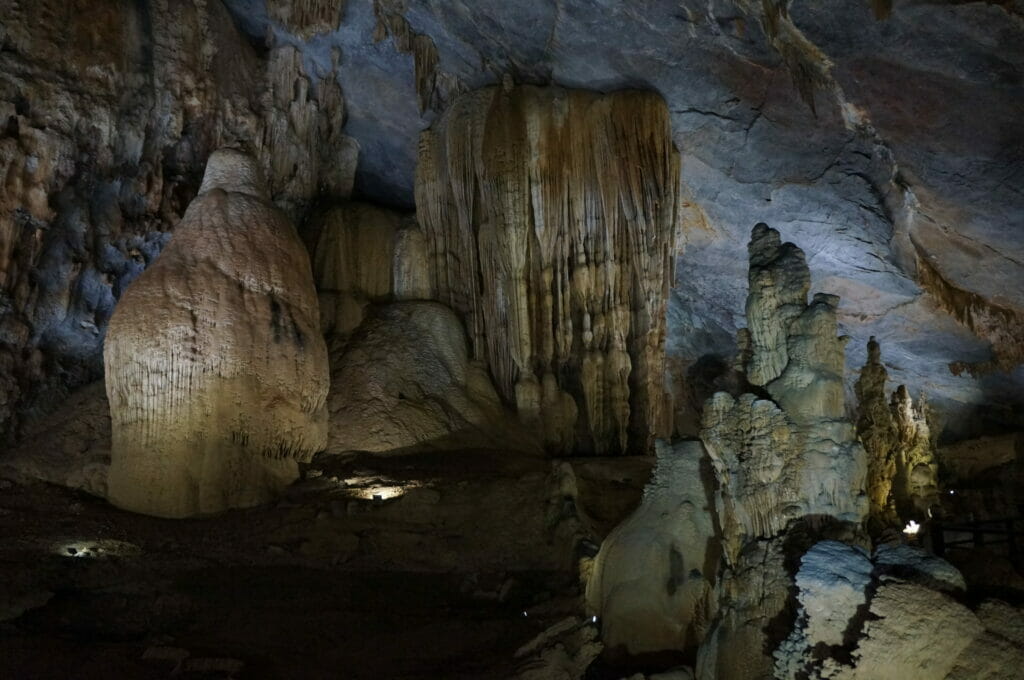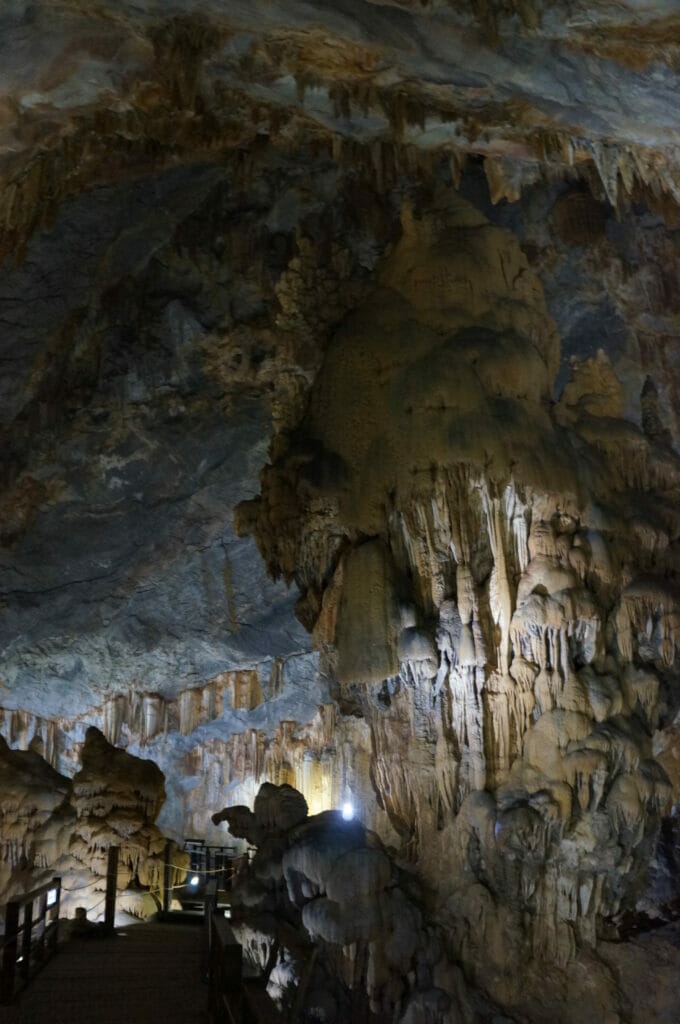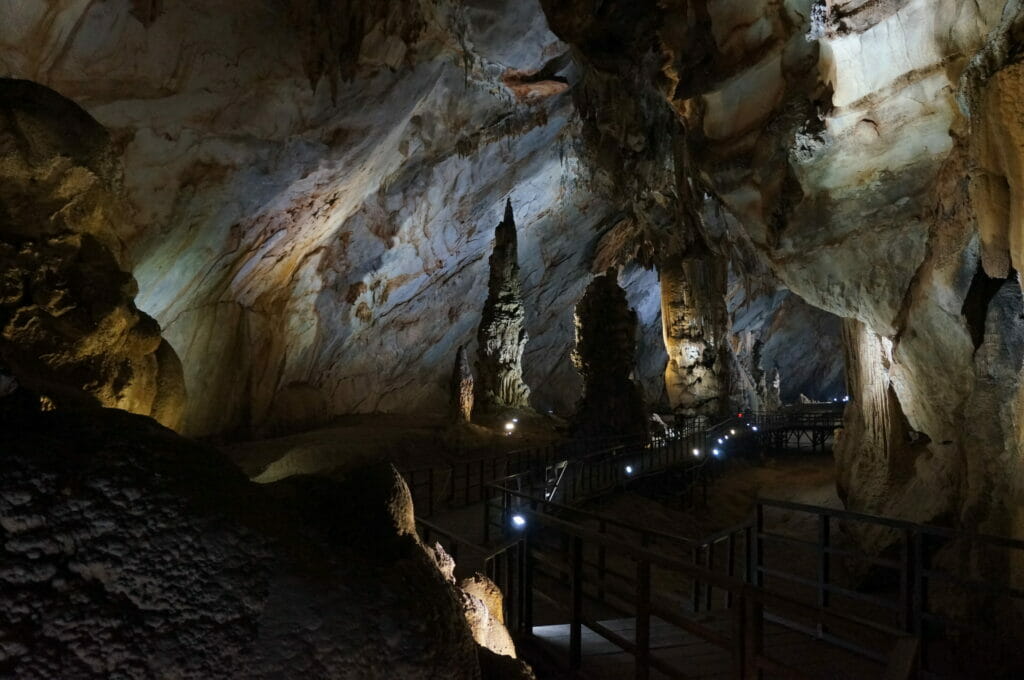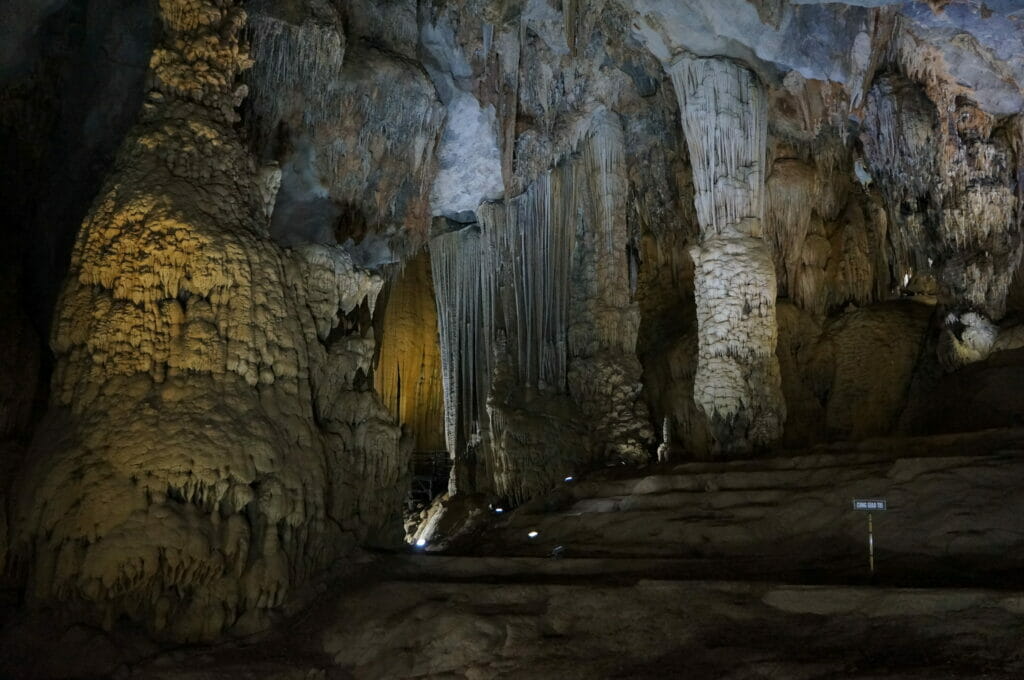 Practical information
The entrance fee is set at 250 000 dongs. To access the cave, you have to walk less than a kilometer from the ticket office through the forest and climb the 500 steps before starting the visit.
If you want to go deeper into the bowels of the cave, the official website of Paradise Cave offers a 7-kilometer trek for 2 million dongs or 80 euros. To be honest, the first kilometer has already scotched me, so I can't imagine the rest!
Tip to avoid the crowd: come early in the morning (the cave opens at 7 a.m.) or during lunchtime between noon and 2 p.m.
Other activities in Phong Nha
As we stayed only 2 days in Phong Nha, we had to make some choices. Here are some other ideas to explore more of the national park:
Phong Nha Botanical Garden: Located on the scooter loop, it is more like a small jungle with 3 trails for 40 min, 1.5 hr, or 3 hr walk. To refresh yourself, take a dip in the waterfall at the end of the trail. The price is 40,000 dongs and parking is 5,000 dongs.
Explore the jungle and other caves with a tour: Hang En, Tu Lan, Tra Ang, Hang Va, Hang Tien, and many other caves are only accessible with an organized tour. We have already talked to you about Oxalis for Hang Son Doong but it offers various formulas, like Jungle Boss: day treks in the caves or through the jungle, 2 days or more, everything is possible!
Explore the area by scooter or bike: If you are comfortable on a bike, take the opportunity to explore the roads around Phong Nha: the landscapes are sublime, especially in the Bong Lai Valley! Some hotels lend bicycles, it can be a good compromise to the scooter to enjoy the panoramas with the strength of your calves!
Tour from Hue
If you are in Hue and don't want to spend more than a day discovering the Phong Nha caves, Civitatis organizes a day trip to discover the Paradise Cave or the Dark Cave with other activities through Phong Nha-Ke Bang National Park. We admit we still have a preference for Paradise Cave 😉.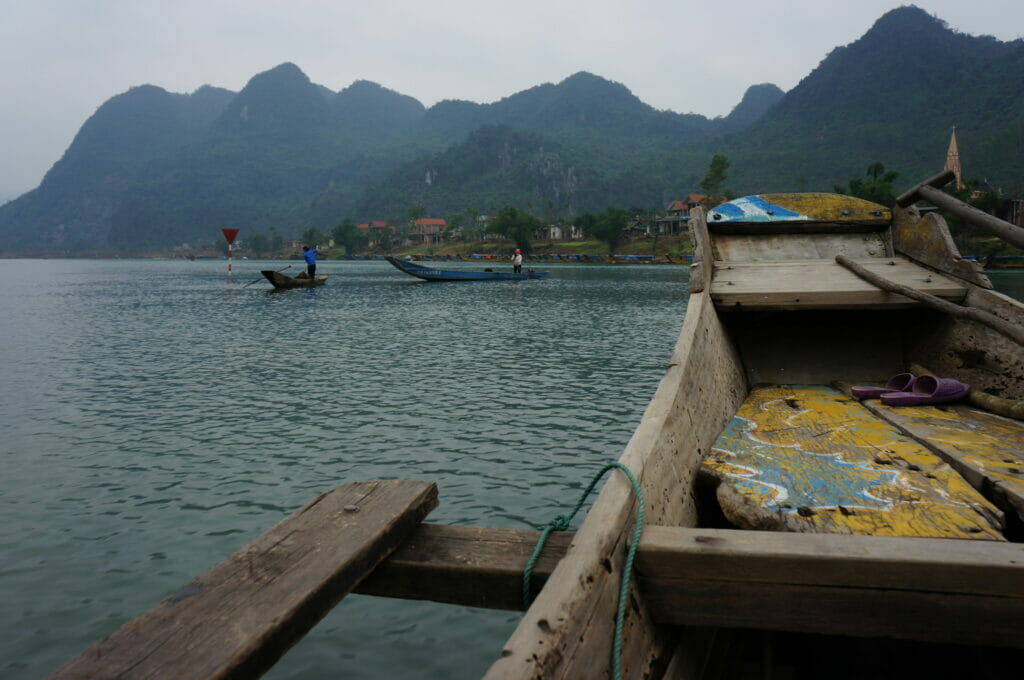 Our review of Phong Nha
So you will have understood, the size and the incredible beauty of the caves have particularly impressed us (I would even say subjugated!). It is sometimes difficult to understand how Mother Nature manages to create such wonders…
In any case, if you are in Vietnam, you must absolutely take 2-3 days to visit these caves within Phong Nha-Ke Bang National Park. By the way, we would love to come back here with a bigger budget to do a small trek/spelunking for a few days!
Ready to dive underground in Phong Nha 😉? Our trip to Vietnam continues in the direction of Mai Chau to meet the minorities!
Pin it