After being "stuck" for 10 days in Hoi an to make Fabienne's giant wedding dress, we were rather happy to continue our journey and leave behind us this nice little town but still very (too?) commercial.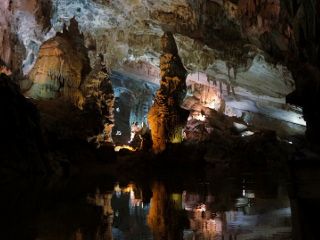 Well it must also be said that our destination of the day was extremely attractive: Phong Nha National Park-Kẻ Bàng. It is located just a few hours from the city of Hue, in central Vietnam.
This name does not ring a belle? But maybe you've already seen these images that have been around the world. Those of the Son Doong cave, discovered in 2009 in this park and which is today the largest cave in the world! Can you imagine… We could put a Manhattan building inside 😉
So you'll understand why we were a little excited. 😉 Well after that, forget about exploring this particular cave! It takes 5 days of trekking to access it and one has to pay the coquettish sum of 3000$ per person. In addition, only 200 people were admitted to the cave in 2014 and 400 in 2015. You might as well say that everything is already sold out! After that, there are several other caves that are open to the public and as you will see, they are already quite impressive!
Getting to Phong Nha… a mess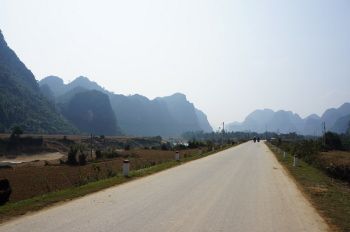 First of all, you have to reach the national park. And that's not necessarily obvious or at least it's not easy to do it cheaply! If you arrive from the north (i.e. Hanoi), you will have to go to the small town of Dong Hoi and then take the local bus to Phong Nha which leaves every day at 14:00 (for 50'000 dong).
Don't expect someone to point you to the local bus because there is a good business around the taxis that ask for 500'000 dongs for the trip. If you arrive from the south like us, the cheapest way to get to the national park is to get on a bus that makes a day trip to the caves from Hue and pay only for the trip ($10-15). Of course, once on the bus, the guide will try to take you on the day's excursion but don't let yourself be fooled because you can easily visit the park on your own. It is much cheaper.
To leave the park and return to the small town of Dong Hoi, the local bus leaves from Phong Nha car park every day at 17:00 for 50,000 dongs (not to mention this one no one talks about it 😉 )
Getting to Phong Nha

The first step to reach Phong Nha is to join Dong Hoi. If you come from Hanoi it will take you about 10 hours and you will have the choice between train and bus (the bus costs about 12€ while the train is more between 16€ and 30€ depending on the categories)
See the tickets
If you arrive from the south as we do, there is a good chance that you will have to go either through Danang or Hue. For our part we came from Hoi an and found a bus to Hue, then continued with a bus to Dong Hoi
To find accommodation and information in Phong Nha…. still not obvious
The village of Phong Nha is still quite small but it is noticeable that it is developing rapidly with the notoriety that the discovery of Son Doong has brought. However, it is relatively complicated to find precise information to visit the park. To date, only the easytiger hotel (located at the entrance to the village) has English-speaking staff and offers excursions in the park.
However, the price of rooms and tours are pretty high. Which led us to find another hotel. There are several along the way…but forget about the tourist information and English-speaking staff ;).
After searching for information for a while, we come across the Caverne bar, which offers free and very detailed maps of the park. They are much more detailed than the one you will find at the national park information centre and they are full of tips for excursions. We strongly recommend that you go for a coffee or a bite to eat there as they will probably be able to answer all your questions.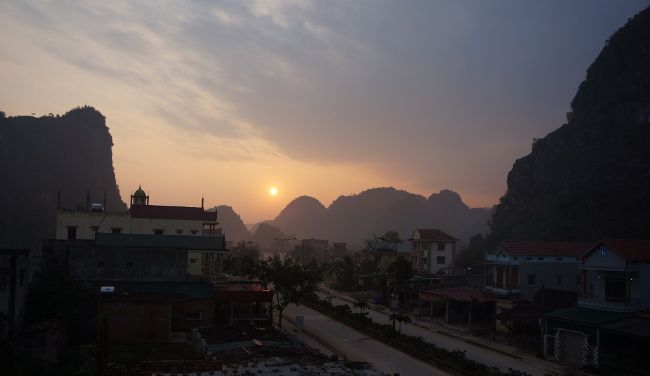 Visit to the caves of Phong Nha
As for the caves, as you will see, you can already visit quite a few of them by yourself. On the other hand, if you want to see more, go on treks over several days in the jungle through different caves more difficult to access, you will have to go through the agency called Oxalis. The tours offered by the easytiger and Phong Nha Farmstay also pass through this agency.
As it is the only agency allowed to organize this type of expedition, the prices are rather high. It starts at $85 for a day in the caves and climbs quickly to $200-300 for 2-3 day treks. In short, it was not too much within our means, but the people who came back from this kind of experience were all delighted. So if you are on holiday and have a flexible budget, enjoy yourself. You will certainly not regret it.
Visit of the Phong Nha and Tien Son caves
These two caves are located very close to each other and it is ideal to combine their visit because you will need a boat to reach them. Boats are rented at the visitor centre. The prices are fixed and the more you fill your boat, the lower the price per person will be (we got by at 190'000 dongs per person being 5).
After going up the river for 20 minutes, we finally arrive in front of the Phong Nha cave. It is impossible to visit it on foot because it is crossed from one end to the other by an underground river. So it was on board our boat that we explored the first km of this monster (the cave itself is still 7 km long).
And from the first meters, it's already the Wouahhhh effect! The different rooms can be up to 40m high and each one has its own impressive rock formations. I let you judge for yourself the beauty of the place ;). The only small negative point is perhaps to be attributed to the lighting, sometimes a little too much "Alice in Wonderland" for my taste.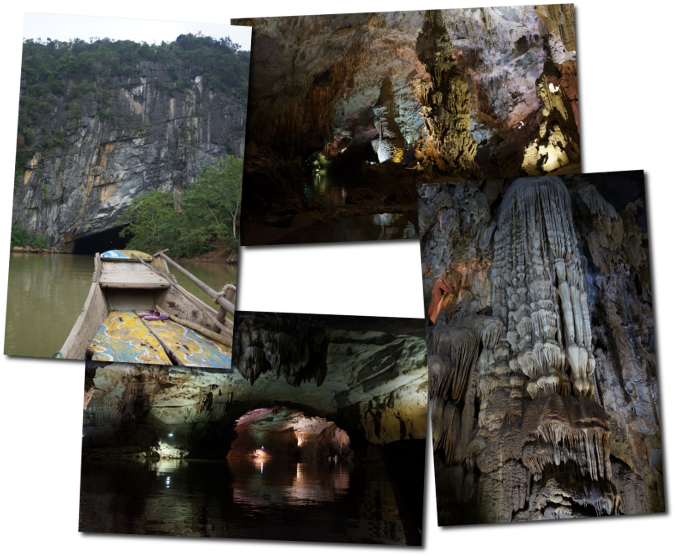 As you exit the cave, you should see a staircase leading up to your left. At the top of the latter (there are 330 steps) is the entrance to Tien Son, the second cave on the program! On the way up, you have a superb view of the rice fields and the Son and Chay rivers. Once inside, there too, it speaks for itself. We thought we had seen some pretty impressive caves in Slovenia, but these are on a different level!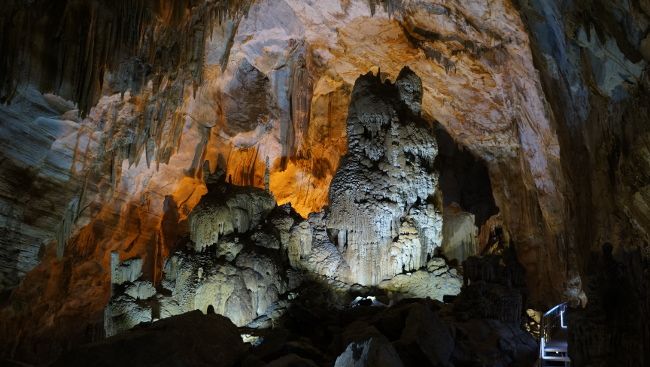 Scooter tour of the park and visit of the paradise Cave
Well, you probably know, there are not only caves in Phong Nha. A dense forest covers part of the park's area and these magnificent small kharstic hills emerge from the ground everywhere. Kharstic hill? You know, like in Guilin or Halong Bay.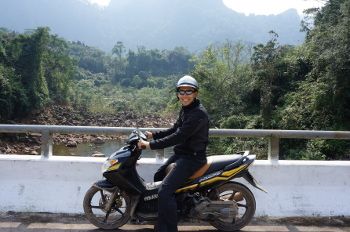 The best way to visit the park is to rent a scooter for the day and complete the 60km loop from Phong Nha. However, to rent the beast, you will have to get your hands on the purse.
The hoteliers have agreed and it will be difficult for you to find a scooter at less than 200'000 dongs per day (10 dollars. 2 times the normal price!). But as it is the only way to visit the other points of interest in the park. And honestly, once you're driving in this heavenly setting, you'll think it was worth it.
Once you arrive at the Trô Mong ranger station (20 km from Phong Nha), you can take a guide and a kayak to visit the "dark cave". Price: count about 250'000 dongs per person.
So as its name suggests, this cave is not lit and it seems to be quite an experience to explore it in the light of the headtorch. We preferred to skip this because we still had a lot on the agenda.
The Eco-trail in Phong Nha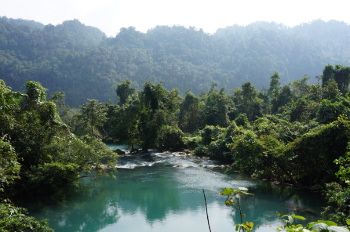 We stopped a few kilometers further to cross an "Eco-trail". By Eco trail on should understand a prepared trail through the forest and rivers, (50,000 dongs admission fee). We really enjoyed walking around in this beautiful area of nature.
We will still regret the lack of maintenance of some bridges that prevented us from making the complete loop (we didn't want to get wet to cross 😉 ). It was quite cool on that day but with a few degrees more, we would have been tempted by a swim in the river!
Visit Paradise cave
The highlight of the day was our next stop: "paradise Cave". It is 30km from Phong Nha, at the other end of the road which makes a 60km loop in the park. This cave extends over 7 km but by paying the normal entrance fee (120'000 dongs), you can only visit the first km. If you wish, Oxalis offers you the opportunity to explore the "paradise Cave" in its entirety over a day for $100-150. To be honest, the first mile has already totally seduced us!
This cave is simply superb! The deeper you go, the more incredible rock formations you discover. For the moment, the lighting is this time perfectly balanced and the disco-like colours have been left out. This cave was clearly my favorite part of the national park!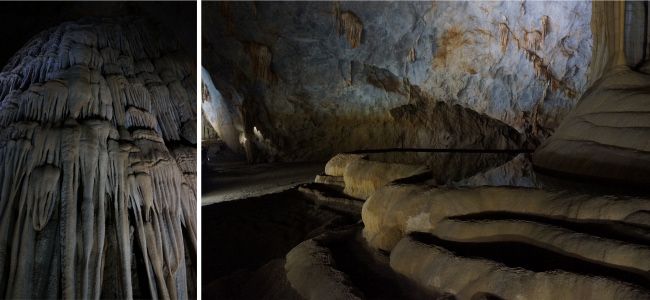 As you will have understood, we were super impressed (I would even say amazed) by the size and incredible beauty of the caves that are located in Phong Nha-Kẻ Bàng National Park. It is sometimes difficult to understand how Mother Nature manages to shape such wonders…
But in any case, if you are in Vietnam, it is essential to take 2-3 days to visit this treasure. On our side, we would like to come back once again with a larger budget to treat ourselves with a small trek of a few days. And who knows, by the time we get back, maybe we can visit Son Doong a little easier 😉
Note: This article contains affiliate links. By using our links you will not pay anything more, but we'll get a small commission. Thanks for your support.