During our visit to Huaraz we did the Santa Cruz trek in 4 days,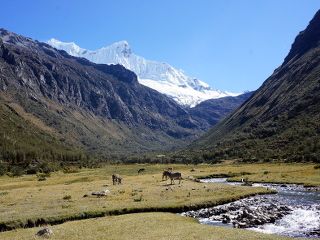 but that's not the only reason to go to the cordillera blanca
If multi-day hikes are not really your cup of tea, Huaraz is a city that still has a lot to offer in terms of shorter one-day hikes.
In this article, we review the unmissable hikes in the Cordillera Blanca as well as give you some practical information about Huaraz.
Huaraz: Little Switzerland of the Andes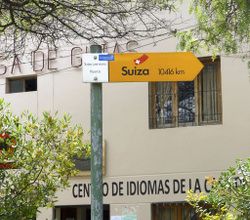 Huaraz is a pretty little town in northern Peru perched at an altitude of 3100m in the heart of the Cordillera Blanca mountain range. It is sometimes called the Chamonix of the Andes or the little Switzerland of the Andes.
Being good little Swiss, we felt obliged to take a closer look at it.
Good first disappointment, we didn't find any "chalets" or a cheese factory (but that was to be expected). On the other hand, we were not disappointed by the panorama of the city! Huaraz is surrounded by snow-covered peaks, and there's no need to say, in good weather it's just incredible!
The city itself does not have any particular charm. The houses are often simple concrete blocks and for once the Plaza de Armas did not really seduce us. But on the other hand, we were lucky enough to be in Huaraz for the Fiestas Patrias (Peruvian National Day), so between the different parades and the activities in the streets, the least we can say is that we were not bored!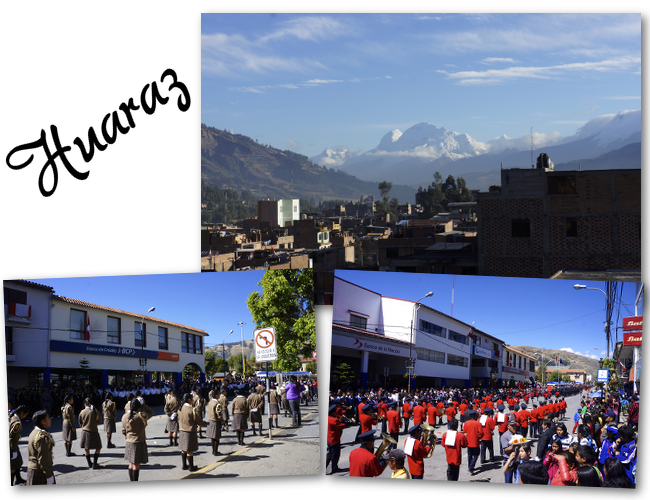 The Wilcacocha lagoon: a gentle acclimatisation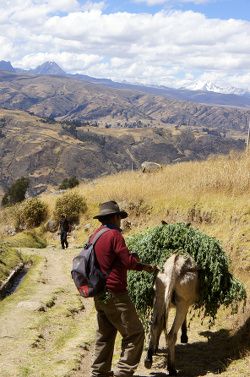 We told you in our article on the Santa Cruz trek: if there is one thing you shouldn't joke about, it's the altitude. Especially the phenomenon of altitude sickness (AMS). A Brazilian almost died on our 4-day trek!
So, before you start a multi-day trek, it can be a good idea to acclimatize a little. Once you are no longer out of breath when lacing your hiking shoes in Huaraz, we advise you to go take a look at the Wilcacocha laguna!
What is the interest of this lagoon? In itself, the lagoon is nothing special (at least compared to lagoon 69). But the whole point of this easy little hike is that you climb in the Cordillera Negra. And I'll give you the best of it; from the top you have a breathtaking view of almost the entire Cordillera Blanca!
Useful Info
The beginning of the trail starts about 15 minutes by car from the centre. To get there, simply go in front of the stadium and take a collectivo (N°10 or E). Price of the trip: 1 soles per person. Say you want to go out at the "Puente Santa Cruz". Cross the small bridge and start climbing! There are no 36 ways, it's impossible to get lost!

Getting to the Laguna Wilcacocha
The ascent to the lagoon is fairly easy and takes between 1h30 and 2h depending on your physical condition. Allow between 1h and 1h30 for the descent. For the return wait for a collectivo on the side of the road or stop a taxi. Price of the trip in collectivo 1 sol per person, by taxi: 1.5 soles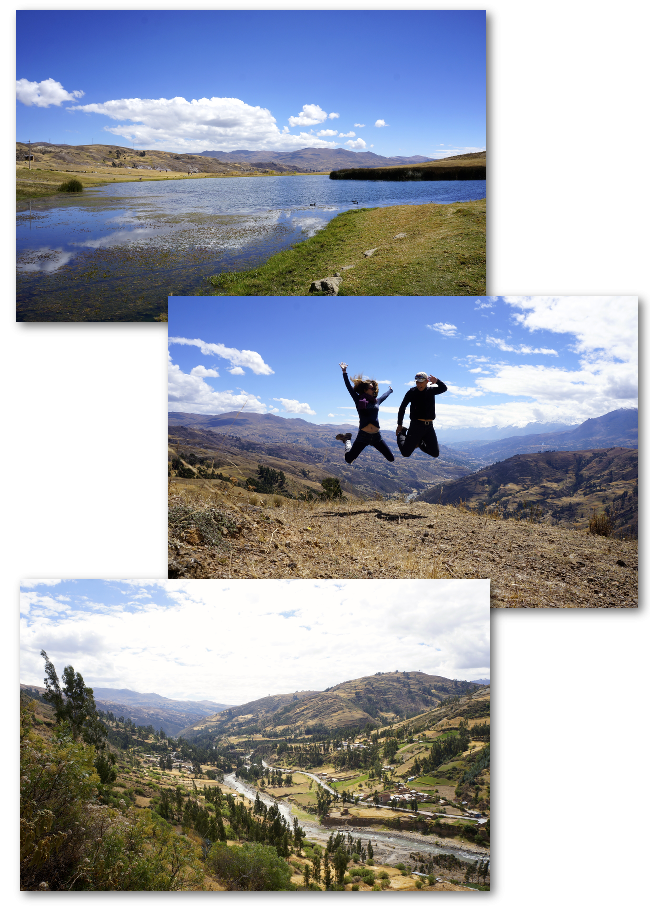 Laguna 69: A must-do if you are in Huaraz
So this is probably the excursion not to be missed in Huaraz! However, I warn you right away: in Huaraz the agencies sell this as "a nice little excursion with a short walk to reach a laguna".
Yeah…. So it's still 6 hours of bus in one day and between 4 and 6 hours of walking depending on your physical condition! And it's climbing!!!!!
To get to Laguna 69, the easiest way is really not to bother and take a tour from Huaraz. There are many agencies and all offer a similar service.
Round trip transport, with a stop at the magnificent llanganuco Laguna on the way, to take some pictures!
Transport price: 40 soles per person.
Once you arrive at the foot of the mountain, the driver sets you a return time (you have plenty of time to enjoy the laguna), and then let's go!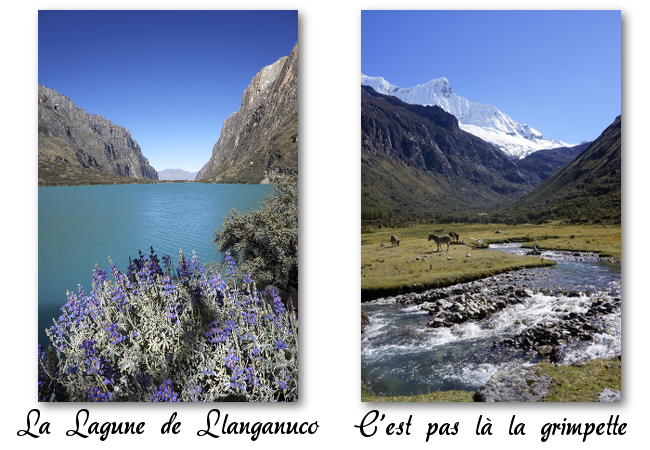 Getting to Laguna 60
The climb is steep , and the 900m of altitude difference to reach this small turquoise blue mountain lake is quite rough! Walking at a good pace, the ascent takes 2h30 (3h30 for the slowest). This leaves between 1h and 2h break at the top to enjoy the view before descending quietly in about 1h30.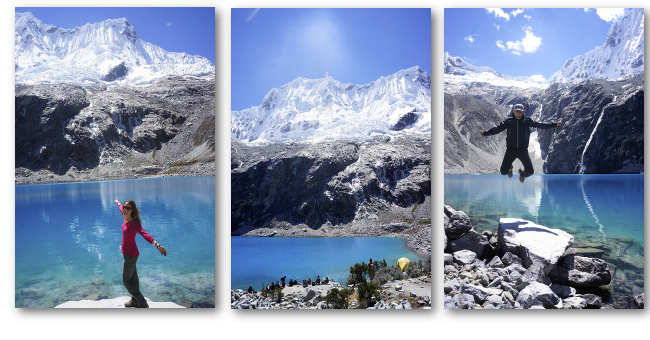 But in any case, the ascent to the Laguna 69 is an excellent way to acclimatize before embarking on the Santa Cruz trek. And there's no need to say that the effort is worth it!
But if we had to do it again, we'd take our tent. We saw people camping up there, and frankly it really hurts to have to go down after only 2 hours on the edge of this beautiful lagoon.
Getting to Huaraz by bus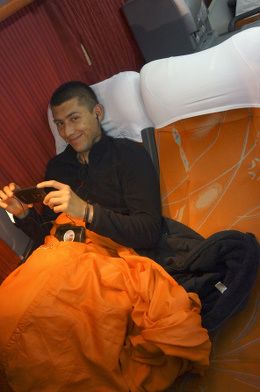 We arrived in Huaraz from Trujillo, which is located further north in Peru. From Trujillo to Huaraz there are frequent connections. But the best thing in our opinion, is to take a night bus. We opted for the company "Movil Tour" which offers the 9-hour trip for 50 soles per person in semi cama (seats reclining at 140º) and meals on board.
The rest of our journey took us to the Peruvian capital, I named Lima. For the trip we again opted for a night bus. We travelled with the company "Z'Bus" which offers 2 departures each evening (22h15 and 22h45) to Lima for 50 soles (taxi from the hotel to the station included).
Hotels in Huaraz: where to stay
In Huaraz there is no shortage of hostels to choose from. And by the way, the owners will not fail to come upon you as soon as you get off the bus! A word of advice: ignore them and search for a place by yourself!
With regard to the type of accommodation, it should be noted that in Peru there is a distinction between hostals and hospedajes.
The first are inns or small hotels, often for international tourists. Wifi is generally available as a standard feature. Breakfast is included most of the time and often a common kitchen can be used by travellers. The price generally varies between 20 and 40 soles per person depending on the type of room.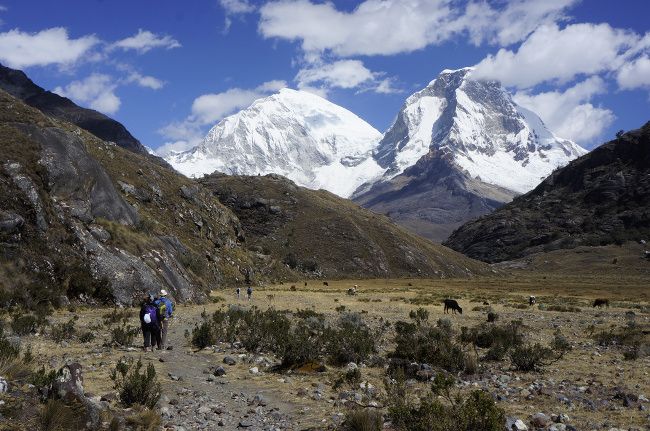 Hospedajes are smaller hostels that are mainly intended for local tourists. Much cheaper than hostals, hospedajes are also more rudimentary. No breakfast, rarely wifi, and hot water is a rather random commodity.
The price generally varies between 10 and 20 soles per person depending on the room.
Hospedaje: our test
In Huaraz we tested both! Before the Santa Cruz trek we were in the middle of the days of the national holiday. So we didn't have many options available and took the first option that had a bed at hand. We landed at the "La Perla" hospedaje, just next to the stadium. This place cannot be found online.
Price of the double room, private bathroom: 35 soles.
Honestly, for the price it was a decent alternative. Clean, we had hot water one time out of two (it's not bad as a stat for Peru). And even a small wifi sufficient to check the emails.
Hostal in Huaraz
After our Santa Cruz trek we wanted to be sure to get a hot shower. So we followed the recommendations of two Germans we met on the trek and went to the hostal "Alpes Huaraz".
Price of the double room with private bathroom: about 60 soles. (breakfast included and kitchen at your disposal).
Frankly, it was really nice there: the wifi worked like a charm, the hot shower was awesome and the room were very confy! In addition, the common kitchen has allowed us to cook a few meals. But also to eat with other travellers, including a great couple of Catalans we met there with whom we then did quite a long way.
See Availability on Hotelscombined
Where to shop in Huaraz?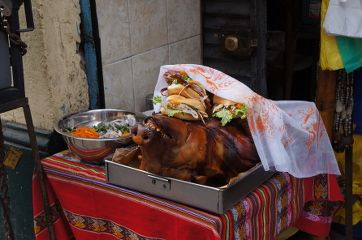 Huaraz is the largest city in the region, and for many it is also the starting point for treks. Whether for a one-day hike or a longer trek it is always good to have some provisions.
Since the city still has 100,000 inhabitants, we have to admit that we were expecting to find a large supermarket. In the end, this was not the case. The best one we found was just below the Alps Huaraz hostel.
But in Huaraz there is also a large covered market! And there you will find everything you need for a hike: breads, cereal bars, dried fruit and nuts sold by weight, soups, etc.
In short, the mini-market is the best place to buy sauces and cans, and for the rest: got to the market!
Buy or rent trekking equipment in Huaraz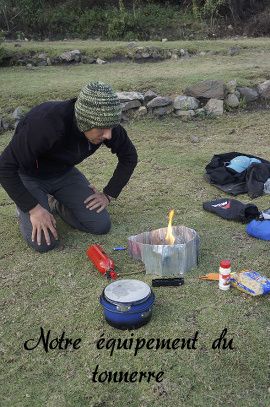 We arrived in South America from Asia. Needless to say, we were not really equipped for the extreme cold!
We had considered buying equipment during our 2 months in Quito, but many people advised us against it. In Ecuador there are significant import taxes on foreign products. As a result, hiking equipment was almost at the same price as in Europe…
Several people we met on the way told us that in Huaraz we would find everything we were looking for. So, honestly? Meeehhh…. Let's say that if you need to rent equipment for a trek, Huaraz does offer many options.
Buy mountain equipment in South America
On the other hand, if, as us, you have planned to buy equipment, you would be advised to shop in Lima or Cusco.
In Huaraz there are many shops, or rather small shops that sell a mix of originals / copies of major brands (North Face, Patagonia, etc.). Of course everyone will tell you that it is original, and of course, in 80% of cases you will be scammed!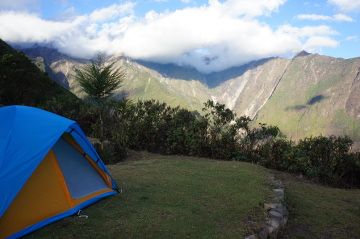 There are still 2 stores that we found a a bit better, and especially because they offered brands from South America (so originals at the same price as copies of major brands sold in the street).
Magic mountain
In our opinion, the best option. We found everything we needed at the "Magic Mountain" store. But honestly the choice was not incredible. It's easy to see, we bought the only 2 duvets they had left and for the waterproof pants and jackets we didn't play the fine mouths on the color, we took the ones that fit us.
The second store (whose name escapes us, sorry) is right in front of Magic Mountain. The choice looked similar, but unfortunately on our 3 days in Huaraz we never saw it open. Thus, hard to say more about it. 😉
In short, don't count on Huaraz to redo your hiker's wardrobe! But don't panic if you're missing something. It is possible to find everything if you are looking for a little and do not want to buy a specific model.
Want to see more about our current hiking hear? Take a look at this article, where we detailed our gear for a 21-days hike in the swiss alps.
That's it, you know everything (or almost everything) about Huaraz and the Cordillera Blanca mountain range! We'll see you soon, and this time with our crazy epic trek to Machu Picchu!
NB: Please note that this article contains affiliate links to partner sites. If you buy a product on one of their sites you will not pay more but we will receive a small commission. This will help us to keep this site alive. Thank you! 🙂