After having a good time on the 4000 islands, we were ready to start a new motorbike loop in southern Laos, on the Bolaven plateau.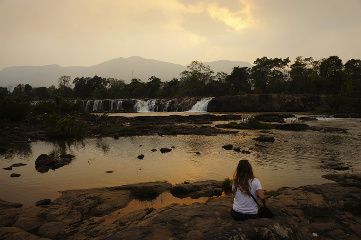 After our Thakheak experience, we were not so motivated to do 400 km of rough road again and take unnecessary risks to admire some waterfalls.
But after taking some information, it seemed that the roads around Pakse were in better condition…
Thus we did not hesitate very long and we started what we'll call "The Loop 2: the waterfalls of the Bolaven Plateau"
Wrong start in Pakse
Well once arrived in Pakse, the idea was to rent a scooter and go for the big loop around the Bolaven plateau for 4-5 days… But it is well known, when travelling you sometimes have to deal with unexpected events. This time it was a nasty tourista who put Benoit to bed for 3 days! No way to go on a scooter when there is a toilet emergency every half hour.
The Bolaven plateau: small or large loop?
Come on, as usual we'll give you a little "homemade" card to help you find yourself better if you want to try it too.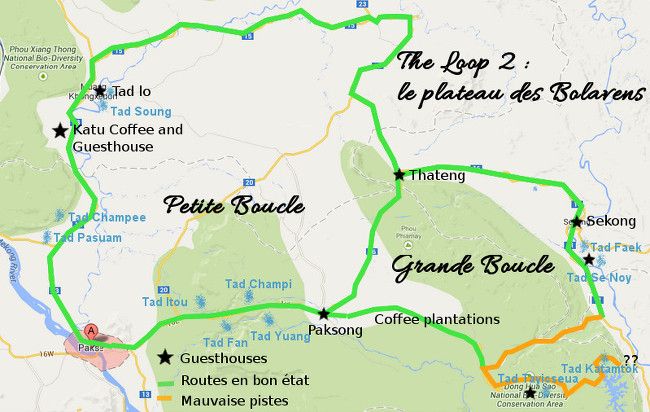 There is a lot to see around the Bolaven plateau. There are many waterfalls but also coffee plantations, great swimming spots, beautiful natural spots…. But it is still difficult to do everything because despite what we were told, the road is still pretty rough in some places.
So since we were told that the roads were pretty good and that I (Benoit) absolutely wanted to see the Tad Katamtok waterfall (supposed to be the most beautiful of all, see the map for location), we started the big loop (But you can already see by looking at the map that if you want to play it safe, it is better to do the small one ;-)).
The Bolaven Plateau Tour
Day 1 : Pakse – Tad lo: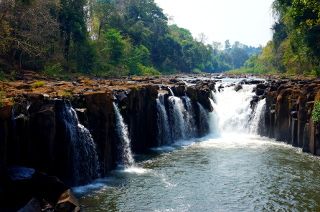 A rather quiet first day since we had barely 100 km to cover until Tad lo with 2 waterfalls and a coffee plantation on the program. The first waterfall (Tad Pasuam) is very easy to find and is pretty without being transcendent (especially since there were a lot of Thai tourist buses)… But it's still worth stopping for a while.
But to be honest, the main attraction of that first day was for us the Tad Champee waterfall. But be warned, it's a little harder to reach! 2kms after the first waterfall, turn left (it is indicated) and you will have to drive 10kms on a bad dirt track! But in our opinion it's worth it! We arrived in a charming place where there was absolutely no one there except a group of little girls who were cooling off there. And the ultimate must for me, there was a great spot to jump in the water and get the adrenaline going a little bit. We stayed there for 3 to 4 hours… The good life…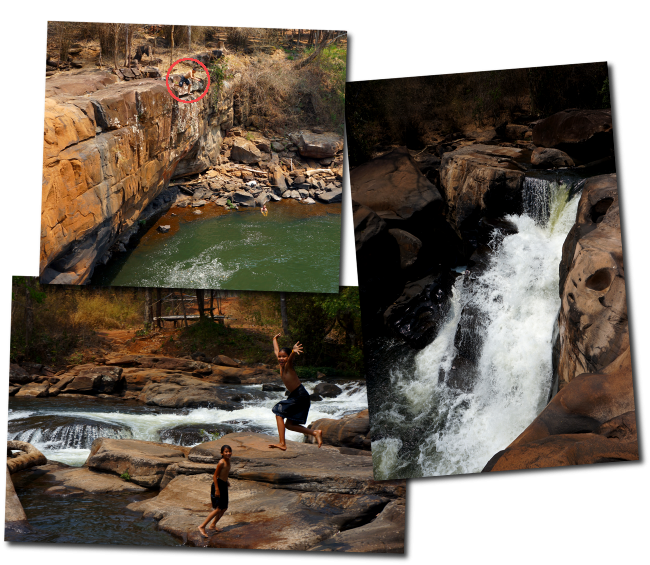 Coffee tasting in Laos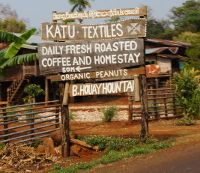 As it was getting late, we just had time to stop at Katu Coffee to test the coffee but we didn't have time to visit the plantations. But know that it's quite possible and that the guy who runs the guesthouse there is really nice! He will be happy to show you his coffee plantations….) Finally, we headed for Tad lo, a small village built around the waterfall of the same name. You will find plenty of guesthouses, each one nicer than the next…. We don't have one to recommend more than another, take a look around, visit the rooms and negotiate! Anyway, it's not very big! 😉
Day 2 : Tad lo and surroundings:
Tad lo is a charming village where it is nice to relax and swim around the waterfall. We met several travellers who had been there for several weeks and who simply appreciated the calm of the place. To be honest, after a day we had seen it and we wouldn't have seen ourselves staying any longer. I mean, it's beautiful, but there is really not much to do if you like to be active. ;-)…
In addition to swimming around the Tad lo waterfall, we recommend that you take a look at Tad Soung. Unfortunately, when we went there, there was very little water. I think they were building a dam upstream, so the flow was reduced, but the view from the top is magnificent.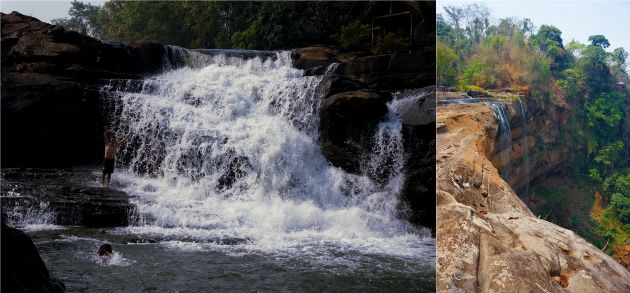 Day 3 : Tad lo – Tad Se Noy:
So day three was the big day for us. We had first planned to go to a guesthouse located at the very bottom right of the map, towards the Tad Tayicseua waterfall in order not to do the whole difficult part (in orange on the map) of the road in one day. But you may see on the map two little ones"?"?"…".
Despite all our efforts, it was impossible to find the junction for the second road in orange! And it's not for lack of trying (besides, we seriously doubt that this road even exists, or it's not practicable by scooter at all)! So we went back to see the Tad Faek and Tad Se Noy waterfalls where it is good to rest and swim.
We slept at the only guesthouse located near the Tad Se Noy waterfall. It was very basic but we had no choice. We went swimming near the waterfall in the late afternoon and there were many children having fun. We had a great time with them.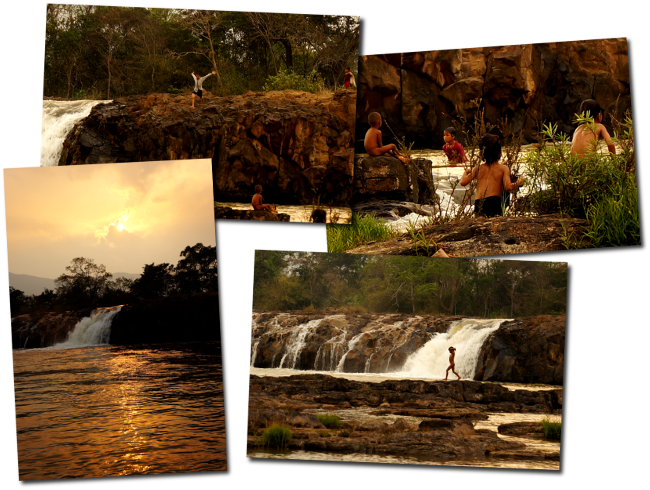 Day 4 : Tad Se Noy – Pakse:
To be honest, we didn't plan to go directly back to Pakse on the 4th day. We thought maybe we would take the first orange road and then go back to the second to see the two Tad Tayicseua waterfalls and the famous Tad Katamtok (we've heard a lot about it, it seems to be by far the most beautiful waterfall in the area). But the state of the first part of the road completely cut off our desire to go back and explore 30 km of additional dirt track.
The game is not worth it in our opinion, but it is obviously up to you! The road is really rough in some places and again, we weren't born with a scooter between our legs. So we decided to skip this part.
However, we caught up on the coffee plantations and waterfalls on the final stretch between Paksong and Pakse.
Besides, this part of the road is absolutely beautiful. During our visit, the coffee plantations were in bloom! It's not easy to focus on the road with this show.
We stopped at Tad Yuang and Tad Champi and frankly it was great. The waterfalls are sublime and are located in small natural settings that are just superb. But the photos will be better able to describe the beauty of these places! In any case, it totally made us forget the fact that we missed the famous Tad Katamtok waterfall! 😉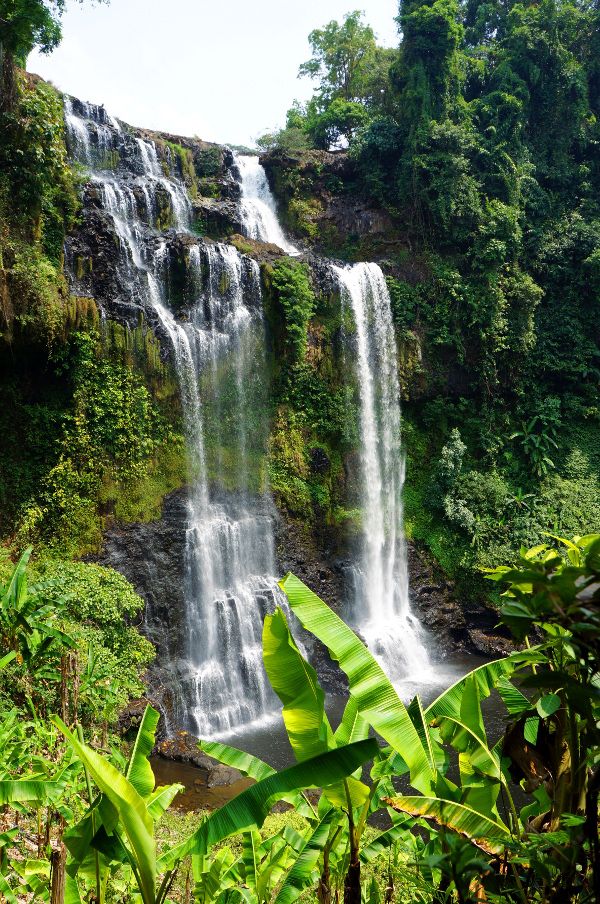 Infos
The small loop is easily done in 3 days, count 4 days (or 5) for the large one
For the big loop: a new road is under construction (upper orange line on the map), it is the one we used. But to see the waterfalls you have to go along the old road (orange line below). Coming from Sekong we couldn't find the crossing!!!!! If you arrive from Paksong, the route to take is very well indicated, just follow Attapeu.
Free waterfalls: Tad Champee, Tad Lo, Tad Soung, Tad Faek, Tad Se Noy, Tad Champi. But beware, at the free waterfalls you will still be asked to pay for the parking, usually 5000 kips. But at least the bike will be waiting for you in the shade and will be watched.
Fee-based waterfalls:

Tad Pasuam: 5'000 kips per person + 5000 kips per motorbike
Tad Yuang: 10'000 per personDon't forget your swimsuit for the different waterfalls. Ladies, think about getting a sarouel, bikinis are not really welcome….

Price of the visit to the coffee plantations (Katu Homestay): 15'000 kips per person.
Price of scooter rental from Pakse: 50'000 per day
To conclude, I would say that if we had to do it all over again, we would rather do the little loop so as not to take unnecessary risks. However, the area at the bottom right on the map looks absolutely splendid and the waterfalls there are magnificent.
We might have taken the risk of venturing there if we had arrived from Paksong but in the other direction, it's just too much of a rough road afterwards.
And you, what would you have done in our place?