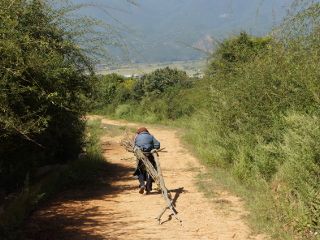 After a first meeting with the Yunnan at the Tiger Leaping Gorge we decided to continue our journey towards the small village of Shaxi!
According to our Lonely Planet, this picturesque little village is a real gem. Preserved from mass tourism but with an authentic charm, that's what they said…. That week was National Holiday Week in China, so we thought that a short stay "in the countryside" and away from the hustle and bustle of tourism would be our best option…..
The Golden Week in China
For those of you who don't know it yet, the first week of October is marked in China by the national holidays. Under national holidays, understand by this that 1.2 billion Chinese (or almost) are on holiday!
We might as well explain that there are people everywhere! Trains and buses are completly full and tickets are sold in no time. Hotels and small inns are booked weeks in advance. And in touristic places, room prices are generally three times higher than the rest of the year!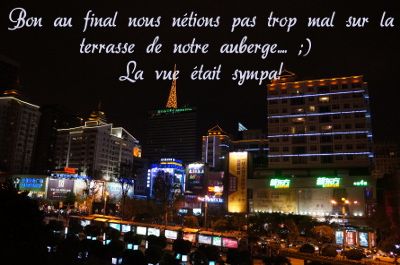 We had been warned, but somehow we thought that we could manage to find quieter places…. Yeah….
In the end we spent the week hiding in our hostel in Kunming, but we'll come back to that later… 😉 Anyway, travelling in China during the Golden week is probably not the best idea.
Shaxi, authentic tourism? Really?
In most guide books Shaxi is described as a small village inhabited mainly by ethnic minorities and a centre for exchanges between farmers. A small village with 2 or 3 inns with a crazy charm and still sheltered from tourist flows.
So that's in theory…. In practice, how does it work?
So first of all, we would like to say that we have not been disappointed by Shaxi or by the region around it. But on the other hand, we were able to observe that in 2 years (the time in which our guide was written) there have been many changes!
China Travel Guide

During our trip to China we used the
Lonely Planet China
guidebook. We don't usually travel with travel guides, but in China we still find it very convenient to have it because access to information is not as easy here as in other countries.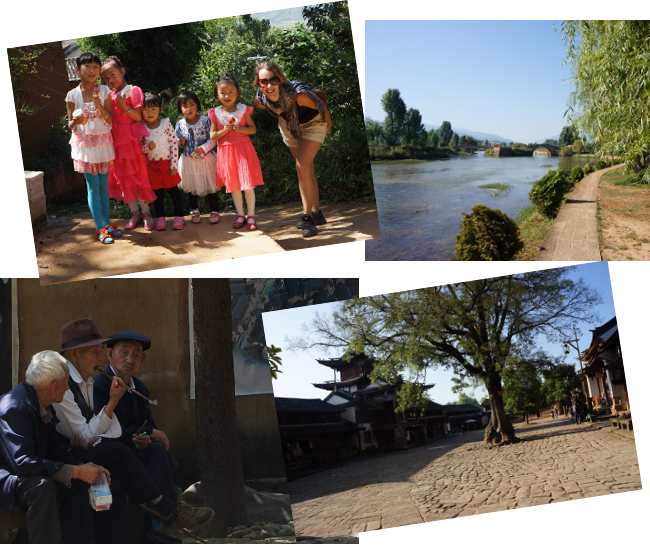 The small village of Shaxi gave us the impression of being right on the tourism launch pad!
Inventory of the situation
This means that there were not yet hundreds of tourists, but the "infrastructures" are already there, and they are in full development.
On the main street, there are a succession of inns, small coffee shops and souvenir shops, but they do not seem to be running at full capacity (for the moment). In the small parallel streets, the old village houses are almost all under construction. The new inns are growing like mushrooms! However, the village still retains its charm, and the possibility of strolling in the neighbouring villages makes this place a must in the region.
But for how much longer? That is the big question….
Note: we travelled there in 2013… If you've visited more recently, do not hesitate to leave us a comment about how the town looks like nowadays!
Hotel in Shaxi

Are you looking for a hotel in Shaxi? Take a look at
Hotelscombined
to find your perfect place to stay.
However, you will see it there is a lot of choice! We do not exclude that the vibe of the place has changed a little, considering the number of hotel results, it seems that tourism has developed quite well in the area since our visit in 2013.
See the hotels
Shibaoshan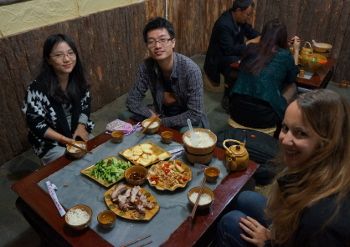 In Shaxi we also met a very nice Cantonese couple, Will and Kate. (We let you guess by reference to whom they chose their English name) 😉
One evening we went out to eat with them, and during the meal they offered to accompany us to discover Shibaoshan, a village carved into the cliffs.
Shibaoshan is briefly mentioned in the lonely planet, but to be honest this had not really caught our attention. But the desire to spend a day with our new friends but also to discover a highlight of Chinese tourism that is not really described as such in our guide intrigued us!
Superb temple of Shibaoshan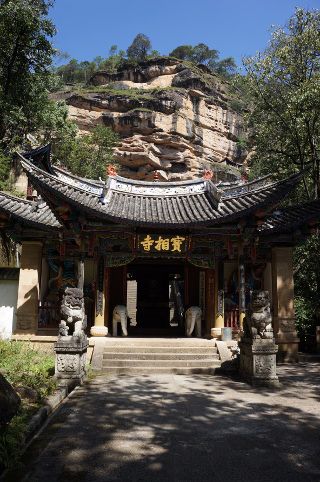 The least we can say is that we were not disappointed! Shibaoshan is probably the most beautiful temple we have ever seen in Asia until today! The beauty of these houses nestled in the cliffs has left us with a wonderful memory!
And it was fun to spend a day with Chinese people and make the visits "their way"…
Well yes, we usually prefer to discover a site on foot by voluntarily losing ourselves a little. Generally we don't have fixed plans and even less schedules. And above all we systematically end up walking for hours (often even way longer than anticipated)…
In the Chinese version it gives a great organization!
The Chinese organization
Will had organized a minibus for the four of us. He even managed to find us 3 other Chinese who wanted to go around with us to reduce costs. He literally spent 2 hours on the streets of Shaxi asking every if they wanted to join us! 🙂 So we had this famous minibus that took us from one end of the mountain to the other, limiting each time the physical effort necessary to reach a hill top!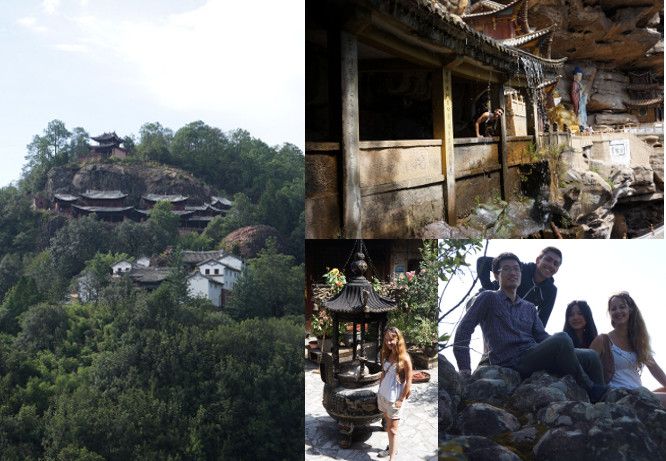 Will even managed to convince our driver to organize a scam at the entrance. We were 7 but only had to pay 6 tickets. Once at the entrance our driver simply explained that one of the poor little white tourist (meaning us) had lost his ticket…
Our mission? Look nice and naive! So we tried to pull a face like the little cat in Shrek and it all went smoothly! 😉
How our stay was shortened in spite of us….
Come on, for the road and to cheer up those who work and hate their bosses, we'll tell you how we really ended up messing up during our stay in Yunnan. After Sichuan and the Tiger Leaping Gorge it had been more than 2 weeks since we met an ATM who accepts foreign cards. But here we were, we didn't want to go through Lijiang before going to Shaxi just to withdraw money. Especially since the manager of our inn assured us that we could find an ATM in Shaxi…
well… we were definitively too naive

we arrived in Shaxi with a smile on our face and a smile on our face with our last yuans in our pockets. Of course in Shaxi there was no ATM! Well, no actually there was one, but only for local bank card… This ATM most likely never saw a Visa or a MasterCard before. Plus: we had some extra US $ in cash with us, but it was literally impossible to get it exchanged. Only the National Bank of China agrees to exchange foreign currencies.
But not discouraged for 2 cents we listened to the advice of the very nice banker who explained to us that in Jianchuang, the neighbouring city there was "a very big bank"…
Heading for "The Big City"
There you go! So it was with the smile that we went on an excursion in this famous city using our last yuan for the bus ticket! There, we actually found the "big bank", a magnificent and very modern building with lots of Visa, Mastercard, Maestro stickers on all the windows! JACKPOT!!!!!
Yeah, well, no. Misleading advertising that I'm telling you guys! The ATM scrupulously spit out ALL our cards with a 401 error message… When after an hour in line we reached the counter and showed our cards, the poor little lady seemed to discover for the first time a foreign card.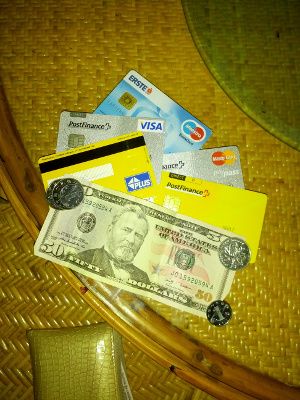 She could just tell us: "No, No working"
When we showed her that the logos on our cards were the same as those on their damn advertising stickers, we could see on her face that this was the first time she understood what these stickers might eventually mean….
Short of money, but also of patience, we almost begged them to agree to change us a few dollars. Without success!
She told us to go to Lijiang! Grrrrrrrrrrrrr……
But when we opened our wallet in front of her, we all realized that we simply didn't have enough money to go there…
Anyway, as a pity, she gave us 100 yuan (about 12€)…. we were not feeling very proud at this moment, but we'll have to admit that we were also really grateful.
Lijiang in the middle of crazy Golden week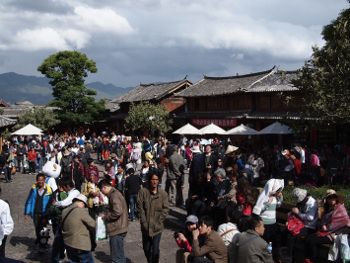 So it was thanks to the donation from the Agricultural Bank of China that we were able to reach Lijiang the next day. We were warned, Lijiang is an extremely touristic city, and during Golden Week it is even more extreme!
To be honest, we expected excitement, but never this much! We rushed to withdraw money. (Obviously in Lijiang it worked at our first attempt…). We managed to get ourselves a night bus ticket at the last minute to go to Kunming that very evening!
Lijiang we spent 7 hours there….
We had our most expensive meal of the trip (nothing special by the way)
We got ripped off at the supermarket
We bought apples that cost us more than in Switzerland.
We've had our picture taken at least 100 times… Well yes two white tourists with backpacks on their backs that intrigues….
We've been pushed more times than in the Forbidden City….
In short, we saw Lijiang, and we didn't like it!
UNESCO World Heritage: Blessing or curse for a region?
During our trip to China we have already had the opportunity to visit a number of tourist attractions. Some of them really pleased us, while others sometimes left us with the impression that we had been spoilt by tourism.

One of the common points that exists between these various highly developed tourist points is for the most part to have been classified as a UNESCO World Heritage Site.
Whether it is Lijiang, Emeishan, the Great Wall or the Temple of Heaven in Beijing, all are on this famous list.
UNESCO World Heritage Site, what does that mean? For those who are not aware, the United Nations proposes a list of natural or cultural sites that are, according to a certain list of criteria, important for the common heritage of humanity. Currently this list includes 981 properties, 45 of which are in China.
Tourism in China is in its infancy
From what we have seen, tourism in China is definitely a problem that the state still has difficulty controlling! Fortune and money is still a relatively new concept in this communist country. Having the means to go on holiday in their own country is something that is starting to spread more and more.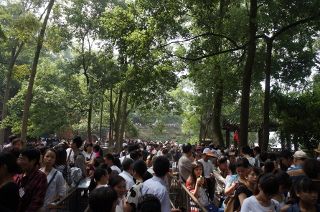 As a result, millions of Chinese tourists now finally have the financial means to discover their own country.
Let's just say that the masses of tourists are simply not the same as in our country. Sometimes channelling these human tides and especially preserving the landscapes is a mission that is still a burning issue in China. From our observations, the problem is present in many places, but UNESCO World Heritage sites are all the more affected by their success!
The World Heritage label is a guarantee of quality, but also a massive advertisement for a region. It is therefore quite inevitable that the 45 classified sites, are all among the most visited sites in the country!
The example of Lijiang
Lijiang is a bit of a case study on the drifts of extreme tourism. This old town, whose history goes back more than 800 years, has seen record tourism development in recent years.
Imagine that in 1994 the city welcomed 200,000 visitors per year. In 1997 the city was listed as a UNESCO World Heritage Site. I'll give you that right, the number of visitors has exploded since then! In 2006 there were 4.8 million tourists per year coming to discover the place, and in 2012 there were more than 15 million!!!! An increase in tourism of more than 56% compared to 2011!
Ten years ago there were no housing options in Lijiang. Currently there are more than 2000 hotels, guesthouses and hostels sharing the juicy Chinese tourism market! Tourism in China and its rapid development created by the UNESCO World Heritage label is definitely a double-edged sword….
On the one hand, the influx of tourism certainly brings income to the local population, creates employment and contributes to the rapid development of a city in terms of hygiene, road connections and technological and logistical infrastructure. But accepting mass tourism also means taking the risk of slowly destroying these landscapes. All these sublime regions that UNESCO wanted to "protect" in order to make them last for humanity….
Yuanyang's rice terrace
A few days ago we went to the Yuanyang region in southern Kunming. (read note article on Yuanyang).
These rice terraces, with a breathtaking view, have just joined this famous list.
And during our visit we were able to observe that the change is in progress…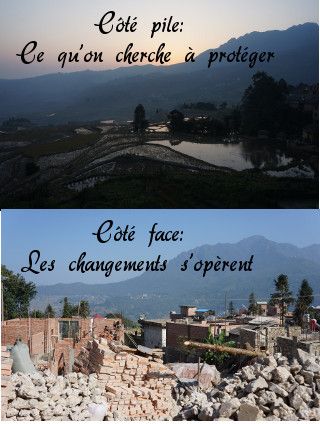 Inns are growing like mushrooms. Souvenirs are replacing village dwellings and paid wooden viepoint platforms are emerging in the landscape…
We will come back to this region in a future article, but the situation definitively launches the debate…
Does UNESCO's protection really guarantee the preservation of the landscape?
Will there not be a point where the villagers will realize that there is much more money to be made by selling postcards than by taking care of the rice fields?
Are the rice fields doomed to be abandoned?
We do not hope so, but we are a little afraid of it… But the debate on the issue is long, and we promise we will prepare a more complete article on the subject for you soon!
So here we are, Yunnan is probably one of the richest Chinese provinces in terms of variety of landscapes and cultures. It is a small paradise to admire breathtaking views or to go hiking! But if you want our opinion, if you want to come to the area, do it quickly!
And what do you think? UNESCO, still a good sign for a region?
Note: This article contains affiliate links to partner sites. By using our links, you obviously pay nothing more, but we will receive a small commission. Thank you for your support