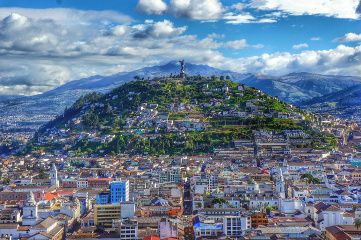 We will not lie to you, whenever we had heard something about Quito, capital of Ecuador, the city was described as dangerous, impossible to visit without being robbed (yes, we did meet a dozen travellers who had problems). Thus, we were still a little apprehensive after deciding to go to Quito to learn Spanish for 2 months.
However, after staying there 2 months, we leave this magnificient city with 0 stolen objects and many beautiful memories. Frankly, we haven't visited the rest of South America yet, but the Ecuadorian capital is already setting the bar very high (in addition to being located at an altitude of 2800m)… And since we spent a lot of time in Quito and loved it, we concocted a terrific guide to prove to you that no, Quito is not another scary city in South America!
All about Quito: table of contents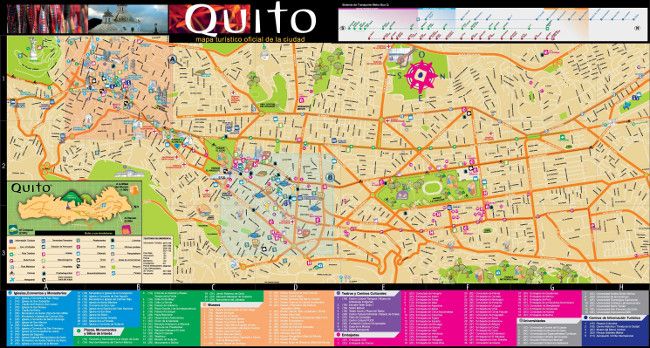 Click on the map to download its full resolution version. Source: http://www.zonu.com
El Centro Historico
300 years of Spanish colonization transforms a city. Imposing their religion, the Spaniards built churches, monasteries but also palaces, squares… In Quito, the Spaniards saw things big because the city has the largest (and best preserved) historic centre in all of South America. In other words, there are things to see. 😉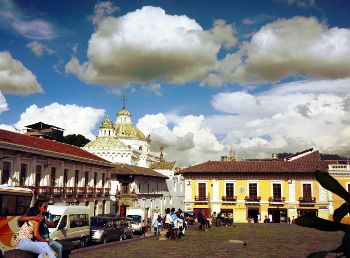 Frankly, I'm not going to give you a boring summary of all the churches there are to visit in the historic centre (you probably have a paper guide that explains everything – if you don't, check this one on Amazon).
I simply advise you to get lost in the narrow and colourful streets of old Quito. The architecture of the buildings, the sculptures and frescos in the churches. Everything is very beautiful and superbly maintained. We can see that the city of Quito is making great efforts to preserve its historic centre.
Our favourite spots in the historic centre
We particularly liked the Independence Square, located just in front of the Government Palace. Back then, If you were lucky enough to be there on a Monday morning at 11:00 am, you could see the very popular President Raphael Correa greeting the inhabitants from the balcony of the palace (we actually never saw him because we had classes every Monday morning…). On this occasion, there was music, a parade… and know that it is possible to visit the palace for free at this moment.
But you will be asked to leave your passport at the entrance for the visit, thus make sure to have it with you (we have made it a habit to only have a copy with us since we are in South America). Next to the entrance to the palace, there is also an interesting museum about the history of the city of Quito. If you have to wait to enter the palace, come and visit it. 😉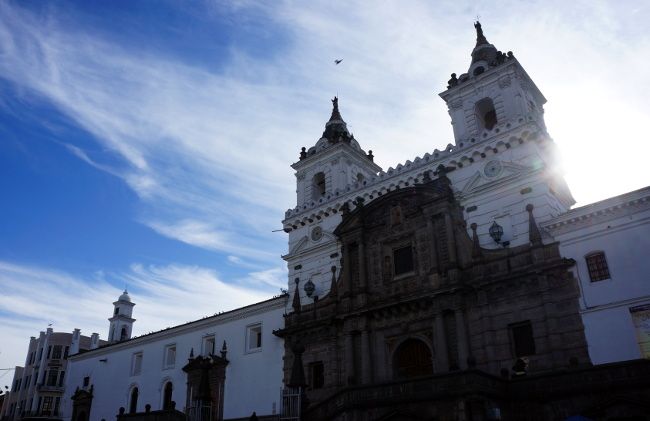 San Francisco Square, Quito
We also liked the monastery and San Francisco Square very much. There is also a very nice terrace to have a drink on the square (and we have hardly seen any other terraces in the historical centre…).
And finally, we advise you to stop by La Ronda (one of the oldest streets in Quito) and have a drink (or a caraffe it is your choice ;)) of Canelazo de mora. There are several very nice bars in La Ronda. They are very small, full of charm (nothing to do with La Mariscal) and all offer Canelazo. So be careful, stop rather at the end of the afternoon because although this drink is quite sweet, it is rather strong and after one or two drinks, it will be difficult for you to get up. ;-).
Free Walking tour in Quito
If you are not familiar with the concept of a Free Walking Tour, this is a great way to discover a place for the first time. You will walk in a group with a local guide to discover the historical center of Quito. If you enjoyed the tour, you can simply tip the guide as much as you think is appropriate. Honestly we love these tours and if there is one available, it is always the first thing we do in a city.
El Panecillo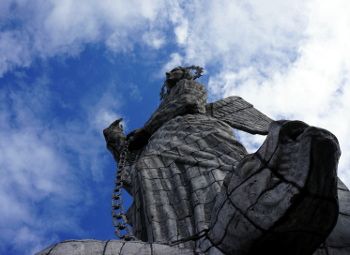 El Paneceillo is the hill that sits in the middle of Quito. At the top you will find a 41-metre-high aluminium virgin that can be seen from absolutely everywhere in Quito (it is a bit like the symbol of the city). And since it has wings, one could say that it is in a way the guardian angel of the city ;-). The view from the top of the panecillo is breathtaking on a sunny day… it's really worth going up. And for $1, you can also climb inside the virgin to have a superb 360° view of Quito.
Walk up to the Panecillo, safety measures
You should know that it is possible to walk up to the Panecillo, but we have heard a lot of stories of theft there and even some locals have advised us not to walk up alone.
As we were with locals, we went up on foot. But if you are travelling alone and wish to avoid taking risks, take a taxi. And if you think the taxi is too expensive, know that there is a public bus that goes up the hill. The problem is to get on the right bus, but if you can manage in Spanish, just ask ;-).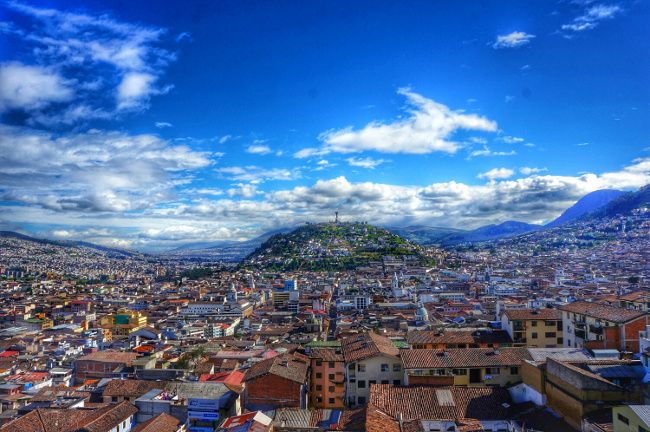 La Basilica del Voto Nacional
Even if it is located in the historical centre, we decided to dedicated it a paragraph because it is the visit that most marked us of old Quito. The basilica is of an impressive size, 140m long and 115m high for both towers, it is also visible from all over Quito. Its Gothic style is particularly interesting and you can observe gargoyles representing the animals of Ecuador (Iguanas, turtles, toucans…) everywhere on its facades. It is still quite peculiar to see this kind of animals on a religious building of this size.)
Climbing up the towers of the Basilica
But the highlight of the visit is that for $2/pers you can go up the towers of the basilica. The good thing is that it is even possible to go inside the clock and climb to the top of one of the 2 towers as well as the 3rd, which is a little less high than the two main ones. I might as well tell you that in Europe we would never be allowed to do that ;-).
Then you have to prepare yourself to climb a lot of stairs and even to climb ladders… It is better not to be afraid of heights ;-). But it's worth it because the view from the top is absolutely incredible. You will simply have the best view of the old city, on the panecillo and Quito in general.
A rather improbable thing for a basilica, too, is that there is a café practically at the top of one of the two towers… for $3 you can enjoy a coffee and cake with the craziest view of the city… not bad either?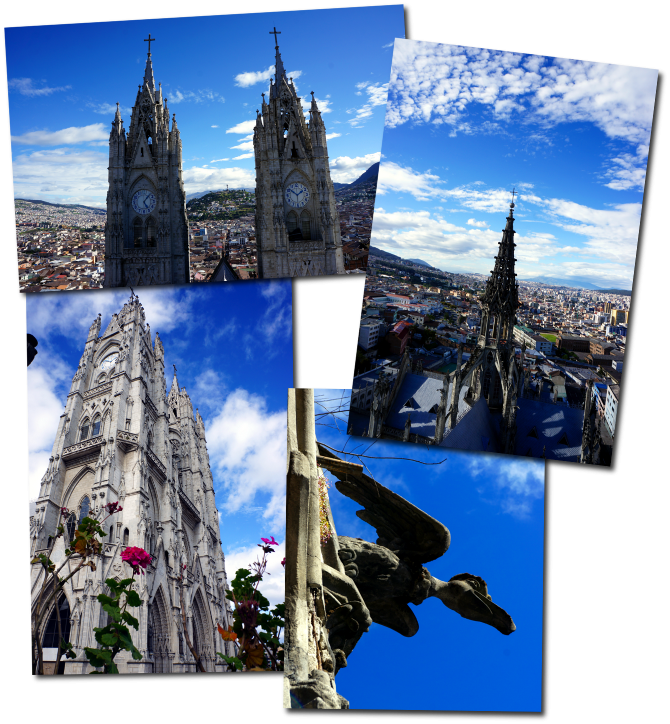 La mariscal or "Gringolandia"
This district, located just north of the historic centre, is considered the most festive place in Quito. It is also where most of the city's backpacker hostels are located. If you want our opinion, this place doesn't have much to offer. If you're going to be in Quito, you might as well stay in the beautiful historic centre rather than waste your time in another backpacker district, which, by the way, are all the same all over the world! However, you will probably have to go through it because most of the travel agencies are located in La Mariscal…
But then, in the evening, the atmosphere is quite nice, even if in our opinion, there are other options to go out in Quito. For example, we watched several games of the World Cup in this area just for the atmosphere ;-).
The parks in Quito
Although we can't really say that Quito is a green or "clean" city (just look at the amount of smoke that buses release into the air… but we talk about it below), there are several nice parks that are worth a visit.
Parque metropolitano :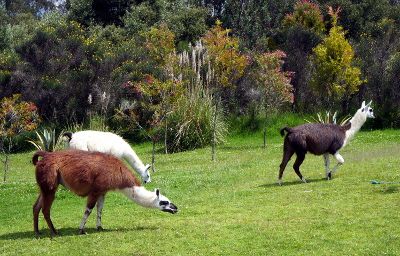 Located behind the Olympic Stadium in the northern part of Quito, it is the largest park and the city's lung. To tell you the truth, it took me 3 hours at a good pace to go around it (the park is twice the size of New York's Central Park to give you an idea 😉 ). Parque Metropolitano is the perfect place for a jog in the forest or a barbecue with friends. The entire park is covered with forest and trails… Oh and how could I forget that this is also the home of a lovely herd of llamas!
There are also grills installed in several places, a kind of fitness trail, football and basketball courts… Anyway, there's plenty to do. In addition, the park is located on a hill and it is possible to see the Cotopaxi and Cayambe volcanoes from several places.
Parque Carolina :
This one is located in the city centre, in front of the Quicentro shopping centre (we'll talk about it later). Many people come there during the weekend to play football, basketball or Ecuavolley (a popular variant of volleyball in Ecuador, with a much higher net). There are a lot of different areas and the atmosphere is great! You can also have a bite to eat and drink fresh fruit juice… street vendors are everywhere during the weekend.
The botanical Garden in Quito:
Located in the middle of Carolina Park, this was an excellent surprise for us. The concept of this botanical garden is to reproduce the typical environments that can be found in Ecuador (the coast, the Andes, the Amazon…). In addition it has two magnificent greenhouses filled with orchids and a lots of carnivorous plants…. Anyway, we loved it 😉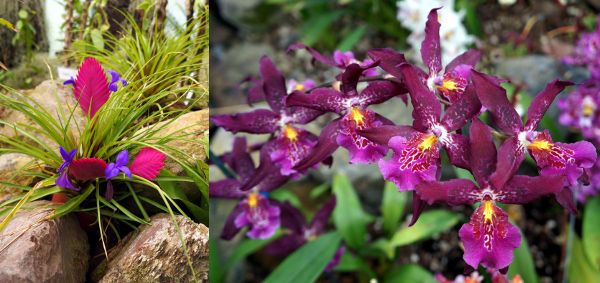 Other parks :
There are also other interesting parks in Quito such as the Bicentenary Park, which is located on the site of the old airport. The old airstrip has been transformed into a place of relaxation and sports and more than a million trees have been planted. An interesting way to recycle an airport I find ;-). Otherwise there is also the park "El Ejido", known for its painters which is worth a visit.
Shopping in Quito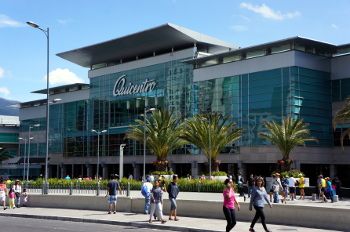 So for shopping, Quito is not as good as Bangkok or Hong Kong but you can find everything you are looking for. If you need brands from home, you will find what you are looking for at Quicentro, located just in front of the Olympic stadium.
It is the largest and most chic shopping centre in Quito. But be careful because the prices are rather high. Taxes on items imported into Ecuador are very high so don't be surprised if a computer or mobile phone is more expensive in Quito than back home!
If you want to buy cheap clothes, shoes or other small random things, then go to the historical centre, near the panecillo. You will find a huge market with a lot of choice (but be careful I am not saying that the quality is there as well). And if you have more time, take a day to go to the Otavalo market, located 2 hours from Quito (we'll talk about it later). It is the largest market in the country and you will have a huge choice for very good prices.
Buying local is much cheaper in Quito!
To buy food, as usual, there is nothing like the market to find the best quality at the best prices. You will find fruits and vegetables, bread, meat, cheese… and often cheap almuerzos. The market we visited the most was just behind the Quicentro. If you don't have the time or courage to go to the market, you can find fruits and vegetables in the fruterias (small shops that are absolutely everywhere) and bread in the panaderias. Otherwise there are obviously the big chains like Super Maxi or Mega Maxi where you can find everything but the prices are generally 20% more expensive.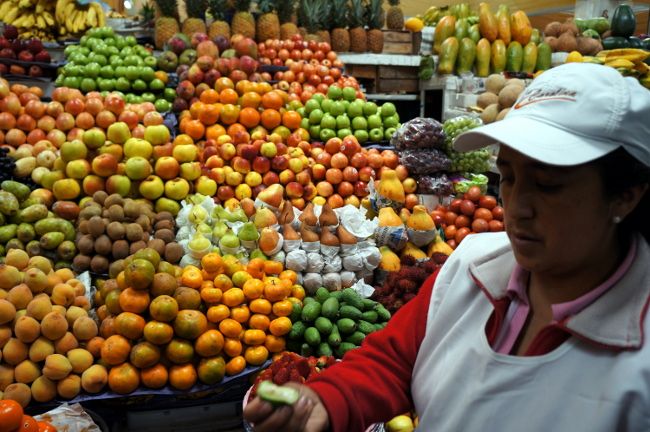 El TeleferiQo and the Pichincha volcano
So that, my friends, is THE program to do on a day when the weather is very nice! As you may know, Quito is partly located on the eastern slope of the Pichincha volcano. As a result, it is possible from Quito to take a cabin that climbs up the slope of the volcano to an altitude of 4000m. And believe me, when I tell you that the view from the top of the cable car is unbelievable, I am not kidding! You will of course have a breathtaking view of the whole city of Quito but in good weather you can even admire the majestic Cotopaxi volcano and the Cayambe which are a little further away. Frankly, pictures speak more than words 😉

If you are in good physical condition or want to train to climb one of the big equatorial volcanoes (Cotopaxi, Cayambe, Chimborazo…), you can then climb to the top of the Ruku Pichincha (4696m) from the top of the cable car. You can't get lost, there's only one path and it's very well marked.
Hiking at the top of Pinchincha
Count between 4 and 7 hours for the round trip depending on your speed (with altitude, breathing gets harder…;-)). But be aware that the last part is quite difficult and is more like climbing than walking. If you are used to walking in the mountains it won't be a problem but I have still seen guides who were tying up their clients on a rope (even if I doubt it is really necessary)… But just for the view, the effort is worth it 😉
Infos
It is better to take a taxi to the cable car station because several locals told us that the area was a bit crappy… count $2-3 dollars for the taxi from the center (mariscal or historical center). For the cable car, it will cost you $8.5 for the round trip but if you study Spanish as we do (and you have a student card…), the student price is $4.9.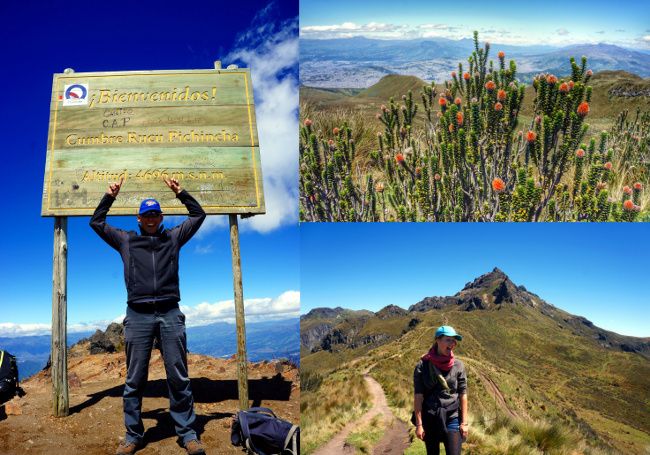 The Mitad del Mundo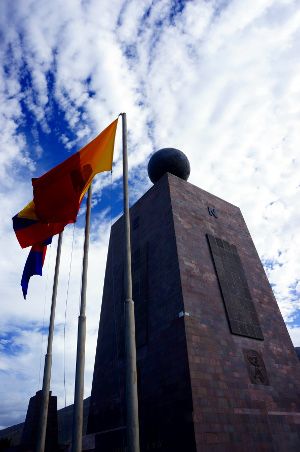 As its name suggests, this is the middle of the world… 😉
In fact the Equator line passes 35 km north of Quito, so it would be a shame not to go there, wouldn't it? Well, as you can imagine, the line also runs elsewhere, such as in Brazil, Africa and Indonesia. But historically speaking, it was there that the first group of the French Academy of Sciences went to measure the exact shape and size of the earth (this was back in 1736). On site, there is a large memorial and a museum that tells a little more about the difficult task of these scientists. But the joke is actually that the monument is not in the exact location of the equator!
The Intinan Museum
In order to get to the "real" point, you will have to leave the monument grounds and walk another 500m after the roundabout. On your left will then be indicated the Intinan Museum. To be honest, if we had to do it again, we wouldn't pay the entrance fee to the monument ($3/pers) and we would only do this museum.
For the price of $4/pers, you will be entitled to a guided tour that we greatly appreciated. They will first make you discover a little more about the culture of the indigenous people of Ecuador, the different tribes, their rites… We found the guide super competent and very interesting. Nothing to do with many of the average guided tours we've had in the past. Then, go to the real line of the equator (calculated by GPS this time 😉 to observe some interesting measuring instruments and make some fun experiments like the Coriolis force… Although we know that some of the experiences were fake, we found the tour super interactive and highly recommend it!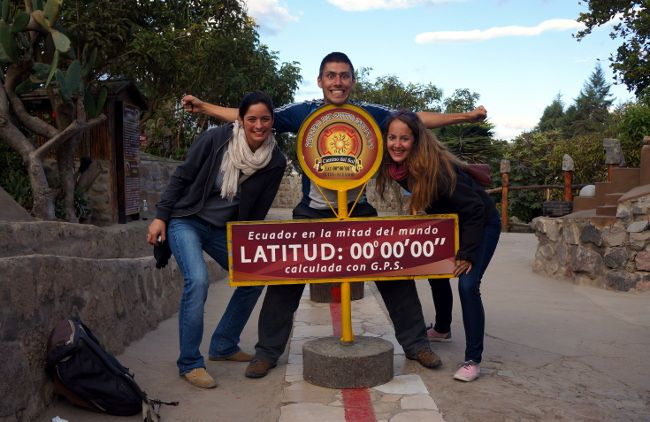 Infos
To get there, simply take the blue metro bus line ($0.25) to the Ofelia bus station and take the bus to the mitad del mundo ($0.30-0.40) which is well indicated. From the historical centre, it takes a good hour and a half… transport in Ecuador is cheap, huh?
If you are too lazy to take the bus, there are also organized tours that will take you there from your hotel with the visit of the museum included but it will cost you more obviously!
The Otavalo Market and the Cuicocha laguna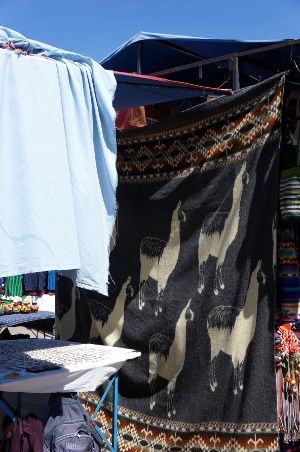 Located 2 hours by bus from Quito, the Otavalo market is renowned for the quality of the textiles and crafts that can be found there. Frankly, if you have a small "souvenir shopping" budget for your trip to Ecuador, we advise you to save your money for this market. You will find absolutely everything you can find in Quito (and more) at a better price. So if you wanted to buy a nice wool sweater, a hat, a poncho or basically anything else… this market is for you. There is also an interesting part of the market dedicated to live animals…. But go early enough in the morning if you want to see something… We went there around noon and it was almost over. There were only a few guinea pigs (Cuy), chickens and puppies left…
To get to Otavalo it is extremly easy. First you need to go to Quito's northern bus station (Carcelen). This ride in the city costs 0,25$.
From there, there is regular service to Otavalo. The journey takes 2 hours and the ticket costs 2,5$. (we recommend you to go on your own and not to take an organised tour as they are super expensive)
The Lagoon of Cuicocha
And if you've finished shopping quickly enough and want to take a walk, go to Cuicocha's lagoon. Located not far from the market (½ taxi hour for $10), it is an excellent alternative for getting some fresh air in the afternoon. In fact, this lake is located inside a crater at the foot of the Cotacachi volcano. Frankly, the landscape of the lake with the imposing volcano in the background is superb. You can do like us, and take a nice little boat trip on the lagoon (for $3). But if you have more time (you can spend a w-e in Otavalo), there is a superb 5-hour walk around the lake and crater. He heard it's really worth it….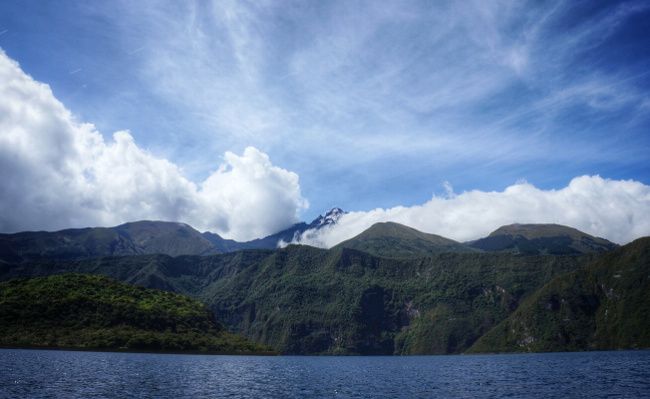 Learn spanish in Quito
As we told you above, for us the main reason for coming to Quito for 2 months was the motivation to come and take Spanish courses. This 2-month break in our trip was one of the best decisions of our trip!
In 2 months of more or less intensive courses (we did 4 hours of classes per day, 5 days per week) during 8 weeks we acquired a solid base in Spanish that served us throughout the rest of our trip in South America! Being able to communicate with people was a real pleasure, and frankly we can only recommend that you do the same!
Quito is an excellent city to learn Spanish! There are many reasons for this, but the main ones are probably the charm of the city but also the Spanish spoken there. The Ecuadorians have a beautiful, "clean" Spanish and in Quito the inhabitants have the particularity to speak rather slowly… hihihihi Might as well tell you that this is a significant advantage for beginners as we were!
Things to do around Quito
As Ecuador is a small country and Quito is quite well located in its centre, there are many possibilities for short weekend trips from the capital. Here are some examples that we have already talked about in other articles or that we will talk about in the near future. 😉
Banos :
Banos is in a way the capital of extreme sports in Ecuador (located 3-4 hours by bus south of Quito) and we went there for a weekend with friends. On the program, waterfalls, volcano (the Tungurahua), rafting, mountain bike, zip lines, canyoning, trekking… the list is long. We gave you all the information about Banos in this article and we even think about going back there because we didn't have a very good weather… I mean, we could easily spend a week there with all the different activities offered there. 😉
Cotopaxi :
It is one of the symbols of Ecuador… The volcano has a perfect shape and always snowy at the top (I mean… 5897m)! This volcano has already fascinated me since we arrived in Quito and I plan to climb it soon (I will tell you about that of course). As it is located just 60 km south of the city, it is possible to leave only one day to go up to the refuge or ride a mountain bike on the volcano (between $30 and $70 a day). If you want to reach the summit, it will take you 2 days with a guide (about $200). The first day is used to go up to the refuge and the second day for asencion which is done at night (our article on the ascent).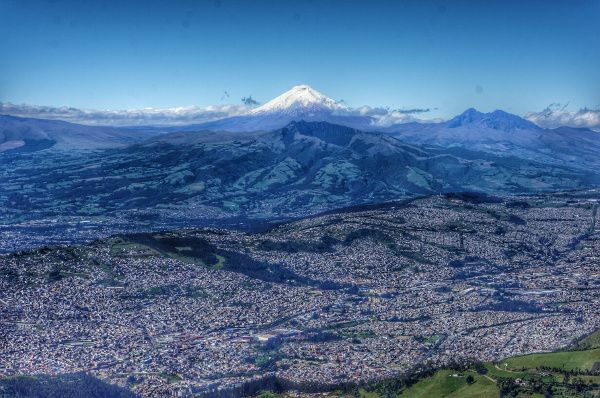 Mindo :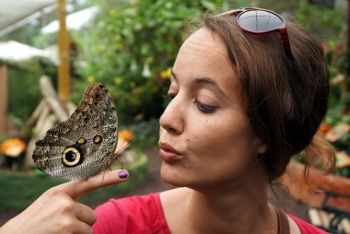 Located in the tropical forest 2 hours by bus west of Quito (and not on the Amazon side), this small village is known for the incredible diversity of birds, butterflies and insects that inhabit it. But with the tourism that has developed a little (nothing disproportionate either), other activities such as rafting, zip lines, mountain biking have appeared… Actually Mindo is a kind of mini Banos with animals in addition. In our opinion, it's even nicer than Banos because it's much quieter. But we are planning to write you a short article on the subject 😉
Quilotoa Laguna:
Another lake in a crater! To get there, simply take a bus from Quito to Latacunga (1h30 bus for $2) and then take a bus to Quilotoa. The particularity of this region is that it is possible to trek from village to village (there are hostals in all villages) for several days without the need to take a bus or taxi. It is unique in Ecuador and the landscapes are worth it! Our article on this beautiful hike is this way.
More infos
If you want some more tips about backpacking around Quito, you can check out the Ecuador travel guide on the Broke backpacker's blog.
Where and what to eat in Quito
We're not going to fuck around, gastronomy is not the strong point of the city of Quito. The typical lunch (Almuerzo) consists of chicken or fish soup (often served with popcorn… 😉 ), followed by a rice dish with potatoes and meat (and a very small amount of salad) accompanied by a huge glass of fruit juice.
We can promise you that it is high in calories and so, as we had a kitchen at our disposal, we often take advantage of it to cook ourselves (and it feels good to cook after 10 months of travel ;-)). But well, you have to admit that the price of an Almuerzo is really unbeatable (between $1.5 and $2.5 per complete menu).
But we have to admit that we were a little shocked by the quantities compared to Asia…. So we also understand why people are a little more chubby on this continent ;-).
Afterwards, it is also possible to enjoy the market in Ecuador. They have fruits that are not found elsewhere and that are delicious such as arbol tomatoes, pomegranates, taxos and others. On average, we found the fruit to be really tasty! But otherwise, the Ecuadorian people are rather carnivorous, let's say…. They really like to eat meat at every meal 😉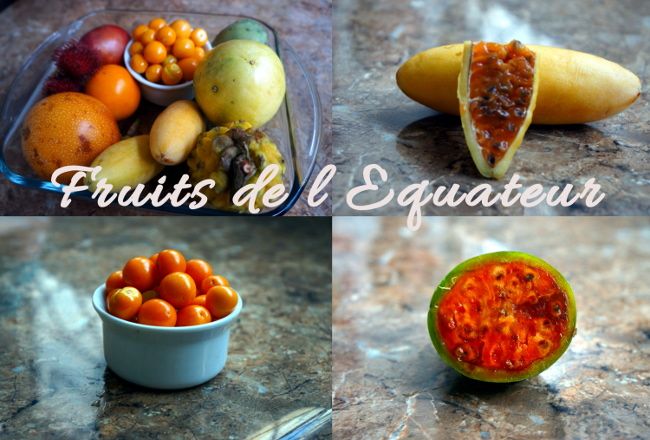 Where to stay in Quito?
Quito is a big city, so you will have no trouble finding accommodation! There are really some for all prices and all standards. For our part, we immediately moved into our apartment. As a result, we do not really have any particular address to recommend in terms of guesthouses or hotels.
Our only advice would probably be to take up accommodation in or near the historic centre or towards the Mariscal. This is where most of the guesthouses are located and it is also a relatively safe place to go for a walk.
You can check the different options on the map below. Simply enter your dates and use the zoom to select your desired area. Adjust the price and accomodation type filters to get better results:
For Backpackers: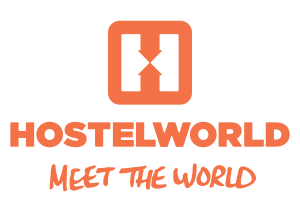 As usual, we recommend that you go through Hostelworld. It is the site most used by adventurers from all over the world and as a result there are many reviews as well. When we choose accommodation we often rely on reviews. The rule? If a hostel has more than an average of 8, it's usually a good sign! And of course the more reviews, the better. Even if sometimes we find exceptions that have only 2-3 reviews because they are new establishments.
For Travellers:

If youth hostels are not your cup of tea or if you just want to change a little, the best place to book is Hotelscombined. Simply enter your dates and compare! This site does not allow you to book directly, it is a comparator that displays in real time the prices of a hotel on various platforms such as Expedia, Agoda or Booking. As a result, for each hotel you are guaranteed to find the best offer available online.
Rent an Apartment in Quito
This is a very solid alternative to hotels and guesthouses. There are many appartments for rent in Quito and the prices are really reasonable (for exemple on Booking.com). The more we travel, the more we like having our own place where we can also cook a meal if we don't feel like going out. Prices in Quito start at 20€-25€ / night for a fully equiped appartment.
Transport in Quito
The cheapest way to get around Quito city is to take one of the 3 bus lines that cross the city from north to south (you can also walk but the city is really large and the distances are fast).
There is the green line (el trole), the blue line (metrobus) and the red line (ecovia) and an entrance ticket costs only $0.25 with no distance limit. Unfortunately, these 3 lines are not enough to serve the whole city and the bus stations are rather dangerous from 19:00 onwards. As a result, you will have to take taxis. There are an impressive number of taxis in Quito (officially more than 10,000) and you will never have any trouble finding one.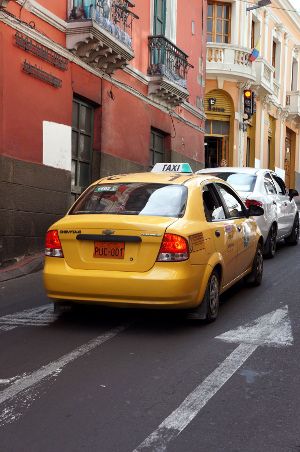 During the day, they all run on taxometers and the price is really low compared to our countries ($3-4$ per half hour). But from 7pm to 8pm, most taxis no longer use the meter and you will have to negotiate the price of your trip. But to get an idea, know it is about twice as expensive at night as during the day.
We'll discuss it again below, but it's a matter of common sense to take a taxi after dark. It's usually from 7:00pm that it's better not to walk around in the streets. So don't take unnecessary risks and take a taxi in the evening.
Getting out of Quito
To get out of Quito and travel in the region, the best way is to do it by bus. A bus ticket usually costs about $1 per hour of travel. For example, to go to Banos, it will cost you $3.5 dollars for 3-4 hours of travel.
For most destinations on the coast (Guayaquil), the Amazon (Banos) and the Andes (Cotopaxi), you will have to go to the Quitumbe bus station, located just south of Quito (you can take the ecovia bus there).
However, for the Otavalo market, you will have to go to the north station of Carcelen. And if you want to go to the mitad del mundo or Mindo, you will have to go to the Ofélia bus station, which is at the end of the blue bus line.
Weather in Quito
As Quito is very close to the equator (no joke), there are no seasons strictly speaking. Temperatures vary between 10° and 20° throughout the year with an average of about 14°.
On the other hand, there is a rather humid season between October and May (10-15 rainy days per month) and a dry season from June to September (5-7 rainy days per month). And having lived through the month of May, we can assure you that it is better to visit Ecuador between June and September. During the wet season, the weather can change very quickly in Quito.
The weather is often quite sunny in the early morning, then the sky quickly gets overcast and it rains in the afternoon. And since we had Spanish classes in the morning, our month of May was a little frustrating. On the other hand, we had a wonderful month of June with very little rain. But be careful, don't forget that you are at an altitude of 2800m and that the sun is stronger than at sea level. After a day of hiking in the sun, even with sunscreen and a hat, I took a good sunburn….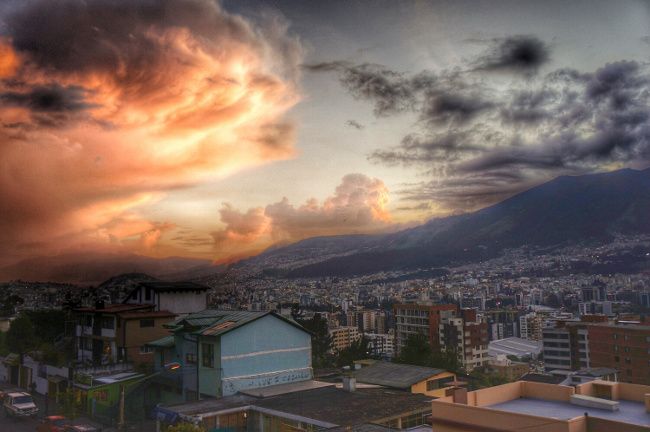 Security in Quito – Stay safe
This is THE point that scares all travellers because no, Quito is not a safe city and even the locals will tell you. If you doubt it, here are some anecdotes:
One of our Spanish teachers, although married, never wears her wedding ring on her for fear of being robbed. Can you imagine that happening in your home country?
Another teacher at our school owns a Swatch watch (nothing fancy!). We left together to climb the panecillo and when we arrived at the foot of the hill, he took off his watch and put it in his bag…
Most locals never have a wallet on them. They usually have $20 in change in their pockets and nothing more.
Several students at the school were victims of snatching, pickpocketing or even knife attacks during our stay. Sometimes it was negligence, but sometimes it was just bad luck. So, if that happens, it's better not to have your wedding ring on you and $200 in your pocket.
Just yesterday, the bottom of my backpack was cut with a cutter on the bus (which was crowded of course). I didn't feel anything, but fortunately nothing was stolen….. I just have a big hole in the bottom of my backpack.
Being aware is good, but don't panic!
But after that, Quito is not hell either and you shouldn't see evil everywhere. I imagine that the situation is similar in most major cities in South America, where the gap between rich and poor is even greater. In two months, we had no problems. It's probably a bit of luck, but we've always followed some basic rules.
Safety rules to be observed
We are never dressed in a conspicuous way and we never expose our wealth (even if we don't have much valuable objects except for our computers ;-))
After 19:00, we don't play stupid and we always take a taxi, and we clearly avoid crossing the parks after dark.
Always follow the recommendations of the locals because they know the dangerous neighbourhoods (e.g. panecillo or teleferiQo).
Have nothing in your pockets on the bus and always carry your backpack in front of you. Don't laugh, but all locals do the same!
Just carry cash and a copy of your passport. Avoid taking your credit card (unless you really need it) and the original of your passport.
Take as many pictures as you want, but put the camera back in your bag when you're not using it to avoid snatching.
Be relaxed… you don't risk your life. And a friendly and smiling person usually attracts less attention than a stressed or suspicious person who gives the impression of not knowing where he or she is going.
Read more about how to stay safe in South America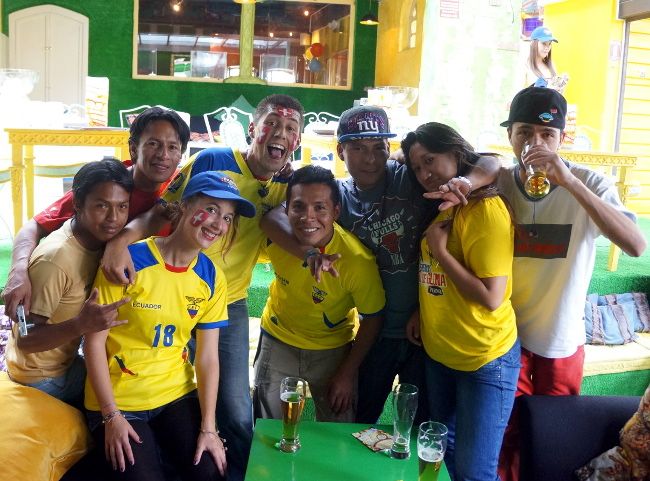 So after that, if you still don't know what to do in Quito, there's nothing we can do for you anymore 😉
NB: Please note that this article contains affiliate links to partner sites. If you buy a product on one of their sites you will not pay more but we will receive a small commission. This will help us to keep this site alive. Thank you! 🙂