New part in our trip in Turkey on the hiking trails. In our last article Benoit had already told you about our first 3 days on the Lycian way between the small town of Fethiye and Alinca. It is my turn to tell a little more about the end of our hike that took us from Alinca to the ruins of Xanthos.
Day 4 on the Lycian Way: From Alinca to the small village of Bel
We wake up early and get back on the pretty terrace of our pension to have breakfast. After the gargantuan dinner the day before we weren't even particularly hungry to tell you the trith… But how can we explain that not even a couple seconds after sitting down, we were sitting at a table in front of a real feast! Bread, cheese, sausages, hard-boiled eggs, vegetables, olives, yoghurt and of course the famous chai tea. 🙂
From Alinca to Gey
Thus, it was with a little heavier than expected stomach that we set off around 8:30am towards Gey. The day begins with a short dive into the valley below Alinca before slowly climbing back up to this small hamlet.
The view during the whole descent is spectacular but in this month of May the heat is seriously starting to make us suffer… Just before the lunch break we were very happy to start seeing the minaret of the Gey mosque, our first intermediate stop of the day.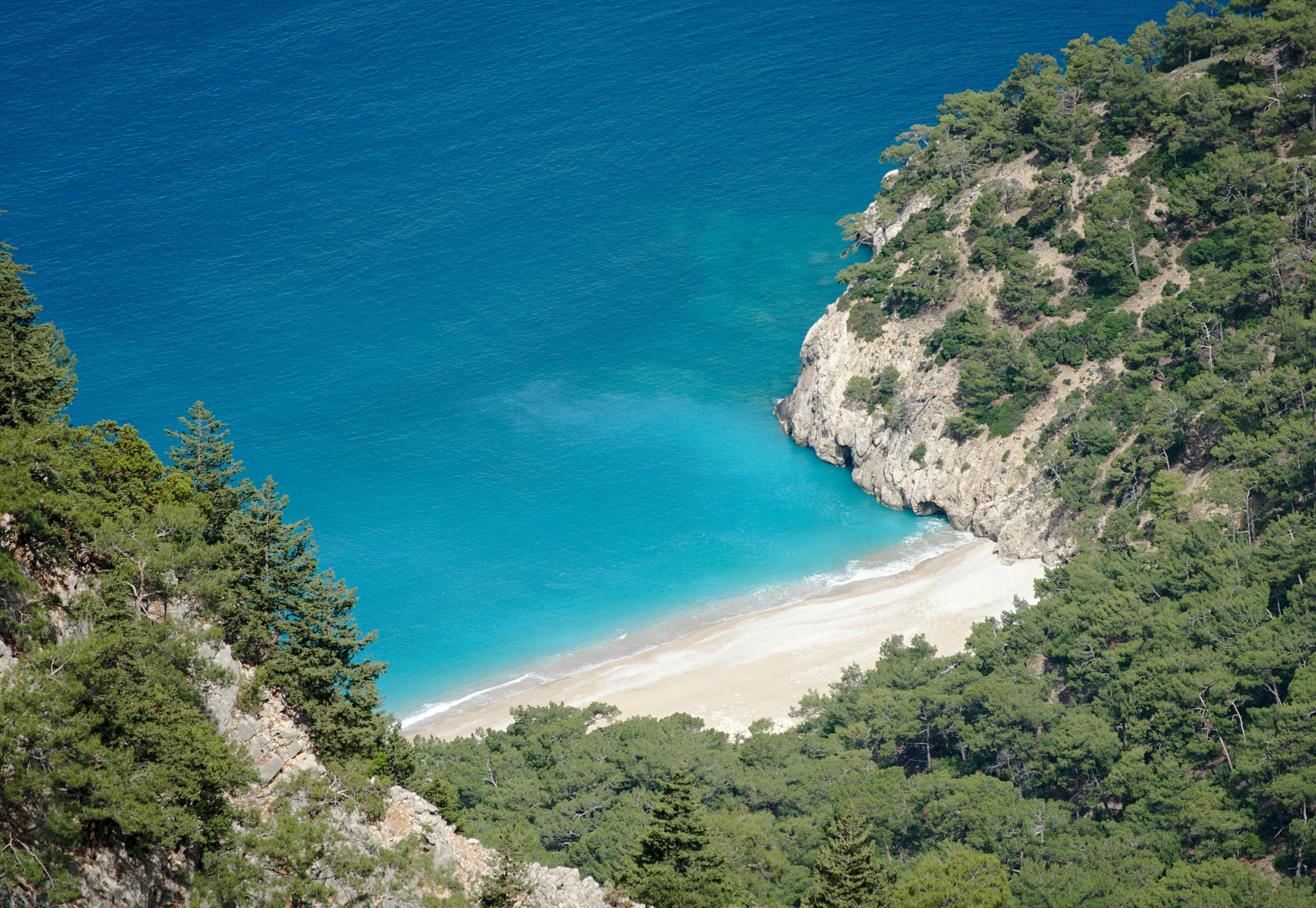 This small village is really tiny but we had read that there was a small grocery store. So, our idea was to get some supplies (we admit it, we secretly hoped to find fruits or vegetables). Let's face it, we quickly realized this was not gonna happen… The grocery store is still there, but the choice is VERY limited. A couple Packages of cookies and a few cans and that's it. In short, it is with a box of Yaprak Sarma that got back on the road again (I let you watch the video at the end of the article to see how these canned "wonders" taste).
From Gey to Bel
Once rested and our stomachs full (again), we headed for the small hamlet of Bel. This part of the itinerary is very nice because we follow the coast from the top and we have some magnificent views but above all we are in the middle of the olive trees that grow on the terrace!
Initially we had planned that this stage would only lead us to the village of Bel. The village is not very big but there are several pensions and options to sleep with the locals (we have been accosted several times to be offered to stay). But as it was not even 4pm yet, we decided to continue a little (with the secret hope of finding another great bivouac spot).
Turkish hospitality
From Bel we continued for a while on the road before turning off onto a track (still following the official Lycian way). About 3.5km after Bel we arrived at a small house. There were 2 gentlemen who were installed in front of their house while watching their goats and sheeps.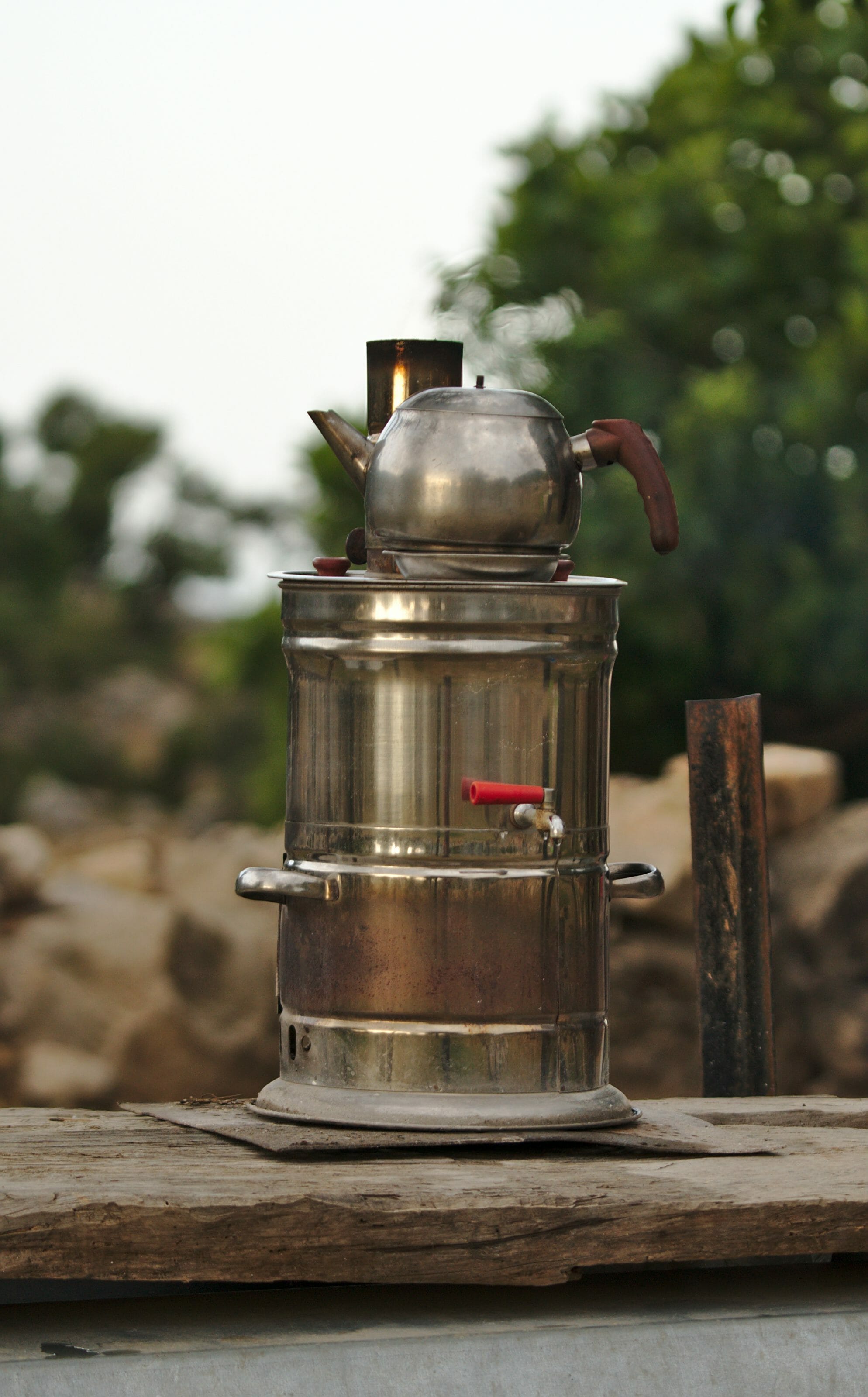 A small sign indicated that he was offering tea to hikers for 1TL (about 15 cents). We had just reached the the panel when one of the men jumped off his chair to approach us with a wide smile, "Chai? Chai?"
We didn't hesitate for long and we thought that a little break would do us good… We might as well explain that we didn't go any further that day.
The man didn't speak a single word of English (and our Turkish is still limited to 15 words unfortunately) but somehow man felt it was his mission to try to make conversation with us. We talked with our hands, we made mimes, we showed him pictures of Switzerland and Turkey and we took some pictures with him and his lambs. In Turkey, we used to use Google Translate to communicate, but when there is no network… we have to go back to mimes! Thanks to a great mime we understood that he wanted to know where we were going to sleep. We showed him a picture of our tent and he immediately told us to stay at his home.
He had built a large platform in his garden and told us to stay there for the night (free of charge of course). Faced with such kindness we could not refuse his offer.
At nightfall he left with his son to gather his animals and then, joined by his wife, they went back to the village of Bel. From what we understood, the family actually lives in the village, but comes here every day to look after the animals (and the grandfather who lives here without running water or electricity).
Infos day 4
Distance

16,6 kms

Elevation

+600m -706m

Difficulty

average

Duration

about 6-7 hours
Download the route
Day 5: From Bel to the huge beach of Patara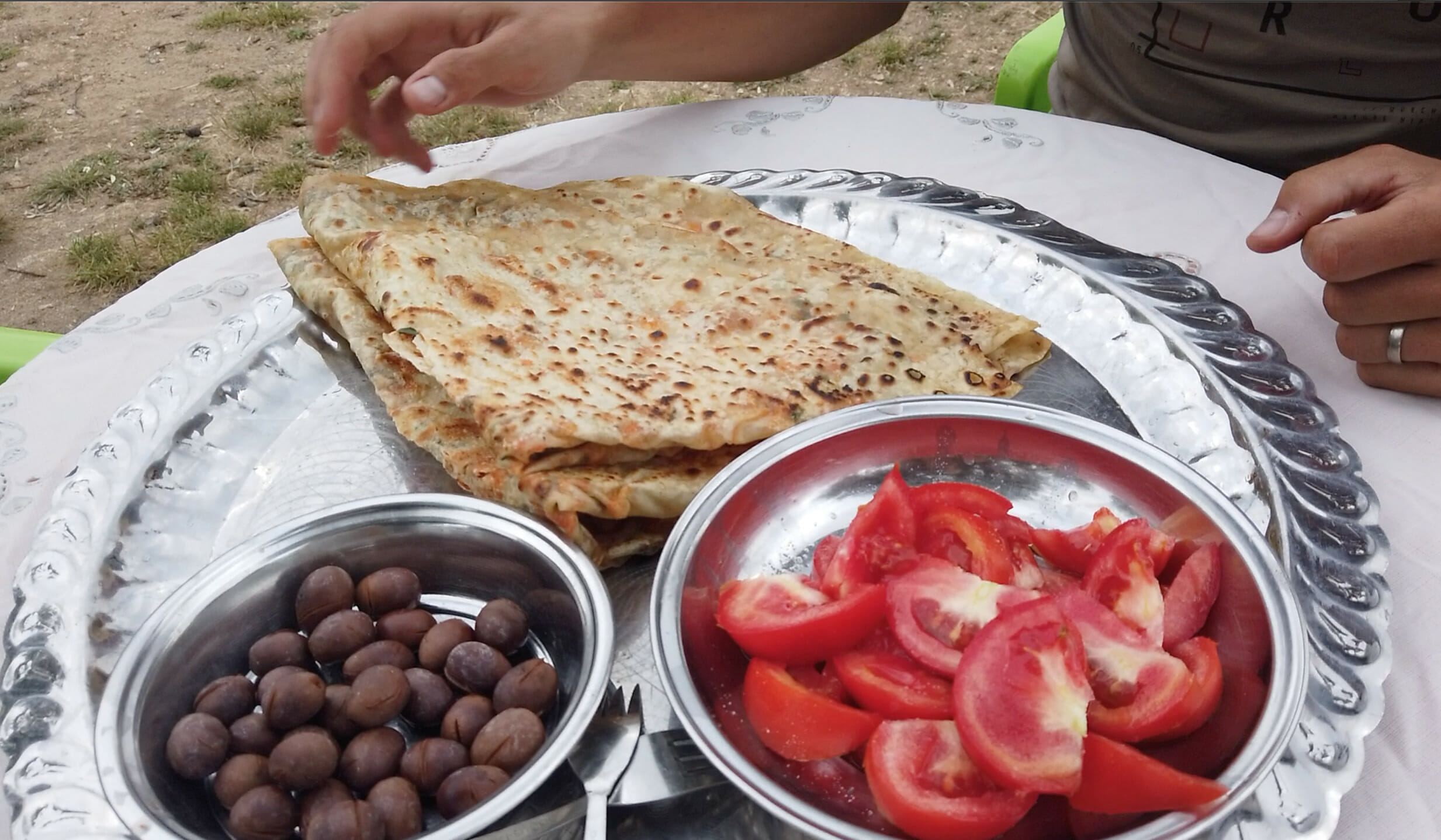 The next day we woke up at the same time as the chickens (or rather the roosters) and goats that were already all around our tent. The man's gentleman's wife came back to prepare us an amazing breakfast: a good chai tea and a Gözleme (a kind of pancake stuffed with cheese and spinach) cooked over a wood fire.
It was with a full stomach and our head full of nice memories of the last end of the day that we set off again for the last big dive of this trek: 600m of negative altitude difference to reach Gavuragili. The beginning of the descent is quite steep in places, but the path is perfectly marked and maintained and it is therefore without any difficulty that we reach the beach.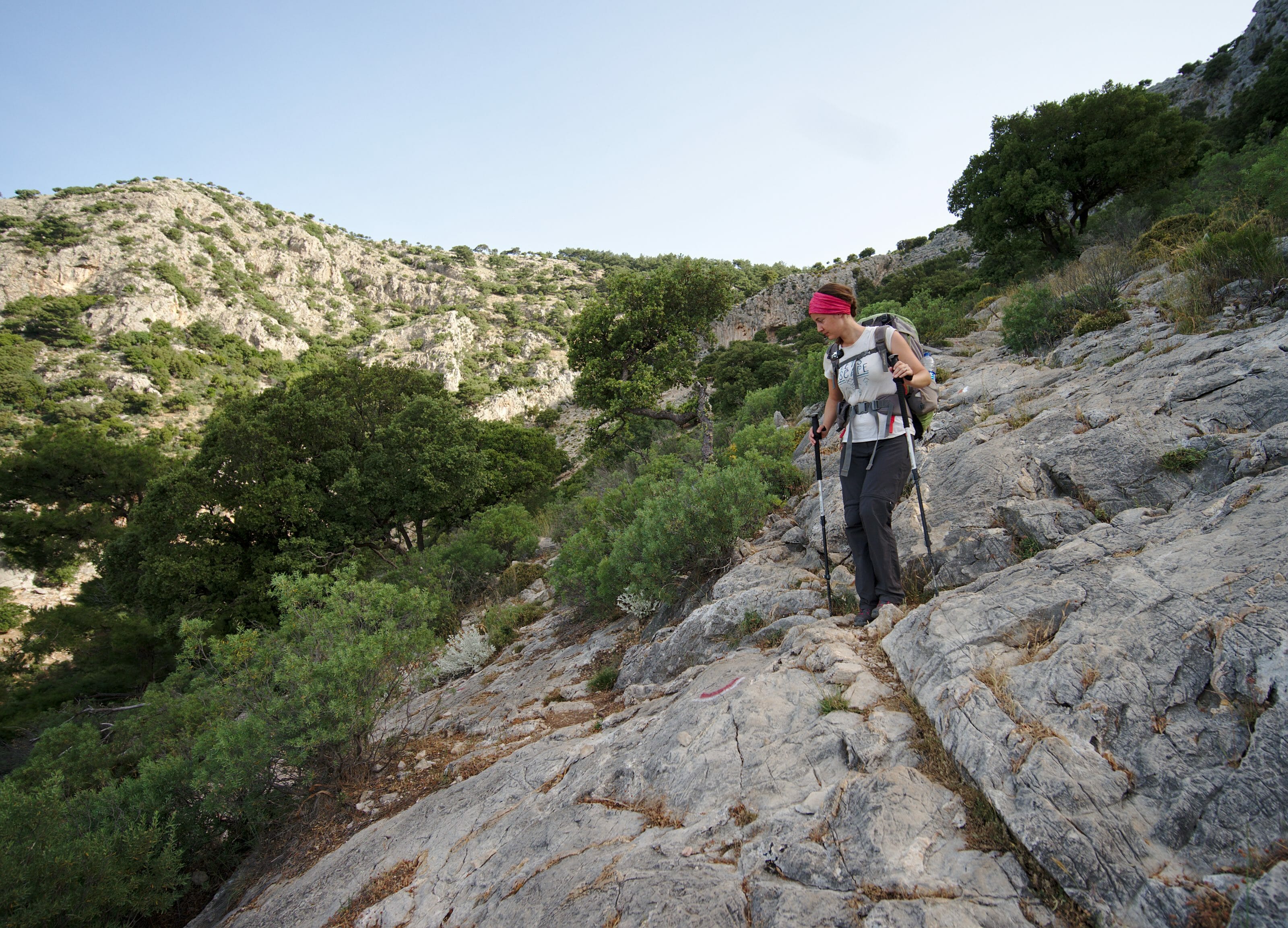 The rest of the hike was not necessarily the most exciting part…. For a good hour we walked along a large track that goes up towards a viewpoint on Patara beach.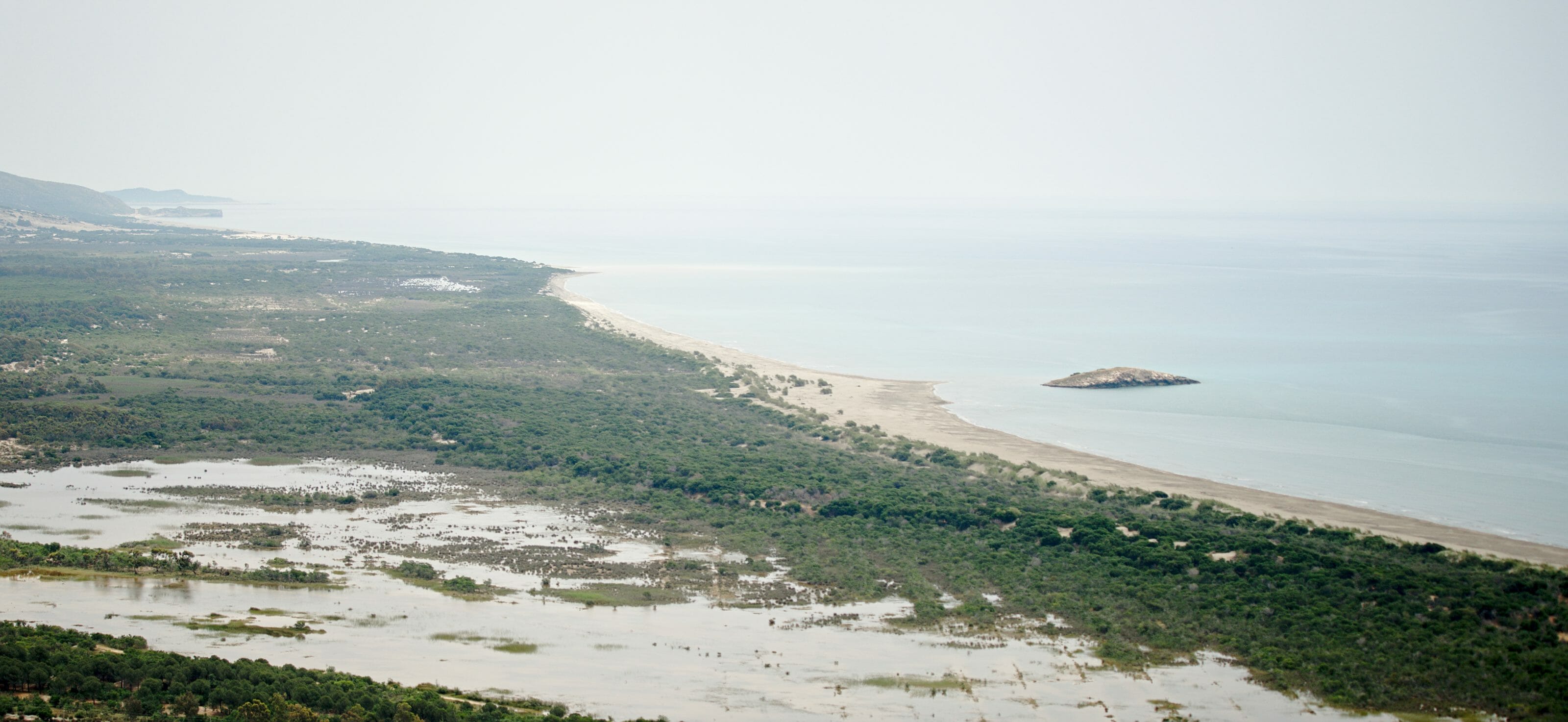 We were right in the hottest hours and we literally had the impression that we were liquefying on the spot that day….
Once at the viewpoint we went down by a nice path through the forest and reached the ruins of Pydnai which are located just before the Patara beach campsite. It's funny because the Lycian way literally crosses these ruins by letting us in through a small door at one end of the site.
Once at the campsite we had an extra serious program: a shower and rest! Sitting on large cushions we enjoyed a well-deserved good Efes and spent the afternoon doing absolutely nothing! 🙂
Infos day 5
Distance

10,73 kms

Elevation

+283m -917m

Difficulty

average

Duration

about 4 to 5 hours
Download the route
Note: To find the detailed information of the previous days as well as the more global information on the Lycian way and the list of our equipment for this trek you should go see our article between Fethiye and Kabak.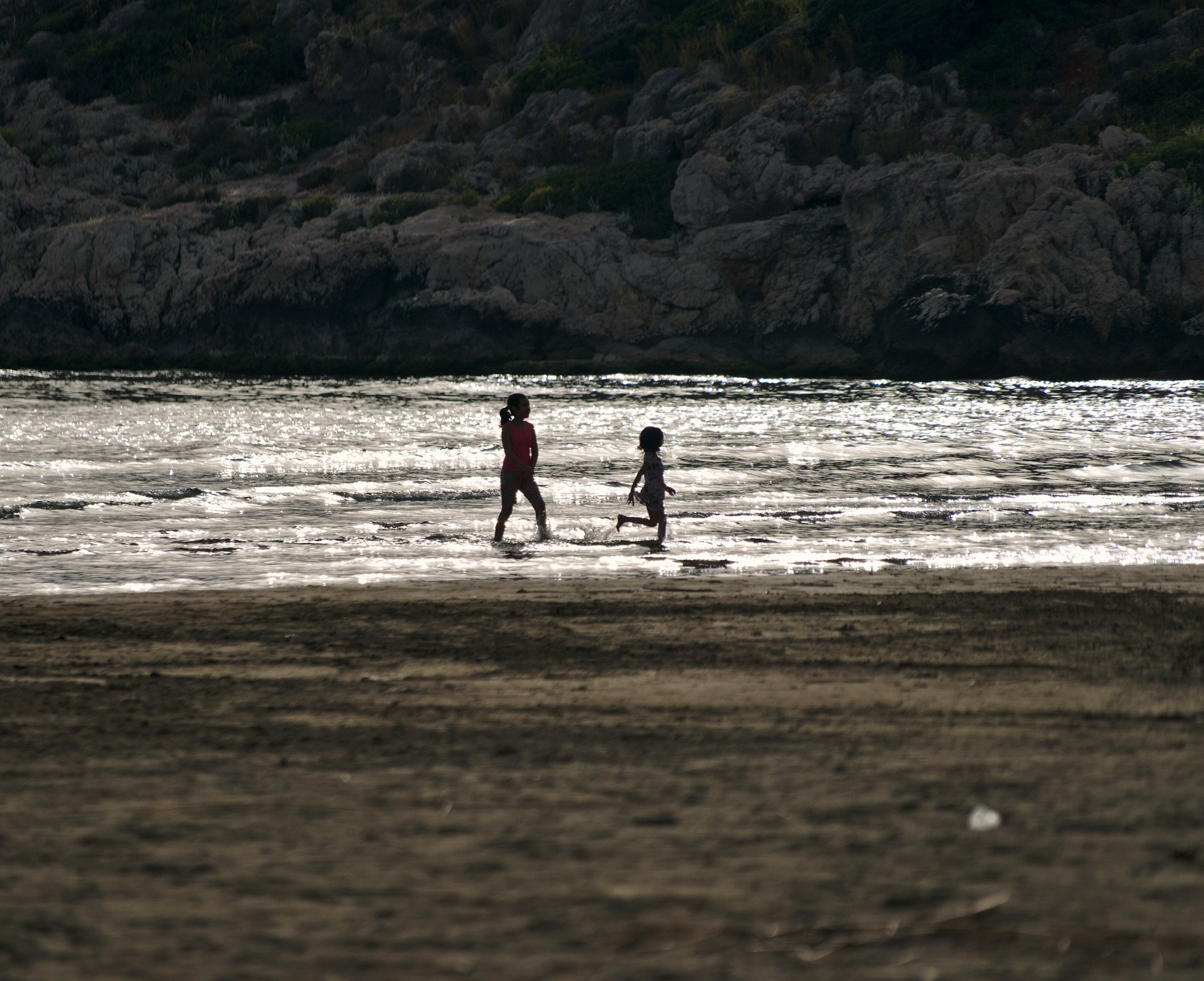 Day 6: We stop the hike and visit ancient cities on the Lycian way
This morning we decided to be lazy…. Actually, I should rather say that we preferred to listen to the voice of reason rather than to persist in walking. 🙂 Officially the Lycian way continues on this immense plain which is behind the beach of Patara to reach first the ruins of Letoon and then the city of Xanthos.
What's wrong with this day? It takes place almost exclusively on asphalt. So certainly it's not a highway, but still….. The prospect of walking nearly 15km on asphalt surrounded by tomato greenhouses in this heat did not delight us. But we're lucky because there are plenty of Dolmus (Turkish minibuses) that circulate in the area and allow us to reach the sites very easily without getting too tired.
Visit of the Letoon ruins
We arrived early at the ruins of Letoon (it must have been 9am) and to our great surprise we were the only visitors. The huge parking lot was completely empty and even the gentleman who is supposed to sell the tickets was not present…
We were quite surprised, because this site is classified as a UNESCO World Heritage Site. In addition to the fact that this label is "in general" synonymous with heritage protection (not always… little thought for Pamukkale) this small symbol is in general also synonymous with crowds. Well, not here apparently! Which of course is not to displease us. 🙂
For the record, the Letoon site was formerly the religious and political centre of Lycia. According to excavations carried out on the site, it seems that the beginning of the constructions date back to the 7th century BC. The heart of the site consists of the ruins of 3 temples that were built in honour of Apollo, Leto and Artemis.
But we will be honest, the Letoon site is certainly ancient but is not the most impressive for history and old stone novices like us. Not very big, few explanations and little or no restoration work on the site (of the 3 temples there is really not much left). I'm not telling you not to stop by, but let's just say that if it's a nice stop for hikers on the Lycian way I wouldn't necessarily recommend a 2-hour bus ride from Kas or Fethiye to see it unless you're a big fan of history and Lycian civilizations. 😉
Infos Letoon
Bus: There is a bus stop about 1km walk from the campsite. Ask the campsite for schedules (but about every 45 minutes). Price up to Letoon: 3,5TL
The bus dropped us off at the junction for Letoon. From there, about 1km on foot to the ruins.
Admission: 10 TL per person
Open: from 8am to 8pm, every day
Xanthos, the home of Lycian civilization
After Letoon we left for another UNESCO World Heritage Site in Turkey: Xanthos. Located only a few kilometers from Letoon it was almost unthinkable to be in the area and not take a look at the old capital of Lycia. We were on the Lycian way after all; e had to go see the old capital.
So we're not going to lie to each other, we didn't become history stars on the way from Letoon, but we did prefer this second site to the first one. In Xanthos, the different buildings are more visible (or better restored?) and it is therefore easier to see the different influences and traces of Greece, Rome, Lyceum and Persia.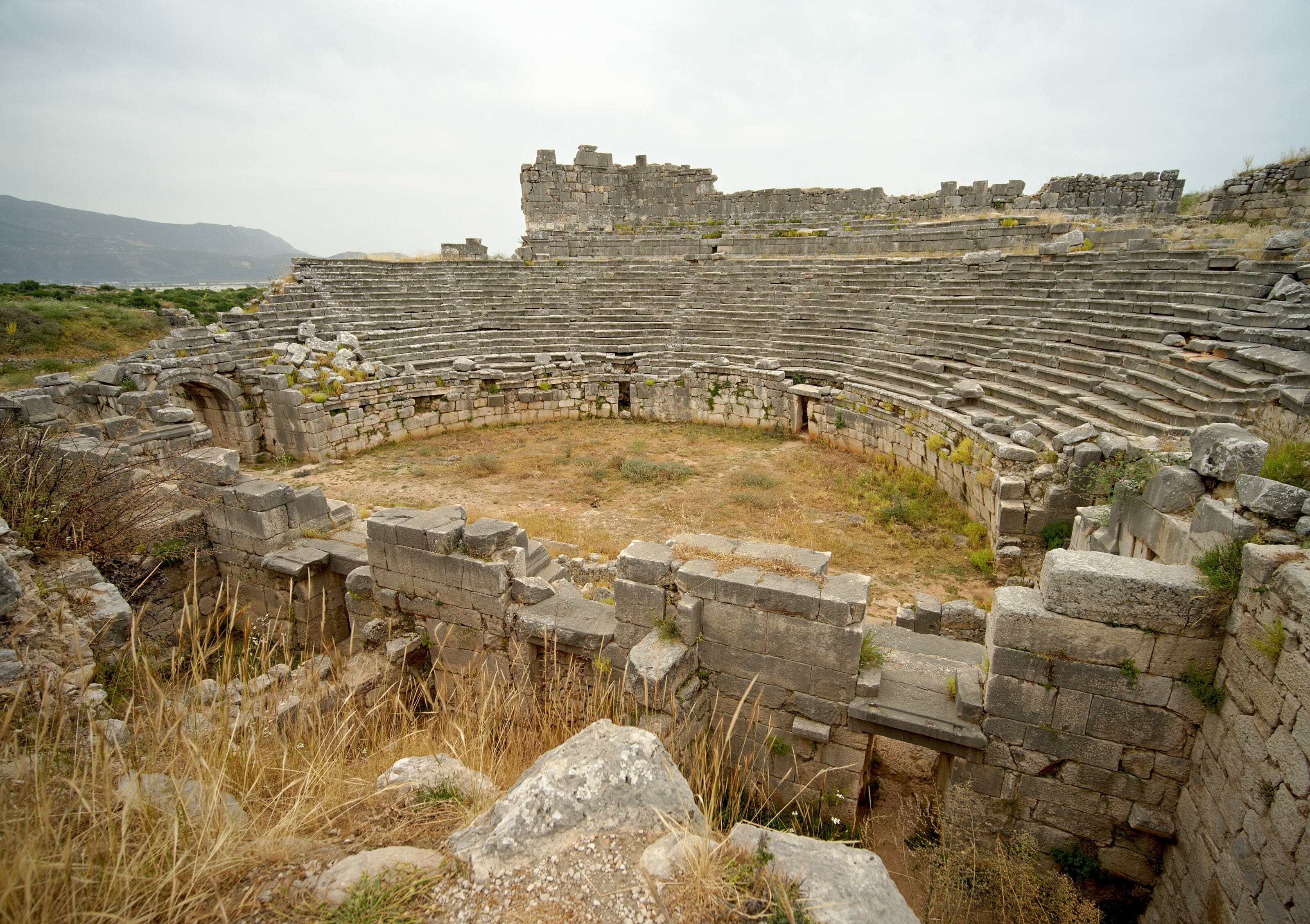 The amphitheatre is not as imposing as the one in Hierapolis or the ruins of Ephesus, but it still has class. We certainly didn't understand all the subtleties of the site (again, the explanatory panels were more than brief) but we really appreciated this visit.
Infos Xanthos
Bus: From Letoon we returned to the stop where we had been dropped off. From there we took the first bus to Kinik. (buses are frequent). Price 5TL per person
Kinik: From the bridge bus stop it is about 1.3km by foot
Admission: 12 TL per person (about 1,8€)
Opening: Every day from 8:30 am to 6:30 pm (5 pm in winter)
Return: In the village of Kinik there is a bus station. From there, many buses leave for Kas, Fethiye.
6 days on the Lycian way: our conclusions
MAGNIFICANT! We were amazed and can only recommend this hike if you come to the area. In all the itinerary is more than 400km and during these 6 days (5 of walking and one day of visiting ruins) we achieved "only" the first 70km. Needless to say, the rest of the route seems just as beautiful…. We will clearly have to come back once to cover another section.
Below is the full map of our itinerary. You can download the GPX file by clicking the link below.
On Caution, however, the choice of season can really be important. We did this hike at the end of May, and even if it was okay, I think in terms of temperatures we were seriously starting to reach our limits.
Some stretches are well shaded under the pines, but on others you are 100% exposed to the sun and when the light sea air stops it is simply a real furnace. I'm not saying it's impossible to do it in June-July-August, but let's say that if this idea took you then get ready to walk at the coolest hours (by getting up very early) and especially to bring a lot of water!
Before we leave you, we give you the video of our hike:
Note: we're sorry but it's mainly in french… would you like us to add subtitles? let us know in the comment section!
We hope you enjoyed these 2 articles on the Lycian way! We look forward to hearing from you soon for an article on the Fethiye and Kas region. (But this time without hiking);)