Since we arrived in Quito, I had been fascinated by the Cotopaxi volcano. I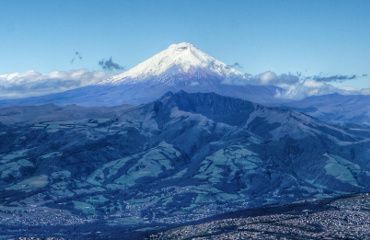 wouldn't know exactly why. Perhaps its almost perfect snow-covered cone (it is really the prototype of the volcano as we can imagine it ;-)) or the fact that it is one of the highest active volcanoes in the world (5897m). Anyway, from the moment I saw him, I fell in love with him and said to myself:
"The view must be incredible from the top of this mastodon… I have to try to ascend."
And since we were going to stay 2 months in Quito to learn Spanish and the volcano is located 60 km south of the capital, the opportunity was just too good ;-).
Some information about the Cotopaxi volcano
Cotopaxi, in addition to being a perfectly shaped volcano (it seduced me we can say it ;-)), is the 2nd highest mountain in Ecuador. Its summit is constantly snow-covered above 5000m. In fact, it is even a glacier above this altitude. Even if the volcano is active, its last eruption was more than 100 years ago. So, for the moment, not too much concern on this side.
Update: Since the writing of this article things have changed a little. Cotopaxi erupted in August 2015! The park was closed for a few months following this event, but since December 2015 it has been open again!
The advantages of Cotopaxi
The advantage of Cotopaxi is that it does not represent a major technical difficulty. All you need to do is walk on the glacier with crampons and ice axe to the top (there may be one or two crevasses to cross with an aluminium ladder), but no technical parts to the program.
On the other hand, altitude is obviously a major challenge for many people. In addition, the weather is extremely changing near the volcano, which makes the ascent uncertain (but hey, it's the mountain as we say).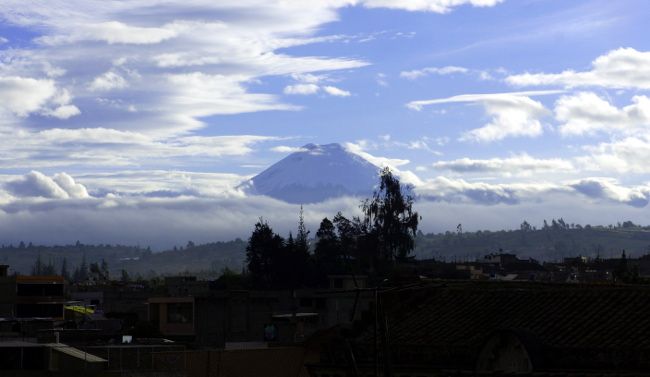 Cotopaxi is a popular climb in Ecuador. During the high season (June-August), about a hundred people try to climb it every weekend. In general, people sleep at the refuge which is located at 4800m (but beware, since January 2014, the refuge is closed for renovation) and climb the remaining 1100m during the night in 6-7 hours if everything goes well.
But although the ascent is not technical, it is not better not to underestimate it! Indeed the slopes are very steep and there is little place to rest away from the wind. As a result, between the altitude, the weather and the difficulty, our guides told us that the success rate is between 30% and 40%.
Departure from Quito and 1st day in the national park
As we were in Quito, I had booked the ascent with one of the many travel agencies that offer this service. But know that you can do the same from Banos or Latacunga (the nearest town to Cotopaxi).
Infos
For a group tour (2-6 people), count between $200 and $250 per person for 2 days. Equipment and food included. (It is possible to do it in 1 day from Latacunga for $150). If you are offered less than one guide for two people, refuse because it is forbidden. In addition, I advise you to have at least 2 guides in your group because if a person feels bad during the ascent (and this often happens believe me), they can go down with one guide and you can continue with the other. Oh yes, check the material given to you and insist until you receive material that suits you perfectly. (There is nothing worse than being out in the cold for 6 hours with bad shoes or bad pants).
Material Testing and Departure
Go to the agency at 9:00 am to try the equipment (high mountain boots, crampons, ice axe, waterproof clothes, helmet…) and meet our two guides as well as my two expedition companions, a 20-year-old Danish and a 23-year-old Belgian. The get along immediately very well, which is always better to push each other in difficult times.
Once the equipment has been checked and loaded, we drive by 4×4 to Cotopaxi National Park. As the shelter is closed for renovation, we stop at the entrance of the park in a small hotel where we will spend the night. (Well… the night is a big word…)) After dropping off our things and eating, our guides give us some explanations on how to use our equipment and some safety instructions.
First day on the slopes of Cotopaxi
In the afternoon, we go to the Limpiopungo lagoon (3800m) which is located just at the foot of the volcano. The view of Cotopaxi is supposed to be superb there because the volcano is reflected in the water. It is also an opportunity for us to get a first impression of what awaits us. But unfortunately, the weather is rather cloudy and impossible for us to see the summit of Cotopaxi. We go around the lake and take the opportunity to take some pictures. As it is June, there are flowers of all colours coming out of everywhere! One can only imagine the incredible view one would have if the volcano could have be seen. I also have to admit that I'm a little worried about the weather, but since it's changing very quickly around here, I'm trying to stay positive.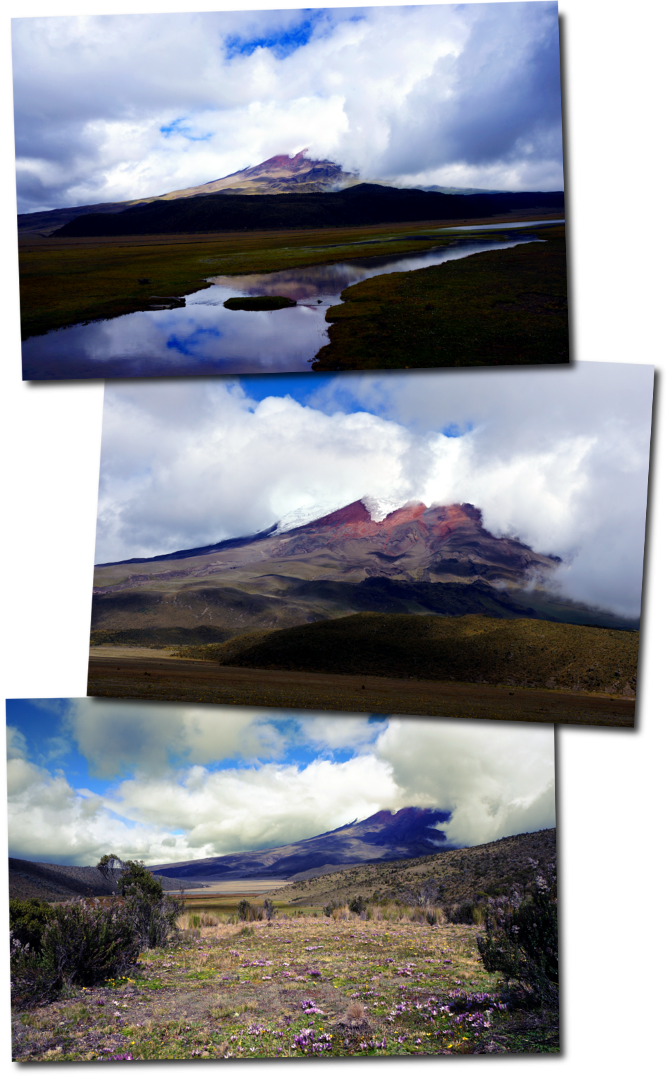 We then return to the hotel for dinner and bed (it is 18:00). It must be said that the alarm clock is scheduled for 21:00 so it is better to rest. But I find it hard to get to sleep… I hope deep down in my heart that everything will go well because in the mountains, anything can happen!
Night ascent of Cotopaxi
21:30: I wake up with a start! I had finally fallen asleep and no one had thought to set an alarm clock. The guides are rushing us because we are already ½ hour late on the schedule. We swallow a sandwich in a hurry and equip ourselves conscientiously. I have a little trouble understanding what the guides are telling me in Spanish because I am still half asleep. It is 22:30 when we board the 4×4 towards Cotopaxi.
After an hour of driving in the night and fog, we finally arrive at the car park located at 4500m altitude. As I said earlier, the refuge is under renovation, which forced us to start our ascent from the car park. (This is not ideal because the ascent is already difficult enough as it is). The wind is already blowing very strongly and it must be about 23:30 when we start.
A smooth start
We start at a rather slow and steady pace. I tell myself that if we continue like this, I would have no problem reaching the top (how naive). A group of two people with two guides passes us before the refuge. We greet each other in the hope that the weather will improve because the wind is already blowing hard enough. After a short hour of walking, we arrive at the refuge where we take our first break. We are rather confident because nobody has any problems with the altitude and the weather is getting a little bit better.
We start again in the direction of the glacier which is located at an altitude of 5000m. It will only take us about ½ hours to reach it.
We take out the crampons and ropes
We stop in the shelter of the wind to fix our crampons and tie ourselves up. That's where the fun begins I want to say ;-). I'm strapped in with my Danish friends and we're leading the way. The slope is really steep and the altitude is starting to make itself felt. I try to breathe well and walk regularly but I feel like I don't have enough energy in my legs. It's an unknown feeling for me, it seems that my legs are struggling to support me! The lack of oxygen! After a good two hours of climbing, we can take a break sheltered from the wind.
I try to eat and drink a little but I miss my appetite at this altitude. (I guess we had to be at 5300-5400). I have a little headache but nothing too bas. I'm checking in with my fellow expeditionaries. My Belgian friend seems to be in great shape while the 20-year-old Danish, although the most fit among us, seems to suffer a little more from altitude than we do. Nevertheless, this break is good for us and we leave confident. Especially since the weather still seems more or less clear.
When the weather is bad
But it was not knowing the weather in the area! Barely ½ hours later, the wind starts to blow violently and it starts to snow heavily. We are still going on, but I am drawing on my reserves to keep my balance facing the violent gusts that are destabilizing us. Feeling that the effort is becoming difficult, our guides warn us that we must keep our strength to go down and that if the effort becomes too intense, it is better to turn around. In my head I remember the words of Fabienne (who was a little worried before I left) telling me:
"Be careful Ben, especially when you go down… most accidents happen on the way down because of fatigue! "
First dropout in our group
We take a break again sheltered from the wind (at about 5600m)
It's better not to stay still too long in the cold. Again, I force myself to eat and drink a little, but it's not easy. On the other hand, bad news from our Danish friend. His headaches have intensified and he decides to go down with a guide. (He probably made a wise decision). However, the guide who continues with us warns us: if the weather does not improve, we will have to make a decision for our safety. With my Belgian companion, we undertake to respect the decision of the guide who is accompanying us.
So we keep going up. Each step becomes difficult with the altitude and the capricious weather. I wonder myself if it wouldn't be wiser to come down. For the moment, I just follow the guide and concentrate at every step.
The decision to turn around
But as we might have feared, at some point, the guide decided to turn back for our safety. We were at an altitude of 5700m, less than 200m from the goal!
I was obviously disappointed but relieved at the same time by this decision. In retrospect, this decision, was probably the right one. The effort required to reach the top with this weather would have been enormous and we probably wouldn't have seen anything at all from the top (and I don't know about you but it's for the view that I'm trying this kind of thing). Moreover, as I went back down, I realized that the guides had not lied to us and that it was better to have some energy in reserve for the descent, especially with this wind. Once again, I remembered Fabienne's good words and I was paying more attention to avoid a stupid accident.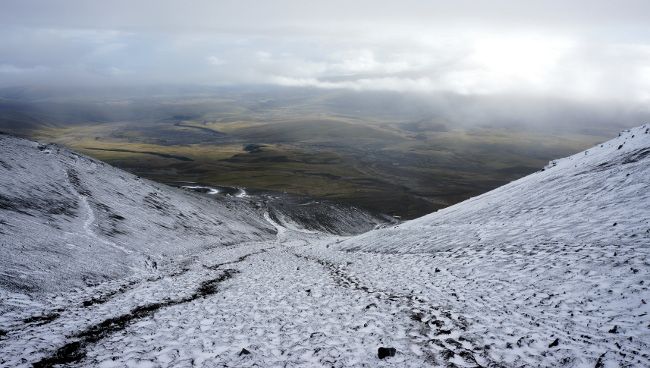 Return to the park and end of the adventure
Once back down to the car park (it still took us a good 2 hours to get back down), we are again below the storm. The Cotopaxi is always invisible, hidden by thick clouds. We take the opportunity to take some souvenir photos with the guides. (I hadn't taken the camera out much until then). Then, we left the national park. It was a wonderful experience for us 3 and it shows that in high mountains, it is not enough to be in good physical condition to reach the summit. You also have to be a little lucky with the weather. We all leave with a great respect for the Cotopaxi volcano (and the high mountain in general) which will not have been tamed this time (maybe one day ;-))…
We then headed towards the city of Quito, where the sun was shining as if to tease us…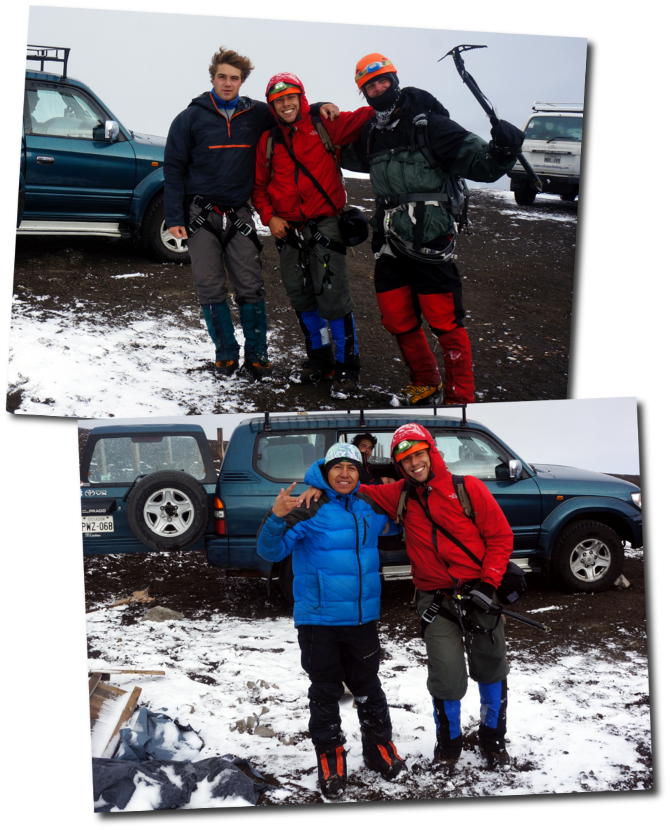 Infos

If I had to do it again, I would go directly to the city of Latacunga where it is possible to do the ascent in only 1 day. The advantage is that you can decide according to the weather until the last moment (it is possible to organize the trip in the afternoon for the same night). And since there are only the guides to pay, it will cost you about $150 per person.
Don't forget to have some very energy-rich food with you. You probably won't really want to eat during the ascent so it's better that what you eat gives you a good feeling 😉
Don't forget to check the equipment you are given… You will have other things to worry about than your shoes being too small or your jacket not waterproof during the ascent.
It's probably a good idea to do a few treks a little less high and less difficult before you tackle Cotopaxi to acclimatize… After 2 months spent in Quito (2800m) and some walks between 4000m and 5000m, I felt pretty good.
And finally, I just wanted to show you why I wanted to reach the top of Cotopaxi (photo by parofess)…