Last stop on our winter trip, Prague was what we can call a beautiful ending! We will come back in a next article on our must-see things in Prague (we spent 10 days there, so we will clearly have plenty of addresses for you), but before that, I wanted to offer you a little tour a little different from the city: a city walk!
If you read us from time to time you will probably have already noticed that hiking is our passion! And believe me, just because you visit a city doesn't mean you can't go hiking! For our part, we often tend to visit the cities almost exclusively on foot, so we can already count it as hiking. But for Prague we have two real urban hiking routes to offer you!
Walking tours

In this article we will present you 2 hikes to do alone (without a guide). If you like the idea of visiting a city by walking we advise you to take a look at the free walking tours. In Prague there are also free walking tours (we also did it at the very beginning of our stay to get a first glimpse of the city). Registration for these tours is free and the idea is that you leave a tip at the end.
See the Free walking tour of Prague
And if you're in a curious and mystical mood, you can also take a night tour on the theme of ghosts and legends. This tour is not based on tips but costs 18€ (2 hours guided tour in English).
See this tour
Vysehrad: castle and viewpoint
This first walk is an excellent option to take a little height and also to leave the "classic circuit" used by many people who visit Prague. In the first part, I will tell you a little bit about our experience of this hike, but if you want to have the practical information and the map it is further in this article that it happens. 😉
Beginning of the hike: Prague's main square
The idea of this walk was to get off the "classical paths" but well, as we are people full of contradictions we still wanted to start with the great classics. 🙂 And if you say classic in Prague, you obviously mean the Charles Bridge.
In that month of February the Charles Bridge was still relatively deserted (well, we understand each other… there were people there! But compared to the pictures I had seen that were probably taken "at a better season" there was definitely no comparison!)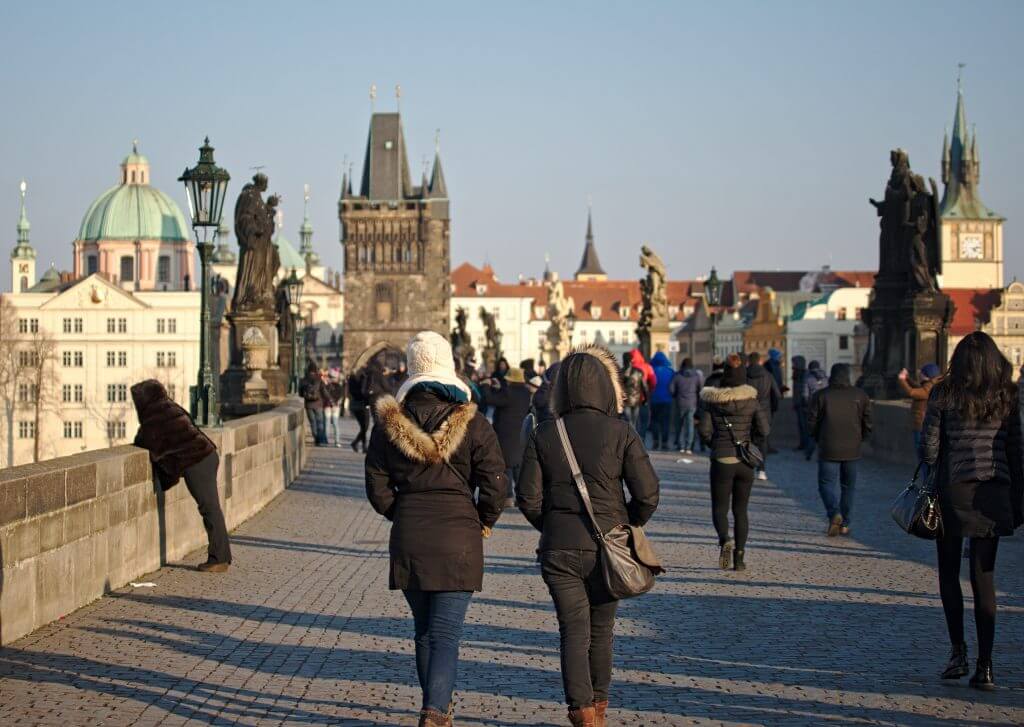 In short, once we had seen this famous bridge it made sense to head towards the no less famous dancing house.
The house that dances in Prague
I admit I often don't understand much about artistic interpretations of architecture. But for the moment, you don't need to be a keen architect to see why this building dating back to 1996 is nicknamed the dancing house. 🙂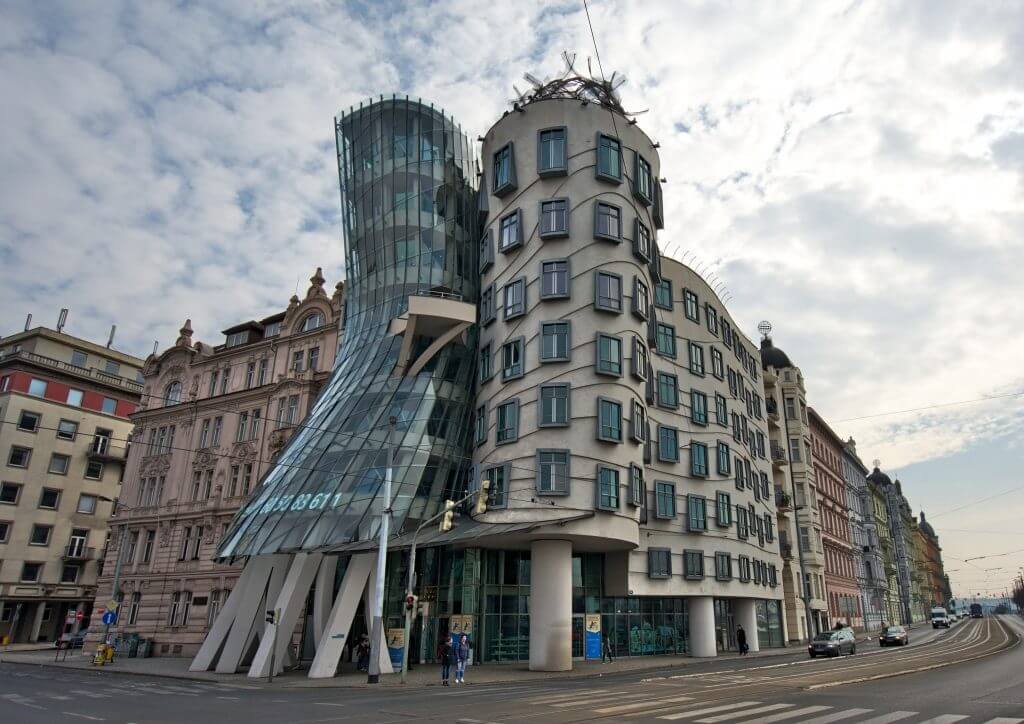 In fact, the house is divided into two parts. One is straight and symbolizes the man who stands upright with a hat on his head or the rigid and straight side of communism. The second part of the house is a glass tower that tightens in the middle and can easily give the impression that it is a female figure that twirls around on her man's arm. Others interpret this somewhat misguided tower as a symbol of capitalism and the new turn of Prague and the Czech Republic in general.
By the time the house was finished it had often been nicknamed "Fred and Ginger" in reference to Fred Astair and Ginger Rogers.
If you wish to visit the house you can take a look here for your tickets.
Ascent to Vyshrad Castle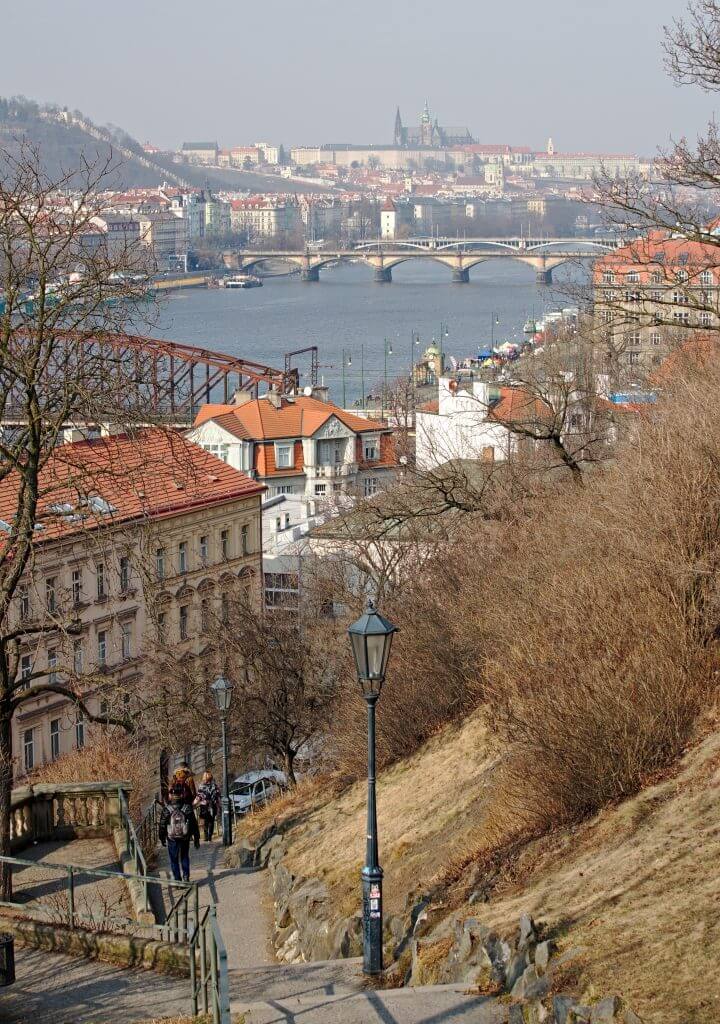 Once we left Fred & Ginger we started walking again towards Vyshrad Castle. Well, let's face it, the name "Vyshrad Castle" is a little misleading…. Because the castle itself is no longer there. The only thing left, however, are the ramparts. But, and there is a but, it is precisely these that make the beauty of the place so beautiful if you ask me.
It is possible to take a full tour of the ramparts by walking through a magnificent park. This former Prague castle is located on a hill and throughout the walk you can enjoy a superb 360° view of the city. Small bonus: at the end of the park is a small bistro that has a huge garden with wooden tables where you can come and drink a good Pils with a magnificent view (or a good hot chocolate as during our visit);)
A brief glimpse of the panorama in the grounds of Vyshrad Park:
The Prague Bastion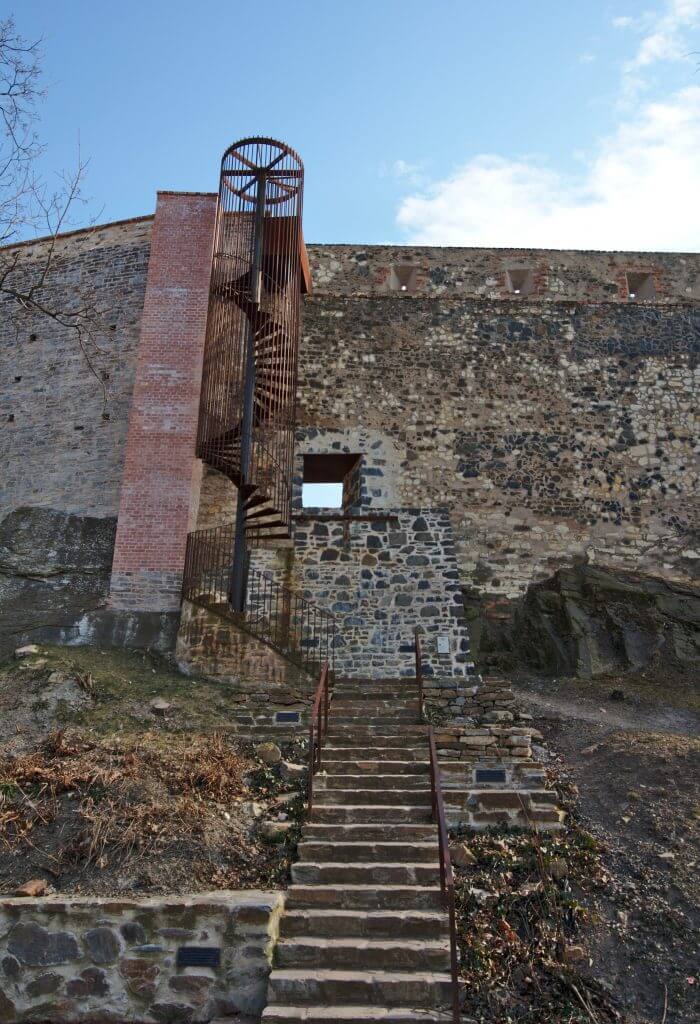 Once back down from the castle we set off towards the Prague Bastion. To get to the esplanade at the Bastion we took an old metal spiral staircase. Personally, I'm not a big fan of this type of staircase (vertigo obliges me… I don't like particularly when there's a void under my feet) but believe me, the view we have from above was clearly worth it.
After, if really the stairs with emptiness at the bottom it is not your thing, you can also go around in front of the Bastion restaurant.
Once on the esplanade it is simply happiness! We have a wonderful view of Vyshrad and the city centre of Prague.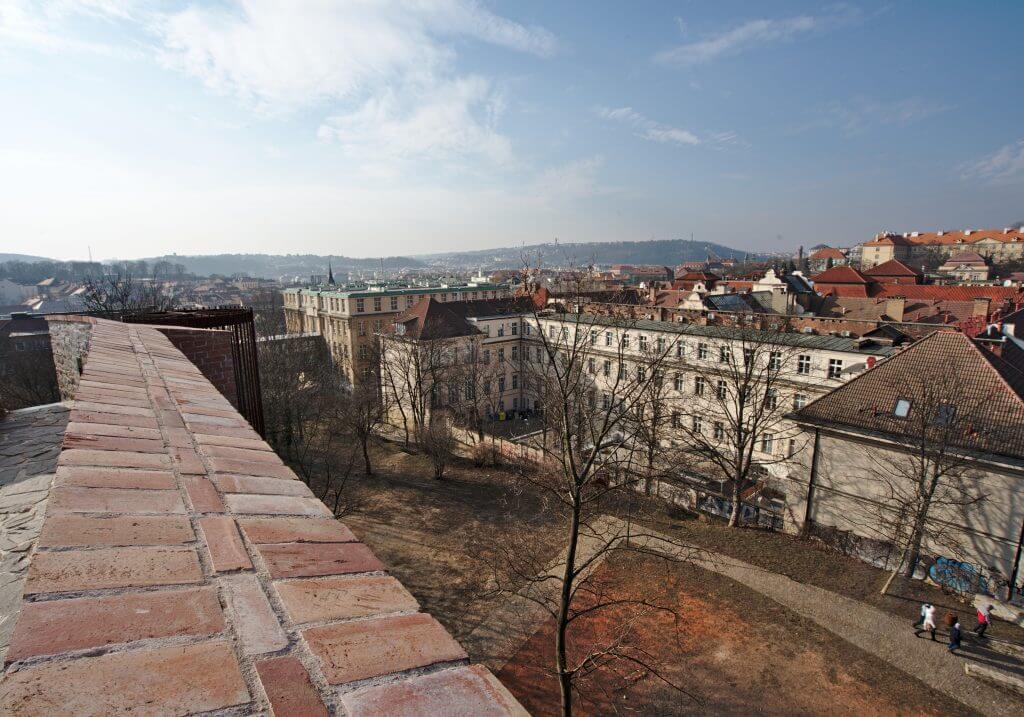 Apolinarska and return to the city centre
For the return we decided to go to Apolinarska Street because apparently the gynaecological clinic was worth seeing (no no I'm not kidding!). In fact, it is a maternity hospital that is still in operation and dates back to the end of the 19th century. It is built entirely of red brick. 🙂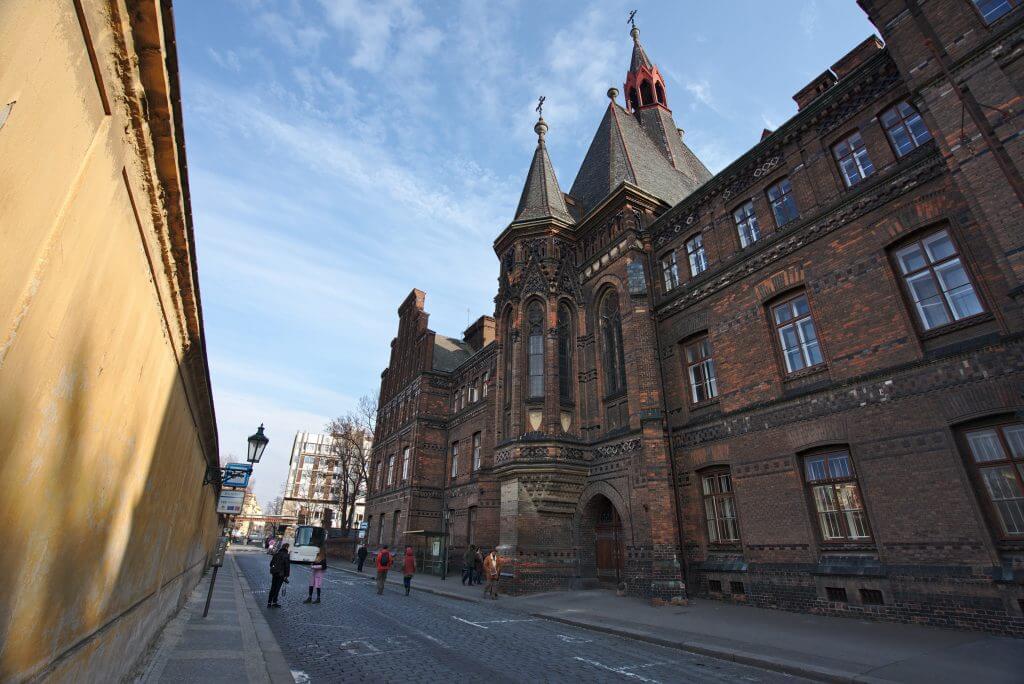 For the rest of the itinerary we admit that we were starting to get tired (and also to be very cold! because let's not forget that it was February) and we just tried to reach the Charle's Square metro station. But know that if you are still in great shape there is, on your way, the botanical garden which is apparently very nice as well as the Emmaus cloister and the church of Saint-Jean-Népomucène-sur-le-Rocher (but we can't tell you more since we have decided to go straight on…)
Useful information on the Vysehrad hike
This hike is easy and does not present any particular difficulty. After we tell ourselves, the relatively modest distance of 8km should not be underestimated. Walking in the city tends to take longer than walking in the countryside: traffic, some traffic lights (and also some potential breaks for visits or coffee breaks will tend to lengthen the route a little. 😉
Infos
Starting point: Prague's main square
Finish: Charle's Square Metro Station (Line B) or walk back to the centre
Distance: about 8,5km
Duration:Count 3h-3h30 (not including all breaks);)
Map of the urban hike:
Stroll with a view of Prague: Letna and Prague Castle
There we change the scenery and take you on a small hike almost 100% in the green with breathtaking views of the city!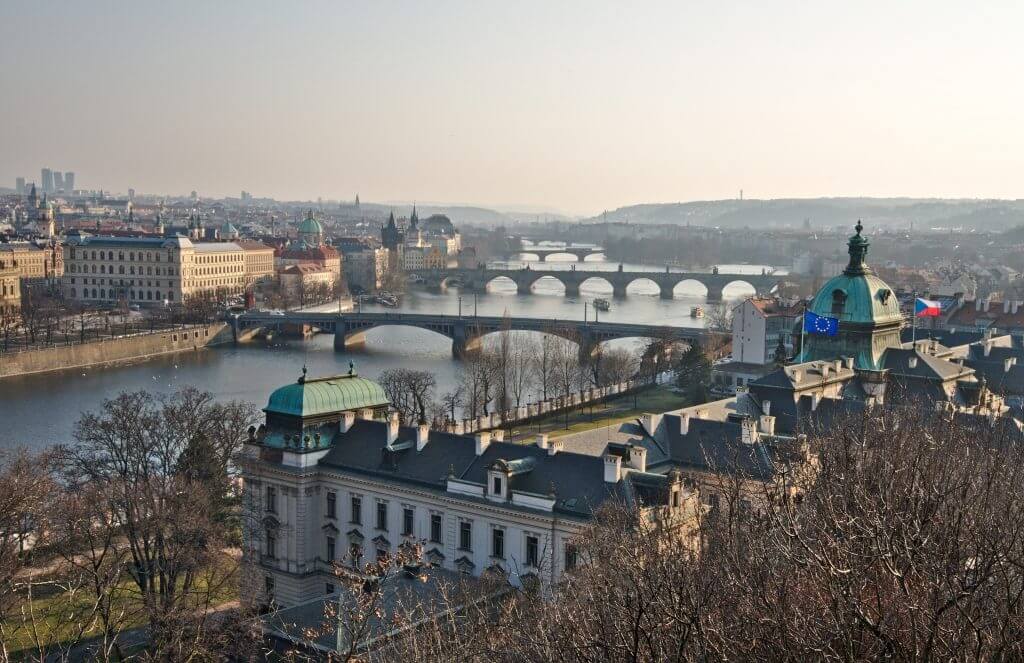 Letna Park, we absolutely wanted to go there, but to tell you the truth, it is by no means during the winter that it has the most assets. Well, yes, because the view is sublime all year round, but if this park is really known and appreciated, it is especially for the many breweries that are located on the esplanade and that allow you to taste a good beer with a view to fall on the city. In February, and by an average of -12°C, we will explain to you that we have clearly decided to trade the beer for a good mulled wine! 😉
As Letna Park is located on top of a hill, it is possible to reach Prague Castle directly from the top and enjoy some nice views along the way. If you have not yet visited the castle grounds, we strongly recommend that you take a short detour.
For our part, we decided not to pay for the combined ticket that allows you to visit the different rooms and exhibitions but to stay only in the free spaces (which are already quite impressive and magnificent!). If you want to take the opportunity to visit the area, it's a good idea, but be aware that there's really a lot to see and it will most likely take you all day.
If you want to visit Prague Castle it might be interesting to have a look at Getyourguide. They offer tours in small groups with discounted tickets. We have not tested it personally but we have received good feedback about these visits by e-mail.
A little something nice and free in Prague: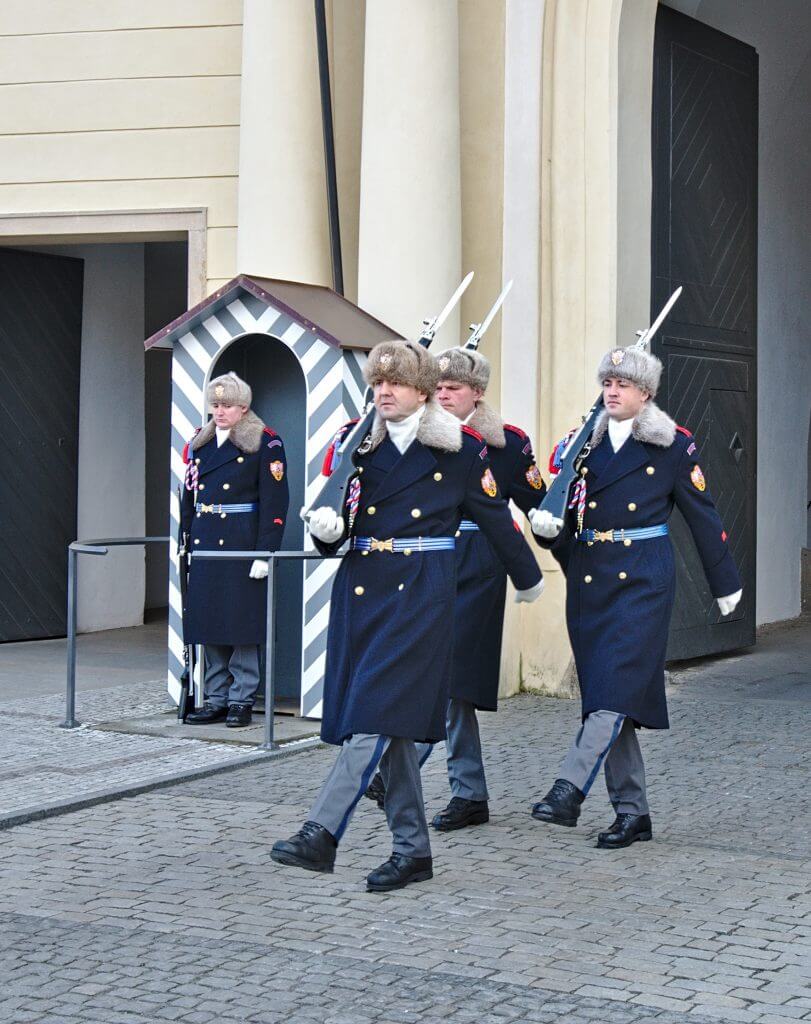 Every day, between 5am and 11pm, you can attend the changing of the guard around the castle grounds. There are guards at the 4 corners of the castle but for our part we were on the side of Prasneho Mostu. The ceremony lasts about ten minutes and everything is perfectly organized. 🙂
Good, special mention anyway for the guard on the left in the picture…. The guy was so cold just before the shift that he had huge spasms. We saw all the pain and concentration to stay motionless in his eyes, and especially the infinite relief when the next guards arrived!
Strahov Library in Prague
Before continuing the hike we made a short stop at the Strahov library. The visit is really fast (you can't go into the library rooms as such, but only see them from the door). The entrance fee is 120 crowns (about 4.8€) but be careful if you want to take pictures you have to buy a "permit" for 50 crowns in addition (2€). We don't particularly like the concept of a photo permit, but hey….. But since we payed the extra fee, we're going to put the picture in the article, right?!? 😉
The Petrin Tower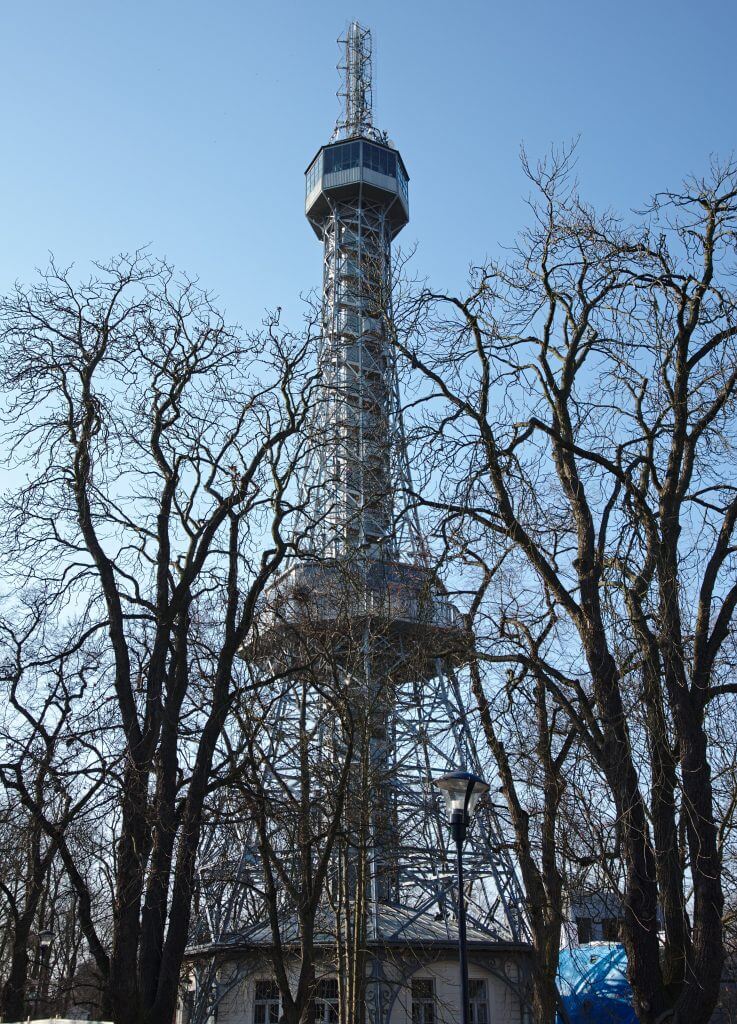 From the library we attacked the small climb towards the Petrin Tower, which looks strangely like the Eiffel Tower. Let it be said, this "little resemblance" is not so much a coincidence. The members of a tourist committee from the Czech Republic had gone to the Universal Exhibition in Paris in 1889 and returned completely thrilled by the Eiffel Tower. The initial plan was to build a replica, but due to lack of budget they quickly realized that he couldn't do something that big. In short, in order to compensate a little for the lack of height of the tower they simply decided to put it on one of the highest points in the city!
And? If we count the hill, then the Petrin Tower rises to 324m above sea level, exactly the height of the Eiffel Tower in Paris. (Even if the tower itself is "only" 60 meters high!) 😉
From Petrin's tower there is a way to get back down to the banks of the Vlatava River by taking a funicular. But if you know us a little bit, you will have quickly guessed that we preferred to walk there! 🙂 For the moment, the walk is really worth it because we descend on small paths in the middle of the trees with at several times pretty views over the city.
Useful information for the Letna walk – Prague Castle
Infos
Starting Point: Tram stop "Skalecká"
Finish: On the Charles Bridge
Distance: about 9,3km
Duration: Allow a good half day (3-4 hours)
Prague Hiking Map
The itinerary below is of course only indicative…. You will see that there are plenty of trails to get back down, just as there are plenty of different viewpoints in Letna Park. In short, use this map to get a general idea, but don't hesitate to deviate a little to see other viewpoints 😉

Looking for a nice dinner after your hike?
What about a medieval Dinner with unlimited drinks? You'll find this dinner on GetyourGuide and it has more than 3200 positive reviews. For 40€-50€ you get a full 3 course / 5 course dinner with drinks included (beer, wine and soft drinks). During the dinner there will be a medieval show.
Visiting Prague: think of the Prague Card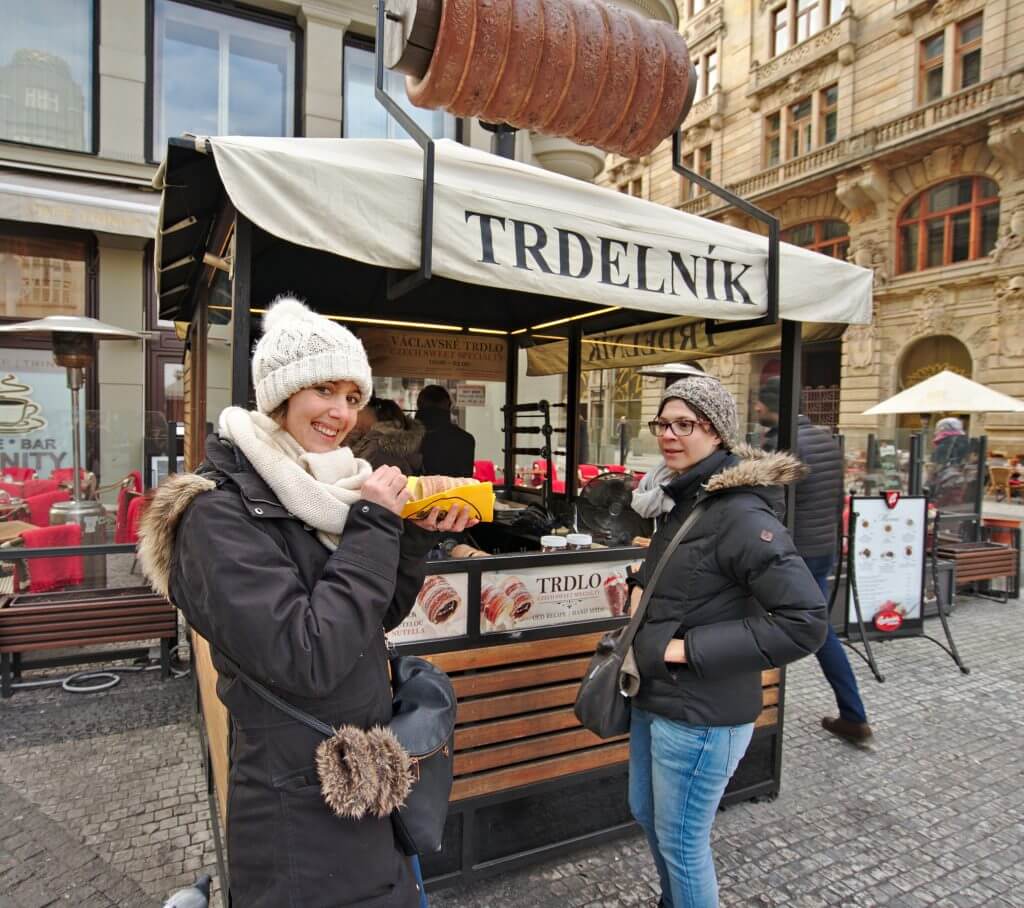 As in many cities Prague also offers a Prague Card. Sold for 62€ for 2 days, 72€ for 3 days or 81€ for 4 days it is a good option for people who want to see a lot of museums and exhibitions in a condensed form. We decided not to take this card in Prague because we stayed 10 days and didn't want to condense the visits, but on the other hand we regularly took them, especially in Helsinki or Tallinn.
However, we advise you to look carefully at the list of activities and make your calculations according to your desires. These cards are only profitable if you really decide to visit a lot of things! For example in this article we talk about Prague Castle, the entrance to the different sites of the castle costs 250-350 crowns (depending on the chosen tour) which costs 9€-13€. So if you only want to see "that", then this option is clearly not worth it.
See the city pass
Looking for other activities to do in Prague?
Take a look at all top activities to do in Prague
Where to stay in Prague? Hotels or Apartment?
In Prague there is no lack of accommodation options! During our stay we had opted for an apartment with Benoit's sister. To help you in your search you can use the map below which shows the different types of accommodation. Use the filters and the zoom to refine your search.
That's all for this first introduction to Prague! We are currently in France and are enjoying a lot! In short, in the coming weeks expect a lot of articles to show you our favorites 100% made in France! 🙂
See you soon!
NB: This article contains affiliate links to some services. This means that if you use our link to make a purchase you obviously pay nothing more, but on the other hand we will receive a small commission.
Pin it