After a few days in bustling Hanoi, we stayed in the north of Vietnam to discover the Mai Chau region. On the program: a night in a homestay and walks in small villages surrounded by rice fields. In short, a change of scenery is guaranteed!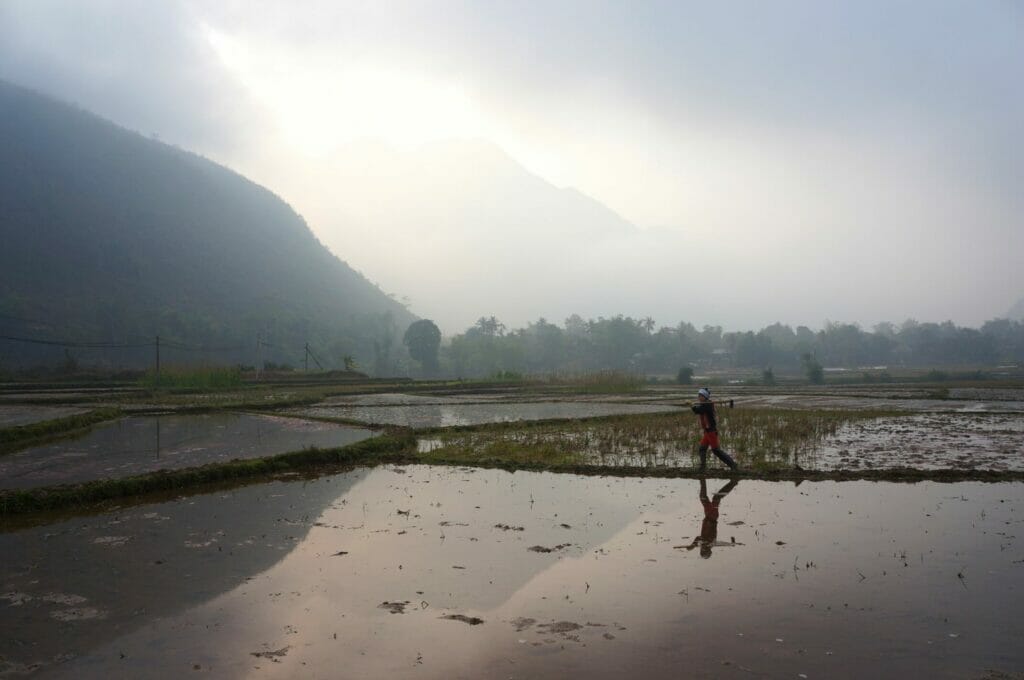 Update 2022
This trip dates from 2014 and we wanted to update it. Unfortunately, it is still complicated to find recent information about the exact program we followed. If you want to go to Mai Chau, you can of course read our article below to get our feedback. Mai Chau is a popular destination for organized tours but it is quite possible to go there by your own means. We detail it as much as possible in this article!
The north of Vietnam: it's freezing!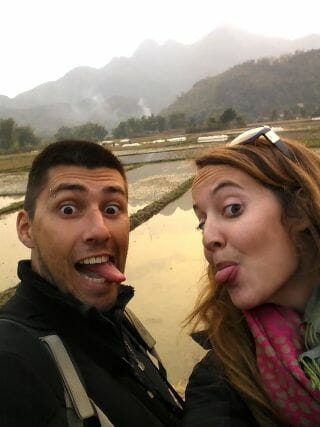 Mai Chau is pronounced "My Sho". But mamma mia, we guarantee you that we didn't get that hot! After having made you see all the colors during the end-of-the-year holidays spent at the beach, this time is well over! Contrary to what many people think, Vietnam is not a country where the weather is nice and warm all year long, or at least not in the whole country! In the north, it's freezing!
So I see you coming: you will tell me that the temperature rarely goes below 5 degrees. I grant you, these are not the same temperatures that we have in Switzerland. 5 degrees is quite chilly when you sleep in a room without any insulation or heating, with 10 centimeters holes between the boards…
How many tourists have we met who were walking around in shorts at 10°C because they hadn't calculated the cost? A lot!
But don't worry, we are not complaining, far from it. By being well-equipped, it passes 😉! We got into the habit of applying the onion technique: layers of clothes that we put on or take off depending on the temperature.
This article contains affiliate links to partner sites. When you use our links to book accommodation, a car, or an activity, you don't pay anything extra, but we get a small commission. This helps us to offer you free, independent, and ad-free content. Thank you for your support!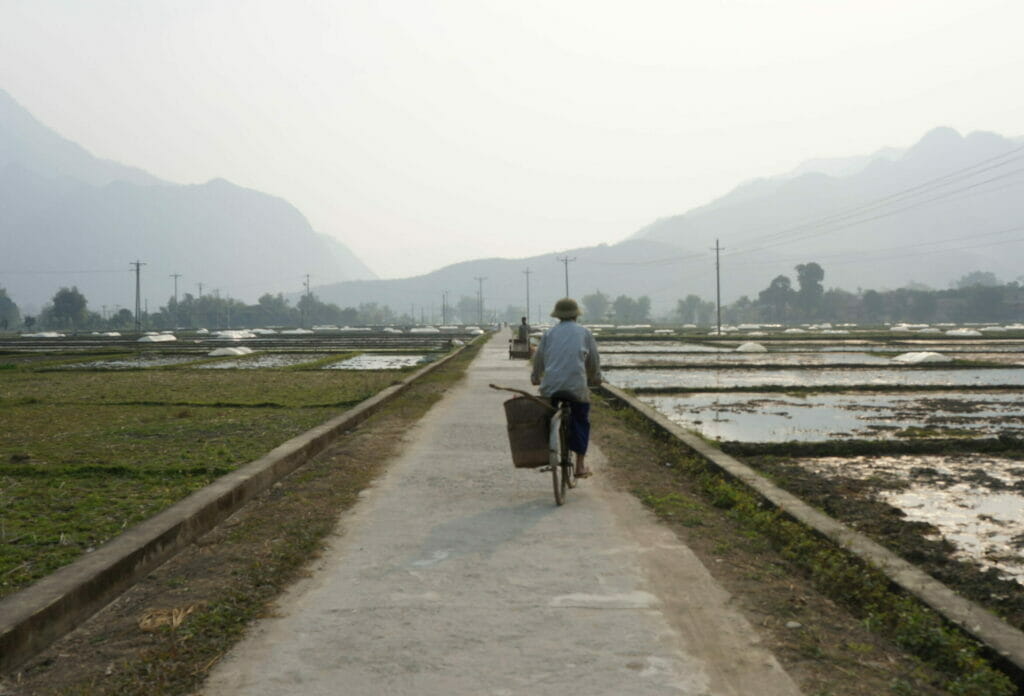 What to do in Mai Chau?
So we arrived in Michelin man mode after a 3-hour drive from Hanoi. Mai Chau is located in the province of Hoa Binh, about 160 km west of Hanoi. This region has experienced a very strong tourist development in recent years. We can see homestays growing like mushrooms in many villages.
But we did not feel that tourism was taking the place of agriculture here. Of course, there are tourists (but not that many), buses, homestays, and souvenir sellers. But there are still many farmers who work their land to grow rice, bananas, sugar cane, or cabbage. Despite the development of tourism, life in Mai Chau goes on as usual, and that's fine!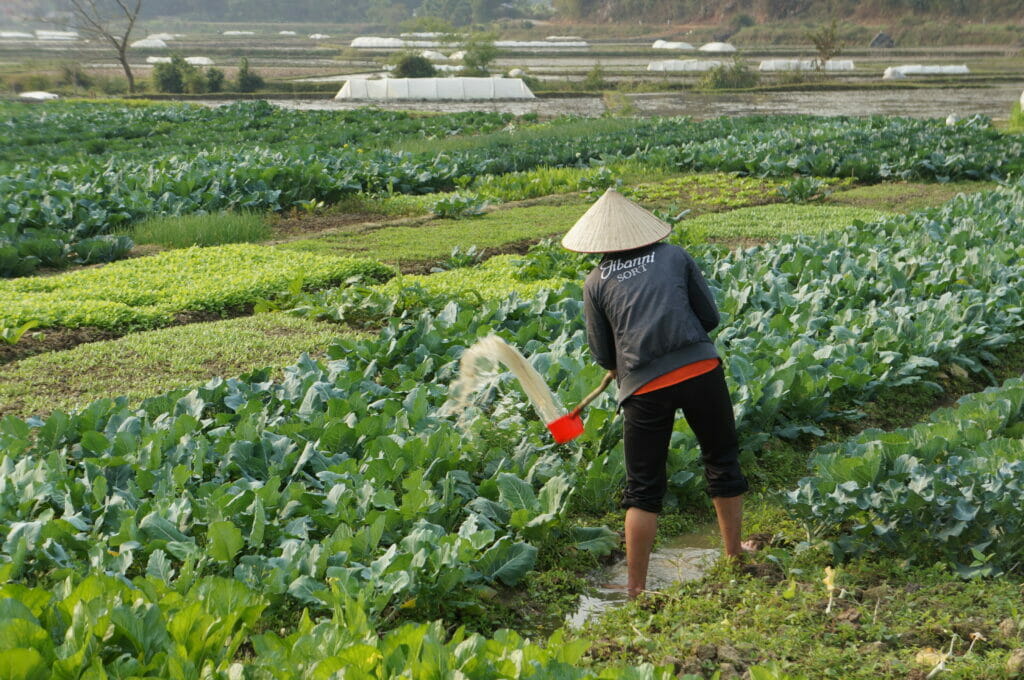 Discovery of the ethnic minorities of Vietnam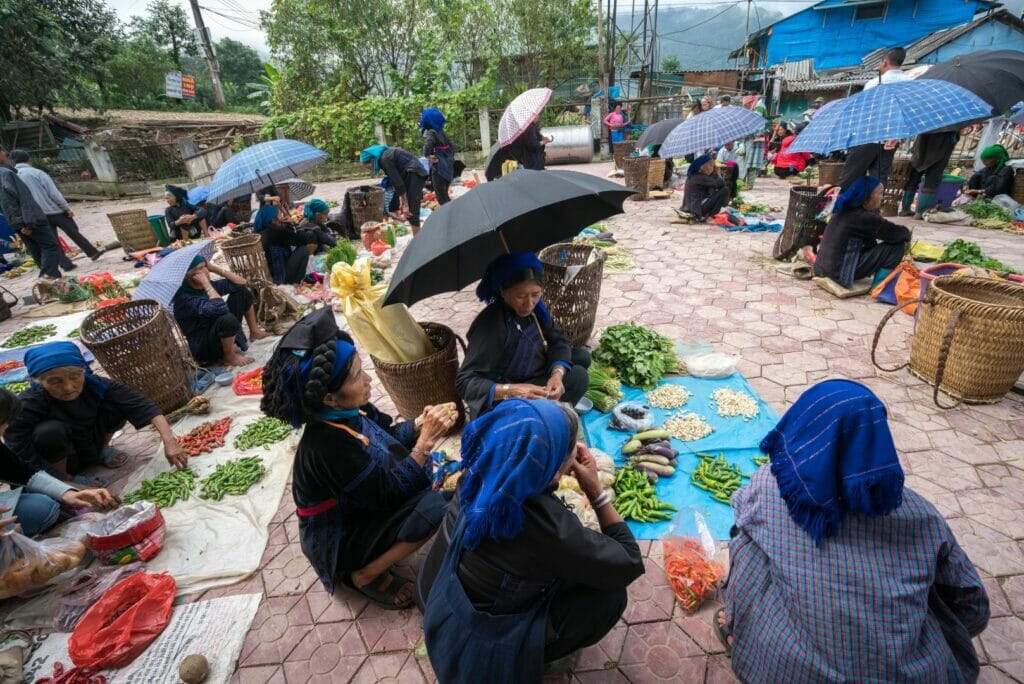 Vietnam is a huge country with more than 50 ethnic minorities spread throughout the territory. The most important is the Viet ethnic group or also called Kinhs gathering more than 85% of the Vietnamese population.
In the Mai Chau region, the majority of the population is made up of White Thai (Tay Dam) and Black Thai (Tay Khao). If you go to the area, you will see that many women still respect most of the traditions of their culture. For example, they wear a black silk skirt, held at the waist by a wide belt. Also, once married, women still wear their hair tied up in a bun on top of their heads.
But on the other hand, the festive outfits as we can see everywhere on the Internet are generally reserved for special occasions or to please tourists…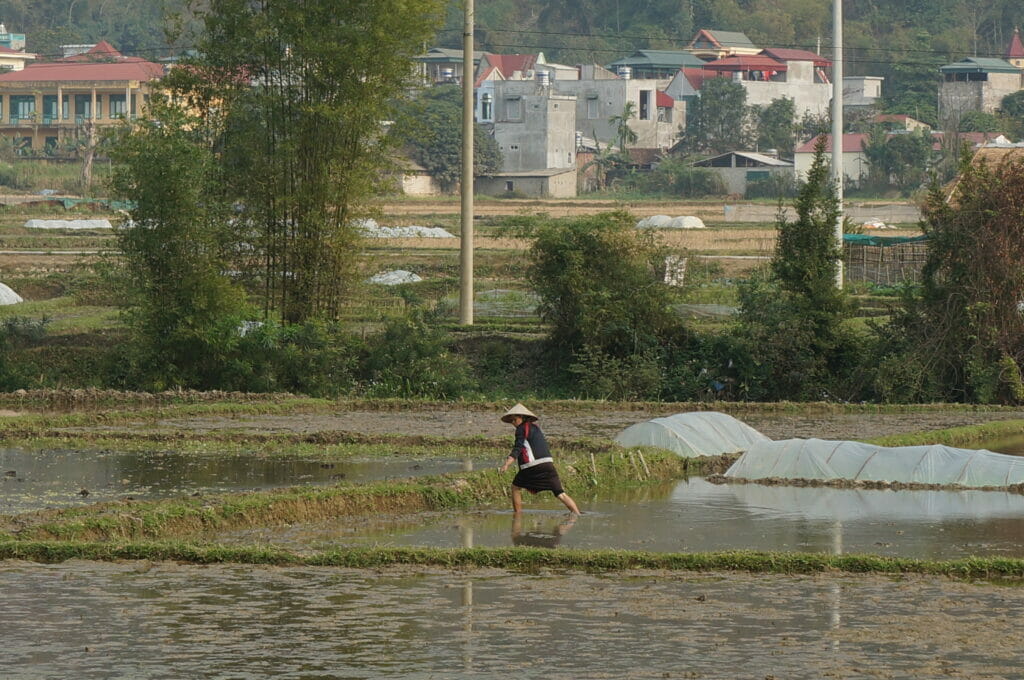 Most of the women we met in "a natural way" were wearing a more modern version of the outfit: a simple black skirt with their hair pulled back. In the fields, we even saw some pretty original combinations of the traditional skirt with an Adidas sweatshirt 😉. Ah, the modern times!
Stroll in the heart of the rice fields
During our little getaway in Mai Chau, we went on two walks with our guide. The first one led us to make a loop on foot in the small villages. A very nice 2 hours tour during which we could observe the architectural style of the region.
In Mai Chau, the majority of the houses are built in wood and bamboo and have the particularity to be mounted on stilts. According to our guide, this choice of construction is mainly justified because of the humidity of the ground, but it is also an excellent way to protect oneself from the possible wild animals of the region!
The next day, our driver of the day dropped us off about 30 kilometers from our homestay. We then set off with Tuan, our great guide, for a 12 km walk through the rice fields which led us through the villages of Van and Xam Khoe.
These two walks were for us a great way to learn more about Vietnam and its minorities thanks to our guide, but also to see fabulous landscapes!
Tip: homestays often offer bike rental, so take the opportunity to explore the surroundings! Choose the period between June and August, it's the time when the rice fields are in full development.
Rice cultivation in Vietnam
We also learned more about rice cultivation and were a bit surprised at how complicated and excessively physical it can be! Before finding our beautiful white rice in our little Uncle Ben's packages, there is a lot of work behind it!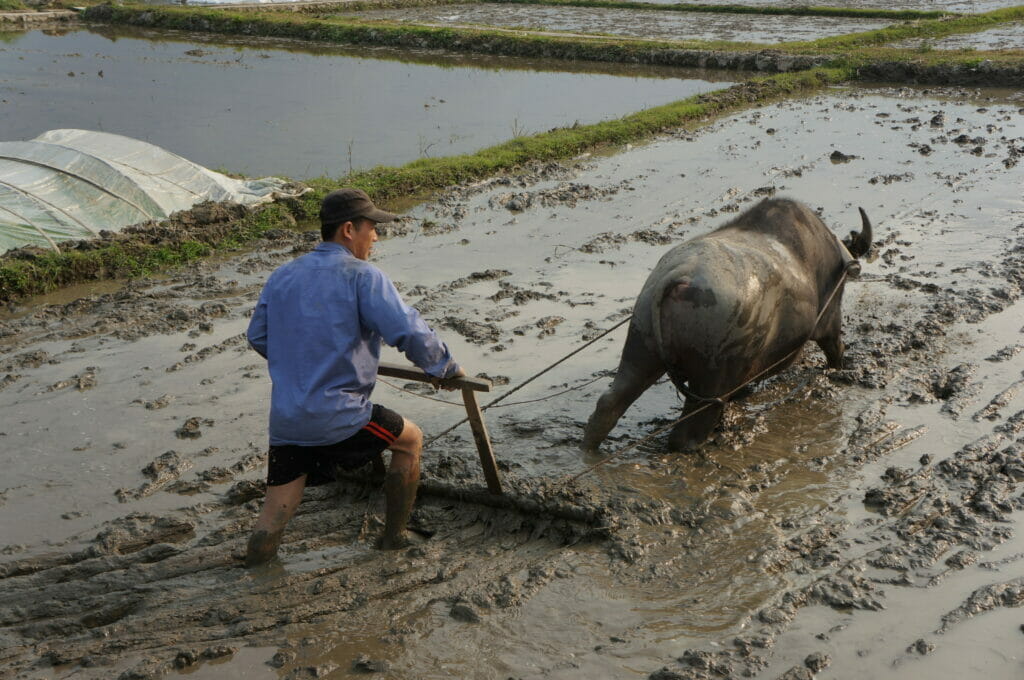 For weeks, the land is prepared and plowed (without machines!) before being filled with water. Once the rice fields are flooded, we continue to turn over the earth with the help of buffaloes sometimes, but very often with the only strength of thighs and biceps! Then, we sow the rice on a small part of the land and put it under the greenhouse! After a few days, the rice will be transplanted by hand on the whole plot of land! 4 months later comes the time of the harvest, which is always done by hand of course…
We suspected that rice cultivation was something difficult, but honestly not that difficult! Imagine that 1 m2 of land can barely produce 500 grams of rice and this 2 times a year at most in the north of Vietnam! In the pictures, you can see plots of land of about 50 m2…
Knowing that on average a Vietnamese consumes 140 kg of rice per year (it is by far the main source of food), this means that a family of 4 people must have and exploit at least 560 m2 of land if they just want to be able to eat their production…
Well, let's not fool ourselves, the rice we find here is often mass-produced with the help of big, high-performance machines! And in the south, the climate often allows for up to 3 annual harvests!
Homestay in Mai Chau
As we told you above, during our stay in Mai Chau, we stayed with local people. You should know that in Southeast Asia, you won't be staying in the family living room and even less in the barn! Homestays are more like first-class hostels run by a family.
A homestay is usually organized around an outdoor common area where meals are served, as well as several rooms or dormitories. Here in Mai Chau, we were lucky enough to have a house on stilts just for us! In short, a huge room of almost 50 m2 with a mattress on the floor and half a dozen comforters at our disposal… As we said, it is cool in the north of Vietnam, 3 degrees the night we were there anyway! But what a pleasure to sleep in such conditions and especially to have such a view when we wake up!
Sanitary facilities are generally common, it is simple but functional and clean. In short, nothing to complain about!
Whether it is in the Mekong delta or Mai Chau, the homestays are very often also a place where the cooking is one of the strong points of the stay! We really enjoyed ourselves here!
Hotel in Mai Chau
With more than 50 accommodations, Mai Chau has really developed in recent years. The area is very popular for homestays. For a completely different experience, find a hotel or homestay at the best price in Mai Chau here!
Why take a guide to visit Mai Chau?
That's an excellent question… Often backpackers like us are reluctant to take a guide "because we travel by ourselves, we are independent…". Of course! Nevertheless, taking a guide from time to time is not only a question of comfort. These are unique experiences, a chance to ask questions and meet local people!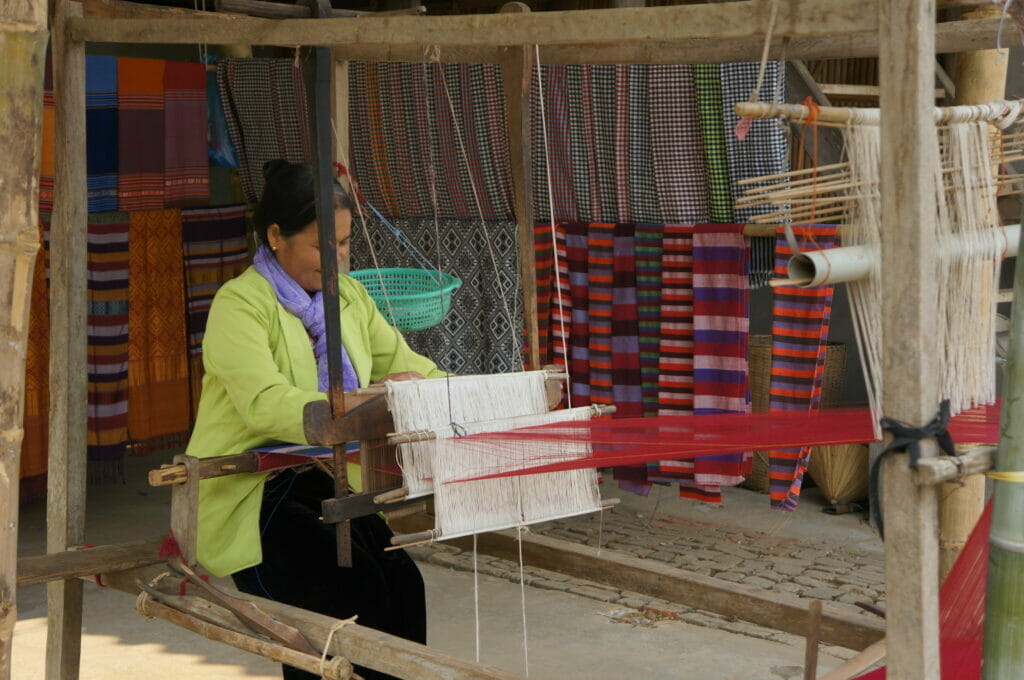 In Mai Chau, having a guide allowed us to learn a lot about the white and black Thai people and their culture, but also about Vietnam in general.
Tuan, our guide, also allowed us to do some walks that we could not have done by ourselves. On the second day, the car dropped us off at a place, then picked us up 12 km further…
Having a guide is also having the chance to have someone who knows the language of the country and its customs as well as good plans to travel in the rest of the country. Tuan gave us precious pieces of advice for the continuation of our Vietnamese trip. Moreover, we wrote this article in a guesthouse that he had advised us near Halong Bay! Not surprisingly, his advice turned out to be more than excellent and we probably wouldn't have come across it without him!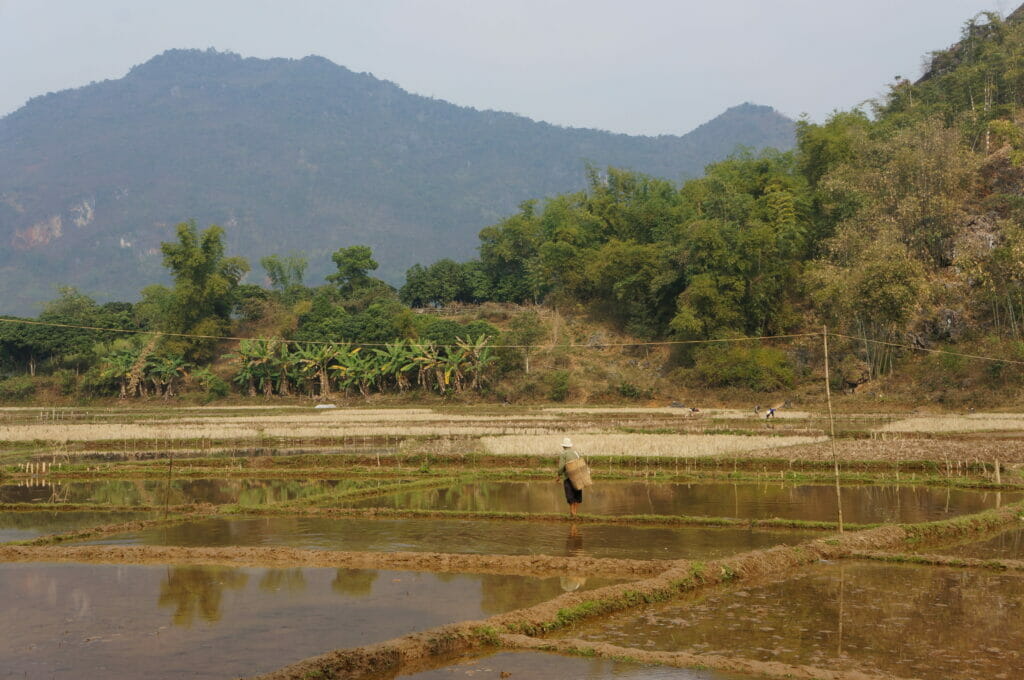 This stay in Mai Chau was generously offered to us by Vietnam Paradise Travel, an agency located in Hanoi. It was our first experience with organized travel (and the first time we accepted one). It is a local travel agency, located in Hanoi, which exists since 2005 and knew how to make its place in the creation and organization of customized trips in Southeast Asia. These are individual tours with a private vehicle, driver, and personal guide to discover the country as authentically as possible, at your own pace.
To know more about how to plan your stay in Mai Chau, we recommend you to read the dedicated article of Marijana and Matej.
That's it for Mai Chau! As for us, we returned to Hanoi to explore more of northern Vietnam and the mythical Halong Bay! Are you following us 😉?
Pin it