We told you about it in our last article: our summer 2017 will be 100% Swiss. But before we start what will probably be our longest autonomous hike ever, we set off for a few days towards Ticino.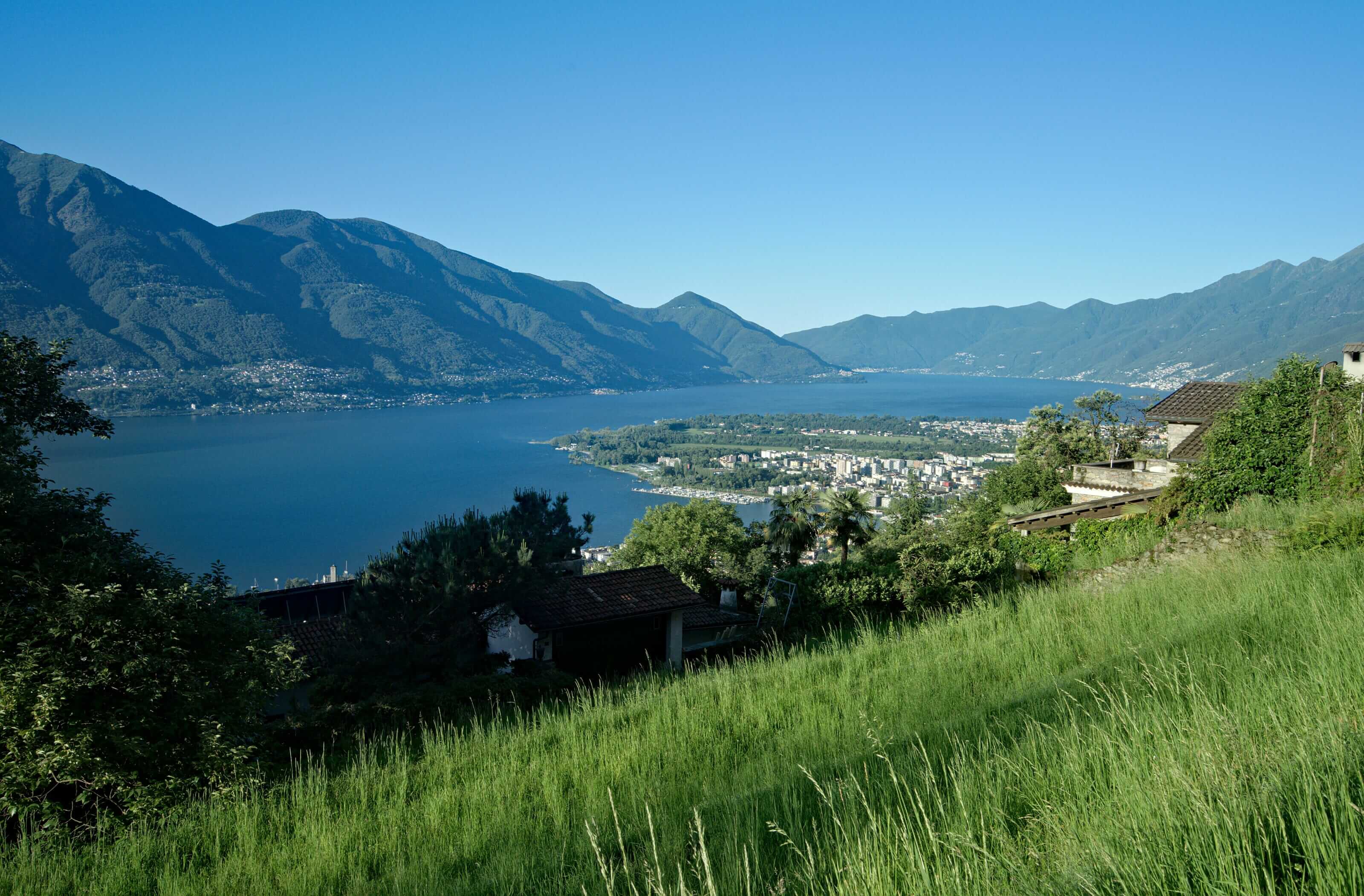 Ticino is the only canton in Switzerland where Italian is spoken. And as you might already have guessed it, it's on the border with… Italy! This is a part of Switzerland that we hardly know. I came here several times as part of my work, whether for events or to meet clients, but I actually never had the time to visit as tourist. 😉
Thus, Benoit and I took the opportunity, after receiving a lot of "smartboxes" (gift experience boxes) at our wedding (we'll tell you more about it below) to go on a 3-day getaway in the surroundings of Locarno. A brief overview of our favourites from these 3 days.
A stroll in the pretty town of Ascona
The first day, after nearly 4 hours of driving, we dropped off some things at our hotel and immediately went for a walk in the small town of Ascona.
Ascona I wouldn't know what to tell you except that it's a small town where it's nice to walk around! We admit it, we were not interested in what there was to see there or even in the history (at the same time if you read us from time to time, you will have noticed that the old stones and the cultural anecdotes are not our strongest asset). 😉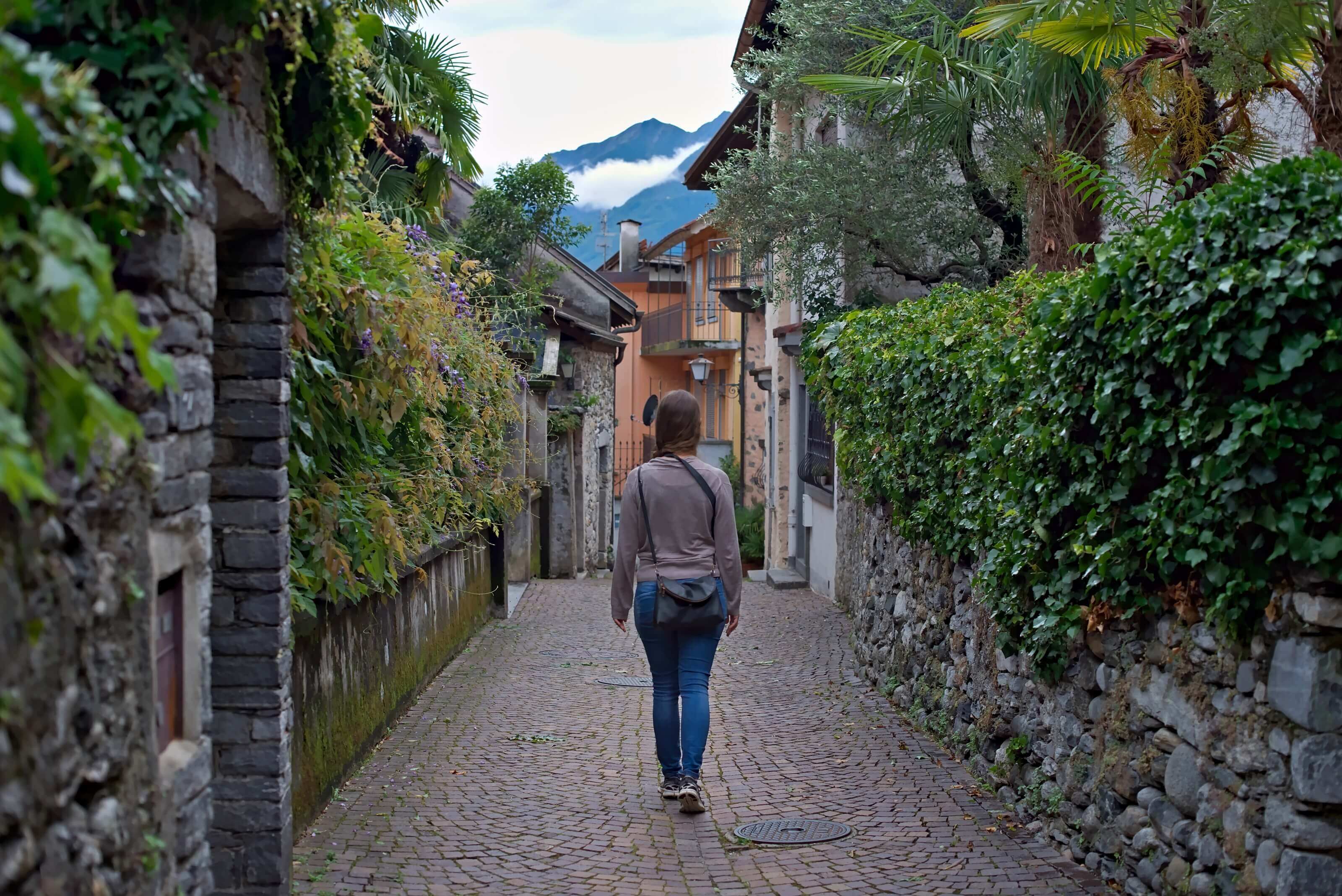 No, Ascona is just a cute little town where there's something in the air that makes you feel like you're on vacation right away. We stroll through the small narrow streets and have coffee on a terrace on the shore of Lake Maggiore while watching people. In other words, a smooth end to the first day and an appetizer for this small stay in Ticino.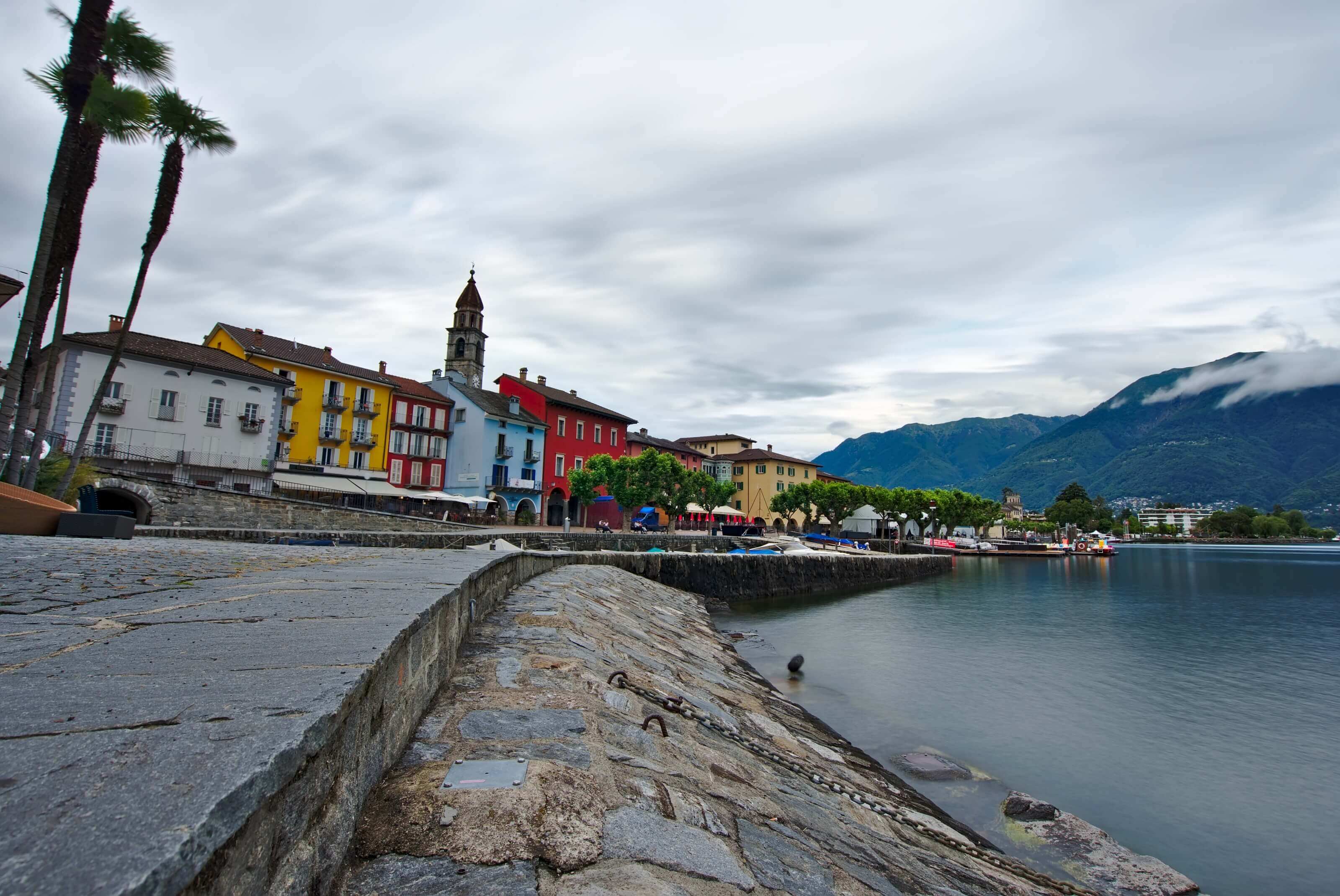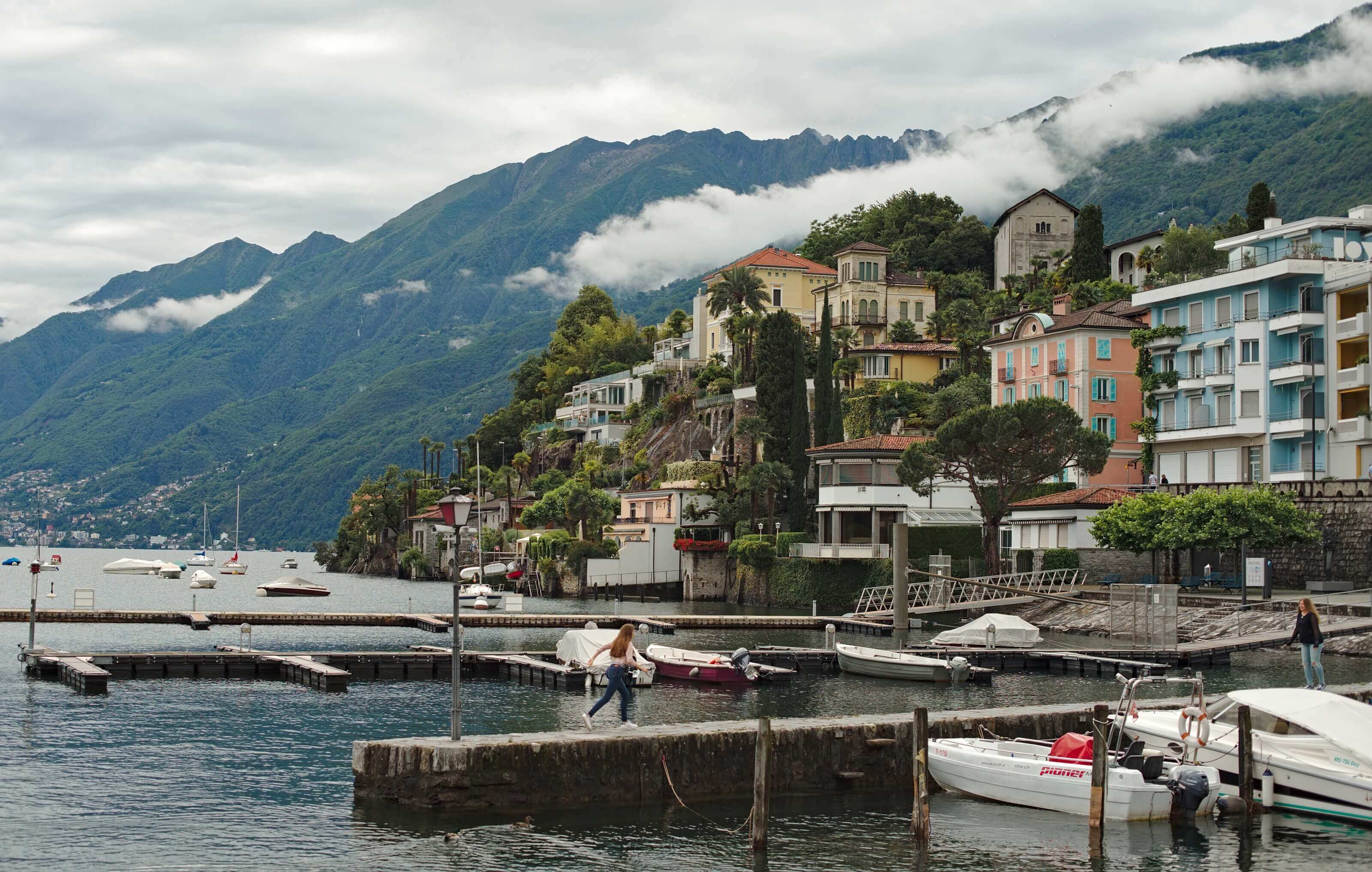 Visit Lavertezzo and the Val Verzasca
For our first morning in Ticino, the least we can say is that the weather didn't really play along… And I thought the weather in Ticino was always nice! (no I'm kidding of course, but that's what we tend to believe in the other parts of Switzerland). 😉
But well, we had planned to go to Val Verzasca that day, and it wasn't going to be a few drops of rain and a little grey that would discourage us, especially since we had planned a nice little hike!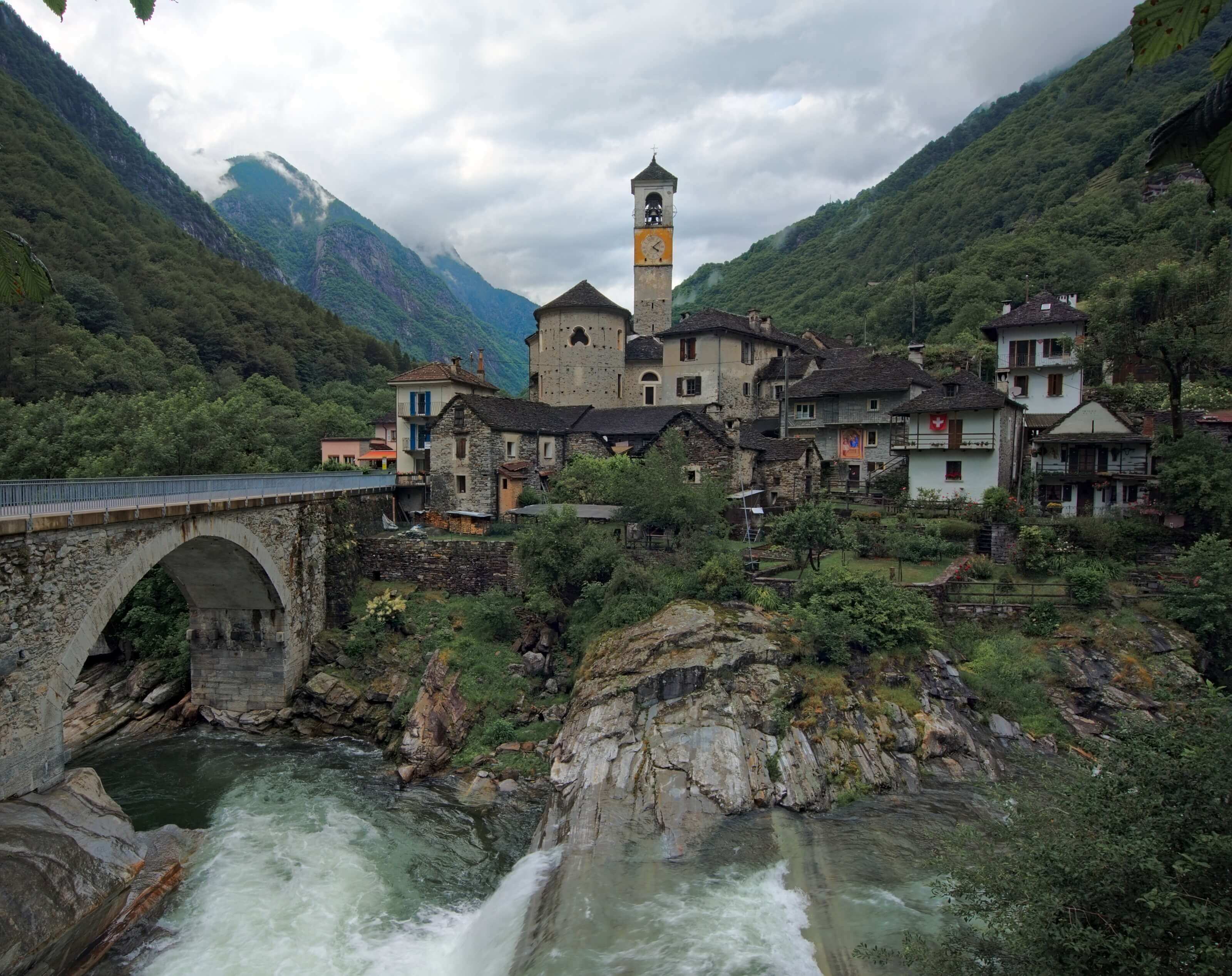 When we Arrived in Lavertezzo it was raining cats and dogs, while I was already clearly developing a plan B, I see Benoit taking out his rain jacket and looking at me with a big smile:
"Well, what? What are you doing? It probably won't rain more than 10 minutes anyway."
Call it crazy love, resignation or just my good side but 5 minutes later we were hand in hand walking in the pouring rain.
I'm not going to be a mean, I admit that it didn't rain all along the hike, we still managed to have a few breaks. Even if, of course, the biggest shower fell on us right when we were at the furthest point from the car. 😉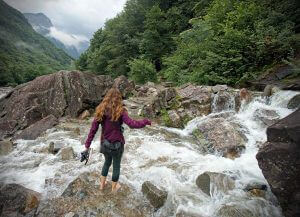 Moreover, you will know that in the area the combination of "melting snow" and "heavy rain" have a significant effect on hiking trails. At times it would be almost better to have a buoy than a pair of hiking shoes. In some places the path is swallowed up by a kind of torrent that descends from the mountain and hikers have no other solution than to take off their shoes and cross this small icy bath barefoot.
Hiking in the Verzasca Valley – itinerary
Beyond the certain "humidity" of the trail, I must say that the hike we did was really beautiful. I have no problem to imagine that under the sun it is even more spectacular. So if you want to make a nice little walk in the Verzasca Valley here is a map with the route we followed:
Note for the map: if you want to have the hike with you on your smartphone or connected watch, it is possible to create an account (free) on AllTrails and then download our route in the format of your choice.
Some images taken on the way (click on them to see them better):
Infos
Start and finish: the village of Lavertezzo
Parking: Possibility to park your car in the village. Count 3 CHF per hour or 10 CHF per day.
Distance: 8 km
Elevation change: 430m (up and down)
Duration: about 3 hours
Contra's Dam (James Bond's Dam if you prefer)
On the way down from Lavertezzo we made a short stop at the Contra dam. This place I already knew it and it is probably the place where I experienced one of the greatest moments of shame and distress in my entire life. 🙂
In fact, the Contra Dam is best known as one of the locations where James Bond's film "GoldenEye" was shot. You know in the opening scene of the movie? No? For those who have forgotten the scene, I'll put it here:

Since the film release, the dam has smelled the good business opportunity, and for many years it has been a well-known bungee jumping spot in Switzerland. 220m freefall, 5 seconds of jump for the modest sum of 255 CHF (ouch!)
In short, it is not James Bond who wants shall I say… About ten years ago I was working in event management and with our clients we came to this famous dam. My role? Well, just jump first to give our customers the desire and courage to get started. Yep…. Let me explain what happened next:
I was smiling when I put on my harness. I was full of good intentions to motivate customers to jump. Everyhting is alright! When I arrive on the jumping platform the smile gets a little tight but I am still motivated to keep my promise… That was before I looked down. A simple glance into the void made me lie on the floor on the metal grid, in tears, all under the stunned eyes of our dear customers. I was never able to jump and of course that day none of our customers dared to jump neither.
At the same time Pierce Brosnan had a stuntman to do the jump for him, so I'm totally fine!
Needless to say, this year we will have simply taken a contemplative break to take a few pictures… 🙂
Would you have jumped?
Above Locarno
Our hotel was located in the heights of Locarno and we took the opportunity to discover a little bit of the surroundings by walking. The small village of Brione sopra Minusio where we had our hotel is really ultra cute with all these stone houses and these few grottos to come and eat in the evening.
For the uninitiated, a grotto is a typical restaurant in Ticino, or should we rather say a tavern where you can enjoy local dishes served on large wooden or granite tables and generally seated on benches. The only problem is that the majority of these taverns are by definition a bit like cellars, so we don't enjoy the breathtaking view of the village on the lake too much.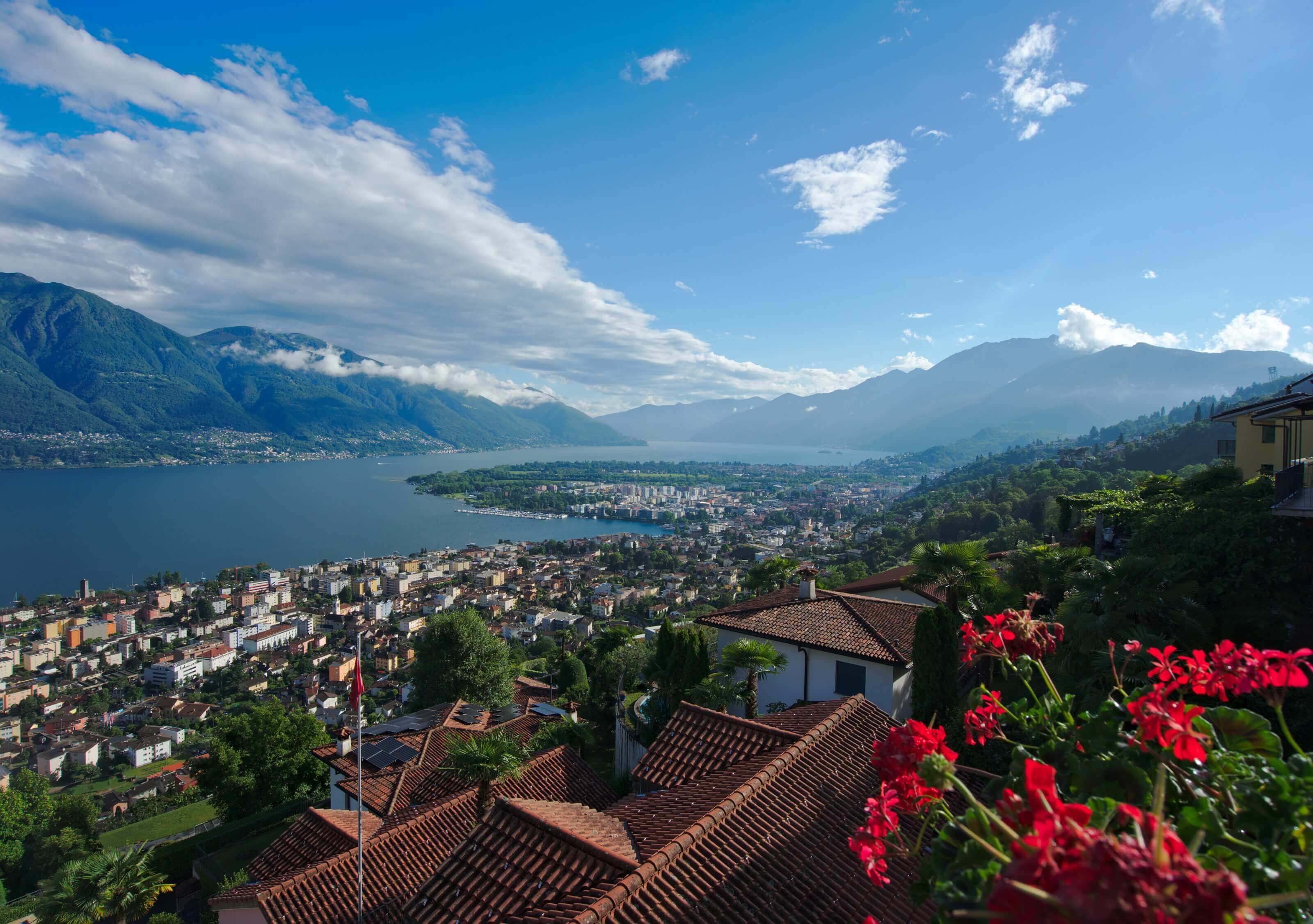 So we moved on to plan B for the aperitif…. 🙂 Plan B? We went to the tiny little grocery store on the corner, bought 2 beers and chips and sat on a bench in front of the town house. So certainly some elderly people who passed by there gave us a strange look to see us installed between the town house and the village bus stop sipping a beer, but frankly, from a view perspective, we simply couldn't find anything better!
Below the village where we were there is also a cable car that goes up towards Mount Cardada. We haven't had time to climb to the top to see the view, (well, for Ben it's inconceivable to take a cable car, a mountain is climbed on foot!) but the small intermediate station of Orselina where the sanctuary of the Madonna del Sasso is located is clearly worth a look if you are in the area. It can be reached either by road or by taking the small funicular from the centre of Locarno.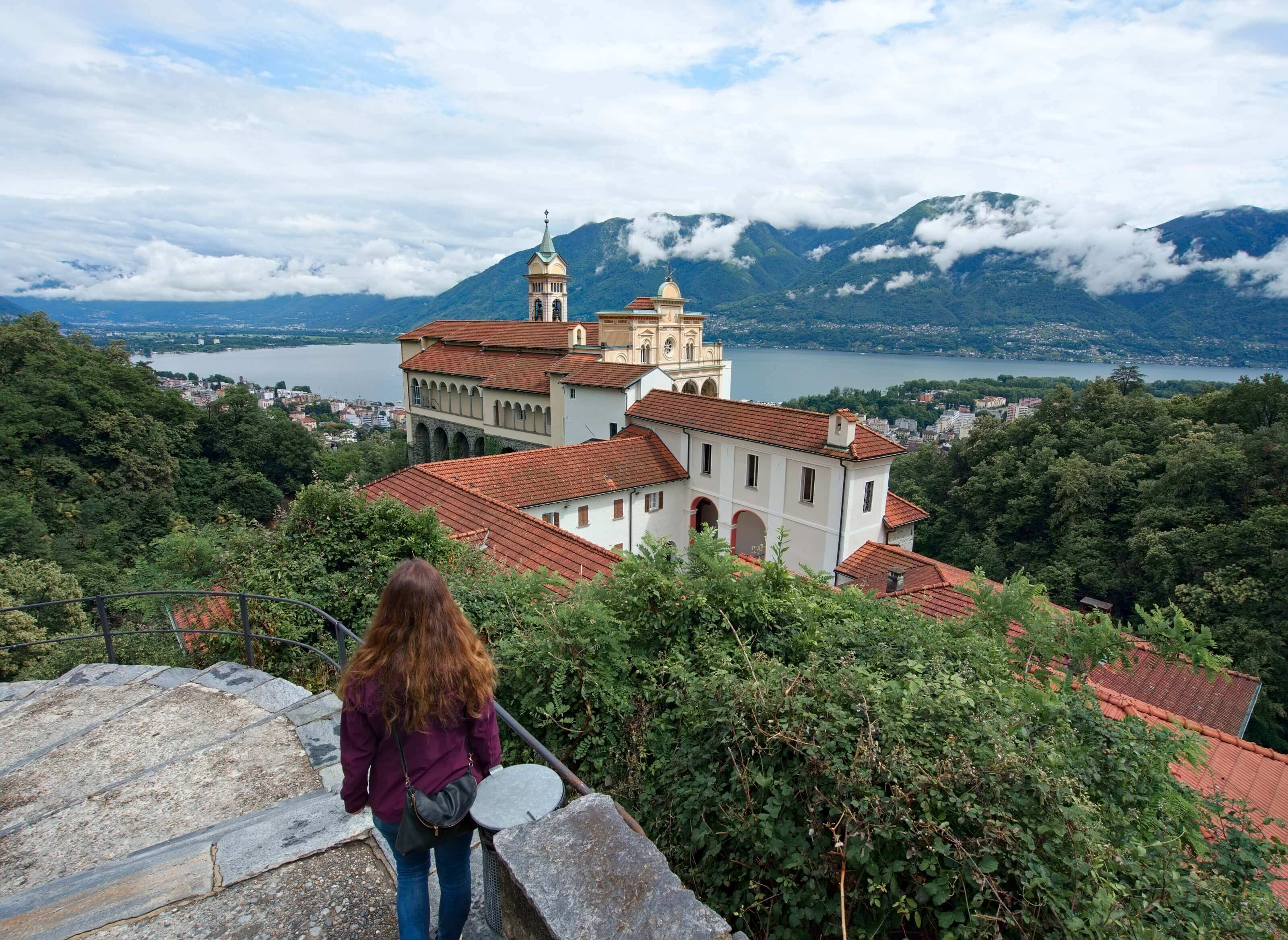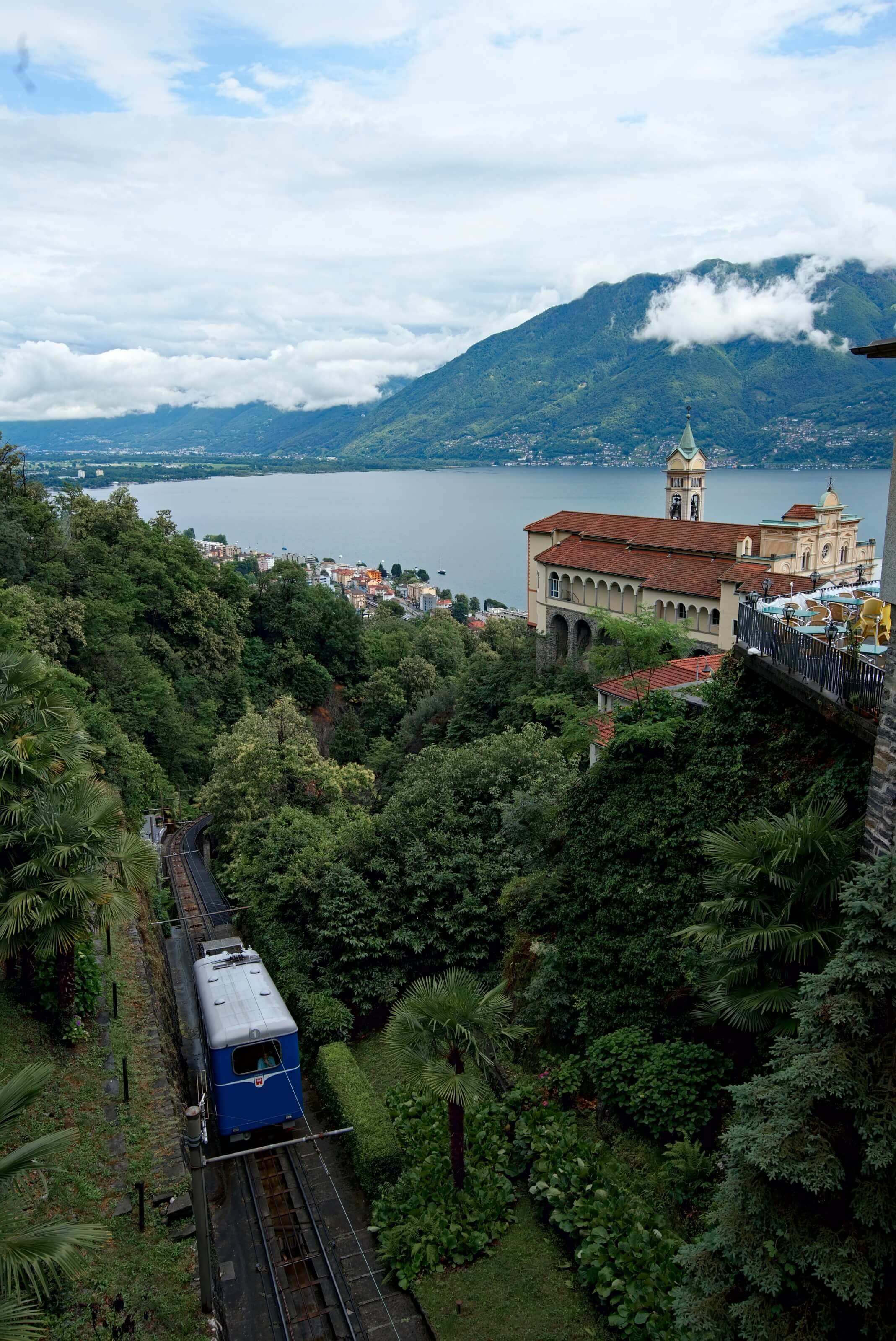 Monte Bre: a small paradise above Lugano
On the 3rd and last day we woke up under a bright sun! Finally!!!!! And after having had our breakfast on the hotel terrace and prepared our things it was already time to get back on the road.
But the weather was simply too good for us to go straight back to the Valais. So we made a "small" detour to the city of Lugano and hiked to the top of Monte Bre. Monte Bre is one of the best places to come and admire the view of Lake Lugano.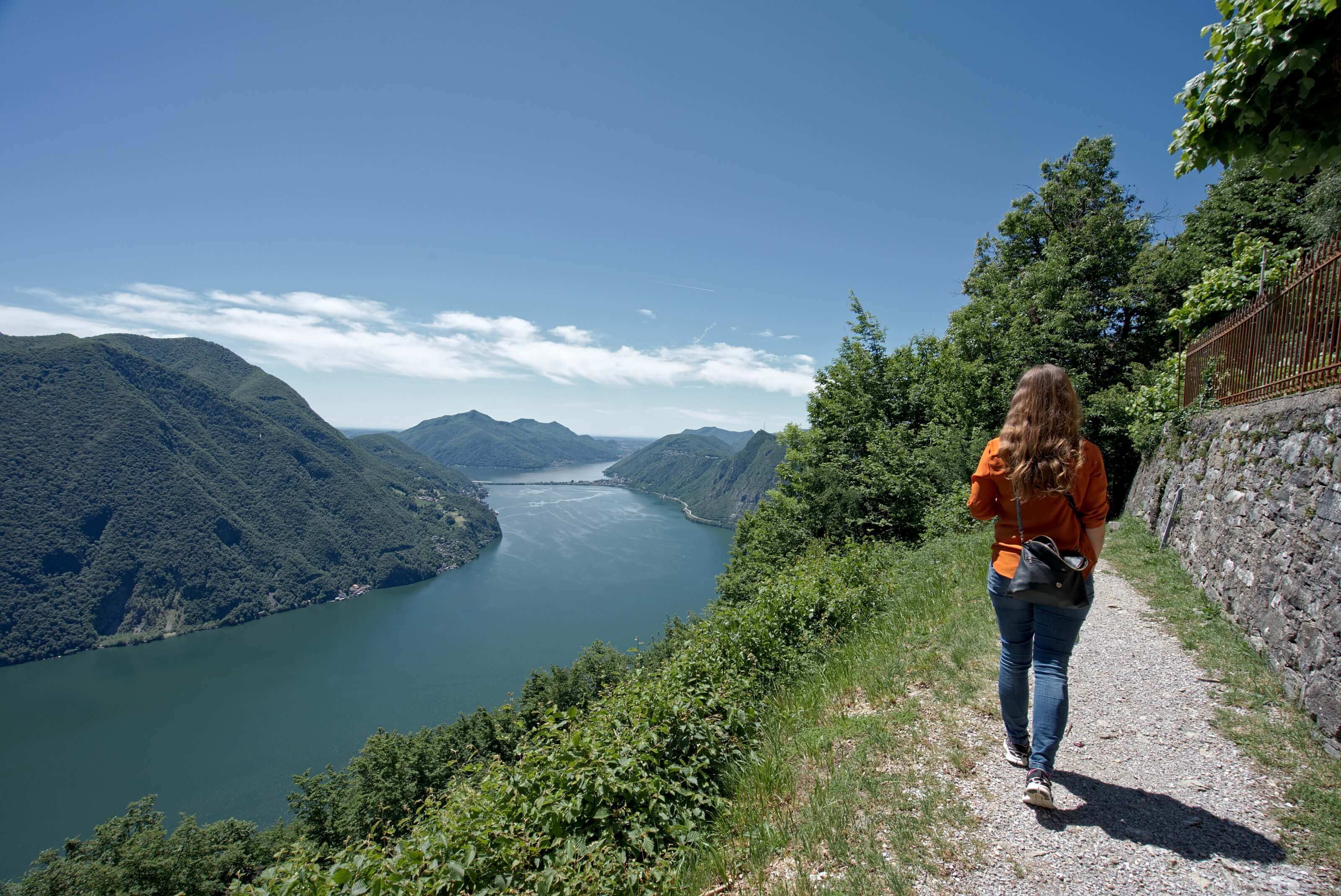 Ok, to tell you the truth, it's not the only viewpoint, the other one which is also very well known is the San Salvatore which is in a way our national mini sugarloaf mountain…
If we chose Monte Bre over Salvatore it is because we had relatively little time and, let's admit it, because we did not want to spend a fortune to admire the view. To climb Monte Bre and Salvatore there are funiculars, but as often in Switzerland these means of transport, certainly magnificent, are not really cheap. It is necessary to count 25CHF per round trip and per person to admire the view.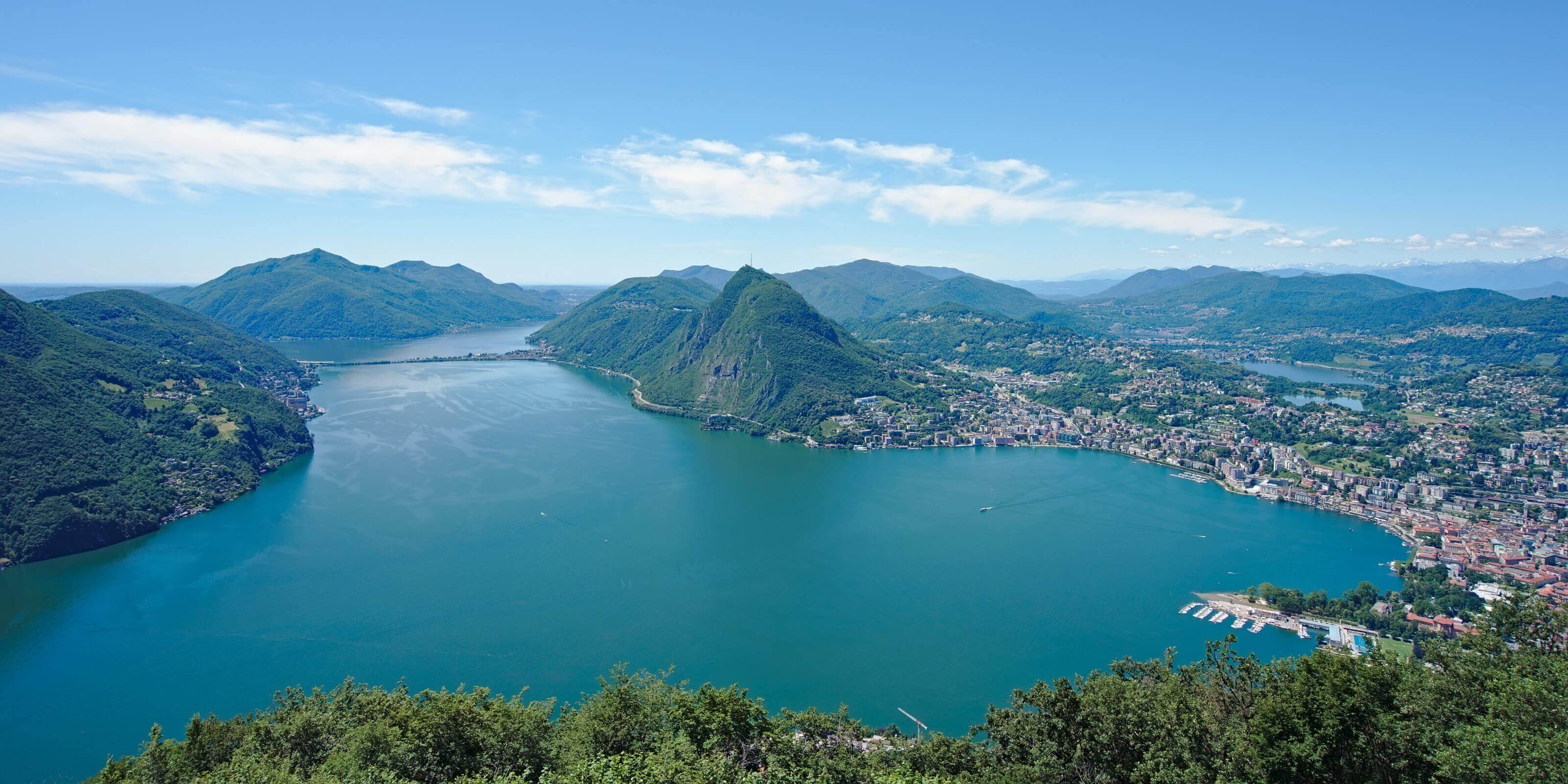 In short, Monte Bre is the only one where you can also access by car and therefore free of charge. The road leading to the small village of Monte Bre is winding and very narrow in places, but believe us, it is well worth it to get 2-3 frights on the way (especially when you have to cross a post bus) to see the view!
Once in the village, it takes about fifteen minutes to walk to reach the summit itself. But don't worry, it certainly climbs a little, but the landscape along the way very quickly make us forget the stairs… 🙂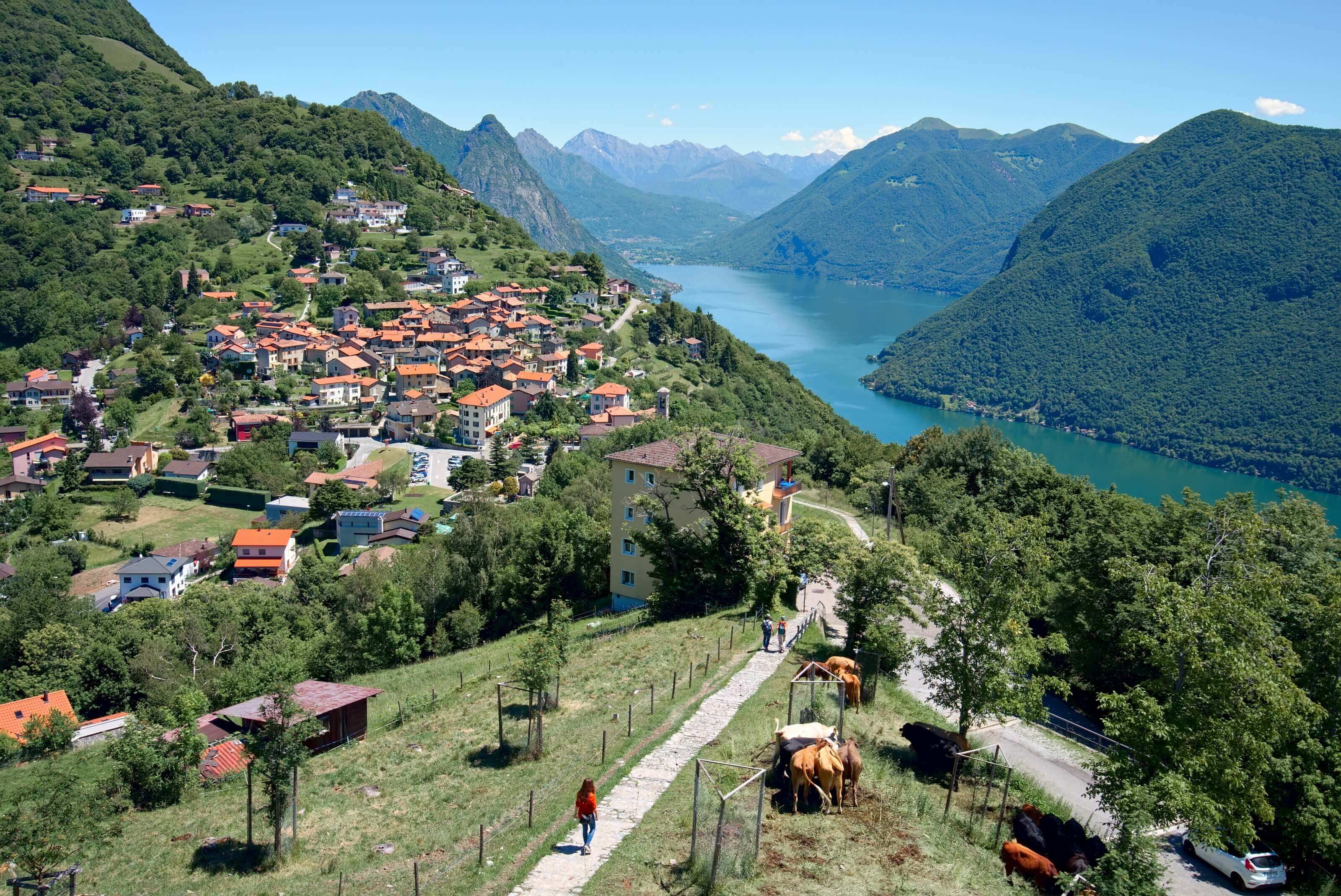 Once at the top, the best view is clearly from the panoramic restaurant, which is slightly below the top (on the other side of the mountain if you arrive from the village).
Switzerland by train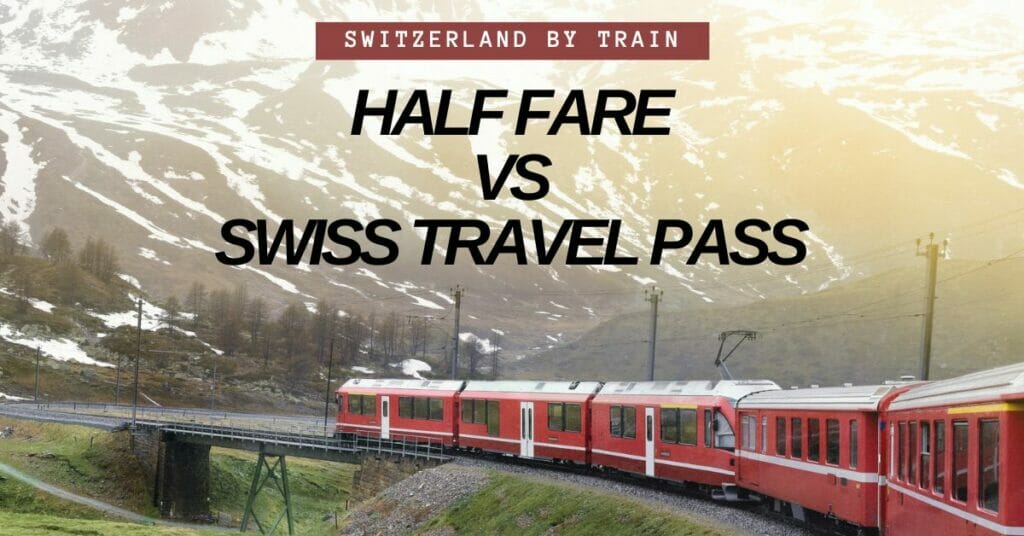 Are you planning to visit Switzerland by train? We advise you to read our article which will allow you to compare the Swiss travel pass with the half-fare card. The article also includes 3 examples of train routes through Switzerland and the associated budget depending on the ticket you take.
If you prefer not to take a travel pass, but rather take advantage of the Supersaver tickets and day passes, then go to this post for all the details.
Where to stay in Locarno or Ascona?
We came to Ticino by car and frankly if you are as well travelling with a car, we strongly recommend that you take a little height to enjoy the view! We stayed at the DellaValle Hotel in Brione s/Minusio. Let's say it right away, if we hadn't received a gift box for our wedding, we would probably not have chosen a 3* hotel, we might have tried camping instead… 🙂
But in the end, this little getaway did us a lot of good, and the hotel was really very nice! Our favorite is for sure the magnificent terrace with a view over the lake. (I mean… there is dclearly worth place to get a glass of wine at sunset!)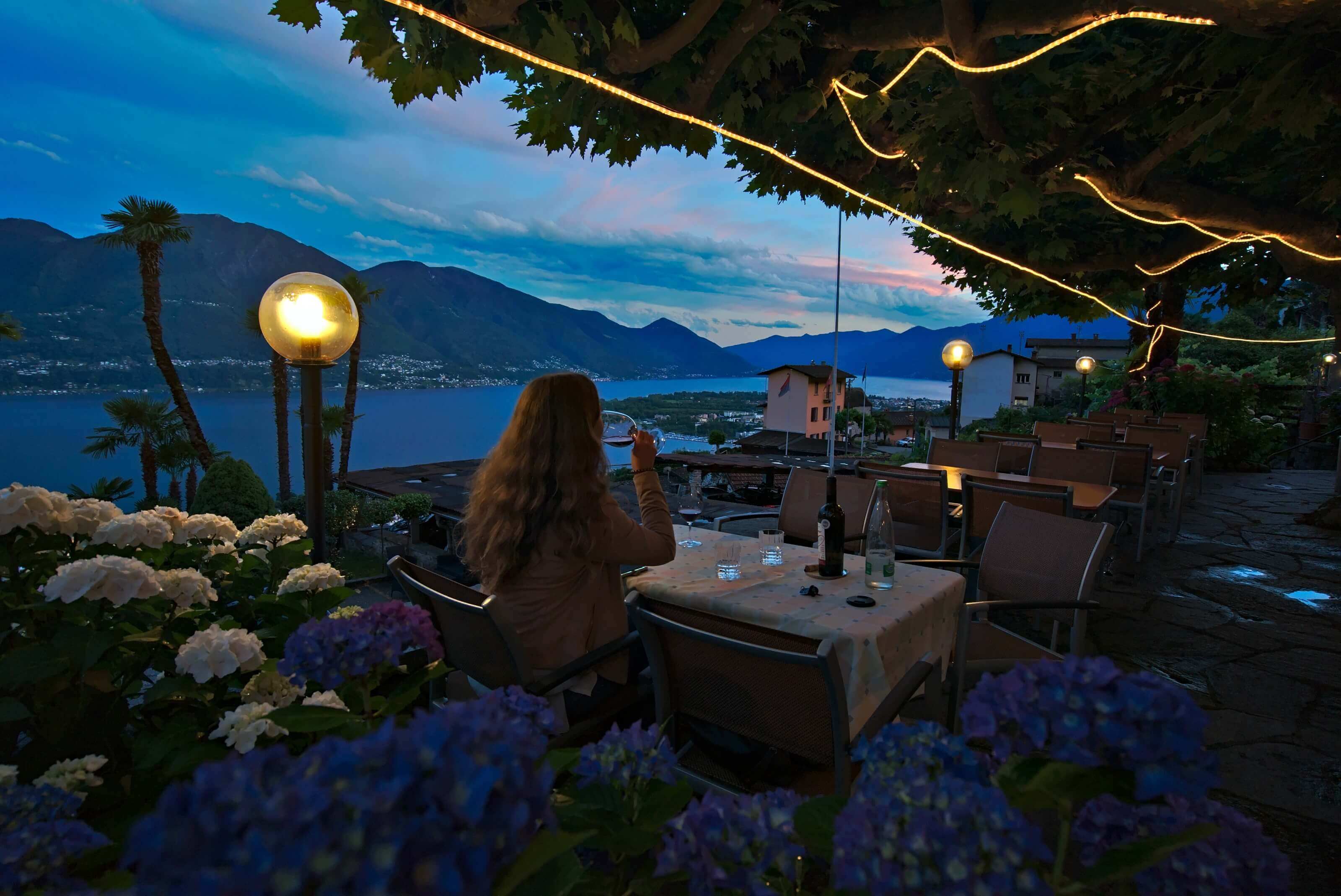 Then we don't hide the fact that even if buses arrive here you will probably be better off staying in Locarno or Ascona if you don't have a car. We went through both, and if we had to choose one, we had a clear preference for Ascona which is certainly more touristic but also cuter.
To see all available hotels and apartments available in the area for your selected dates you can also take a look at the map below. Use the filters and zoom in to refine your search:

When gift boxes are not always the poisoned gift
Okay, I'm a little harsh, especially for those who gave us ours at our wedding…. But it's true, that in general, these gift boxeskind of suck. I can't tell you the number we've already left expire because we've forgotten about them (yes, yes, we're clearly the ones responsible, but still).
But for this time, I must admit that we were pleasantly surprised by smartbox. (Let's be clear right away, we're advertising for them, it's just our opinion on these boxes after using one).
In fact, it seems to me that things have been moving quite a bit in recent years. To be honest, our last box set in our possession was 5-6 years ago. At that time we had trouble finding a hotel that would accept our reservation (well yes, when we called they had availabilities but when we said it was for a gift box set the discussion changed tone). In short, this time everything went perfectly well in the hotel. Did we get lucky? We will tell you soon, because we have 2 more in stock (yes yes, getting maried is a smartbox magnet) 🙂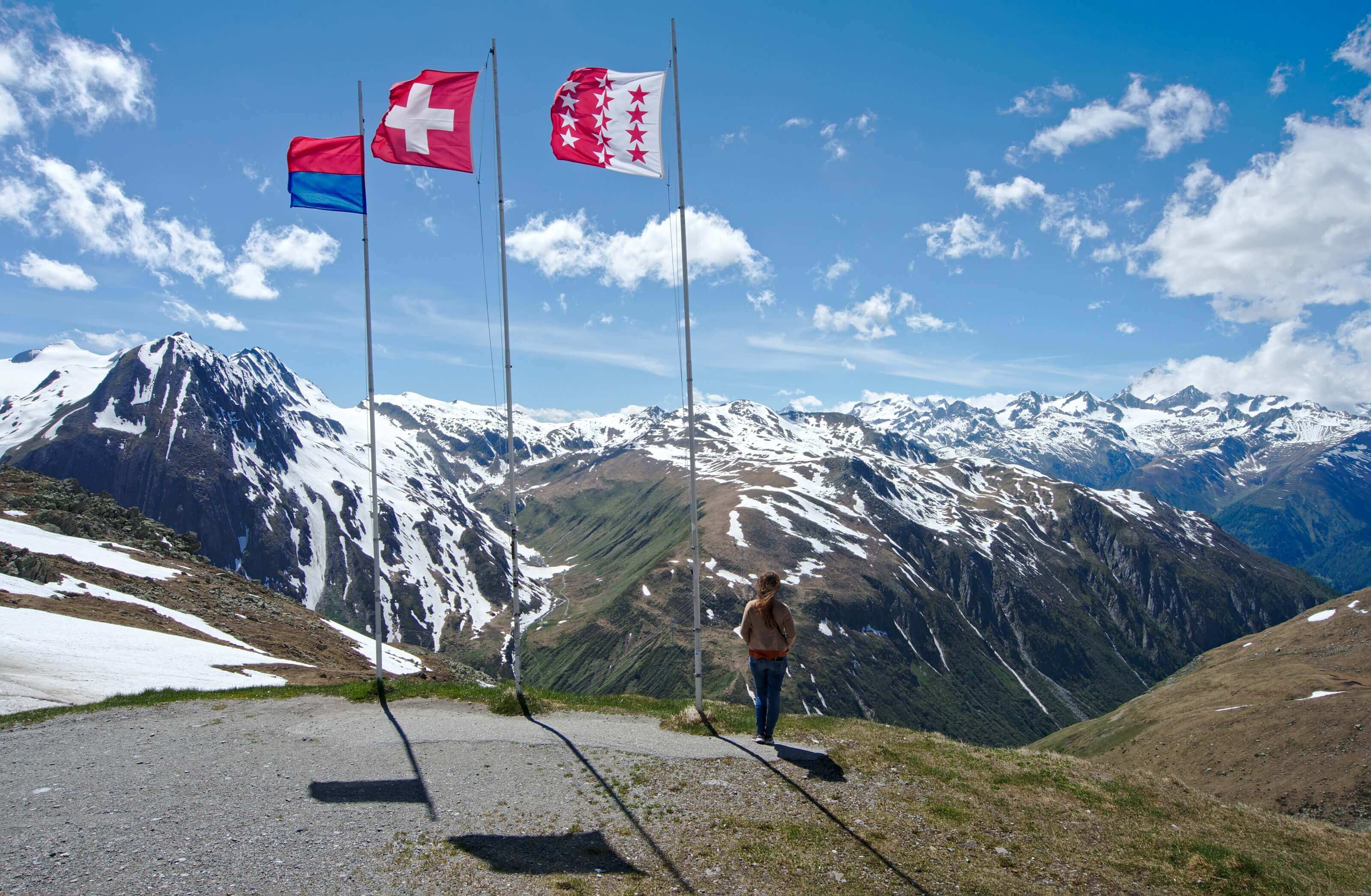 Moreover, for the 3 days we spent I will go even further by saying that the gift box is a real good deal. In the hotel where we were (DellaValle) the night normally costs between 150CHF and 200CHF for the cheapest rooms overlooking the garden (the one we had with the smartbox). However, the smartbox costs 200 CHF and allows you to spend 2 nights (breakfast included). In short if you plan a short weekend it may be worth taking a look if a smartbox offers a good deal on the hotel (even if with a box set you never have a 100% guarantee to be accepted on the desired dates… so it is best if you are flexible in terms of dates)
For your information: we had made our reservation roughly 2 weeks before, and we made sure not to be booking during holidays or weekends.
Our (too short) adventures in Ticino
Let's say it right away, 3 days to visit Ticino is short… too short even! Especially for us who have developed the habit of travelling slowly and at our own pace.
But this little getaway did us a lot of good and now we are pretty sure: we'll come back to see the rest of Ticino very soon. Benoit is already talking to me about doing the hike from Locarno to Airolo through the Verdazsca Valley for our next getaway. At the same time, if this summer we finish our via Alpina it is not these 85km that should scare me for next summer. 😉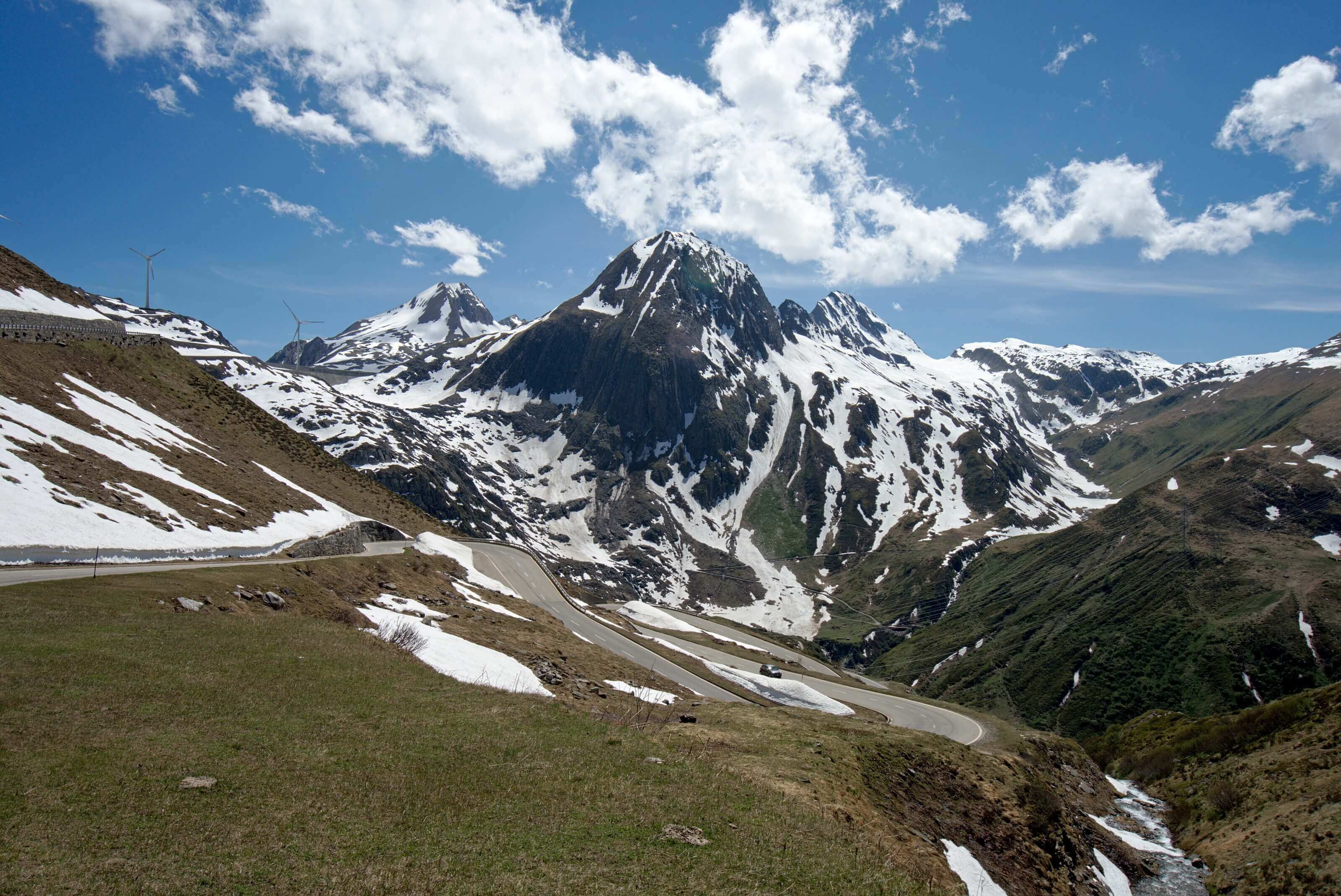 NB: This article contains affiliate links. By using our links you will obviously not pay a penny more, but it will help us to keep this site alive. Thank you:)