If you have come this far (and read all the previous chapters of course 😉 ), you now know almost all the important things to prepare your trip around the world and embark on the adventure of a lifetime.
In this last chapter, we have created for you a checklist or recapitulation schedule that organizes all the important steps of your rtw trip preparations starting 1 year before your departure date until D-day (After all this, you will really have no more excuses not to go backpacking around the world 😉 ).
Chapter 8: Table of content
When we start the preparations we sometimes have the impression that we are faced with a huge amount of paperwork… Sometimes we wonder if we're going to make it, if we don't to just leave without having to worry about the administration… But I guarantee you, with a little planning everything becomes easier right away!
We do not promise that this list is 100% complete, but it should contain the essential information… If you find that something is missing you can of course write us a short email or leave a comment at the end of the article and we will update it as we go along…
Fix a departure date!
As explained in Chapter 1, if you can set a departure date, it will help you to make your travel plan a reality. This is the best way to embark on this great adventure and get the round-the-world preparation machine up and running.
1 year before the start of your round the world trip
Start planning your itinerary and establish a budget per country and a total budget.
Let yourself dream and keep some flexibility, planning is good, but not too much! 🙂 You will see, the next 6 months you will be in sponge mode, you will start strolling around on blogs, writing down ideas but it is also the moment when your trip will start to take on a more concrete dimension!
And to inspire you a little more, we leave you the world map of all our blog articles below 😉


Start saving for your round the world trip (we were giving you some of our tips for saving around here)
If you decide to take a sabbatical leave, now is the time to start checking the conditions and deadlines in your company.
Tell your family and friends about your travel plan… and don't let yourself be frightened by certain reactions from your loved ones 😉

We are always ready for a drink!

Participate in travel events close to your place. You will see it is a great way to get inspired and meet other travelers or future backpackers.
The dream has now become a project, congratulations!
9 months before the start of your round the world trip
Ask for quotes for your flight tickets. Whether with an agency or an alliance, start doing your research. Refer to this chapter of our ebook for more details.
Make an appointment with your doctor for advice on vaccinations. Detail your itinerary and start preparing a vaccination plan. It is important to start this step early, as some vaccines cannot be given at the same time, and vaccines tend to weaken your immune system, the more time you take and distribute the injections, the less likely you are to have a reaction. For more details, check out our article about travel vaccinations.
If you are thinking of going to a country where you do not speak the language, this is the right time to start language courses. Whether in a school or directly online at home, acquiring a basic vocabulary will help you to get by in the first place! On our side, we use the Mosalingua app (20% discount with this link) which allows us to learn easily even if we have just 5 minutes, directly from our smartphone.
6 months before the start of your round the world trip
Buy your round-the-world flight tickets if you have received a good quote (see 1st very big expense of your round-the-world trip)
Announce your departure to your boss (if you have one). Whether you want to take a sabbatical leave or leave your position, 6 months before departure is usually a good time to do so (unless you are in bad terms with your company… then you can wait until the last moment 😉 ).
Start the process of selling/renting your home.
It's time to start selling/renting your personal belongings that you no longer need (car, furniture, books, old things you no longer use etc…) A good way to sort out before moving out but also a great way to complete your budget!
Choose an optimal banking solution for your trip to avoid paying unnecessary withdrawal fees anywhere in the world and to limit management fees. The best option we know for travelers at the moment is to open an account at the N26 mobile bank (the N26 you option is the most attractive with free withdrawals worldwide).
3 months before the start of your round the world trip
Book your various medical appointments for a final pre-departure check-up: Dentist, dental hygienist, gynecologist, general practitioner, ophthalmologist, etc… It's always better to leave after having done your checkups… it's better not bothering with that during the round the world trip.
Subscribe to a travel insurance! Ask for quotes, compare offers and contact your current insurance company to find out what to do next. We let you take a look at our guide to choose the best backpacker insurance or directly at our comparative table of the best travel insurance for a rtw trip.

our backpacks after 6 years of travels

Start thinking about your backpack, the clothes you want to take with you etc…. we have dedicated an entire chapter of this e-book to the equipment to take with you on a round the world trip that should help you about that.

Remember to cancel your subscriptions on time: Telephone, internet, TV, unnecessary insurance, public transport, gym, etc… Most subscriptions have a 3-month notice period and there are no small savings
Check the validity of your passport and the number of empty pages available. If necessary, you might have to order a new one!
Apply for the visas of the first country you will visit during your round-the-world trip (if necessary). In our case, we chose China as our first country because it was easier to obtain a 3-month visa from Switzerland than on the way.
Also check the visa requirements of the other countries you wish to visit.
If you keep your tax residence in your home country during your trip, make sure you can pay your taxes online during your round the world trip.
Find a place to store your belongings (after selling everything you no longer need 😉 ) during the trip: storage, with family or friends, it's up to you!
Apply for an International Driver's Licence: This licence may be required depending on the country in which you are travelling to rent a vehicle.
A world tour is also a great opportunity to start learning about photography to bring back great pictures from your trip. But it is not easy to choose a camera from the multitude of models that exist on the market today. But you're lucky, since photography is Benoit's hobby, he has prepared an ultra-complete guide to help you find the right camera for your trip around the world.

1 month before the start of your round the world trip
Usually it's time to move out (good luck! it's just a bad time to spend 😉 )
Consider forwarding your mail to a trusted person. You could also use an online mailbox service (they receive and scan your mail to send it to you by e-mail).
Start preparing your first aid kit, go to your doctor or pharmacist for some advice.
Start preparing your travel blog, and share the address with your friends and family! If you have a WordPress blog, don't forget to use Benoit's great plugin to put awesome google maps with all your articles on your blog.
And if you're too lazy to run a blog, you could simply make a facebook page or collect your family's email addresses to send them newsletters during the trip.

2 weeks before the start of your round the world trip
Collect all the addresses and phone numbers you will need in a small notebook or send you the list by email: Addresses of your relatives, emergency numbers, number to stop on your credit card, travel insurance number, bank logins or other etc…. A good solution is also to create a word document with all this information and store it in a dropbox to have access to it at any time if necessary during the trip.
Make a power of attorney (bank) to one of your relatives for the duration of your trip. You never know what may happen and you may need someone to do an bank transfer for you during your trip.
Start planning your farewell party 😉
1 week before the start of your round the world trip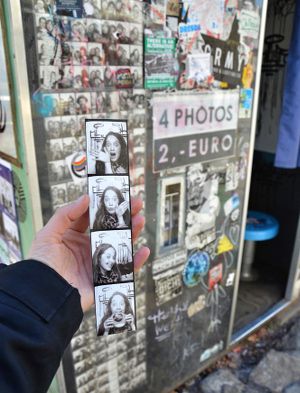 Start packing and make last-minute purchases (I guarantee there will be some) ;). And please don't do as we did… try to fill and carry your backpack before the D-day (and don't worry too much if you find it heavy… you'll get used to it 🙂 )
Make a copy of all your important documents: Passport, vaccination booklet, driving license. Keep a copy on you, and send yourself an electronic version on your email.
Subscribe to a VPN to be able to surf the web safely and peacefully all around the world. We use expressVPN which is the best VPN service in our opinion. More details about VPN here
Go take a series of passport photos: useful for the different visas you will do along the way
Print insurance certificates: they will also be required for some visas.
Eat all the things you like you won't find during your trip 🙂
1 day before the start of your round the world trip
Finish putting everything in your bag. A little walk around the corner to see how you can manage the weight of your bag may not be a bad idea… And if your neighbours think you're crazy, give them the address of your blog, it'll make them dream a little! 🙂
Enjoy a last evening with your relatives and friends!
Oh and STAY RELAXED! The adventure that awaits you is wonderful, don't waste time worrying about it, it's not worth it!
The final word
Did you like this guide ?
We hope that this little gift has been useful to you! If you liked it and want to thank us then you can come and follow us on our Facebook/instagram pages or share this guide with your friends!
In any case, if you have decided to leave, we can only congratulate you, it is definitely the most beautiful experience in the world!
We wish you all the best for your coming adventures !
And if you want to contact us, don't hesitate to write us an e-mail with your feedback about this guide or just to say hello ; we really love to read all your messages!
And if you have remarks that could be useful to other backpackers, do not hesitate to comment the concerned pages directly on the blog, we will try to maintain this guide up to date thanks to your feedback!
Our email : contact[at]novo-monde.com
Cheers,
Fabienne & Benoit

Download our free pdf E-book!
Subscribe to our Newsletter and get a free E-book with more than 100 pages to help you prepare your trip around the world