After discovering the peaceful yet difficult life of ethnic minorities in the countryside of Mai Chau, and then slaloming between scooters to visit Hanoi, we headed to Ninh Binh and more precisely to the village of Tam Coc, in the heart of Halong Bay on land.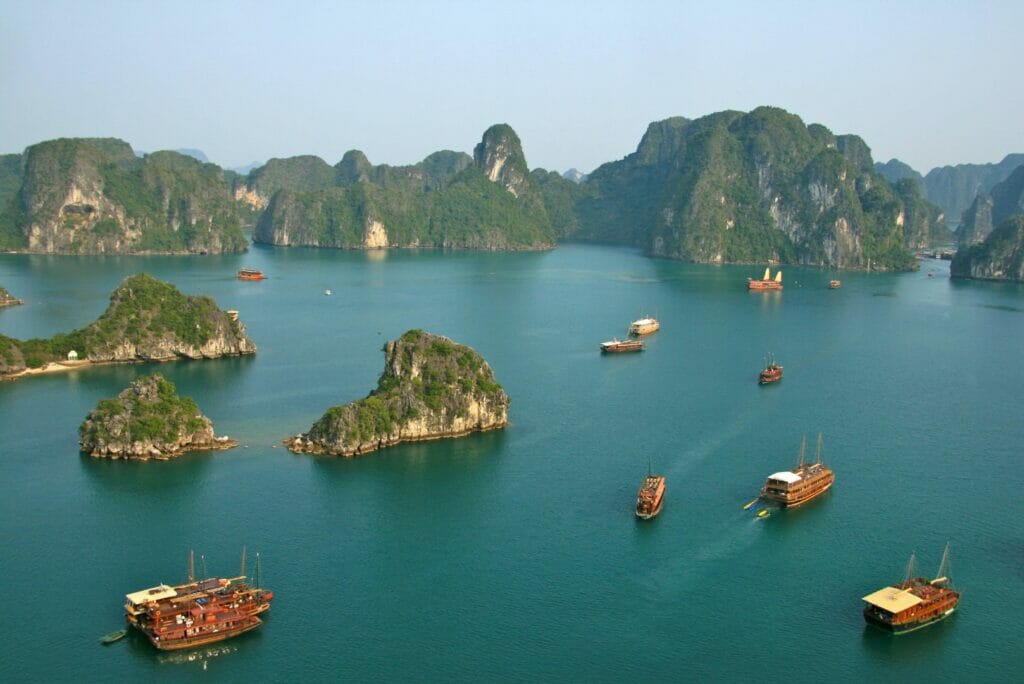 Halong Bay? You know, these strange rock formations that rise from the water in a sumptuous setting! It is undoubtedly the main tourist attraction of Vietnam (more than 10 million visitors annually!). Well, Halong Bay on land is the same karst relief but in the middle of rivers and rice fields, creating landscapes similar to those we had admired around Guilin in China. As it was more or less on the way to the maritime Halong Bay, we decided to go there for a 2 days tour… Ready to discover this Vietnamese must-see? Let's go!
Update 2022
We took this trip in 2014, but the article was completely revised and updated in November 2022. If you see any price changes or have additional information that might be relevant, please feel free to leave us a comment!
From Hanoi to Tam Coc
Once again, we take a bus to go to the small village of Tam Coc, 2 hours south of the Vietnamese capital. If you opt for the local bus, you will have to go to the Giap Bat bus station, south of Hanoi to get to Ninh Binh city. From there, simply take a motorcycle cab to reach Tam Coc village, 8 km away. A bus ticket costs around 80,000 dongs. You can also take a train from Hanoi for 215 000 dongs to Ninh Binh or take a minibus/van that takes you directly to the center of Tam Coc for 270 000 dongs.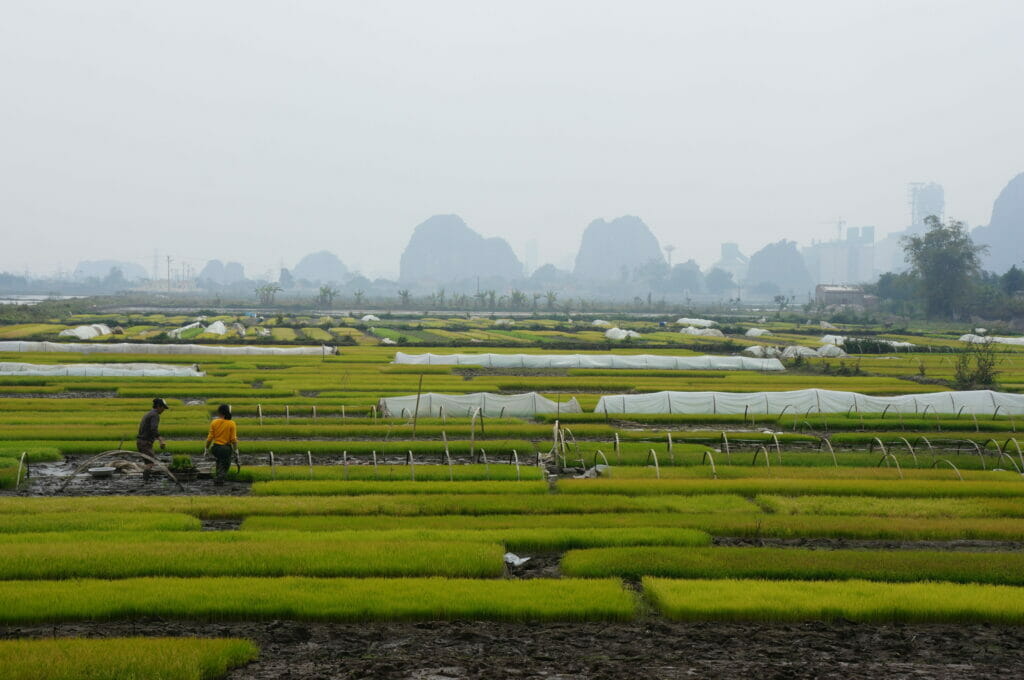 Hotel in Tam Coc
Once in Tam Coc, we recommend two addresses: the hotel Chez Loan, located 1 km from the village (it is quite feasible on foot), and the Hung Anh Homestay.
We stayed at Loan's and the incredible story of the owner particularly touched us. After growing up in the area working in the rice fields and learning embroidery, fishing, and singing, Loan got married and had her first child at 21. To make ends meet, she also works as a rower for tourists and often takes her son with her because she has no one to look after him.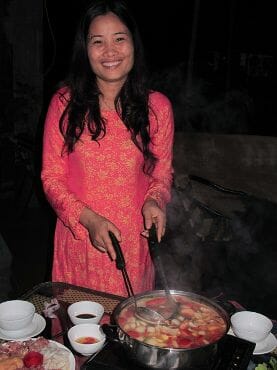 One day, she takes a French family in her boat to show them Halong Bay on land… The family is touched by Loan's situation and decides, once back in France, to help her a little financially. So Loan first bought a piece of land in Tam Coc to open a small restaurant that would later become a small guesthouse. She also decided to go to Hanoi to learn French as a sign of thanks to the family that helped her.
Loan is a very welcoming woman and her cooking is delicious. She helped us to visit the area and even got up at 5 am the day we left to offer us a rice cake! In short, she is a great little lady who will make your stay unforgettable.
At the time, it was a very small guesthouse and today it has become a famous hotel (especially for French speakers). It costs about 31 euros per night including bike rental.
If you are looking for a good hotel for a tighter budget, we recommend the Hung Anh Homestay, in the center of Tam Coc. The price of a double room is 17 euros and the bike or scooter rental is not expensive! And it's a homestay!
This article contains affiliate links to partner sites. When you use our links to book accommodation, a car, or an activity, you don't pay anything extra, but we get a small commission. This helps us to offer you free, independent, and ad-free content. Thank you for your support!
Tour of Halong bay on land by bike
After listening to Loan's good recommendations and pocketing the map she gave us, we got on our bikes to discover the surroundings. What a pleasure to ride quietly in such scenery!
We reach the small Thai Vi temple, isolated a few kilometers from the village of Tam Coc. We are all alone and appreciate the serenity that emerges from this place. After having taken our time to visit the temple (the entrance is free), we take back the bikes until we reach the edge of the river.
We take malicious pleasure to observe the boats of tourists who follow in the middle of rice fields and hills. Loan had warned us, there is a lot of people who make the tour by boat at the beginning of Tam Coc. When a bus drops off tourists, it is about thirty boats that follow each other on the river… So imagine if several buses disembark at the same time!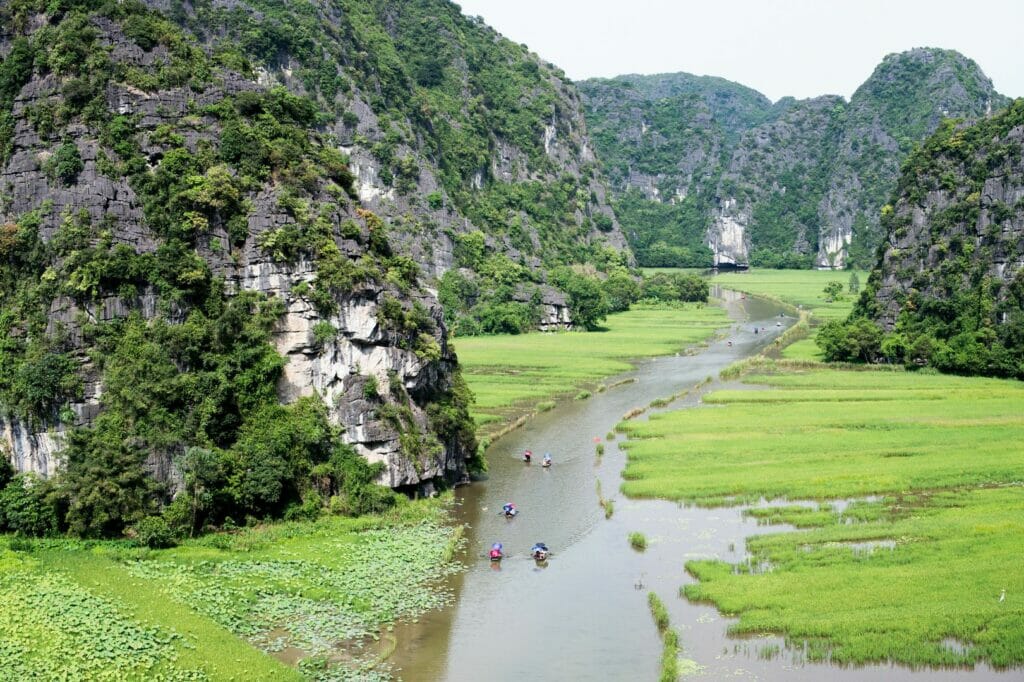 Climbing on Hang Mua
From the edge of the river, we can see a small temple at the top of a karstic relief. We imagine then that the sight must be brilliant since there top and we put ourselves in search of the way which leads to the top. In fact, it is necessary to go up along the river and take the street which leads to the Mua Cave, that is to say, a street on the left just at the exit of Tam Coc.
You will quickly spot the huge white staircase that leads to the top of Hang Mua. This is the one you have to climb! There are 500 steps to climb, but nothing insurmountable. To get to the foot of the staircase, you will then take a really charming paved path! The entrance fee is 100 000 dongs per person but it's worth it! If you are on a bike, you will be asked for 3000 dongs each so that someone can keep them but it seems that it is illegal…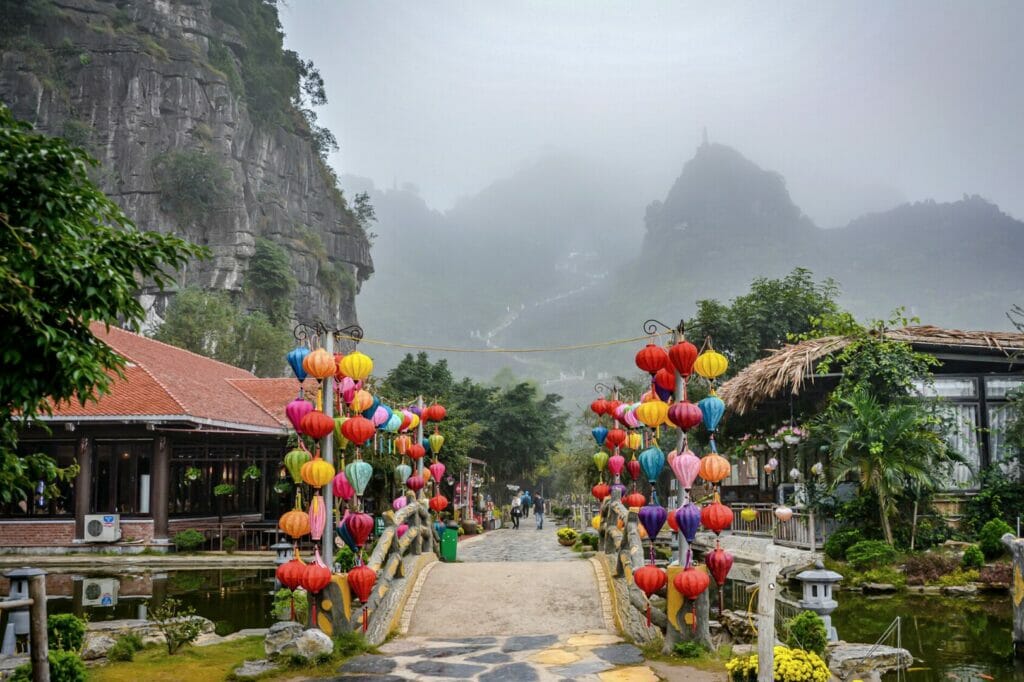 Once at the top, there is no need to say: the view at the top is clearly worth the little effort! We overlook the whole area and if the weather is good, we can see for miles around. There is also a magnificent dragon statue that runs along the edge of the relief. In any case, if you are in the area do not miss this viewpoint at the top of Hang Mua!
The Bich Dong Pagoda
We passed by but the Bich Dong pagoda is to be visited. It consists of 3 pagodas on 3 levels with a nice view! In addition, the entrance is free. You can read more about this temple in Cassandra's article.
Visit Halong Bay by boat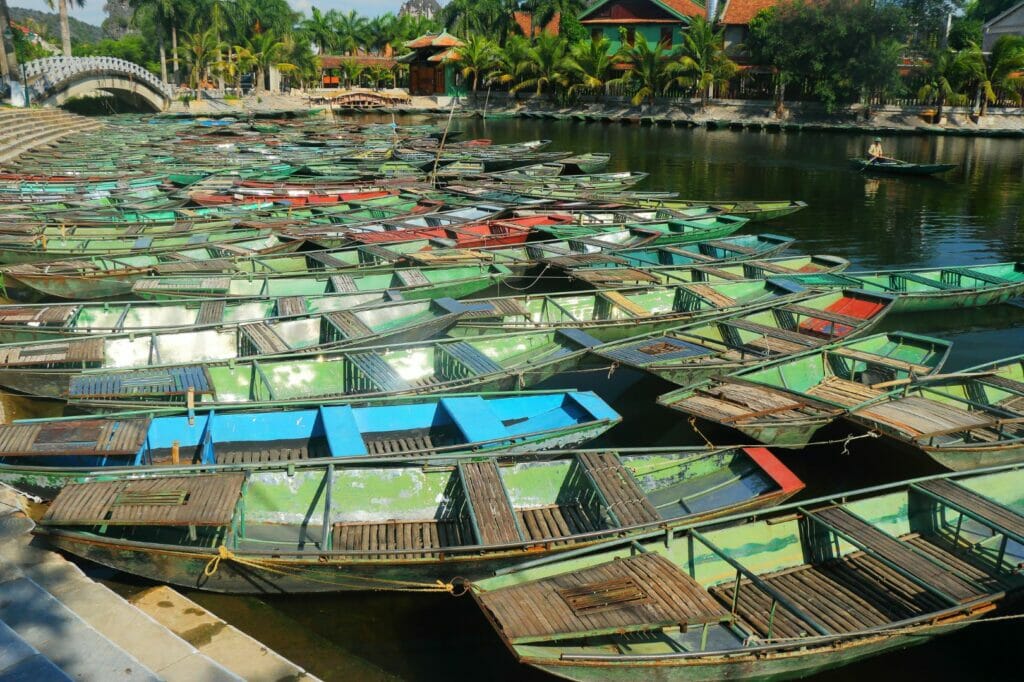 What brings the majority of the tourists to the village of Tam Coc, is the possibility of traversing by boat the various water courses which furrow the karstic reliefs. As you can imagine, it is quite nice to sit in a boat and cross rice fields, caves, and other rock formations without making an effort. On the other hand, it's less fun if you get stuck in a traffic jam of 30 boats with Chinese people screaming in your ears 😉 (we love Chinese tourists apart from that…).
The piers of Tam Coc
Among all the piers in Tam Coc and the surrounding area, there are 4 navigable boat routes that all last between 2 and 4 hours:
Tam Coc: it is the most touristic so beware of the crowd (don't hesitate to go along the lake to negotiate directly with the oarswomen, it will be cheaper than at the ticket office of the pier where the price is 390 000 dongs for 2!);
Thung Nang: located on the road leading to Bich Dong temple, it is a little less touristic than Tam Coc (around 180 000 dongs for 2);
Linh Coc: it is the quietest one, it is located just in front of the small road that leads to the Tam Coc Garden (one of the most luxurious hotels in the area);
Trang An: more touristic and less authentic, 8 km north of Tam Coc, a ticket costs 150 000 dongs per person for 3 hours.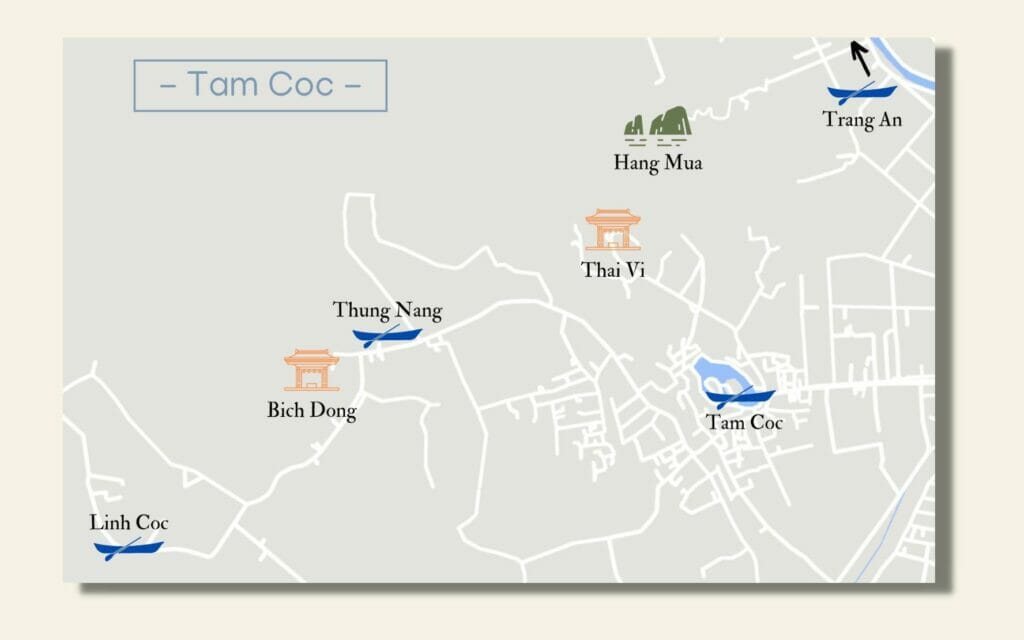 Whatever your choice, we advise you to do it early in the morning or to wait until mid-afternoon to do your tour if you want to avoid the crowd. Indeed, most of the visitors take a day trip to Halong Bay on land from Hanoi, so the buses all arrive between 10 a.m. and noon.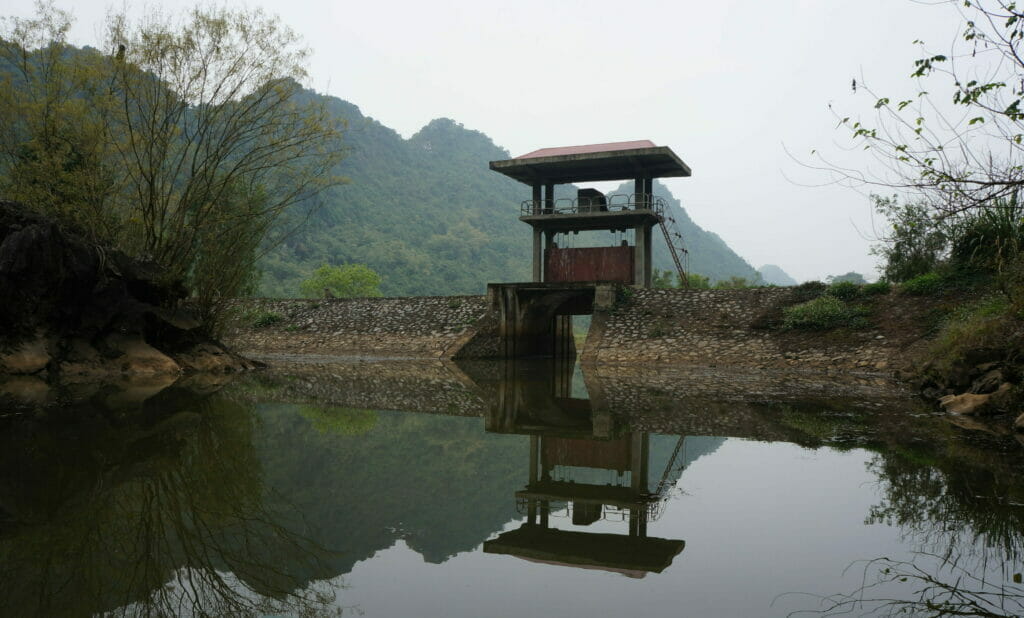 Note: you will come across quite a few signs where it says "Ben Thuyen", it means pier 😉.
Following once again Loan's wise advice, we cycled about 10 kilometers early in the morning to reach Linh Coc; a decision we didn't regret!
Tours by boat
If you are in Hanoi and you have little time, taking a tour can clearly be considered. You can find several examples of these tours here. Tours usually cost between 25 and 50 euros per person and include transportation from Hanoi, a meal, and a boat ride. However, if you have more time we clearly recommend you spend 1-2 nights here independently. Sleeping on the spot you will have more opportunities to get out of the "classic" tours and avoid the crowds.
The pier of Linh Coc
We arrived at the small pier of Linh Coc around 8 am, and we were simply alone. There was just a little grandmother who was waiting in her boat for the first tourists of the day, that is to say, us! She was very happy to see us arrive on our bikes.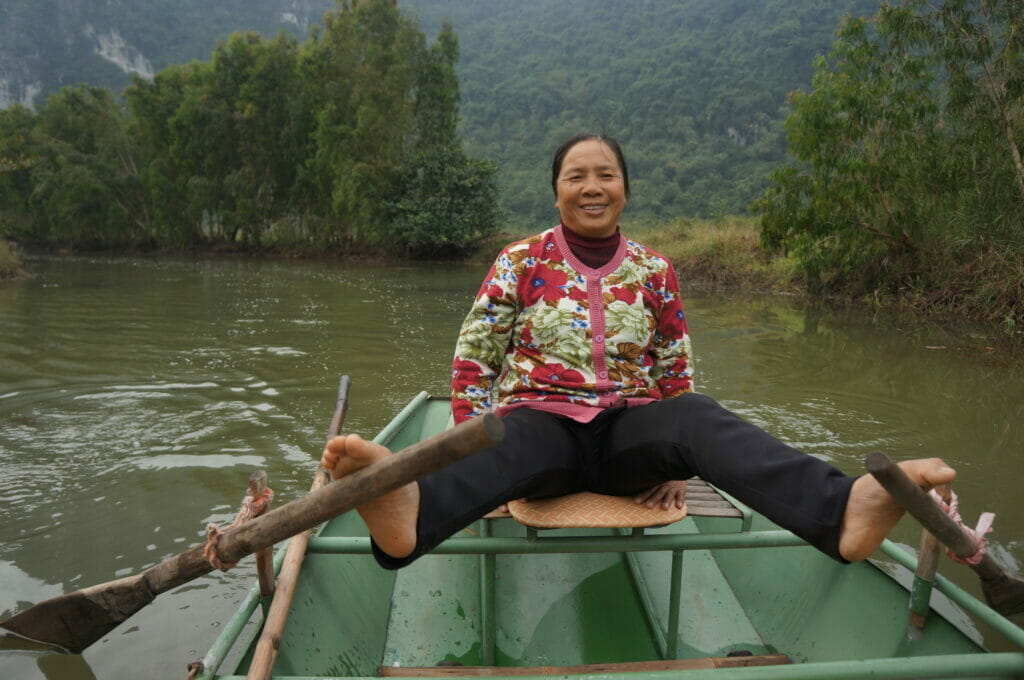 After paying the price of 300 000 dongs (with hindsight, we could/should have negotiated), we climb into the small boat for a tour that will last more than 3 hours. Our competition rower, although not speak a word of English, was very friendly and alternated a style of rowing with the hand or with the feet… No, it is not a joke! The locals row with their feet and are just as agile!
It must be said that they have to alternate well because it tires to row such long distances! With Fabienne, we were even a little ashamed not to help our little granny although she was surely more used to it than us!
The tour is very pleasant, and peaceful. We alternate the rice fields, the caves (we crossed 3 of them), and the karstic reliefs. Once at the end of the tour, you can even visit a more important cave for 100 000 dongs. Don't hesitate a second and visit because it is worth it!
Once we entered the cave, we took a new boat and went more than a kilometer inside. Even if the lighting was kitschy (it seems to be the norm in Vietnam), it's still quite something to navigate 1 km in a cave that is barely 2 m high… Not sure if this expedition would be open to the public back home!
Our review of Halong Bay on land
As you can see, even if Halong Bay is less known than its maritime namesake, it is clearly worth a detour of a few days for any trip to Vietnam! If you don't take part in an organized tour, you can easily avoid the crowds and enjoy these splendid karst landscapes by bike and by boat. And don't forget to climb the stairs to reach the temple, the view is just incredible!
On that note, we'll see you on Cat Ba Island, to discover the Halong Bay maritime, just to compare the landscapes 😉.
And you, have you already been to Tam Coc village and Halong Bay?
Pin it