After a few days to discover the surprising city of Hanoi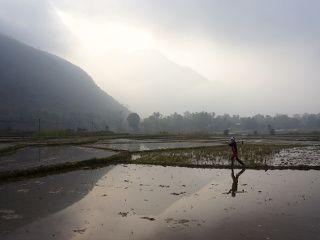 (we will tell you more about it) we set off for the Mai Chau region.
We started travelling in Vietnam from the south, more precisely in the the Mekong Delta area.
You are getting to know us, and you will have understood that group excursions are not our thing, so it is with a guide and a private driver that we set off for this magnificent region.
North Vietnam is freezing!
Contrary to what many people think, Vietnam is not a country where the weather is nice and hot all year round, or at least not in the whole country! It's freezing cold in the north sometimes!
So I see you coming, you're going to tell me that in Vietnam the temperature rarely drops below 5 degrees Celsius. So certainly I grant you, it's not the same temperatures we have in Switzerland. But on the other hand, 5 degrees is quite chilly when you sleep in a room without any insulation, with 10 centimetre holes between the boards and no heating…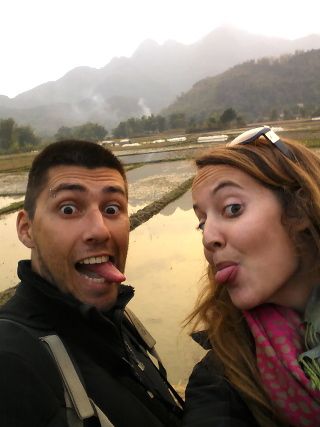 But don't worry, we're not complaining, far from it!
We are well equipped. I say that mainly for those who would like to come and visit northern Vietnam in winter.
How many tourists did we meet who were walking around in shorts by 10 degrees just because they hadn't thought about the cold? Haha a lot!!!!!
In short, we have got used to living in "onion" mode, understand by that, many layers that we put on or take off depending on the temperature of the moment.
Mai Chau area, Vietnam
So it was in Michelin Man mode that we set off for the Mai Chau area. And after 4 hours of driving with our super private car from Hanoi we arrived in the heart of this beautiful region.

Mai Chau is located in the province of Hoa Binh, about 160km west of Hanoi. This region has experienced very strong tourism development in recent years. In many villages we see homestays growing like mushrooms.
But unlike the Yuanyang region of China, here we did not feel that tourism was taking over from agriculture.
Indeed there are tourists (but not that many), buses, homestays, souvenir sellers, but there are still many farmers who work their land to cultivate rice, bananas, sugar cane or even cabbage.
Despite the development of tourism, life in Mai Chau is still going on normally for local villagers, and that's really a good thing!
Ethnic minorities in Vietnam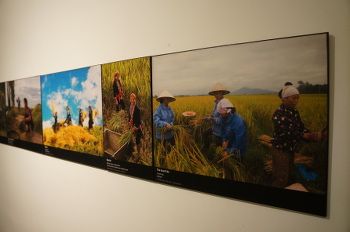 Vietnam is a huge country that is made up of many ethnic minorities across its territory.
We also took the opportunity of our visit to Hanoi to visit the city's excellent ethnography museum, but we will come back to this in a future article.
In Vietnam, most of the population (more than 85% of the population) is part of the Viets ethnic group or also called Kinh. But Vietnam also has more than 50 ethnic minorities (54 to be exact) spread out over the country.
In the Mai Chau region, most of the population belongs to the white Thai (Thai Dam) or black Thai (Thai krao) ethnic groups.
If you visit the region you will see that many women still respect most of the traditions of their culture.
For example, the wearing of a black silk skirt, which is held at the waist by a wide belt.
In addition, once married, women always wear their hair tied in a bun on the top of their heads.
But on the other hand, "holiday outfits" as they can be found on the net are generally reserved for special occasions or to please tourists…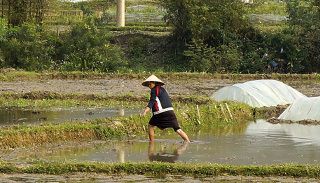 Most of the women we met wore a more "modern" version of the outfit. Understand by this, a simple black skirt with the hair pulled back. In the fields we even saw some rather original combinations of traditional skirts with an adidas sweatshirt…;)
Oh, my God, modern times!
A walk in the heart of the rice fields
During our little getaway to Mai Chau we took two walks with our guide. The first one led us to make a loop in the small villages around us. A small tour of 2 hours very nice during which we passed in the heart of the villages and were able to observe a little closer the architectural style of the region.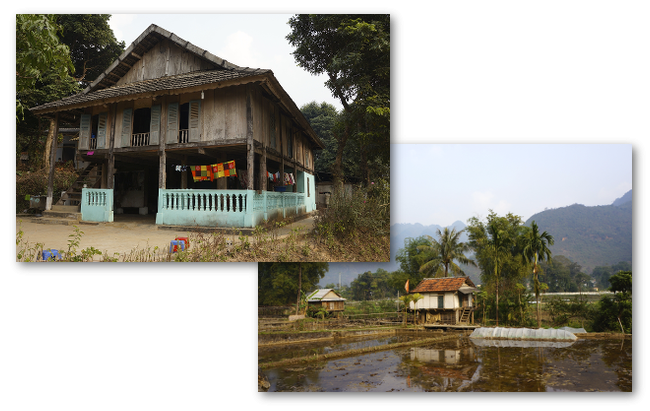 In Mai Chau, most of the houses are built of wood and bamboo and have the particularity of being built on stilts.
So according to our guide, this choice of construction is justified mainly because of the humidity of the soil. But it is also an excellent way to protect yourself from any wild animals in the area.
The next day we left by car. Our driver of the day dropped us off about 30 km from our Homestay and we then set off with Tuan, our super guide, for a 12km walk through the rice fields that took us through the villages of Van and Xam Khoe.
In short, these two walks were an excellent way for us to learn a little more about Vietnam and its minorities thanks to our guide, but also to see fabulous landscapes!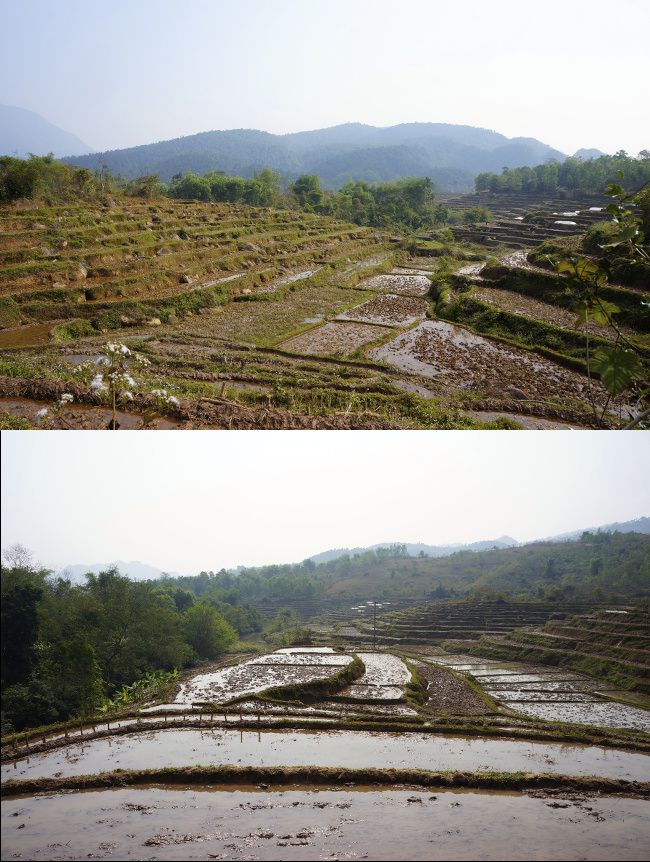 Rice cultivation in Vietnam
We also learned more about rice cultivation and honestly we were a little surprised at how complicated but above all excessively physical rice cultivation is! Before we find our beautiful white rice in our little Uncle Ben's packages, there is a titanic job hiding behind it!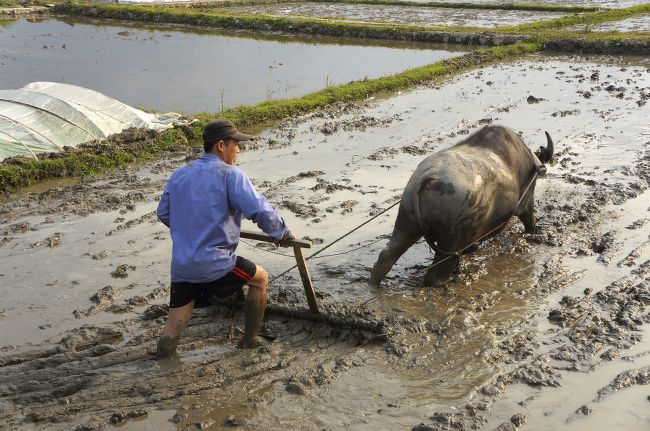 For weeks the soil is prepared, ploughed (without a machine!) and then filled with water. Once the water is in the rice fields, they continue to turn the soil with the help of buffaloes sometimes, but very often only with the strength of the thighs and biceps!
Then the rice is sown on a small part of the land and put in a greenhouse!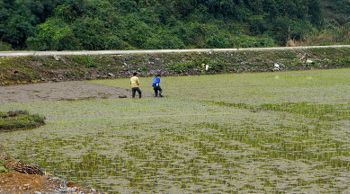 After a few days in the greenhouse, the rice will then be "transplanted" by hand over the entire plot of land! 4 months later will come the time of harvest (which is still done by hand of course)….
We suspected that growing rice was something difficult, but honestly not that difficult! Imagine that 1 square meter of land barely produces 500 grams of rice, and this twice a year at most in northern Vietnam! On the pictures, we see parcels of land of about 50m2…
Knowing that on average a Vietnamese person consumes 140kg of it per year (it is by far the main source of food), this means that a family of 4 people must have at least 560m2 of land if they simply want to eat their own production….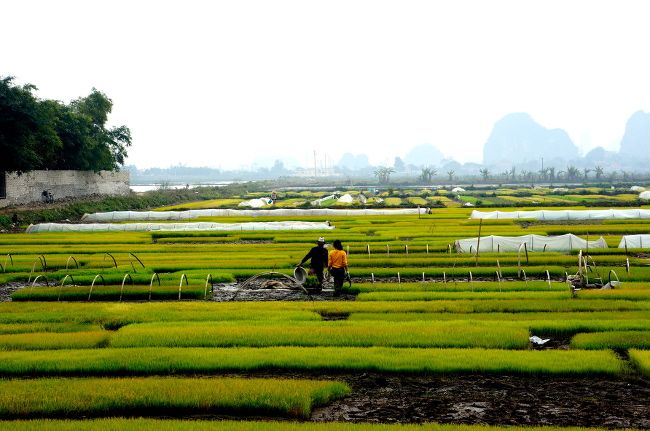 Afterwards, let's not kid ourselves, the rice we find in our country is often mass-produced using large, high-performance machines! 😉 And further south, the climate often allows up to 3 harvests per year!
A Homestay in Mai Chau
As you were told above, during our stay in Mai Chau we did what is called a "Homestay". So don't let yourself be too influenced by the name, eh, a homestay is only rarely a night "in the home" strictly speaking….
In South East Asia you will not be accommodated in the family living room and even less in the barn; homestays are more of a first choice hostel run by a family.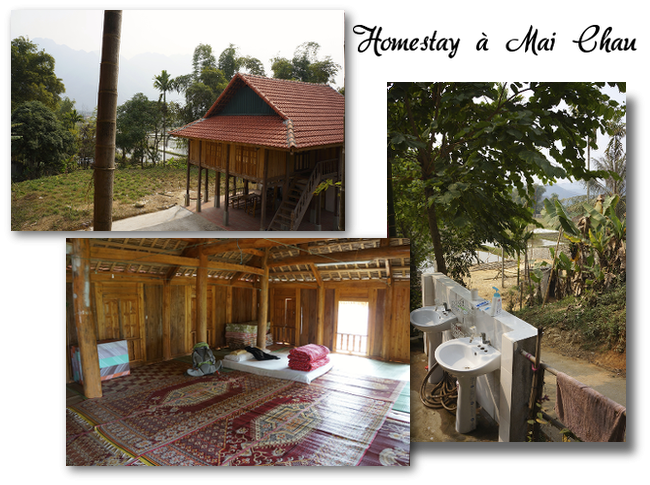 A Homestay is generally organized around a common outdoor space where meals are served, as well as several bedrooms or dormitories. In Mai Chau, we were lucky enough to have a house on stilts just for us!
In short, a gigantic room of nearly 50m2 with a mattress on the ground and half a dozen sleeping bags at your disposal… Yes, as we told you, Mai Chau is cool (3 degrees the night we slept there!), but what a joy to sleep in such conditions and especially to have such a view when we wake up!
The toilets are generally common, it's simple but functional and clean, in short nothing to complain about at this level!
Whether in the Mekong Delta or Mai Chau, the Homestay are often also a place where food is one of the highlights of the stay!
And the least we can say is that at Mai Chau we were not disappointed, we enjoyed it!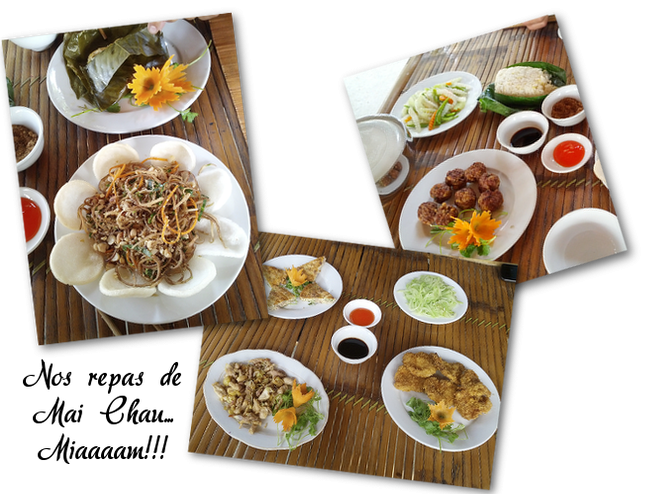 Why take a guide?
Now that's an excellent question…. Often "backpackers" like us are a little reluctant to take a guide "because we travel by ourselves, we are independent, and blah, blah, blah and blah"… Ok… fine! But taking a guide from time to time, it's not just a matter of comfort. It is also a unique experience, an unparalleled opportunity to ask questions and additional opportunities to meet local people!
We are not very familiar with guiding, but it is not the first time for us; we had already used the services of a guide in China for our trek in the high plateaus of western Sichuan.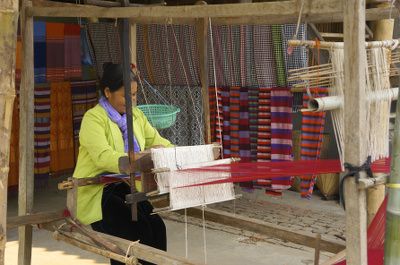 At Mai Chau, having a guide allowed us to learn a lot about white and black thais and their culture, but also about Vietnam in general.
Tuan, our guide, also allowed us to go for walks that we couldn't have done by ourselves, especially on the second day when the car dropped us off at a point A, then picked us up at a point B 12km later…
To have a guide is also to have the chance to have someone who knows the language of the country and its customs as well as the good tips to travel in the rest of the country. Tuan, for example, gave us valuable advice for the rest of our Vietnamese journey, and at the time of writing this article we are in a guesthouse that he had advised us near Halong Bay… Not surprisingly, his advice proved to be more than excellent, we probably wouldn't have come across it without him!
Looking for a tour in Mai Chau?

If you are interested in doing a tour to Mai Chau, take a look at Getyourguide. They have several options (day tours and tours with overnight stays). If you have the time, we'd recommend you spend a night in one of the local homestays.
See the tours
Note: This article contains affiliate links. By using our links you do not pay anything more, but we'll get a small commmission. Thanks for your support 🙂