It was barely 2 months ago, a wonderful autumn weekend was annouced and our legs needed a little strech.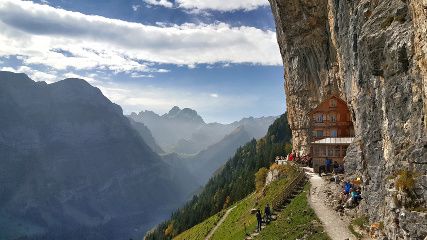 Being based in Zurich, we started looking for a little idea for a weekend hike, preferably in Switzerland and not too far from our place.
Before our round the world trip, we went to visit my grandfather who still lives in my home canton, I named Appenzell.
For Benoit it was a first and we clearly left from there thinking that we had to come back for new hikes!
Important Update
In 2018, this pretty little hotel made the headlines for a very special reason: the managers decided to stop their business! Totally invaded by tourists passing through, the couple who managed the place decided that it was too much for them.
Soon, investors and buyers rushed to the gate. In spring 2019, the Aescher Hotel opened again with new managers. We don't know their offer in detail, but it clearly looks more "classy". No more Rösti, but more of gastronomy. In addition, the Aescher Hotel is no longer a "hotel". You can only come here to eat and no longer to sleep. The restaurant is open from May to October, every day from 7:30 am to 9 pm. Reservations are not possible during the day for groups of less than 10 people.
Hotel Aescher: Mythical hotel in the rock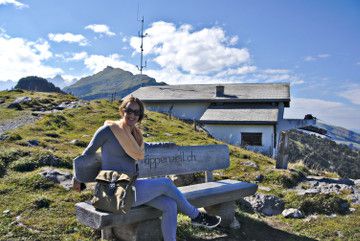 As for the precise destination of the walk, we had been wanting to see the Aescher Hotel as well as the Seealpsee with our own eyes for some time. The name may not ring a bell, and I grant you that it may seem strange to have a hotel as a hiking objective.
But the Aescher hotel is a actually one of the most famous hotels in the world! Why? Well, this little wooden hut is like suspended in the rocks with a pretty incredible view!
As in native Appenzellese, I could not possibly not know this place whose photo adorns many travel guides about our pretty little country. 🙂
Wasserauen: the starting point for hiking in Appenzell
The hike started at exactly the same place as when we climbed to the top of the Säntis in August 2012. It was thus by train that we arrived, early in the morning, at Wasserauen station. The hike starts just in front of the station, but we won't hide it from you when we arrived we were a little shocked!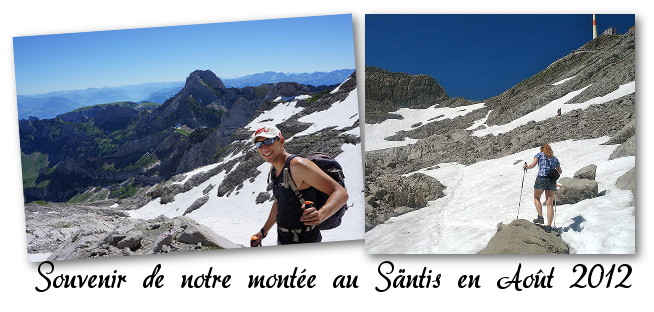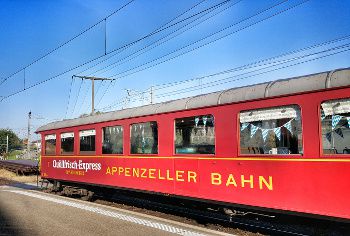 Two years ago we came by car and made sure to start the hike at 7am so as not to walk in the sun. So when we parked the car we were almost the only ones awake in the small village of Wasserauen.
But that day we were coming from Zurich, so we only arrived in Wasserauen at around 9:30 am… And that was a bit of a shock! Dozens and dozens of hikers were already on the train, and once at the station we found ourselves in front of a huge car park which was totally full!
To be honest we were a little afraid when we saw all these people!
Hiking is definitely a very popular leisure activity in our small country!
Well, then it must also be said that a cabin leaves Wasserauen and that many people do not leave directly from here on foot, but still!
From Wasserauen to the Seealpsee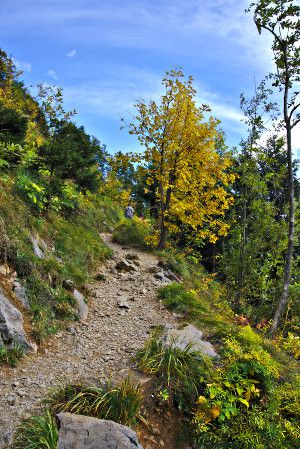 So we start our hike of the day by slaloming a little between groups and families who were quietly walking in single file.
I don't know why, but when there are a lot of people on a trail, we tend to accelerate the pace. A little as if we were secretly hoping to lose everyone, even if we know for a fact that there are just as many people in front…
The path begins with a fairly steep ascent through the forest. It's funny because I still remember my feeling very well when I hiked this same trail back in 2012: when I arrived at the end of the forest I was breathed heavily and asked myself how I would manage to reach the top of the Säntis.
My physical condition was really not at its peak! So certainly I'm not a great athlete yet, but our round the world trip has still put me in shape! This time the hike in the forest felt super easy and, when we got to the Seealpsee, I was still super fit!
The Seealpsee in Appenzell
Once at the lake we could have immediately turned right to start the ascent towards the Aescher Hotel. But as it was still early and also because we knew that it wasn't going to take us very long to reach the summit, we decided to make a little detour to go around the lake.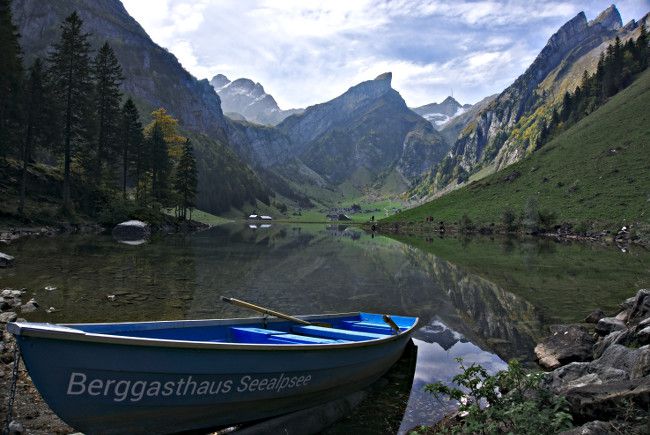 This Seealpsee lake is really beautiful!
Moreover, for Swiss beer lovers, it is this lake that is represented on the Appenzell beer "Quöllfrisch". 🙂
Hotel Aescher: the postcard of Switzerland par excellence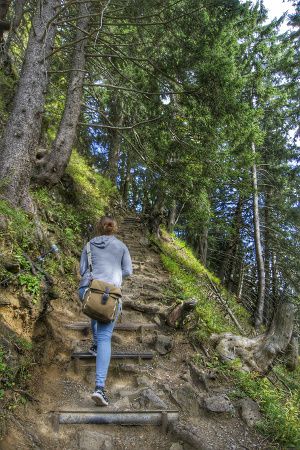 From the Seealpsee starts, the small narrow path climbs steeply into the forest making many turns. But let's reassure ourselves right away, the painful part is pretty short! In just 1 hour and 15 minutes we already reach the initial goal of our hike: the famous Aescher Hotel.
Hotel Aescher is at an altitude of 1454m and we admit it was to see it that we came to the region. Indeed, it has the particularity of being literally suspended in the rock and offering a breathtaking view of the Alpstein region!
Eating at the Aescher Hotel
Our initial idea was to reach the restaurant right on time for lunch, and naive as we are, we thought we could take advantage of the superb terrace to enjoy a good little typical Appenzeller dish before we set off again…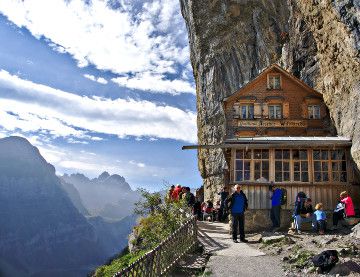 Hmmm… so how can I say… We began to understand that our plan was in jeopardy when we arrived below the restaurant and heard a huge noise from the small path that came from the Ebenalp above us.
Then, you should know, that it is possible to reach the Ebenalp by cable car and that the descent to the Aescher Hotel only takes 15-20 minutes!
We had already experienced this, and once again this example will confirm the rule: "When the walking time to reach a place is less than 2 hours, then we expose ourselves to the risk of meeting LOT of people! »
Tourist spot in Switzerland: avoid the weekend
So imagine a beautiful Saturday in October, not a cloud on the horizon… There was no shortage of tourists that day; the hotel was literally under attack! The terrace was packed and dozens and dozens of people were already lining up to get a table! Ouch!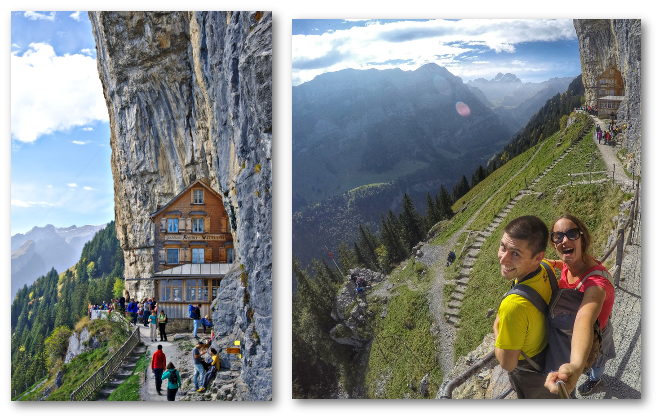 In other words, we took a few pictures, tried to forget our hunger and continued on our way up to the top!
A last little effort to reach the Ebenalp
A little disappointed not to have been able to enjoy a good cheese crust while enjoying the view, but not dismantled, we decided to see if the terrace of the Ebenalp restaurant also served some good things to eat.
From the hotel Aescher it takes about 20 minutes to reach the arrival of the cable car. The path is certainly crowded on weekends, but it's very nice!
First, we pass by a stone house and a small chapel in the heart of the rock, the "Wildkirchli" (which basically means the "small wild church").
Then we cross a cave that houses tools and prehistoric remains. The cave itself is nothing special, but the landscape is still as beautiful as ever and the little explanations about the region are nice!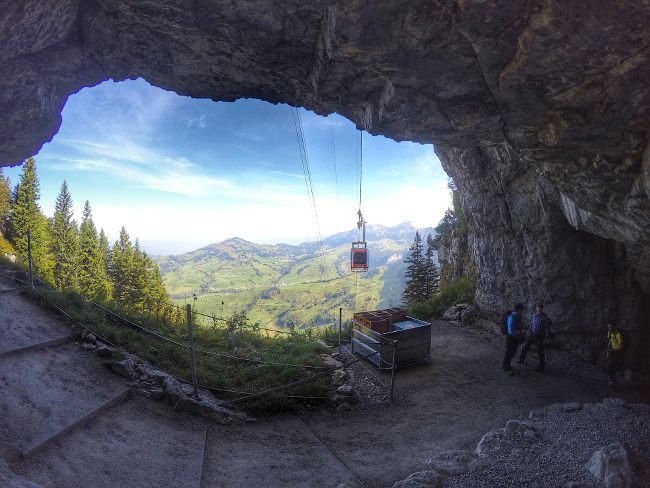 Tasting of Swiss local products
Once we arrived at the Ebenalp we were positively surprised actually. Okay, the restaurant's terrace had a lot less charm than the Aescher's, but we had no trouble finding a free spot, we tasted a delicious plate of Appenzeller specialities and even met a Chinese tourist who found himself at our table during the meal.
Just for this encounter we no longer regretted not having eaten at Aescher! This gentleman, who had come to Switzerland on business, arrived on the Ebenalp with his Swiss work partner and his wife.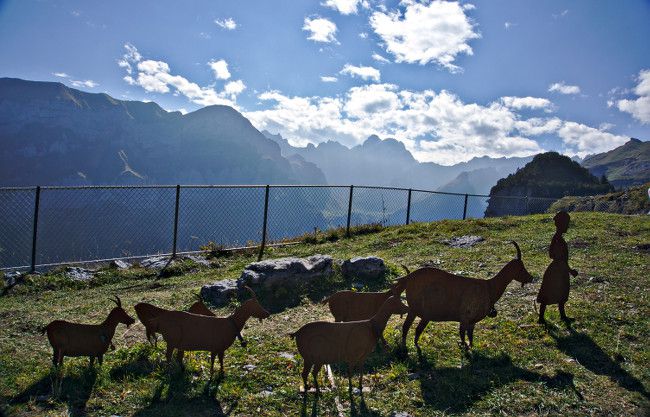 This couple of Swiss Germans in their early sixties had decided to show him the region and let him taste the specialities. Macaroni from the chalet, dried meat, sausage, pickles, and various cheeses from the region were on the menu for him. We spent more than an hour discussing China (where we had spent 3 months during our round the world trip), but also reassuring him about our culinary specialities. The poor man did not dare to taste anything and was panicked by the fear of getting sick with our strange dried meat and expired milk that we call "cheese".
Practical information for the Seealpsee – Aescher hike
This hike is easy and accessible to all. The path climbs quite steeply in places, but given the relatively short distance it makes the walk really open to everyone (we would avoid strollers though) 🙂 !
Infos
Start : Wasserauen
Finish : Ebenalp (or possibility to extend by walking back down to Wasserauen)
Elevation gain: about 850 meters
Distance : about 9km (including the Seealpsee tour).
Duration : Allow about 3h-3h30 of walking time (and lots of photo breaks)
Best time of year for hiking : April to October
If you can avoid weekends you should be able to be much more quiet on the trails as well as on the terrace… 🙂
Once you arrive in Ebenalp you have the possibility to go down in the cabin to Wasserauen. The descent costs CHF 20 in full fare (CHF 10 if you have a Half-Fare travelcard or GA).
Or else, a hiking trail will take you to Wasserauen in about 2 hours.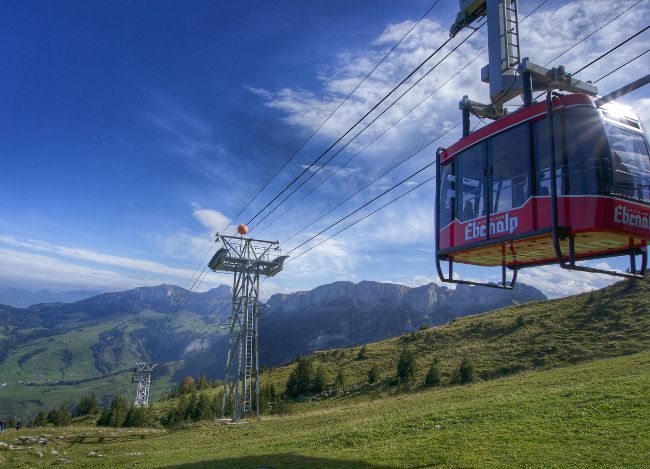 Here is a map of the region to help you plan your hike in Appenzell: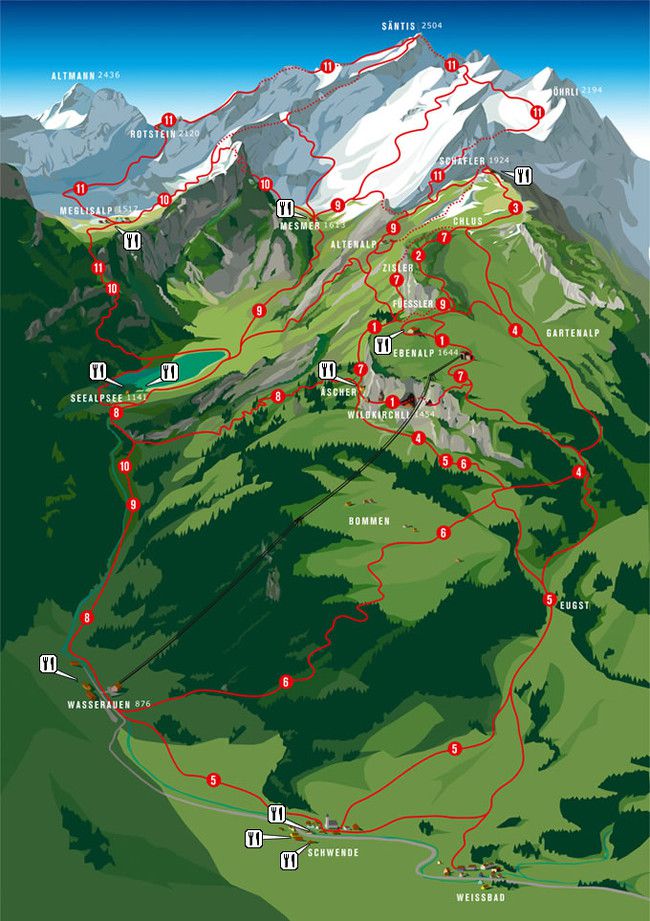 So, we would like to take this opportunity to wish you all a wonderful Christmas Time! For us this year Christmas will be spent in Switzerland, with our family! Well yes, we're going to take advantage of it, next year it may not be the case anymore! 😉 But that's all we'll say for now… Merry Christmas!
Pin it