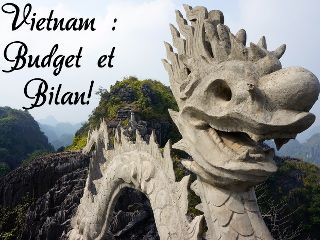 That's it, Vietnam is already over! It's time to take a step back and take a look at our accounts in order to give you a little idea of our budget for a trip to Vietnam.
At the beginning we planned to stay in Vietnam for 3 or 4 weeks. But in the end we had such a great time that we decided to play a little extra time…
A visa extension later and we ended up staying 7 weeks in Uncle Ho's country.
In this article we tell you absolutely EVERYTHING (or almost)!
Vietnam in pictures
Because images often speak much more than words, we have prepared a short "best-of" video of our stay in Vietnam…
Ready? Then we'll take you! Enjoy!
Vietnam budget: here are our figures
You are getting used to our small balance sheet items, so after our balance sheet and budget for China and Cambodia here are our detailed figures for Vietnam.
In total we spent 1834€ in 7 weeks (for 2 people), which makes an average of 18.6€ per day and per person.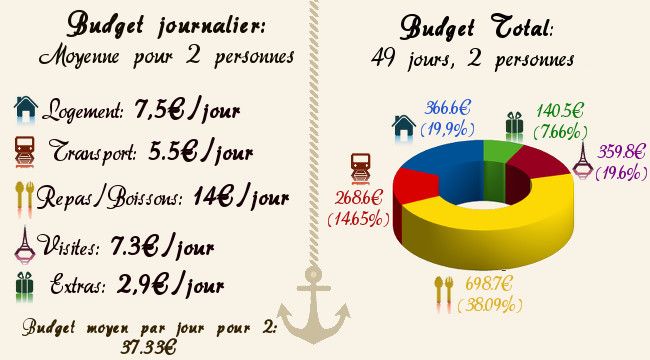 The local currency of Vietnam is the dong (VND), to give you an idea
1€ = 29'000 VND (Price in effect at the time of our visit in January 2014)
Transport costs in Vietnam:
There are many options to travel in Vietnam. The most common are buses, trains and motorcycles.
A few figures for motorcyclists at heart:
One litre of petrol: about 20'000 VND
Average price of a scooter rental for 24 hours: about 130'000 VND
Purchase of a used motorcycle: 200-300$ ( This price generally includes equipment such as helmets, rain gear and luggage rack because often you will find yourself buying your bike from a former traveller who will no longer need it)
In general, the train costs more than the bus in Vietnam. That is why we did not use this means of transport. So sorry, no concrete figures to offer you…. On the other hand, we know a lot about buses!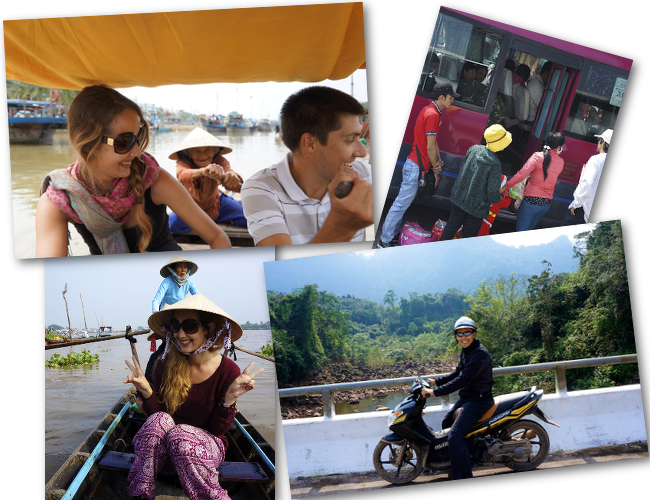 The first thing that is important to distinguish is between local buses and open tour buses. The latter are generally reserved for tourists and cover most of the main tourist attractions. Open-tour buses are usually a little more expensive, but believe us this is not necessarily the case! Local buses have the unfortunate tendency to drop you off in the middle of nowhere! (we talk from experience). Then you are good to walk (if you know the direction to take) or take a taxi.
Aperçu des prix des bus au Vietnam
Taxi prices in Vietnam: generally between 9000 dongs and 12'000 dongs per kilometre.
Local bus from Ho Chi Minh to Vinh Long (Mekong Delta): 100'000 VND per person
Open tour Bus from Ho Chi Minh to Mui Ne: 140'000 VND per person
Open tour Sleeper bus from Mui Ne to Hoian: about 380'000 VND per person
Open Tour Bus from Hoian to Hue: 110'000 VND per person
Local" sleeper bus from Dong Hoi to Hanoi: 290'000 VND per person
Boat for the island of Cat Ba and bus transfer to the village of Cat Ba: officially 130'000 VND per person, but we paid 200'000 VND (grrr…)
Bus + Boat + Bus from Cat Ba to Hanoi: 220'000 VND per person, (this was waaaay too much… we clearly got scammed on that one 😉 )
Succession of local buses, motorcycles, taxis and boats to reach Babe Lake from Hanoi: 770'000 VND for 2 people. yes it was expensive… and we didn't even get (too much) scammed, but it was the Têt festival)
Night bus (local) from Thai N'guyen to Lao Cai: 250'000 VND per person
Minibus from Lao Cai to Sapa: 50'000 VND per person
To book your bus in advance we recommend you take a look at 12goasia
Accommodation prices in Vietnam
Housing prices in Vietnam vary quite widely between large cities and the countryside. But also the popularity of the tourist site and the competitiveness in the surroundings…. For example, our nights in Sapa cost us much less than those in Halong Bay!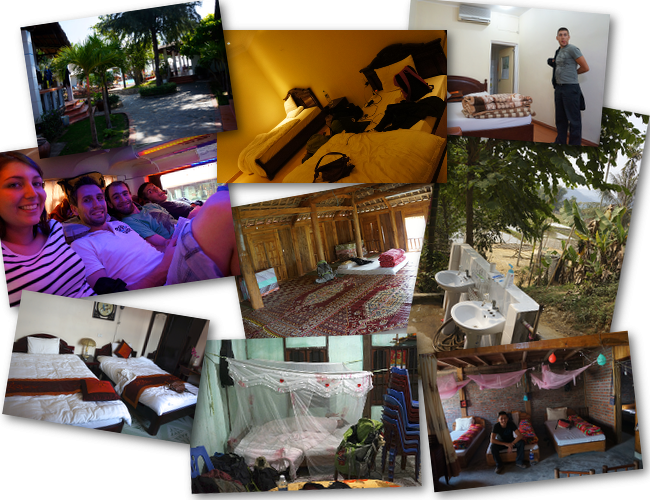 In addition, in Vietnam it is common to use Homestays as accommodation. Understand that these are premises that welcome you into their homes for a price that generally varies between 200,000 and 300,000 VND per person (dinner and breakfast are included as well as a good dose of rice liqueur). Sometimes these experiences are real immersions in people's lives as for example during our trek in Babe National Park, but sometimes they are more forms of holiday camp for tourists in need of authenticity as during our visit to Sapa. But without trying, you won't know it! 😉
Our cheapest night: 100'000 VND for both (Babe Lake)
Our most expensive night: 420'000 VND (Mui Ne)
Different beds: 19
Nights spent on the bus: 3
Overnight in "homestay": 5
You'll find most Hotels, hostels and homestays in Vietnam on Hotelscombined.com
Food and Beverage Prices in Vietnam
A bowl of noodles in the street: 20'000 VND
Vietnamese meal in the restaurant for 2 people: 120'000 VND (drinks included)
Average price of a "Western" meal for 2: 230'000 VND
A can of soda:

in mini-market: 5000 VND
in the restaurant: 10000 VND

Average price of a Vietnamese coffee (in the street): 20'000 VND in the north and rather 10-15'000 VND in the south
Purchase of instant coffee (package of 30 coffees): about 50'000 VND
Our cheapest draught beer: 3000 VND in Hoian
A bottled beer: 25'000 VND
One oreo package: 9000 VND
Price of a large bottle of water (1.5l): 10'000 VND
Prices of tourist activities in Vietnam
Boat tour on the Mekong Delta and visit of the floating market: 200'000 VND per person
Boat tour to visit the caves of Phong Nha: about 190'000 VND per person if the boat is shared at 5.
Entrance to Paradise Cave, Phong Nha: 120'000 VND (it was worth every cent!)
Rowing boat tour in Halong Bay: 300'000 VND (for 2 people), with optional cave visit for 50'000 VND per person (clearly worth it!)
Trekking in Cat Ba National Park and return by boat to Lan Ha Bay: 356'000 VND per person (meals included)
Hospital cave, Cat Ba: 30'000 VND
Trekking in Ba Be National Park: 5'363'000 VND for 2 people (yes, we exhorted the budget!). But this price includes the night in a guesthouse the day before the trek as well as the night before, the night at the inhabitant's house, absolutely all meals (3 dinners, 3 breakfasts, 2 lunches), the guide and a boat trip of nearly 4 hours.
2-day/1-night trekking in Sapa: 1'050'000 for 2 people (meals included).
Want to book any tour or activity while in Vietnam? We recommend you have a look on Getyourguide.com, the website that has one of the largest selection in the world.
For the prices of the different museums and attractions in Hanoi, you can take a look at our article on Hanoi.
You have been spared all the different entrances to the different temples, but on average count between 10,000 and 30,000 VND for a temple visit.
Various
Price of the Vietnamese visa obtained in Cambodia: 56$
Vietnamese visa extension made in Hanoi by our hotel: $35
Withdrawal charges to distributors: 30'000 VND per withdrawal
Shipping a 13kg package to Switzerland: 1'700'000 VND (we shipped our wedding dress and suit that we had made in Hoi An)
Average price of a laundry in a guesthouse: about 20'000 VND per kilo of dirty laundry.
Overall budget for Vietnam
At the beginning we had calculated to spend about 21€ per day and per person, in the end we were below despite some extras like the trek to Babe Lake. But on the other hand we were invited to spend 2 nights at the hotel in Mui Nu by our great friends who came to visit us, and let's face it, between my father and our friends we didn't have the right to spend much during the 3 days in Mui Ne… 😉
On the other hand, it is true that if we want to be careful with our budget, Vietnam can be a little weary…
What I mean by that is that scams are frequent, and that if you are not careful you can quickly find yourself paying 10 times the price (or even more)…
For example in Hoian there was a funny scene, where a street seller sold cakes to a Vietnamese woman for 2500 VND, and 3 minutes later, these same cakes were sold for 50'000 VND to an English tourist… The same goes for local buses, and even the simplest things in everyday life!
Vietnam is the first country where I ended up negotiating my diet coke in a supermarket!
Review after 7 weeks in Vietnam
Before coming to Vietnam we didn't really know…. Yes, on the net we read everything! Some loved it, and others fled the country like the plague after only 2 weeks because the commercial side of some Vietnamese people disturbed them so much!
So for us it was a very good surprise, certainly we got screwed (probably more than we think), but overall I think we knew how to take it with humour and also a certain detachment.
We want to have a coke but the price is twice as high? Well, we don't get angry, we smile, we say it's too expensive and we leave! 2 times out of 3 they'll spontaneously offer you the "real price", and my god, 1 time out of 3 we'll be satisfied with our water…
Beyond the purely financial aspect, for us Vietnam will also have been the a country in which we were totally amazed in front of certain landscapes, delighted by beautiful encounters, enjoyed magnificent aperitifs at sunset, received many smiles and welcoming people…. In short, Vietnam we loved it, and we will for sure come back one day for more! But that's it for this time, 7 weeks is already not bad!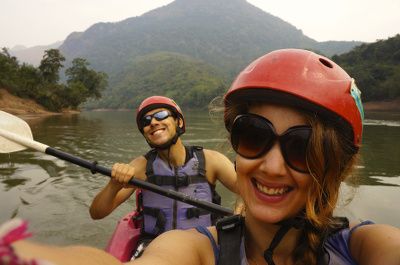 Soon we will be back with our articles on Laos where we are currently! And you will also know how we decided to reach Luang Prabang by kayaking for 3 days instead of taking the bus…!
Well, yes, why keep it simple when you can make it complicated?
And if you missed one of our articles on Vietnam then we give you an appointment on our new page dedicated to our articles abut backpacking Vietnam.
Note: This article contains some affiliate links. By using our links, you do not pay anything extra, but we'll earn a small commission. Thanks for your support 🙂