Now that you are convinced and have set a departure date, let's talk about the most sensitive topic: Money! What's the price of a round the world trip? In this chapter, we will look together at how to estimate the budget for a round-the-world trip based on the main spending factors. We will also share with you in detail what we spent during our long trip
Chapter 2 : table of contents
Our free ebook in PDF format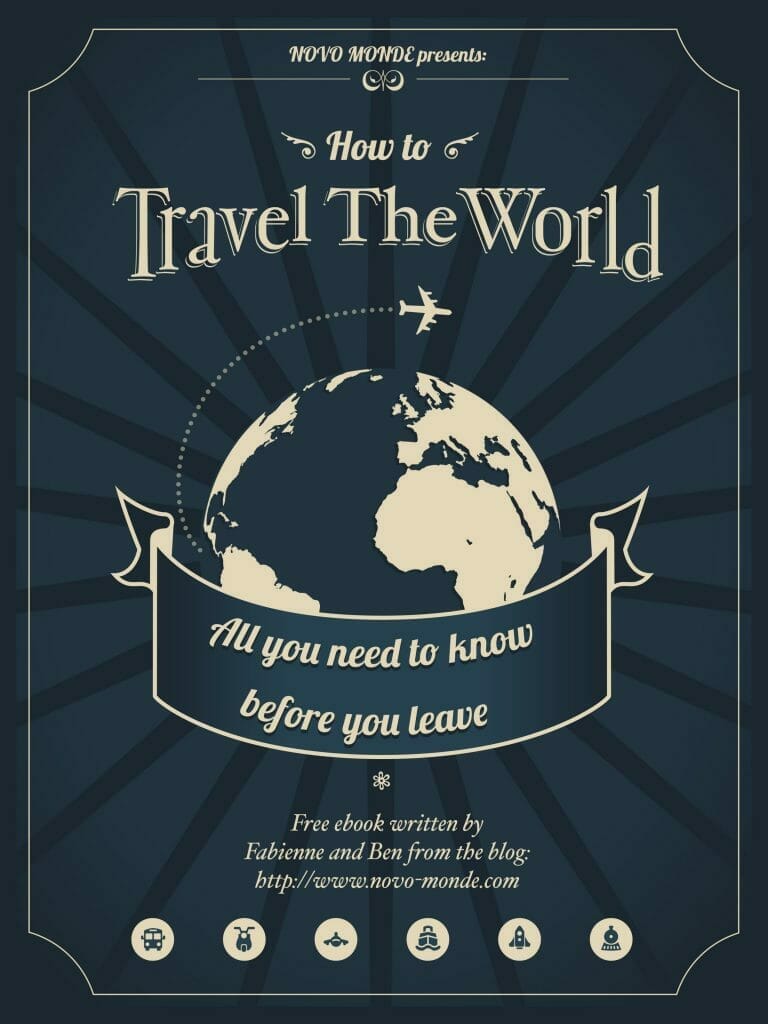 You are currently on the online version of our ebook. Below you can discover the full content of our online guide.
But if you prefer, our guide is also available in PDF format. You can read it on your computer, smartphone or tablet (or even print it out if you want). To get the ebook, just subscribe to our newsletter at the end of the page. To go directly to the registration form clic here.
A little sneak peek in the ebook:
How much does a round the world trip cost?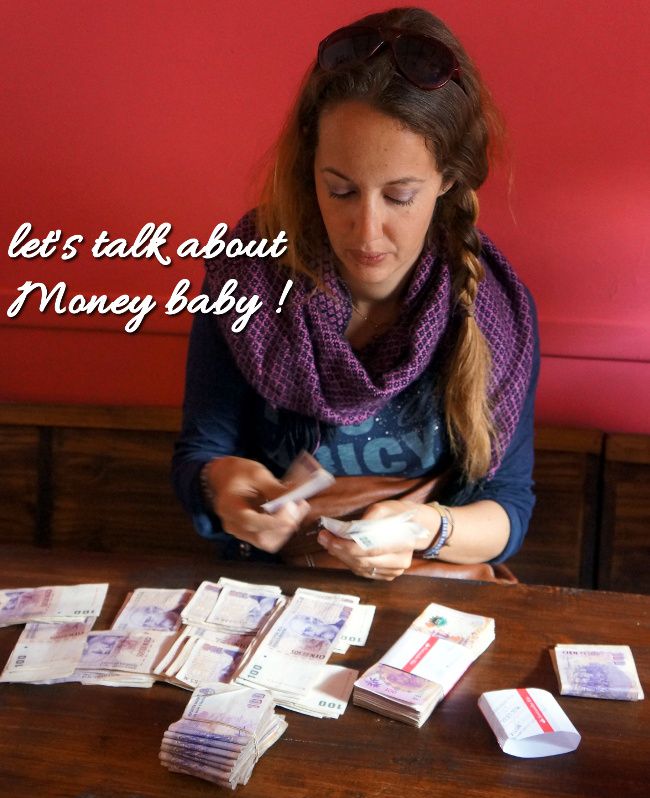 This is probably THE big question everyone keeps asking us… It is quite difficult to give a clear and precise answer because there are probably as many round-the-world budgets as there are travellers…
But if we can't answer this question for you, we'll show you what the price range is for a round-the-world trip, and tell you a little more about our budget so you can get an idea!
Around the world travels for billionaires
Before our departure I had come across an article about a travel agency that offers in its catalogue a world tour at… 1.5 million euros! This trip took its lucky owner on a 2-year world tour in a very "luxurious" way…
You want to know the best one? This world tour has apparently found takers…
Well, you will have surely guessed it, we are not the purchasers of this charming little trip around the world… At the same time, at the risk of sounding hypocritical to some, I guarantee you that such a trip would not make us dream.
Around the world with 2€ per day
On the complete opposite you will also find people online who have decided to travel the world with absolutely minimal budgets. Like for example Thierry and Killian who went on a world tour on foot with a budget of 2€ per day…
If you do a quick math you'll see that the first trip has a daily budget of… 2054€ (2300 US$) and on the other hand the second trip has a budget of 2,3 USD. Well, the good news is, there is a lot of room in between to find a good balance! 🙂
Backpacker: an economical way to travel
Regarding our round the world tour, we decided to experience it in a simple way but without giving up all comfort and keeping a decent level of security… We are what you might call backpackers, and believe me this mode of travel allows you to make nice savings!
What does that mean?
Well, it just means that we never stay in 4-star hotels and do not travel first class (and we promise it doen't even hurt the slightest);)
For us it's more hostels, campsites, couchsurfing and small friendly guesthouses alternating with nights on buses, trains or boats in order to save a few nights when possible.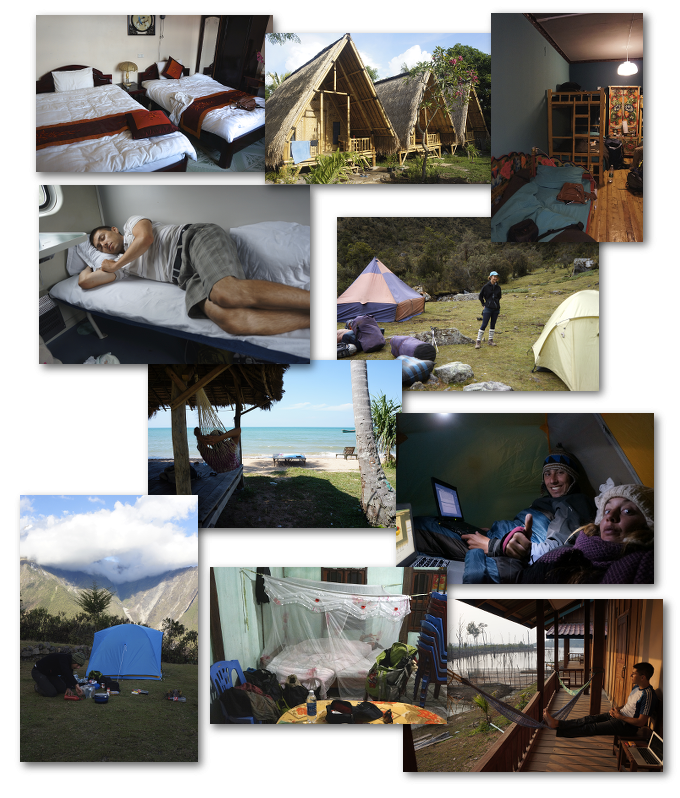 During our trips we try to favour local transport as much as possible by avoiding flying too often (except for long distances).
As far as food is concerned, we love to test all the flavours of the countries we cross: the street food, authentic little restaurants but also to discover the shelves of the local supermarkets in order to prepare small picnics. After more than a year and a half on the roads, the results are clear: we had a great time!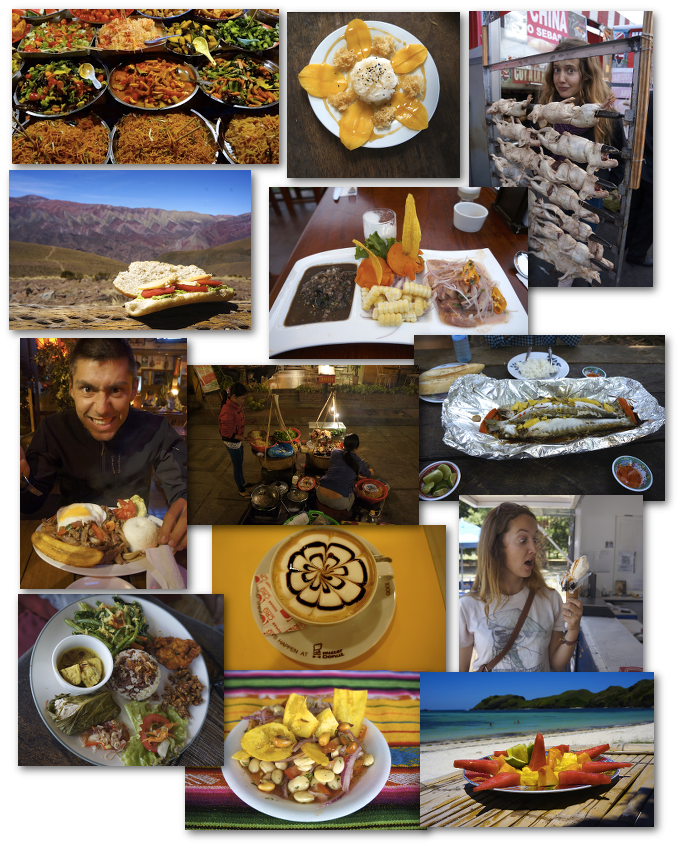 Factors that influence the budget of a round-the-world trip
The best way to prepare your budget is to break down your expenses by estimating each item as accurately as possible. Once the budget is established, we add a 10% safety margin for small extras, and we already get an excellent estimate!
Here are the majority of the different budget items to be taken into account during a round-the-world trip:
Travel insurance
In order to leave serene it is important to leave well insured. The offers in this field are very extensive, and we will devote an entire chapter to them later in this guide. To give you an idea of the cost, a travel insurance goes from 350$/year to 2300$/year, depending on the services you want…
As you can see, already on this level there are huge gaps between the budgets of the different travellers… When we left for our trip we have opted for a very complete insurance for 2000$/year for both of us, or 1000$/year per person if you prefer.
Info: We used the Worldnomads Travel Insurance for our 18 Months round the world trip.
But as we said before, more details on this point in the chapter dedicated to insurance (or you can already consult our ultra-comprehensive guide to choose the best round the world insurance or our tool that compares the best travel insurance for a round the world trip).
Vaccine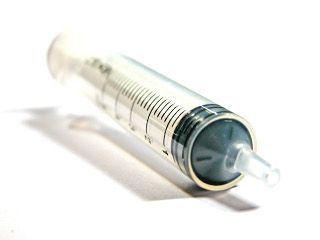 Here again the financial gap can continue to widen, vaccines are a decision that is specific to everyone… You will meet many travellers who have made the decision to leave without any vaccine, and others who will be vaccinated against diseases that do not even exist in the region where they stay but who have preferred to do the whole thing… (but we do not want to enter the debate).
The best way is to go see your doctor to get personalized advice adapted to your needs. We have also prepared a special section on vaccines later in this guide. Know that for our part we spent a little less than 700€ (780$) per person to refresh our essential vaccines, and make some vaccines specific to the destinations we will visit, but it was in Austria… And Austria is not particularily know for it's cheap medicine.
Travel Gear for a round the world trip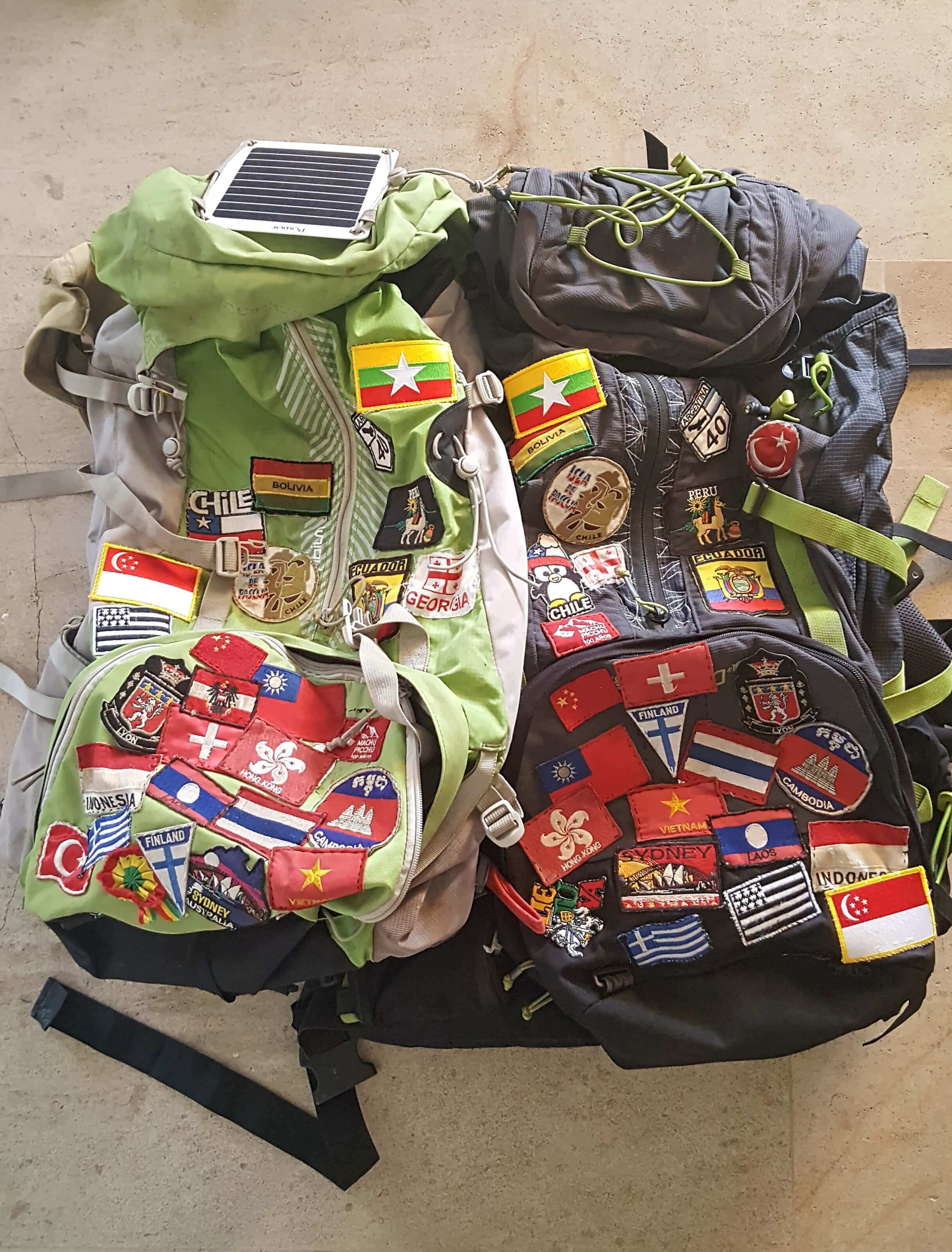 As with insurance, there are products for all tastes and colours (and budgets). For example, you can decide to equip yourself only with major trekking and mountain brands, or use your old clothes and complete your wardrobe by going to Decathlon or buying online.
The travel gear budget can be multiplied by a factor of five depending on the option chosen!
The same applies for the electronic equipment… We decided to leave with our laptops, a camera, external hard disk, a go pro, and so on… So obviously, if you have to buy everything this is added to the budget.
Also take into account that your valuable computer equipment should be insured for a trip like this. The more expensive your equipment is, the more it will cost you to insure it in case of loss or theft.
Our Travel Gear: what's in our backpacks?
To see what we have in our backpacks you can go directly to Chapter 6.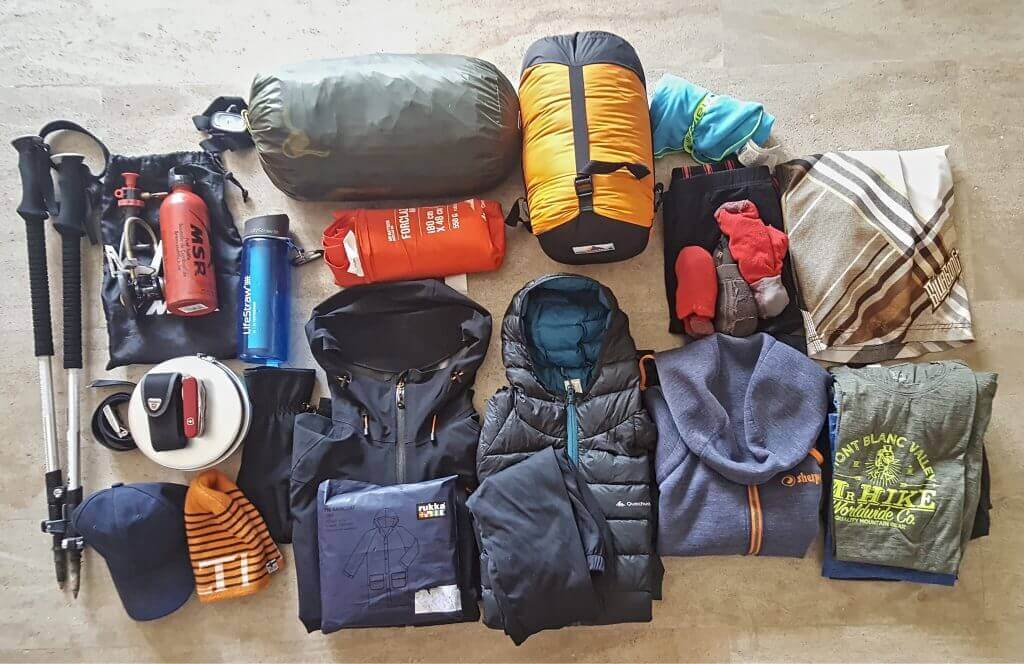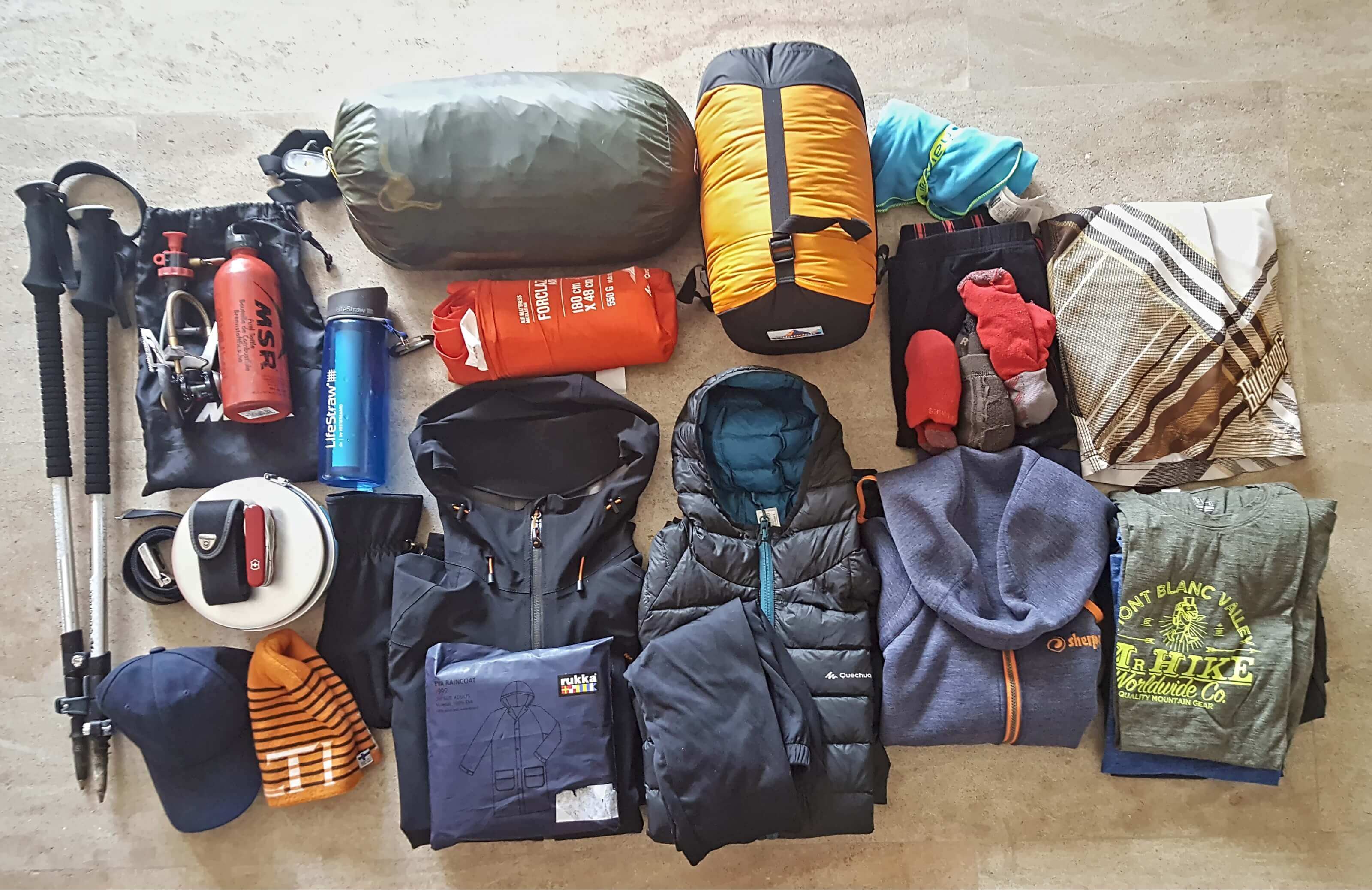 Financially speaking, we spent about 320€ (360$) per person buying mainly softshell and fleece jackets as well as small equipment (padlock, kit, gas burner, protective cover, backpack, storage, universal adapter, travel crockery, etc…) at Decathlon and on amazon.
We both decided to take our existing electronic equipment (computer, mobile phone and camera) so no investment on this side before departure.
Buy only the bare essentials in advance
However, if there is one thing for sure, it is that you are really advised to buy in advance only those things that you think you will not find elsewhere (I am thinking in particular of trekking equipment)! For all more "common things", you will find everything on the spot for much less! So don't invest 80€ for a brand new swimsuit before leaving, you will find enough in South East Asia for 3€ and at this price you will even have the luxury to change it along the way…. Same for cotton T-shirts, wool caps and scarves, etc….
For example, we bought our old camera tripod in China for only 4€ (4.5$), and after 18 months of travel it was still impeccable… The same model is sold in Switzerland for 40€ (45$), and if you ask me, it's exactly the same!
So leave only with the basics, and be ensured that almost everything you might need will be available on the way! I mean… If a country is cold enough to require wearing an extra jacket, then it's pretty sure these are sold everywhere! Not quite sure one would easily find an ice pick in Laos though… but who needs to bux this there?
Transportation
The transport budget is the expense item that is generally largely underestimated by most travellers! So called round the world tickets are very flexible which is good, but it also implies that their price can vary enormously!
In fact everything depends on your desires, but know that the price is calculated according to the following dimensions:
The number of kilometres/miles travelled
The number of continents
The country or even the city of departure
The number of destinations
We have devoted a chapter in this guide to help you choose your itinerary and the different possibilities for buying a flight ticket.
Round the world flight tickets
To give an idea a round the world ticket usually costs between 2800$ and 6000$.
Our tickets were approx 3400$ per person. This price included the folloeing
Lyon – Beijing // Guangzhou – Taipei – Hong Kong – Bangkok // Jakarta – Sydney – Santiago – Easter Island – Santiago – Punta Arenas // Bogota – Lyon
– means a flight and // means that we did it overland. E.g: we landed in Beijing and 70 days later we had a flight departing from Guangzhou.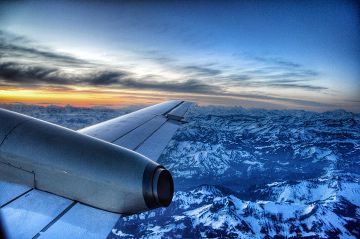 Of course you can also choose not to take a round the world ticket and buy your tickets as you go… We explain why we have decided not to make this choice in this article.
In the end, I think that round the world tickets will perhaps make you lose a little bit of flexibility (even if in retrospect it is still quite flexible, we have changed almost all the dates of our flights 😉 ) but above all, they will avoid going crazy along the way because you want to leave a country or region and you will not be able to find a flight at a reasonable price for the desired dates…
Update after our trip
Be careful, if you leave with a round-the-world ticket but decide to extend the trip, then you will automatically lose your last flight because the current RWT cannot be valid for more than 12 months! We had a flight back (Bogota-Lyon) in August 2014, which we didn't take.
Additional transportation expense
Most of the time, people who travel around the world count in the budget their plane ticket but often forget other local means of transport. Even if in Asia buses, trains and other tuk-tuks are not very expensive, you still have to think about budgeting them… Moreover, in South America or Australia, travelling can very quickly increase the bill considerably… especially in countries like Chile or Argentina and Brazil.
But there are excellent tools available to find the average cost of spending per country, and this average cost generally includes transport (unless otherwise specified). We will present some of these tools in a few lines…
The Visas
Visas are an expense item to think about, but often it is not a particularly important one (at least for the countries most often visited). As long as you avoid Bhutan (the visa costs 5433€ for a month!!!!!!!!! ok, the visa costs 20$ but then it is a tax of 200$ per day to pay) you should not have any bad surprises. The most expensive visas are in Asia, but it is often quite reasonable.
The price and the need for a visa will depend on your passeport and sometimes on the lenght of your stay. In order to budget the visas, the best solution is to list all the countries you wish to cross and then go to the different official ambassy websites.
You are very likely to find blog posts online with Visa-related information, but unfortunately, as visa policies can change quickly, these articles are rarely up to date. It is thus very important to get the latest information before entering a country.
Bank Fees
These costs are not always taken into account when preparing a trip. When you go on holiday for two weeks, you can often afford to ignore them. But when you know that many banks charge fees that average $5 to $7 per withdrawal abroad, it can quickly lead to a significant amount if you travel a long time.
The first solution: Check with your regular bank
It is best to contact your current bank and look at the fees for withdrawals but also for payments abroad. Some banks offer packages for travellers, others may offer you reduced fees.
But be careful, even with reduced costs, this remains a budget to be taken into account.
Be aware that in many countries, withdrawal amounts are limited and you may have to withdraw regularly… It is therefore better to avoid a fixed fee per withdrawal if you can.
The alternative: A mobile bank

The concept of a mobile bank is that you receive a physical card, but then everything happens from the mobile! It is really by far the most practical option when travelling! There are several, but the most commonly used by travellers is N26. This bank is widely used in Europe and is about to launch in the US.
N26 in short:
– N26: The classic and free account. There are no monthly fees here. 5 withdrawals in euros are free of charge and then you need to count €2 per withdrawal (in the euro zone). Outside the euro zone, the withdrawal fee amounts to 1.7%.
– N26 Black: The Black option costs €7.90 per month and offers the same conditions for the euro zone. However, outside the euro zone, withdrawals are 100% free of charge and the cardholder also benefits from travel insurance covering, among other things, the theft of the telephone.
Basically, if you do the math, the Black is clearly worth it from the moment you withdraw more than 350€ per month… And let's face it, when travelling full time, this might well be the case 😉
If you want more information about N26 you can also visit our page dedicated to N26
Food, housing and land transport
The biggest expense during our trip. Once again this budget can vary greatly depending on your expectations in terms of comfort. Some decide to sleep under the stars for a budget close to 0€ while others opt for 4* hotels
We are more on the side of dormitories and cheap hotels, some nicer local guesthouses sprinkled with some couchsurfing experiences;)
If like us and many other backpack travellers, you have decided to leave in a spirit of discovery, with expectations not too high as for comfort but still wanting to spend nights in safety and if possible in more or less clean sheets then you can without further use our numbers which we detail below on this page.
After one thing to remember, your round the world budget will vary considerably depending on the countries you have chosen to visit and the time you have decided to spend there!
In terms of hotels, we were more of the type to arrive "without any booking" in the villages and look for small guesthouses on the spot. However, we also booked in advance sometimes…. For example, when we arrived at night or more generally in large cities.
To book accommodation we have 2 recommendations to make to you:
Hostelworld: This is THE reference site for youth hostels! There are beds in dormitories, but also double rooms. Why them? Because they are the biggest and they offer the best prices. Being the biggest is not an advantage in itself (who cares?), but where it is good is that there is a lot of reviews on the different hostels.
Hotelscombined: It's probably the one we use the most! It is not a reservation platform strictly speaking, but a platform comparator…. The advantage? You enter your dates and destination and you immediately have a list of hotels, with for each hotel the prices charged by the biggest sites such as Booking, Agoda, TripAdvisor, etc…. In short, go through this site first, it's the guarantee to find the best price among the booking platforms!
More and more, we also opt for apartments or small studios when we are on the move. Accommodation is not necessarily cheaper than inns, but there is a kitchen available, which reduces costs.
Communication
When travelling it is also important to keep in touch with family and friends, at least for us! if you decide to leave with a smartphone then the communication problem can very quickly be solved, because there are many applications that will greatly facilitate your task…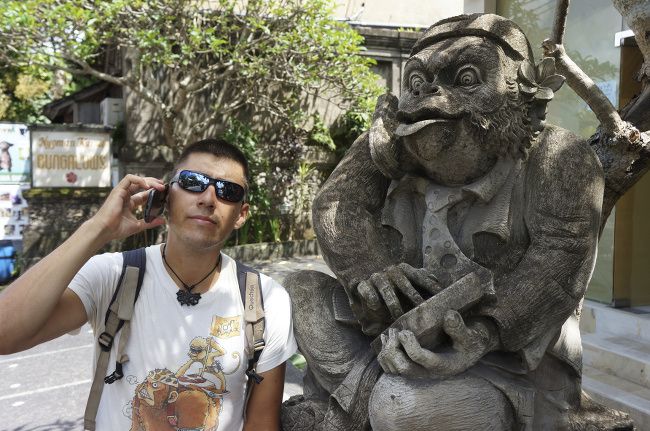 One of the most famous applications that can also be used from a desktop computer is Skype (even if google hangout is pretty solid as well). With skype you have the choice to make either free calls from skype to skype (both must have the application), but the service also offers monthly subscriptions.
Skype's paid travel options
For example, for 0.5€/month you can call 120 minutes per month on landline phones. The main advantage is that we can connect as soon as we have the internet, and if you have decided not to bring a laptop with you it is not a problem, you can connect to your account from a smartphone or even a computer in an internet café at any time.
After trip Update
Skype works very well, we used almost that…. But then it must be said that in many countries, Wifi is simply not efficient enough (we think in particular of Laos and Bolivia)… Anyway, Skype is good, but with rotten wifis, well…… there are still postcards left!
The Extras
Remember to plan a little extra to please yourself on the way or just to make up for a little last-minute glitch (It can always happen).
What do we count in these extras?
shopping 😉
Small pleasures such as diving, more expensive excursions (such as climbing a volcano in Bolivia), a short cruise, postage to send packages home, etc….A night in a more luxurious room from time to time….
A good restaurant 😉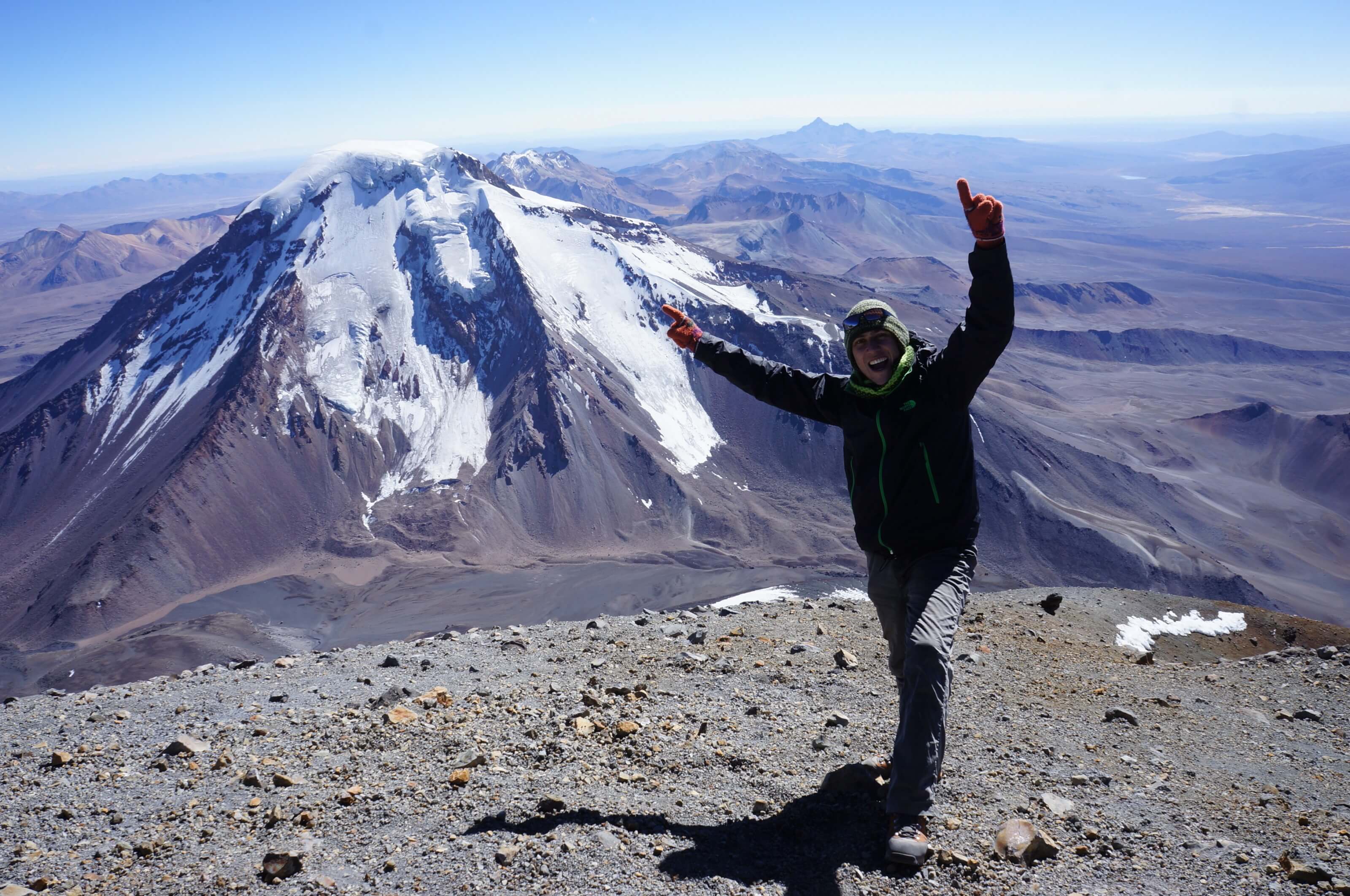 Current expenses
It is important not to neglect the running costs you may have at home during your absence. Whether it is a car loan, a loan repayment, your taxes, household insurance and many others…
Check all your contracts carefully and try to limit these costs as much as possible by terminating in time everything that is not essential
Obviously, consider renting or subletting your apartment or house during your absence so that you do not have to pay the rent or mortgage repayment….
The Return Budget
This is an expense item that is set aside by the majority of long-term travellers. But it seemed essential to us to set aside a certain amount of money to have enough to get back to our regular life when we returned. We were lucky enough to be able to come back to our parents for a few weeks when we got back, but it was still nice to have a small budget for outings and the first expenses related to settling in before the first salary fell!)
It is difficult to give you an ideal sum, it can vary according to your country, the time you think it will take to find a job or if like us, you have parents cool enough to stay for a while… In short, we put 2500€ per person on an account for the return, it may seem like a lot, but in Switzerland we don't go very far with that… But since we found work quickly, there were no worries! In short, don't forget this point!
Around the world budget: our numbers
Here is our little summary table of everything we spent during this round the world trip! Yeahhhh banking secrecy may be a Swiss thing, but we decided to open our account books for you!
A total of 35'882€ for 2 people counting absolutely all the expenses related to the round the world trip for a period of a little more than 18 months.
Looking at it like this, it's a lot of money! But you can believe us, we don't regret for a second that we spent several years saving for this trip, every penny was more than worth it! Some people decide to buy a new car at this price, well we preferred a round the world trip!
If you plan to travel a little like us, or if you want to use our figures to estimate yours, feel free to look at the related articles in the table above, you will find much more details for each country! we have even created a special category Budget by country so that you can find your way around more easily! It's here to consult our budgets by country!
How can I save money to travel?
One of the reactions we heard the most before we left was:
But how do you afford a round-the-world trip, you won the lottery?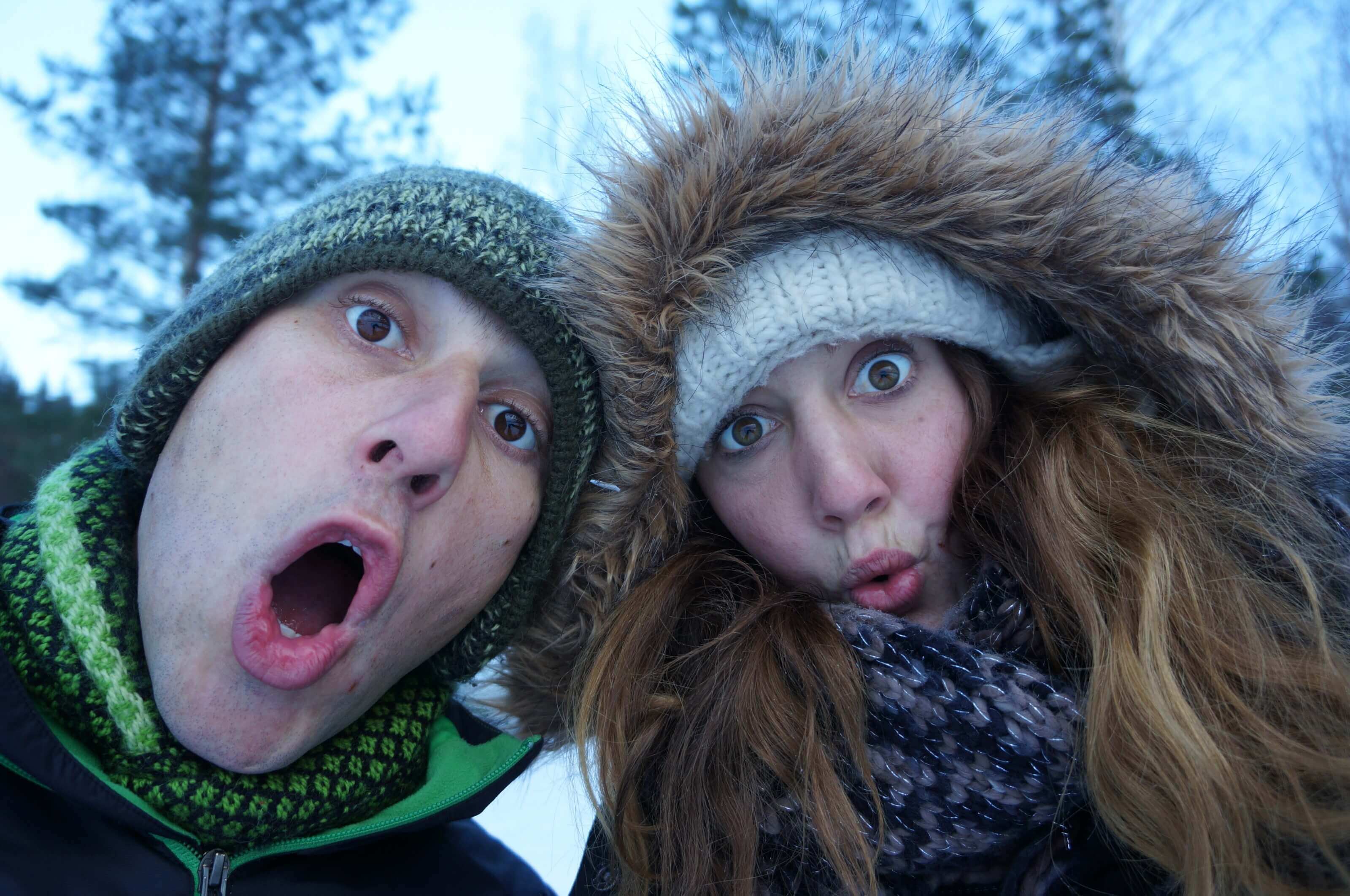 So the answer is very clearly no (unfortunately). What we did is that we changed our lifestyle before leaving, or better said we continued to live a little like students despite being employees…
What generally makes me smile is that 90% of the people who make comments on our so-called fortune, could also buy a trip around the world in no time if they made a few small sacrifices…
Anyway, to save money there is no miracle, it's either you spend less, or you earn more! The best thing is to do a little bit of both!
Spend less
Limit a little the outings to the restaurant
young employees tend to go out regularly to "eat a little something". This little something never costs much, but it's always more expensive than a good meal at home.
Instead of going out to the movies, consider renting a movie (on DVD or online), or if you decide to go to the movies take a snack and a drink with you so you don't have to pay for popcorn at the movies.
Quitting smoking
It sounds silly, eh, but at 1 pack a day for 1 year it's starting to nicely make the value of a round-the-world flight ticket… yes yes!
Homemade lunch meals
At lunchtime, prefer to eat meals taken from home rather than going to the canteen / local restaurant or fast food. It's cheaper, and much healthier too!
Do you really need this car?
Sometimes it is essential, I grant you, but if you live in the city, couldn't a public transit pass do the trick for 1 year? Between the value of the car, insurance, gas, repairs, parking and so on, I guarantee you that the savings potential alone already represents a good part of a round the world budget!
So get the bikes out and muscle your calves (you'll need it on the road anyway)!
Stop the superfluous!
Personally I have never been a fan, but in my friends who commented on the budget, some of them are addicts of the beautician for hair removal, the hairdresser every two months, the manicure every 3 weeks, the relaxing massage twice a month… Put together, the "beauty" budget represents more than 200€ per month!!
hello girl! Learn to hold a varnish brush and a depilator and let me grow this hair, you'll see on the road it won't make any difference!
Limit shopping
those who know me will know that this is the point where I have made the most effort! Before I was what you might call a shopping addict, but there for 2 years I REALLY restrained myself… At the same time it was necessary to be a little more rational because in my closet I must have had enough to fill 30 travel backpacks… we learn a little to think about the real utility of another small T-shirt before buying it…
Force yourself to write down what you spend!
It sounds silly, but I guarantee you that keeping a little notebook where you record all your expenses helps you realize where you can save….. A small example:
For example, I had the habit of buying a little diet coke when I went back to work after the lunch break… 2€ every lunchtime… Yes, except if I bought the cokes in 12-packs at the supermarket it would cost me less than 1€ each… in short, I didn't give up my Coke but on the other hand I took it from home… 1,1€ saved every single day, and this during one year of work, meaning 251 working days! a very simple saving of 280€ just with my diet coke… In Asia 280€ covers almost 2 weeks of travels!

Earn more money
It sounds silly when you say it like that, but I guarantee you there are plenty of ways to make a little more money!
Work overtime!
It's not always possible, but if you have the opportunity, then go for it! Tell yourself that by working 20 more minutes a day you can make a significant contribution to your trip!
Take an extra job on the side.
Waitress, salesman, storekeeper, market on Saturdays, etc… the possibilities are numerous! And when you get tired of it, make sure you know that with 15€ you live a full day in many countries in Asia (including accommodation, food and transport), it should help you to get motivated for a few months!
Monetize your knowledge
Are you bilingual? Web programming has no secrets for you? Do you have a talent for graphic design? Writing is your hobby? Do you know how to find the best flight deals on the net? Then offer your services on community sites such as Odesk or Darjeelin.
Sell!
We all have dozens, what am I saying, hundreds of things we no longer use! So don't hesitate to put them on sale online! An old iPhone lying around in your drawer? Try to get a hundred euros from it: you will someone happy and you will have financed 1 week in Asia! Personally I won more than 1000€ by selling only things that I no longer used! Old iPad, handbags, perfumes, clothes, painting, mirror, various furniture, decorative items, blanket, old curtains, lamp, etc… If you have a lot of trinkets you can also think about selling them on a flea market!
Jobs that allow you to travel
There is definitely not only the option of giving up everything and going around the world for a fixed period of time. There are other options to go discover the world. If you do not want to give up all of your income or if the prospect of "doing nothing" (beware I put quotation marks…) does not excite you, you can be reassured right away, because there are many options to go out and discover the world while working. A brief overview of the best jobs that make people travel
Going to work abroad
We start this list with a form of compromise…. This is the option we chose when we moved to Vienna, Austria in 2011. During our expatriation, we found a permanent position in the Austrian capital, took a furnished apartment (we knew we only wanted to stay for 1 or 2 years), in short a sedentary life with all the comforts that go with it. But abroad! The advantage? We had a regular salary and many options to discover the surroundings of our new city during holidays or weekends! From Vienna we had the opportunity to travel to Slovenia, Slovakia, Czech Republic, Croatia and of course Austria.
We know people who have decided to settle in Hong Kong or Taipei, meaning that whenever they have a couple days off, they can use their time to travel to Indonesia, Thailand or other nearby countries
Work online

There are many options here! The Internet makes it possible to be 100% mobile and depending on your profession, it is quite easy to plan to continue all or part of your activity on the road! Here are some examples of jobs or activities that make it possible to earn money while working from your computer:
Graphic designer, illustrator or webdesigner: A profession that can very easily be done from anywhere under certain conditions.
Web developer: Website creation is a profession that is becoming more democratic and the demand from individuals or small businesses remains high. Even when travelling, a developer will be able to continue finding customers. Have a good address book before departure as well as a website to describe your services. That's what we do to make money next to our blog. If you are interested, take a look at our corporate website.
Freelance translator: A job that can be done from anywhere! Are you perfectly bilingual and have perfect spelling? So why not offer your online services to help companies and individuals with their translations!
freelance Journalist: A great way to put words to what you see and discover during your trip.
travel blogger/travel writer: Don't get too excited about this one. Living off your blog is possible, but it takes a lot of time, a good dose of talent and a bit of luck. But by persevering, the blog can add a little something to your budget! Alternatively, it is also possible to offer web writing services through different platforms that exist on the Internet.
SEO Consultant: Are you a crack in the web and SEO field? Perfect! Offer your online services to other companies: website audit, definition of keywords for positioning, creation of a web strategy. To make yourself known? Well… I guess you know better than anyone else how to have a well referenced website. 😉
Community Manager: A new profession born 100% of the Internet! A community manager is the person who manages the various social networks (Facebook, twitter, instagram, Google+, Pinterest, etc.) on behalf of a client. An excellent way to make ends meet! You will just have to be careful with time zones, because on social networks the time of publication is almost as important as the content, your customer will probably not be happy if you always post at 3am local time because you are on the other side of the world or if you are not able to reply to comments in time! 😉
Working from anywhere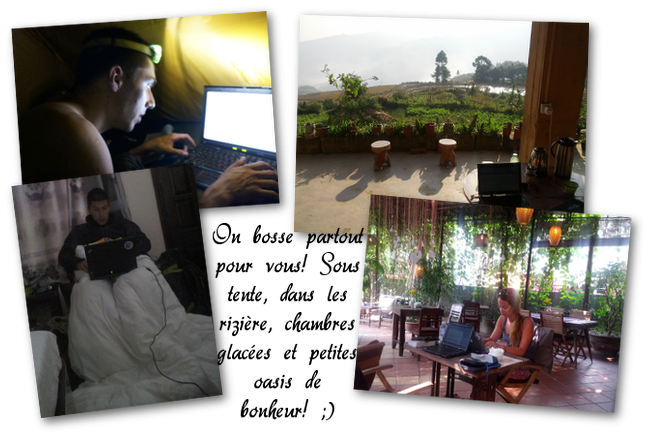 Wwoofing
Woof stands "Worldwide Opportunities on Organic Farms". It is in fact a network that connects people who want to work on farms with farmers who need labour for a given period of time. This way of travelling makes it possible not to pay for accommodation or food, to earn a little pocket money but also to discover the way of life in the destination country and to meet new people! More information on the official website. Over time, several other networks have developed that offer similar activities such as HelpX.
Teaching
Do you have specific knowledge? So why not take advantage of your trip to share a little of your knowledge! Whether it is language teacher, dance teacher, yoga, diving, skiing, snowboarding, music, the possibilities are infinite! For example, we have a friend who managed to get hired as a ski instructor for a season in Whistler, Canada, the absolute dream for a snowboard fan and a great way to make some money before going back on the road. Another friend went to Mexico to travel, there she did her diving certificate…. She never came back! She travels all over Latin America to teach diving in different spots!
Humanitarian aid
There are several large organizations in which many skills are required: doctors, nurses, administrative staff, lawyers, interpreters, firefighters, logisticians, project managers, etc… The list goes on and on! Try to find out about the humanitarian works you like and see if they offer missions abroad. Quite often, these professions require regular travel to the 4 corners of the world for periods ranging from a few weeks to a few months.
Doing small jobs on the road
If you travel with your backpack and decide to stop in a city there are several jobs that can be done depending on the season. For example during our world tour we saw many ads in hostels that offered the possibility of working in the hostel (cleaning, reception, bar, etc.) in exchange for free accommodation and sometimes even food or a small extra salary. Otherwise you always have the option to go on a tour in shops and bars, it is not uncommon for bars and businesses to look for waiters/sellers for the few weeks of the high tourist season.
Photographer
Are you good at taking pictures? Really good? So maybe the sale of your pictures taken on the way could come add some extra to your budget! Even though you have to stay realistic, photographer is a profession in its own right and the probability that "amateur" photos will find takers is relatively low. But if you are a professional or an experienced amateur this can be an excellent option!
Skipper
You don't feel seasick and have knowledge in the field of navigation? So skipper could be a profession for you! Being a skipper you will spend most of your time at sea, but this can be an option for example to reach a new continent without spending any money (or even earn some extra $).
Reveal the artist in you
If, unlike us, you have an artistic talent, why not use it on the road? Here is a small list of traveler activities we encountered during our trip:
Hairdresser: Offering your services in hostels to other travellers can be an original way to earn a few $.
Street artist: Juggling, music, dance, Acrobat… If you're good at it, let go! 🙂
Crafts: We met several travellers who sold handmade jewellery or knitted hats to other travellers in inns or on the street. Here too, probably not the big fortune at stake, but a nice way to replenish the account a little bit. Try to choose a good tourist place, you will maximize your chances to win a few €.
Are you still with us? In the next chapter, we explain in more detail how to plan a round-the-world trip itinerary!
Download our free pdf E-book!
Subscribe to our Newsletter and get a free E-book with more than 100 pages to help you prepare your trip around the world